"I have really been contemplating posting this. But, I need Colton to be an advocate. I need people to realize the seriousness of a head injury. This started from him falling from a bed that is only 2 feet off the ground. He had a bump on his head. A bump. He was crying, acting alert and at one point even smiled. Because we are paranoid parents, we decided to get him evaluated. We thought for sure they were going to say he hit his head, has a bump, and he will be fine. Not the case. He fractured his skull and bled half of his entire blood volume into his brain. I'm going to be blunt here. Colton may not live. Colton may live and never walk or talk, Colton may be fine, Colton may be delayed. It's up in the air right now and he is still fighting for his life because we are not out of the woods. This is a nightmare. I don't want other parents going through this. I don't want any kid to go through this. Please take any hit to the head seriously. I can't say this enough. My heart is broken. Our child is laying in front of us yet we miss him so terribly. I need you to hear me…get your kids checked out! Please. The old tale of 'if the bump is outward you're safe.' is NOT true.
Please continue to pray for him. I am trying to thank everyone but, because there are so many of you amazing people, it's hard. I love and appreciate all of you. Thank you from the bottom of my heart."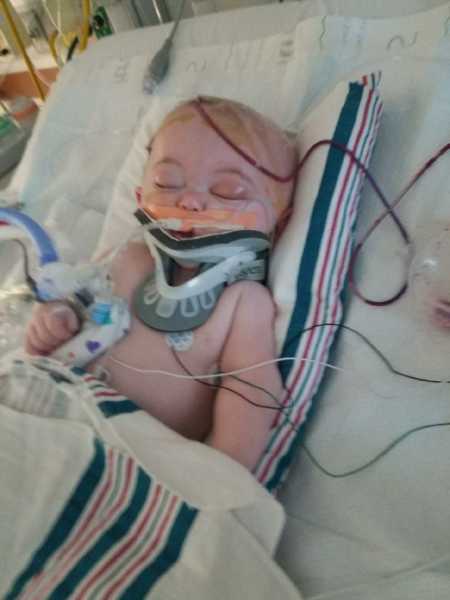 This story was written by Paige Ferguson of Arkansas. Submit your story here, and subscribe to our best love stories here.
Please SHARE this story on Facebook or Twitter to encourage other parents to be safe and prepared.