"Ryan and I met online in the fall of 2013, just before my 30th birthday. It was a chance meeting for sure, because I had my profile set as 'my age or older,' and he had his as 'his age or younger.' We met in the 26 days of the year where we are the same age, and we've been side by side ever since. Within a year, we moved in together, and dreamed of what married life would be like — how many kids we would have, what our home would look like, and where our ideal location would be.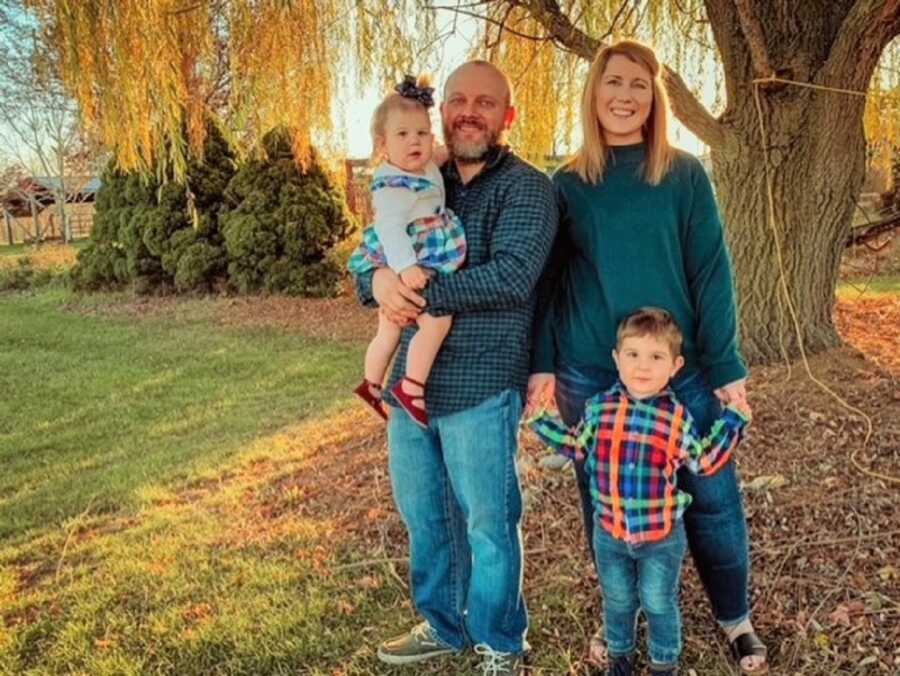 Fast forward to July of 2016, Ryan took me to Pittsburgh for a long weekend. I went to college there, and it was so fun to show him all of my favorite places. At the end of the night, after an amazing day of sightseeing, he proposed. We immediately began planning our wedding and were married four months later in November of 2016. Seems fast, I know. I always warned Ryan I am impatient. When you propose, you better be ready to get married!
Ready For A Family
Several years before meeting Ryan, I was diagnosed with endometriosis. I took a medication that basically put me through a temporary menopause to stop the growth, and then immediately started taking birth control constantly (no placebo pills). I knew I may have trouble getting pregnant, but this seemed like it was my only option to get some relief from the pain I was experiencing.  
As soon as we were married, I stopped birth control, hoping we could start a family somewhat soon. We casually tried, not putting too much pressure on it. But after two years of negative tests, I decided to see a specialist. We were scheduled to do a sonohysterogram, and right before that appointment, I had a positive pregnancy test. We were elated. I honestly cannot describe the joy I was feeling after waiting for so long.
My doctor had me coming every two weeks to check the growth. When we went to hear the heartbeat in July of 2018, at the 8-week appointment, the baby had stopped growing. I was miscarrying the baby we had longed for. To say I was devastated was an understatement. One in four women have miscarriages, but knowing how often it happens doesn't make it easier. It was the worst time of my life. Nothing anyone says or does can take away the pain you feel. I still wonder what our life would look like if that baby were here with us today.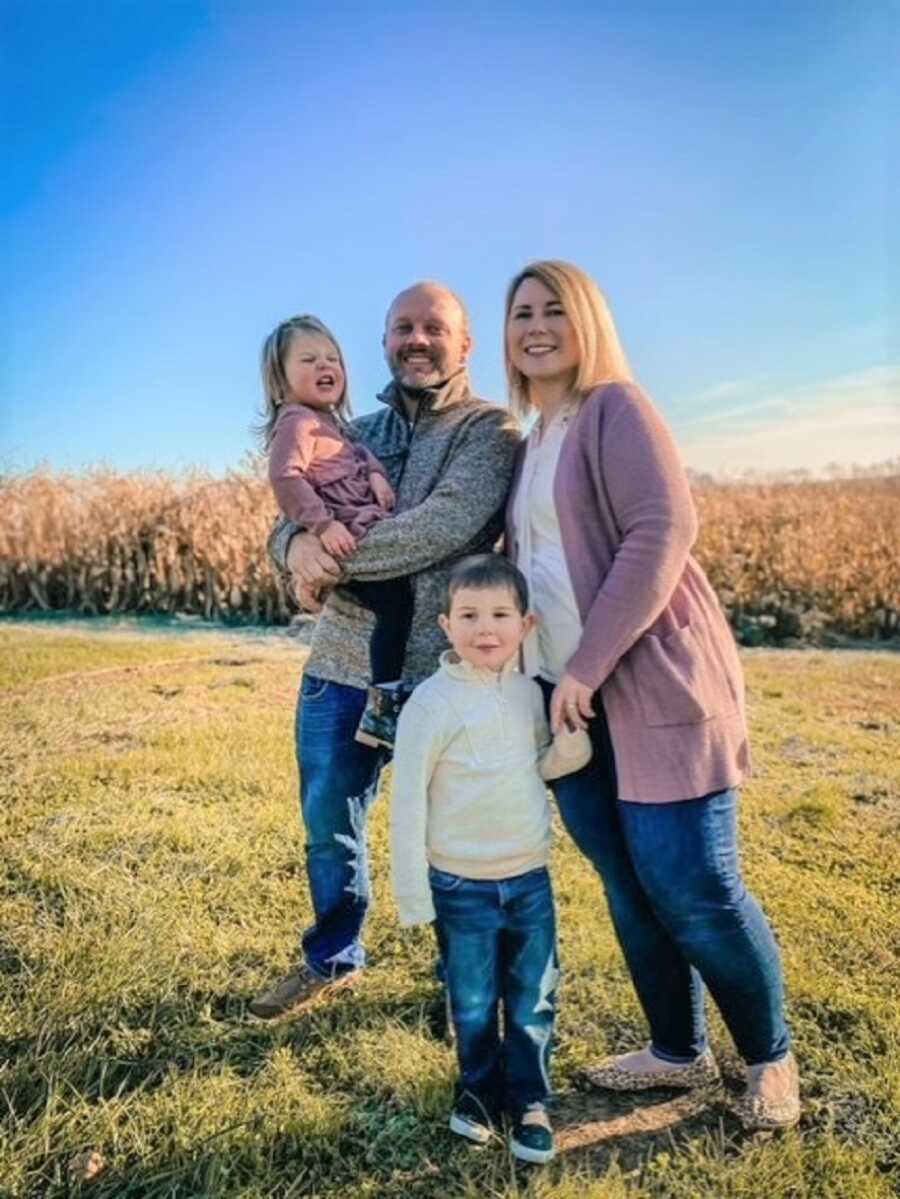 Pursuing Foster Care
A few months prior to our positive pregnancy test, we decided we should look into alternatives. We went to Common Sense Adoption and Foster Care Services, just to see what was involved. Friends of ours had used them and gave them a glowing recommendation, so it made sense to start there. At that meeting, we discovered traditional adoption was not for us. It's so expensive! They also spoke to us about fostering, and how many kids are in the system needing loving families. We mulled it over and ultimately decided we would foster with the hopes we would someday be able to adopt. Just after our miscarriage, I needed a break from trying. I knew my heart couldn't handle another miscarriage at that time, so we finished the necessary trainings, paperwork, and clearances, and became a licensed foster family. 
For two years we were called once to twice a month with children who needed placement. Most of the time we said yes, but ultimately other families were chosen. A few times we had to decline, because the visits were too far away, or too often for us to manage our schedules around. It was becoming a little disheartening. You hear about how many children there are needing loving families, but it was taking so long!  
In May of 2020, we were called about 2-year-old twins needing emergency placement. The pandemic had just started, and we were both working from home, so we asked our caseworker to please put our profile in. We were not prepared for two children, but we thought twins would keep each other occupied, and since we were home all the time, it felt like it was the right time to say yes to a sibling placement.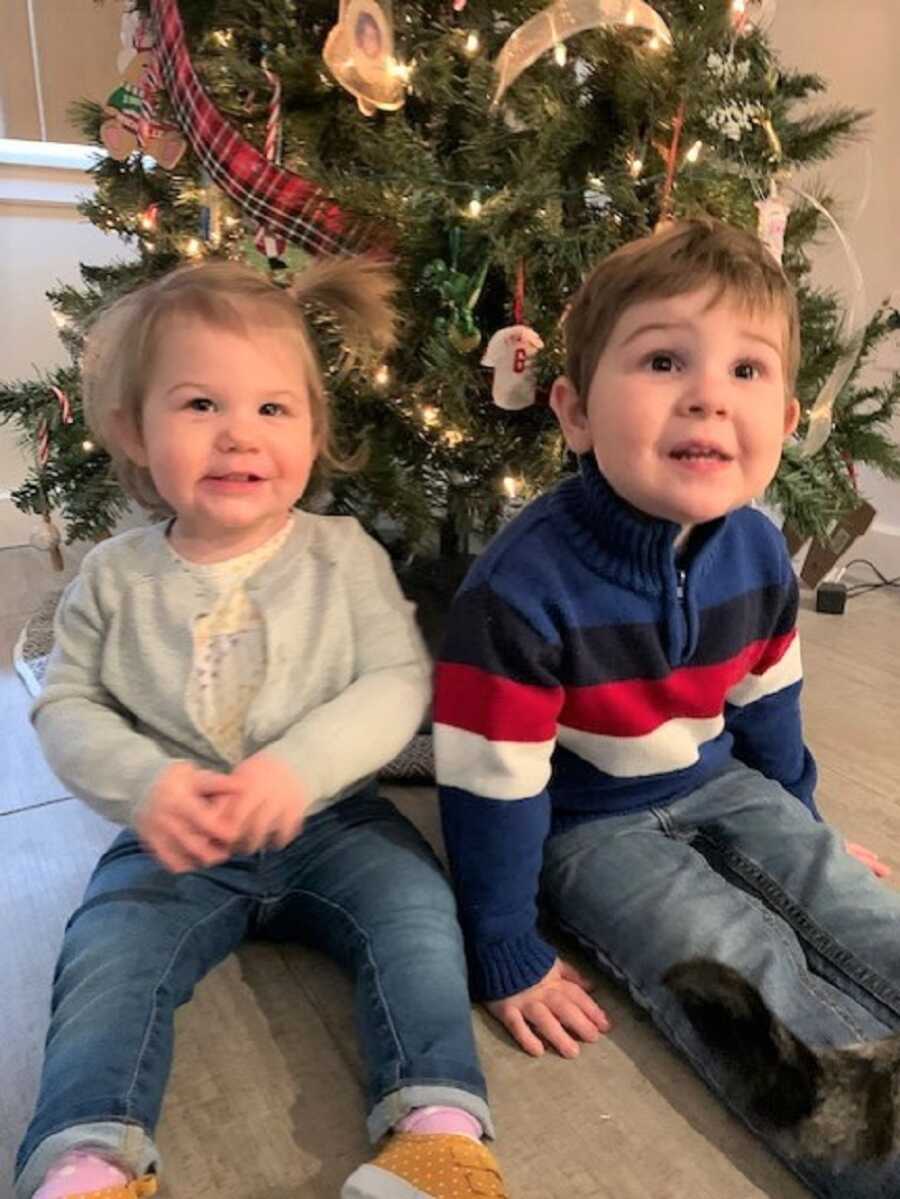 Finally Chosen
Fifteen minutes later she called us and said they chose us. My heart dropped. I went to tell Ryan, and he was on a work call. I mouthed, 'They chose us. The twins! They are coming here in two hours!' We both immediately called our managers to let them know we had not one, but two foster children coming that afternoon, and would be taking the rest of the day off. We then made an emergency trip to Target, and I prepped Ryan, my money saving husband, that he would not like how much this bill was, but it was all necessary. We bought two car seats, toys, clothing, food we thought toddlers would eat, another crib (we had one already – just waiting for the day we would get to use it!), a baby gate, diapers, the list goes on.  
On the car ride home from Target, the county case worker called to tell us they had the paperwork wrong and they were not in fact twins. It was a 27-month-old little boy and an 11-month-old little girl. They asked if we still wanted to take them in. I told Ryan about the mix up, but didn't wait for his response. 'YES!  Yes, please still bring these precious babies to our home!'  
We arrived home just in time for them to pull into our driveway with the most precious babies we had ever seen. Sweet Vivienne, at just 11 months old, immediately held onto me and wouldn't let go. Lucca held onto the case worker's hand as we walked them around our home, showing her our home was safe and ready for two little ones to take it over. She stayed for 5-10 minutes, and then left us alone. With two small children we had just met. I imagine this is what new parents feel like when they take their baby home from the hospital. Anxious, scared, but excited all at the same time.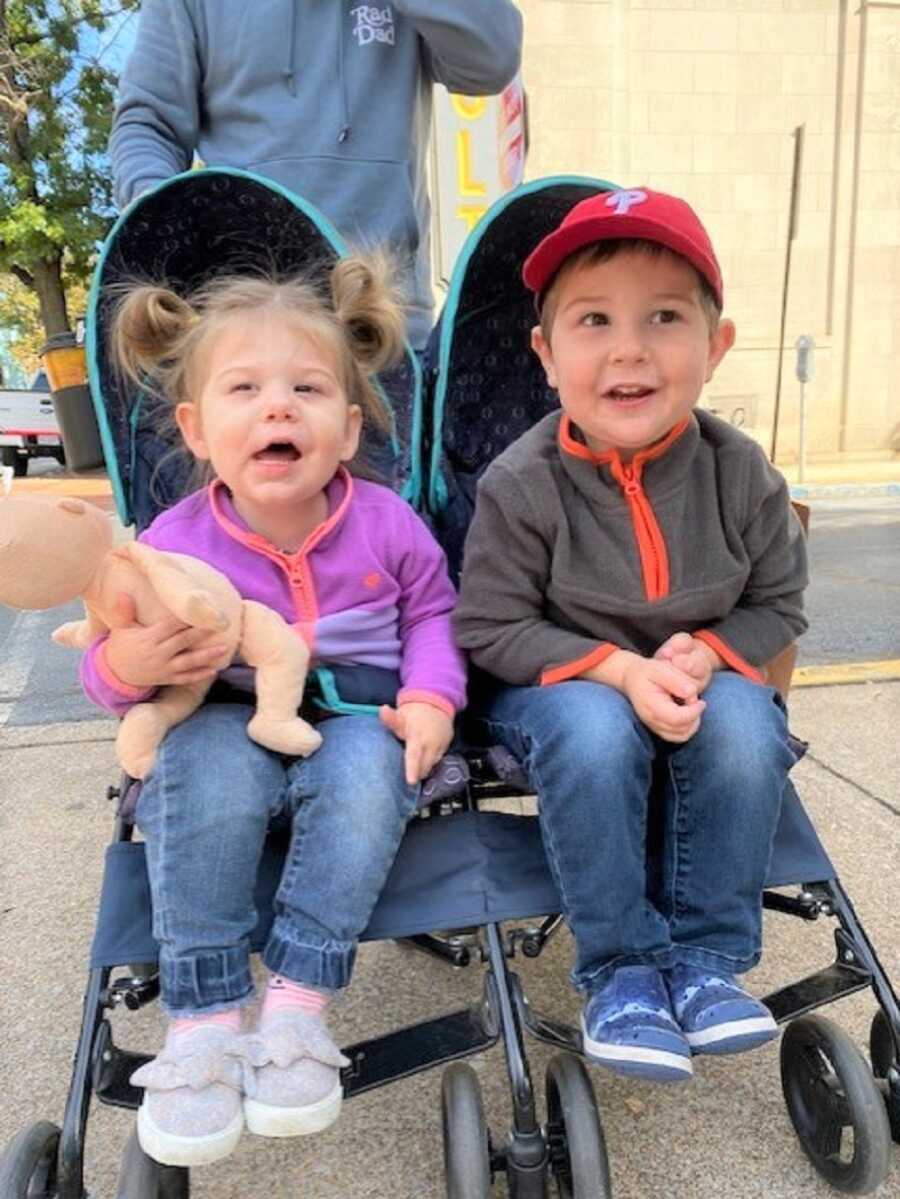 I remember feeding them chicken noodle soup on the kitchen floor that night, because we didn't have a high chair, something we overlooked while at the store. Lucca immediately called me mama, and when I would correct him and tell him my name was 'Miss Amanda,' he just kept on with mama. I called the caseworker and asked what I should do about this, and she said, 'That is the role you are filling. He might not be able to say much else, just let him decide what feels right.'  
That first night, they each woke up multiple times crying, probably scared not remembering where they were. Ryan slept on the floor of their room that first night in hopes he would give them some comfort. Each time they woke up, we reminded them they were staying with us for a little bit, and they would see mommy and daddy soon. The next few weeks were a blur. I remember friends, family, and co-workers bringing us clothing, toys, even extra car seats for us, but because of the pandemic, they were dropping everything in the driveway and leaving.
Harder Than Expected
I cried every single night for 3-4 weeks after we would put them to bed because the days were LONG and so HARD. How did we get ourselves into this? Why did we say yes to two kids? I remember the first time I spoke to their biological mom, telling her, 'I am here to care for your babies while you can't. I am not trying to take your babies. We are on the same team.' She nodded, and didn't really give much back. I really needed her to know I fully expected her babies to go back after three months, the timeframe they initially gave us. I did not think I was capable of caring for multiple children for an extended period of time. I was exhausted. Ryan was exhausted. It didn't seem like a feasible way of life.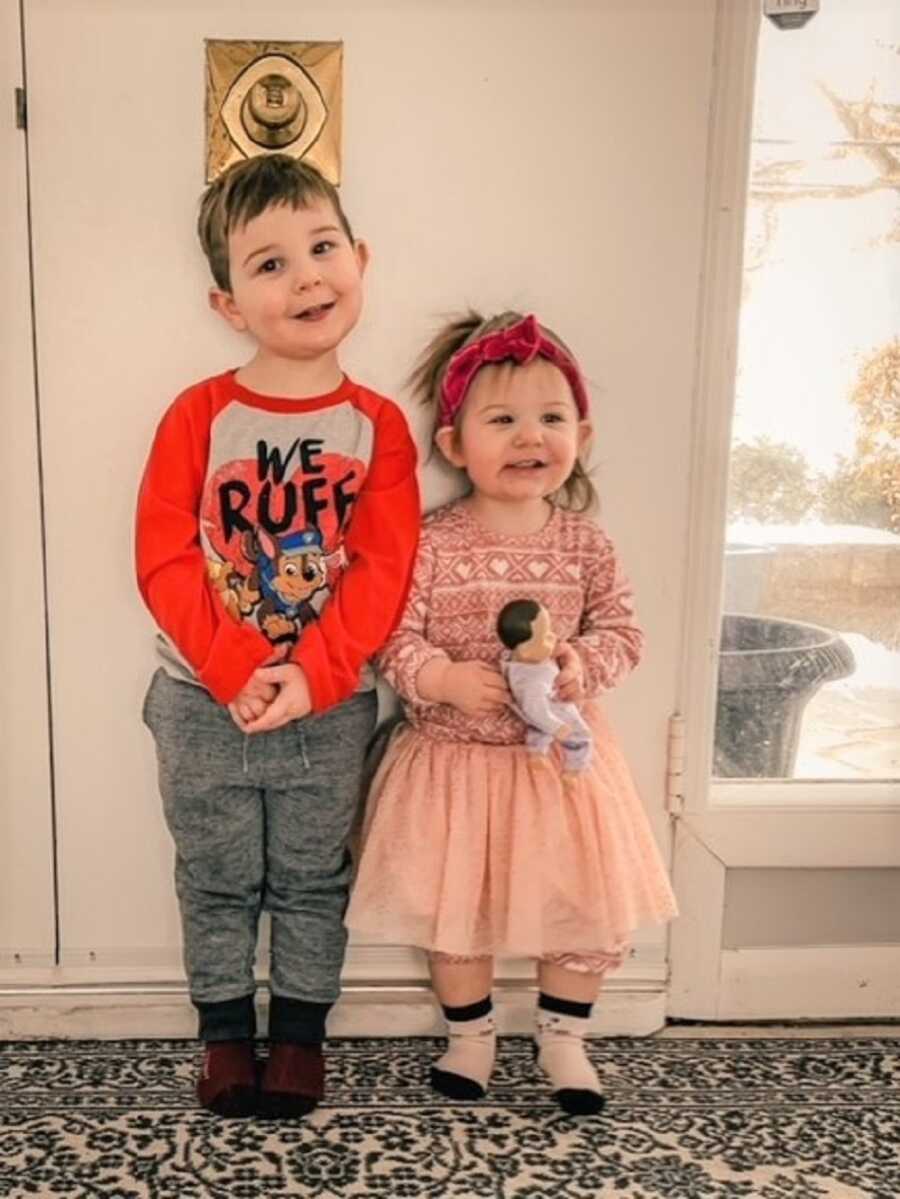 A month after the children were placed with us, a sibling was born, and placed with another family. We were not asked to take in the baby, and I was relieved. I would have felt like I had to say yes, but we were very overwhelmed and I don't know how we would have managed a newborn joining us at that time.
We did finally find our groove after about three months, and at our first court hearing, it was determined the kids would stay in care for another three months. We finally found a routine that worked for all of us, and we were all sleeping, eating, and not feeling like we were living in a fog. The kids seemed to fit right into our family, as though they belonged there all along.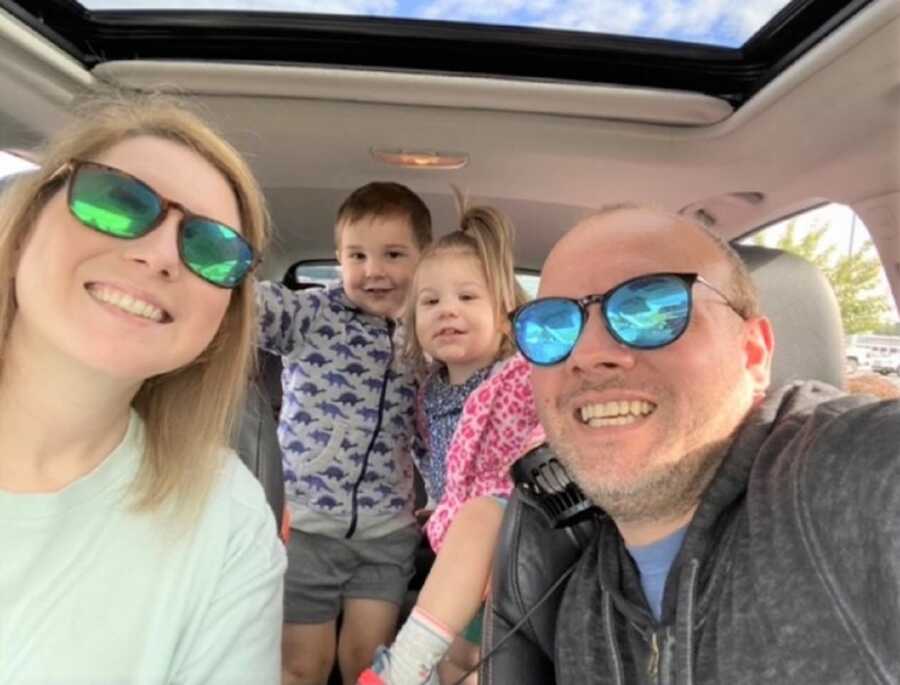 Trying To Connect With Bio Family
For the next year, we saw visits with bio parents increase, and then decrease. Visits went from fully supervised, to partially supervised, and back to fully supervised. From one location to another. It was difficult to roll with the changes, and support both the bio parents and the kids. The kids were confused and sometimes they would come back to our home angry and sad after visits. Making sure the kids felt safe and loved was always the number one priority. I told them often, 'You have two mommies and two daddies, and you are so lucky to have so many people who love you!' This would usually brighten their spirits and shift them away from their anger and sadness.
Trying to be supportive of their bio mom and dad was harder than I imagined. They didn't seem interested in help from us. They didn't even really want to converse with us in person. I did receive a few text messages from her when the kids were sick, thanking me for taking care of them while they weren't feeling well, but beyond that, radio silence. I wanted to have a relationship with them. I wanted to be able to be a supportive role model. It just never came to fruition. You learn all about reunification and how to support the biological family in your foster care training, but they don't teach you how to help someone who doesn't want your help. I wanted to be supportive, but also wanted to stand up for the kids who were craving love and safety. It was tough to balance.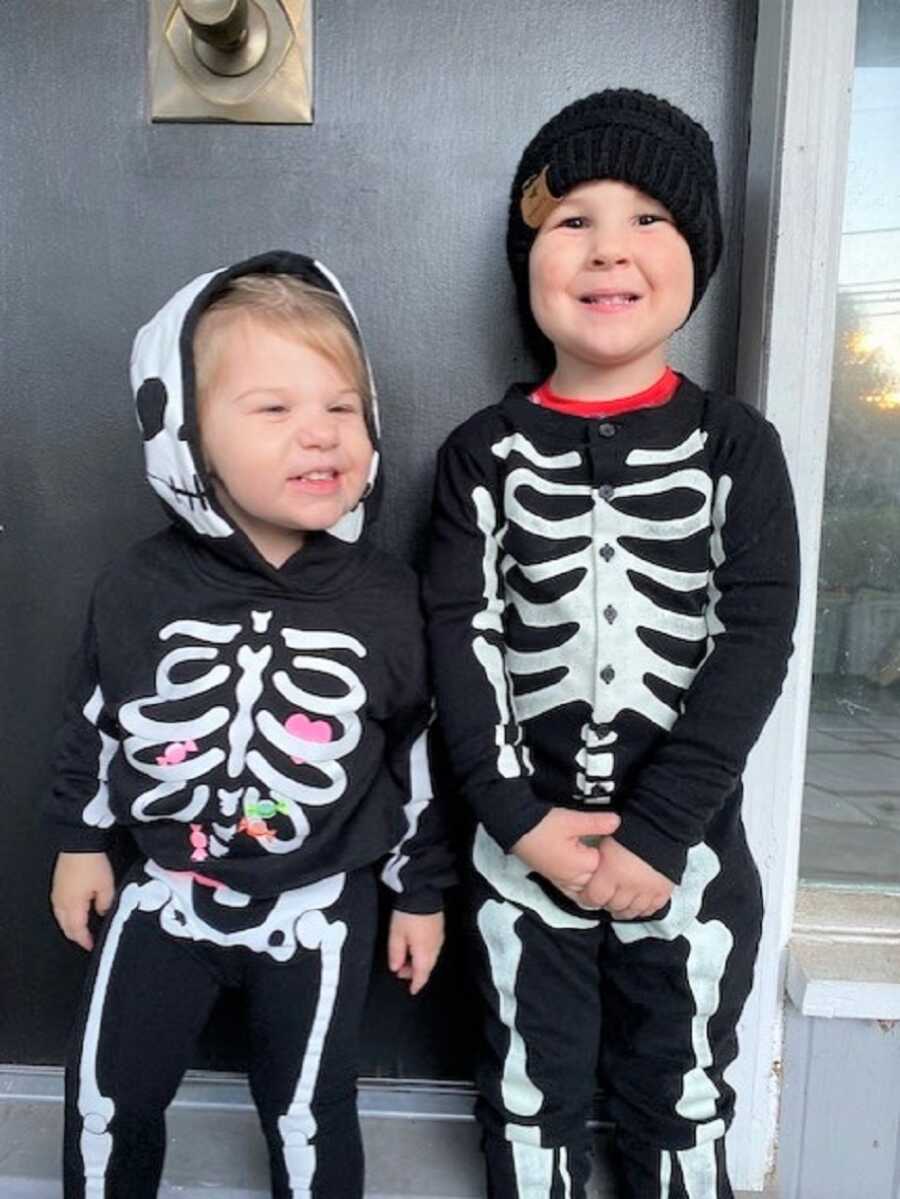 We began seeing their sibling and her foster/adoptive family on a regular basis. We started alternating between date nights vs. watching the kids, having sleepovers, park dates, and dinner together. We are now forever linked together because of the kids, and we are so lucky to have them as extended family. Making sure the kids grow up together is a must for all of us, and we make it a point to see each other and involve each other as much as possible. 
After 16 months in our home, it was decided that parental rights would be terminated. For me, it was hard to wrap my head around how to feel. I was of course happy I would get to see these beautiful children grow into amazing adults. But on the flip side of that happiness, my heart hurt for the bio parents. I did try to form a relationship with them, but did I try hard enough? While I love their children with all my heart, I did want to see this family reunited. I know how much they love their children, and how hard this must be for them. Something I cannot imagine ever having to live through.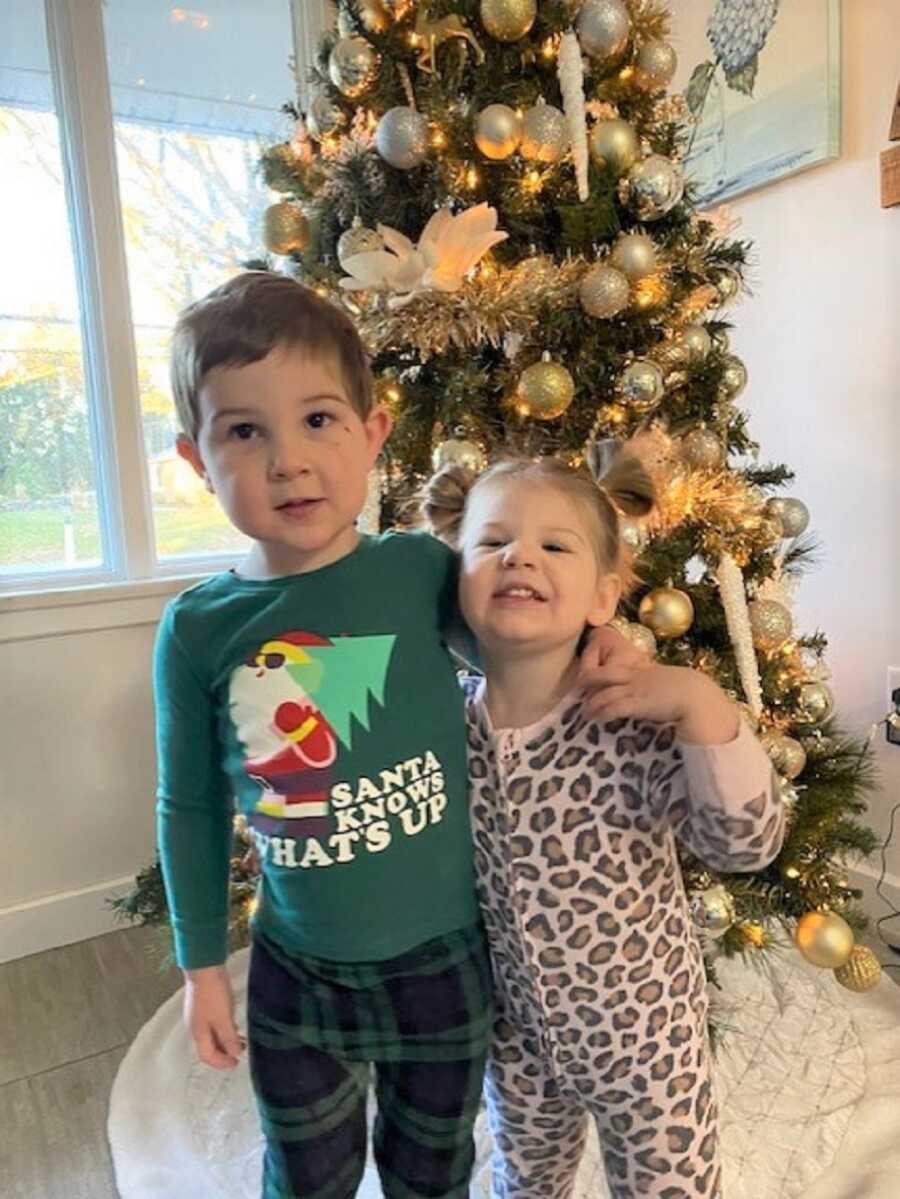 Finalizing The Adoption
Our case worker, Kathy, was amazing and immediately started working on our family profile for adoption. She did all the heavy lifting, and ensured we had everything necessary in a matter of a few months. We then just had to wait on the state to schedule our adoption date, which seemed to take forever (remember, I am super impatient!). At the end of March of 2022, we were given our date in April, and it was the longest month of my life!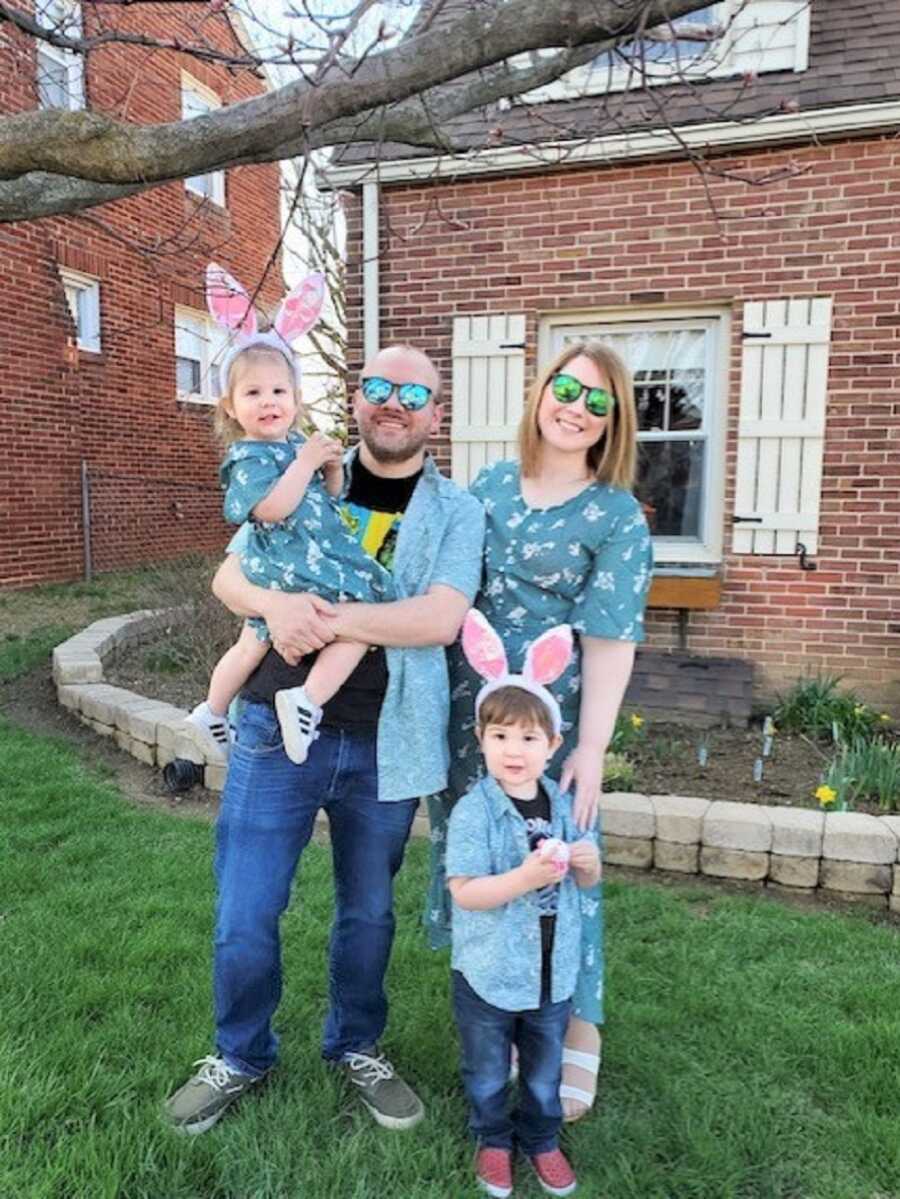 On April 28, 2022, the sweet children we had been loving on for 417 days, became a permanent part of our family.  We entered the courtroom that day surrounded by family and friends. The kids were not shy one bit, even answering questions for us on the stand! When Ryan was asked if he knew this was a permanent decision, and we could not change our minds, our sweet boy took the microphone and said, 'YES!' The room erupted in laughter, encouraging him to continue to answer yes every time our attorney finished speaking. The judge also allowed the kids to sit in his chair, bang the gavel, and yell 'Order in the court!' The county made the day so special for our family, and we are forever grateful we were chosen to have the children come to our home, and eventually be a part of our forever.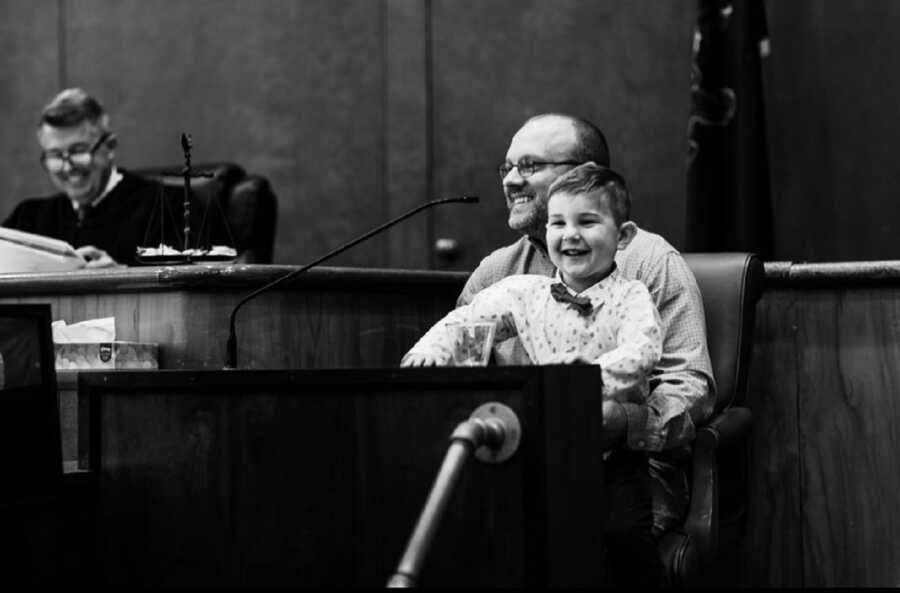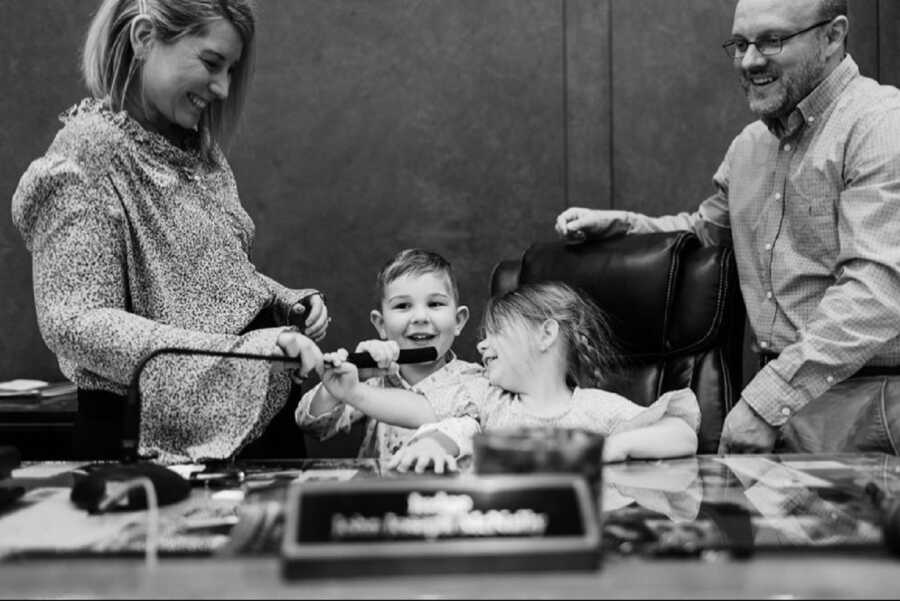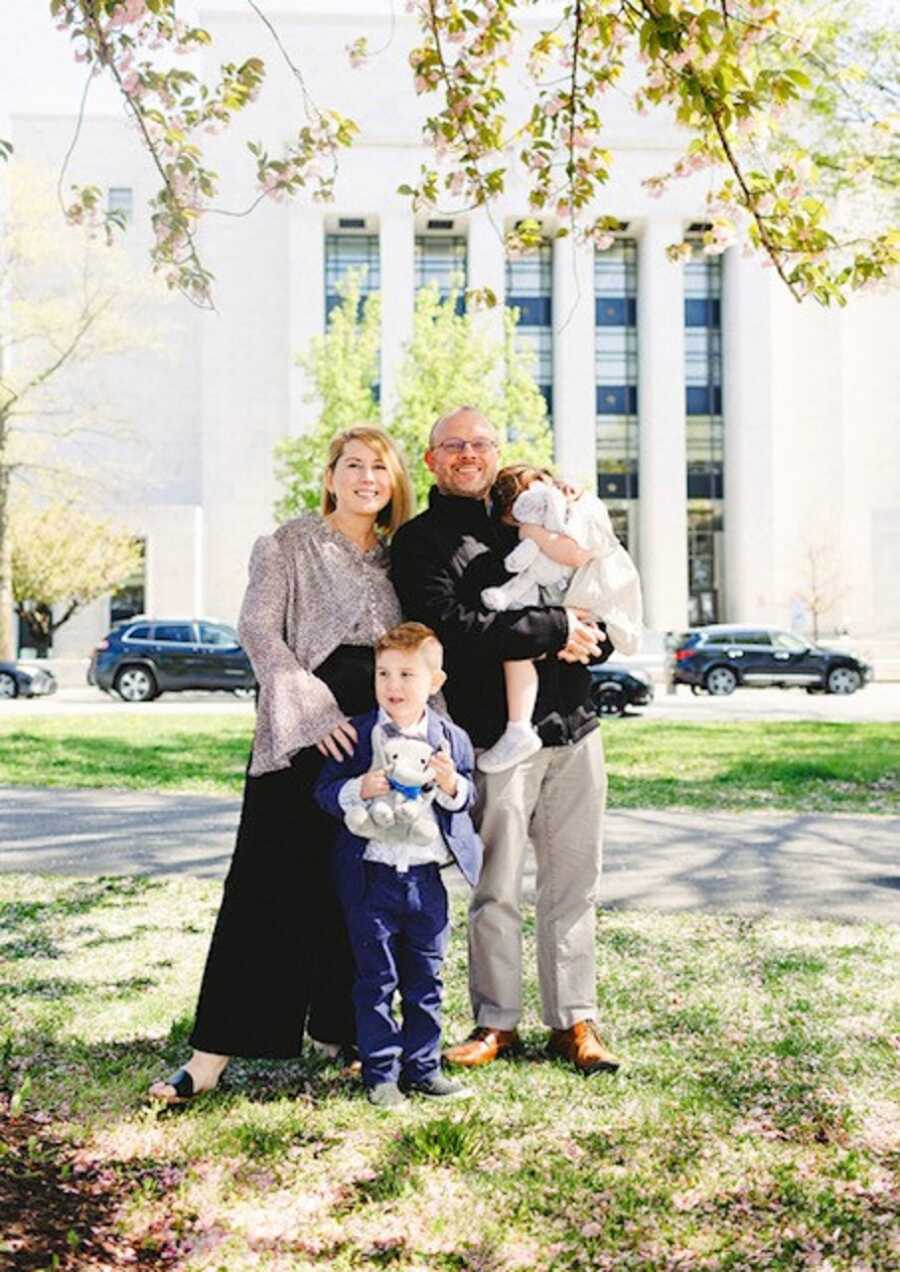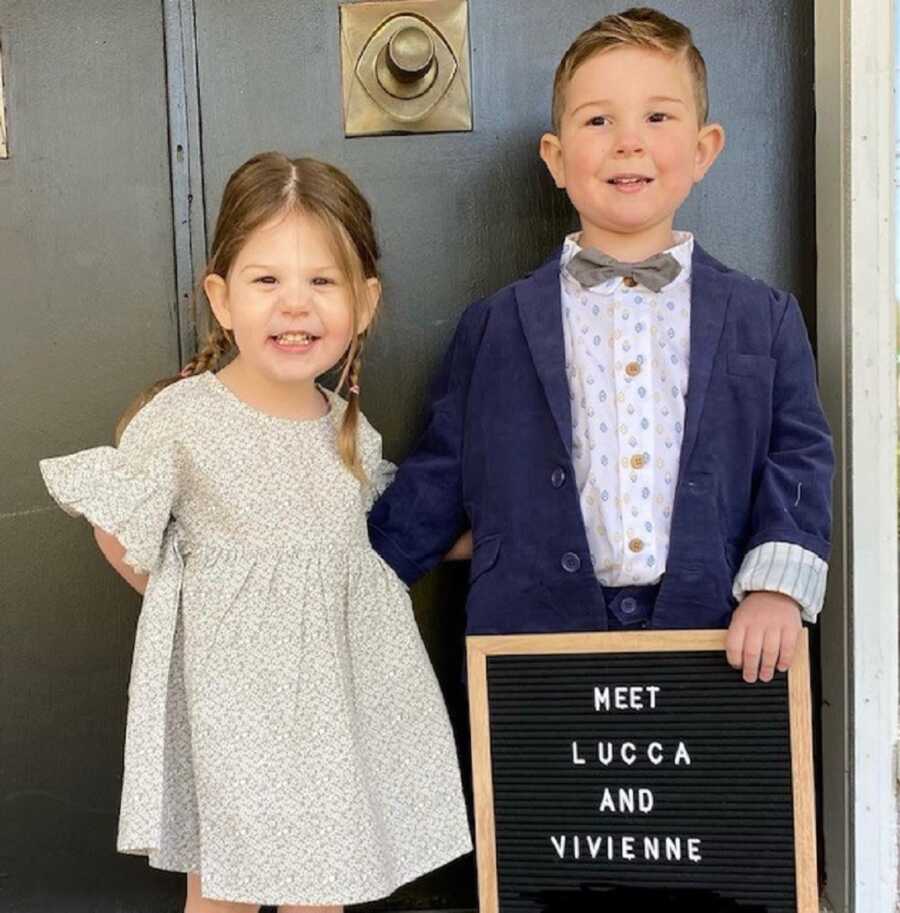 Through all of this, I've learned to have a little more patience, and that the two little people who call me mama are better than anything I could have ever imagined. My life didn't unfold how I imagined it, but I wouldn't have it any other way."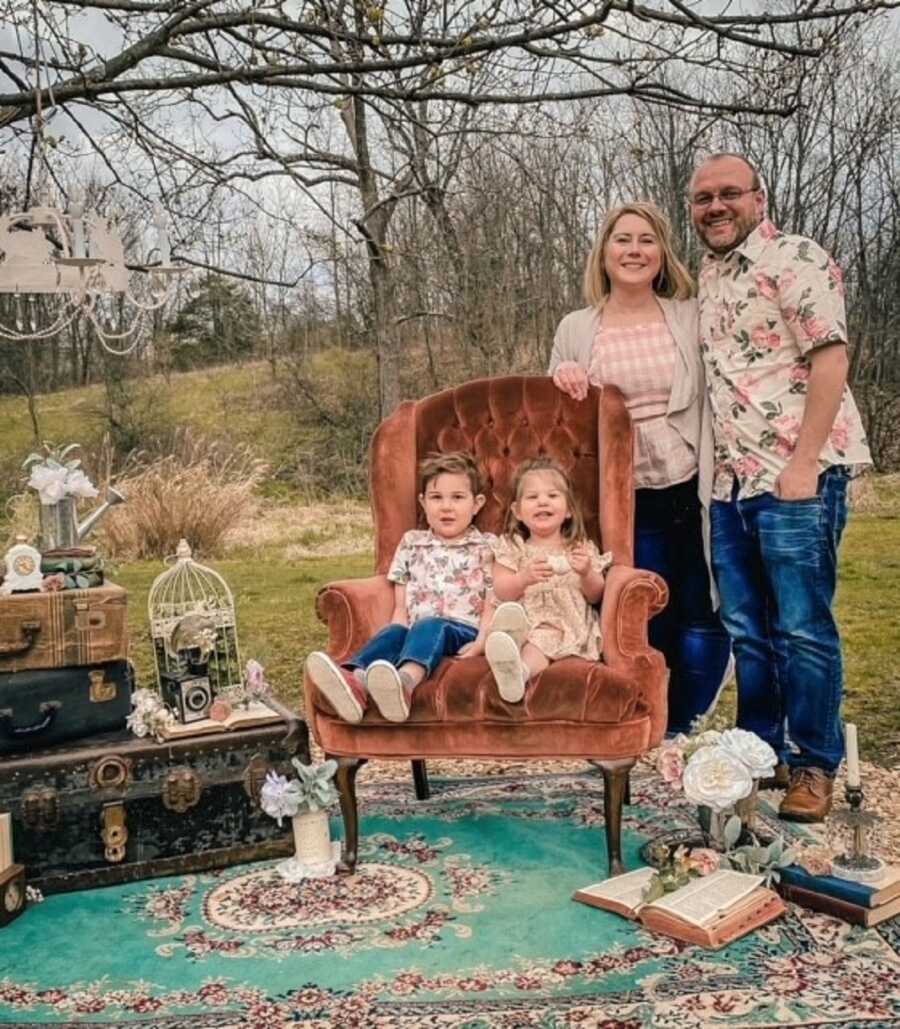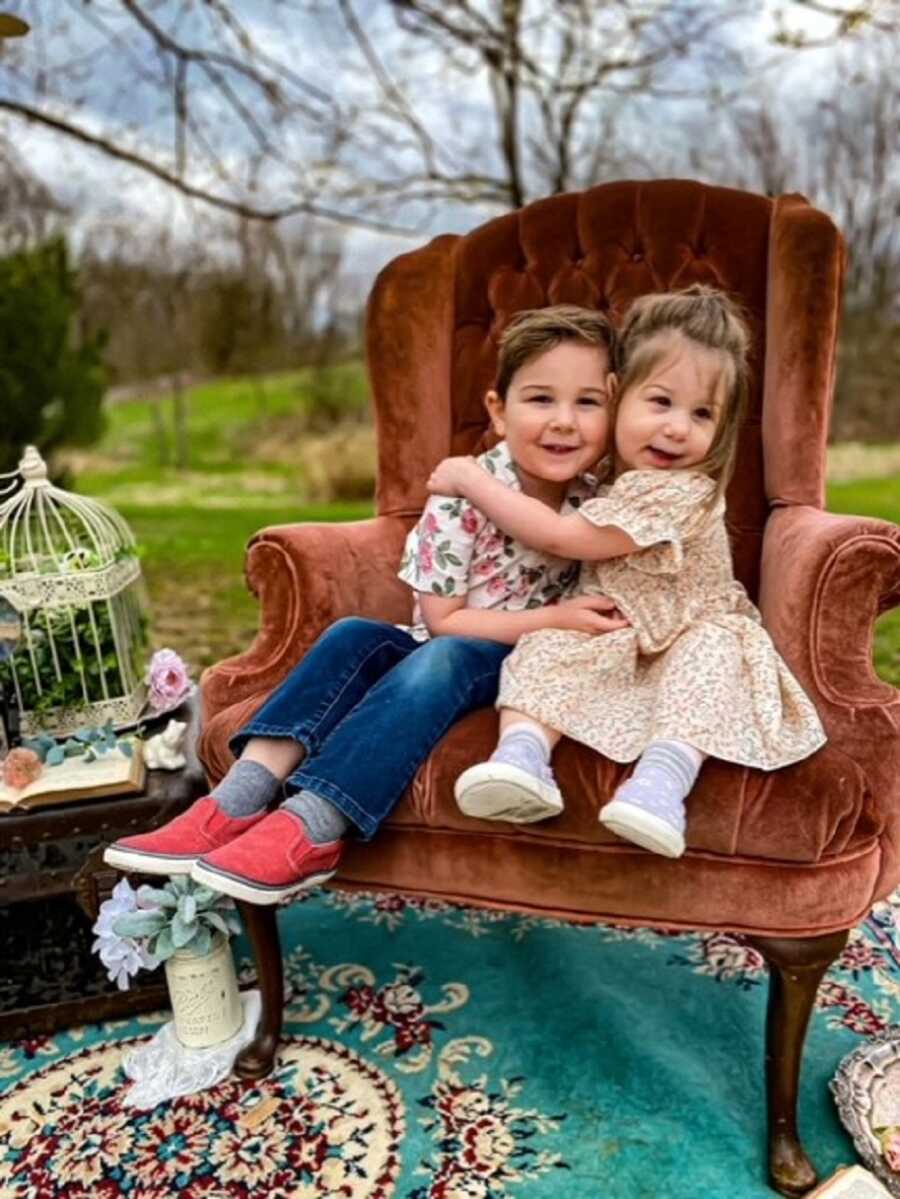 This story was submitted to Love What Matters  by Amanda Webber. You can follow her journey on Instagram. Submit your own story here and be sure to subscribe to our free email newsletter for our best stories, and YouTube for our best videos.
Read more stories like this: 
'I heard my daughter's name be announced as a 'Nichols' in the courtroom, and I Immediately sobbed.': Mom reflects on emotions of foster-to-adopt journey
'Stay with me!' My body was septic. I'd never carry our child. 'There's a baby at the hospital. Do you want him?': After losses, couple foster to adopt, 'He's the redemption to our pain'
'They looked like they hadn't eaten in weeks, and they never said a single word. Our training was exactly for this moment.': Mom shares foster-to-adopt journey, advice for other adopters
'Will I be moving again?' A question no kindergartner should be asking. He was testing our dedication to him, to see if we were truly all in.': Couple adopt boy from foster care
Are you or someone you know looking to adopt? Please SHARE on Facebook to make them aware there is a community of support available.