Kelsey Ferrill was born with Moebius Syndrome, a rare neurological condition which causes paralysis in the face. For Kelsey, this has impacted her speech and put a barrier on her due to the way that people perceive her. Despite many setbacks and wrongful assumptions, Kelsey has graduated with a master's degree this past spring with hopes of continuing to advocate for others with facial differences.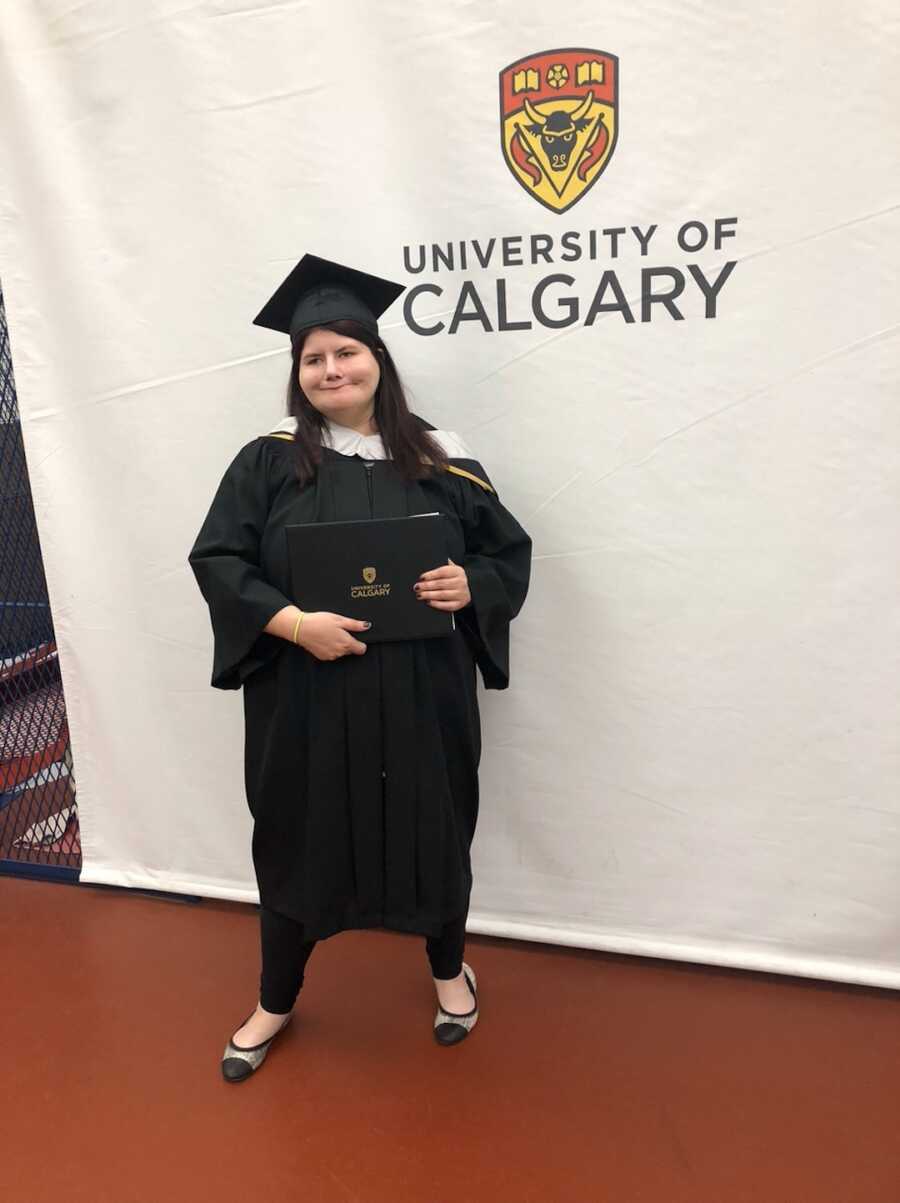 Living with Moebius Syndrome
"I attended my first Moebius Syndrome Foundation conference in 2010 when I was 19 years old. I had never met another person with Moebius before that conference," Kelsey tells Love What Matters. "Seeing people with Moebius who were teachers, librarians, speech language pathologists, government workers, nurses, and students, among many other occupations, is when it hit me that my difference did not have to hold me back. It didn't have to be a roadblock after all. It would certainly be a hurdle, but one that can be overcome. I walked out of that conference in 2010 with my world changed, knowing that I could be someone."
With a newfound confidence and community, Kelsey decided to pursue higher education. Twelve years after her first realization that she could do it, Kelsey has graduated with a Master's Degree in Intercultural and International Communication.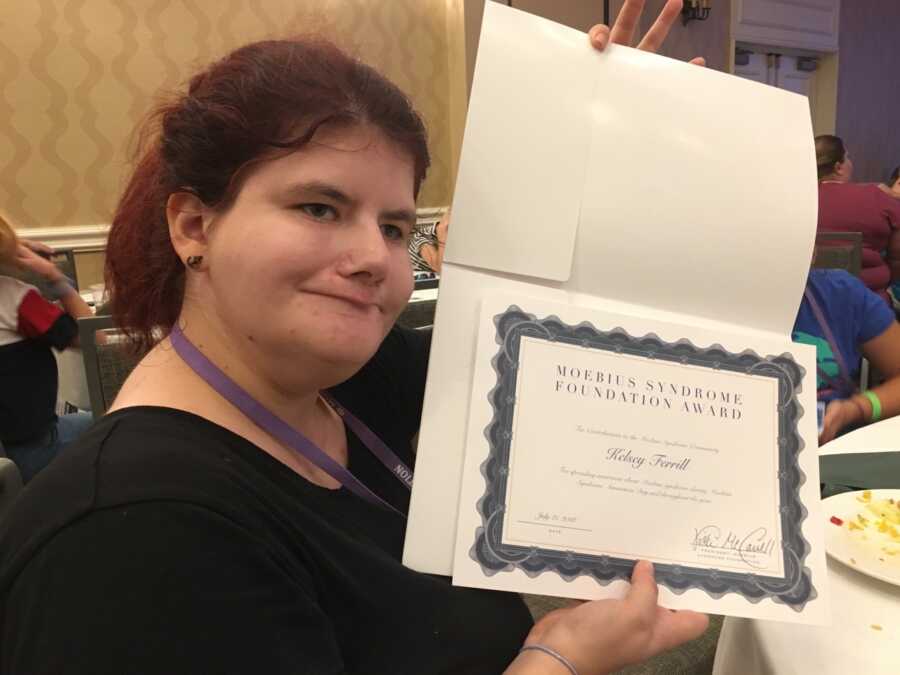 Pushing Past Boundaries With A Disability
"I learned that if I push myself and believe in myself and my abilities, I will be able to succeed. I learned that being passionate about your work will take you far and will ultimately make your life so much more enjoyable," Kelsey says. "I feel like I am making a difference in the line of work that I am in. I learned that when things seem impossible there is always a way to make it through. I poured so much of myself into my almost 10-year, post-secondary journey, but I don't regret any of it."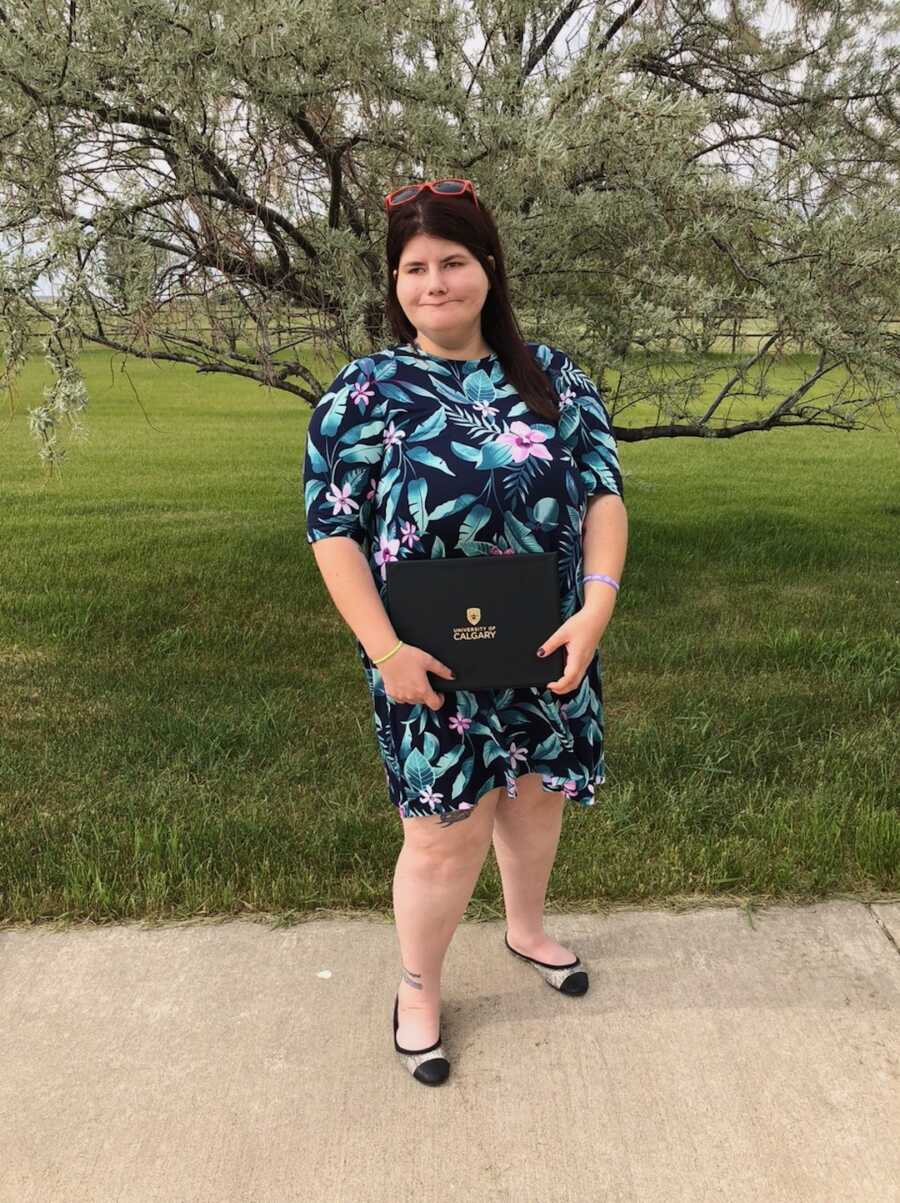 While Kelsey's journey has been ultimately positive for her and has taught her many important lessons in and out of the classroom, it was not always easy. 
Facing Challenges In College
"I don't think a lot of professors took me seriously because of having Moebius, but I did have some amazing instructors at my college and then at university," Kelsey tells Love What Matters. "Feeling like an outsider was also an issue, and making friends has always been difficult. Some professors assumed that I needed accommodations because of how I look when I really didn't, and some had misconceptions about my cognitive abilities as well, again, because of how I look and sound."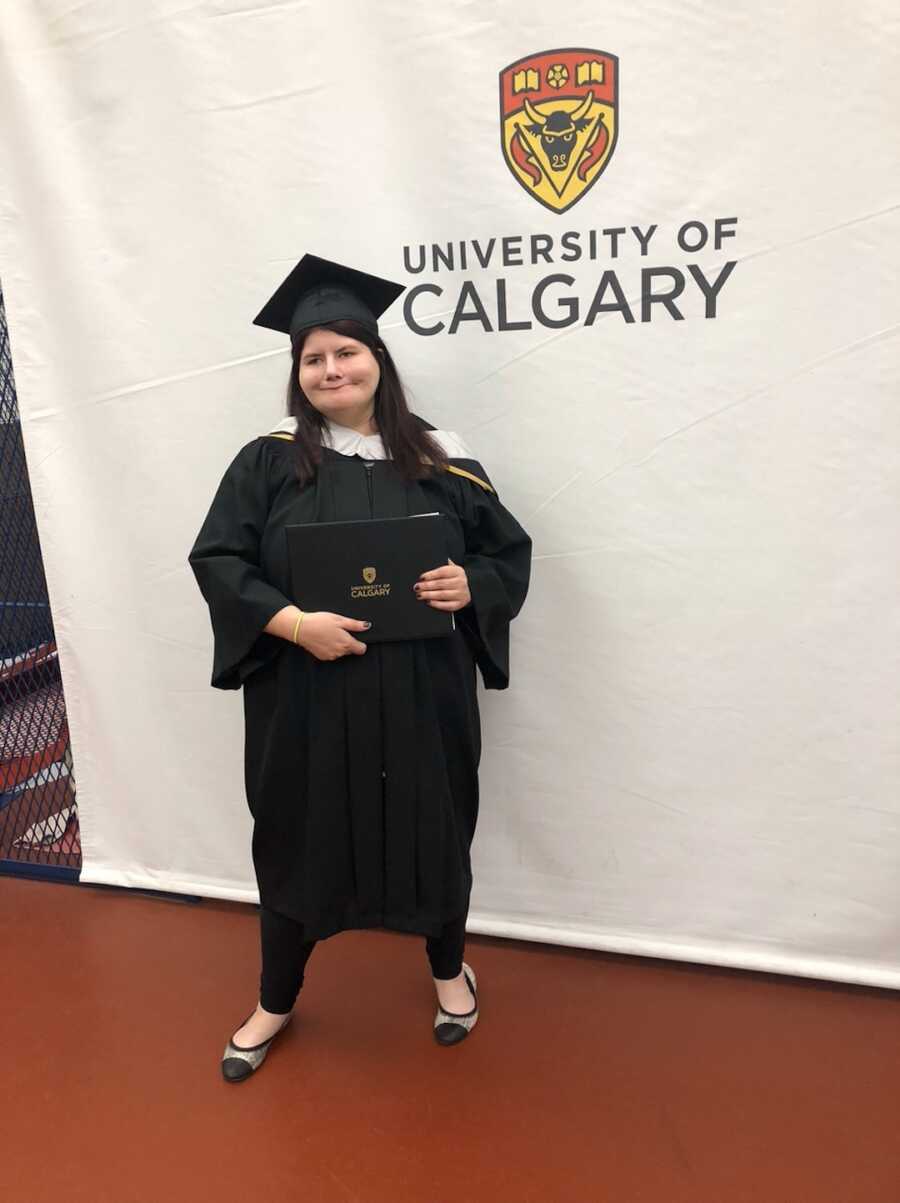 Kelsey's work in higher education has occurred so that she can advocate for others with craniofacial differences, with the hope that future generations will not have the same struggles that she did. 
Being An Inspiration For Others With Facial Differences
"My goal is to continue to be an advocate for those with Moebius syndrome and other facial differences or disabilities. There is so much more work to do to create a truly inclusive and equitable society for those with differences and I want to be a part of that change," Kelsey says. "People with facial differences or disabilities deserve the same access to careers, to love, to education, to family, to a social life, to equal opportunity as anyone else. This is what I push for in my personal advocacy and in my job."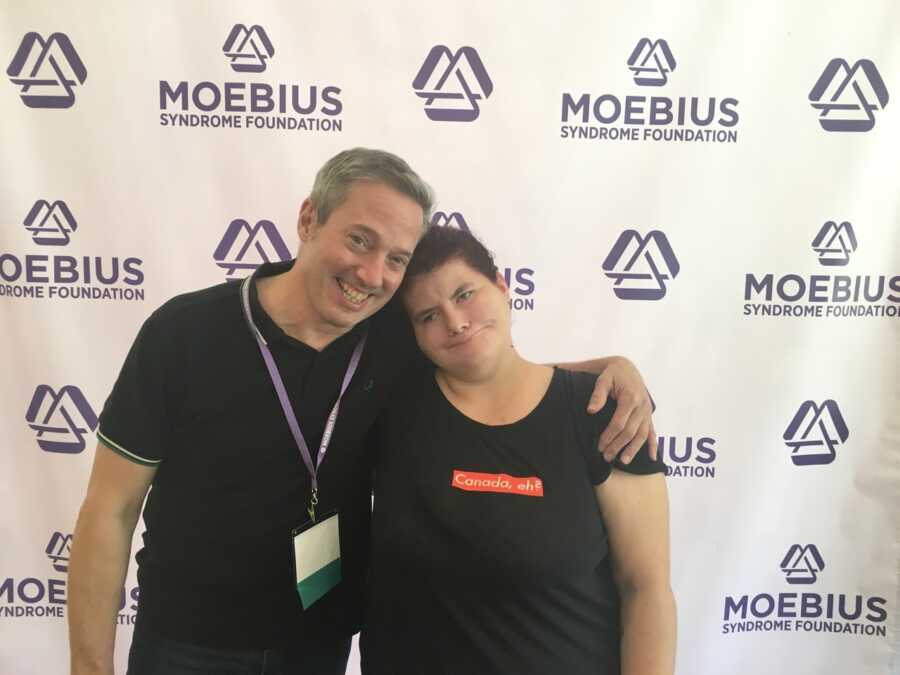 Kelsey works as a writer and advocate and shares much of her work on Twitter and YouTube. While Moebius disease is extremely rare, she works with many organizations and individuals for recognition of people with craniofacial differences in hopes that she can inspire another young person that what they think is impossible is well within their realm of abilities.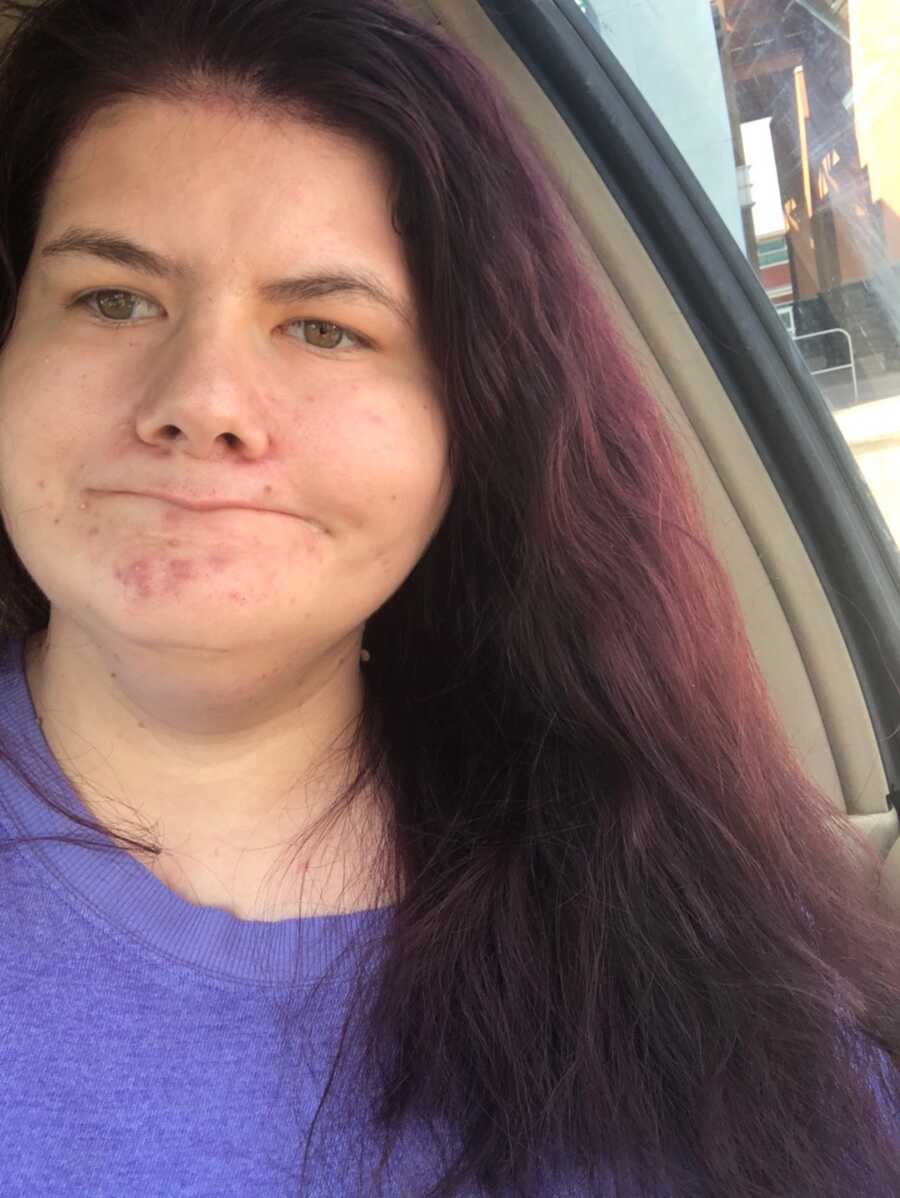 This article was written exclusively for Love What Matters by Anna Steingruber. You can follow Kelsey Ferrill of Alberta, Canada on Twitter. Learn more about Moebius Syndrome here and here. Submit your own story here and be sure to subscribe to our free email newsletter for our best stories, and YouTube for our best videos. 
Read more stories like this: 
'Excuse me, my child has a question about your face.' Others pulled their kids away like I shouldn't be looked at.': Woman with Craniofacial differences reminds us to use 'kindness' to approach uniqueness
'She has her differences, but she is still our little girl.': Mom shares daughter's rare Nager Syndrome diagnosis journey
'When it was my turn to play dress-up, they paused. 'Oh, Liz, there aren't any princesses left.' My confidence was shattered.': Woman with Goldenhar Syndrome advocates for facial equality
'Mom, I don't like my hands.' Her gloves always had an extra space. She came to me with her piggy bank, begging for four-fingered gloves.': Little girl with limb difference 'beaming with joy' after gifted custom gloves
Do you know somebody who could use this story? SHARE with friends and family.