"Jess Kotanen, Fern's mom
Imagine being small, surrounded by family and friends who love you, moving through your preschool-aged life just like your siblings. Little to no recollection of the major surgeries, therapies, hospital stays, discussions, and physical challenges that have occurred in your life. And then one day you realize there are things about you that are different from everyone you know.
With our 6-year-old daughter, Fern, we have always have made light of differences. We have books. We talk about how Mom is the shortest of all her friends. How little sister has a birthmark. How big sister has blue eyes when the rest of us have brown. Fern's aunt made her an illustrated children's' book long ago that featured a little girl with 4 fingers, a similar tummy and head scar, a hearing aid soft band, and orthotic boots. We made traced hand art and kept it on the wall. We painted our nails and compared colors. It's all been present; it's all been covered. It's all been normalized. It's all been good.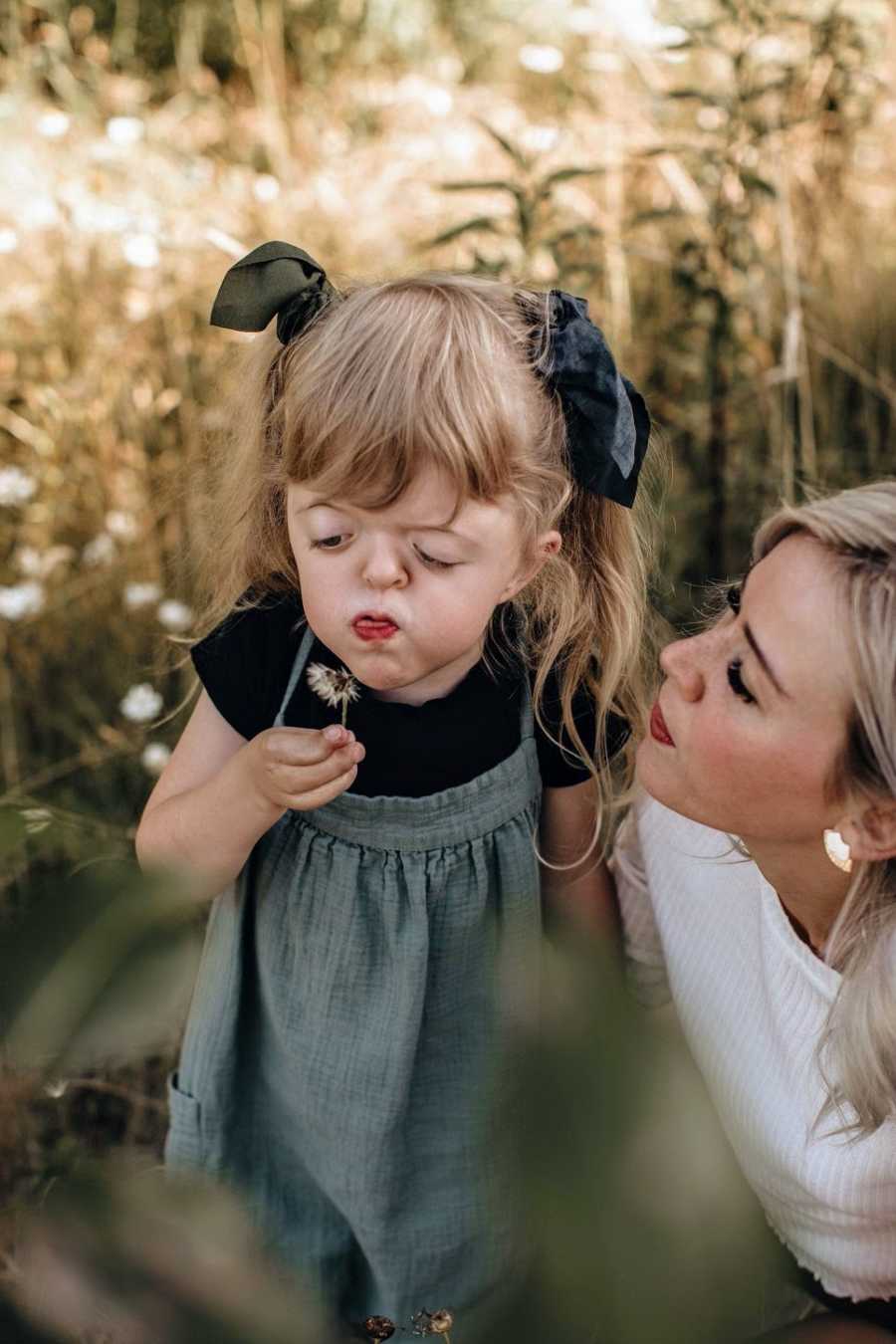 One day this fall, she had a moment: she saw her hands in a different way. There was something off in her mind. Something about putting her garden gloves on and there being an extra space. Something about having to wear mittens while everyone else got gloves. She started counting everyone's fingers in photos, TV shows, drawings. Unlike everything else, this affected her. And this is what made her say, 'I don't like my hands.'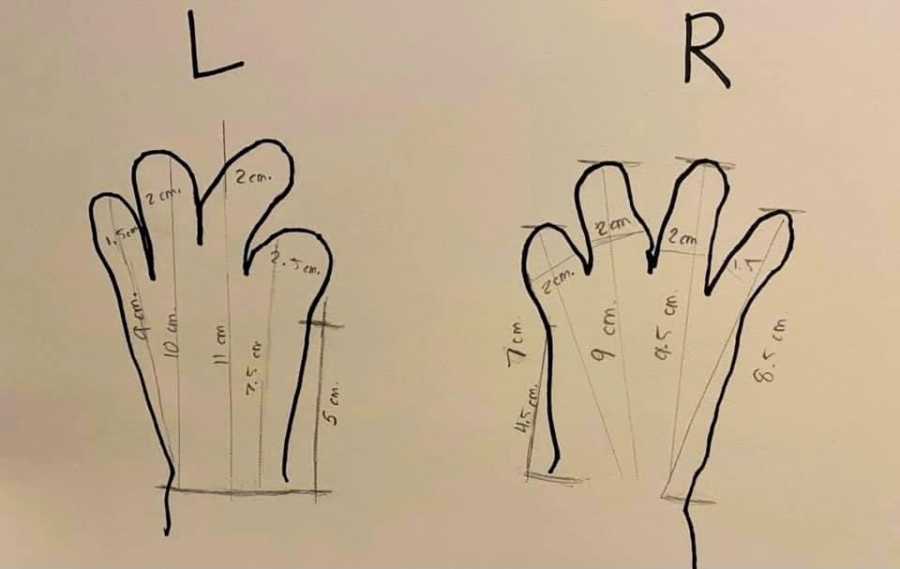 Suddenly, she was noticing everything. How she couldn't wear flip flops. How she couldn't balance on one foot. How she couldn't keep up with other kids who were running outside because it just took too dang long to put shoes on by herself. I watched her become angry. She was 6. This wasn't okay.
I realized talk is great, acceptance is wonderful, language matters. And yes, resilience and adaptability are essential. But when the world averages out to exclude you in the most basic ways, it can be an isolating experience. One that can have a cascading effect on the very resilience you worked so hard to cultivate. We deserve better.
When Fern came to me with the contents of her piggy bank and begged for green four-fingered gloves, I knew this had to happen. Not because they would change her life by any large degree, but because this was her cascading moment. This meant something. I put it out there, hoping for ideas, suggestions, anything. And the glorious interconnectivity of the internet answered back. A kind woman named Rena Rosen initiated a group project connecting artisans to individuals with limb differences, and within 3 weeks, we had a soft green pair of four-fingered gloves on Fern's hands.
Beaming, she wiggled her fingers, held up two fingers, and said, 'Look! I can make the number 2!' Shortly after, she received two pairs of thin light blue gloves, rounding out her collection. She now not only has something that works but she also has options. She has privilege in something to which the door was shut for her a month earlier. She has stopped criticizing her hands. Stopped commenting on her feet. She's been smiling more. Last week she proudly stated, 'I love my hands.' The moment was won.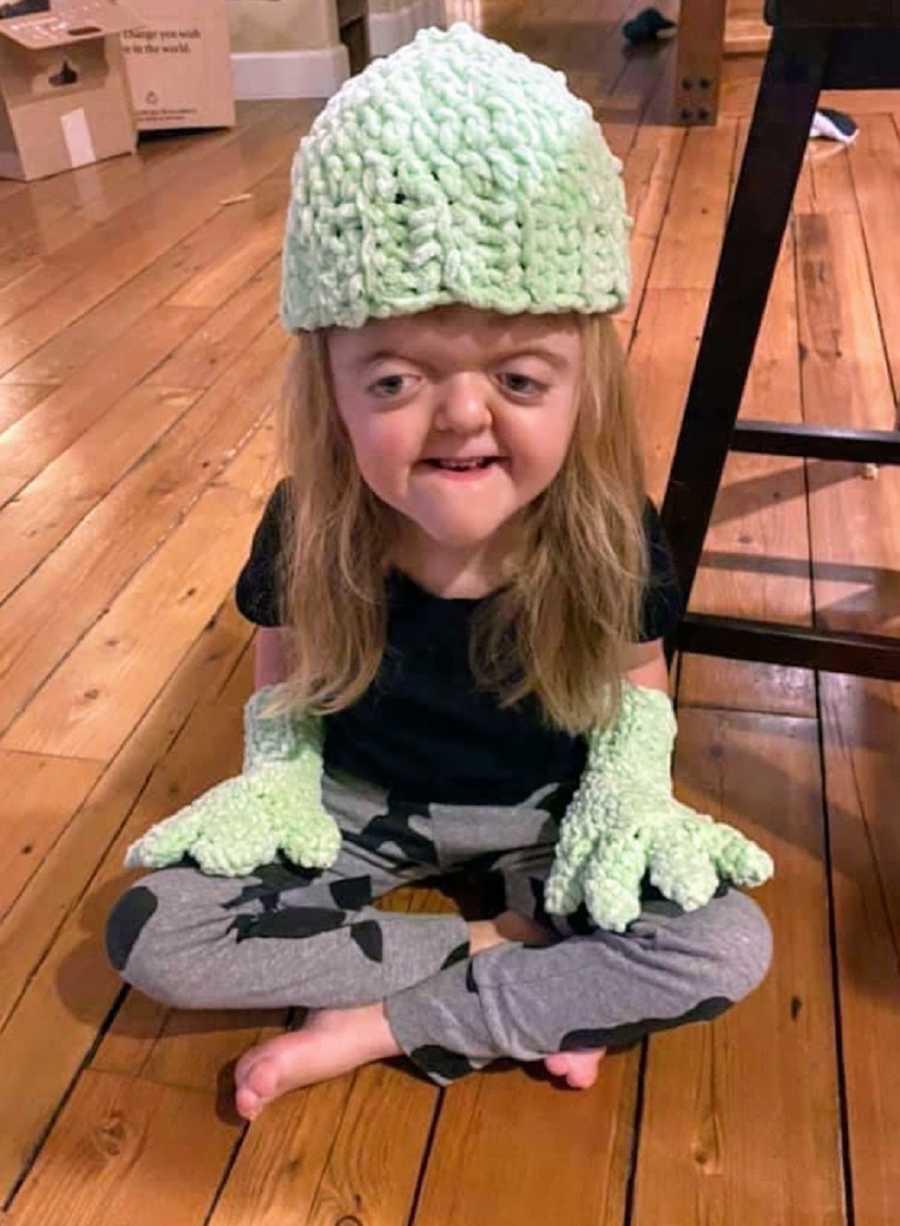 The world is a big place, and we are made stronger every day as we encounter all of the grand challenges along the way. But small wins at the most crucial moments are what drive our experience. Accessibility really matters because it fuels self-worth, and when you love who you are, you can love others too.
Tricia Brusk, Amelia's mom
I received my package after weeks of messaging back and forth with the most generous stranger. I immediately went to Amelia and told her someone made her gloves to fit her special hands and a hat to match. I think Amelia was speechless. She had the biggest grin on her face and you could just feel the joy. The next morning, she couldn't wait to put them on and show her friends at school!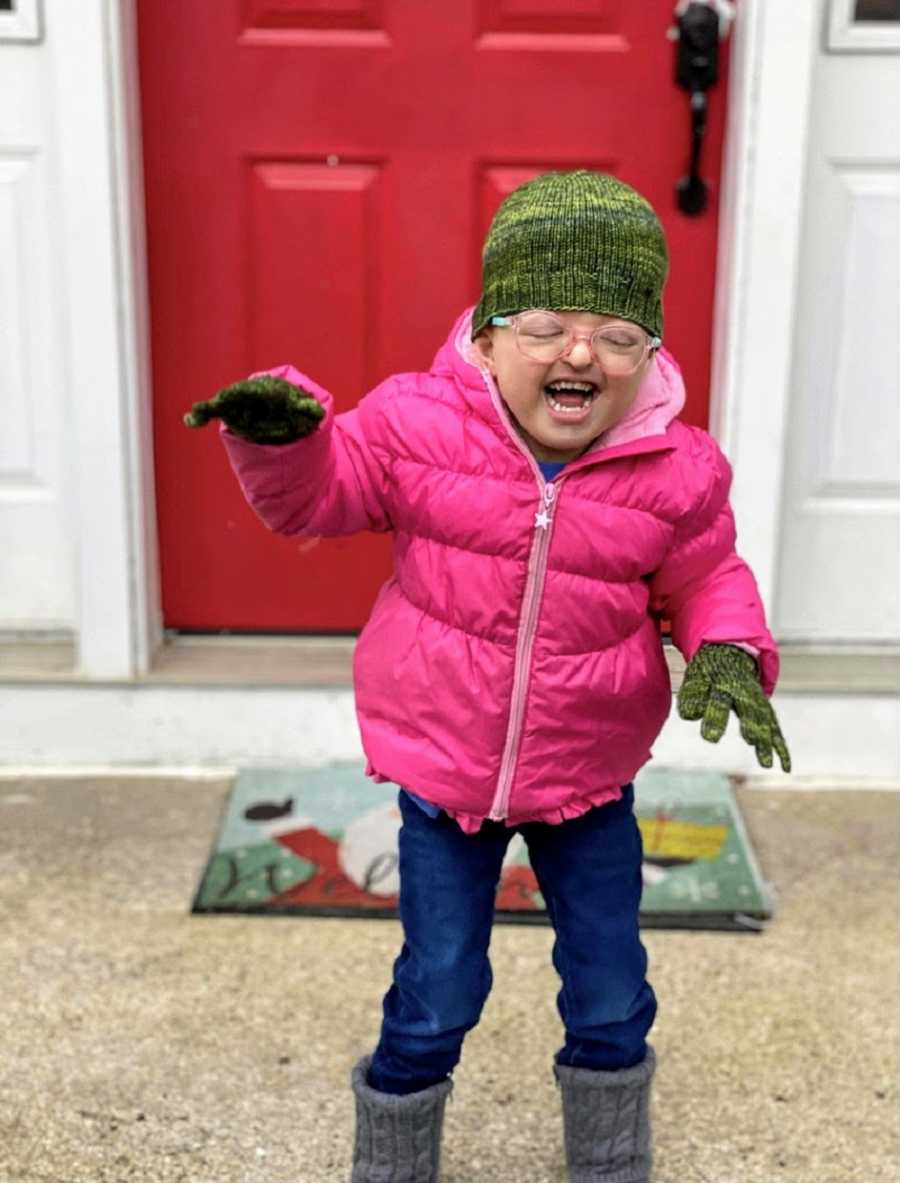 Rena Rosen, Founder of Knit for a Unique Fit
This, this is what sparked Knit for a Unique Fit. I saw the post Jess wrote back in late October, and once I shared it, more friends reached out with similar stories and what they thought were outlandish requests. I don't know how to knit or crochet, but I do know how to make connections. This is my purpose; this has always been my purpose. Having been born with craniofacial differences myself, I have a deep understanding of the desire to belong and have your needs met without needing to 'fix' the parts of you that make you unique. I opened up the Facebook group, and within 5 weeks, we have reached over 400 people from around the world. It began with supporting the needs in the craniofacial differences community and has branched out to people with Arthrogryposis and limb differences.
400 people right now are connecting in some capacity to someone different than them because of a universal need. That's 400 people connecting to make the world a little more accessible, warm, kind, and inclusive in a small way. That's 400 people who believe this is important. I started a Facebook group to connect kids and adults who have unique hands with someone who can knit who was willing and able to create unique gloves.
Yes, it's incredible that the group has grown so rapidly and has made it around the globe. Yes, it's beautiful that more than 15 people have been matched or are being matched for unique gloves! But it is so much more than that. It is so much more.
Belonging and inclusion in a world that was not crafted with you in mind happen when your needs have been thought about and taken into account before you even have to ask. It's the opposite of having to 'fix' yourself to fit; it's adapting the simplest of necessities to fit your needs. It's not having to explain yourself but having the space to share your voice, your experiences, and your desires.
That's all happening here, and I think more people need to know about it.
I have a simple mission in this group: connect people, meet a need, build some awareness, make someone smile.
Every pair of gloves matched from crafter to receiver is joy, pure and unequivocal joy!"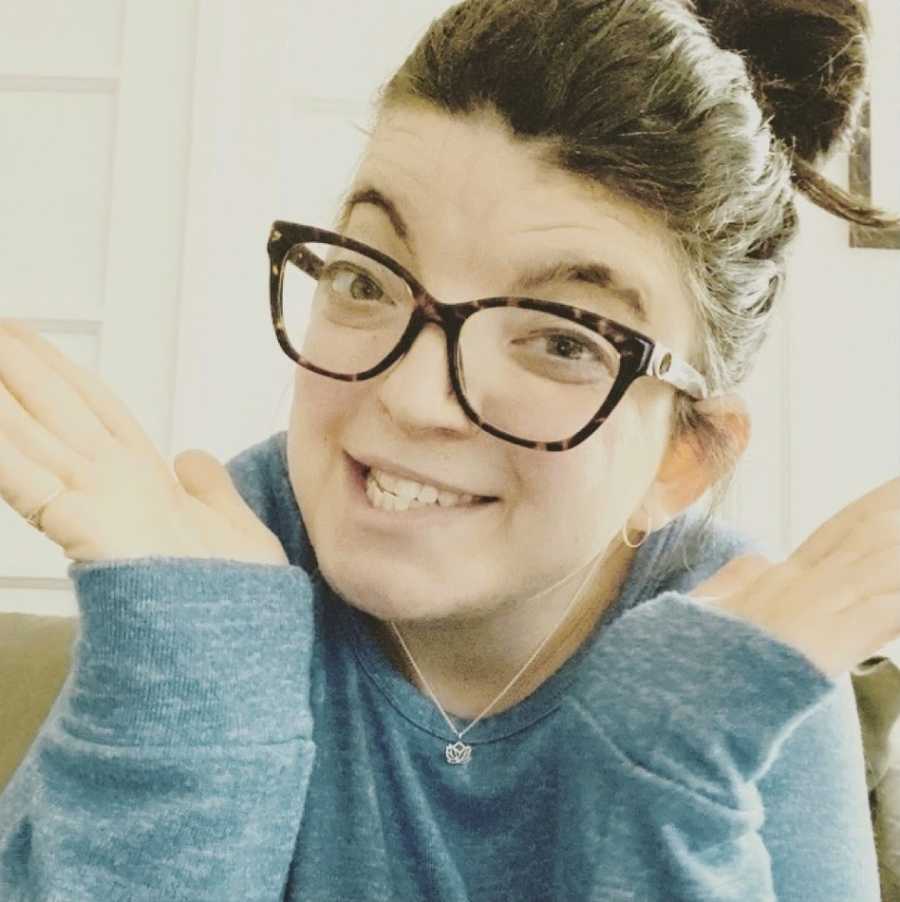 This story was submitted to Love What Matters by Jess Kotanen, Rena Rosen, and Tricia Brusk. Submit your own story here, and be sure to subscribe to our free email newsletter for our best stories.
Read more stories like this:
'What happens to my girl when society realizes it's not 'cute' anymore? How do I make people see the beauty I see?': Mom to daughter with autism urges us to challenge our idea of beauty
'Who wants a single mom with a deformed monster? NO ONE.' Pregnant at 18, my abortion was the next day. A flip switched.': Mom raises miracle son with missing limbs despite abusive partner's pressure to terminate pregnancy
Help us show compassion is contagious. SHARE this story on Facebook with family and friends.