Growing Up
"Growing up surrounded by my family…my entire family…(grandparents, great grandparents, aunts, uncles, great aunts, etc.) gave me a different perspective on life. While mostly it was just me and my mom (she and my dad were divorced when I was 2 years old), the rest of the family created a tight knit village around me. They gave all the love, they provided all the support, and they truly were helping my mom raise me.
I was an only child and the only grandchild on my mom's side of the family for 18 years. In many ways these family members were also my best friends. My grandma (MawMaw) and my grandpa (Pawpaw) lived on a cul-de-sac 2 doors down from my great grandma (Mamow), great aunt (Margorie), and great great aunt (Gena).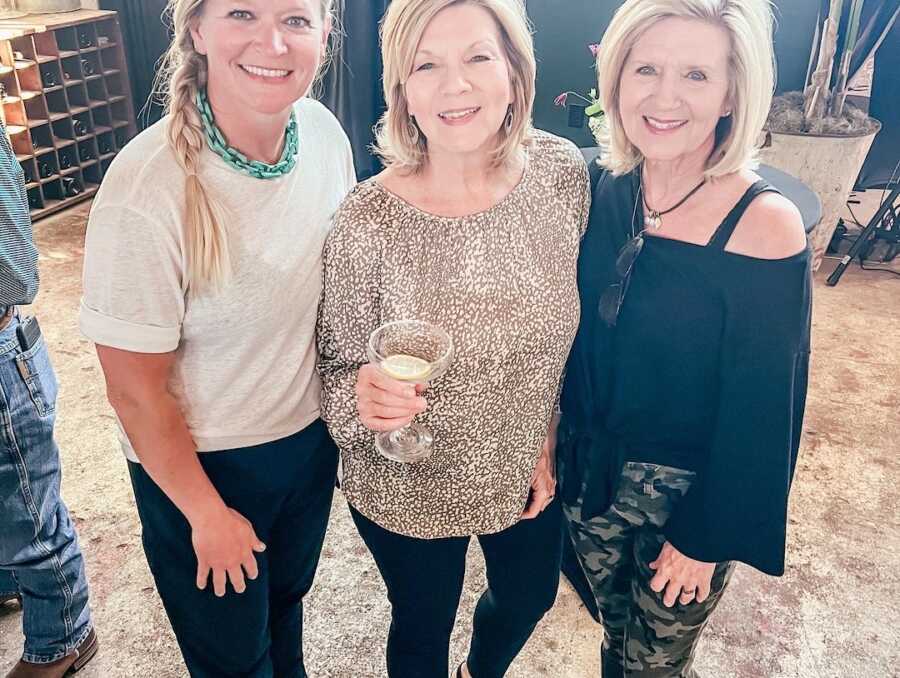 This cul-de-sac is where I spent most of my afternoons and summer days hanging off the clothesline, picking flowers, playing games, painting, and running through the creek. There were neighborhood kids around so I always had someone to play with and if the kids couldn't play, you could bet my family was more than willing.
MawMaw was a nurse by trade but when she retired, she picked up painting. She became an artist. She cultivated in me the love of art and creativity that has been passed on to my own children. Her art room was at the end of a long hallway but about halfway there, you could smell the turpentine…it was like your whole body, even your sense of smell was prepped for the day of painting ahead.
To this day I have her work in my house. I gift her work to friends. I want her legacy to live on not only through her art, but also through her family's abilities and gifts she so graciously passed on.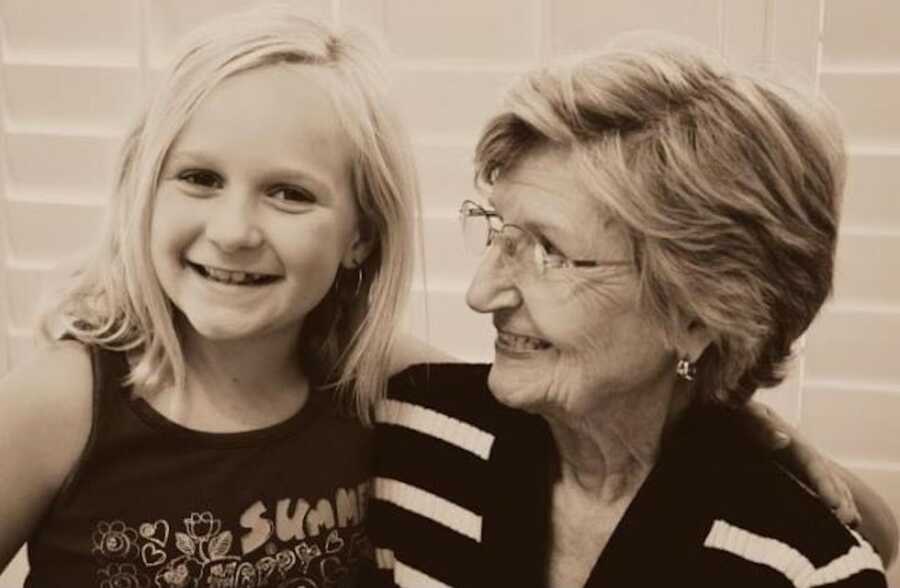 In my freshman year of college my cousin, Ely, was born. My heart forever changed. His mom, my aunt Judy, and I have always been very close. She is like a second mom to me so he felt more like a little brother or nephew than a cousin. Two short years later, his sister, Nichole, was born. These 2 were my world.
I loved them so dearly and to this day we are close. I'm so grateful they are in our lives to positively influence my own kids. Because of them, I began to dream about my own family. I knew in college that one day I wanted a family of my own.
Starting A Family
I met my first husband while I was in graduate school in North Carolina. We got married shortly after I graduated and moved to Birmingham, Alabama where I had a job waiting for me at Samford University. 3 years later, Gwendolyn Brown was born. I was immediately connected to her. I loved being home with her, nursing her, taking care of her. I had to go back to work when she was 7 weeks old.
We found a precious daycare at a church there and the ladies treated her so kindly. I hated it though. I hated dropping her off and hated being away from her for that long. Obviously, it became easier because you adapt. As a mom, and a working mom, you adapt. You do what you must do to provide for and protect your kids.
6 months after Gwen was born, we moved back home (my home, anyway) to Texas. Having a kid makes you want to be close to your family…at least it did for me. We lived with my mom while we figured out jobs, houses, and life. A year and a half after moving home, I got a job with a school district I readily accepted. We bought a house close to the school and moved in that summer. One year later, we welcomed Graelyn Cline to our family and now we were off running with busy!
Solo Parenting
Time, life, apathy perhaps, and distance grew between my ex and I. We divorced shortly after our 9-year anniversary. Gwen was 5 and Graelyn was 2. It was hardest on Gwen because she was older. I don't think Graelyn has much memory of our life before divorce.
Being a single parent is hard work! I knew it's what I chose, but it doesn't change the fact parenting solo was HARD. You choose your hard I guess, right? One of the hardest parts for me was to forgive myself…forgive myself for the divorce. Years ago, I had made a promise to myself I wouldn't repeat what I had gone through as a child, yet there I was doing the exact same thing. Looking back on it now, I have not only forgiven myself, but I have seen ways God has given me a perspective others do not have.
While single, I told myself I was done. No more messing up a marriage. I'd stay single and just roll with things. Doesn't God just laugh when we make plans?! A good friend from high school had reached out to me because he was separated from his wife and going through a divorce himself. What I have found out about divorce is you just know. You know when others are going through it. You know when someone else is suffering even if they attempt to make appearances and seem normal on social media and in person. You just know.
Love Story
We talked a lot, met up a few times (all in the name of friends helping friends, of course) and finally, at the nudging of a work colleague (giving him free Texas Rangers tickets), we went on our first date. Things progressed rather quickly because we had known each other since middle school; the 'getting to know you' phase wasn't necessary and everything just clicked. We found out rather quickly we were pregnant…both of us were 38! He had 2 kids already and so did I, what in the world were we going to do?!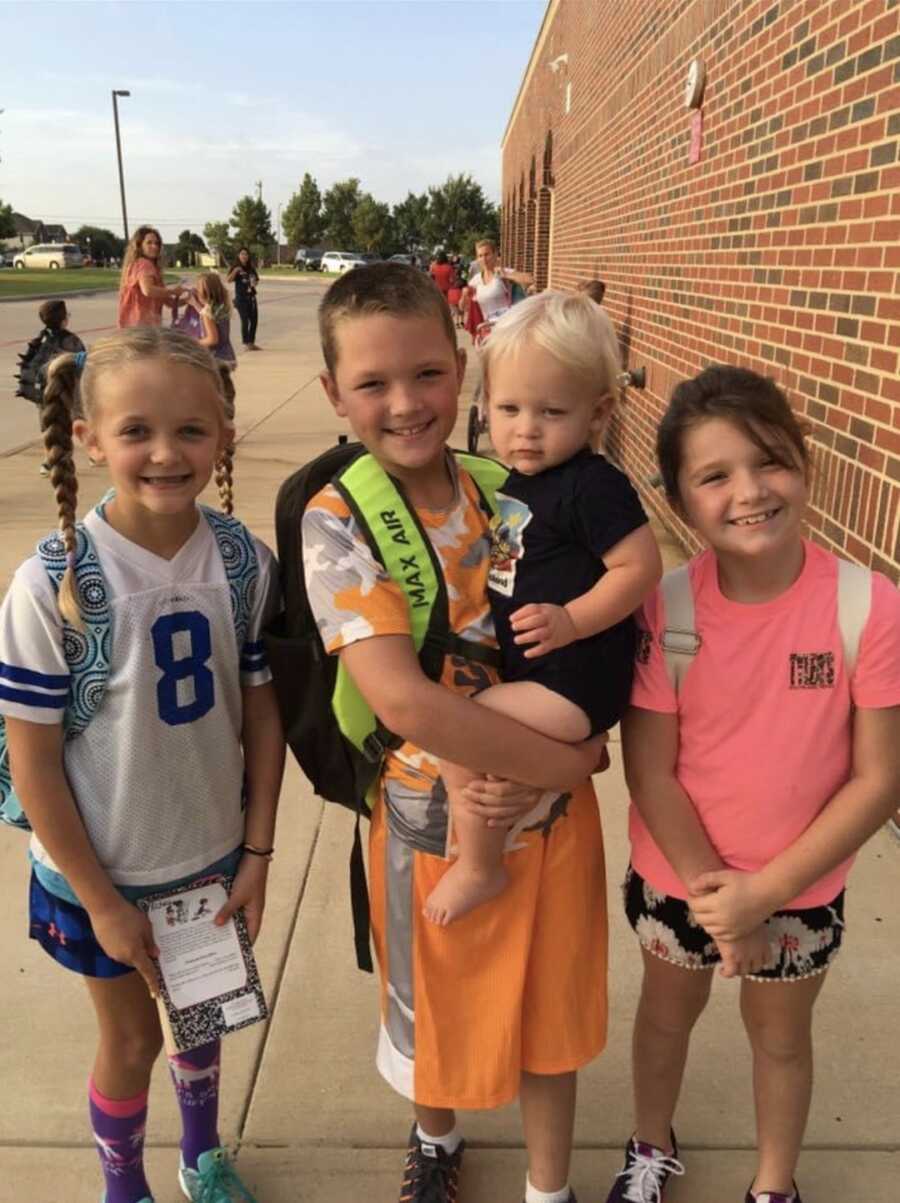 Get married! That's what! Soooo, in November 2014, we joined our hearts and families and in March 2015, at 39, we welcomed our 5th kid, Beau Crockett. He was the glue that brought our other 4 kids together. They are as close as they are now because of him. He is a piece of each of them.
Now, don't get crazy and think they are always sweet and loving and kind to the kid…THEY ARE NOT. But something my husband reminds me of is siblings pick on each other. Siblings fight. Siblings are mean sometimes. But siblings are also your best friend. They are your best protector, biggest advocate and will fight with and for you.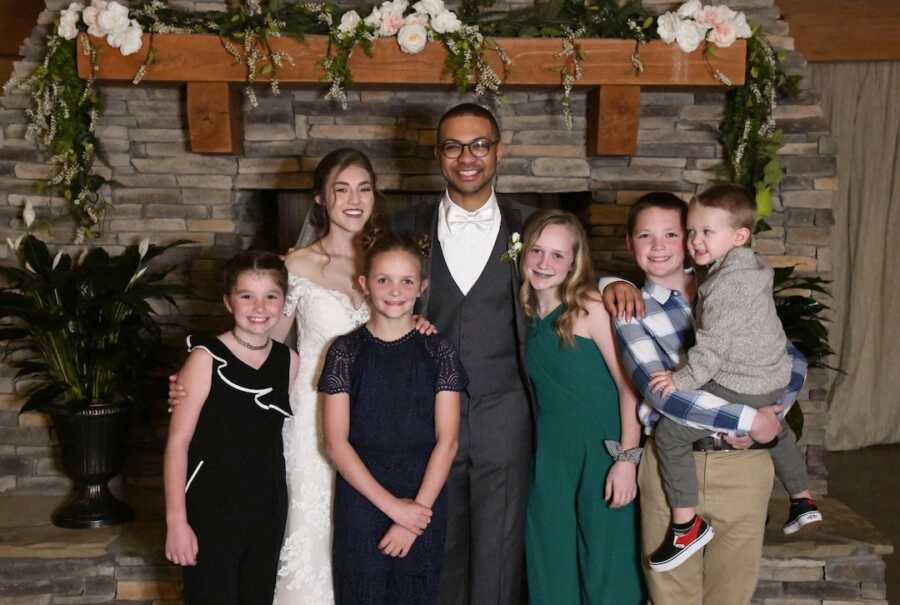 Blended Family Life
As parents, Jason and I have to be on the same page. We don't treat the kids differently because they are our biological kids or step kids. We discipline them the same, expect the same and have the same rules for all 5 kids. They know if they ask dad/Jason, then come ask me, they'll get the same answer. Having a united front as parents of a blended family is key. Something else that is vital is our faith. We go to church; we pray for our marriage, and we pray for our kids. God may not love divorce, but He has blessed our family in ways we could have never done on our own.
We are now going on year 8 of our marriage and something I can say about our life is this: it's not easy, but it's 100% worth it. Jason is my very best friend and the person I want to spend most of my time with. Our kids have adjusted and truly are siblings.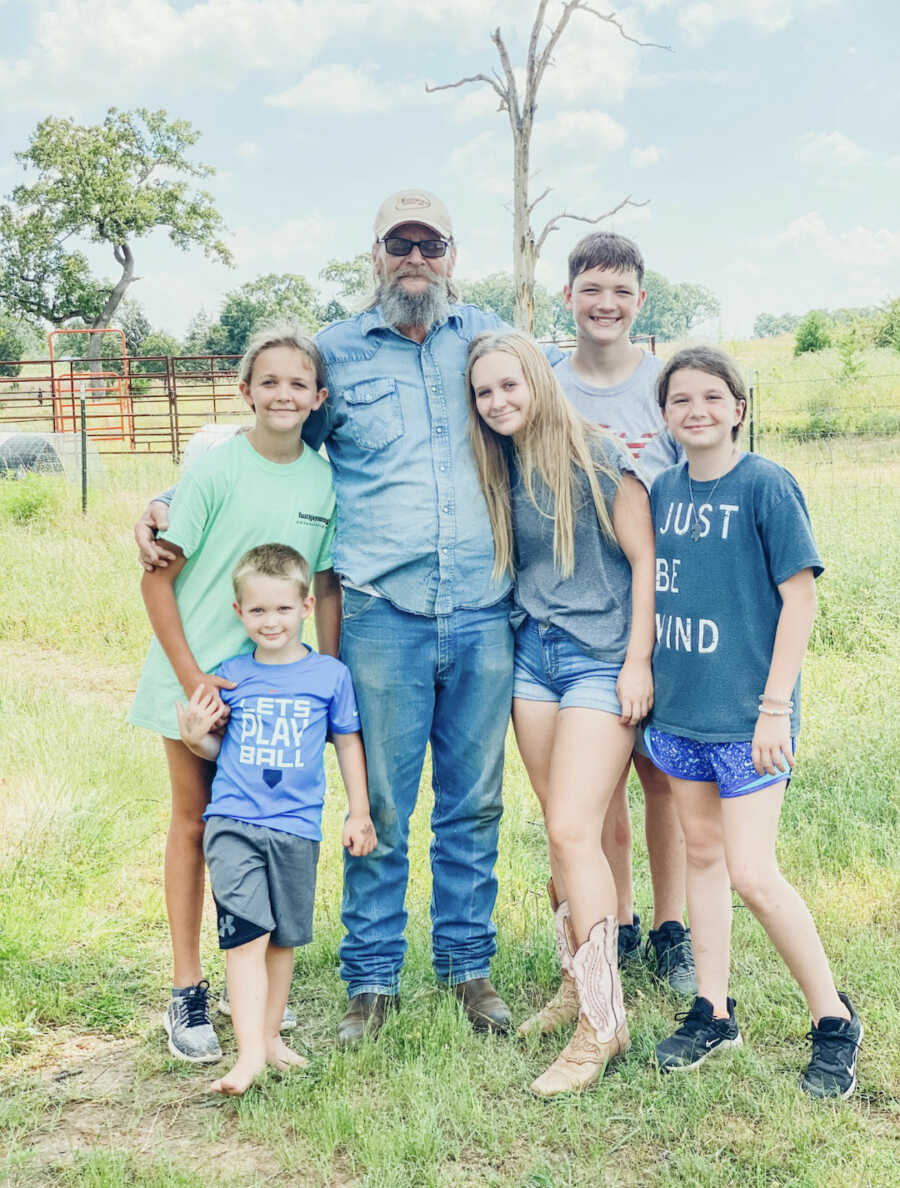 Having 5 kids, 3 dogs, and working full time makes life busy, full, and chaotic. There is rarely a time when we don't have something going on, but I wouldn't trade it for one second. God has blessed our family. We aren't perfect but we honestly don't try to be. We fight, we disagree, and we don't always get along. But there's no question we have each other's backs. We support everyone's activities and passions. We pray for the kids and know God is protecting, blessing, and teaching us every single day.
I am so grateful for this journey I'm on. I'm so grateful to have been raised by my family village. Seeing others' viewpoints, across generations and lifestyles I feel prepared me for our family we have now. God prepares you, even if you don't realize it at the time."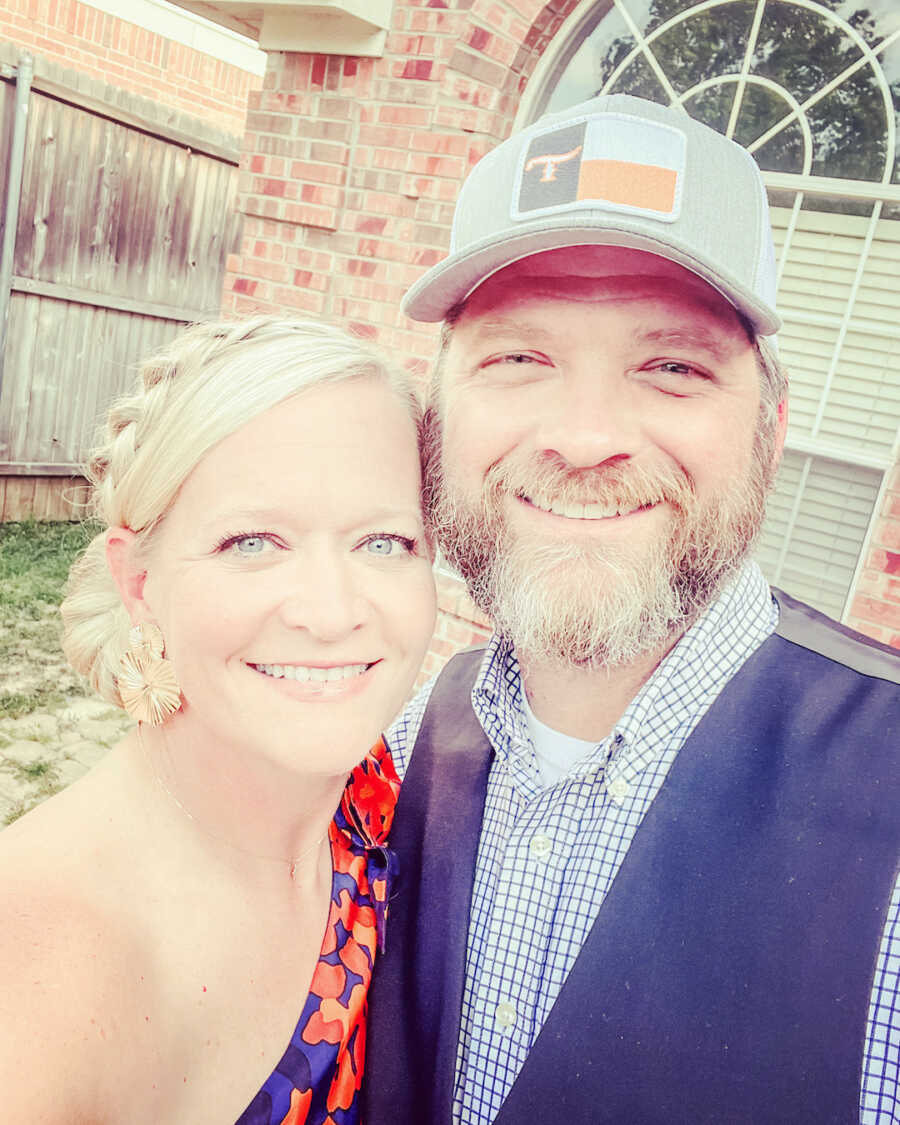 This story was submitted to Love What Matters by Angie Bardin of Fort Worth, Texas. You can follow her journey on Instagram, and Facebook. Submit your own story here, and be sure to subscribe to our free email newsletter for our best stories, and YouTube for our best videos.
Read more stories like this:
'I want you to adopt us.' It wouldn't be easy, but she was worth fighting for.': Mom adopts stepdaughters into forever family
'He wrote, 'You are the most loved stepmom in the entire universe,' something I never thought I could be.': Child of divorce 3 times over details healing in becoming a stepmom
'He was everything I envisioned in a life partner and more. But there was a hitch. He had 2 daughters from a previous marriage.': Woman overcomes fears to become amazing stepmom
Widow And Widower Find Love After Loss, Blend Families To Have 11 Children
Do you know someone who could benefit from this story? SHARE this story on Facebook to let others know a community of support is available.