A Broken Heart
"As we lifted him up on the bed and gently tucked him in, Tony drew his last breath and quietly exhaled the life from his broken body. After almost eight years, it was over. My best friend, my husband, the father of our seven children, was gone.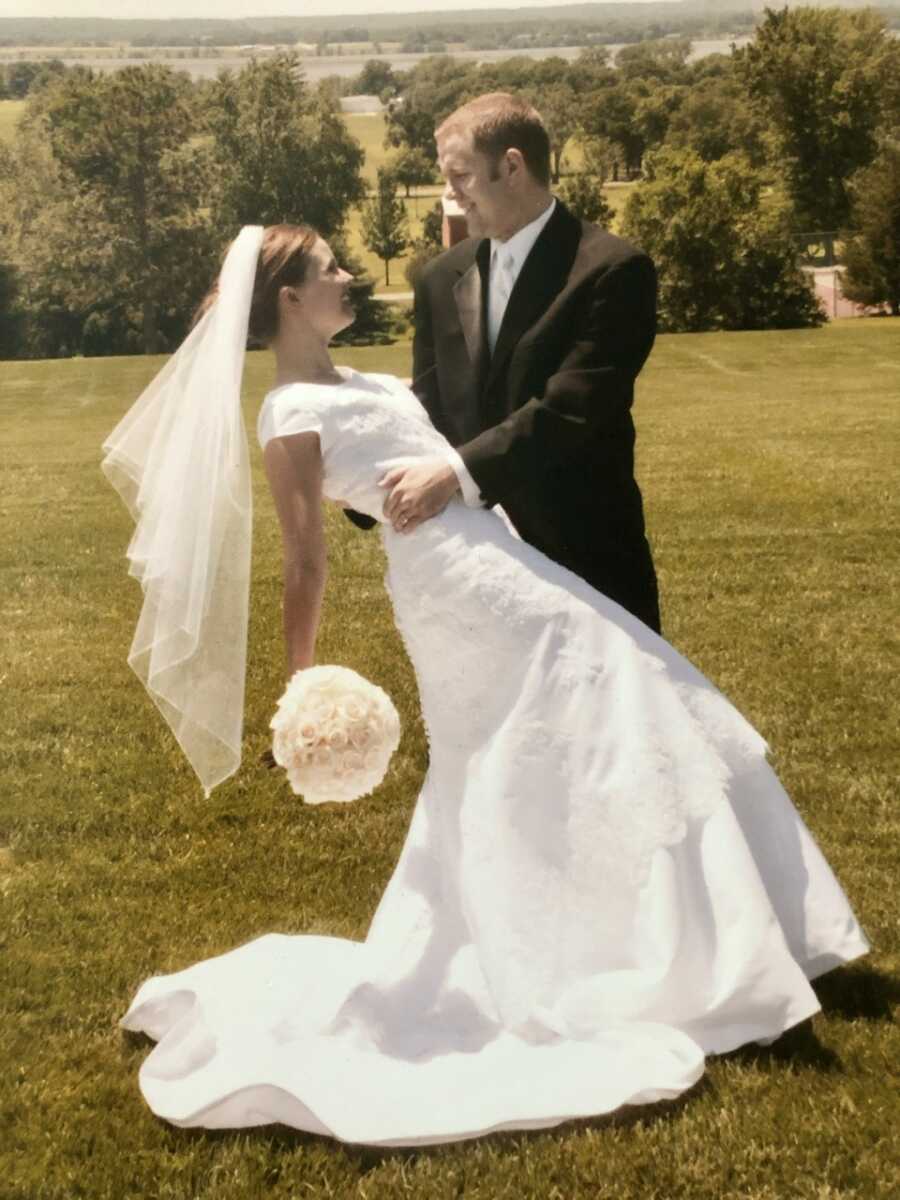 Wrenching grief consumed my body and I sobbed over him, gently interlocking my fingers into his as they started to turn cold. I laid my head on his chest, hearing nothing of his tender heart, but instead felt mine beat harder with each second, only to burst into what felt like a million pieces. I felt my tears pierce the broken pieces of my heart, like razors clawing deep inside; the pain was unbearable and I cried out loud for him to come back and for the intense pain to disappear.
But he was not coming home anymore. My life with Tony was now over. I felt I was losing my purpose and all of my dreams with him.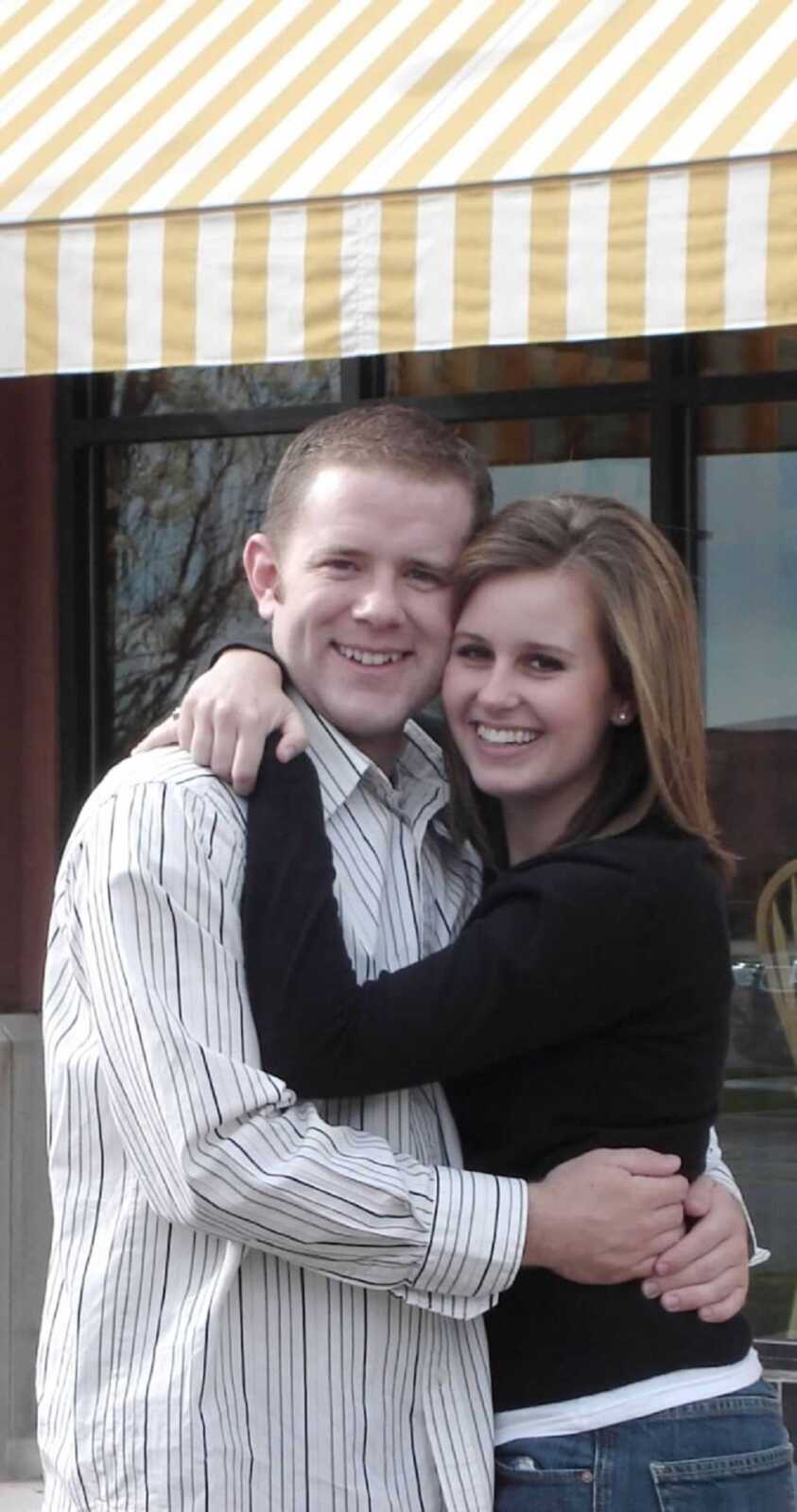 Tony's Cancer Battle
The following morning, I needed to get out of the house. Jumping in the shower, I grabbed the soap next to his razor, noticing the auburn red hairs left on the blades from his beard. The waves of grief shook my whole being and I dropped to my knees, silently pleading for the ache to be taken away and wishing for the previous night to all be just a bad dream. But this was my new reality. His empty side of the bed, his clothes now only worn by dust, and the absence of his voice each day were all reminders of the huge void in my life.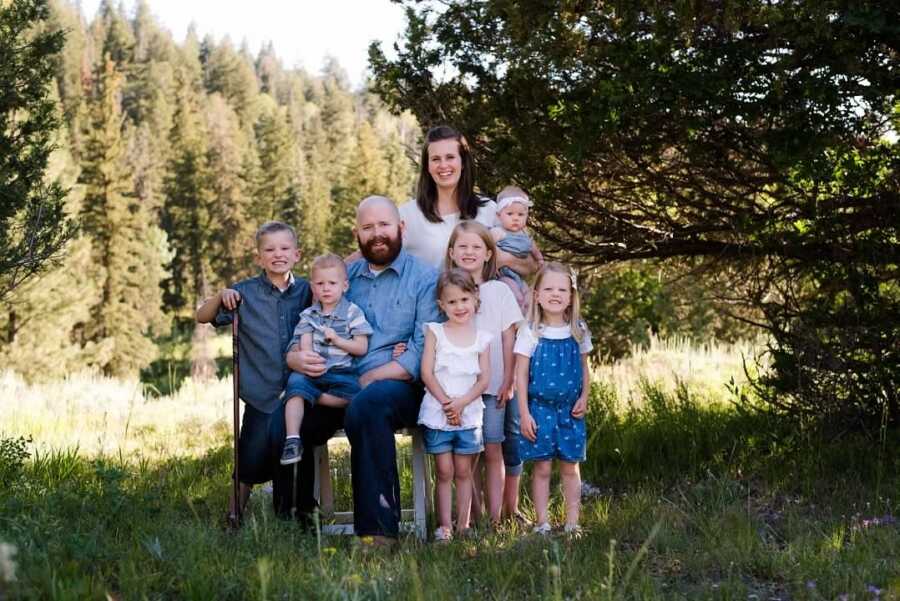 Almost eight years ago, we were told this day would happen. In January of 2009, Tony's doctors at the Huntsman Cancer Institute in Salt Lake City, Utah, diagnosed him with a grade II astrocytoma, a brain tumor with an average survival rate of seven years. Off and on over the years Tony underwent surgeries, chemotherapy, and radiation therapy in order to keep prolonging his life. But despite all our efforts, Tony's brain tumor became very fast growing and the prognosis reached a terminal state, known as glioblastoma, in March of 2016. After nine short months, Tony passed away early in December of 2016 at the age of 31, four months shy of the birth of our seventh child.
While fighting his cancer, Tony loved to listen to one of our songs, 'You and Me' by Dave Matthews Band. It was our mantra, our motto to make it through our difficult journey in fighting his cancer. Being a high school teacher, many in surrounding neighborhoods reached out and supported our family while Tony hung onto life. Our story integrated into the community and we had the privilege of being a beacon of hope all around. Together, we had hope as strong as our love with no room for doubt. Together, we had so much purpose.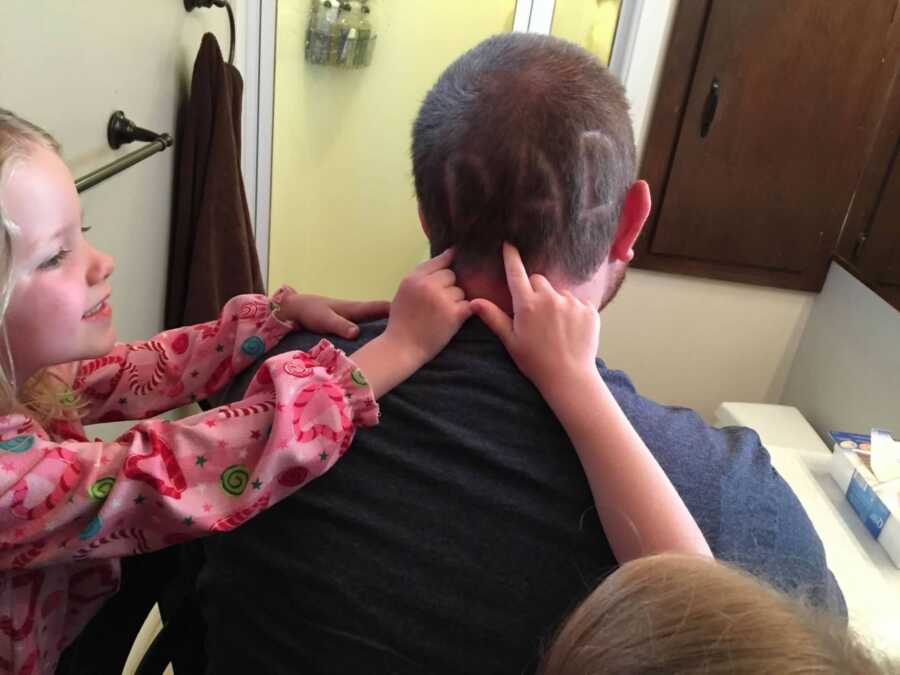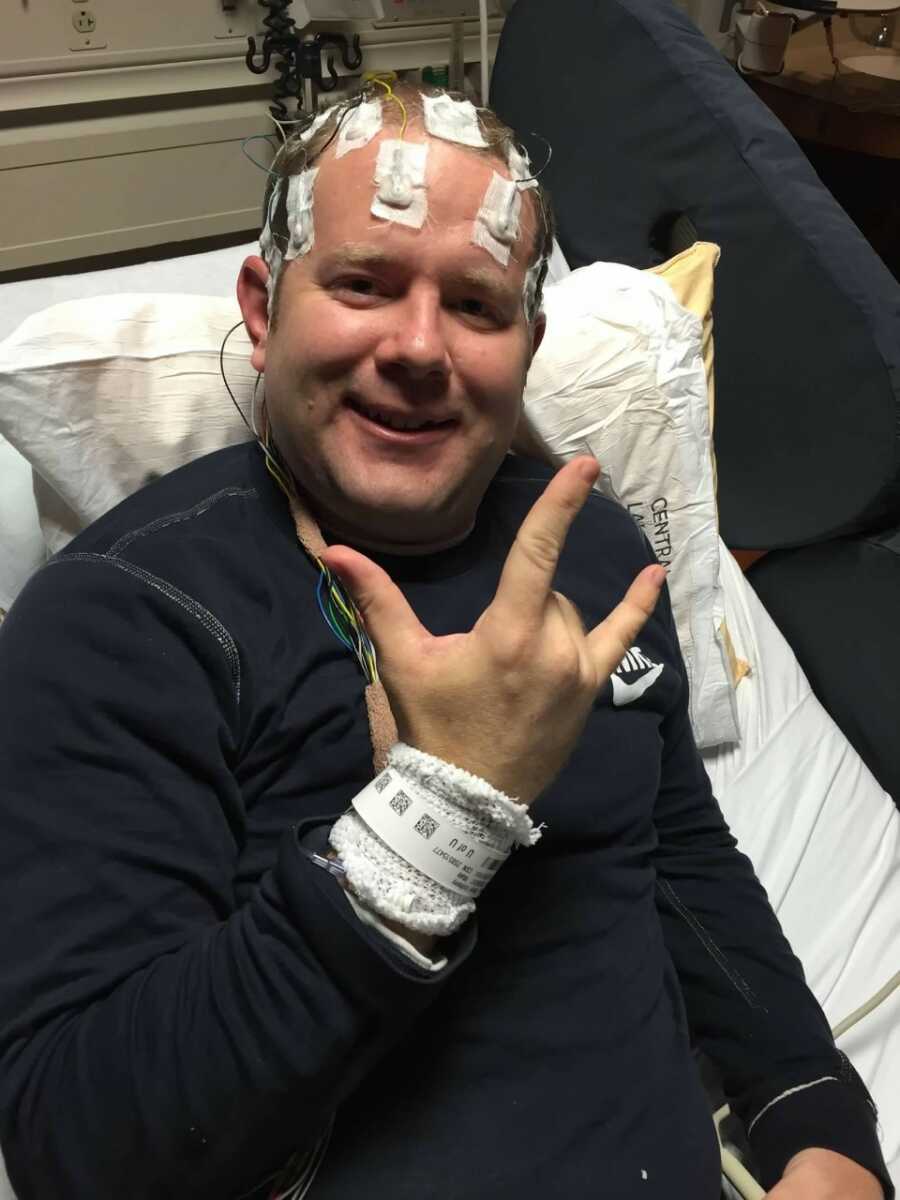 Finding Peace And Purpose Again
After his death, the repeated lyrics, 'You and me together, we could do anything,' sounded like an unforgiving blaring alarm in my head for several weeks, a terrible jab reminding me I was now alone. Could I do anything now? Could I cling to my hope without him by my side? Without him, even mere attempts to find a purpose seemed gloomy. The thick fog of grief hung over my eyes as I searched and searched for Tony, to feel him, to connect with him, to add his hope to mine, to have his compassion in my life, to find that purpose again.
The fog remained as I prepared to give birth to our baby without Tony by my side. I feared I would crumble under the expectations I set for myself. Four months had passed since his death and I longed even more with each day to feel Tony near and hoped I would be blessed to have Tony with me when our son was born. The time arrived on a beautiful March day, early in the morning after my water broke. My sweet parents picked me up from my home as my in-laws watched over my other six children. My mom and dad linked their arms in mine and together we walked into the hospital. My heart pleaded for comfort and for my strength to be added upon during my labor, and I desperately wanted it to come from Tony.
That afternoon, after laboring for several hours, the time came to meet my Caleb. Several nurses from the floor surrounded the hospital bed as we prepared for him to come. My mom always tells me to this day, with tears in her eyes, 'They were like beautiful angels buoying you up in your time of sorrow and joy.' Immediately after Caleb came into this world, the doctor placed his perfect little body right on my heart. 'He's a strong boy; a perfect miracle,' the doctor gently told me. I could feel the strength from his heart syncing with mine, and as I placed my hands on him, his head turned toward my face and he stared right into my eyes. Caleb's gaze did not break from mine for several minutes, and for the first time since Tony's death, I felt my heart could not contain my deep emotions. But this time my whole being filled with peace, immense joy, and gratitude, and I finally felt a spark of purpose again and a renewed energy and desire to fulfill my role as a mother. The room may have been busy and loud making preparations for my baby boy, but all I could feel and see was love. Caleb showed me in his eyes how much God loves me.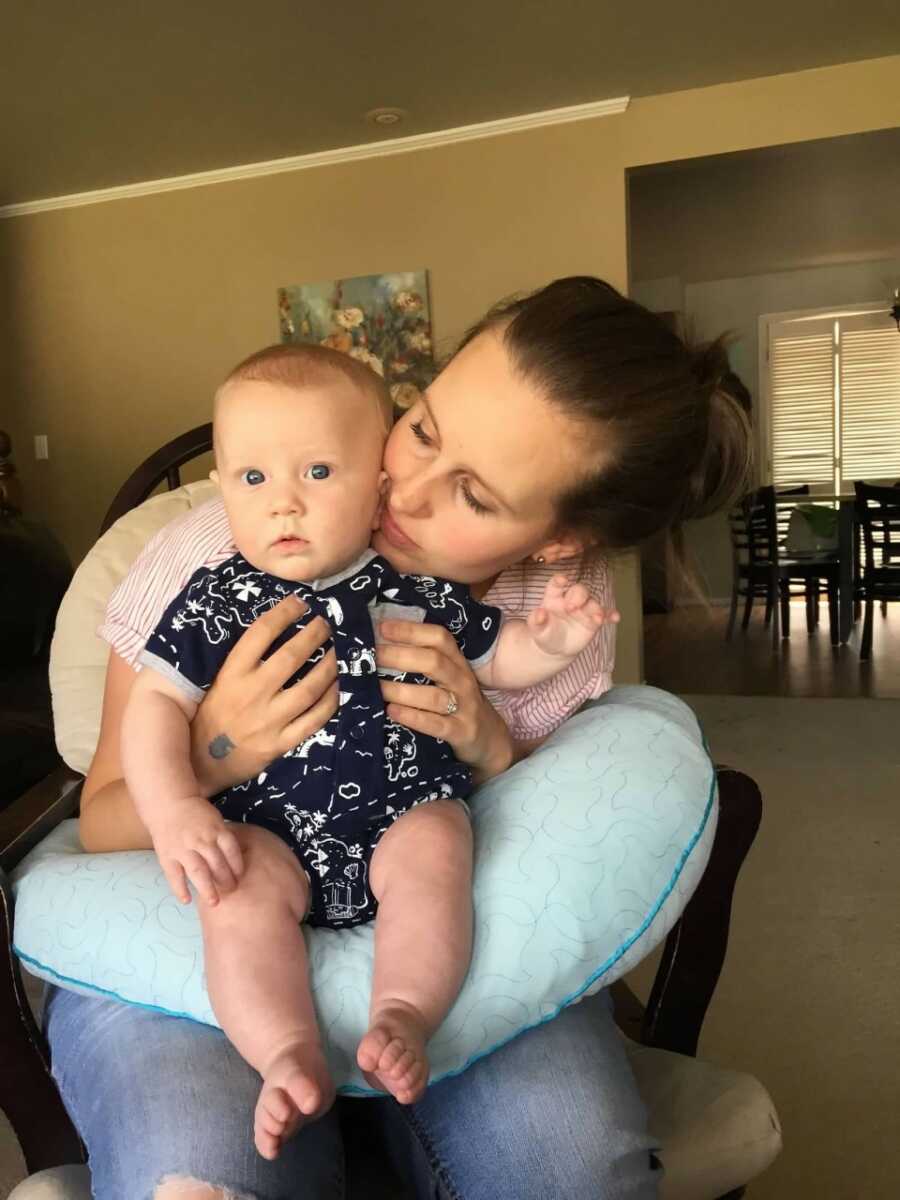 As the months went by after Caleb's birth, I felt the hand of God holding me as I took care of my young family. I found true joy in caring for each of my kids; each child gave me purpose and motivation to get up each day and there was always something to look forward to in their lives. We really came to rely on each other as a family with an unbreakable bond. I threw myself into motherhood even more than ever before and I felt content with where I was in life. As I continued grieving through the various stages as they ebbed and flowed, I became happy again once I accepted the loss of Tony and my present situation. There was so much freedom in being able to let go of anger and disappointment and hurt surrounding Tony's death; it's almost as if I felt Tony whisper to my heart to be free of the burden of heavy grieving and to move forward with appreciation and joy for what I still had, and for the continued blessings that would follow.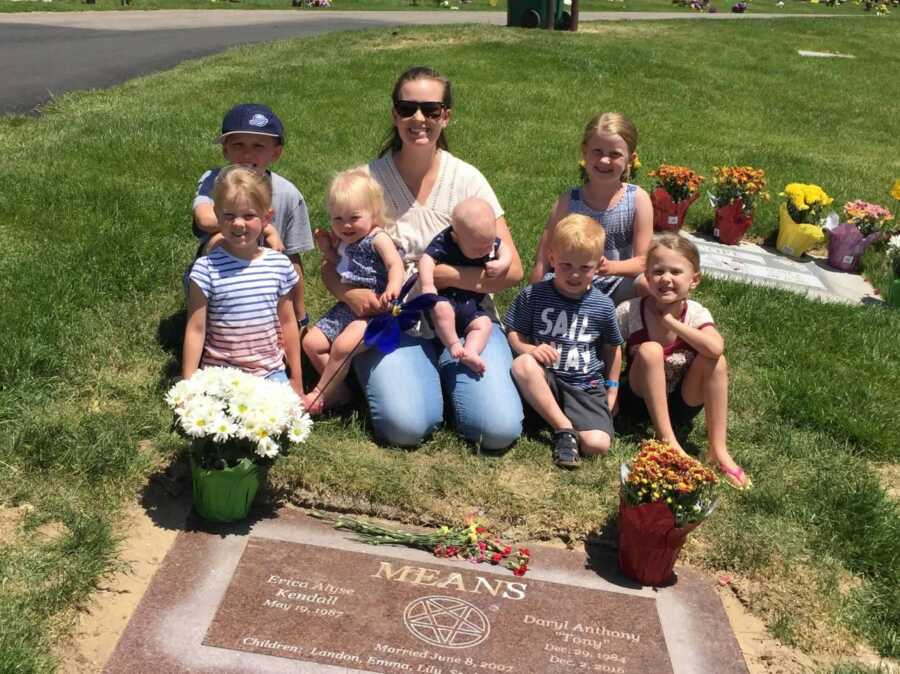 Getting To Know Spencer
About a year after Tony passed, some of my widow friends reached out to me to attend a singles event and my initial answer was a hard no! Until I reached the point of acceptance about Tony's death, the idea of even talking to a single man didn't cross my mind. I went through a period where, in my subconscious mind, I thought Tony would come back, and even the very thought of dating made me feel unfaithful. I had made plans to rely on family support for the first few years of widowhood, to carry me through as a single parent until I was ready to start a career, and I was satisfied with being alone for a while. But my friends were persistent in getting me to come out to have fun with other adults, and I finally said yes. I actually had a great time and started to make some friends with more single people, divorced and widowed, and it was nice to have the support system of other single parents who just 'get it.'
On December 20, 2017, I received a message through social media from a man named Spencer. He was recently and very unexpectedly widowed with four young children. He lived on the other side of the country and was looking for friends in similar situations for a support network. We both were part of an online support group for young widowed members of our faith, and we quickly became friends.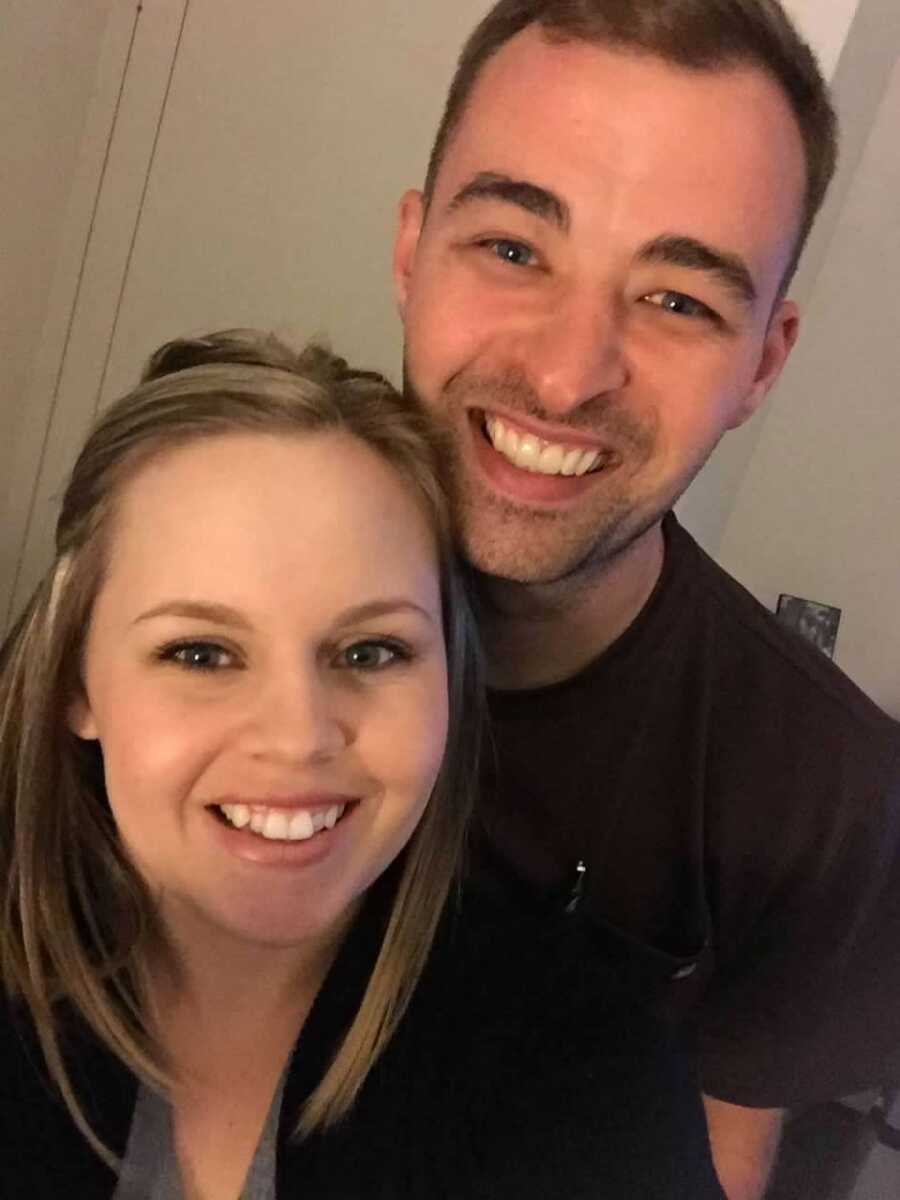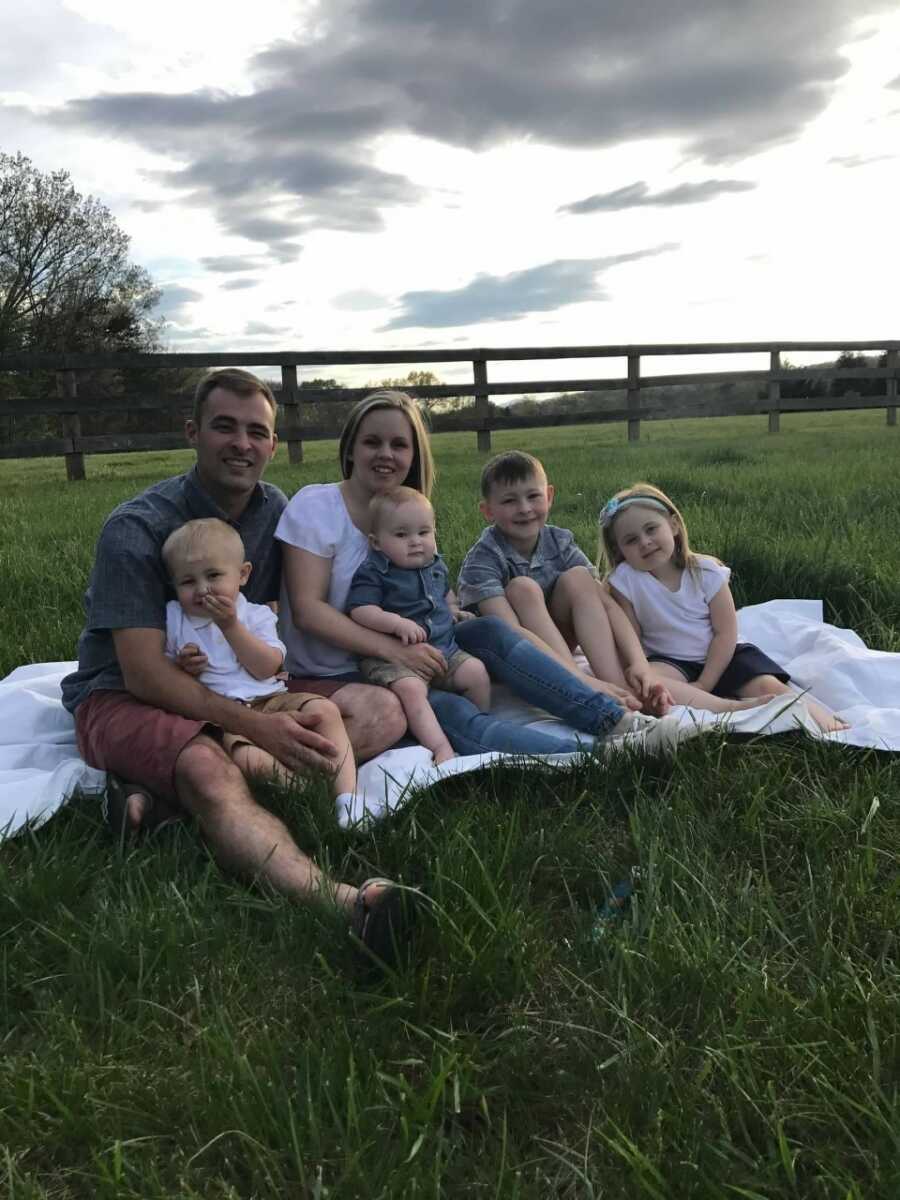 Spencer and I swapped stories of hilarious moments of kids, shared tears and real hard emotions about the struggles of losing a spouse, and we talked a lot about our faith in God. I had talked with lots of other men who became friends, and a few who I even dated, but my friendship with Spencer was always special. My friends often heard me say, 'Spencer and I connect on such a deep spiritual level. It's almost like we've been friends for years and we haven't even met in person yet!'
About five months after our friendship began, Spencer took a trip out to Utah (where I was living) from his home in Virginia, for a conference for widows and widowers. He brought his four kids with him and made plans to stay with some good friends while they visited for a week. At this point in our friendship, we had drawn really close together and decided it would be great to carve out some time for just the two of us to go out a couple of times. We also wanted our kids to meet in person as well, so they could connect as friends and share in their commonality of losing a parent. So we made plans and Spencer called it a date! He planned a casual dinner and a short hike for the first day he was in town. Up until this point, Spencer and I had only texted and used video chats for all our conversations and I honestly was a bit nervous to meet him in person. We had talked for hours about everything under the sun, and I now felt the dynamics of our friendship shifting, but I wasn't ready for change yet.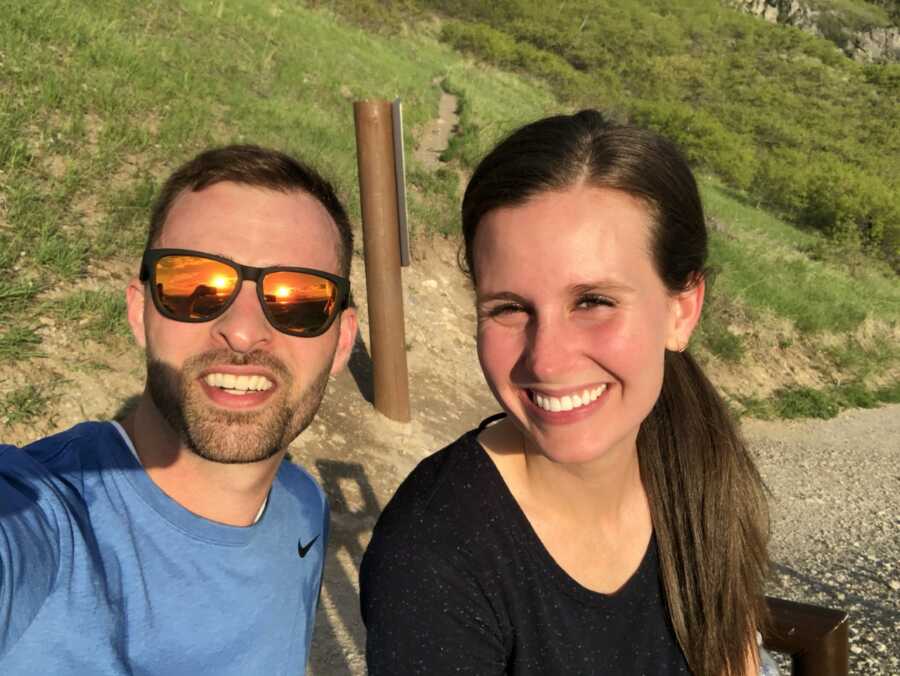 The night of our first date, Spencer picked me up from my house. He nervously walked from his car over to the side of the yard where I was saying goodbye to my mom and my kids who were playing on the swings. I ran up to hear him saying, 'Hey, it's so nice to meet you in person, finally!' As we hugged for the first time, it was such an odd feeling. Our embrace was short and sweet, yet I felt as if I wanted to hold on a little longer. I kept thinking to myself, 'Here is this man I've felt so connected to in the past several months but in person, we are still technically strangers. Do I hold back? Do I act like we are old friends reconnecting?' There were a lot of mixed feelings that night!
Complicated Feelings
Spencer was quite the gentleman but much more timid and reserved in person than I had seen in our virtual relationship. Knowing he was much more introverted than me, he was sweet and patiently listened to me blabber all night long during dinner and hiking. I definitely needed to keep the conversation going, and sometimes I was stalled because we had talked about so much prior to this moment. He was so mild-mannered and kind and complimentary, and very good-looking in person, too. I felt as if he had become one of my closest friends and I cared dearly for him.
The next week we spent time together in groups of friends at the conference. When we arranged to have a play date with all the kids, it was a blast. We met at a waterfall and I was so excited to meet these sweet kids who I had briefly talked to on video chat over the months. They didn't know me well yet, but I knew so much about them and I knew my kids would love them. They were timid when first meeting but within fifteen minutes, started climbing rocks and splashing in the water together. We drove back to Spencer's friend's house to make dinner and s'mores afterward and the kids seamlessly played the entire evening. A few times during the play date, I watched as Spencer jumped on the trampoline with my kids and played silly with them. He really was such a great dad and my kids had a lot of fun when we were together.
On the last night of his vacation in Utah, Spencer told me how he really felt in a text after we said goodbye. 'Erica, I know we are such good friends and that we live far apart, but I have feelings for you that grew even more during our visit. I just can't help but tell you how I really feel before I leave.' As I read the text, I panicked. It wasn't that I didn't feel ready to date, because I already had at this point, I just wasn't sure how we could make the distance work, and I wasn't sure what my feelings for him were. Honestly, we had become such close friends that I was scared of losing him if dating did not work out. I wasn't sure if it was right for my kids or his kids, and at this time, our kids knew we were just friends. I replied, 'Hey, Spencer, I had such a great time over your visit and I cherish our relationship but I'm just not sure if I'm ready for the next step for us.' He replied back that he understood and would love to remain friends, and we did for the next several months.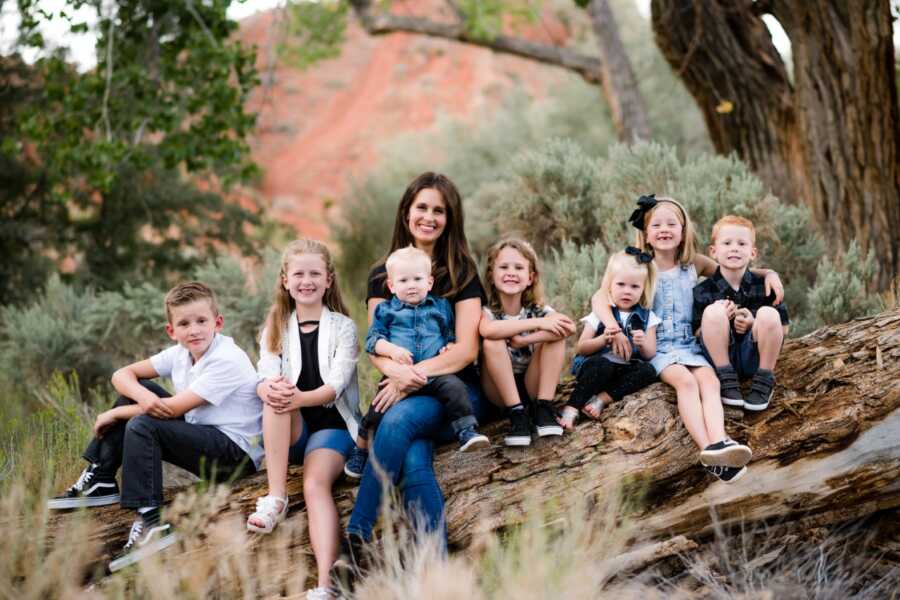 An Undeniable Feeling
A couple of months later, Spencer and his kids moved from Virginia to Utah for work opportunities. We got together with our kids often for play dates and I even watched his kids on occasion as he worked on his business. I grew friendships with each of his kids and felt connected to them. One day in the fall, we met at a park for the kids to play when Spencer was in the area. By this point, our kids had become very good friends, especially our two oldest boys who were both 10 years old. I sat on a park bench, holding both his and my youngest sons, and watched all the kids play tag with Spencer. I laughed and smiled as he surprised the kids as he would jump over slides to catch them, listening to the giggles and laughter of the kids having fun. Sweet memories of Tony playing with my kids popped into my mind, and then the once so familiar feeling hit me like a ton of bricks.
For 10 years, Tony had been the love of my life who I felt 'at home' with. I had missed that enriching, deep connection you only feel with a spouse. With my eyes locked on Spencer, I knew at that moment we should be together. I already loved him deeply and cared for his kids, and I knew his feelings for me and his tenderness toward my children were real and sincere. I prayed and prayed in the days following and started to open up to Spencer about how I was feeling. Spencer still had the same feelings for me and had no doubts our relationship and bringing our two families together would be a huge success. Early in my relationship with Tony, I just knew we were going to be married without a shadow of a doubt. My whole being had been filled with peace and joy that only God can give through the answer to marry Tony. Those same feelings of peace and joy came to me as I thought of a life with Spencer. Deep prayer and searching confirmed that not only did I want to marry Spencer, but that it was the right thing for both our families.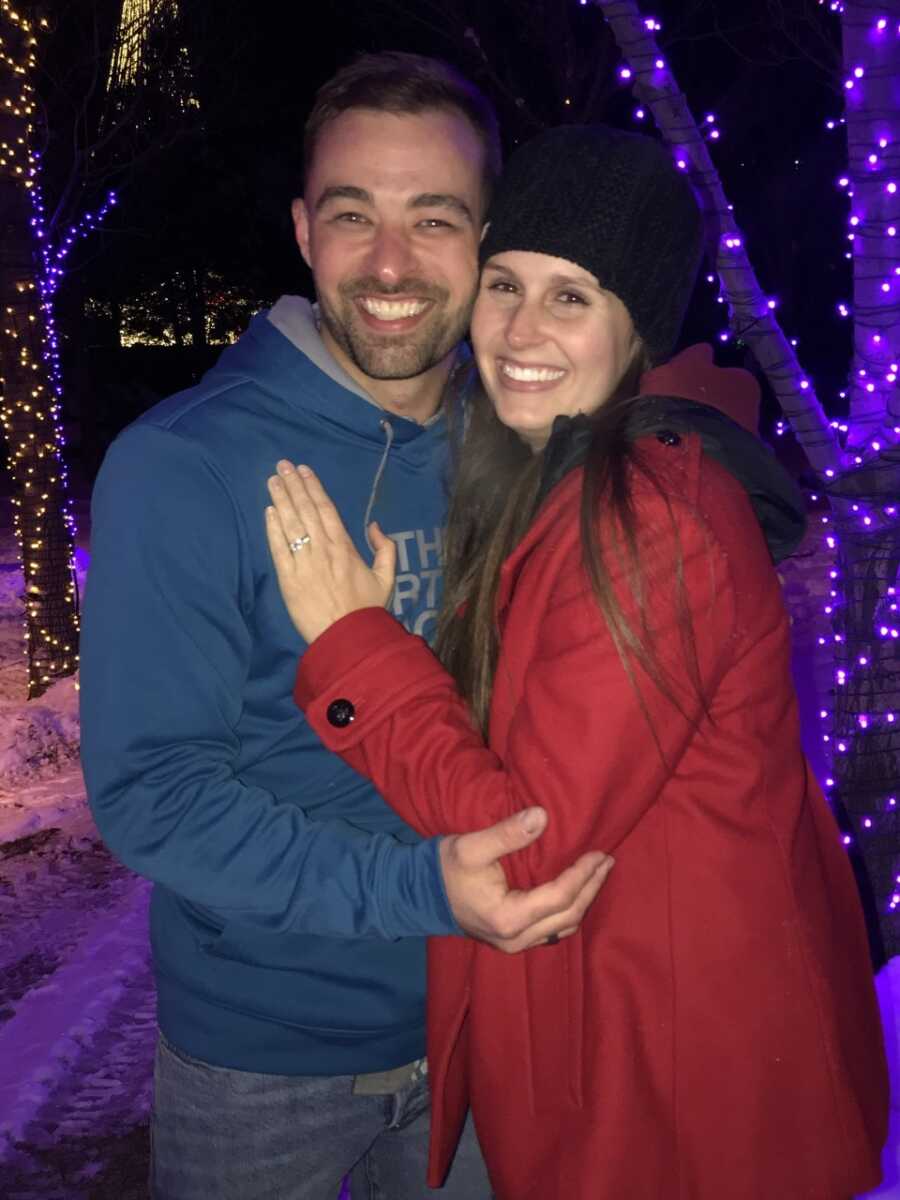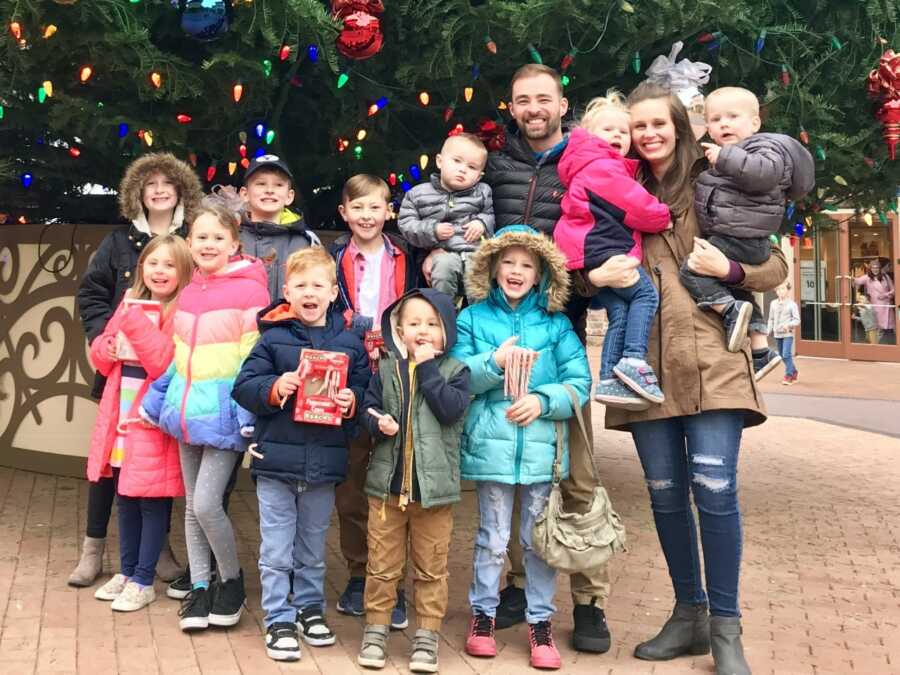 On a bright and cold winter day, our 11 children, ages 2 to 10 years old, danced and partied all evening long after the wedding ceremony. It was the beginning of something so special and healing for all of us. Now, over three years later, the love in our family is strong, unique, healing, and even magical. We have overcome a lot of obstacles but have gained the foundations to meet challenges in the future. But amidst all this, God has deeply enriched our family with an appreciation for the present and a reverence for the past. My once shattered heart from the loss of Tony not only healed, but it grew larger than I could ever imagine. I don't just love Tony or Spencer with half my soul, but God has made it possible to love them each completely in a beautiful way."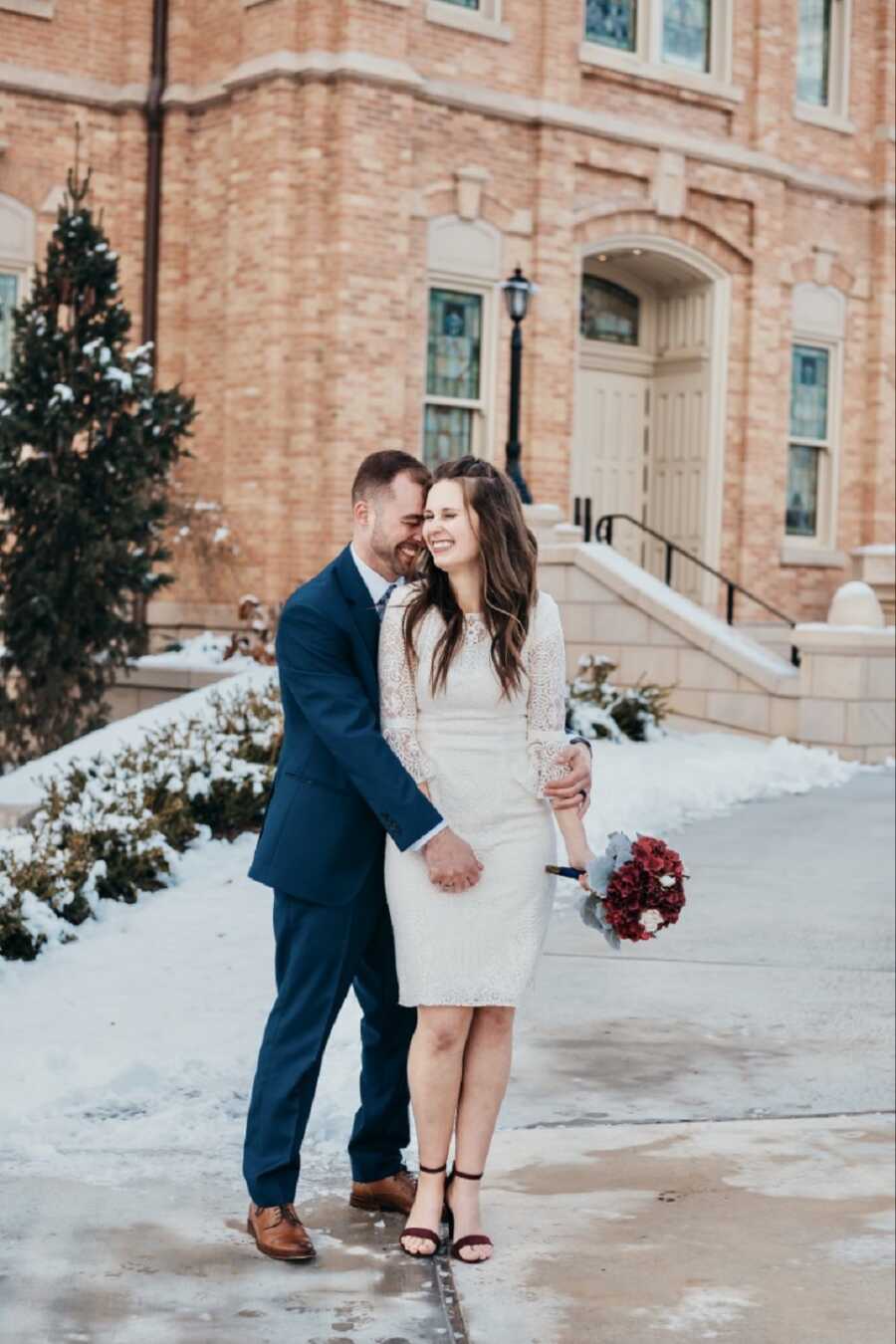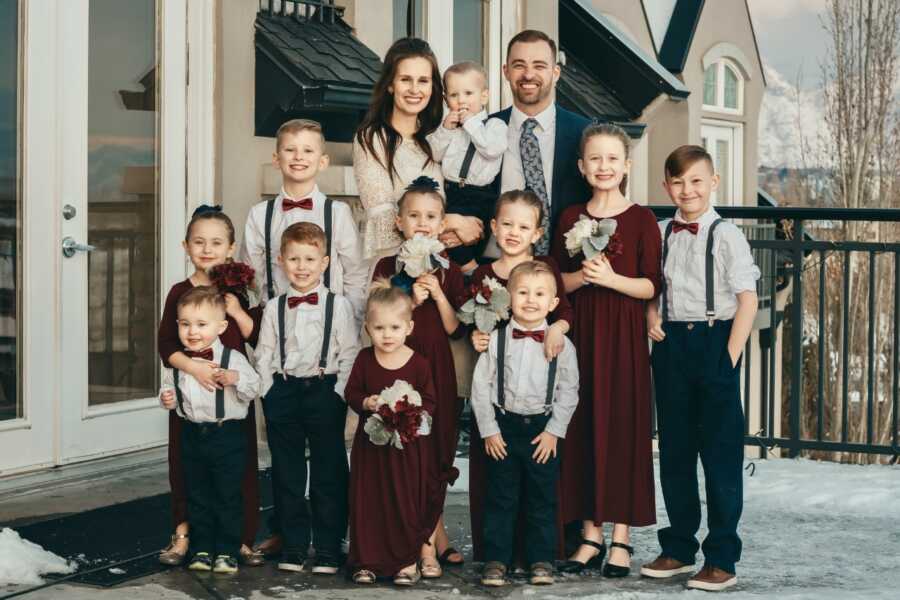 This story was submitted to Love What Matters by Erica Means Shemwell. You can follow Erica on Instagram, read more about her journey losing Tony here, and read more about her blended family adventures (as featured on the TV show "The Blended Bunch") here. Submit your own story here and be sure to subscribe to our free email newsletter for our best stories, and YouTube for our best videos.
Read more stories like this here:
'Without this grief, I wouldn't know the strength of our love.': Young widow candidly shares powerful realizations on grief
'What if I stick with our plan even though he's gone? Could I do it alone?': Young widow shares journey becoming foster mom
'I'm mesmerized by your blue eyes.' I laughed. It felt as if we knew each other 100 years.': Widow shocked to find love after loss in stranger on a lake, is now pregnant and 'forever grateful to be loved by two amazing men'
'His arm was twisted and his once rosy red lips were white as snow. I stumbled through my statement while nursing my son.': Young widow finds love after loss, hopes her son knows how 'truly loved' he is by 'both his dads'
Do you know someone who could benefit from this story? SHARE this story on Facebook to let others know a community of support is available.