A Day Like Any Other
"May 19, 2018, started like any normal day. I woke up and got breakfast ready for myself and my 8-month-old, Logan. My husband, Stephen, woke up a little later and came out to say hi to us before getting in the shower. It was Saturday, and he worked at the resort bar that day. It was more of a mid-shift, and he would not be closing.
I was taking the baby with me to one of my sisters' houses a couple of hours away. There was a surprise party. Logan got super messy eating strawberries, and I handed him off to his Dada in the shower while I got ready. I took a shower in the guest bathroom.
When I got out of the shower, I heard Stephen talking to Logan in the nursery. I got on the camera and watched them. Stephen was telling Logan he would have the entire day off on Tuesday, for our wedding anniversary, and was going to spend the entire day with us. I was so happy. I met Stephen at the door and gave him a hug and kiss goodbye as he left for work. Logan and I met up with my mom and my other sister at my sister's apartment, and we all went to our other sister's surprise party together. The day was fun.
When we got back to my one sister's apartment, we all unloaded out of my van. My mom's car didn't start. At 11:30 p.m., I called Stephen, who was driving on his way home, and he told me to just drive my mom home, stay there, and help her get her car to a shop the next day. He had a double Sunday and was going right to bed when he got home anyway. Cool beans. I called him again later when I got to my mom's house and was going to bed. He didn't answer, and I figured he was already asleep.
A Tragic Accident
My life was turned upside down the next morning. I woke up at 8 a.m. on May 20th and saw that my doorbell had been rung (the alarm app on my phone sent me notifications). I checked the footage and saw cops had been to my house. And the alarm had been set 21 hours ago. Stephen never came home from work. At 10:30 a.m., I got to my house, and there were three cop cars there. I was asked to go inside and have a seat.
The night before at 11:45 p.m. (15 minutes after I had talked to Stephen), a drunk driver was driving at high speeds and ran right into a car sitting at a red light. The F150 flipped over the small, soft-top convertible, instantly killing Stephen. At 10:35 a.m. on May 20th, I was told I'd lost my husband and my son had lost his father. Our lives would never be the same. Logan would never remember his dad. Our wedding anniversary was days away, and Stephen didn't get to see his first Father's Day. Those listed facts were my first post later in the evening the day I found out Stephen was dead. I had no other words.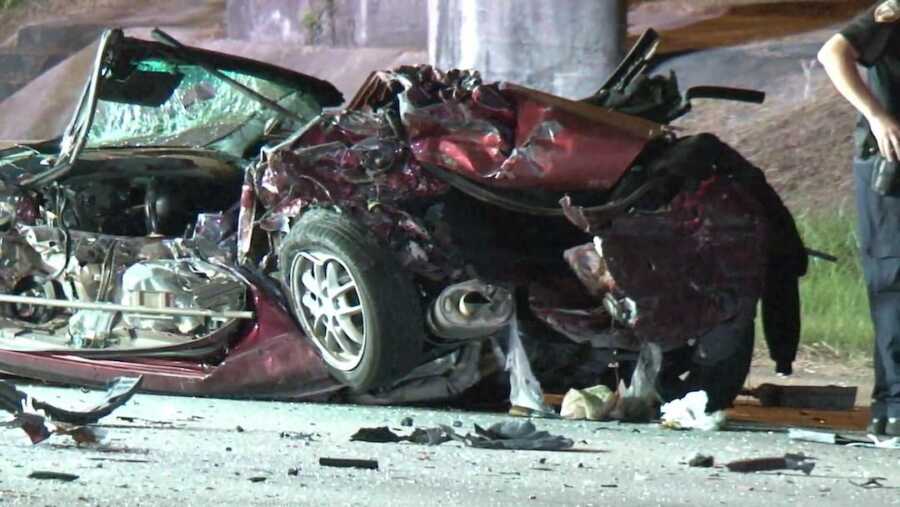 A Love Story Cut Short
Stephen and I met at work. We worked for the same restaurant company but at different locations. We worked a lot of events together, and that's how we got to know each other. Eventually, we started dating and became a couple. I can still remember when we told people we were dating. I was working to get a promotion and didn't want dating a partner at another location to get in the way of me making it to manager. We had talked about letting people know after the event we were working, but that morning I told him I was chickening out.
Well, he didn't. After the event, people always met at the bar. He was always the last one there and people were making bets on how long it would take him to get there. So everyone was watching for him. He walked in, right past the group of people, and right up to me. He kissed me in front of everyone there. People from at least 6 different locations of our restaurant. Word was out. Shortly before we had been together for two years, he asked me to marry him.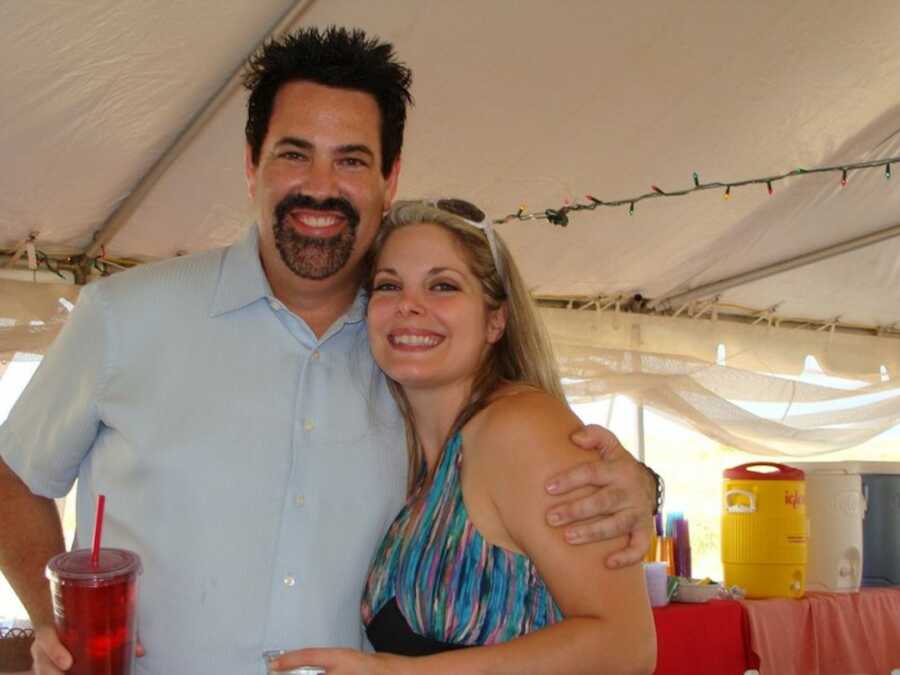 We went on a ski trip, and he had me go up to the top of the mountain with him. He wanted to take me down a path that had a great view of Lake Tahoe. He got down on one knee and asked me to be his snow bunny for life. I was shocked and just about cried. But so very happy. We got married at Caesar's Palace in Vegas. Such a beautiful wedding. He thanked me for showing up (lol).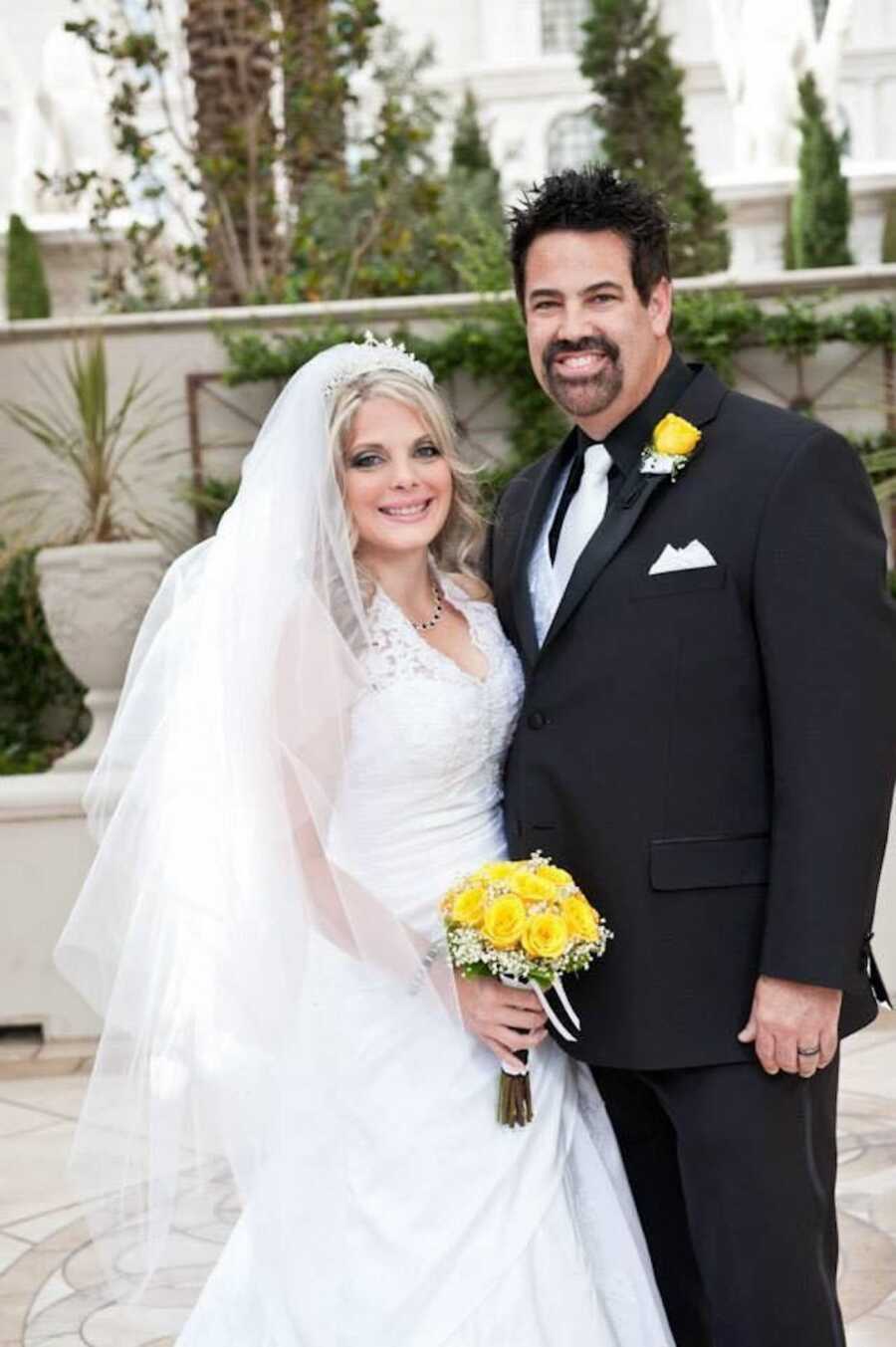 We had a very normal marriage. The good and the bad. We did a lot of things together. But also worked a lot. It took us over two years to get pregnant with Logan. And Logan's birth was very hard on me. But Stephen was my rock. When Stephen was killed, our relationship was in such an amazing place. The bad times we had a few years before somehow made us so much stronger. Made us a team. When he was killed, I felt like I truly lost not just him but myself as well. The Ann I was died with him. And I had to learn to be this new Ann.
Learning to Move Forward
I was a shell of a person for about a year. I tried. I existed. I had to, I had Logan, an infant, to take care of. Everything hurt. Everything. I came across a Mother's Day card Stephen hadn't given me yet (he had already given me like 6). I broke down. I saw the bassinet in our bathroom where Stephen would put Logan to play while he got ready for work. I cried. We kept it because we were talking about baby number two. I grieved the second child I wasn't going to get to have. I got rid of the bassinet.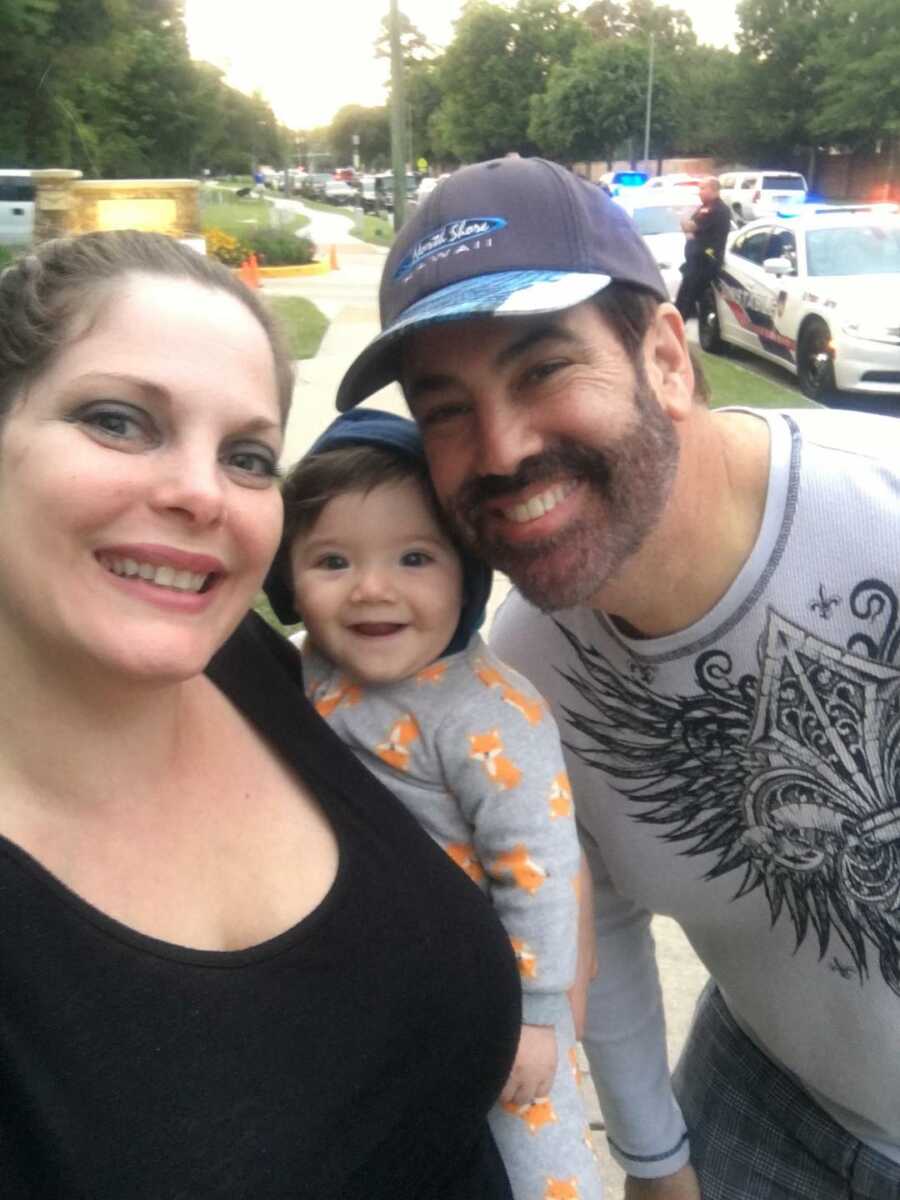 I slept sideways across the bed because I couldn't see his side empty. I got up because I had to. Logan saved my life. I was in such a deep depression. But Logan got me out of bed. I had to be everything that baby needed. I started a Facebook group for other widows who happened to be nursing. Regular breastfeeding groups spent too much time complaining about their husbands and I couldn't read it anymore. Trying to help other widowed moms with infants gave me a path. I wanted to take the pain I was in and use it to try to help others who were going through this.
Once Logan got sick. He had a fever for a few days, and I was a mess. I remembering holding him in bed and crying my eyes out. Begging God to please not let me lose my baby too. Logan was my world. My everything. My baby and the only part of his dad I had left to hold onto. The first few weeks, the grief made it hard for me to even hold Logan. Looking at his eyes, all I could see were his dad's eyes, and I had to pump and let others bottle feed him my milk. But after a few weeks, that changed.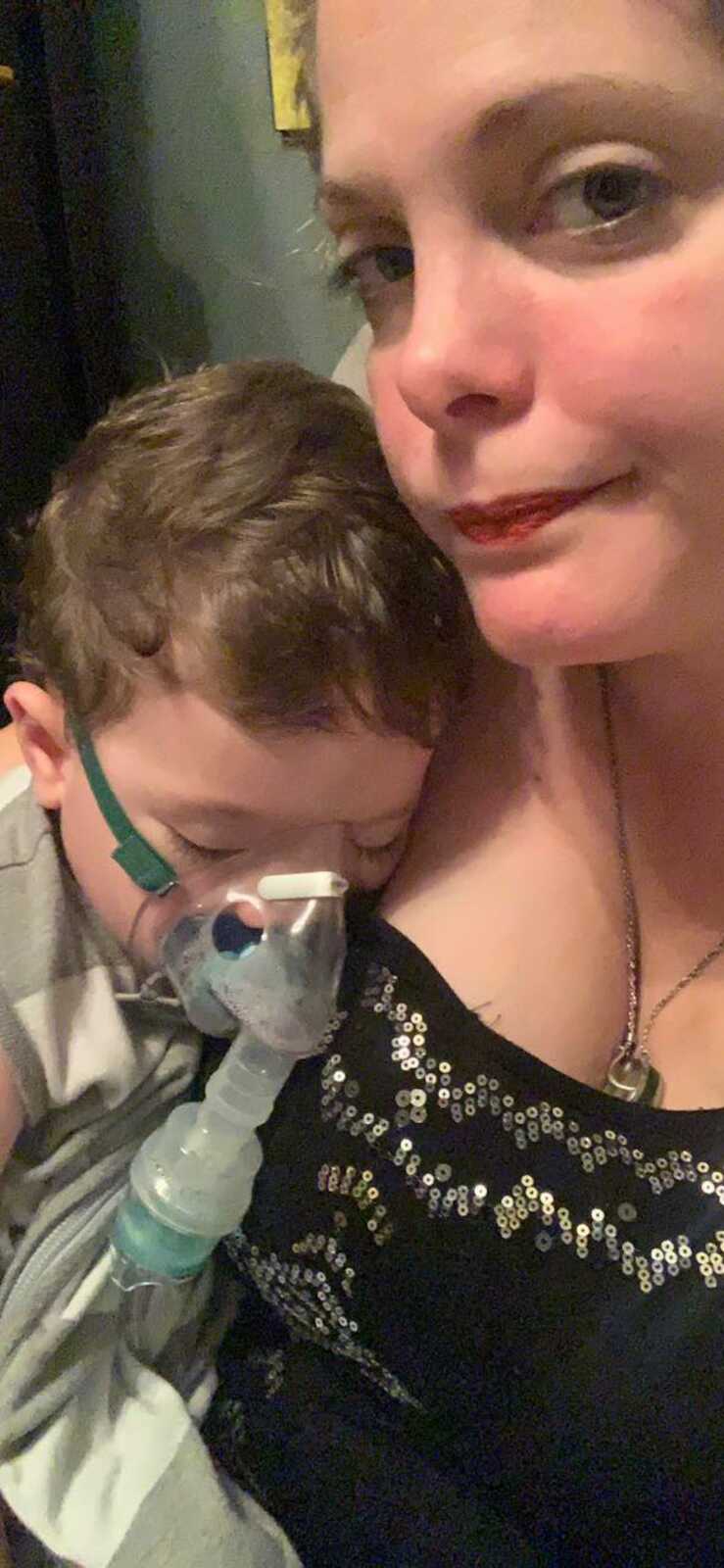 Holding Logan brought me comfort. He slept in bed with me for over a year after that. And even now we have an amazing bond. Something I don't even have words for really. He is my person. Jonathan (my now husband) often tells Logan that he saved Mama's life; he is a real life superhero. Logan is the only reason I didn't try to take my life. Because my focus was taking care of him. I couldn't make him an orphan. And at my lowest moments, I would picture Logan in my head to get myself back together. I love that little boy more than I have ever loved anyone in my life. And I got with my OB and was put on anxiety and depression meds. I had to be a better mom for Logan. At the end of the day, he was all that mattered.
I joined a lot of different widow pages on Facebook. Meeting other widows and widowers helped a lot. I got to see that I wasn't alone in my feelings. I got to have a group to talk to when I did simple things, like changing the light bulb above the fireplace that I had never changed before. Or making it all the way through grocery shopping without crying. They understood how my son's first steps were both happy and sad at the same time. How I could be so excited and hug Logan and tell him how good he did….and then go to the bathroom and cry because his dad would never see that. Finding other widows and widowers was a large part of helping me learn to deal with my grief. I learned how to take steps forward in life. Learned that we may always have some bit of grief, but that we have to keep moving forward and living.
The Beginning of a New Chapter
I met Jonathan in a local area widows/widowers group. One for people in Houston, San Antonio and Dallas. The group sets up meet-ups so we can meet other people in our area and not be so alone. Jonathan posted something I didn't really agree with. Not that he was wrong. Just something we handled and felt differently. We chatted back and forth in the comments a few times before moving the chat to Messenger.
He was a widower around my age who lived on the other side of town. I had already met a few widowed friends, but this was the first one in my area. After a couple weeks of chatting on Messenger, he asked me if Logan and I wanted to meet him for a movie. He drove up this way, and we met at the theater over here. So the first time I saw him in person was to see Toy Story 4 on a Sunday morning.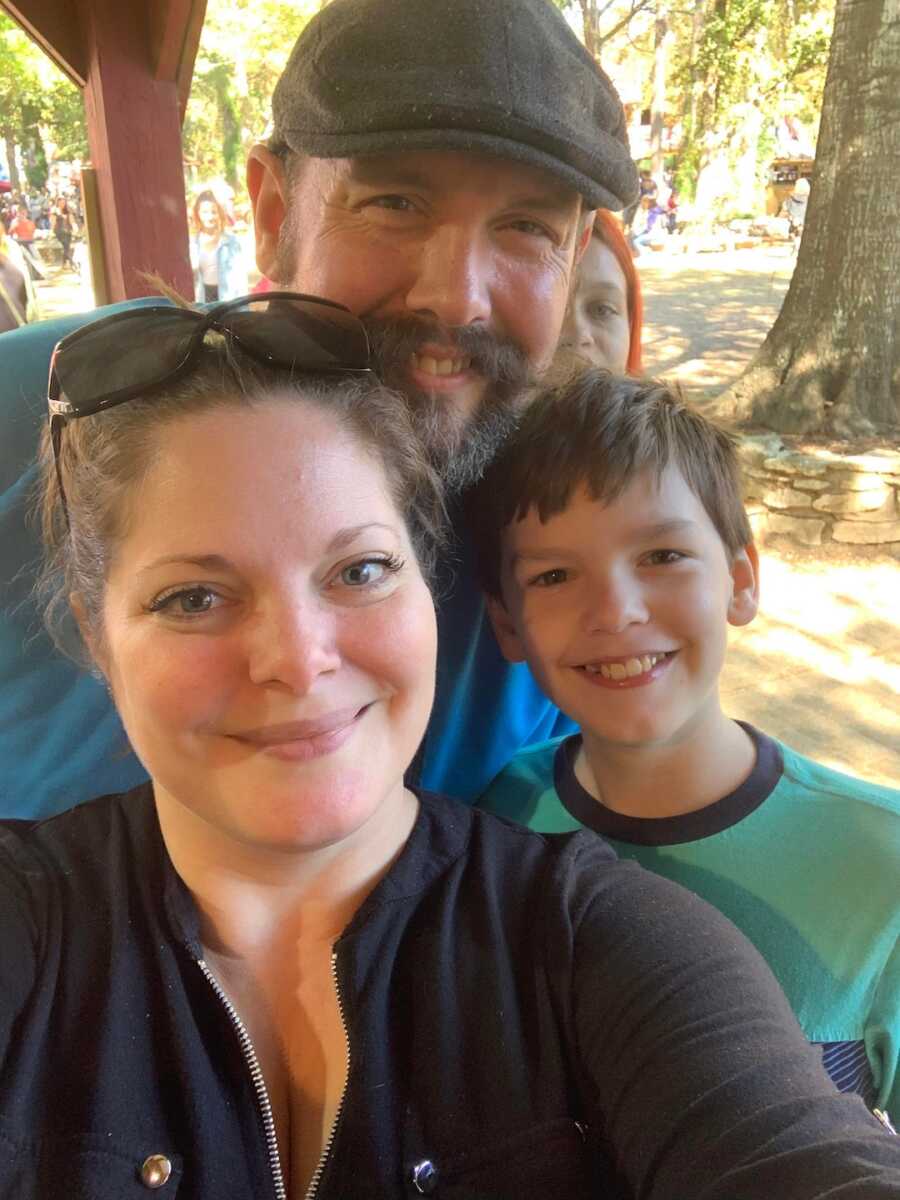 We ended up going to lunch after. Logan was so thrilled. I have this picture of Logan looking over at Jonathan with the best smile. Almost like Logan knew something we didn't yet. Jonathan says this is when Logan claimed him. We hung out a few times a week. His kids were in Florida for the summer, and he didn't like being at home alone. So he hung out with us. About a month later, he asked me on a date. I was about 14 months out and he was about 7 months out. I said yes. I had looked at dating apps and even gone on one date prior to that, and it just wasn't me. I cried after talking to someone.
I was lonely but had learned that wasn't a reason to date. I knew I couldn't date until I was okay being alone. And by the time Jonathan asked me on a date, Logan and I had figured out life as just us. But being around Jonathan was just natural. It was easy. I had a short panic right before the date. But not too bad. I let my late husband's family know I was going on a date, and they offered to babysit. They were completely supportive. Our first date was amazing. Jonathan took me to a blues club. We sat front row, and I had one of the best pieces of salmon I had ever eaten.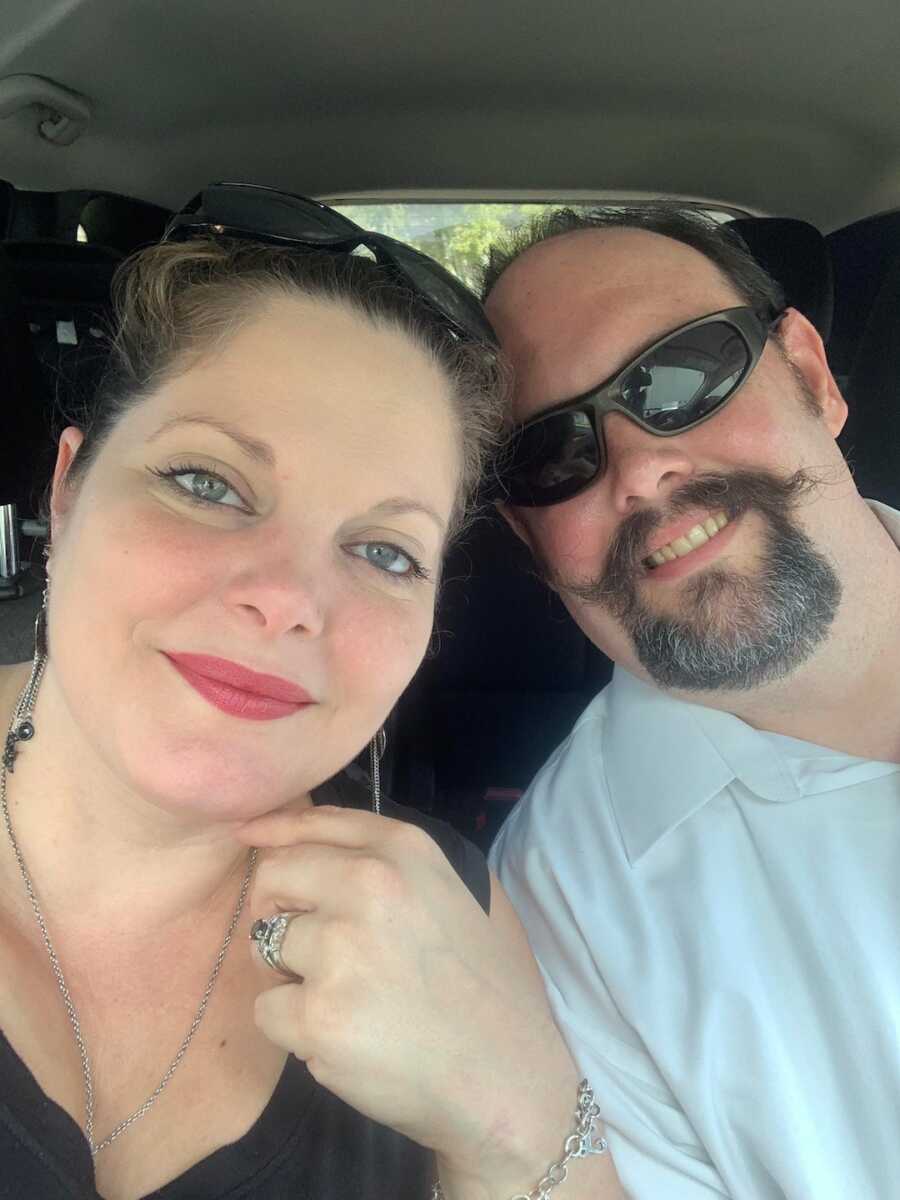 When the music started we joked that if this worked out the first song played should be our song. And it is. And we slow dance to 'When I Fall In Love' by Nat King Cole as often as we can. I had been afraid about if we kissed. How would I feel? Would I feel like I had been cheating? It was great. I was ready. I was so happy. Jonathan didn't rush me. He never told me not to speak of my loss or grief. He held me when hard moments came and I needed to cry. I think part of what works is that our relationship came from first being friends. Getting to know each other before there was more on the table. He was so very easy to fall in love with. It's hard to explain but we just fit.
Love after loss can complicate grief. The heart doesn't kick out the old to let in the new. But my heart grew. I let myself open up and fall in love again. This new Ann is strong enough for that. To balance living in the here and now and yet still having hard moments. The feelings aren't mutually exclusive. But now I don't have to feel alone. Jonathan and I started talking about marriage, and I asked him when he was going to ask and all he would say was some time next year. Okay. Well the ball dropped, and we kissed. I turned to say something to my friend who was over, and when I turned back around Jonathan was down on one knee with a ring in his hand. 'What the ****,' were the words that came out of my mouth.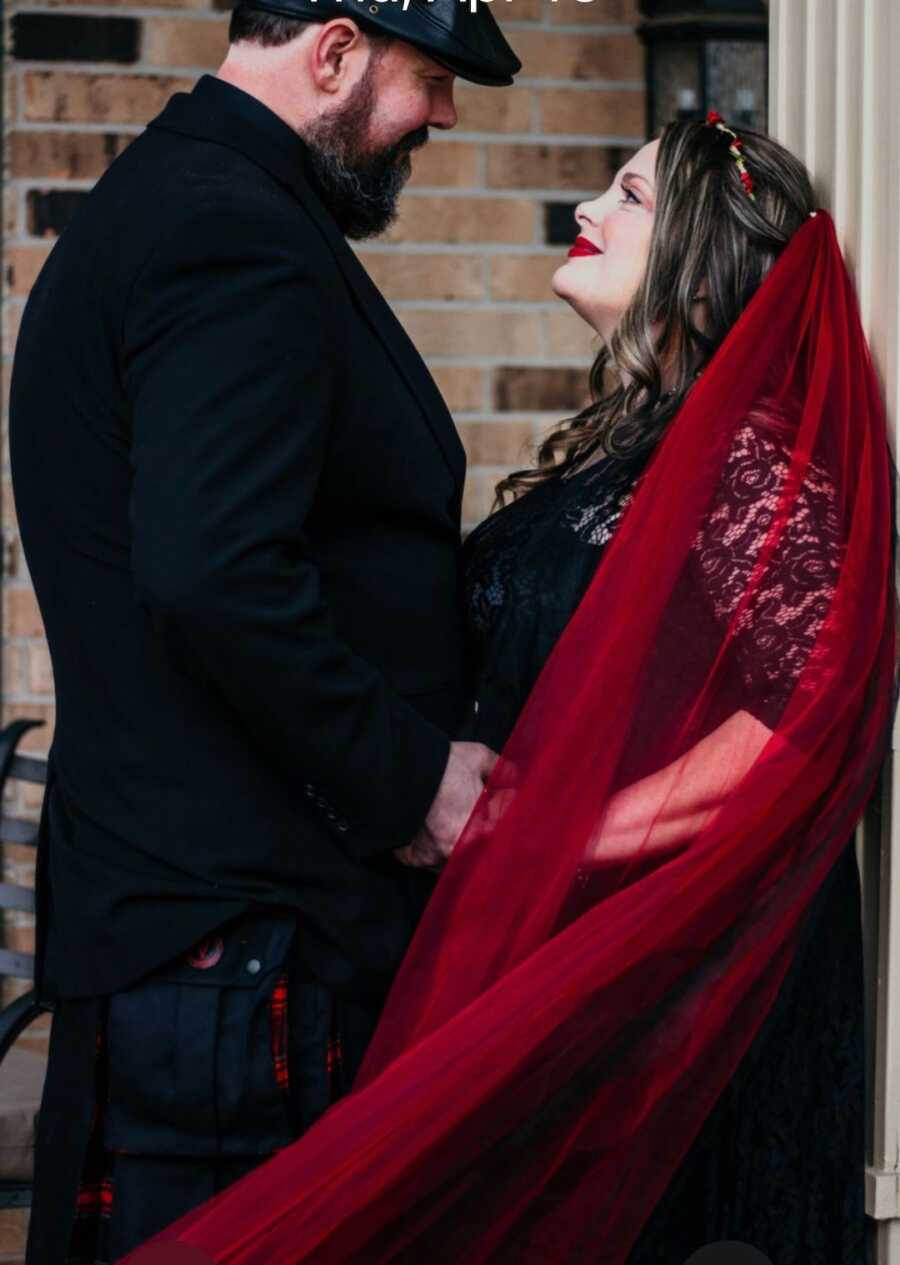 He said it when he said he would ask some time next year. I just had no clue it would be 30 seconds into the new year. He said he wanted to take back the holiday. New years can be hard for some widowed people. Facing a year that your late spouse will never see. And he wanted to turn it into something wonderful for us. And he did. Oh man did he. He is my partner. We are a team. He has become my best friend. He has sent me a meme that says marriage is just like a sleepover with your favorite person, every night. And he isn't wrong.
For Mother's Day that year, he got me a website. I know that a good part of the day I worked through my grief to write. I posted what I wrote in hopes that it will help others. To help other widows know they aren't alone. To show the world that widowhood isn't like in the movies where the widow wakes up one day and is just totally okay. That new love doesn't erase old love, that the heart instead grows to let in both loves. He calls my form of parenting me being 'that mom.' So the website he got me is www.thatwidowedmom.com.
He wants to help me achieve my goal of helping others. He also knew I wanted another baby, and once we got engaged we started trying. Our son is now 18 months old. And Logan is just the big brother I thought he would be. Those two boys of mine love each other more than words. My family keeps me going. They are my happy place. Watching my boys grow. Seeing my step kids lives. Having the most amazing husband I could ever ask for.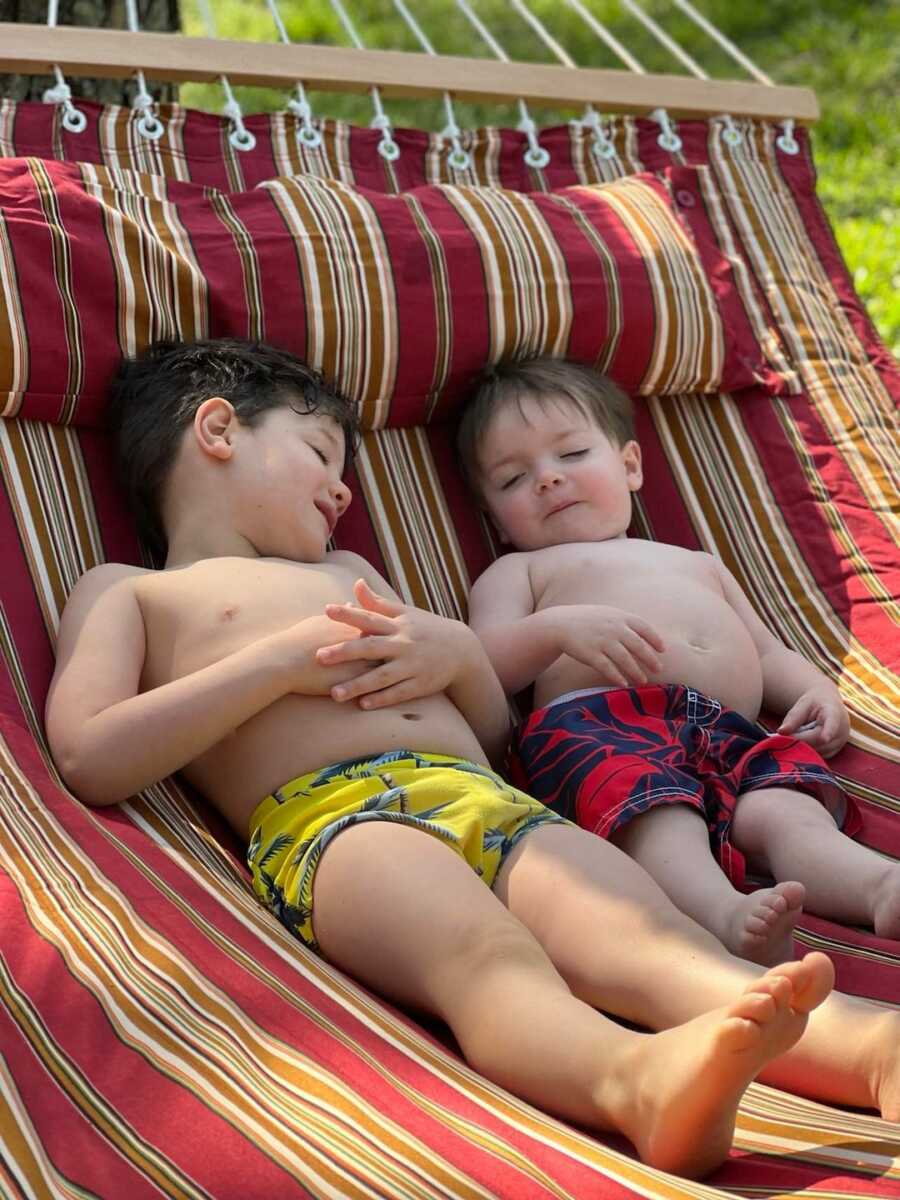 My hope for what others can get from my story is that there is life after loss. That it is possible to live in the here and now and still honor and respect what was. That you can still have grief moments even while being totally in love with our new partner. That is life after loss happens. The road is hard and takes work. But there is light at the end of the tunnel. Life moves forward. And if you find the right people and support you will absolutely be okay again."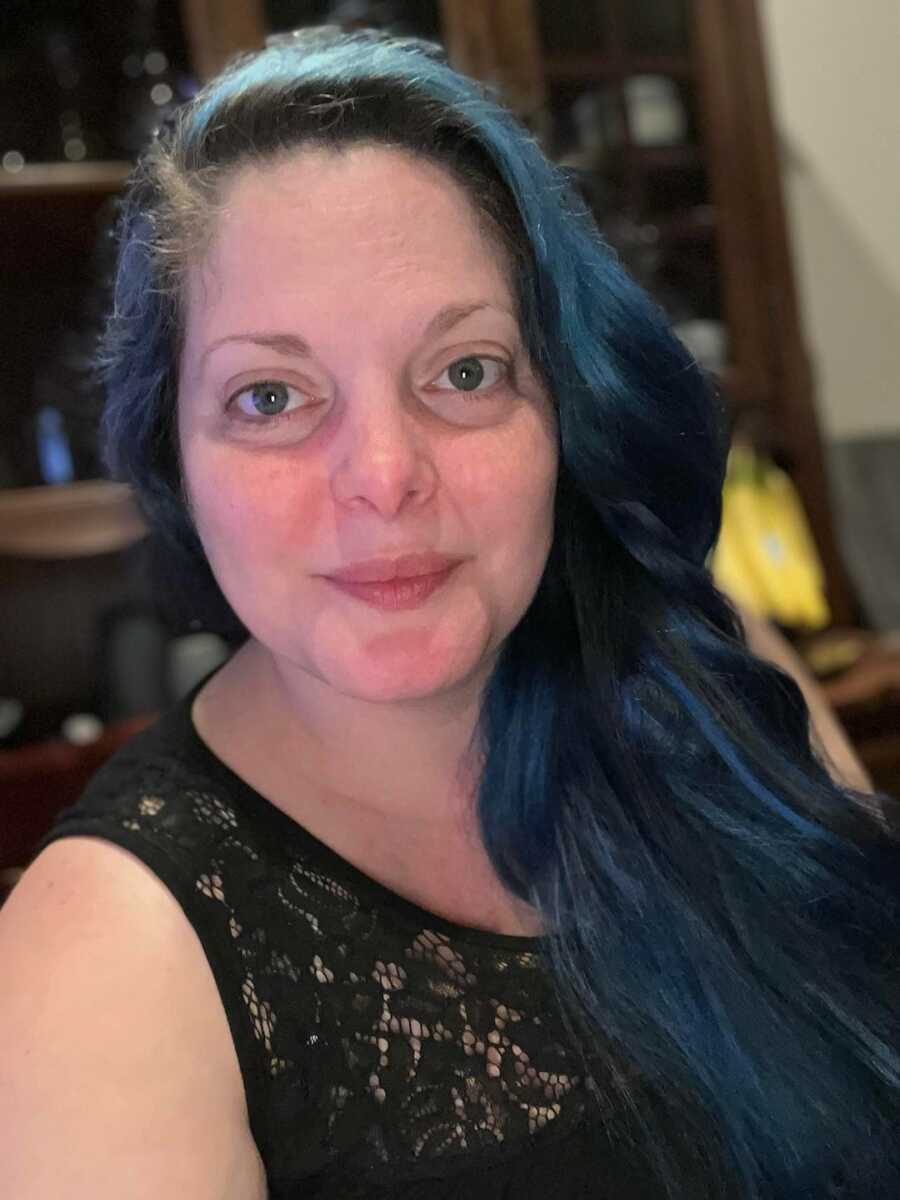 This story was submitted to Love What Matters by Ann Long of Humble, TX. You can follow her journey on  Instagram, Facebook, their website, and TikTok. Submit your own story here, and be sure to subscribe to our free email newsletter for our best stories, and YouTube for our best videos. 
Read more stories like this:
'I was scanning a blog when I saw his picture. My heart leaped. 'Oh! There you are.': After losing mother to drunk driver, woman adopts special needs son
'Babe, I'm so excited. REALLY excited!' On the way to deliver our baby, we were struck by a drunk driver.': Woman loses husband to car crash hours before childbirth, 'I had everything and lost everything all at once'
'My feelings for Kyle began to change. Shortly after, we had a little surprise. I found out I was pregnant.': Woman remarries after losing husband to alleged drunk driver
'You need to go to the school and get them. It's already in the news.' My phone was flooded. 'This isn't real. He has to come home.': Firefighter dies in accident on way to fight fire
Do you know someone who could benefit from this story? SHARE this story on Facebook to let others know a community of support is available.