"September 1, 2018, I was so excited to marry the man I couldn't spend a day without! We'd gone days, months, years without being together as a whole – it was constant. Today was a sendoff to start our lives together as one. I remember being unbelievably nervous, I'm glad my dad was there to hold me up. I remember thinking, 'Why in the world are you so nervous? You've known this guy for 9 years!'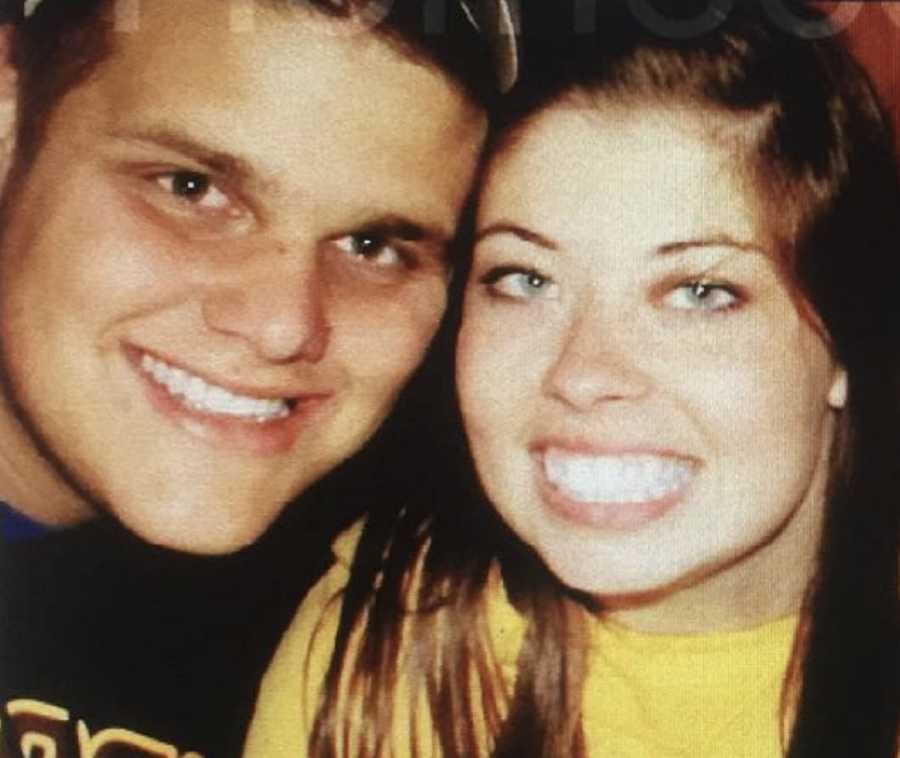 Everything about that day was amazing, including the motorcycles. We carried a flag behind us as the rest of the bridal party followed. The loud motorcycles rumbled the main street of the hometown both Aaron and I grew up in. As we went through the first dances, the speeches, the cutting of the cake, we danced all night. The stories the next day were endless. Between September 2nd and the 5th we traveled back to California, four on bikes and two in the truck. We stayed on Fremont street the night before the accident. That was the last photo I ever took with Aaron.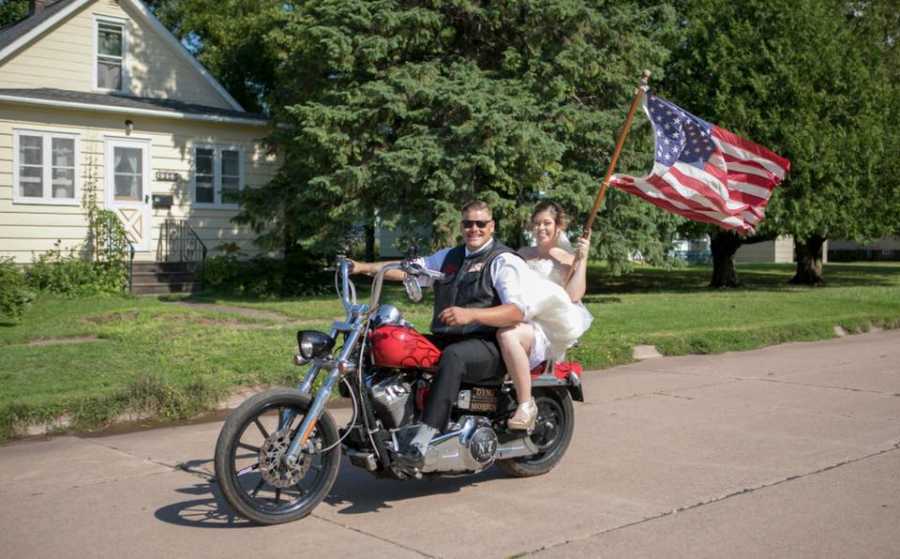 September 5th, 2018, I remember waking up and feeling exhausted. Earlier I promised Aaron I would ride on the motorcycle with him from Vegas to our home in California. Well I backed out because I was exhausted. He walked me to our friend Kyle's truck, kissed my forehead and said, 'I'll see you back in California, wifey.' I said, 'Ride safe husband, I love you.' And those were the last words I ever spoke to him.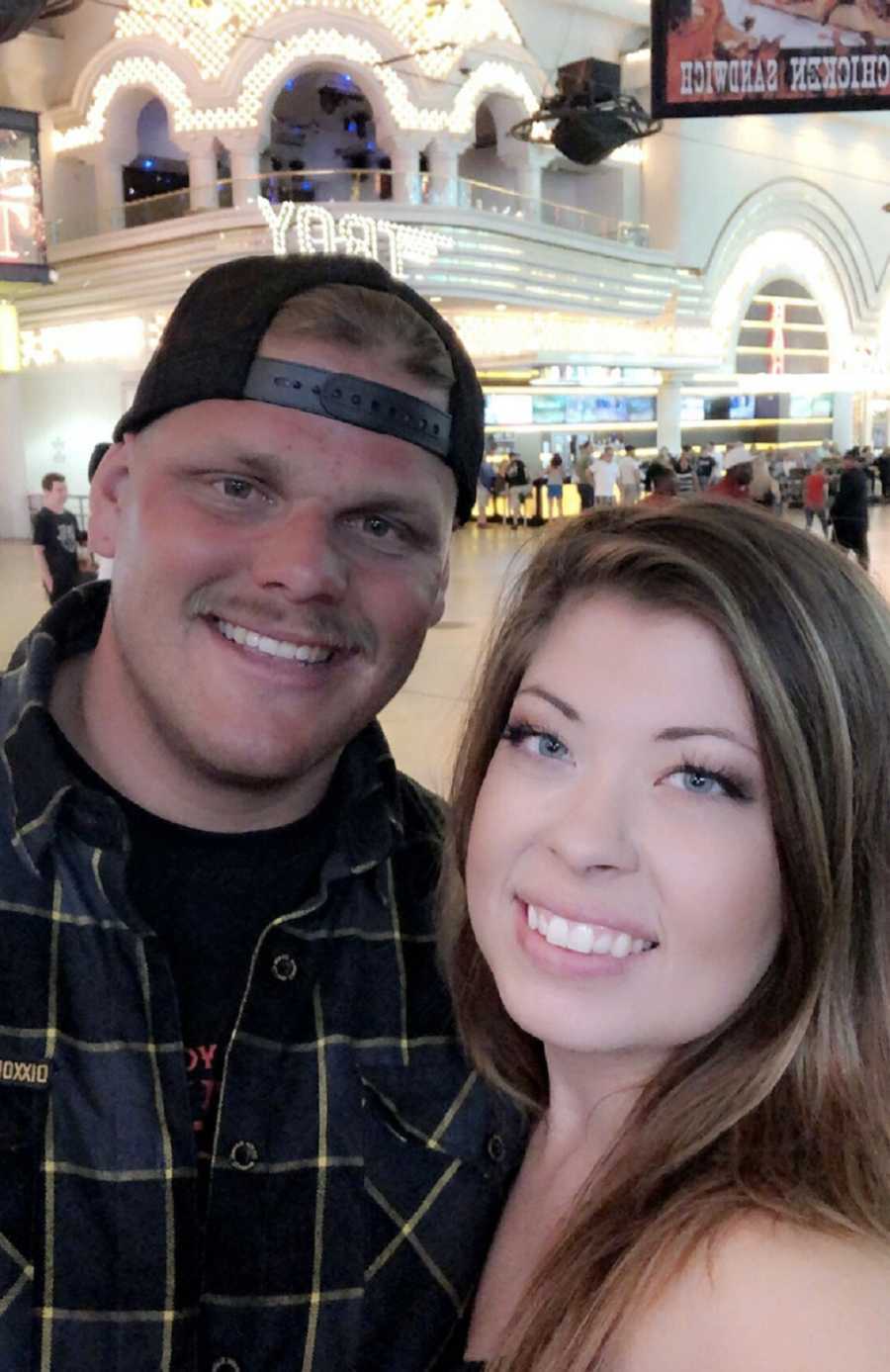 It was around 3:45 in the afternoon and Kyle got a message on his phone. He called somebody, but didn't say much and he then put his phone down. He looked at me and said, 'We need to turn around. The guys following us need something.' At that moment, I knew something was wrong. I asked questions and it was almost as if he ignored me.
We didn't have enough gas to turn around, so we had to stop. Kyle could tell I was freaking out. He just told me to pick some music to play, and that's when I opened his phone and saw the message from Dan.
'Truck is down.' Truck is the name they called Aaron. The traffic seemed to move slower and slower as we got closer. Kyle looked over and said, 'Amber, you need to listen to me. You need to stay in the truck.' He pulled over into what seemed like a dirt road. I remember looking off into the distance and seeing my husband's motorcycle on the ground, but my husband wasn't there. I jumped out of the truck and was immediately greeted by a cop who asked questions I don't even remember giving them the answer to. The cop stated it was an alleged drunk driver who turned in front of my Aaron.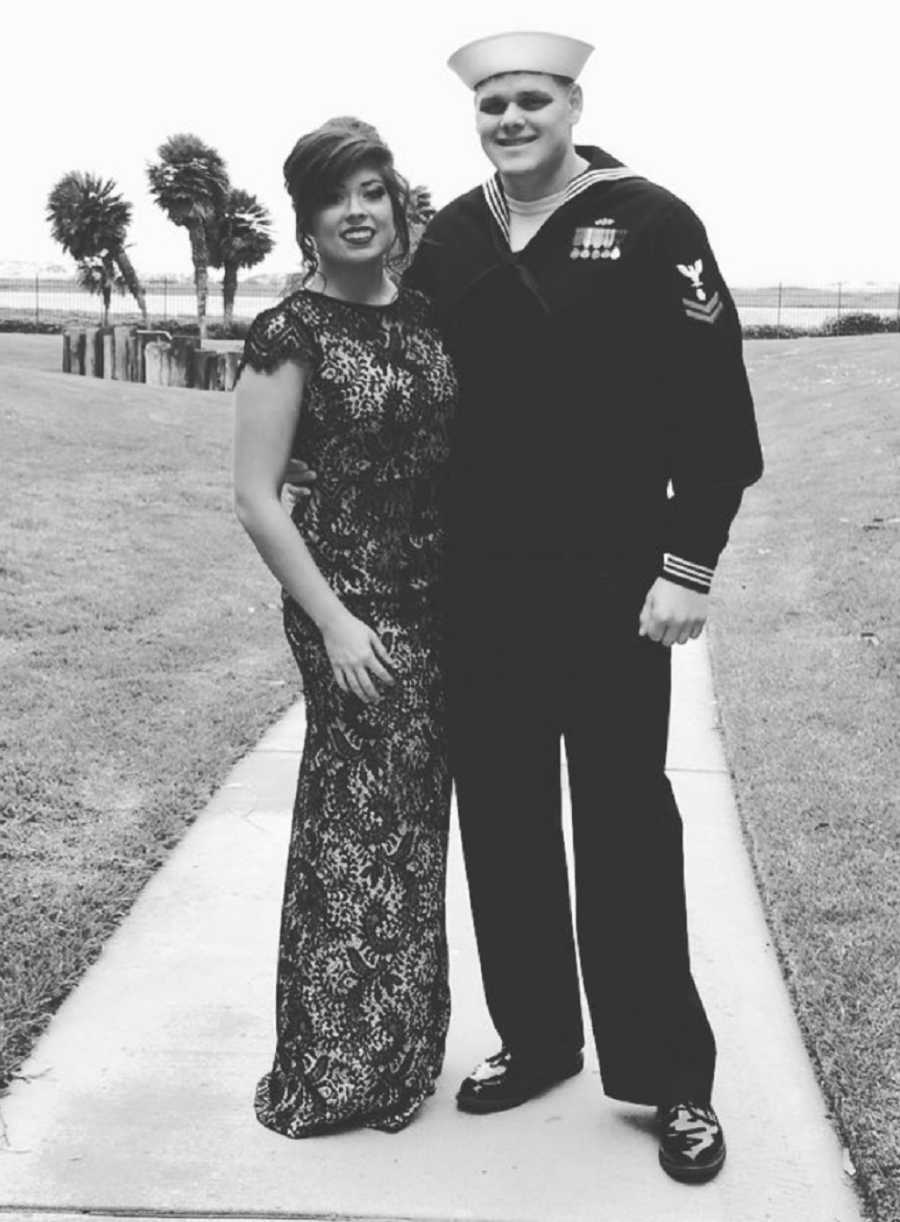 I remember Dan running up to me as I collapsed to the ground. 'Aaron was taken to the hospital, but he is alive,' he told me. I remember leaving the scene and taking the wrong route, putting us back 10 minutes. We did everything we could without breaking the law, even though I really didn't care. We showed up to the ER where a lady met me. She knew exactly who I was. She grabbed my hand and brought me back into a room. I remember exactly what this hospital looked like, sounded like, even smelled like. All I wanted to know was where my husband was.
'I can't tell you anything until the doctor is here to let you know,' the nurse explained.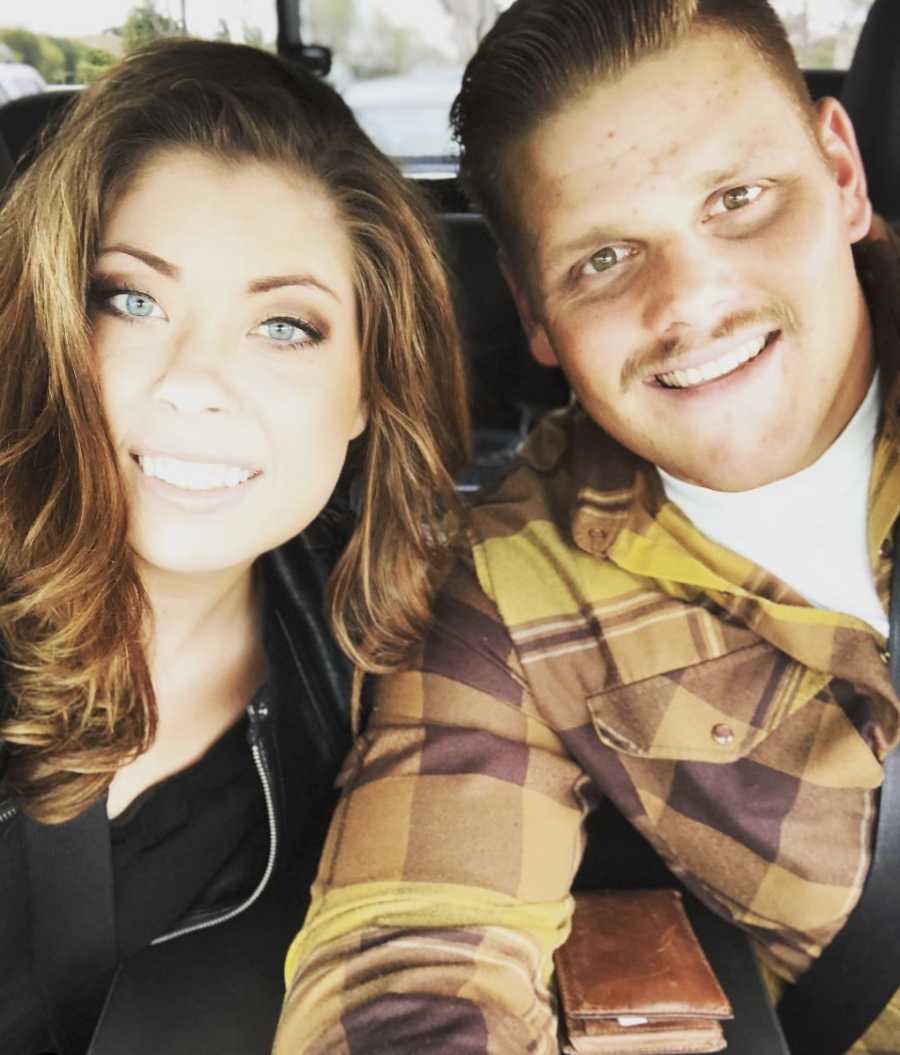 The doctor came in and sat me down.
'I'm sorry, your husband didn't make it. We did everything we could, but…'
'WHAT?,' was all I could reply.
'Your husband is dead,' he said.
The world started getting very small. I got up and screamed, 'NO! NO! NO!' The lady tried to grab my arm and I told her not to touch me. I backed into a corner – there was nowhere else to go. I was living my own nightmare, waiting for someone to wake me up. I just kept staring at the ground following the lines of the tile, crying.
She asked if I wanted to call my mom. Are you serious, lady? How the hell am I supposed to tell my mom?! We just got married. She's probably waiting by the phone to see if we made it home safe.
All I did was ask for Kyle. All I wanted was Kyle.
'Who is Kyle?,' she asked.
'Get Kyle!,' I screamed.
They found him and all he did was hold me as I tried hard not to throw myself onto the ground. I looked at him and I asked him if he could call my mom, if he could call Aaron's family, because I couldn't do it. I couldn't speak those words.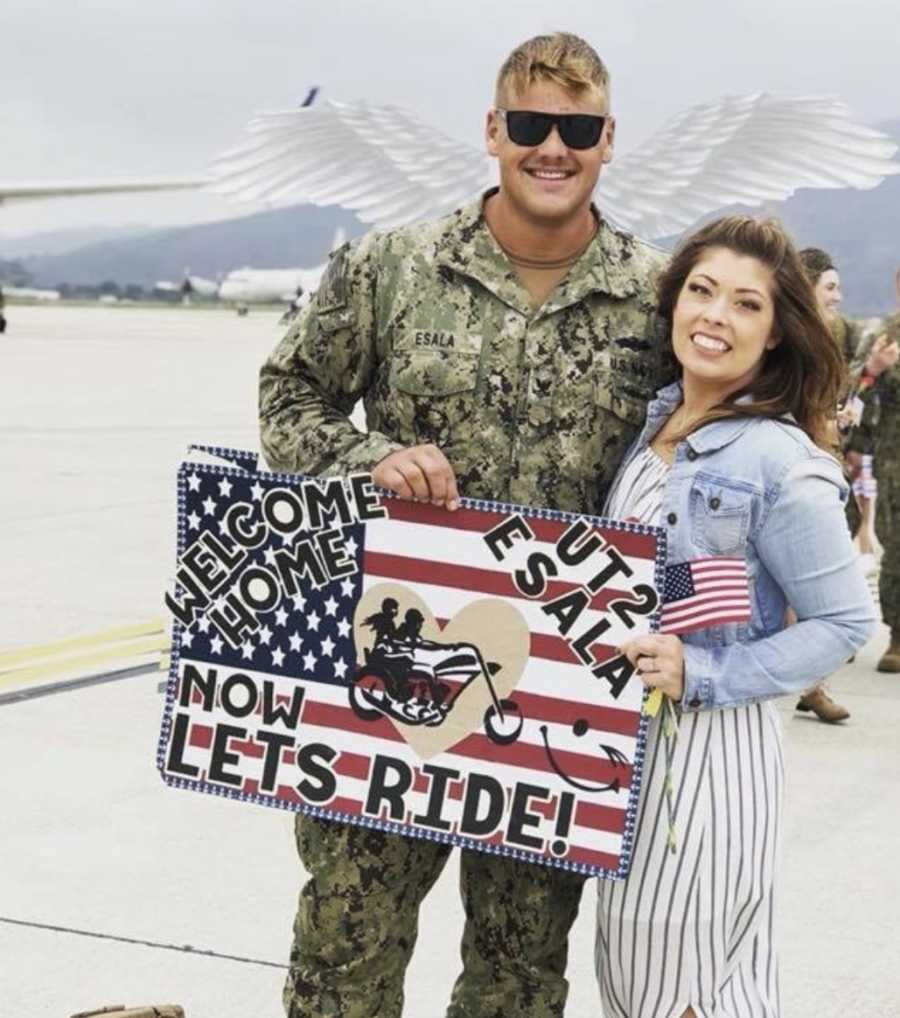 I remember every single grueling phone call. The wails and moans on the other side of the phone. The doctor came in and asked me if I wanted to see Aaron. I honestly didn't even know what to say because it wasn't real to me. I remember them grabbing me on both sides of my arm and walking out into this hallway, people lined up on both sides trying to get into the ER, it was awful. I remember being so mad and selfish, thinking people who had colds and broken arms didn't need to be there because my husband was dead.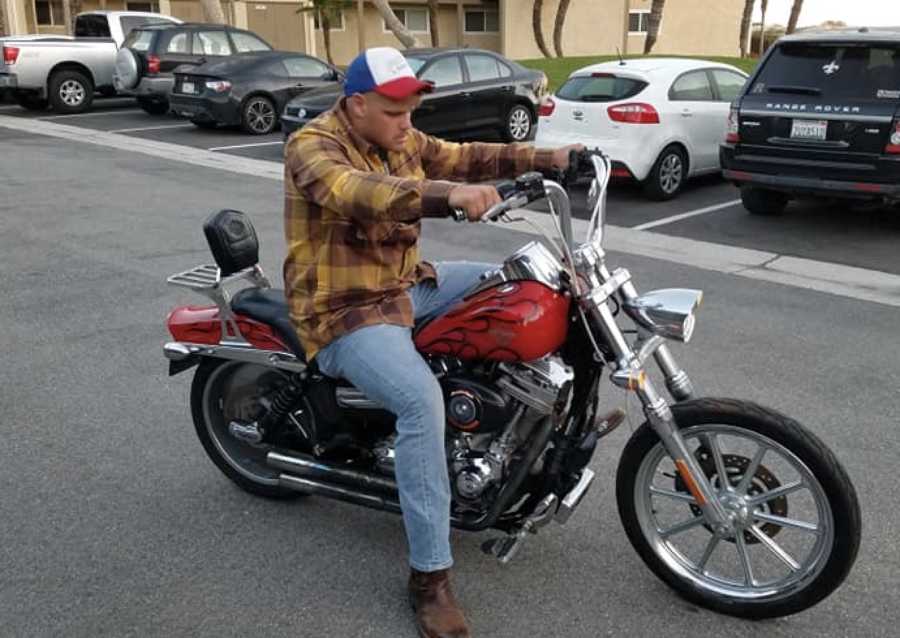 It was packed with people yelling, babies crying, people talking, and Aaron was only behind a curtain. I kept looking at the ground as we entered. I just couldn't look up. I stared at the bottom of the bed and followed it up the blanket he was under, up his side, up his arm – and my eyes focused on where his wedding ring would be. The wedding ring I placed there just four days prior.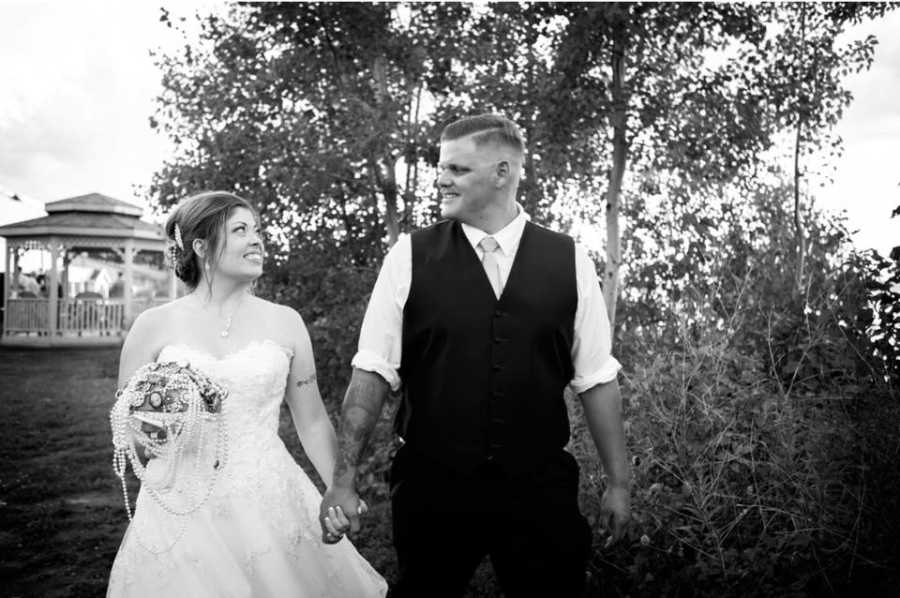 'We had to take it off, but I'll get it for you,' the lady told me about his wedding ring.
Kyle took off his dog tags and gave me the chain so that I was able to put his ring on it and wear it around my neck. I followed his arm up to his neck and his face. I tried to brace myself so I didn't fall, I remember feeling weak. I also remember looking down at the ground and his motorcycle helmet lying there in the corner.
I sat down next to him and I held his hand and didn't let go. It felt pale, but I just rested my head on his hand. They finally got Aaron a room to himself so we could be with Aaron as long as we wanted to. As it was getting later and his hand got colder and colder, I knew it was time for me to go. I didn't want to leave him, walking out of the door was the hardest thing I've ever had to do. I had to leave my husband forever.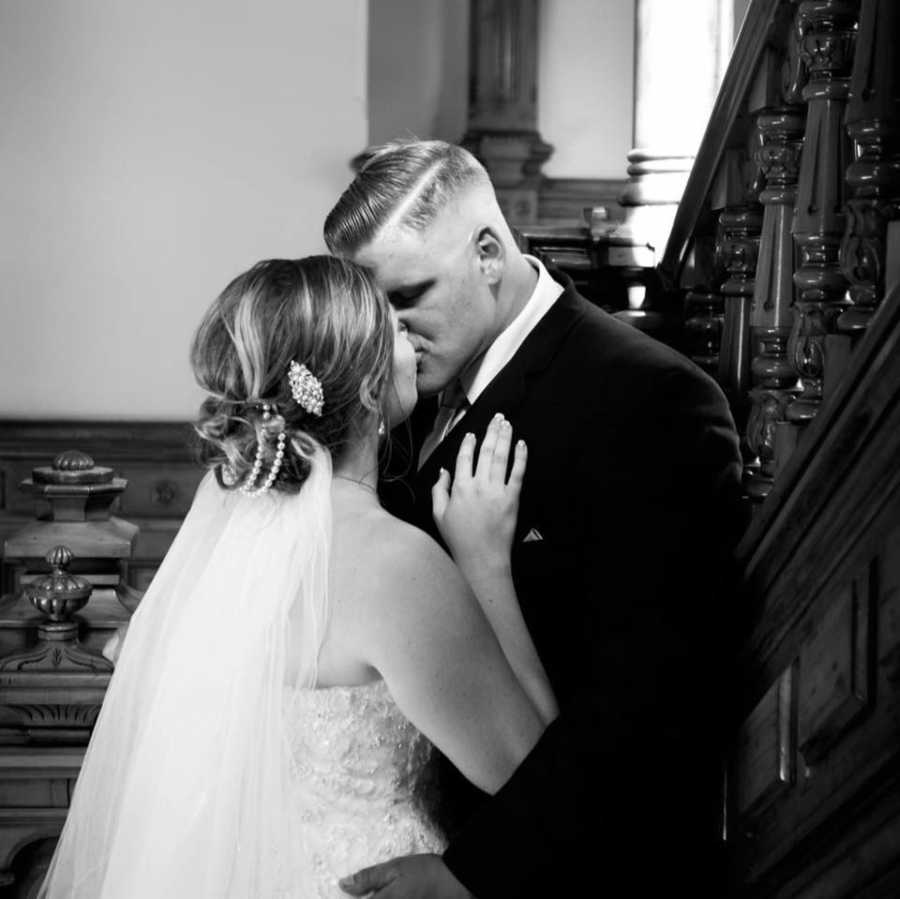 We got a hotel room, Kyle, Dan and I because we didn't want to drive back. We were exhausted. I was scared so I asked if Kyle could lay next to me. He just sat on the other side of the bed until I fell asleep. My mom and cousin came the next day to be with me for a week. I remember putting my phone down for a good week because I couldn't deal with how much it was blowing up. Everyone was so kind, everyone reached out from our hometown, from the military.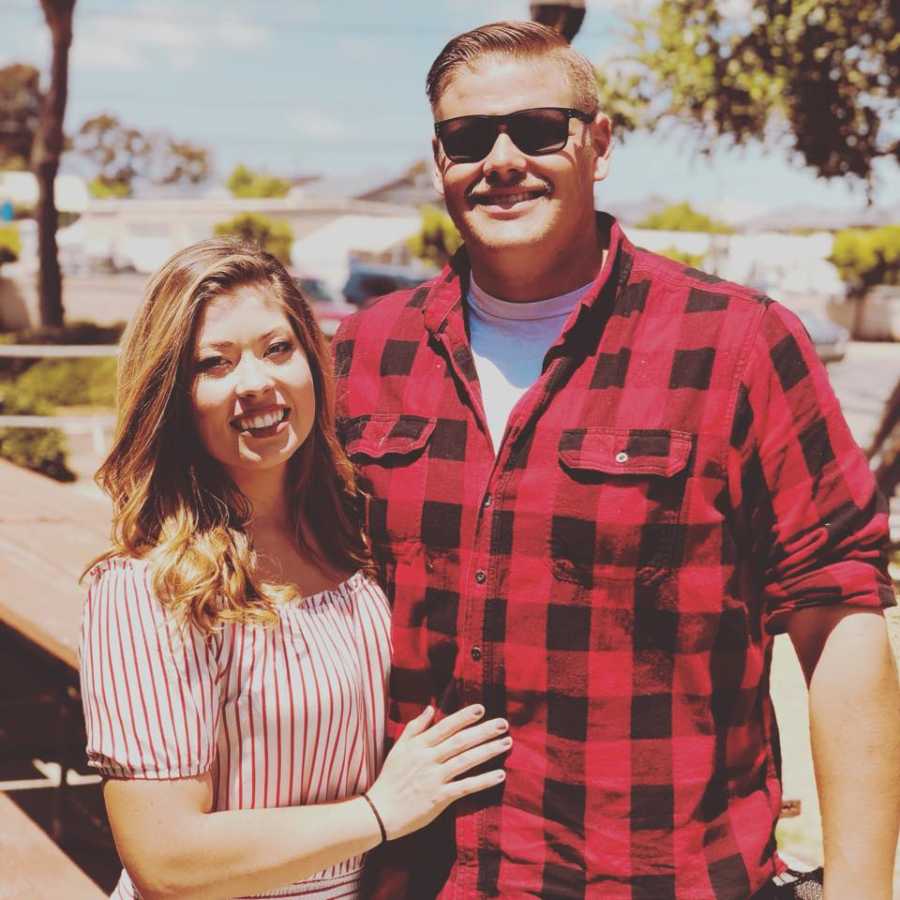 I flew back to Wisconsin for Aaron's funeral. I pulled into my hometown as they were having a vigil for Aaron. It felt as if the whole town was there, a whole town that came together to honor Aaron. It was beautiful, everyone shared stories, sang songs and shared the silence to honor an amazing man Aaron was. This was the first time I had to come face to face with Aaron's family…it was incredibly difficult because just as much as I hurt, I wish I could take their pain away. The next day we drove back up to the Minneapolis Airport to bring Aaron home. I remember watching everyone who helped escort Aaron off of the plane. The time it takes from Ashland, Wisconsin, to Minneapolis, Minnesota, is about 4 hours. We had people escorting and following the whole way. Our whole hometown was lined up on both sides of the street awaiting Aaron's arrival. I remember the flags, tears and cheers that he was safely returned home, but not the way I ever imagined.
The next day was the funeral. I didn't want his funeral to be at our church because we literally just got married there a month prior. Another church was so ever kind and allowed us to have it there. Although it was a blur, it was also something I remember vividly. The blank stare I had as people came up and hugged me, kissed me and said their peace. Shortly after that, we had all gotten together and went to a Veteran Memorial Minnesota Vikings game where we honored him. This is our favorite team and the only other time I came to a game was when he flew home from deployment to surprise me by proposing.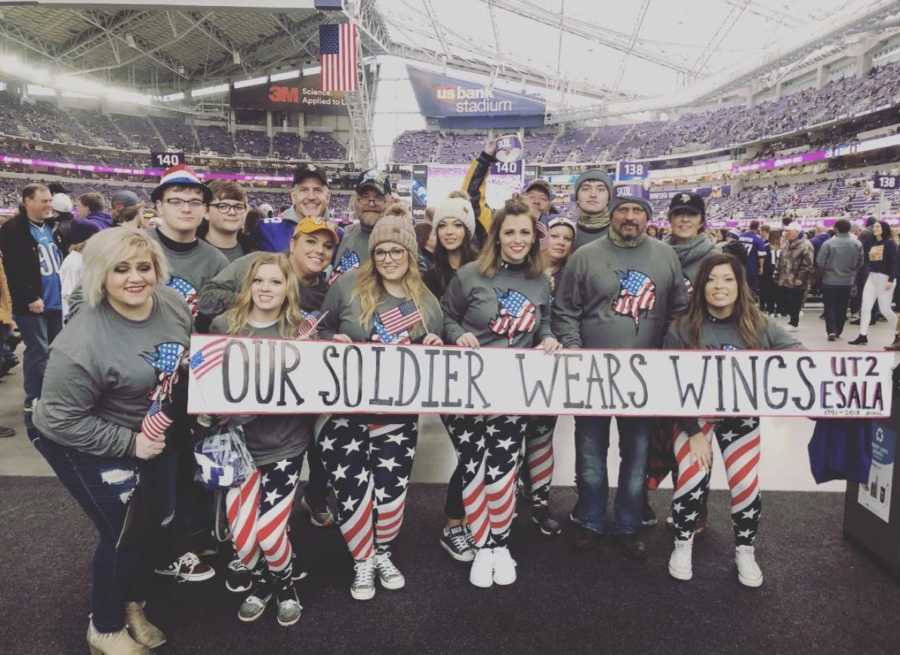 A couple days later I then flew to California because it was somewhere so beautiful and somewhere I wasn't ready to say goodbye to. Shortly after I returned to California, I found out I was pregnant with Aaron. I was scared, but so excited to have a piece of him, a piece that was going to come back into this world because of him. We flew out both of our families and had an amazing memorial. This is where I told them, and both families cried in happiness. We all thought it was time we had some good news! The morning of the Memorial, I found out I miscarried. I remember going through that whole day pretending I was still pregnant so I didn't have to see the pain on my family's face anymore. I somehow had to tell my family, all of whom had a glimpse of happiness and hope, that it was too good to be true.
This is where my feelings for Kyle began to change. I told Kyle everything. The day I was pregnant and the day I found out I wasn't, he rushed home and held me like he did the day Aaron passed away. Shortly after I told our families I had a miscarriage, I wanted to go on a trip. I asked Kyle if he wanted to come with me.
'Where are we going? Let's go,' he said.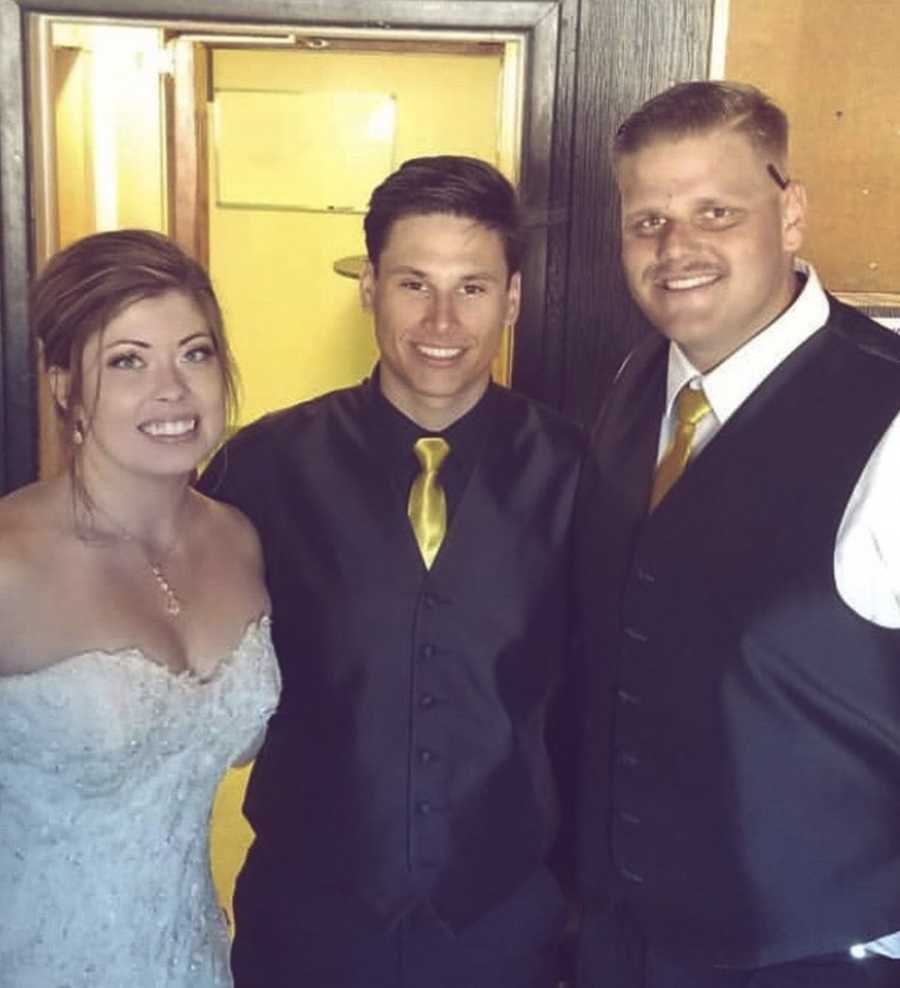 We went up to San Diego for the weekend and it was the best weekend. I needed it in so many ways and I will admit, there were feelings that progressed there.
A couple months later, we explored our relationship on a different level. The biggest concern for me was making sure I wasn't just acting on my emotions of losing my husband, Aaron. And Kyle's was to make sure he wasn't acting on emotions of losing his best friend, Aaron. This wasn't something that was planned, or expected, or imagined. I remember thinking I was to never love again.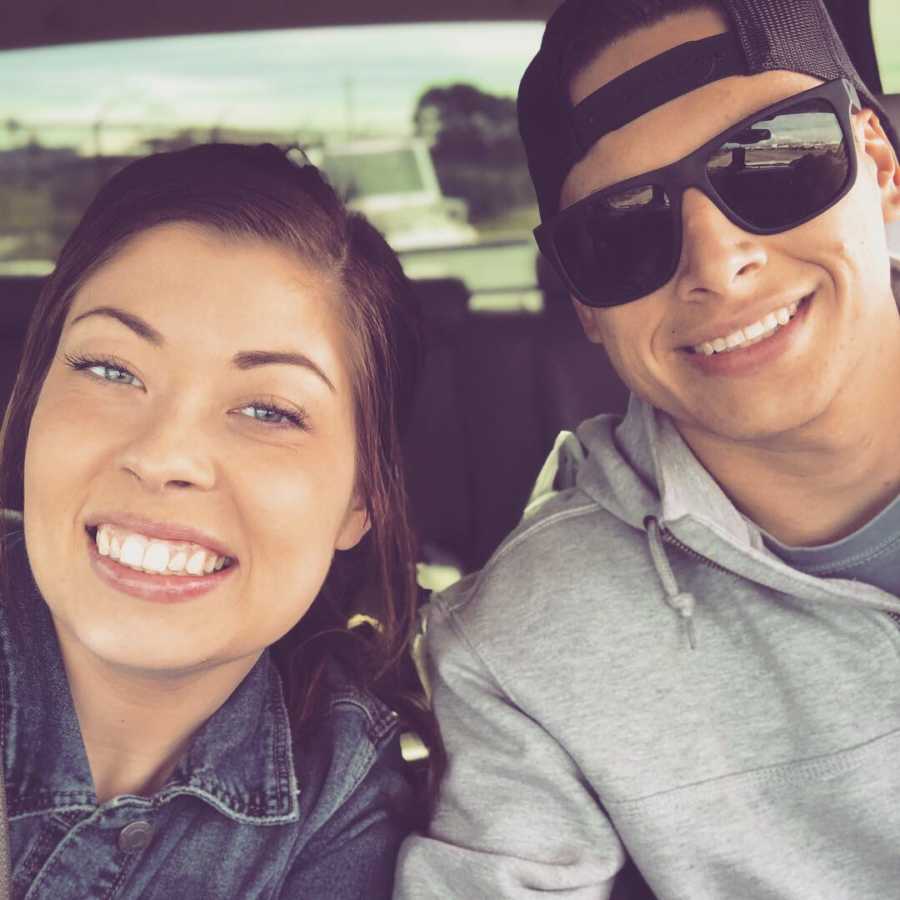 We spent every single day together, we explored California together, he took me on motorcycle rides. It was so nice to smile again, it was good to feel happiness again. It was good to feel love again.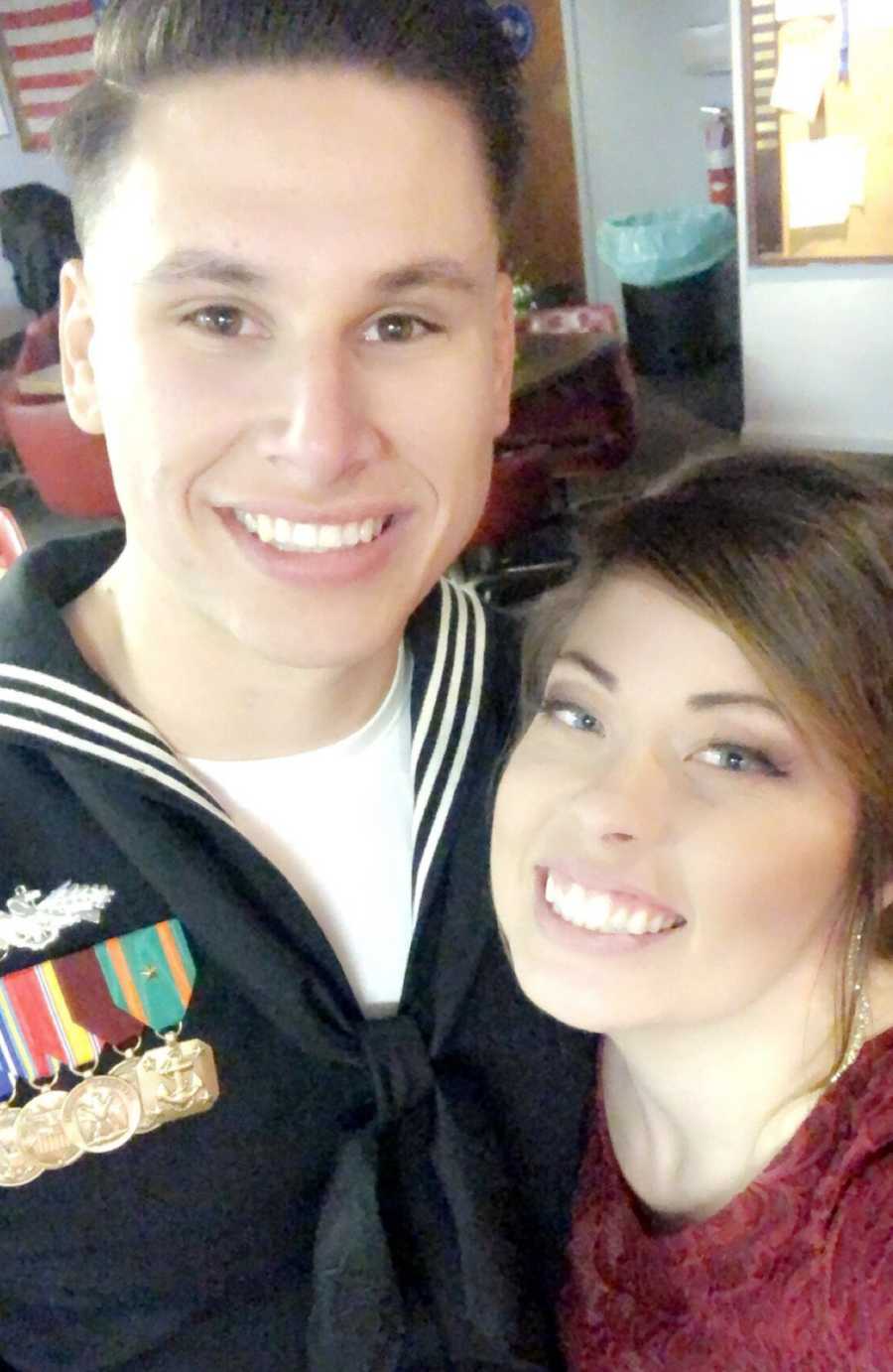 Shortly after we decided to tell people we were together, we had a little surprise of our own. Kyle and I found out I was pregnant, and we are due to have a little girl in September.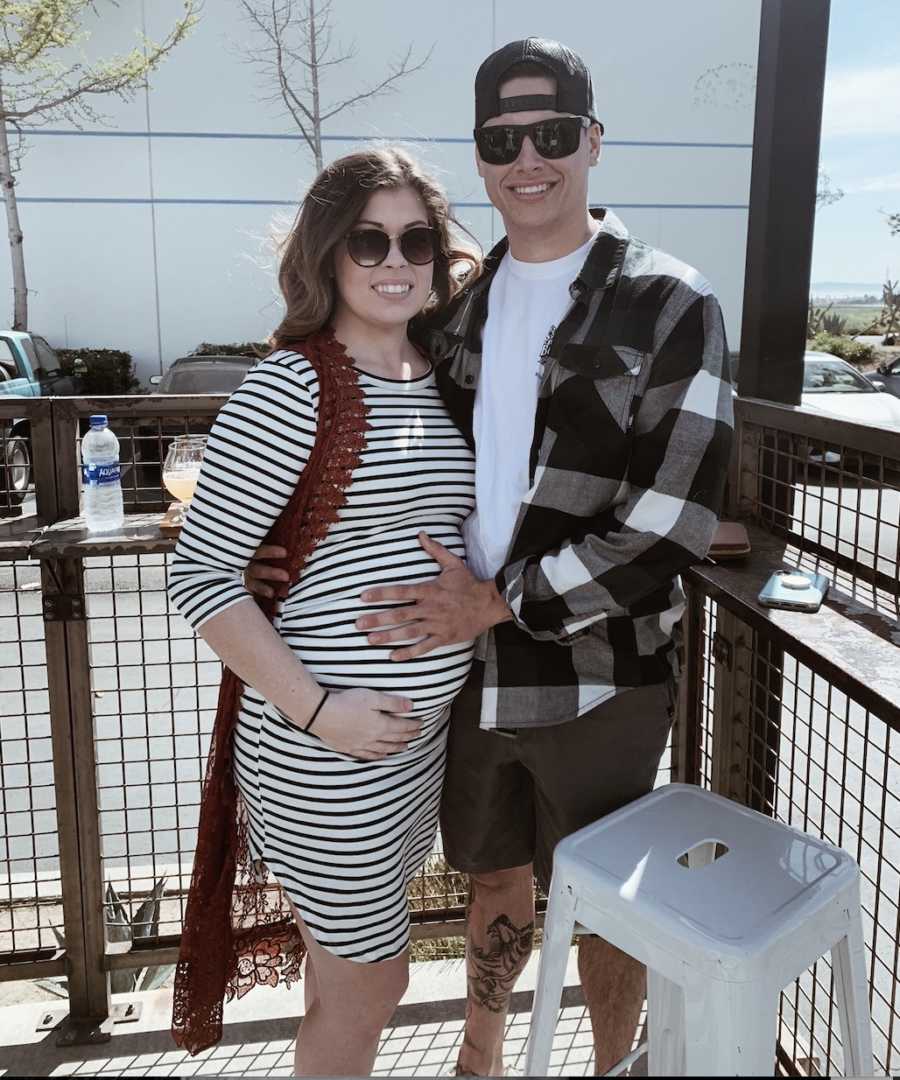 I've been through a lot in these 9 months, but one thing I've learned is it's okay to find love again. Embrace it. I deserve to love and to be loved. I am able to love because of the love I have with my late husband. Notice I didn't say 'had' because I still love my husband and it will never go away. We were put on this earth to live. We are meant to love and to be loved in return. I have found someone who accepts all I've you've gone through and who loves me through it all. Through the dark days, through the sadness, through the grief. To those who are grieving, find someone who allows you to love your late husband and not feel ashamed or guilty about it.
I'll admit, I am grateful because my chapter 2, the man I love, is one of my husband's best friends, and he loves my husband just as much as I do. He accepts that I had a wonderful love with my late husband. He excepts all of my scars and holds my hand through all of it. Our smiles are real, they are true and they are honest. I know this is Aaron's way of looking out for me from heaven."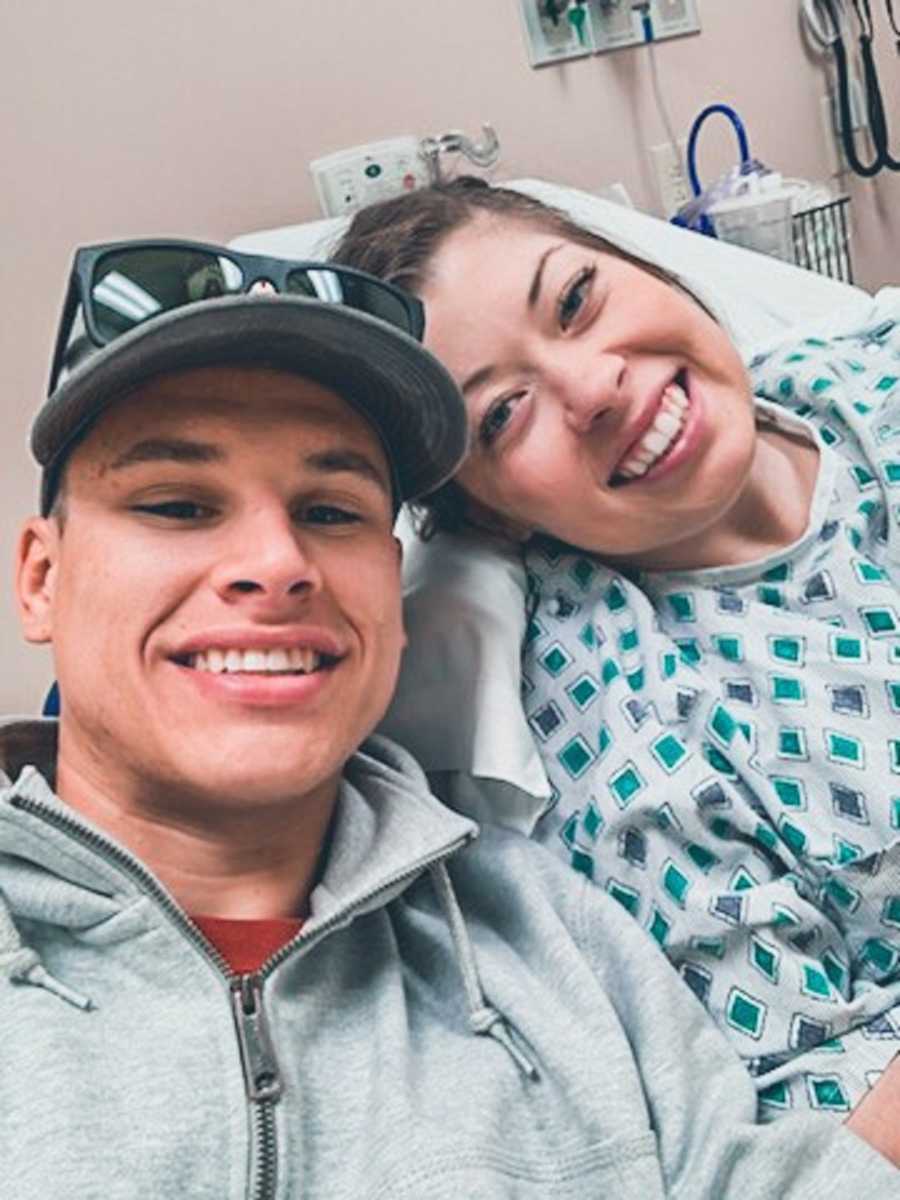 This story was submitted to Love What Matters by Amber Esala. You can follow her journey on Instagram. Do you have a similar experience? We'd like to hear your important journey. Submit your own story here, and be sure to subscribe to our free email newsletter for our best stories.
Read more stories from those experiencing grief and loss:
'Mommy, what's wrong?' I held her face in my hands and brought her eyes to mine. 'Baby, there was an accident. Daddy died this morning,' I whispered to my 12-year-old daughter.'
'I gave birth, my life was complete. 3 days later, a stray bullet crashed through our window, striking my husband.' Widow finds love after loss with old friend, hopes her son knows how 'truly loved' he is by 'both of his dads'
SHARE this story on Facebook to encourage others to cherish every moment and love what matters most.