"Okay, to all my teacher friends out there, I have taught for 36 years and I just got a reality check.
As I was driving by Subway, I saw a student with his Chromebook open sitting on the sidewalk.
When I saw him, I had to turn around and go back. I asked him, 'Are you trying to do schoolwork?'
He answered yes because he doesn't want to get behind.
He told me his dad works in Jax doing concrete work. His company has threatened to shut down, so having internet at home is not a priority right now.
I told him I understand, but do I really get it? This young man is TRYING, but life is hard right now.
He gave me permission to share his picture.
School is only a small part of some students' struggles!
They have a lot going on in their lives, so please do not forget.
Today was a reminder to me that not everyone's life is like ours.
I am teaching from home and my husband still has his job.
Both of my children are grown, so I have all the time in the world to 'do school.'
Seeing this young man reminded me to give some mercy to students and parents. They may have other things to deal with other than just school.
A loss of employment, childcare issues, working parents, no internet, etc.
I know this young man's determination will take him so far."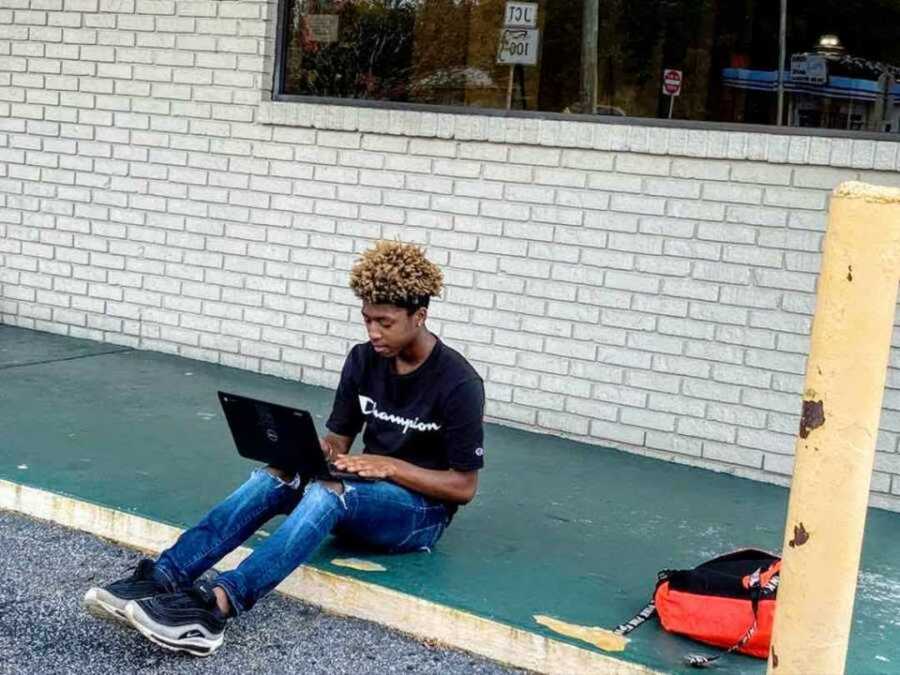 This story was submitted to Love What Matters by Sandra Starling. Join the Love What Matters family and subscribe to our newsletter.
Read more stories like this:
'OH MY GOD,' I heard. 'Hmm?' I looked up from my computer. 'THERE'S A MAN POOPING OUTSIDE.': Teacher shares heartbreaking realization 'all schools are not created equal'
This Teacher's 3-Word System To Help Students Through 'Bad Days' Is Empathy At It's Finest
Do you know someone who could benefit from reading this? SHARE this story on Facebook with family and friends.