The world becomes a better place when we not only recognize that everyone has bad days, but when we also care enough to act accordingly.
No matter how big or small, there are just some moments where we could use a little grace. Fourth-grade teacher Rachel Harder recognizes this, and she found an amazing way to help out both her students and their families.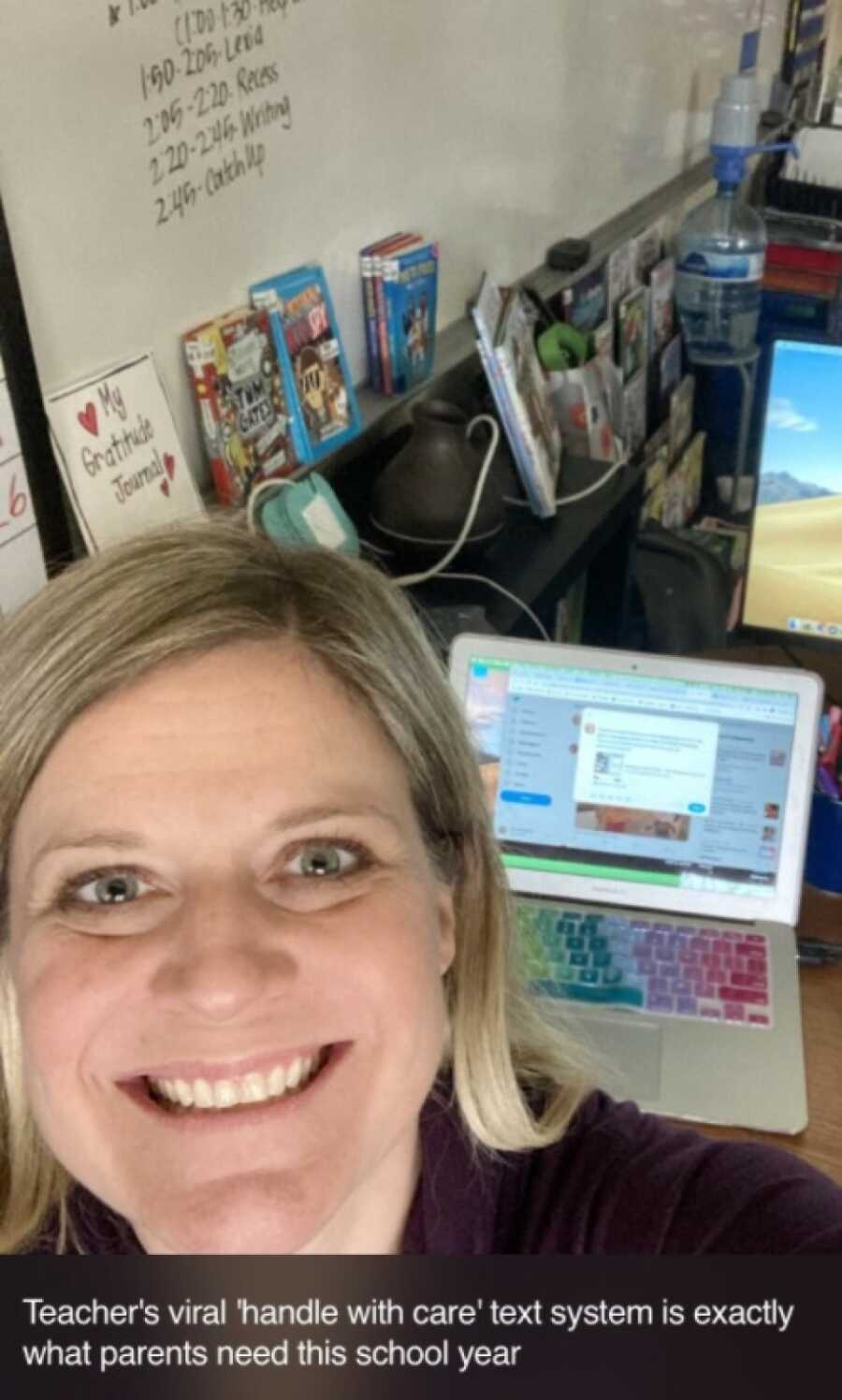 A few years ago, the Kansas teacher attended a trauma conference. She learned that some police stations partner with schools so they can let teachers know when one of their students has a police encounter, something that could cause them to need extra care or attention.
"We loved this idea and figured there had to be a way to make this work within our own classroom community," Rachel said.
A year after the conference, Rachel had a student with autism who frequently had tough days. To support her, Rachel told the student's mom to simply text her "handle with care" to let her know when it was going to be one of those days.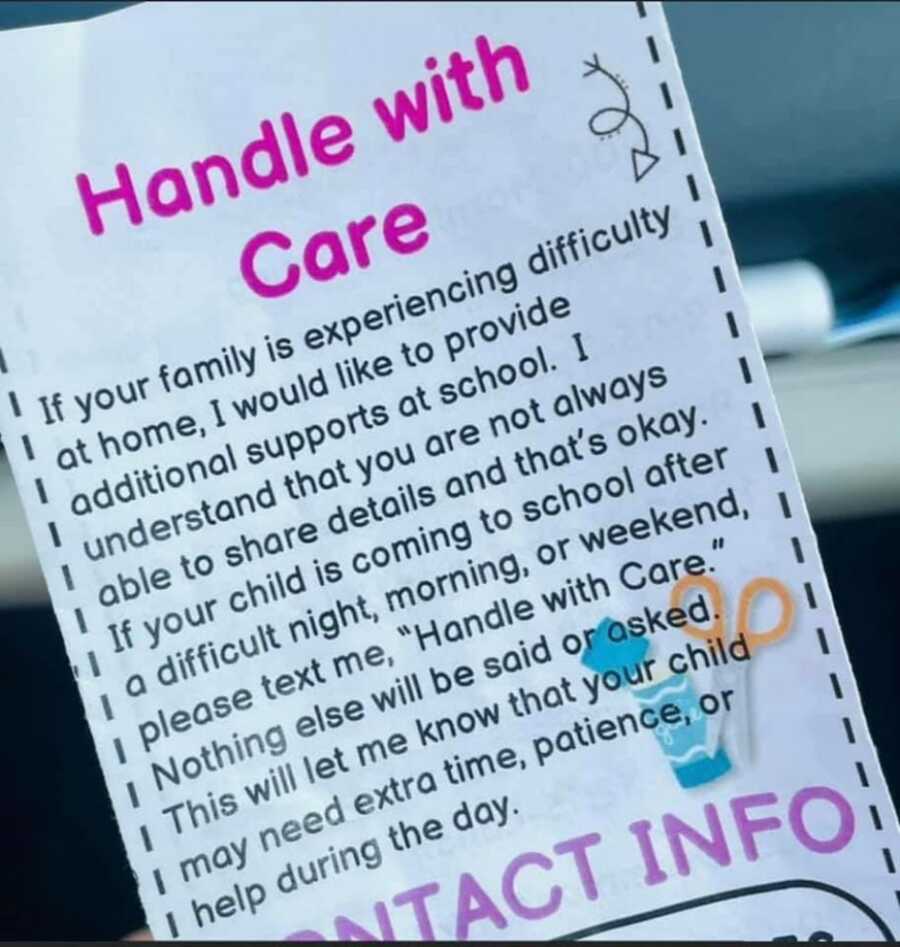 "I knew that when she would text me, that her daughter needed some extra time and a quiet location, not the gym for morning announcements, so that the rest of her day went smoothly," Rachel said.
This story originally appeared on InspireMore.
The simple method was such a success that Rachel decided to send all of her students home with a note for their parents. It explained what the "Handle with Care" system was and how they could take advantage of it. In no time, parents began to show their appreciation for Rachel's incredible act of kindness.
But Rachel's compassion didn't end with her class. Word spread of the amazing system, and teachers across the country began giving it a shot in their own classrooms. Printouts can be found on the Smart School House website, and the feedback has been extremely positive!
"The [parents] just let me know it was a hard morning," Rachel said. "I don't need to know details but parents like that — they know I'm keeping an extra eye on them."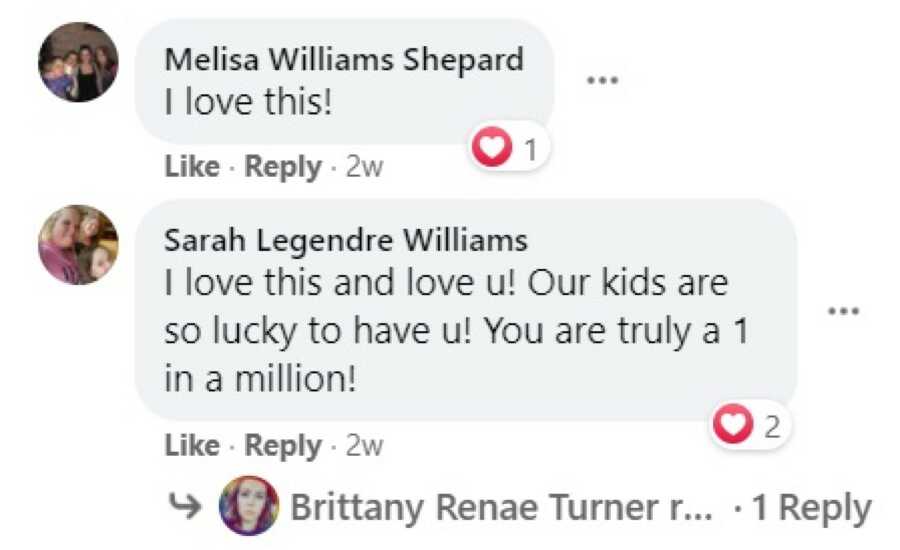 Even though teachers can sometimes tell when a student is having a tough day just by the way they're acting, Rachel said these simple texts allow educators to preemptively make minor adjustments that, in turn, make the whole day better for everyone.
"It's important for me to give kids a few minutes of extra time or space," she said, "and it's easy to give." Let's celebrate Rachel's inspiring display of empathy.
This story originally appeared on InspireMore. Be sure to subscribe to our free email newsletter for our best stories.
Read more stories like this here:
Elementary School Teacher's Disney Spin On Photos Are Guaranteed To Make You Smile—Here Are Our 25 Favorites
5 Reasons You Should Marry A Special Education Teacher
'My 3-year-old's teacher said, 'Next week we're working on F-A-T-H-E-R-S (yes, she spelled it out) day projects. What do you want me to do with her?': Single mom pens open letter to co-parents
'I know this, I just don't know how to get YOU to know.' I could see how difficult it was for her.': 3 women become teachers together, 'We are raising the future'
Help us show compassion is contagious. SHARE this story on Facebook with family and friends.