"'You are never given more than you can handle.' It's a common response I get when people search for the right words to say to me after losing my son to cancer. I am going to go ahead and refute that belief. We are given more than we can handle. The Tate family has been given more than we can handle.
In September of 2014, my wife and I sat in an OBGYN's office staring at a screen that appeared to have 3 black and white circular shadows. Yep, 3 shadows stared right back at me as my face turned white and I began to lose circulation.
'You two are really good at making babies,' she said.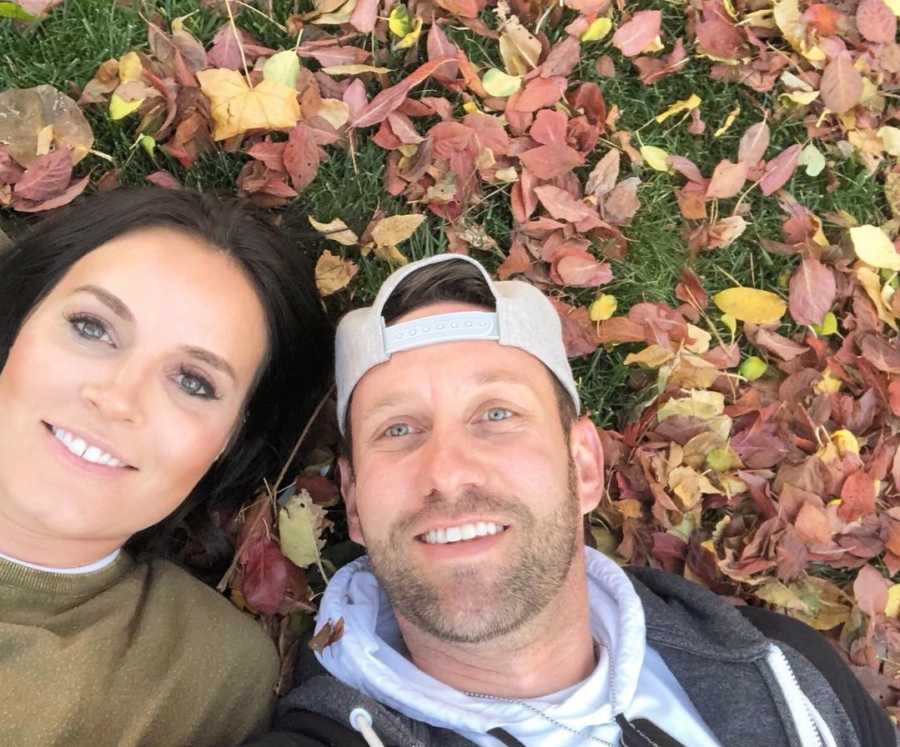 The Nurse scurried to get me water as I almost passed out at the thought of raising these babies. Well truthfully, I almost passed out at the expenses that were associated with raising them. We were expecting triplets. Oh, and by the way, we already had 3 older kids, ranging from 8 down to 3 years old.
They babies were born healthy and the joy they brought to our lives was palpable. Of course, it was extremely difficult managing to find time to sleep while we rotated 3 hour shifts throughout the night for the first 9 months, but they were a huge blessing in our lives. I remember thinking to myself, 'I've definitely been given more than I can handle,' as I drove to work one morning after sleeping a total of 3 hours. Unbeknownst to me, this was only the beginning.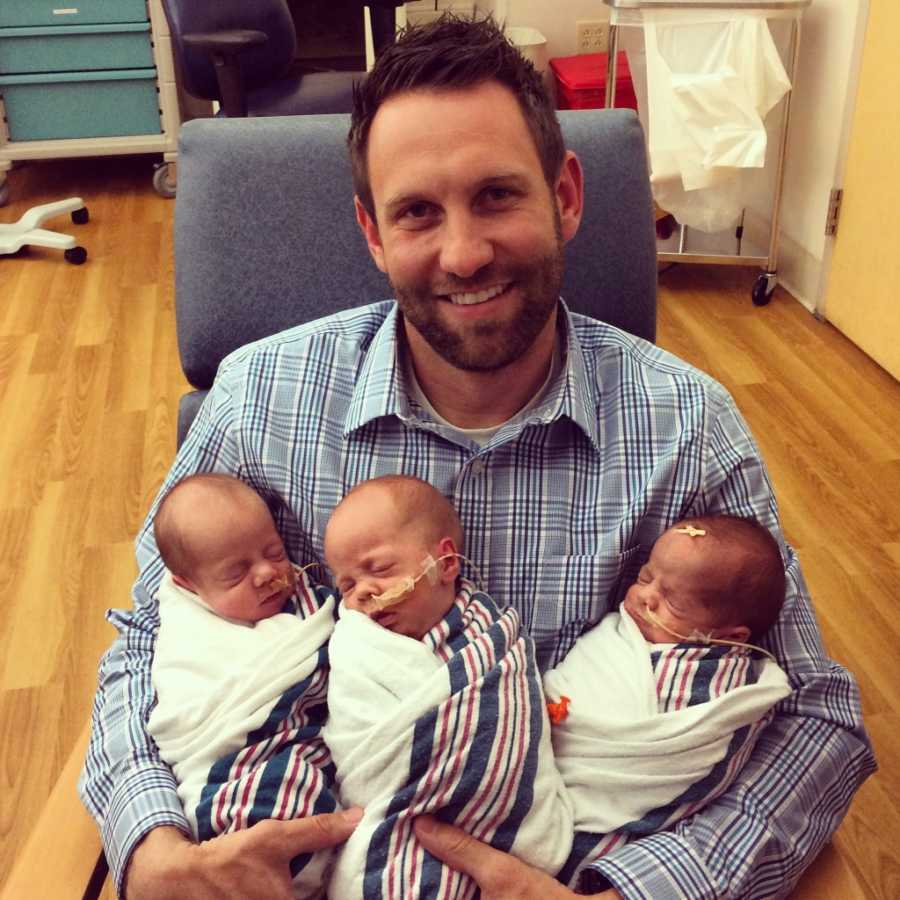 It was December 2015 when we started noticing one of the triplets, Hayes, was needing an additional nap each day. He lacked energy and always seemed to want to sleep while his brother and sister crawled around and played with their toys. After this continued for about a week or so, we decided to take him to the Doctor. After a brief examination we were told it was a virus. This calmed our nerves as we waited for him to begin feeling better. Unfortunately, we continued to wait, and wait, but to no avail. His lethargy was more prominent, and he began throwing up. After a few days of this we returned to the Doctor. We urged her to do additional studies. We had two other babies to compare him to, and it was obvious there was an issue, especially because the other two babies didn't share in this 'virus.' But again, we were turned away with the same diagnosis. 'It's a virus,' she said as we walked away in complete despair.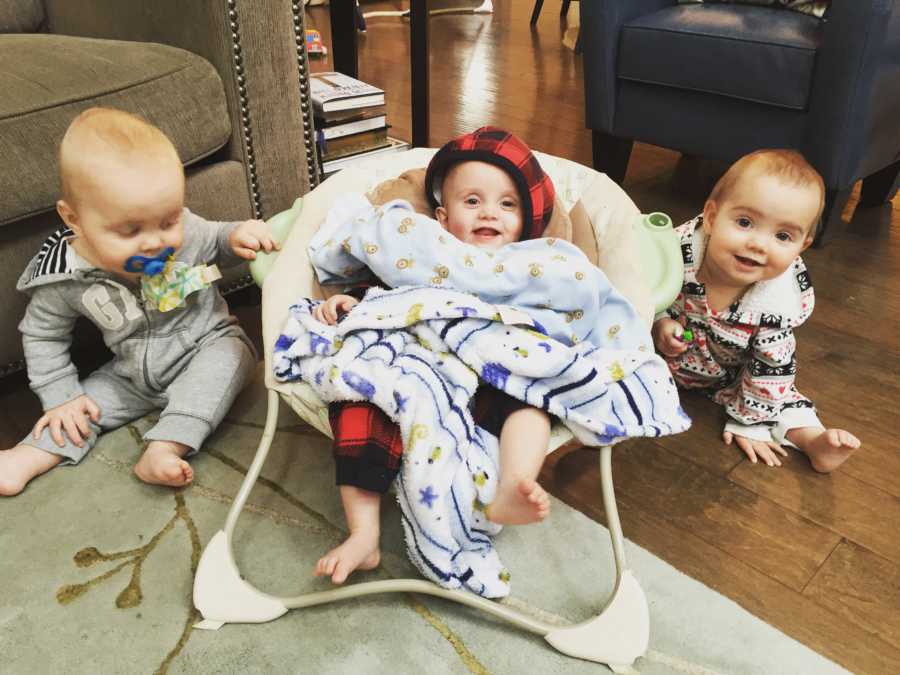 After a few weeks of continual worry and not any sign of improvements, our parental instincts kept urging us to get him help. On January 7, 2016, our lives changed forever. We took Hayes to the ER where they willingly performed a CT scan of his brain. I vividly remember waiting in that Doctor's office staring at the door hinges, knowing that as soon as that door opened, the reality of what was to come was life altering. I wish those thoughts were just paranoia, but they weren't. The Doctor walked in with a stern look in her eyes and with a sympathetic, monotone voice she said, 'Your baby boy has a brain tumor. The tumor is currently taking up 1/3 of his brain. He is going to need emergency surgery in the morning. I am so sorry,' she said as her team of physicians gave us space and walked out the door.
A piece of me broke that day. I am still scarred from the image of the CT scan.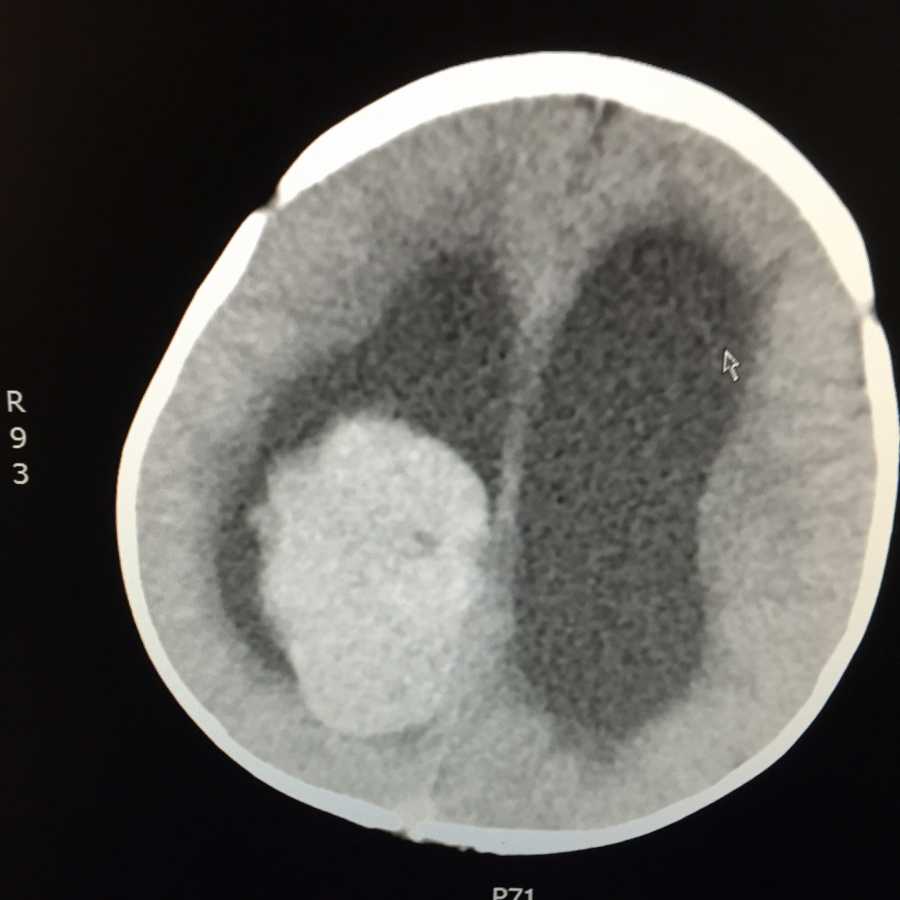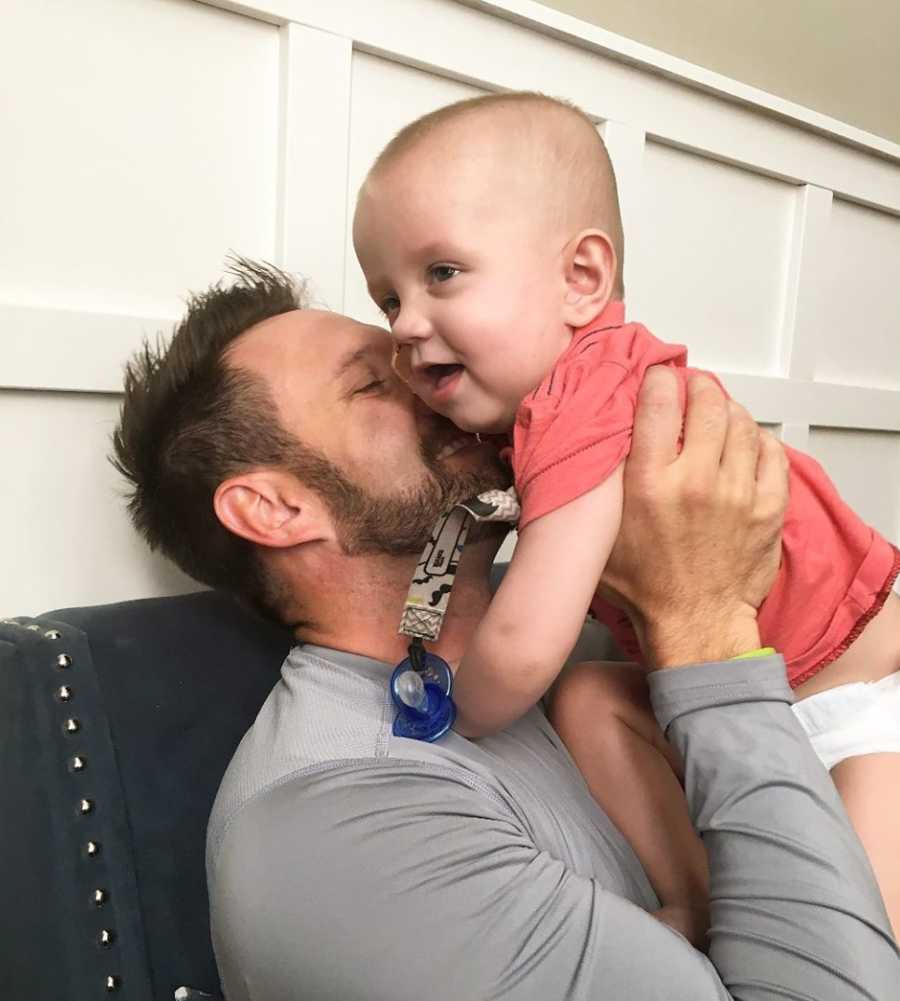 They performed the surgery and the removal of the tumor was a success. But, the pathology report did indeed tell us that our baby boy had cancer. Not only did he have cancer, but his diagnosis was so rare that it only is seen in one in every 3 million brain tumors; Choroid Plexus Carcinoma.
The treatment required 5 rounds of chemotherapy, followed by a stem-cell transplant. Each round consisted of 28 inpatient days. My wife, Savanna, would stay with Hayes in the hospital and I would stay with the other kids, and go to work each day. My day consisted of waking up at 6:00 a.m. to get the two babies fed and dressed before the other kids got up. Then it was getting the older ones fed and ready for school with their homework completed. I would leave for work around 8:30 a.m. while our 4-year-old was watched over by a neighbor, relative or friend. I would leave the office and go directly to the hospital to swap with Savanna for the remainder of the evening. We would then switch places around 11:00 p.m. This routine continued for 150+ days/nights at our local Children's Hospital.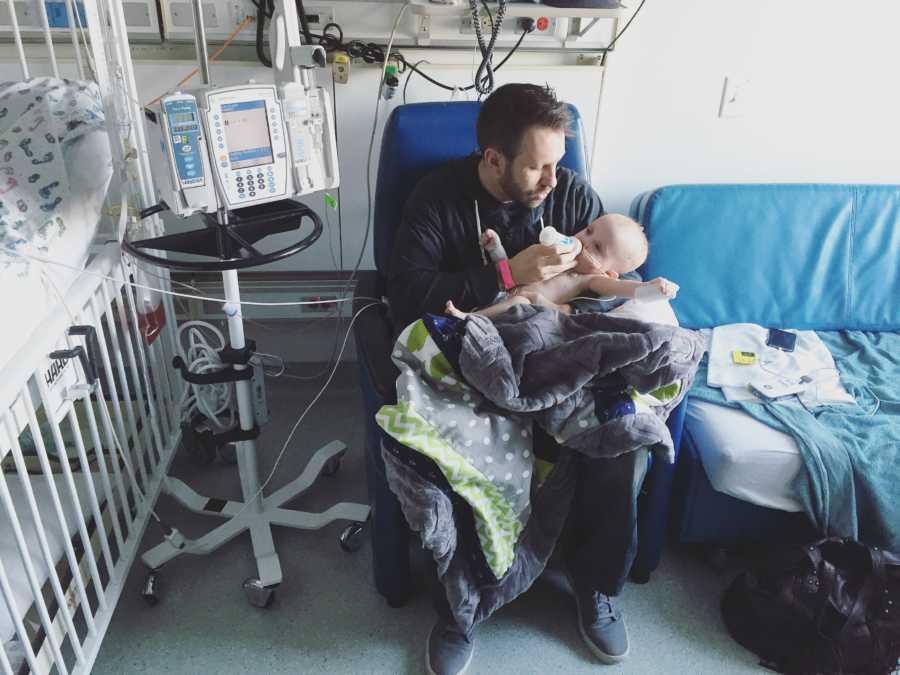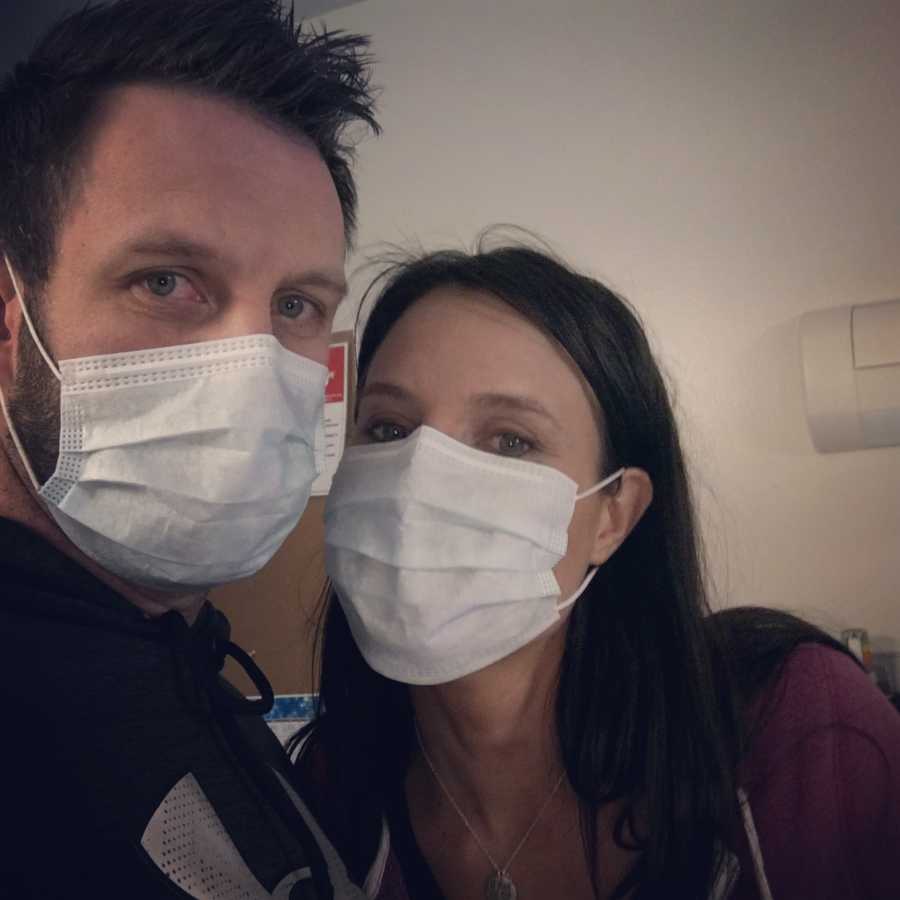 Hayes had his ups and downs during treatment, but you could never tell. He was angelic. Hayes was always smiling and interacted with the nursing staff and physicians. He lost his ability to crawl because of the rigorous amount of chemotherapy that was going into his body. Despite all of that, he was always willing to do the physical therapy and occupational therapy so that one day he could join his triplet brother and sister.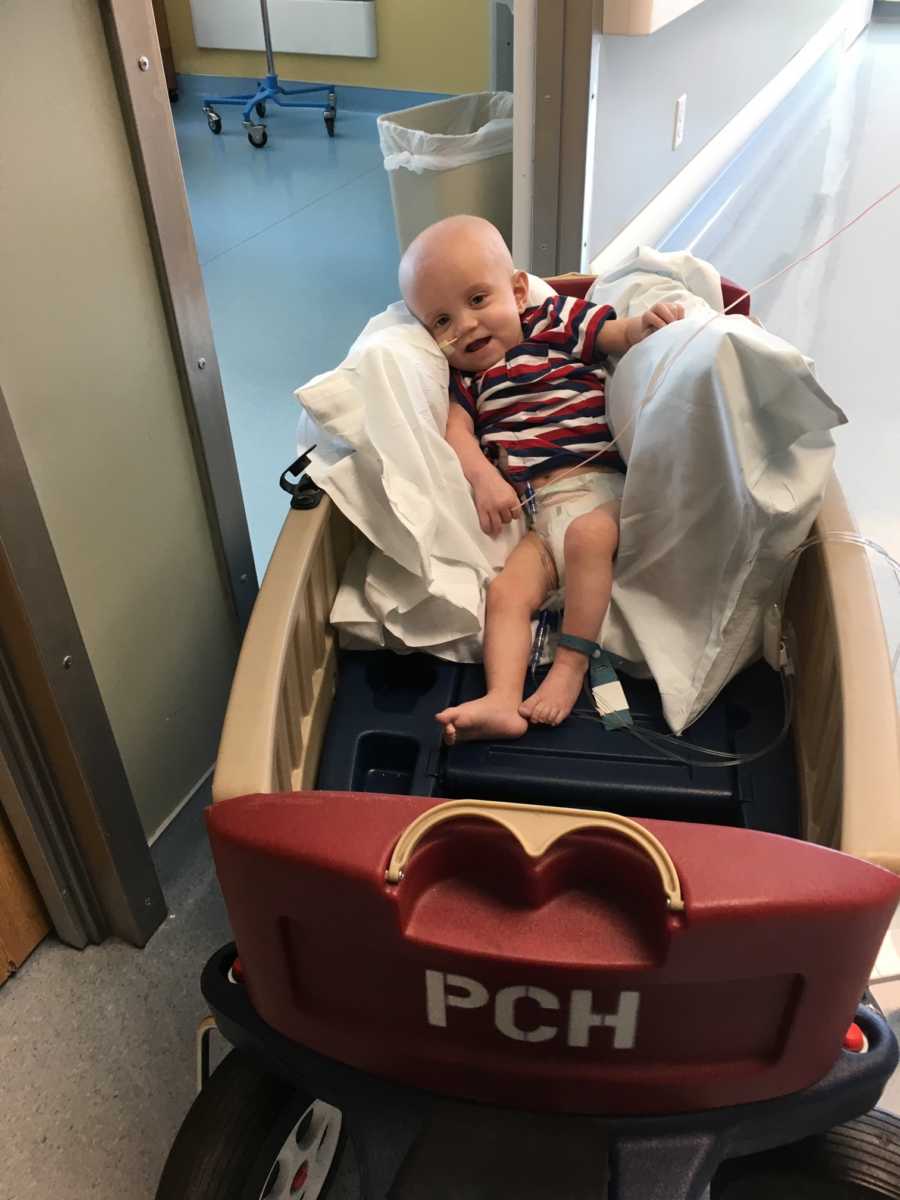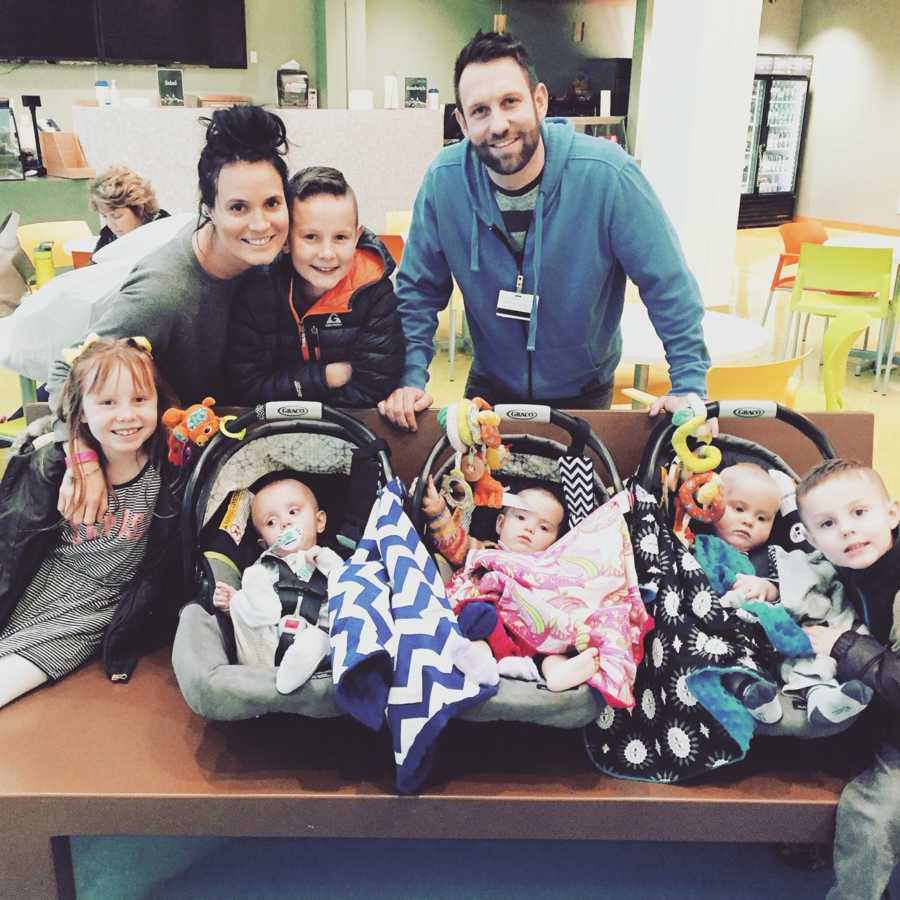 After a successful stem-cell transplant, we were told that Hayes was in remission. I have never felt so much joy in my life. Honestly, it was the happiest day of my life when we received that news. We chose to celebrate and make some much needed memories away from the hospital, so of course we took the kids to Disneyland. Hayes loved Mickey Mouse. He would watch Mickey Mouse in his hospital crib and I knew his little spirit would be lifted up when he saw Mickey in person. I would not be disappointed. Mickey took the time to sit down on the curb with him, since Hayes couldn't stand on his own. He was overcome with happiness as he stared up at Mickey. It may sound cliché but it was magical. The entire trip to California was magical. There was a sense of freedom for our family that I had never felt before. The kids were enjoying having their brother with them and the worries of cancer were in the rear-view mirror.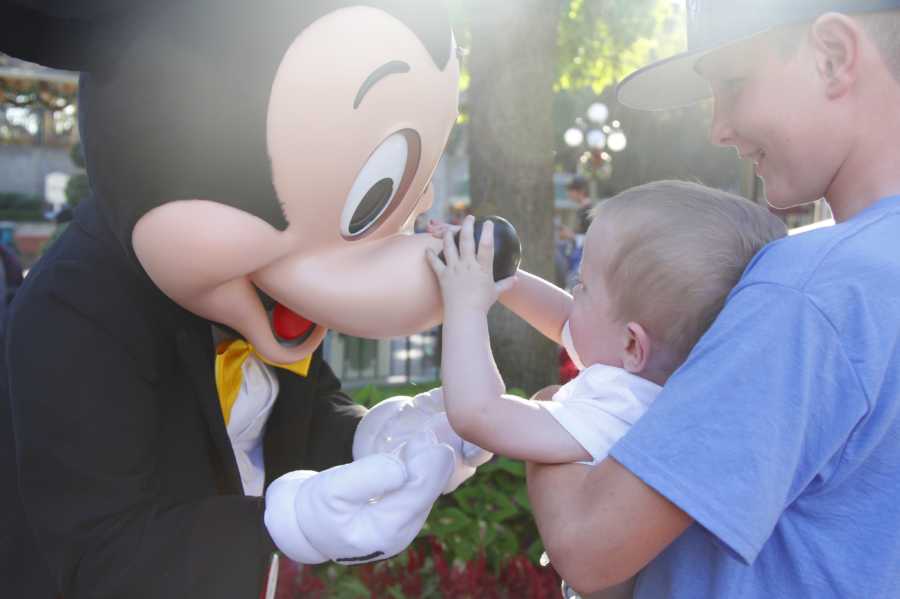 As we loaded up the car to drive back to Utah, Hayes began throwing up. We assumed it was because of the baby formula he was on, since it was a newer brand. He continued to throw up until we made it home that night. The worries began flooding our brains as we prayed and hoped it wasn't the cancer returning. We took him to the cancer unit the next morning. The Doctor suggested an MRI to be sure it wasn't the cancer. As was typical with MRI's, we waited a day for the results. What would be the longest day of our lives, we received the phone call.
I walked into the kitchen and saw Savanna making dinner. Mia was seated at the dining room table doing homework and Heath was wandering around the house in his typical manner. I walked over to Savanna, hugged her and asked about her day. Hayes was sitting down in his favorite rocker chair watching one of his tv shows. I walked over, picked him up and tossed him slightly in the air trying to get a smile. He smiled in his usual manner, despite not feeling 100%. I sat him back down and made my way back towards the kitchen when Savanna's phone rang.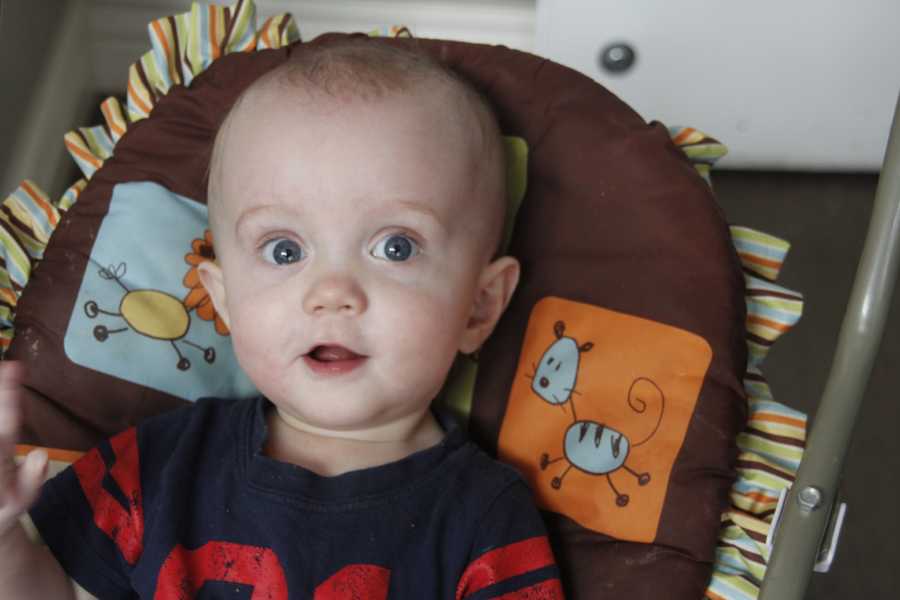 'Hello?' she answered in a shaky, hesitant voice. I could sense the seriousness of the conversation from the very beginning. 'What…….Oh no!' she said as she gasped. Her opposite hand immediately covered her eyes in disbelief. I still couldn't make out the entirety of the conversation, but I had very little doubt of what was being said or who was on the other line. I didn't need any explanation, I could tell by the body language. Tears began flowing from her face and she fell to the floor. I tried to do my best to console her as I knelt down to wipe the tears from her cheek. At this point there was no talking on her part, she was only listening and gasping for more air.
We were told that Hayes' cancer was back – and it was terminal. That would soon become the second worst day of my life. Hayes' poor body was frail. His eyes were tired and sunken and worn out from the fight. His little bald head was covered in scars from multiple surgeries. As a parent, I chose to give Hayes some much needed quality of life with his siblings and loved ones, without hospital monitors or Physicians. His days at the hospital were over.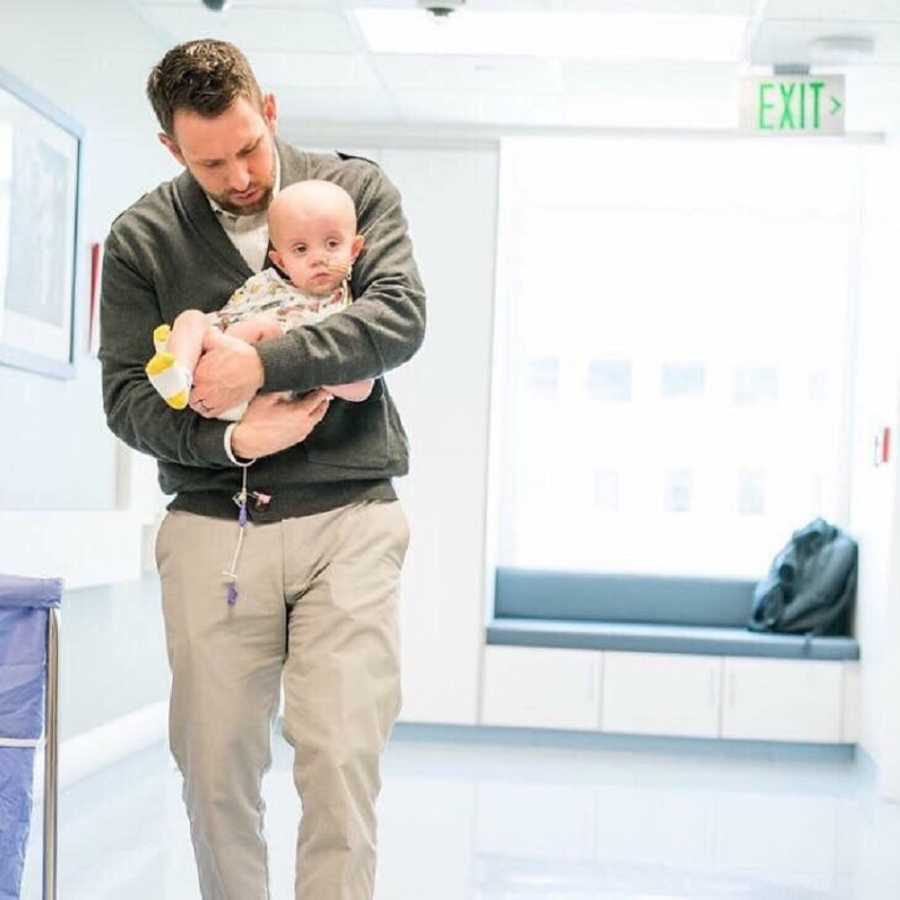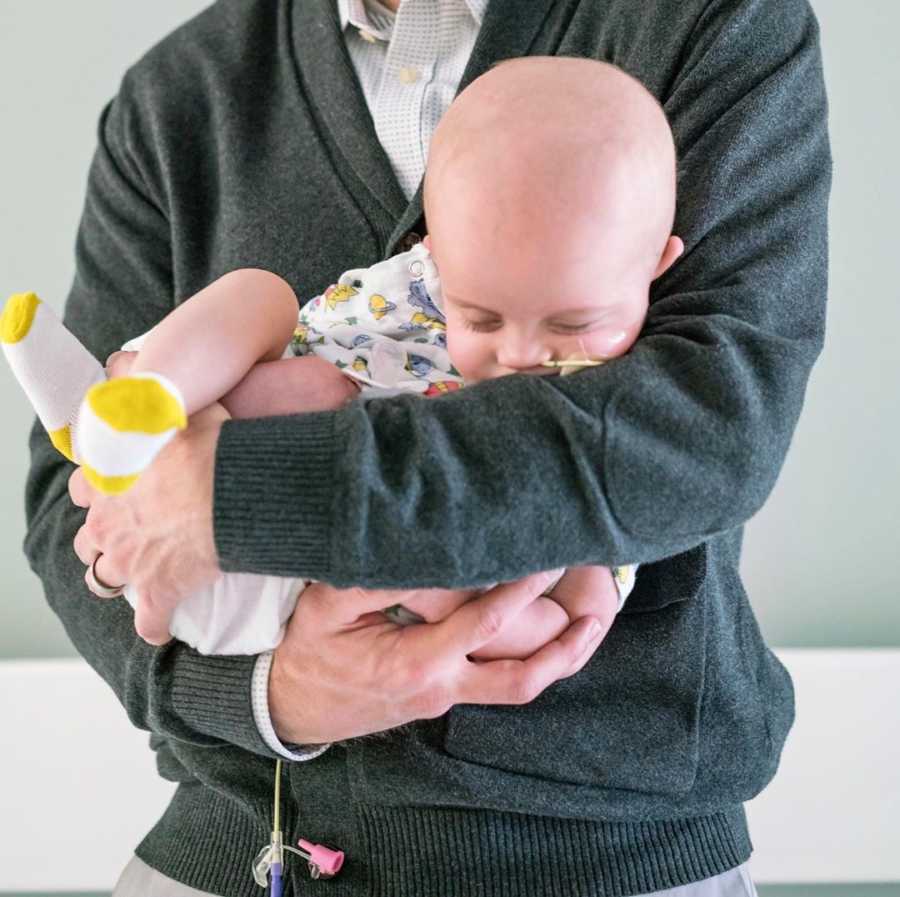 I wept at the thought of not having him in my life forever. I couldn't fathom growing old and seeing his triplet brother and sister without Hayes. I also felt an insane amount of guilt for not being able to take the cancer away. One night as he laid resting, I leaned over his crib with tears streaming down my face. I told him how much I loved him and how sorry I was. 'I'm sorry Hayes. I am so sorry that I can't take this away,' I said as I kissed his cheek.
He looked up at me, and with absolute perfect clarity, he said, 'It's okay.' We stood in astonishment since Hayes had only known how to say one word, 'Dog,' prior to this. Savanna and I stood up over him and leaned in to tell him we loved him. He looked up again and said, 'I love you.'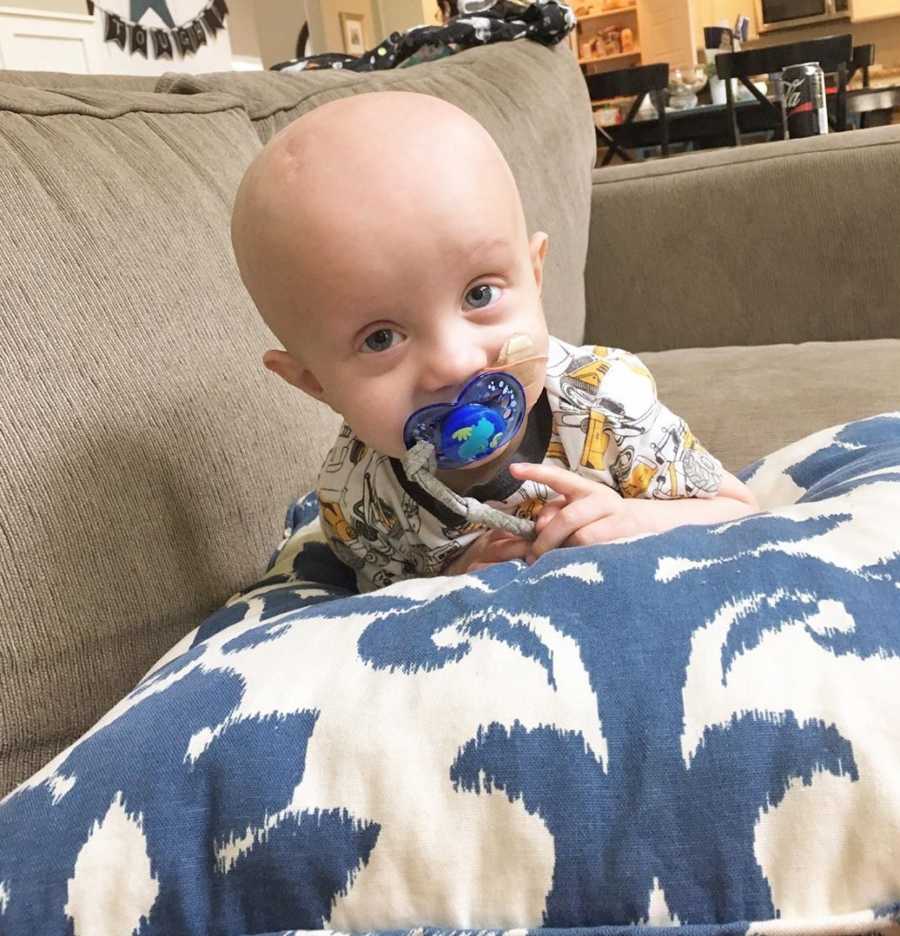 Hayes passed away a few days later on December 3rd, 2016.
We spent the next hour or so with Hayes that night before calling the mortuary company. We cried and we smiled as we kissed him. We held his little hand and begged him to visit us. I asked him to watch over his brothers and sisters. I promised him I would make him extremely proud in keeping his legacy alive. I told him I loved him and gave him one last kiss as they arrived to take Hayes away. When they rang the doorbell I answered, and immediately asked them to allow me to take him to the car. I wanted to be the one to take him away that night. They agreed without any hesitation.
I walked slowly upstairs to get my baby boy from Savanna's arms. I picked him up and held him close to my chest. Savanna moved around towards the back of me as she passed him off. His frail little body now laid motionless in my arms as I made my way down the hall, towards the stairs and eventually out the front door. Savanna, still trailing closely behind, wrapped her arms around my shoulders as we put him in the black Suburban and secured his little body comfortably. We turned, hugged each other for a few seconds before making our way to the front porch as we watched them drive away.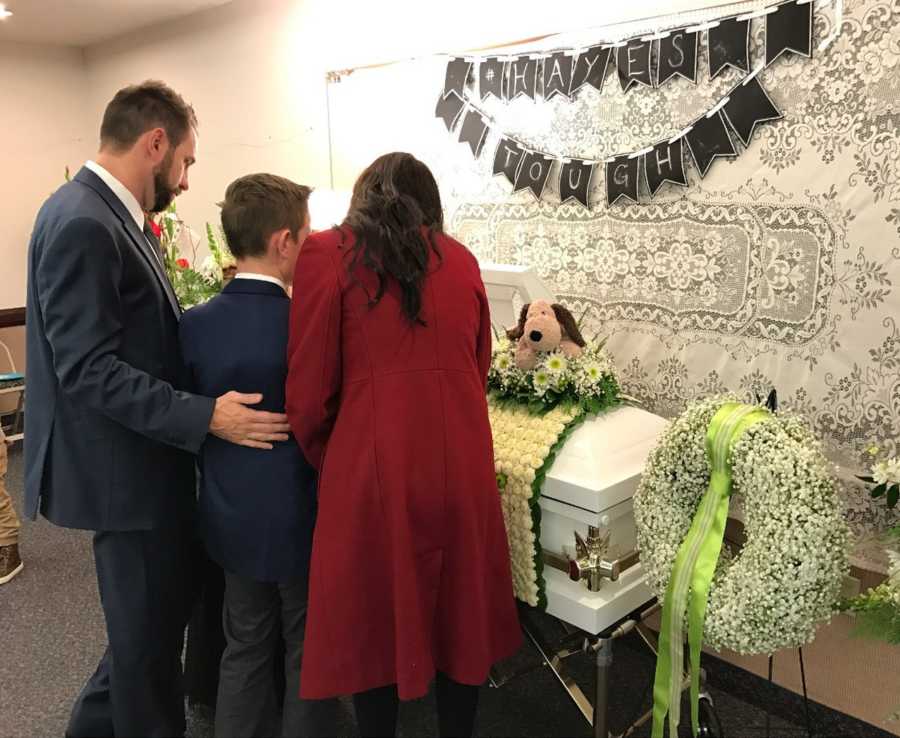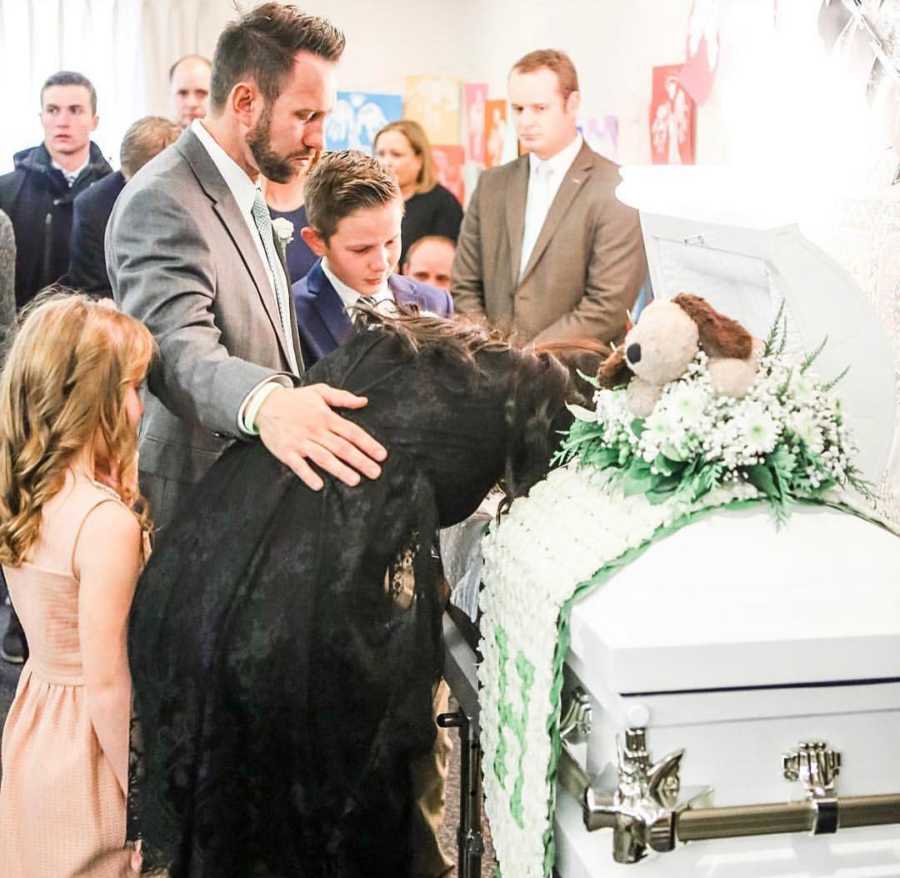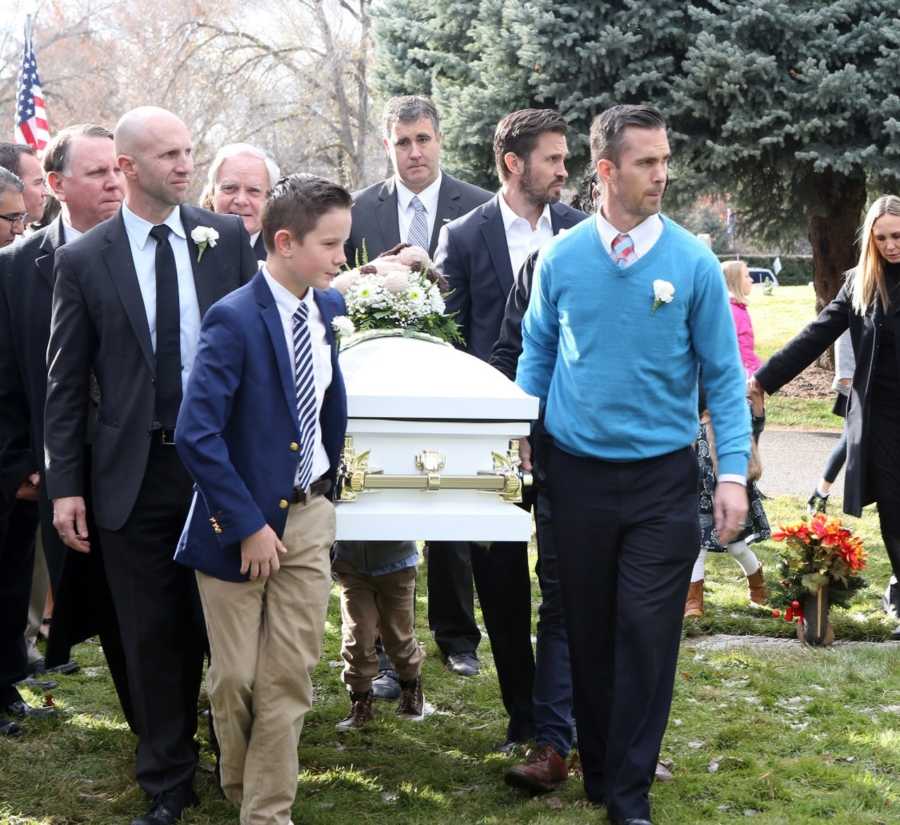 In honor of Hayes, we have started the Hayestough foundation to help families and kids that are battling pediatric cancer. In just two years we have been able to raise more than $500,000 and help hundreds of families, both financially and emotionally. I wrote a book 'The 20 Month Legend' in his honor. It's a story about hope and love, despite being dealt too much. Finding hope when everything else makes you believe there is no hope.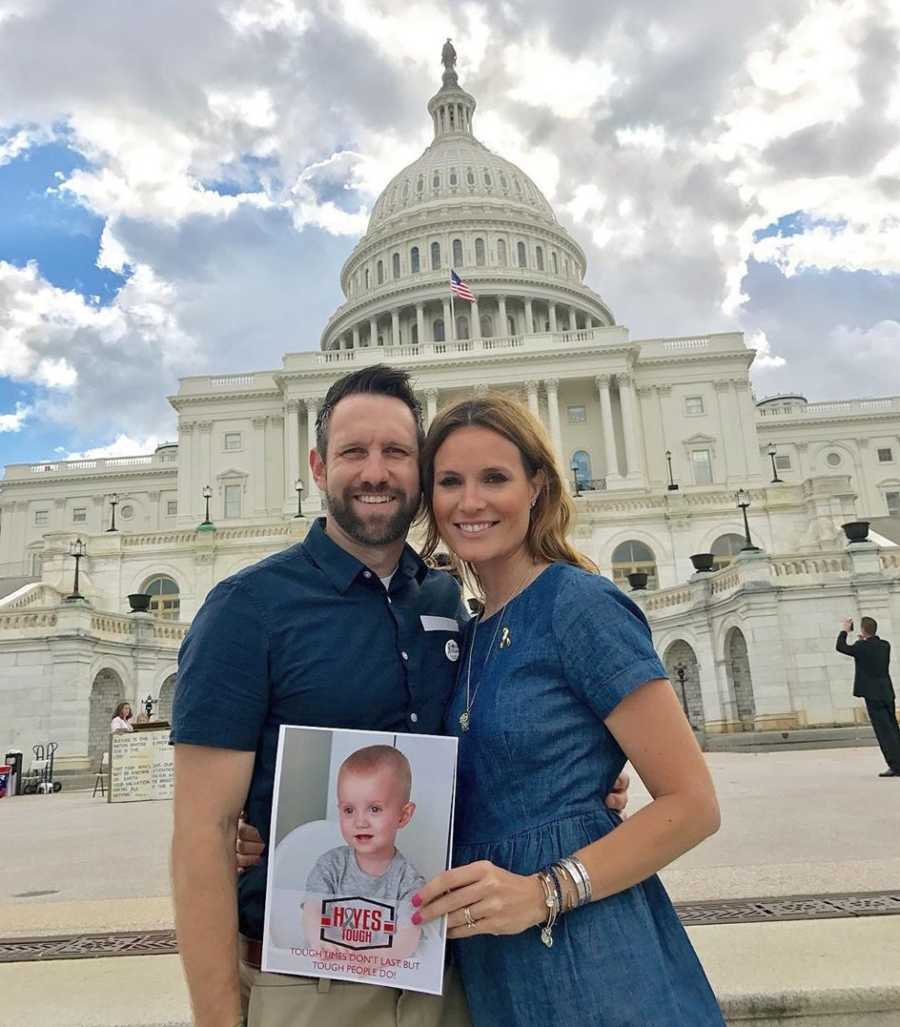 We are given more than we can handle. Every day people are giving too much, but we are left with no other choice than to stand up and face it head on. Sometimes the miracle in overcoming our trials is just waking up and facing the cruel world around us."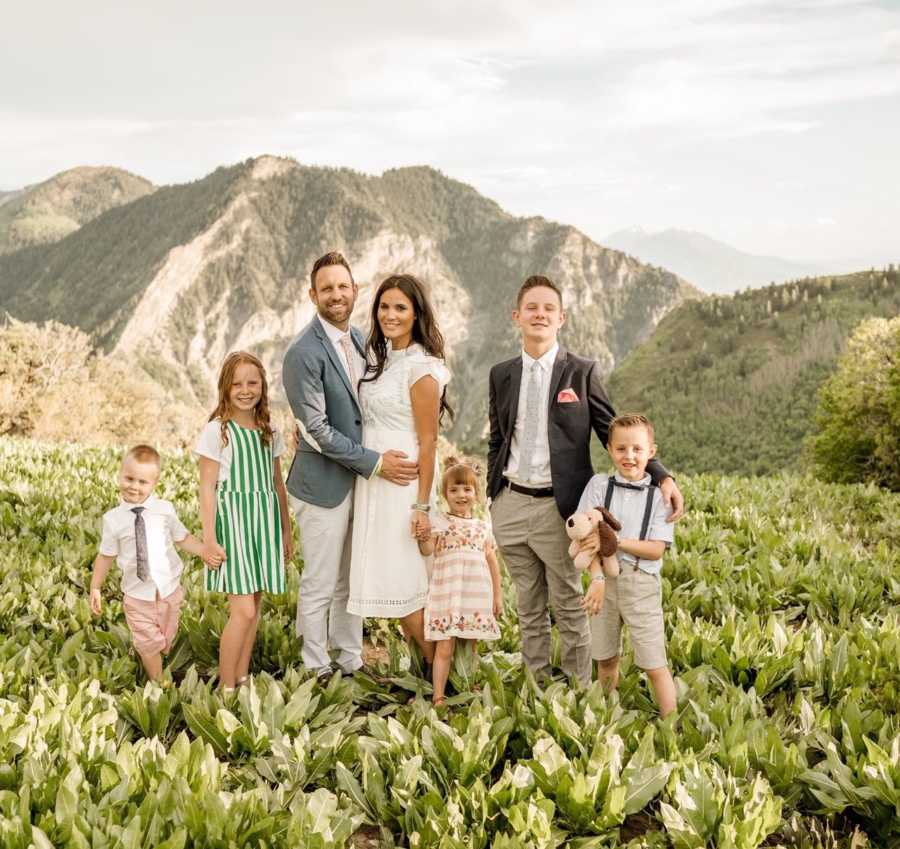 This story was submitted to Love What Matters by Steve Tate. You can follow his journey on Instagram and learn more about his book here. Do you have a similar experience? We'd like to hear your important journey. Submit your own story here. Be sure to subscribe to our free email newsletter for our best stories, and YouTube for our best videos.
Read more powerful stories like this:
'We came home from Disney and my daughter threw up a little. 20 hours later, she was dead.': Mom loses daughter to Sepsis, performs 'acts of kindness' to honor daughter's 'light'
'Our doctors have told us to go home and make memories': Dad's desperate plea for terminally ill daughter whose cancer treatments stopped working
Please SHARE this story on Facebook to encourage others to cherish every moment and love what matters most.