"This year, that cute little Woody wants to be a murderous clown for Halloween.
I don't know about you but this growing up thing is breaking me.
When you're in the thick of it you don't give much thought to the fact that one day, they won't comply to dressing up in coordinating costumes.
You are too worried about making a Jesse costume look perfect even though you don't sew and making sure no one is throwing a tantrum over candy or who knows what else.
You just don't have time during those early years to think that one day you'll get choked up looking at old pictures because your kids are suddenly the big kids that want to hang out at home and scare the little ones with murderous clown costumes.
Dang it if I don't want to go back to that time when he looked up at his big sister and was so proud to be conquering the world (aka – our neighborhood full of candy) with her in their Toy story costumes.
They both used to have to be coaxed to make it to the next house because they were too busy sitting on the curb after the first house unwrapping the candy that they were just given with their chubby little hands.
She used to be in awe that people – everyone – gave her candy.
She just wanted to be a Jesse. He just wanted to be Woody.
Now they race, man. They run from house to house and I can't keep up and I'm a little embarrassed by how much candy three kids can acquire on Halloween night.
That Jesse right there? She wants to go with her friends now instead of me. Pretty soon she won't want to go at all.
So yeah – it goes so fast that one day you'll want to curl up in a ball and sob about the fact that people might get annoyed your big kids are running from house to house and perhaps forget to say trick or treat anymore. Or thank you (let's hope not)
You'll hope that even when they're in a group with their friends maybe being a tad obnoxious because they are GIANT kids that the person on the other side of the door will overlook that because this is still what you see when you look at them.
This is what they will always be to you.
And darn it you'd go back in a heartbeat to that time when she just wanted a dress that could twirl perfectly, and he wanted a truck to hold in each hand and all was really that simple.
But this year you'll send that murderous clown out into the neighborhood hoping he's polite and that people still can see past his horrific costume and you'll send that teenager out with her friends hoping she makes good choices.
And it's breaking you wide open that this childhood tradition, along with all the others, won't last forever.
Because you still see Woody and Jesse. You always will."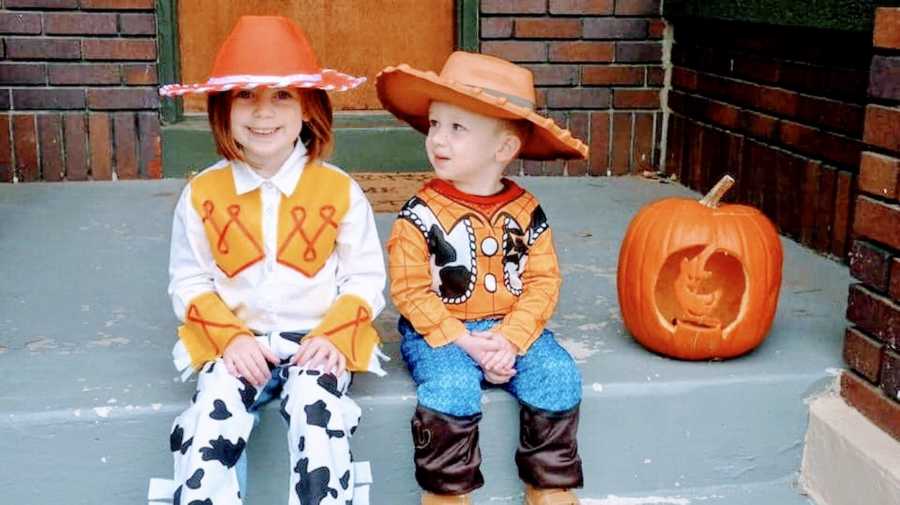 This story was written by Meredith Ethington of Perfection Pending. Check out her book; Mom life Perfection Pending. Follow Meredith on Instagram. Be sure to subscribe to our free email newsletter for our best stories.