"It was never my dream to be a stepmom. Then again, it was never my dream to find myself in an abusive marriage, to get divorced, to spend several years as a single mom, to be on my second marriage, or to be the second (but obviously most important) love of my husband's life. And yet, here I am.
When I first met my husband, Tim, I was a newly divorced mom to my 4-year-old son. I was dealing with all sorts of personal issues: overcoming trauma, working on healing, learning how to set boundaries with my ex, and how to co-parent with a narcissist who disappeared for months at a time before coming back and acting like he'd never left. I felt freedom and relief at finally being on my own with no one controlling what I did. I had no desire to think about dating or entering into a new relationship yet.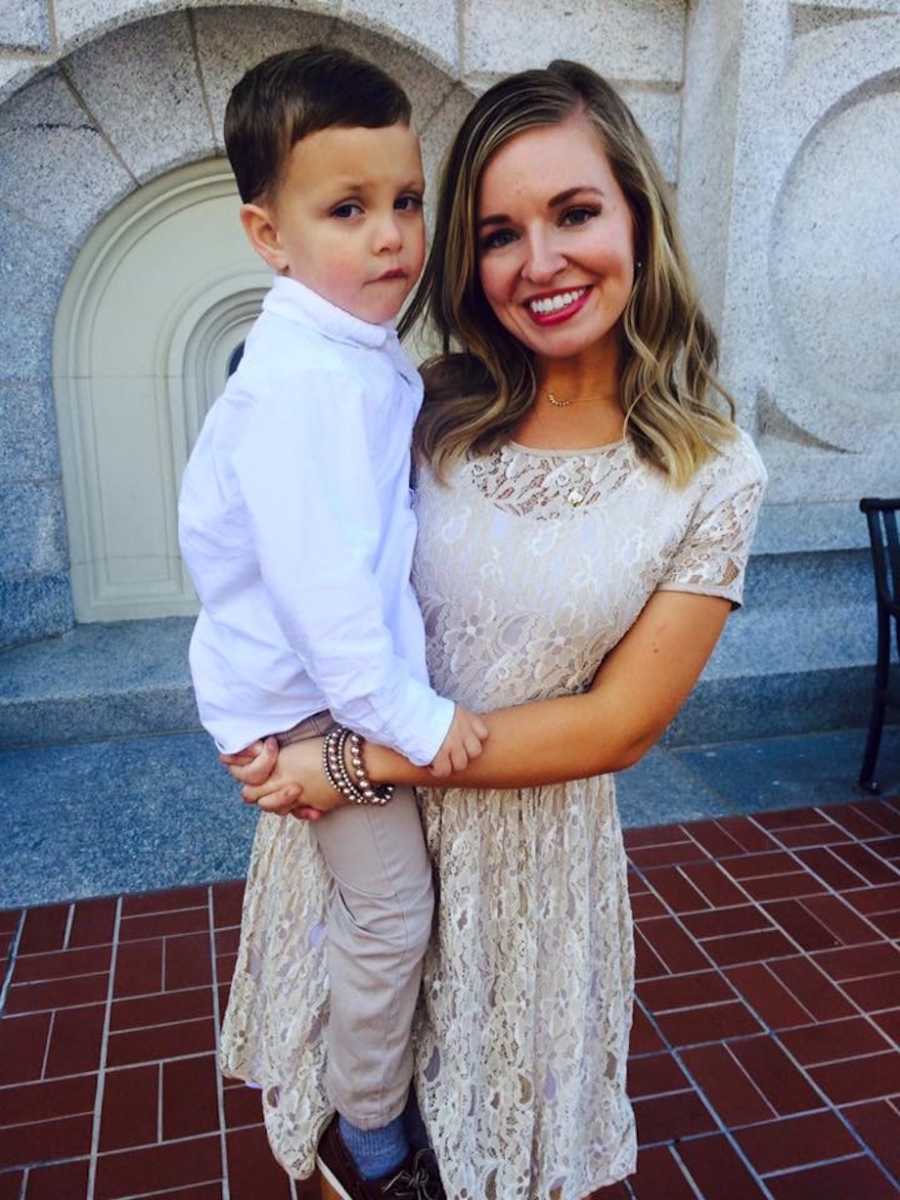 However, I did need friends and people to talk to who had also been through difficult past relationships, who could relate to me and lend me some advice. This Tim guy I met at the gym was funny and nice, several years too old for me, and he had four kids. He was a perfectly safe candidate for the friend zone. His situation was not easy or what I wanted to get myself involved in, so falling in love with him was obviously not going to happen. I didn't even have to worry about guarding my heart when we were spending time together, meeting at the park, working out together, having lunch, or going on outings with our kids.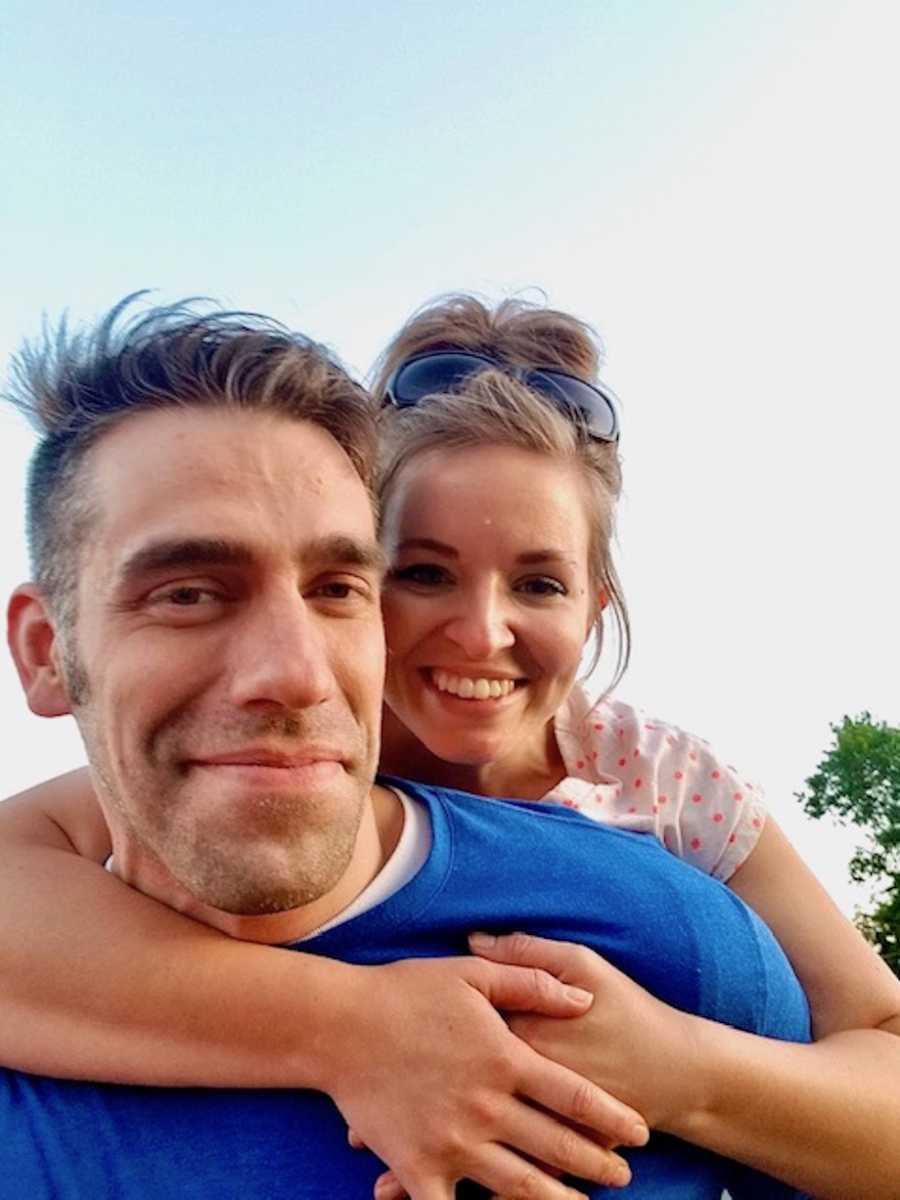 And then we fell in love. I tried to prevent it. I tried to create space between us and take breaks from each other, and one time, we actually broke up for a few months. I told myself all the time Tim was too complicated. I had enough complications in my life already. My first marriage was incredibly difficult. I needed my second marriage to be easy. His four kids, busy life, two baby mamas, and incredibly messy, single-dad bachelor house stressed me out and overwhelmed me. I wasn't ready for all that. Plus, he had teenagers. I didn't know how to parent teenagers, and I wasn't sure I really wanted to try.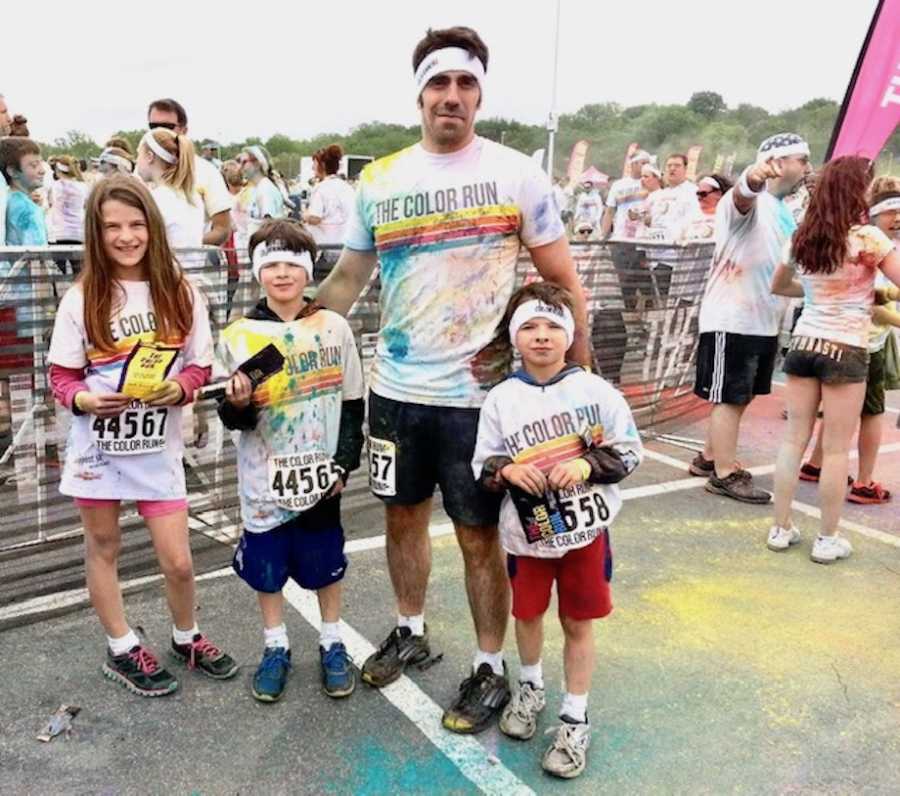 And yet, Tim loved me. He treated me so well. He had so many of the qualities I wanted in a husband and the father to my children. He wanted me in his life. I loved him and wanted him in my life. But was our love enough? Could it really conquer all? Could our love make up for everything else, could it make all the accompanying stress and struggles worthwhile?
We've been married now for a year and a half. And it has been hard. I can officially attest blended families are hard. Step-parenting is hard. As it turns out, my previous worries and concerns were wellfounded and not a paranoid over-reaction. Most of the challenges I nervously anticipated when we were dating have come to fruition, and additional challenges have come up I never could have foreseen and had no idea to expect.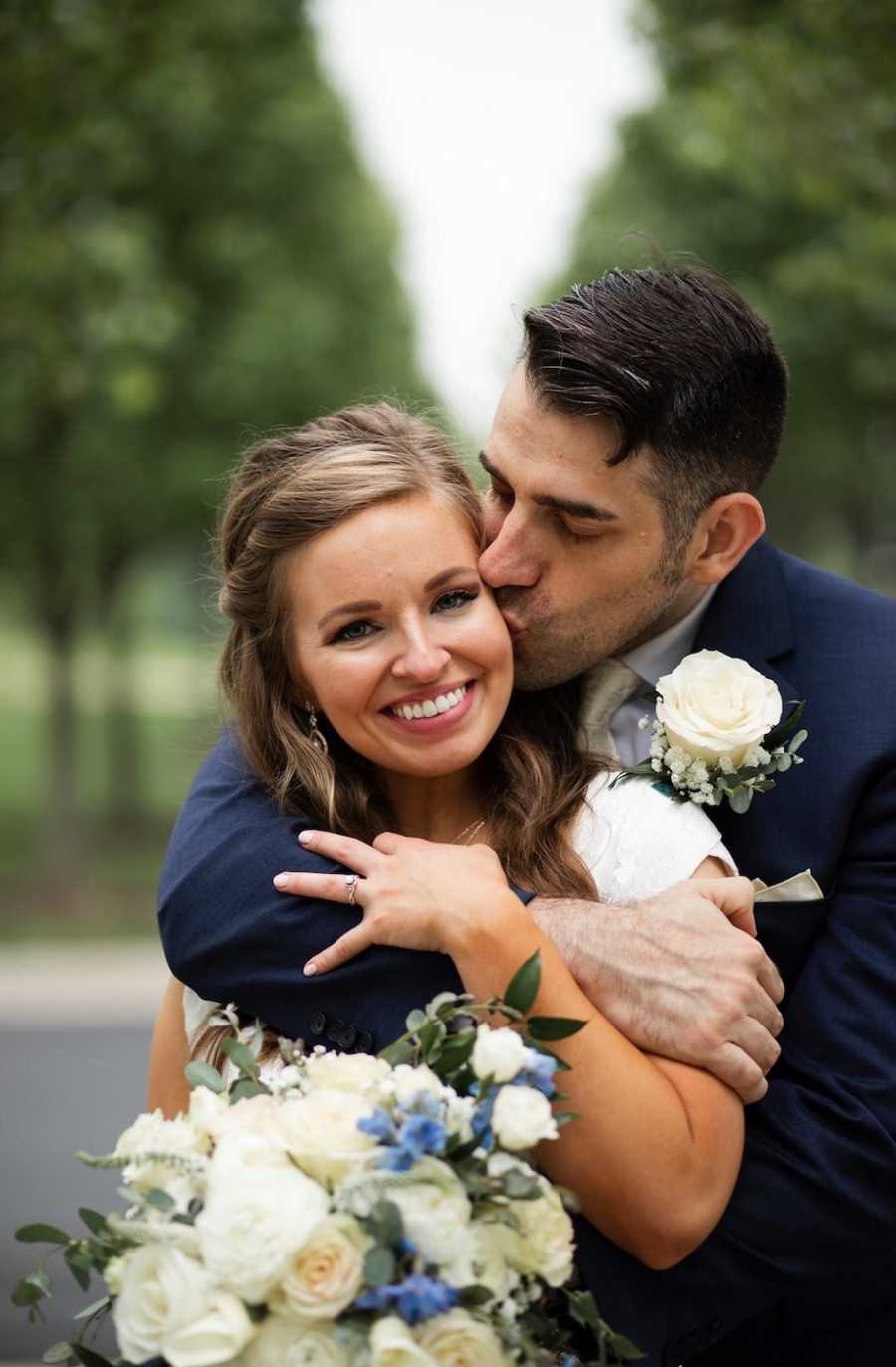 In my short time as a stepmom, I have navigated the rocky waters of blending my parenting methods with my husband's. This has been no easy feat. We have both been parenting separately, on our own for years. We don't always see eye-to-eye. Sometimes I don't like the way he disciplines my son. Sometimes he doesn't like the way I don't spend more time with his kids individually. Sometimes I think he is too hands-off and inconsistent. Sometimes he thinks I am uptight and coddle too much. We have argued repeatedly and felt irritated with each other. I go to the bathroom to cry. He goes and takes a walk. I try not to pull my hair out. His hair is continually getting grayer.
Our saving grace is good communication and respect for each other. We talk it out. We listen and understand. We compromise. We come to an agreement. We make a plan and decision for going forward.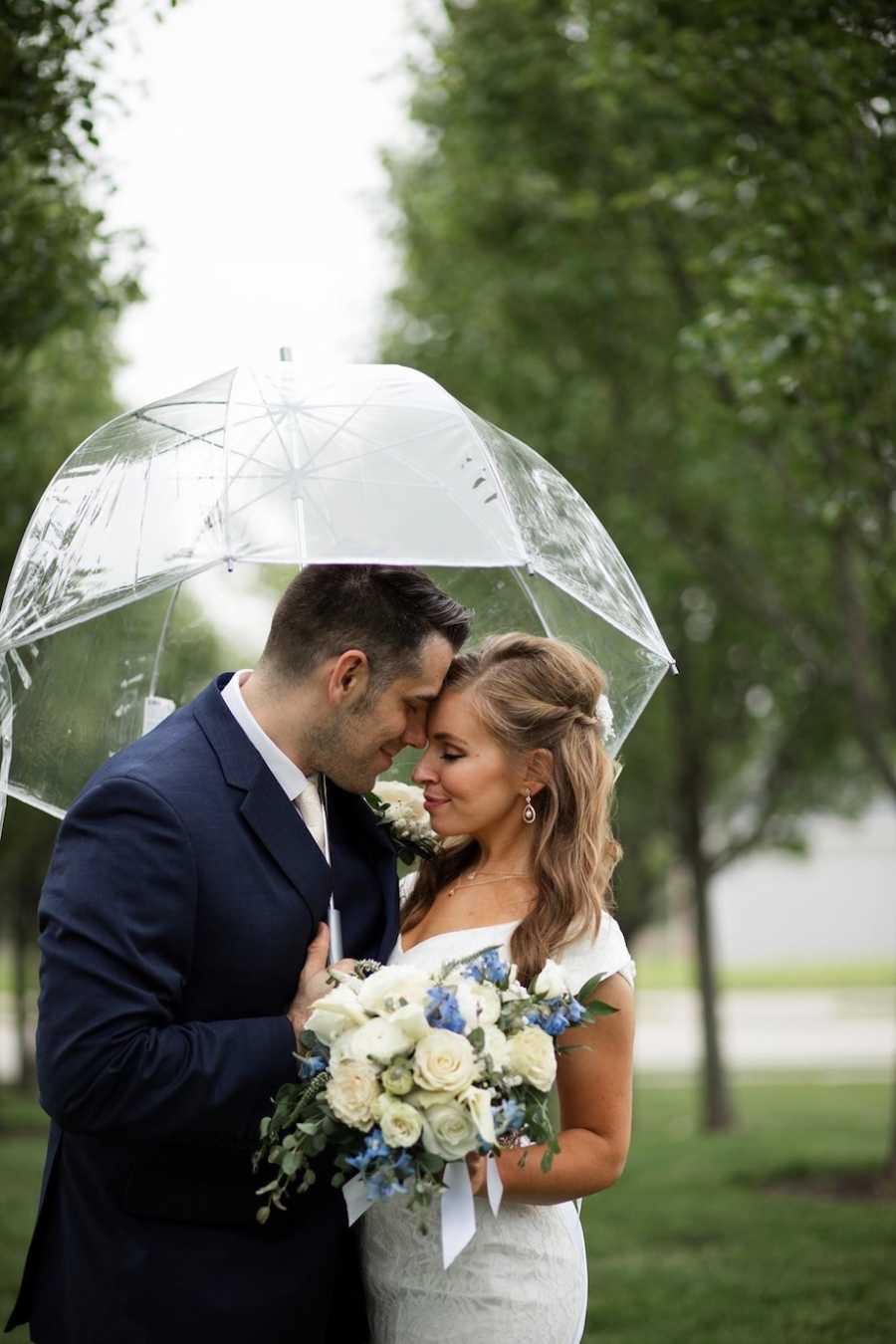 So far, we have dealt with children acting out and lying to us. Trying to play us against each other. A teenager needing attention and missing how things used to be, wanting me to think badly of her dad and almost convincing me to lose trust in him. A teenager expressing depressive and suicidal thoughts. A youngest child who resents no longer being the youngest child. An only child who resents no longer being an only child. A son who hates having to share so much of his mom's time and attention. A daughter who hates her dad is spending so much time with her new brother. A teenager who told us she was pregnant. Gaining a step-grandchild when I was just getting used to the idea of being old enough to parent teenagers. Financial struggles and a tight budget because we have so many kids. Cutting short date nights and canceling them all together because we have kids to taxi around to their various activities. Trying not to resent my stepdaughter who had a baby before me. Who gave no thought to the matter when I've been waiting to have another baby for years. Dealing with infertility and a miscarriage. People thinking we're crazy to have so many kids and still want another together.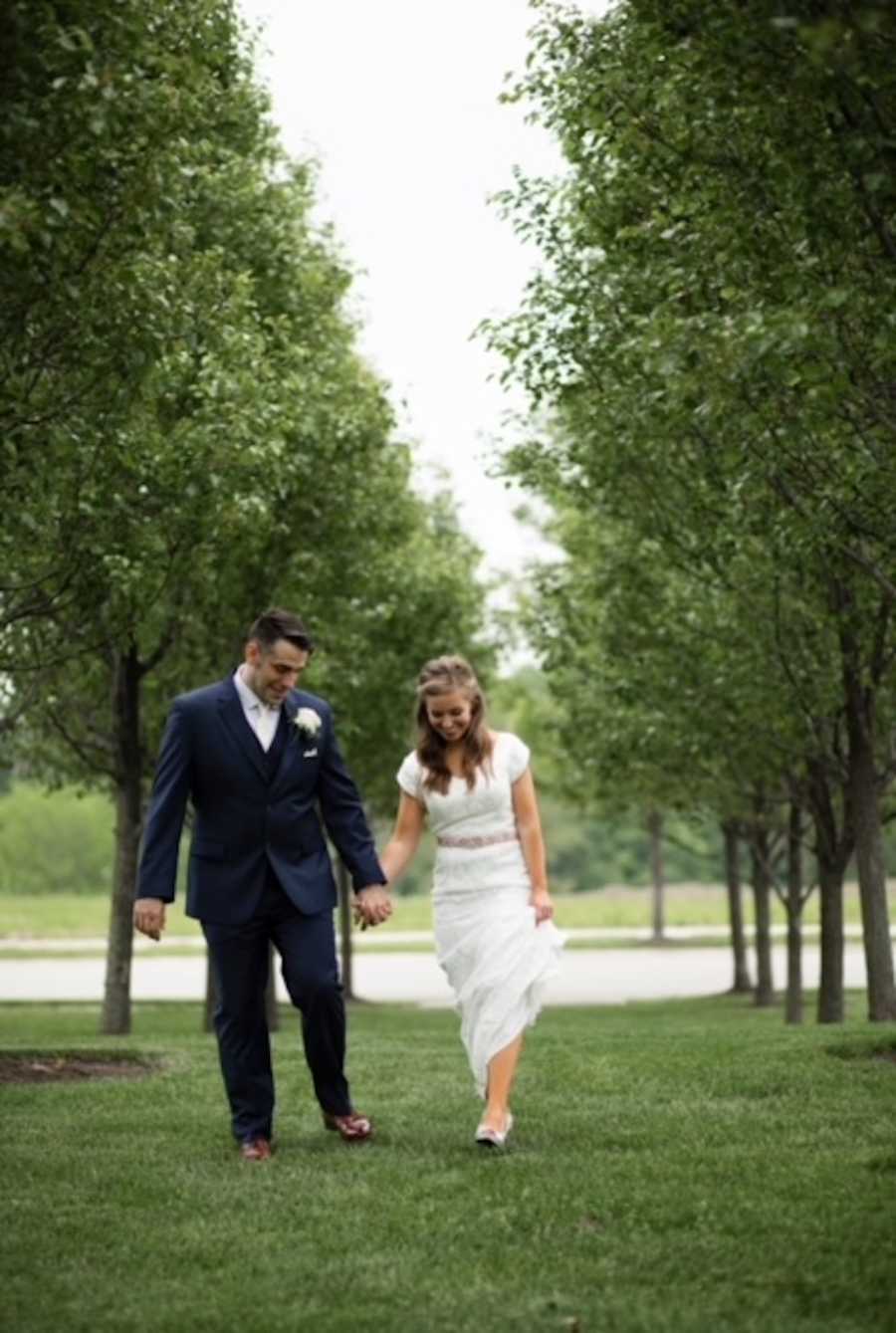 But that isn't all. Besides all the issues that come up with our kids, my husband and I have other parents to consider and avoid drama with as well. Two baby mamas who will always be a part of my husband's life. A fact I hate having to accept. Other women who still have control over my husband—and in effect, have control over me—because they have control over their kids. These women want to control what we do with their kids, where we take their kids, what we feed their kids, how we parent their kids. And honestly, I understand it. I don't exactly blame them. But it's hard enough learning how to parent with my husband without having to parent with his past mistakes in love as well.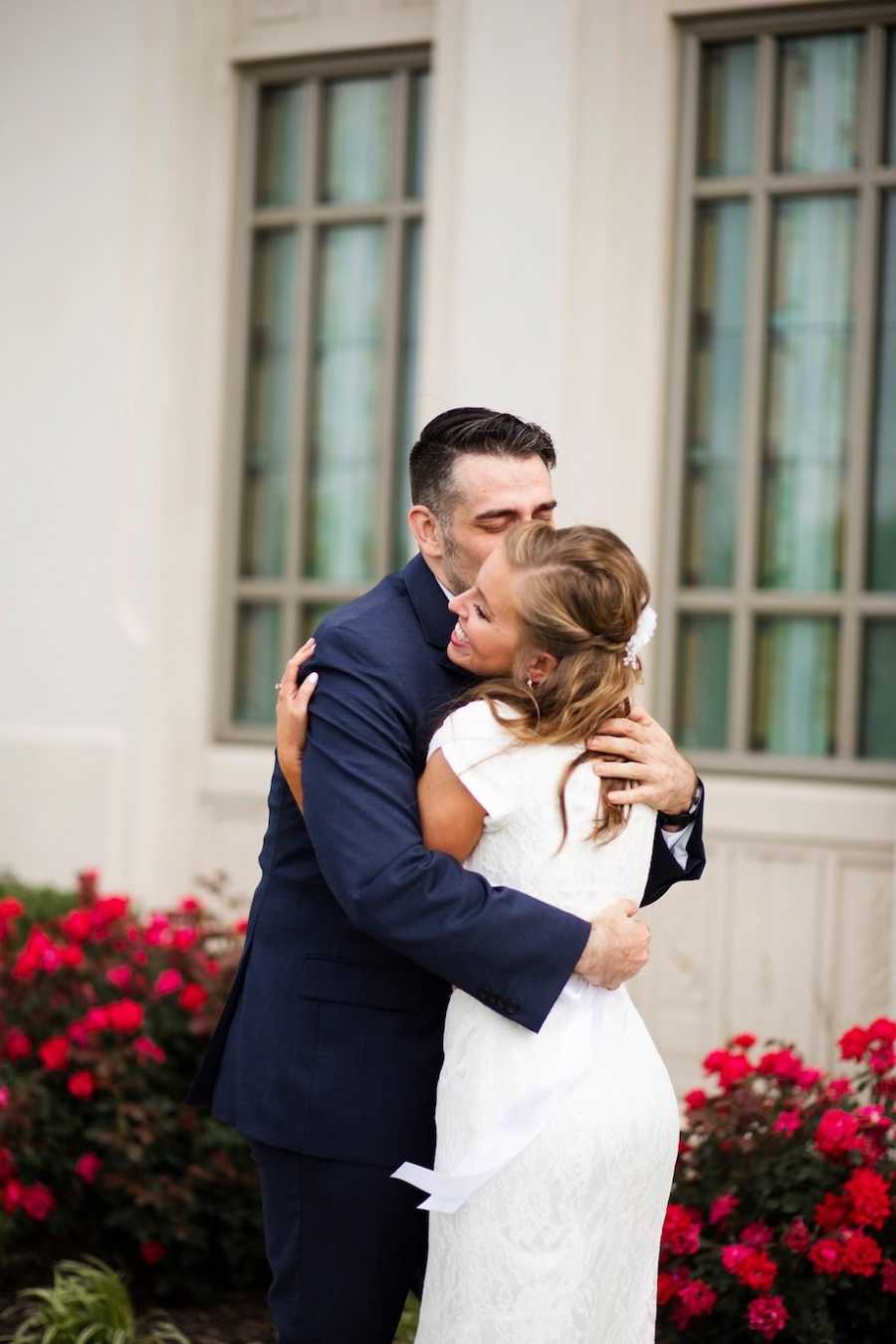 But let's not pretend as if I'm without my own baggage as well. Right when things calm down with my husband's exes, my ex suddenly reappears after being absent for months, and expresses anger and hurt feelings our son doesn't try to call him more often. Surely I am a bad mom, saying terrible things about my ex to our son, purposely trying to make him feel negatively toward his dad. He tells me he doesn't like our son spending so much time with his stepdad and stepsiblings. 'They are not his real family.' He resentfully remarks our son is developing qualities like his stepdad. I shouldn't have agreed to help parent and raise my new husband's kids. I should be putting all my focus on our son only. I throw my hands up in the air, exasperated, wondering what he would suggest, obviously having no plan to heed to his suggestions.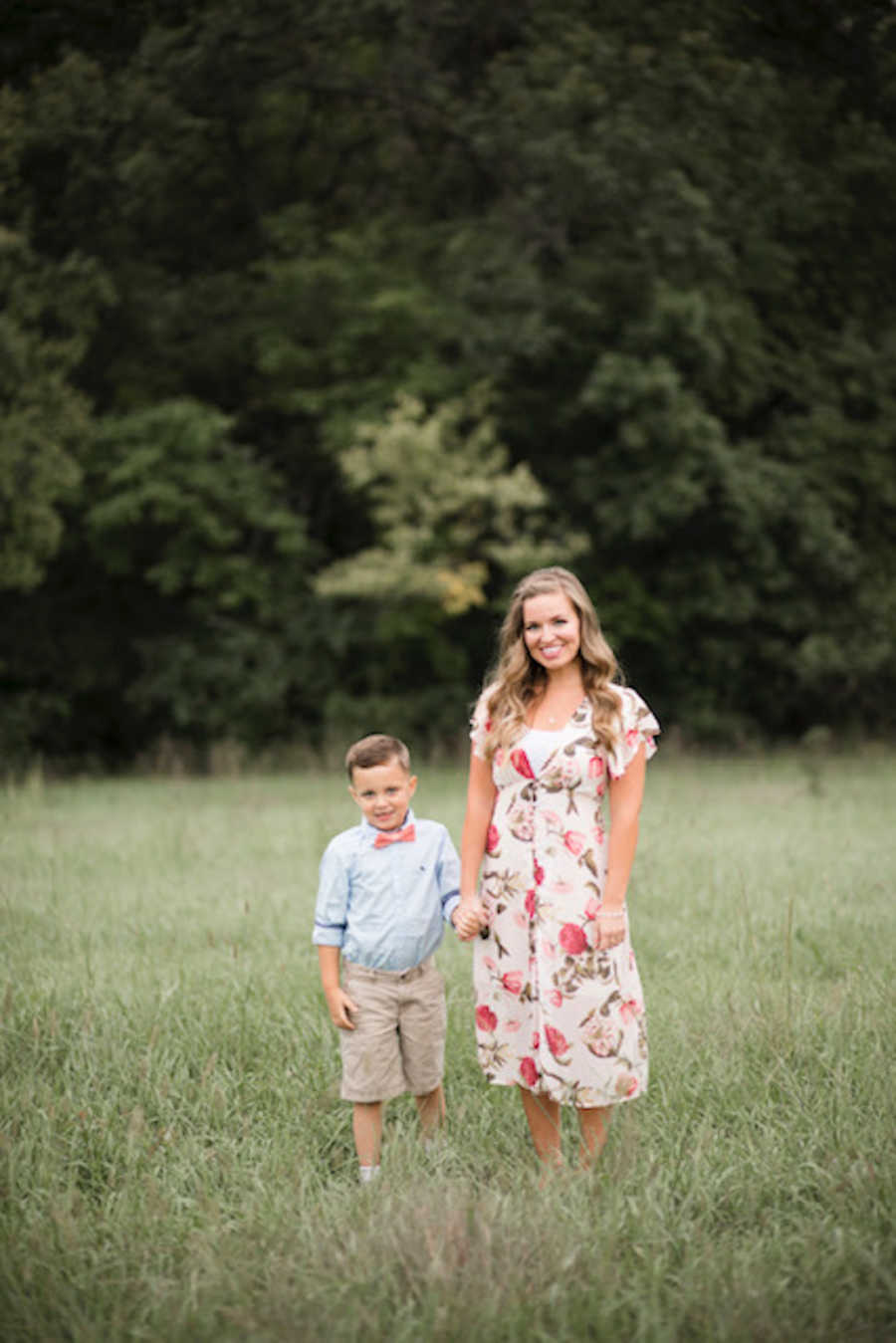 Truthfully, I am not the best stepmom. I am reserved, and not overly affectionate. I get quiet and sigh heavily when I'm irritated, which is all too often. I make exasperatedly sarcastic comments about fulfilling my life's dream of getting married so I could become the family maid and servant. Constant messes stress me out and put me in a bad mood. I wonder if my stepkids miss the days before I lived with them. Sometimes I feel like an intruder in their home. I don't always know my place. I don't know how I should discipline them. I don't know how to act like a mom to teenagers who I am technically not old enough to be 'Mom' to. Truth be told, the title 'Mom' puts a lot of pressure on me and makes me feel uncomfortable. I let them call me what they want, but I prefer they call me by my name. I don't want to step on any toes or give their real moms cause to hate me or feel threatened or like I'm trying to take over.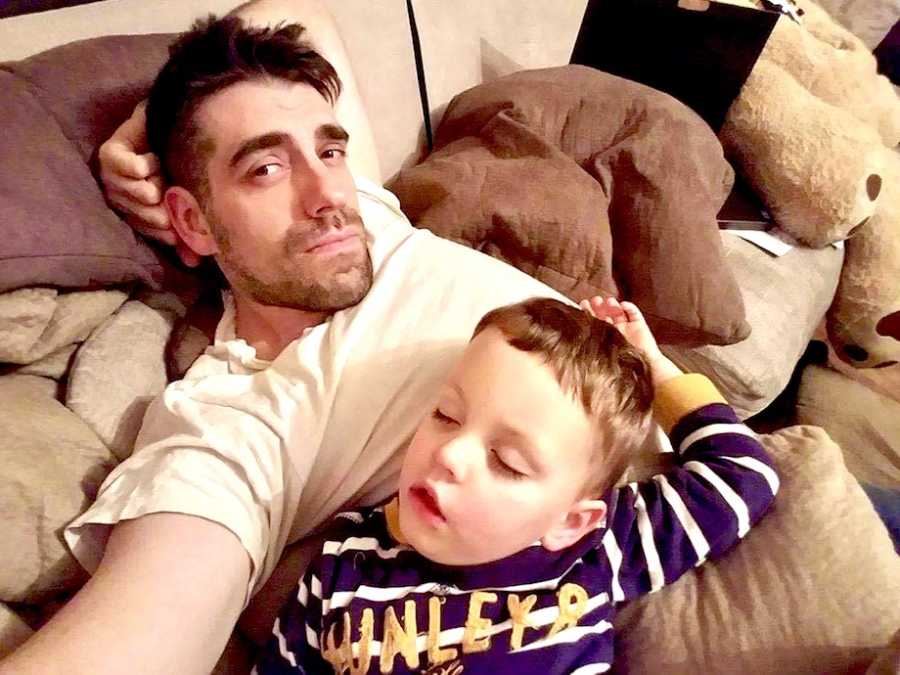 However, I do make my family home-cooked meals. I make the foods I know my stepkids like. I ask them about their day. I good-naturedly pester them to pick up their clothes and take a shower and put some dang deodorant on. My stepsons come and talk to me while I'm cooking. They show me funny videos they find on Youtube. They have me listen to their new favorite song. They ask me to play Mario Kart with them. They continually try to teach me how to play chess until one day, I'll actually remember all the rules. When we go on bike rides together, my stepson stops in the road and waits for me to cross first, as a way to protect me from any oncoming traffic. He randomly puts his head on my shoulder and tells me he loves me. My other stepson offers to buy dinner for our family with the money he makes at his job to save me from having to cook. He once told me I smile like an angel. My stepdaughter asks for my advice on handling situations at school. She frequently asks me to tell her stories about my childhood. She loves it when I brush her hair.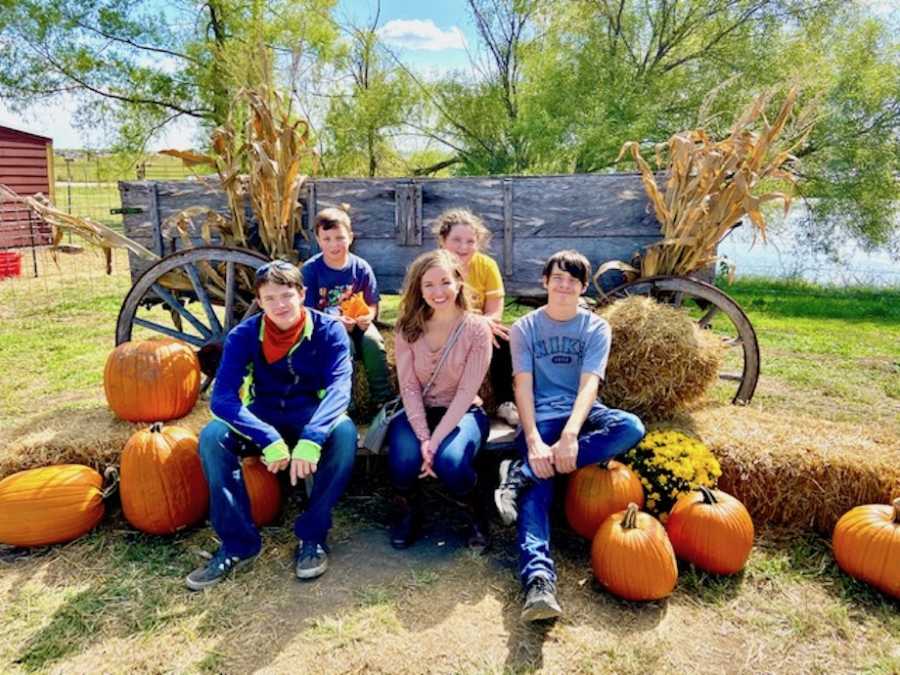 Some people think of 'step' as a bad, off-limits word. I don't. It is a factual word. A clarifying word, explaining our relationship to inquisitive strangers at the grocery store who wonder, 'Are all these kids really yours? You don't look old enough to have a kid that old.' It helps me feel more comfortable and less self-conscious people don't think I got pregnant at age 12. But mostly, 'step' is a word that means we are not related by blood and yet we are still family. It means we don't have to love each other, but we still do. It means I may not get much credit for any of their life accomplishments, but I am still doing my darndest to help raise them well. It means I started loving them as stinky teens instead of cuddly babies, and that's no easy feat. It means we're putting in a lot of time and effort to develop bonds that aren't exactly natural, but we do it anyway, simply because we care.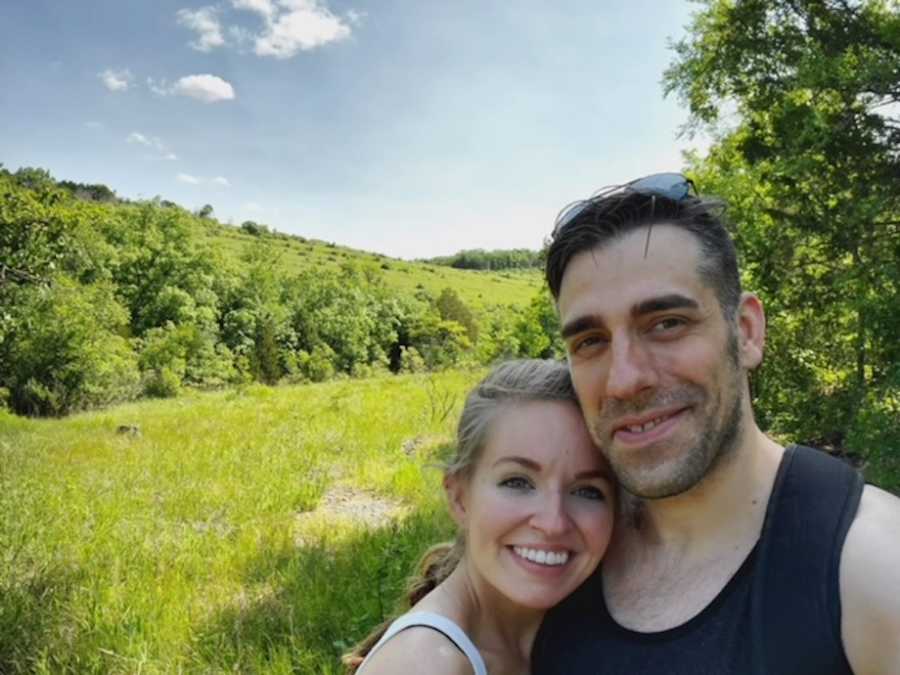 As hard as it is, as much as my life so often feels like a frazzled, jumbled, overwhelming mess pulling me in all different directions, it strikes me I am right where I am meant to be. I never would have imagined this being my life, but I can't deny that so many of my past experiences led me right here. They prepared me for this. There are hard moments and hard days and hard weeks. Sometimes I feel like a fish out of water, going from one to five kids. Sometimes I want to scream. The reminding phrases to 'grin and bear it' and 'bite your tongue' are constantly on repeat in my head. I continually add to my plans for the exotic vacation I will one day be taking sans kids as a way of maintaining my sanity.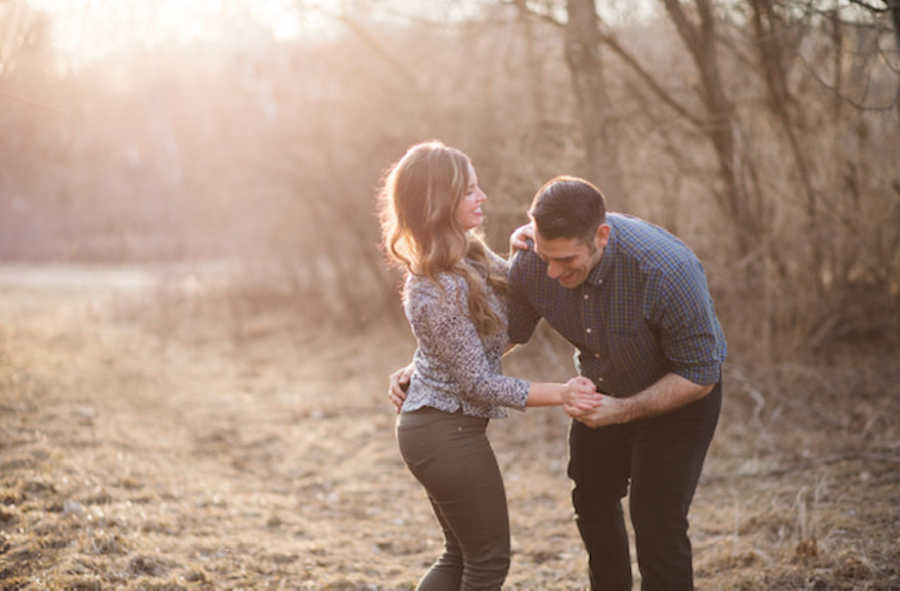 Even still, I am happy to report the love shared between my husband and me is strong enough to conquer all. It does not make any of it easy, sometimes it all hardly even feels bearable. But our love and relationship, our connection and bond, our ability to come together at the end of the day and make jokes about our kids and make fun of their annoying tendencies and take pride in their accomplishments before snuggling together and forgetting the kids and everything else altogether, to focus solely on each other, just for a bit—this makes it all doable and worthwhile."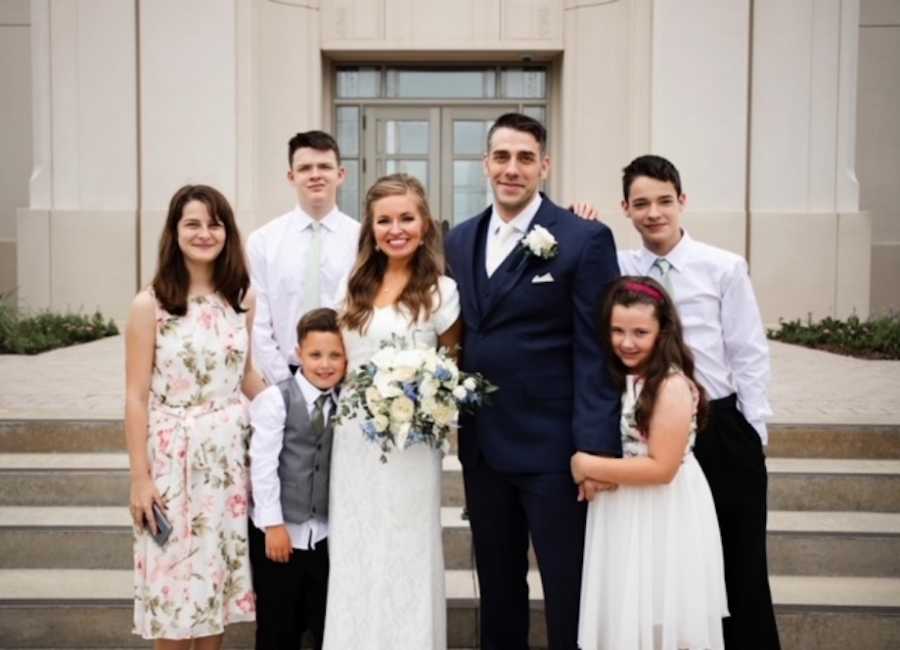 This story was submitted to Love What Matters by Stacey Janelle from Shawnee, KS. You can follow their journey on Instagram. Do you have a similar experience? We'd like to hear your important journey. Submit your own story here. Be sure to subscribe to our free email newsletter for our best stories, and YouTube for our best videos.
Read more beautiful stories about blended families here:
'My ex-husband married my best friend,' she tells everyone. We've given 'Sister Wives' a whole new meaning.': Wife and ex-wife become best friends after years of fighting, successfully co-parent blended family
'Did she want another woman in her life? I waited to meet my stepdaughter for the very first time. My heart pounded as she stepped in the car.' Woman explains there's 'nothing natural about a blended family'
Please SHARE this story on Facebook and Instagram to encourage others to live life to the fullest.