"We recently had an anniversary, so I thought I would share a story of my favorite thrifting find.
My partner jokingly proposed to me by drawing an opal ring on my finger. We had only known each for 6 weeks at the time, so while he did know I'm not a jewelry person (hence the drawing), I do love opals and opal rings which he didn't know. I thought it was sweet when he explained to me the marker mess on my hand was an opal ring, and the blues were due to it being a fire opal stone. The joke turned serious over a few days and we started discussing actually getting engaged.
Fast forward a few months, later last Spring we were in Saint John and I convinced him to stop in one of my favorite second hand stores. While I was paying for my purchase, on the table with the jewelry display was the ring he had drawn on me last winter.
I saw it and I stopped – and I turned around and said, 'Marc – that's the ring you drew on me!' And he said, 'It is! We need to get it!' But this was a total yard sale store (elderly gentleman running it, tables full of stuff) and they only took cash. So, Marc suggested we go withdraw the money, but I'm not a gift person so I talked him out of it (it was 160 dollars which us expensive to me). When we got home I was like, 'Ooh – you know what, I kind of want that ring.' It was in the next city over, an hour away so I let it go.
A week later, I called the store and explained to the old man who I was and why I was calling (I had asked a million questions and had told him the story that day) because I really felt like I should have it, but since I had told Marc not to worry about it, I figured I would just buy it myself.
Anyhow, long story short- the old man knew exactly who I was and he said, 'Oh don't worry darling, its being held for you, you two are adorable and he's been calling everyday to make sure it's still here when he can make it down again.'
People ask us all the time when we are getting married, and in all reality between Covid and us being us the answer is, 'Oh who knows, when we do it will likely be on a whim some day or week.' He is my person though, and whether or not we go the legal route, I do plan on keeping him around for the rest of my natural life.
I know the serendipitous find of the ring was the universe telling me I made the right choice."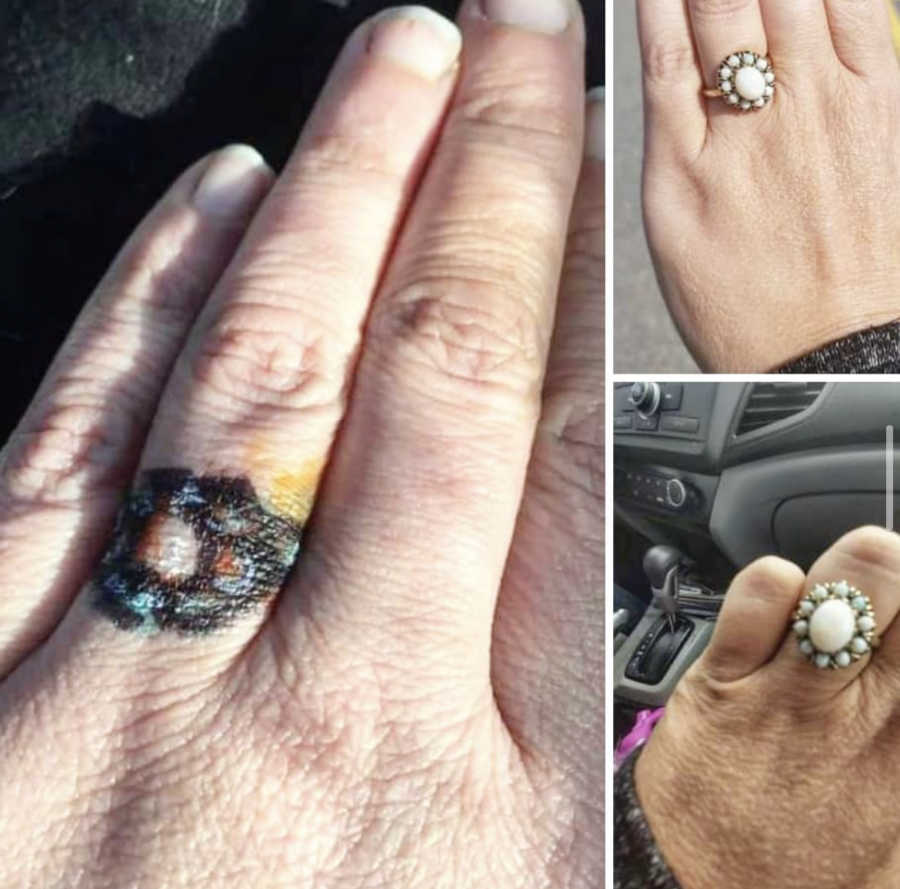 This story was submitted to Love What Matters by Remarkable_thrifts, and originally appeared here.  Submit your own story here, and be sure to subscribe to our free email newsletter for our best stories, and YouTube for our best videos.
Read more stories like this:
'WHAT DO YOU MEAN YOU CANNOT FIND THE RING!' I texted back, with all caps, trying to appear calm.': Young man recalls hilarious mishap before proposal, loses wife 2 weeks before wedding
'My dad had other ideas…' Father hilariously intervenes at daughter's marriage proposal
Women shocked to find out they were both planning a Pictionary proposal for each other at exact same time
'I'd ask you out if you weren't wearing that wedding ring.' Newly single, it was the first day of the rest of my life. I had to act swiftly.': Woman divorces after 22-year marriage, finds soulmate in Kmart 
Provide beauty for others. SHARE this story on Facebook and Instagram with your friends and family.