"Levi told me we were going to be meeting my parents for breakfast that morning, but he wanted to run our dog, Ace, before hand. Ace is a German Shorthaired Pointer who is completely full of energy all of the time, so we try to free-run him in the desert everyday for 30 minutes to 1.5 hours.
Since it's been cold, we just drive while he runs. While we were driving that morning, he looked over and asked me, 'What's that over there?' I looked and it said, 'Marry Me?'
I immediately started crying. Overwhelmed with joy, we got out of the truck, and he got down on one knee.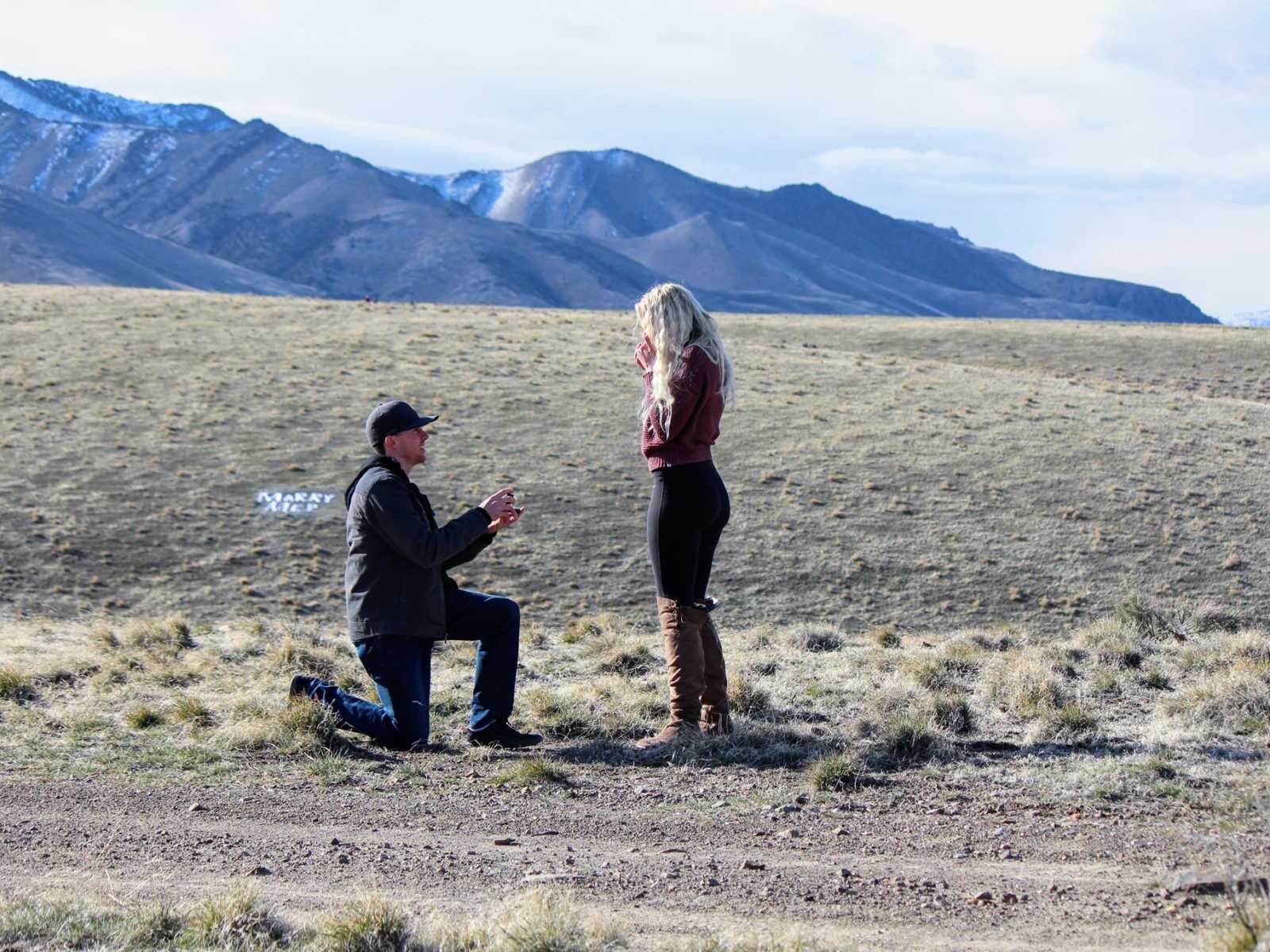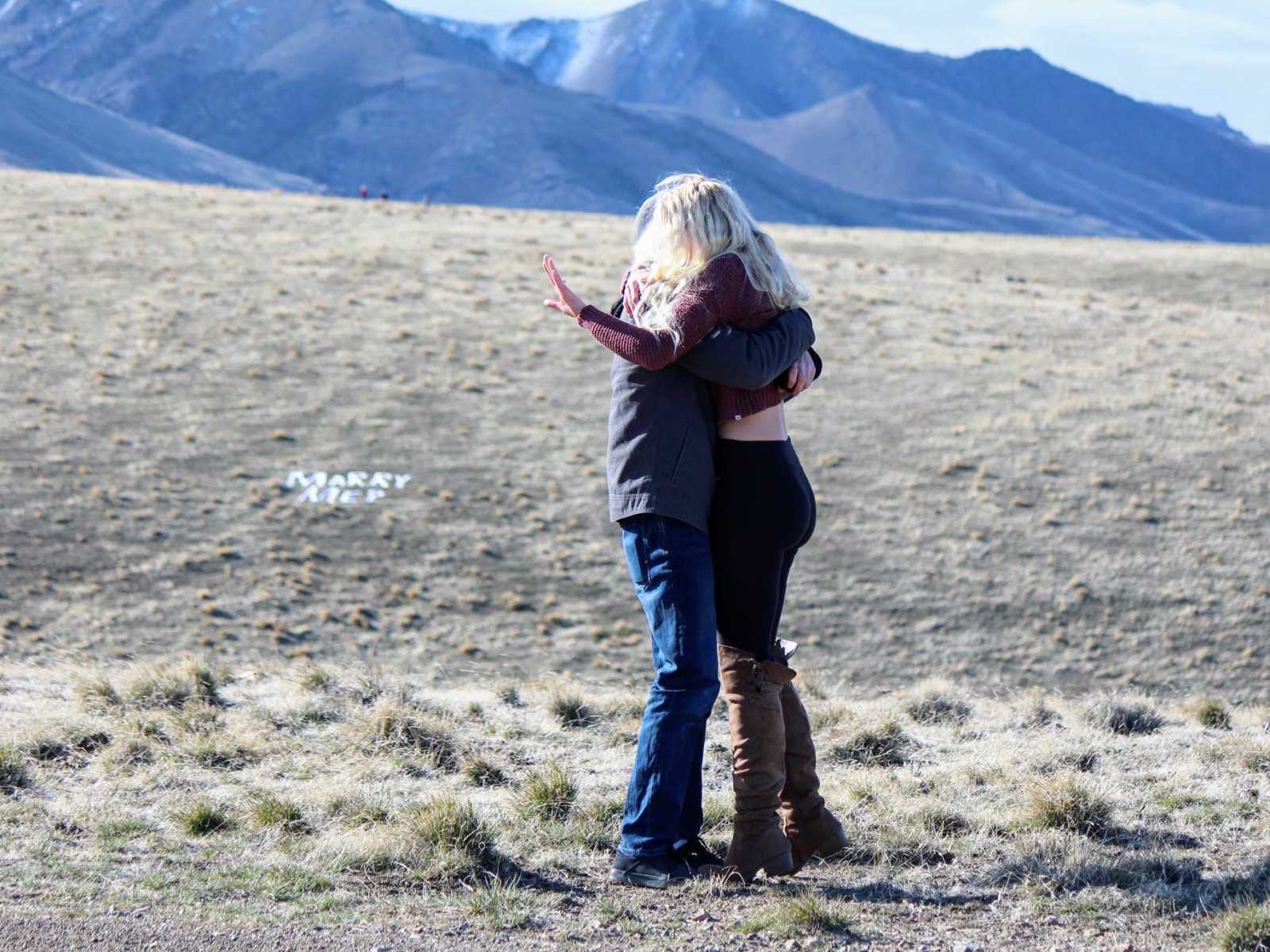 My mom and sister were hiding near us to take the pictures. On the other side of the mountain, my dad, his mom and stepdad, and my grandparents were there waiting. They were all there to help set up beforehand. I of course said yes!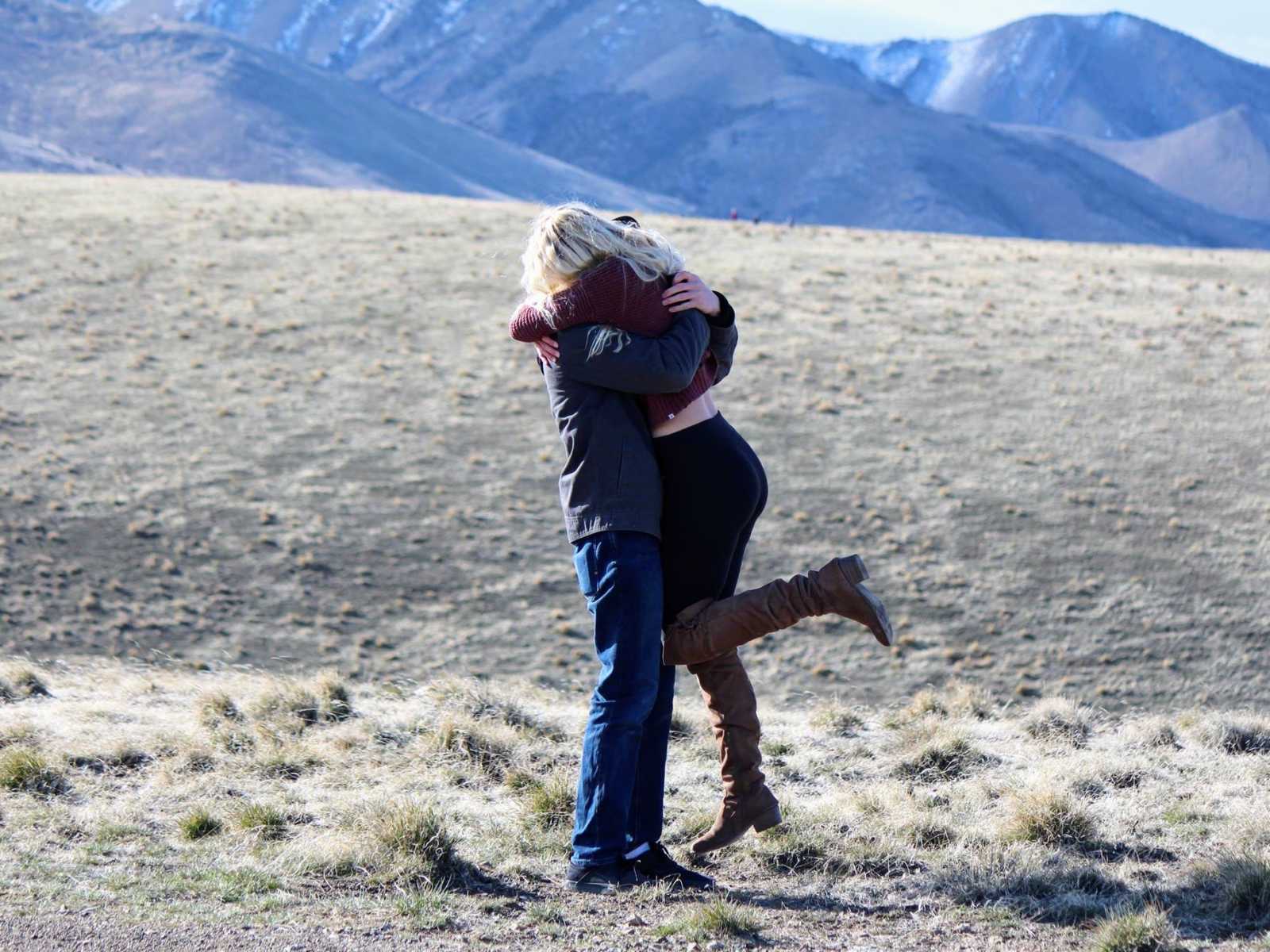 We walked over to the other side of the mountain and my dad was holding up his sign that said, 'Say NO.' Levi and I both got a good laugh out of it!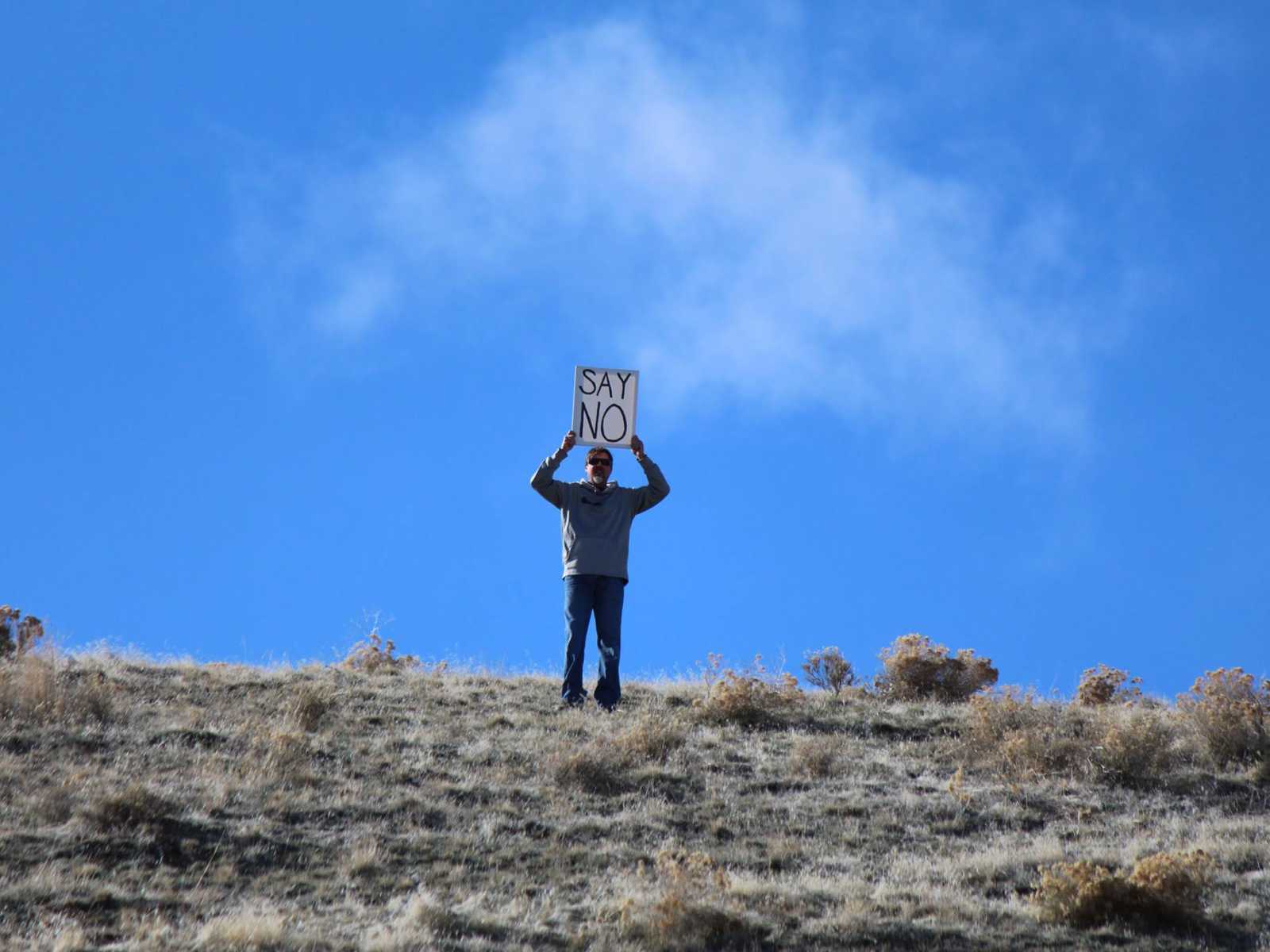 Levi asked my dad for his permission to marry me beforehand. My parents, sister, his mom and stepdad, as well as my grandparents all helped out with the proposal. The proposal took place in Winnemucca, Nevada.
The letters were cut out of sheets and needed to be nailed into the ground, so my dad brought his sign with him when helping set up. Even Levi didn't know my dad had made the sign, so it was a funny surprise for both of us. My dad was completely joking with the sign and really likes Levi! It's really just his personality.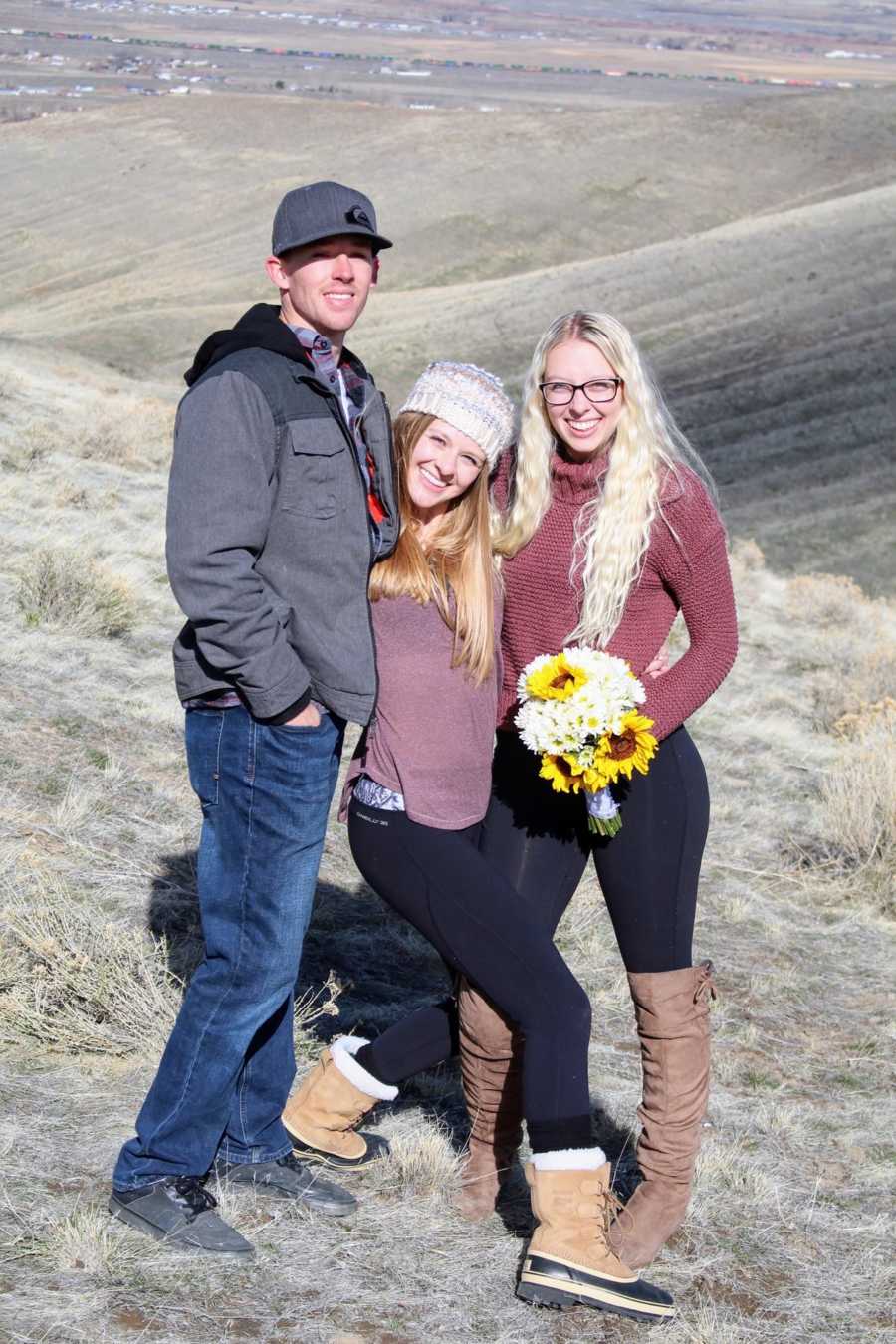 My family and I have always been very close! Once Levi came along, they welcomed him right into the family. We all have a great relationship and do a lot together. We enjoy snowboarding, playing softball, and camping, to name just a few things.
We are planning on having the wedding in Lamoille, Nevada, sometime this fall. We are very excited for this next step in our life and to be spending it with people we love.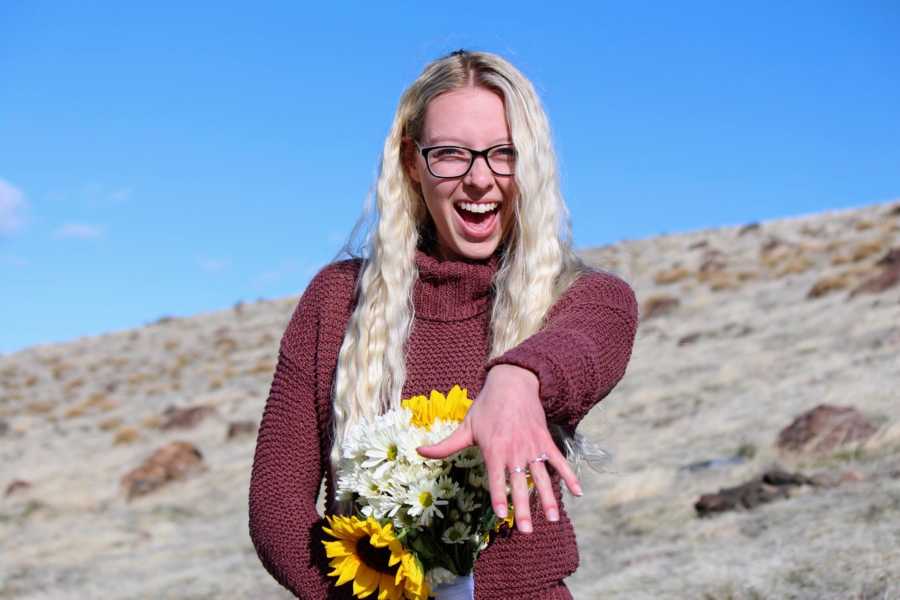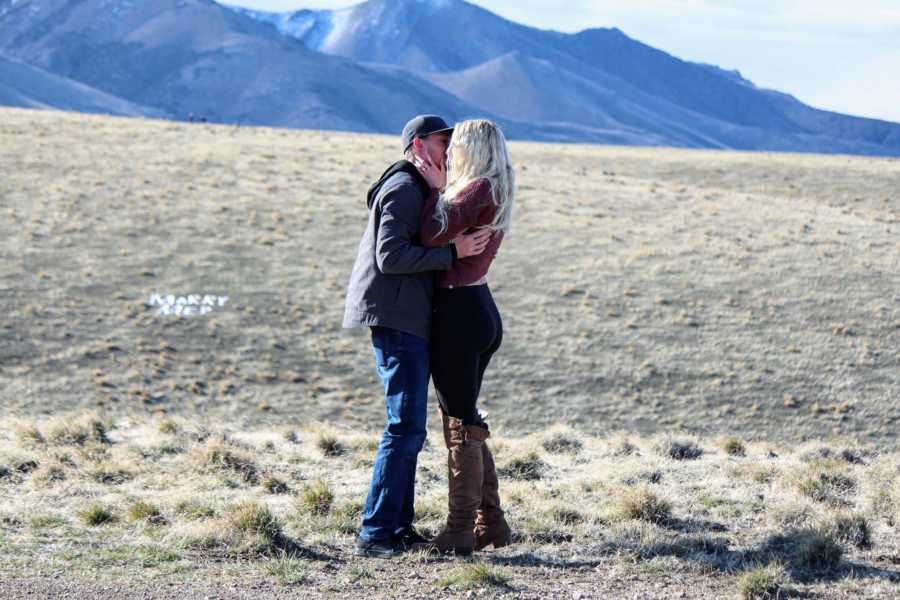 This story was submitted to Love What Matters by Allison Barron, 22, of Nevada. Submit your story here, and subscribe to our best love stories here.
Read more stories like this here:
'After 25 years, I would love to spend the rest of my life with you.': Man surprises wife with second proposal
'They each had handmade rings in their little hands and asked her to be theirs forever': Dad and his 4 sons pull off perfect proposal for their future stepmom
'I practiced for several weeks.': Bride surprises groom by signing her vows for deaf in-laws
'I felt in my heart Tewabe and I had a serious connection, but my brain kept telling me this was too crazy, too different, to make it work.': Woman shares beautiful international, multicultural love story
SHARE this story on Facebook if this is something your dad would totally do!