"I've always believed everything happens for a reason and sometimes that reason isn't always clear. When I first met Steven (better known as Jak), I would've never guessed in a million years we would've ended up here. And if you would have told me not only would I be happily in love with a guy like him AND our girlfriend Pam, the only logical conclusion would be, you've gone crazy. But now, a few years later, I wouldn't have it any other way.
Without this series of unforeseen events, difficult decisions and life changing situations that landed the 3 of us here, together- in love; I don't know how else I could have uncovered how beautifully intricate life can be.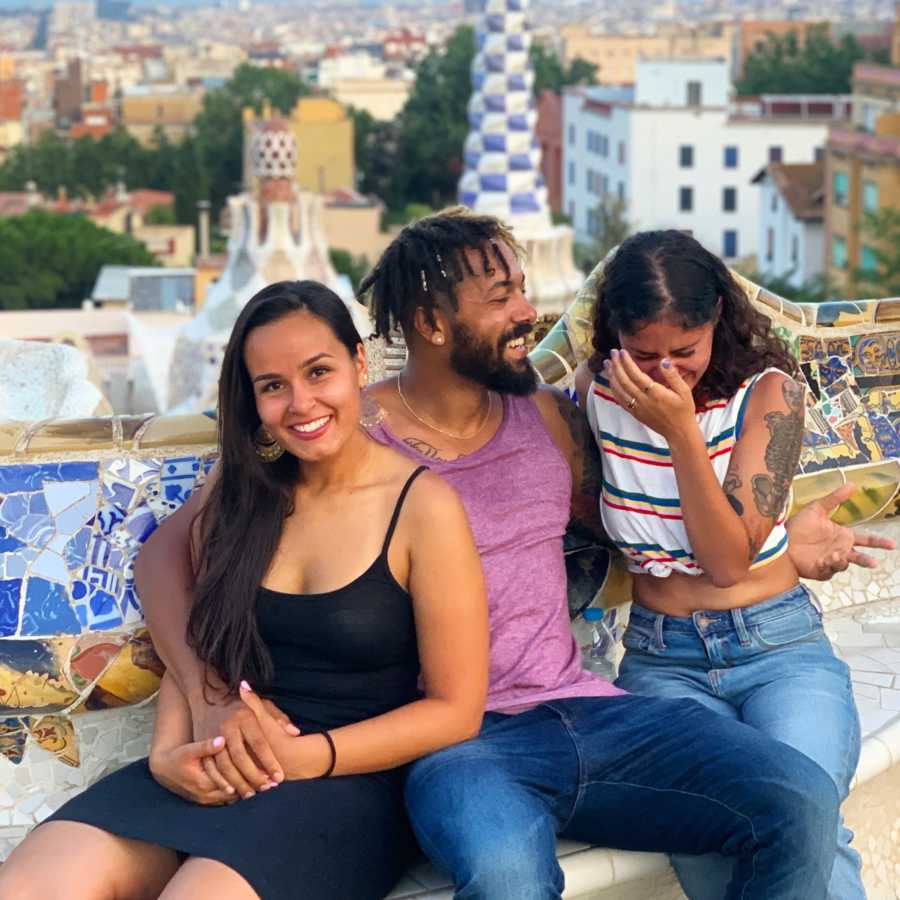 It all started 3 years ago at a friend's birthday party. I saw Jak walk into the room and he stood out like a sore thumb. These were my friends and I've never seen him around this group of people before. He didn't belong here, but there was no better place for him to be on this night. He wasn't like anyone or anything I've ever experienced before; and I didn't know it at the time, but that was exactly the energy I was missing in my life.
My parents raised me with very conservative, traditional Christian views and beliefs. I went to church twice a week, focused on my studies and always dreamed of getting married and having a family. I've always been a one-man kind of girl. I was 22 and had just recently ended a 5-year relationship. At this point in my life, I was finding myself and beginning to step out of my little bubble for the first time. Jak burst my bubble immediately and although I was scared of these new thoughts and feelings, it was the most exciting thing I've experienced thus far.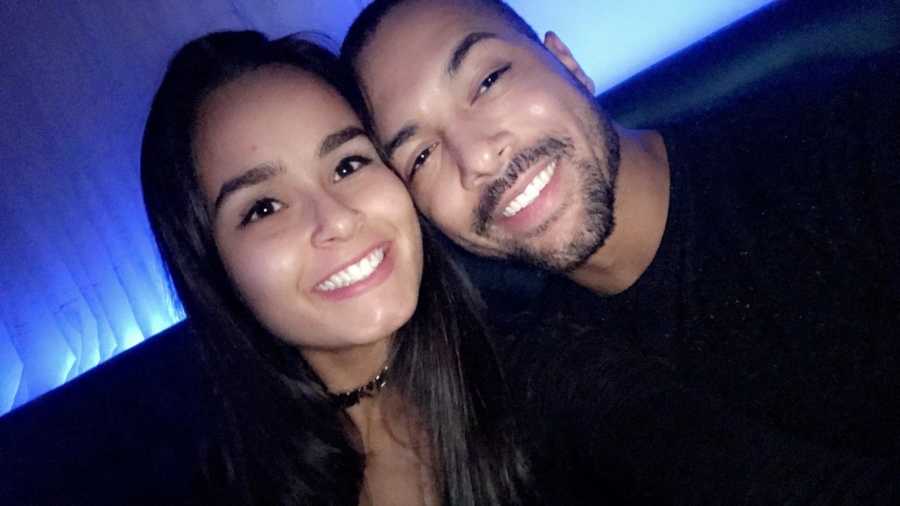 He wasn't what I pictured in a husband; he had tattoos and piercings, he didn't believe in marriage, religion or many of the things I thought were important to me. In spite of that, there was something about him that felt like I met him for a reason. Since that first night, we saw each other nearly every day for 6 months. As we grew closer, I told him things I've never told anyone before. He was always completely open and honest, for better or for worse. He believes that regardless of the outcome, the truth needs to be spoken. And if feelings get hurt in the process or things turn out less than ideal, that's just the way it had to be. I thought this was just rude at times but through clear, concise communication and actively seeking to understand without my emotions interfering, I realized this philosophy made more sense than what I've previously been led to believe.
And this is where it gets interesting. Like many people, I had questions and curiosity that I believed were better to repress. Not only for the fear of other people's criticism, but to save myself from my own self judgement. My whole life, I've always wondered what it would be like to be with a woman. I never told anyone but after a year together, I told Jak. It wasn't just random. Jak was upfront from the day we met and although we had a clear connection, he was not ready or willing to cease his exploration of life and all the experiences it had to offer. We eventually decided to experiment together- we had never heard of polyamory at the time, but this would turn out to be a life changing decision for us both.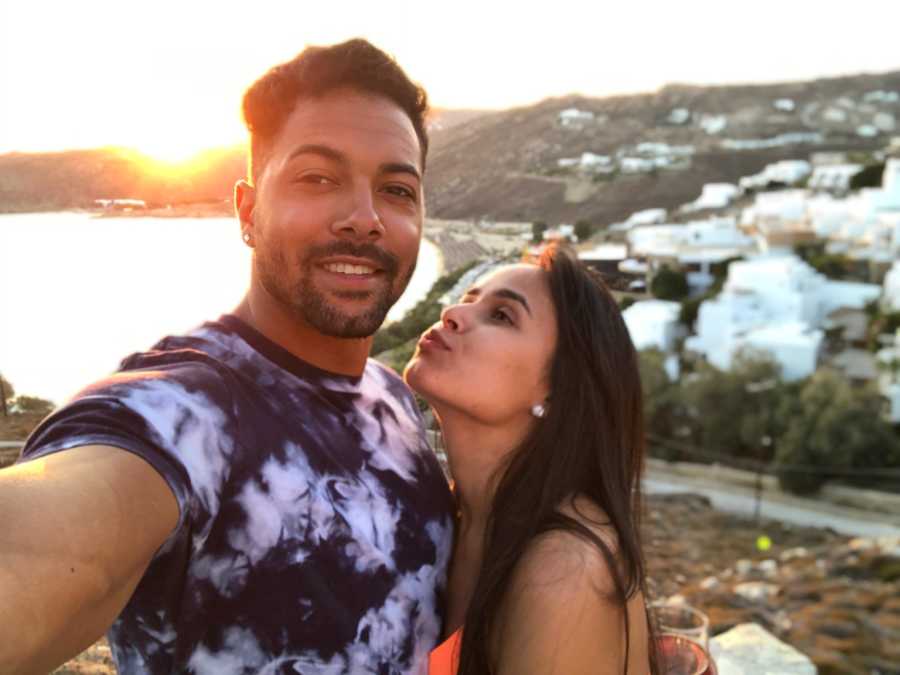 Fast forward to a few months and a handful of new experiences later, I had realized that not only do I enjoy women, something completely taboo that I never thought I would actually act on – it also dawned on me that there's an entirely different world that I've been blind to by keeping myself in this box I was born into. If something I was so afraid of turned out to be a magnificent source of fulfillment and joy, what else could I missing out on?
Jak jokingly said we should take things a step further and bring another person into our relationship. We both laughed about it, but it actually made so much sense. We were a powerful force together, stimulating each other's growth, making up for one another's weaknesses, traveling the world, building businesses and flourishing into the best versions of ourselves. But what if it didn't need to stop there? The value that we added to each other didn't need to be just that – it could be multiplied. Imagine a progressive power couple, focused and determined to achieve a common goal, nurturing and supportive to one another – as well as their lives' purposes; every step of the way. Now, add in a 3rd element; another mind, another spirit, aligned with our movement and desires. A third pair of hands working in unison with ours, simultaneously executing our plans. Another beautiful soul to laugh and to grow with. Another strong mind contributing ideas and perspectives we might not have considered. Another best friend to create memories and legacies with. It was a captivating concept, what a beautiful thought! This all sounded like a great idea in theory, but we didn't know the first thing about how a dynamic like that would work…or if it could work at all.
But once again, as fate would have it, the universe conspired to bless us by having things happen exactly the way they were meant to happen.
Pamela became a part of our story the same way she leads her life; inconspicuously investing her talents and yielding an enormous impact. For a moment, I felt insecure about the way Pam and Jak met. Pam posted 'rough day at work, I can use drink' on Facebook. Jak commented, 'let's go.' Pam sent him a message and away they went. That wasn't the issue. Whether monogamous or polyamorous, everyone is entitled to live their lives, have friends and enjoy their own experiences as long as communication is clear and expectations are understood. What made me jealous at first was the fact of how quickly they hit it off. Jak and I didn't become very serious until after 6 months of meeting each other. But with Pam, it was an instant connection. When Jak came home, he was speaking so highly of this person and was so excited for me to meet her. Of course we know each other well enough to understand each other's tastes and deterrents; and he was right when he said Pam was incredible, but I still didn't know how to process the feelings that followed.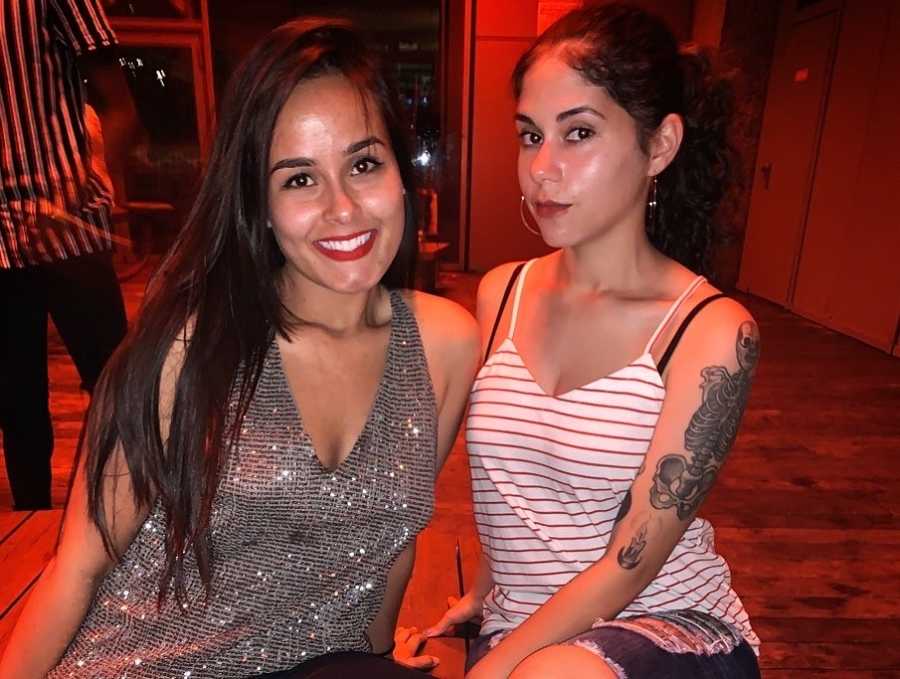 This was one of the big realizations we had with non-monogamy. There are no guidelines or examples to contrast our personal experiences to. What is the 'right way' to do something? Is the way I'm feeling justifiable or is it something I must look within myself to overcome? Was this a mistake? Did we cross a line we shouldn't have crossed and now our relationship will be ruined? Were my parents/friends/society right all along? What if he loves her more than me? Am I a bad person for having enjoyed this alternative lifestyle so much until now? Is there something wrong with me? Anxiety sets in. Fear. Doubt. My emotions fly out of control, the questions flow and flow through my mind.
No. Stop. This is me and this is my life. These negative thoughts are remnants of a belief system that I didn't choose. Hammered into my brain from society, church, my family, friends, school, everyone and everything. I choose my life.
I am in love with Jak. I am sexually (and soon to realize emotionally) attracted to woman. There is nothing wrong with me and there is nothing wrong with that. I am strong. I confident. I am woman. I am a spirit that knows no bounds; jealousy, fear, insecurity, and pointless worrying have no place in my life. They have no place in a relationship, monogamous, polyamorous or otherwise. They have no power over me. I choose my path for myself and I will live with my choices, learn from my mistakes and stand by my decisions. This is the only way to grow.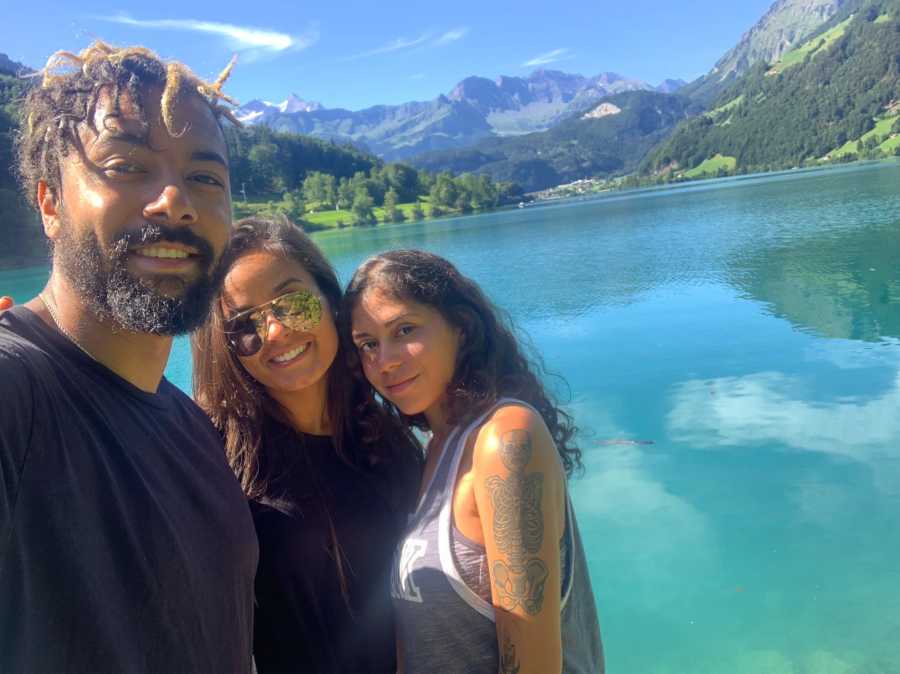 Back then, it wasn't that quick and easy to subjugate negative emotions at first, but I've learned to separate myself from the situation, assess it logically, consult with my TRUE emotions; the ones within my heart, not my neurotic mind emotions formed of habit and indoctrination – and then make a decision.
So, let's take it back a notch. Pam was as amazing as Jak said. She was beautiful, hilarious, intriguingly different from the women I was used to and oddly down to earth. I can completely see how Jak fell in love so quickly, she was just like him. An enigma to the unperceptive but in truth, they were open books; I guess some people just don't know how (or care) to read.
They lived by their own truth and didn't have it in them to even pretend to care what society thinks. They followed their hearts. They took chances. They spoke their mind and stood their ground. They were different and people don't always take kindly to different.
Pam identifies as pansexual, meaning she isn't necessarily attracted to men or women, she's attracted to the person themselves. She's was never in a serious poly relationship before but was way ahead of me as far as exploring her sexuality and discovering what she does and doesn't want. Needless to say, we started spending time together and everything clicked. We are coming up on our 1-year anniversary as a throuple/triad (or whatever you want to call it, we don't much care for which label people use, to us, we are simply in love). We've enjoyed every moment throughout this last year together, from the uncontrollable laugh attacks in Barcelona while we tried to get a good picture, having dinner overlooking the Swiss alps (where Pam always wanted to go), facing our fear of heights by sky diving every chance we get, trying to teach Jak to float in the ocean on the Amalfi coast, to just cuddling together and feeling at home.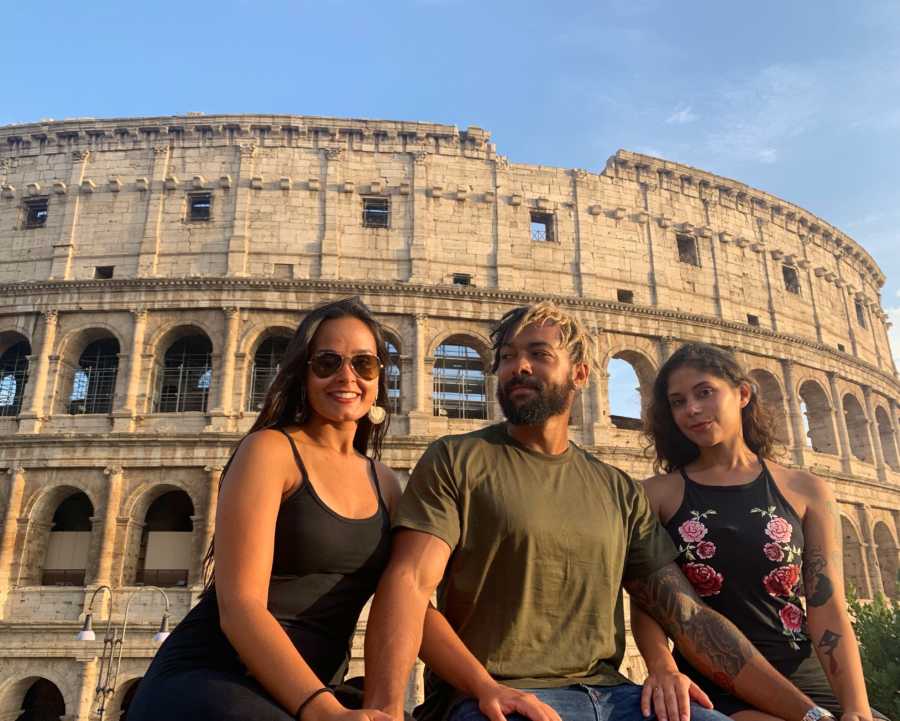 When you're with the ones you love, even the bad times aren't so bad. Somethings hurt, like my friend uninviting me to her wedding because my relationship 'isn't appropriate' for a religious wedding. Or some of our other so called 'friends' disowning us, talking behind our back, judging or disrespecting us for who we are, even though our relationship doesn't actually affect their lives. Regardless of the ups and downs, we have no regrets. We're happy and comfortable in who we are and have no intention of changing for anyone. We made so many unforgettable memories and we've only just begun.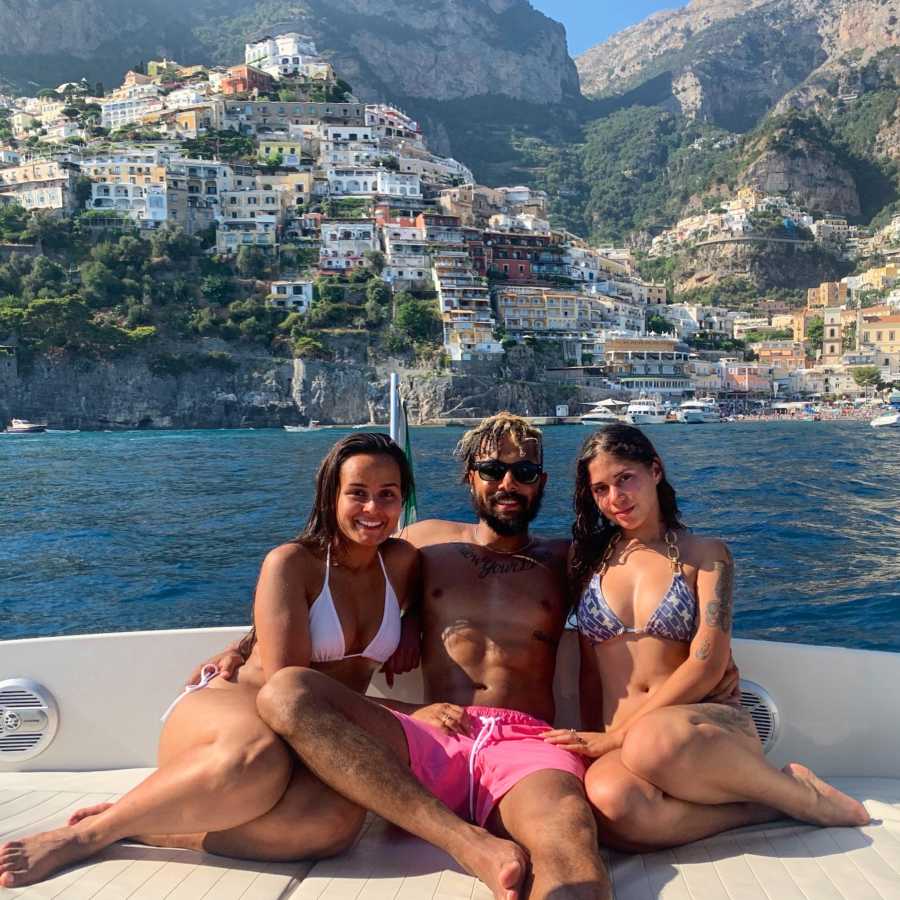 For anyone who might be reading this and still doesn't get it or might still be judging us like so many people close to us have, we're not mad at you. It's different. And it may be hard to fully understand. But you at least have to accept that whether you like it or not, we are here and we are valid. We may love differently, but it's love just the same. Jak and Pam have always been more open, but I can understand the people in the opposite camp. It took me a while to really get it, but now I can't unsee it. Looking at things for what they were, I couldn't pretend it didn't all make sense. I could say it didn't, I could probably convince you of it too, but I'd be lying to myself. I've learned we all must discover the truth for ourselves. Nobody is right or wrong, we are all just living life. We all want the same thing, to be happy. When it comes to relationships, you've got to figure out you before you can find happiness elsewhere.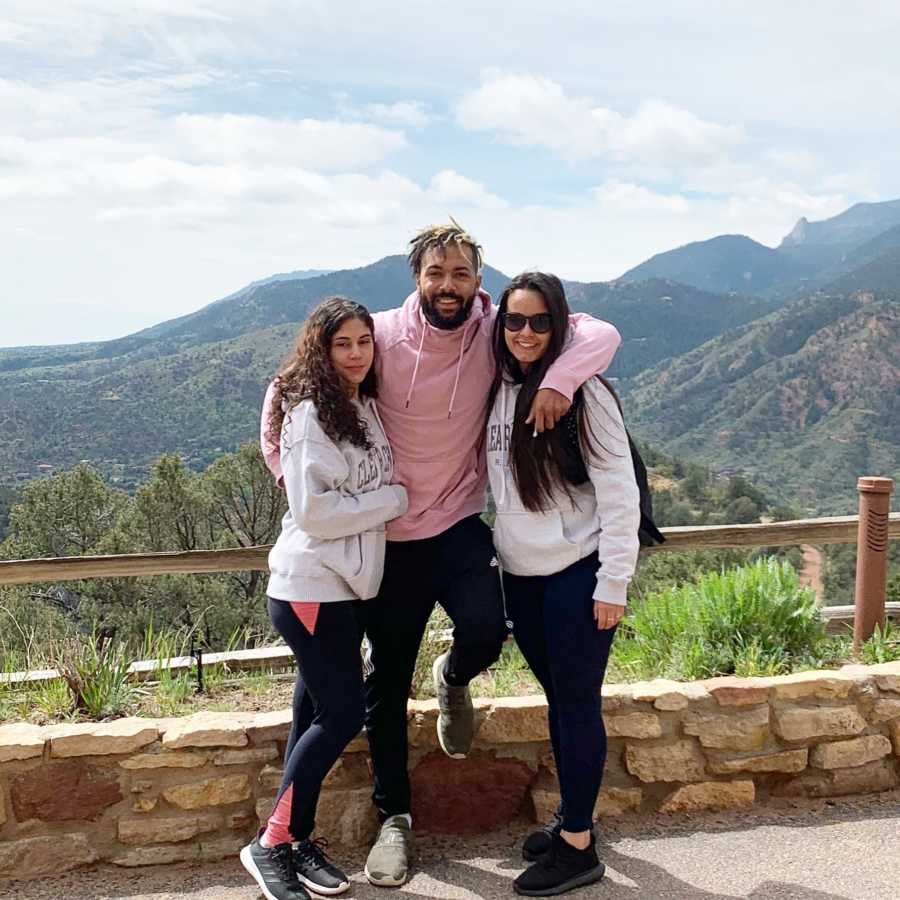 The biggest thing the 3 of us offer you to take away from this is, please, do what makes you happy and makes the most sense to you. This is your life, you can't live it for anyone else. One day, we will all die. And when that day comes, you don't want to have regrets on your deathbed. If you're going to die regretting it, please don't live with it. Be true to yourself, follow your bliss and give your heart to the person or persons you want to share it with, because like life itself, there are no rules to love."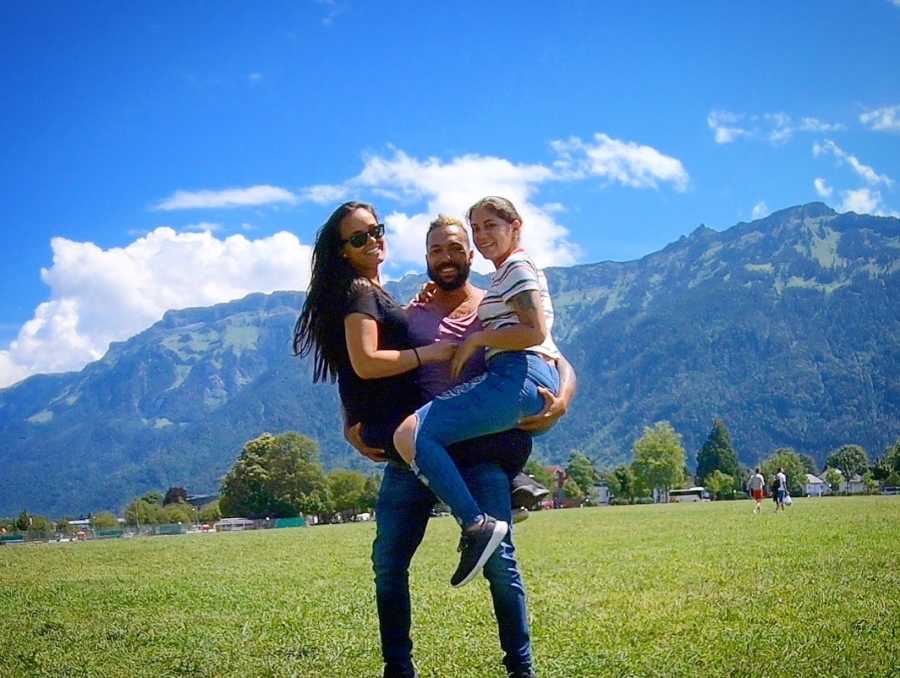 This story was submitted to Love What Matters by Jak, Priscilla and Pamela of Connecticut. You can follow their journey on Instagram. Do you have a similar experience? We'd like to hear your important journey. Submit your own story here. Be sure to subscribe to our free email newsletter for our best stories, and YouTube for our best videos.
Read more stories like this:
'My husband suggested a 'different' kind of marriage. I was so lost in my thoughts of her, wondering if we were flirting, or if she was gay.': Couple begins Polyamorous family
'Are you gay?' 'No,' he said immediately. I looked at his wounded face. It turns out, I was right.': Husband comes out as gay, couple divorces but continues to live together happily co-parenting, 'I have chosen to continue to love Josh as my family'
'I woke up next to my beloved husband with our 3 children across the hall, and realized I am no longer straight.'
'I married the man of my dreams, created a family, and realized after 9 years we weren't able to pray the gay away.'
SHARE this story if you believe love is love!