Genetic Epilepsy Diagnosis
"Our son has a mutation of his KCNQ2 gene, a rare and catastrophic form of genetic epilepsy that doesn't have a cure. When he was born in June 2015, our whole world was turned upside down.
He started having seizures in the delivery room and was sent to the neonatal intensive care unit where he stayed for over 2 weeks. He is now 7 years old and has since also been diagnosed with Attention Deficit Hyperactivity Disorder (ADHD), and Autism Spectrum Disorder (ASD).
Having a child with complex medical needs is scary and daunting. Most of the time, we don't know which way is up. I wrote about our journey in "The Letter E, a story of Hope, Love, and Family Resilience", to help other families feel less alone, and those around them understand what it is like to walk in our shoes.
Starting Our Family
I always dreamt of having a big family. When we first met, I told my husband I wanted to have three kids. I had this mental image of my little tribe all playing together, laughing, and running after each other in the backyard.
Shortly after we met in Paris, we moved to Sydney. We loved it so much there, that when my husband's 2-year contract was extended, we were over the moon. In fact, we ended up staying over a decade, becoming citizens, and having two kids there.
When we got pregnant with our first, everything was going well. It was a healthy pregnancy without any complications. I kept on running for a while, we traveled a bit, and everything was ready for his arrival on the day he was born.
It was a long labor, so I was exhausted when the midwife finally said, 'Say hi to your little boy.' I kept losing a lot of blood, so when the doctors came rushing into the room, the baby was passed to my husband.
He looked at me, newborn in his arms, wondering if I was going to be ok. When you don't have a medical background, it is very impressive to see doctors running into a room to look after your wife.
After it was confirmed that I was going to be ok, and they were doing the paperwork to get me transferred to the ICU for observation overnight, he handed the baby to me. Eliott. We had chosen the name early on and absolutely loved it.
He was gorgeous. But quickly he started moving in a weird way. Suddenly getting really stiff, one of his arms extended in the air, his tiny face all red.
NICU Visit
The next morning he was sent to the Neonatal Intensive Care Unit, or NICU, where he stayed for over 2 weeks for a seizure disorder. During those weeks, we barely left his side, he was covered in wires and had multiple electroencephalograms, lumbar punctures, blood tests, and urine tests.
We tried so many anti-epileptic drugs that just weren't working. Nothing seemed to stop the seizures.
Hearing the words 'seizures' and 'epilepsy' when you don't know anything about the condition is frightening. Although, to be honest, you don't really know what to be afraid of, yet.
We started to fear what the future might hold when doctors told us they didn't know what was causing the seizures, that they couldn't control them, and that we may go home with a newborn having 10-15 seizures a day. A
fter 2 weeks, they suspected a very rare genetic form of epilepsy and gave him a loading dose of a medication they hadn't yet tried. It worked. Eliott was seizure free within hours.
The genetic mutation they were suspecting is so rare it doesn't have a proper name, just the name of the gene: KCNQ2.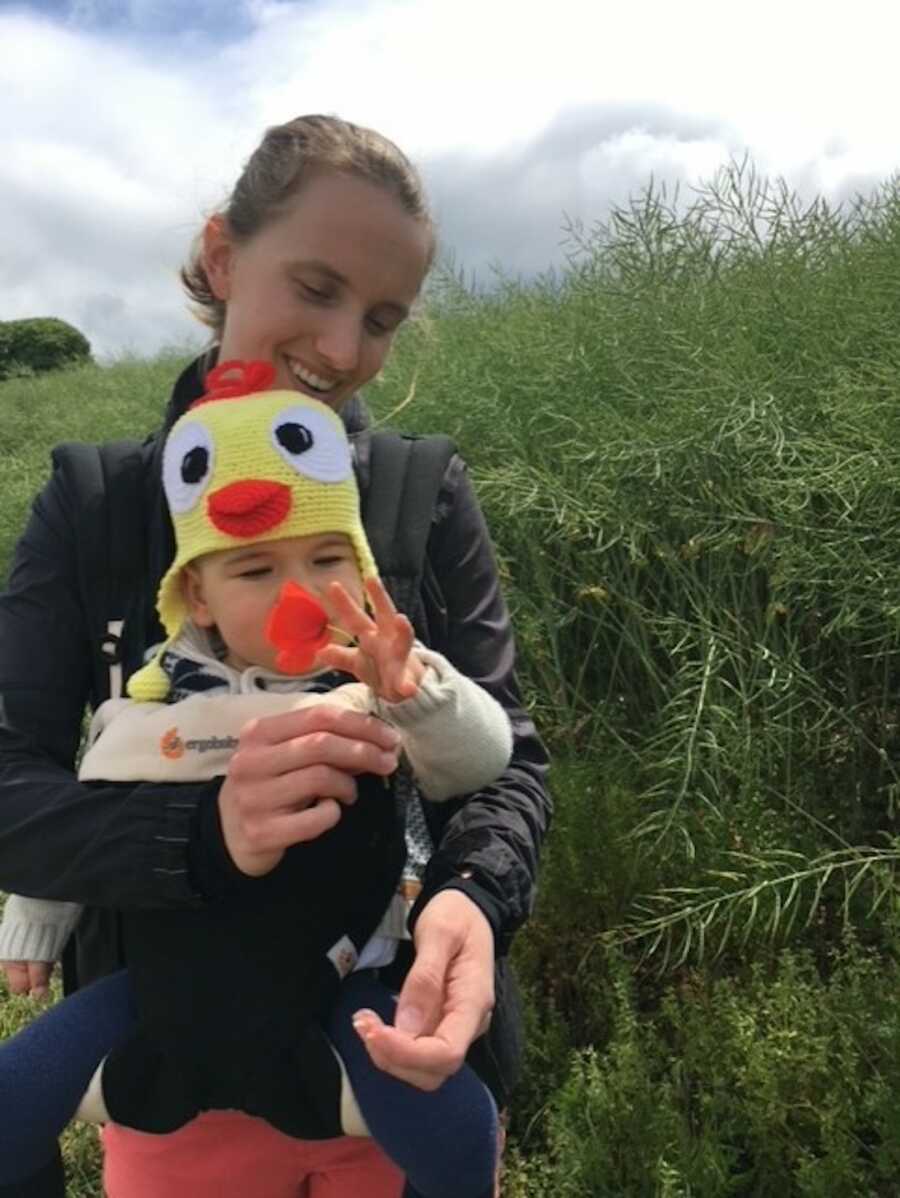 Adjusting To Our New Reality
Eliott spent the first year of his life between medical appointments and hospital visits. He had a few seizures that seemed to be brought on by fevers, including a traumatic episode of status epilepticus, a life-threatening condition where the body can't recover from seizures, and is in a state of 'continuous seizures.'
At that time, he had about 30 seizures in the course of an hour. This was the scariest hour of my life.
Fortunately, we were in the hospital when it happened, or we probably would have lost him. He was 6-months old at the time.
It took 15 months for us to get a proper diagnosis. When we got confirmation that it was a mutation of one of his KCNQ2 genes, we were also told it was a de-novo mutation, meaning his father and I weren't carriers.
We were told it was simply 'bad luck.' To this day, this is the most unconstructive thing I have ever heard.
When we got the official diagnosis, I was pregnant with our second child. We made the decision to test the fetus in-utero and run genetic testing to confirm whether it had the same mutation.
We were told that as we weren't carriers, our risk of having another child with the same condition was low. Testing the fetus was through an invasive procedure, so there was a risk of miscarriage.
According to the doctors, the greatest risk we faced was testing a perfectly healthy fetus, only to lose it in a miscarriage. It was heartbreaking, and not a choice anyone should ever have to make, yet we knew we couldn't risk having two children with the same condition.
The test came back clear, and a healthy baby Oscar was born in April 2017.
Living With Epilepsy
Our boys have a very special bond, though it's far from the dream I had growing up, the vision I shared with my husband when we first met. Cognitively, Eliott is severely impaired.
His gross motor skills are ok, but his fine motor skills, communication, and overall understanding of the world around him aren't. He still wears diapers at night and needs help to dress and undress. He isn't anywhere close to having any independence or autonomy and requires constant care.
One thing I am grateful for is that he is a funny and loving little boy. He is affectionate, loves to give cuddles, and tells us he loves us. Despite all the challenges and in face of all struggles, there is so much love in our house.
When Eliott was just over one, I started to look for support and turned to books for comfort. I was hoping someone else had gone through a similar journey, and that reading their story could help me understand more about what was ahead of us, could make me feel less alone, and take some of my pain away.
I couldn't find anything. There were lots of professional books, but the clinical terms weren't what I was looking for.
Publishing An Epilepsy Parent Book
I started to write the book I would have wanted to read. I shared the ups and downs as we learned to come to grips with an incurable disease, how it affected our day-to-day life, and how we learned to redefine our vision of being a family.
I decided to tell our journey through both my and my son's voice. It makes the narrative as raw as I thought it should be, as honest as I needed it to be, and as light as I think my son would want it to be.
It is full of hope, love, and laughter, but it is also full of hard truths and paints a very distinct and pure picture of what it is to be a first-time mum of a child with complex needs in today's world.
I want The Letter E, a powerful story of Hope, Love, and Family Resilience, to be a support for families like ours, to know they are not alone whatever their circumstances.
And I also want it to help their own families, friends, work colleagues, managers, support networks, specialists, doctors, therapists, educators, teachers, etc. understand what it can be like to have a child with complex medical needs.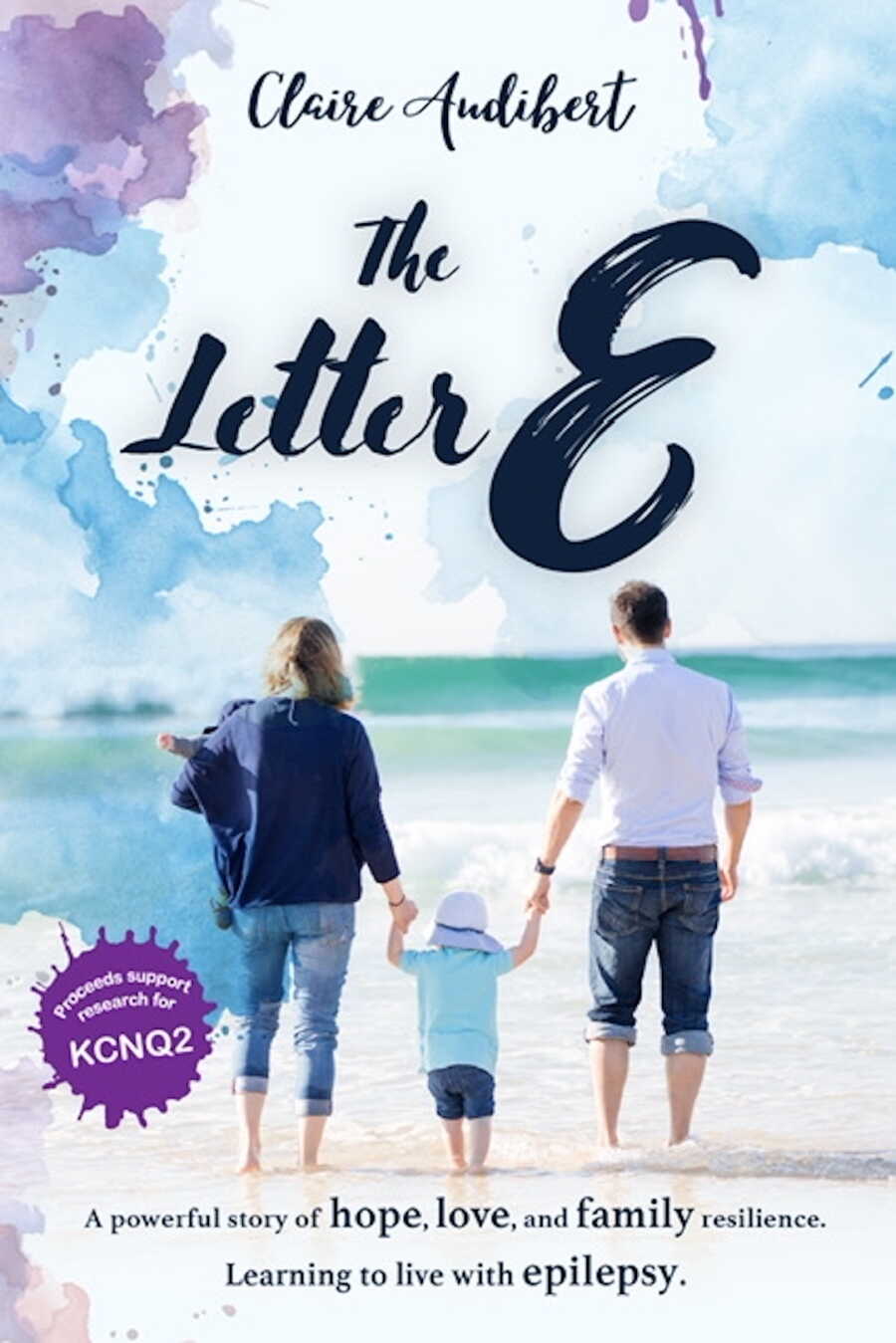 More generally, it is becoming a must-read for anyone who wishes to understand more about living with a child with a severe medical condition or how to support someone who does.
I am also incredibly proud to share that a percentage of the profits derived from the sale of The Letter E will be donated to KCNQ2 Cure Alliance to support research. This is so important to me because together we are much stronger and we will find a cure.
If you have a child with complex medical needs, or know someone who does and would like to support them and understand more about what it might be like, get a copy of The Letter E – A powerful story of Hope, Love, and Family Resilience – Learning to live with epilepsy, wherever you get your books.
It is available through every online bookstore. You can also support your favorite bookstore by ordering locally."
This article was submitted to Love What Matters by Claire Audibert – A French Australian Mum and Author, of Normandy, France. You can follow her on Instagram and her website. You can buy a copy of her book, The Letter E, on Amazon. Join the Love What Matters family and subscribe to our newsletter.
Read more stories like this:
'Your son has the worst epilepsy I've ever seen.' It's insane to have doctors ask how to treat your child.': Mom shares son's journey with Epilepsy through misdiagnoses, mistreatment to 3 years seizure free
'My husband texted our family, 'She's out and healthy.' It was before we knew any different.': Adoptee traverses first time motherhood with medically complex child, KCNQ2 genetic mutation
Do you know someone who could benefit from reading this? SHARE this story on Facebook with family and friends.