"I met Chad in 8th grade. He was the 'bad boy' always in trouble, fights, skipping school but oh so handsome. I talked to him a few times but we didn't start dating until we were freshmen in high school. I will never forget that day. We had 3 out of 4 classes together and he sat next to me in those classes. He made sly comments and gave me butterflies. I fell, and I fell hard. We started dating, I lost my virginity and we became inseparable. Fast forward a year and I was pregnant. Telling my mom was hard, but telling my dad, that was nearly impossible. After the shock wore off, my parents insisted we finish high school no matter what. They were there for us every step of the way and became an incredible support system. We had our daugher on may 19th 2001. Ms. Kayla Lynn was 6lbs 9ozs and so beautiful. I homeschooled the 1st half of my junior year of high school because I didn't want Kayla in daycare. Chad stayed in school but slowly realized he hated it and joined the navy to give us stability. He left for boot camp the summer of 2002 and I stayed at home to finish high school and raise our daughter.
That December Chad came home for 2 weeks and we got married. It was a small court house wedding but my parents were so supportive as was Chad's mom. I still had 5 months left in my senior year so I stayed in Colorado while Chad moved to Norfolk Virginia. I graduated that May and moved to Virginia in June 2003 with our daughter. I found out about Chad's second life after I moved to Virginia. The 5 months I spent there were a living nightmare. Chad had a girlfriend who thought I was his sister he helped out; no one knew anything about me and my daughter. I was heartbroken. Why would someone who is supposed to love you, who wants to spend the rest of their life with you, do this? It was awful. Chad attempted to kill himself by taking a lot of pills one night. I came home to find him unresponsive in our bed. 3 weeks in the ICU later he was formally discharged from the Navy and we were heading back to Colorado. Back to my parents home who had been so supportive. I felt like such a failure. We worked through everything that had happened between us. Something I should mention is Chad always said once we got married 'I will never give you a divorce, I don't believe in them. There's nothing we can't work through unless I die and if I do die Nathan is the only person allowed to raise my daughter.' He said this to me, my parents and his mom. What I didn't know was how serious he took that statement.
We moved back to Colorado in November, 2003. In February, 2004 I filed for divorce. I had enough of the lies, infidelity and his quick temper. I deserved better. I had a good job and could afford a place for me and my daughter. Chad came to one court date dressed in jeans and a button up shirt, bandanna around his head and a ball cap back wards. I stood there looking at him thinking 'is he serious right now?' The judge thanked him for coming. The judge offered Chad EVERY weekend with our daughter, Chad said no; every other weekend worked better for his social life. I stood there staring at a man I no longer knew. I had heard through our mutual group of friends he was doing drugs but to this day I still do not know that for sure. Chad also told the judge that day he did not believe in divorces and that he knows I'll change my mind. I left the court room that day and did not see him for 9 months. He never showed up at the court ordered pick up/drop off location. He never called. He had disappeared.
Fast forward to October 4, 2005 I was at my mom and dads picking up my now 4-year-old daughter. 'Sandra' was all he said once I said hello. My heart stopped, my stomach caught in my throat. All those feelings came back. There's a song by Blake Shelton and the one lyric in it says 'If this is Austin I still love you.' Chad's last name is Austin. All these emotions hit me at once. I stepped onto the back porch because I didn't want to lose it on him in front of our daughter. For 9 months he didn't show up to court. 9 months and he hasn't so much as called me. 9 months, he was off doing whatever the hell he wanted while I raised our daughter. I loved this man with all my being and he just walked away. I said 'Chad' and he laughed. He wasn't expecting me to answer my mom's phone. He listened as I yelled and told him exactly how I felt. Once I took a deep breath he asked if I would meet him for dinner the next night at 'our spot.' I agreed and hung up. Everyone told me I was an idiot. After-all he had not been around, avoided court and wasn't paying child support. I ignored them all; I needed to see him. I needed to know he was OK. That next night I drove to the restaurant with all kinds of emotions running through me. I pulled up but wasn't sure if he was there yet I didn't know what kind of car he was in. I walked in and immediately knew he was there; I could smell him. Ralph Lauren Polo Sport, the blue bottle and he always wore way too much! I told the lady I was meeting someone. She laughed and pointed to the corner booth.
He's right there. She was the same waitress since we were in high school and she knew we ate there together all the time. He turned his head and got out the booth. He hugged me, hard, and for a while. I cried for a while and he just stood there and held me. We didn't say anything for a good 5 minutes. This man had consumed my entire world for 4 years. He was my first true love. We ate dinner that night and talked about life. We had both started dating other people. And although we were both moving on, we had a divorce to talk about and a 4-year-old daughter to raise together. He promised to show up at the next court date and asked about seeing our daughter the following evening. He paid for dinner that night and walked me to my car. I told him I'd text him my address and I'd see him the next night. On October 5th he came by and spent the evening with Kayla and I. I made dinner, he helped Kayla with her preschool homework of tracing letters, gave her a bath, read her a book and tucked her into bed. Afterward we talked about meeting up soon at a park or something to just hang out. He borrowed my season 10 of 'Friends' DVD and he left. I made it a point to tell him to call me if he needed anything and to stay safe. On October 19th, 2005 I woke up to 3 missed calls and a new voicemail. I listened to the voicemail from Chad at 2:29 AM. He said he had a lot to drink and needed a ride and a place to crash, he needed me to come get him.
I had slept through his calls. I had told him to call me if he needed anything. But I didn't answer. When I tried calling him back, I kept getting his voicemail. I got my daughter to school and went to work. This entire time I was trying to get a hold of him but there was no answer. At 11:15 AM my life changed forever. 'Sandra, Chad has been in a car accident and you need to get home.' That was all my mother kept saying. I fought with her to give me the hospital information and I'd go to him. 'He's gone, he died.' I hit the floor at work. Not sure if my legs gave out, or shock, I think it was all of it to be honest. Chad died October 19th, 2005 at 3 AM. He decided to get behind the wheel and drive drunk. He was ejected and landed 379 feet from where his car stopped. He broke his neck. All the details I found out later on that day. A co-worker drove me to my mom's. I was 19 with a 4-year-old daughter and now I had to raise her on my own. I was madly in love with a man I could no longer touch, smell, or see. I wanted to be wrapped in his arms choking on the smell of his cologne. What the hell was I going to do now?
We buried Chad a few days later. My divorce was supposed to be finalized on November 10th, 2005. I went to court that morning with his death certificate hoping to get my maiden last name back. The judge on our case stated he would not grant my divorce since Chad died and if i wanted my maiden name back I would have to file for an adult name change. HE WON! Chad had won, he told me he would never divorce me and he damn sure kept his word. I gave up at that point. I am 33-years-old now and I still have his last name. I figured at that point if he could win while not being alive, I should throw in the towel. I'll be an Austin forever.
In the midst of my own 'pity party' and 'emotional breakdowns' one person never wavered. He was always there and stood by my side through it all. Chad's best friend, Nathan. Nathan was single, he had no kids and was living his best life when Chad died. Nathan dropped everything for Kayla and I. Over the next few months Nathan would pick Kayla up for ballet class, take her out to the mall to go shopping and came to her Christmas recital at pre school. He spent Halloween, thanksgiving and Christmas with us. Nathan became her 'dad' she called him uncle Nate from the time she could talk. A couple years went by after Chad's death and life started to settle down. Kayla was doing great in school, I was almost done with college and things were mellowing out for us. Nathan was still around although not as much anymore. We were good. Until one night I get a 2 AM phone call from Nathan. He is sick and tired of hiding all these feelings and I need to realize that him and I belong together. I was taken aback at first, this was someone I confided in, who I loved very much but on a friend level, nothing more. I wasn't sure I could be in another relationship; losing Chad was hard enough. If Nathan and I crossed that line I could also lose my best friend.
We had a good thing going, why ruin that? We crossed that line St. Patrick's day of 2007, one too many beers and a fun night. 11 years later we now have (Kayla included) 3 daughters and a son. I have learned in the almost 13 years since Chad died that you never truly get over someone's death, the pain is always there. You just learn to cope with it. For me I talk about him, I often wonder what our relationship would of been like. Would he be close to Kayla? Would he and I been able to co-parent? Would he and I still get along? Would he wear way to much cologne still? Would he still be so attractive with his jet black hair and dark brown eyes? If I sat around wondering about the what ifs though I'd miss out on everything right in front of me. Kayla is now 17, a senior in high school, the same high school her dad and I attended. A lot of her teachers were our teachers. They remember her dad and I and tell her stories about us. She plans on attending college at Savannah College of Art and Design in Savannah Georgia in August. She has grown up hearing all about her dad and has told me more then once she has never felt like she's missing a piece of her, that I've done a great job with keeping her dad's memory alive.
I just always assumed when our divorce was final we would walk out of court that November day and go have dinner at our spot. A big piece of me died that day, a piece of me will forever wonder 'what if' so I've decided that I'm not truly ready to be married again. At least not right now. Maybe one day, I'll never say never. Instead I've decided to live each day to the fullest. Nathan's completely fine with that choice. I'll always wonder, I'll always cry, this year especially with Kayla graduating high school I'm over emotional right now. I just hope he's proud of me. I hope he has seen my efforts in raising her to be the beautiful young lady she has become. I hope one day to see him again and just have a hug like before."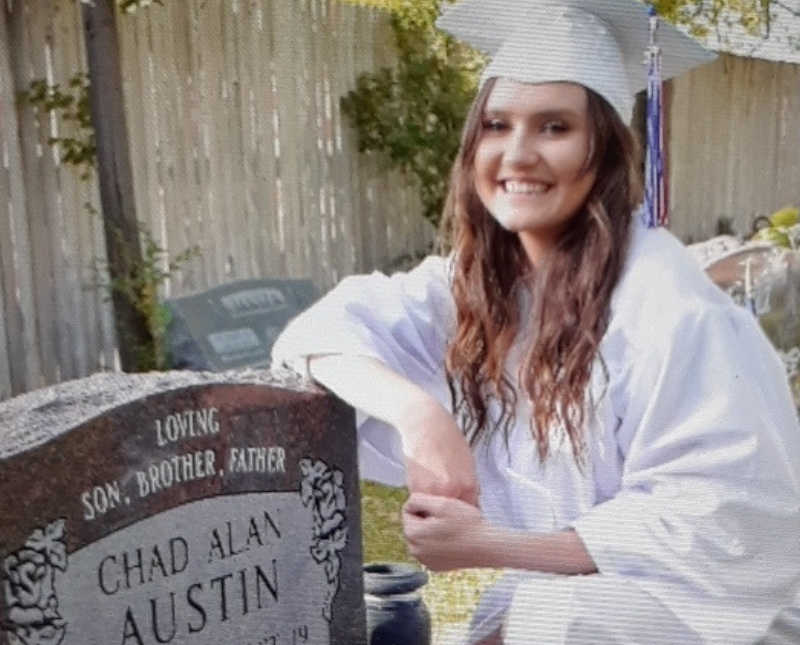 This is an exclusive story to Love What Matters. For permission to use, email Exclusive@LoveWhatMatters.com
This story was submitted to Love What Matters by Sandra Austin. Submit your story here. For our best stories, subscribe to our free email newsletter.
SHARE this story on Facebook or Twitter to help those struggling with grief and loss.