The Start Of Contractions
"Tomorrow will be a month since Wesley was born. It will also mark a month since one of the worst days of my life. It breaks my heart that the two are tied together. I hope to tell this story as a way to process things so that I can move forward without the cloud of trauma.
I was scheduled to be induced on Tuesday, August 9th. However, the day before, I went into labor and delivery triage at 5:00 a.m. because I was having regular contractions. At this point, I was told I was 3cm dilated and 50% effaced. I was monitored for 20 minutes and then sent home.
I went home and labored through contractions all day. By 5 p.m. the pain of the contractions got intense and was now every 2-5 minutes. My partner Jeremy and I decided to return to the hospital and when I checked into the labor and delivery triage desk around 5:30 p.m., I was told by the person checking me in there would be a wait. I was called back around 5:45 p.m. and told them the pain of my contractions was very intense and continuing to increase in severity.
At this point, I was taken to a c-section recovery room because they stated that the triage rooms were full. I was checked by a doctor and she told me I was 3cm dilated and 75% effaced. I reiterated to her I was in a ton of pain and still having regular contractions.
The doctor  offered me Tylenol or a muscle relaxer. There was no talk of getting an IV or an epidural because they wouldn't admit me. This was the last time I was checked in by a doctor.
Hospital Malpractice
A nurse set me up on the NST machine and came back with the muscle relaxer around 6:15 p.m. I told her again how much pain I was in. Jeremy had a lengthy discussion with her about our concern that my labor goes very quickly once I get into active labor (which happened in both of my previous pregnancies). While he was talking with her, I had a very intense contraction, and I told her it was so bad that I couldn't feel my legs.
I asked the nurse at this point what the plan was. She told me usually at 3cm 'we send people home walking.' In response to this, I told her I could not go home and do this for the next 10 hours.
I reminded them again we were planning to be induced in 10 hours and asked if we could start that process now rather than send me home in pain. She told me she would 'relay that to the doctor.'
The next time I saw the nurse I told her I couldn't handle the pain anymore and was sweating a lot due to how extreme it was. At this point, she stated she could bring me ice packs. She came back, brought me 2 ice packs, and that was the last time I saw that nurse. I continued to be in extreme pain, sweating and crying through each contraction, which were now 2 minutes apart.
Just before 7:00 p.m., I pressed the call button and a voice on the speaker said, 'What do you need?' I stated I needed a doctor or nurse due to continued pain. At this point, a nurse came and asked bluntly, 'What do you need?'
She never came fully into my curtained space, she just stood with the curtain open. I asked through tears and pain again for a doctor or nurse due to ongoing intense pain. She came back shortly and said she notified a doctor but that it would be a while, as they were on a shift change.
Delivering My Baby Alone
I'm not one to cause a scene or seek attention (especially in a public setting), but at this point, the pain was so intense I was screaming and begging for help during every contraction. Every two minutes I screamed, 'Why is no one helping me?' 'Please someone help me!' I called out for help, and still, no nurse or doctor ever came to check on me.
As the pain intensified and I continued to receive no help, I started to feel helpless and panicked. With every contraction, I remained alone without the guidance of a professional. At 7:14 p.m. my pain was unbearable and I begged Jeremy to try and get help.
While he was gone, the pain intensified and suddenly I felt the need to push. I realized I was about to have the baby. The pain was so bad that I dissociated and don't clearly remember the next few minutes.
By the time Jeremy came back with help, I had delivered the baby by myself with no one else in the room. All alone.
Jeremy walked in and saw Wesley's head and shoulders already delivered on the table. The doctor and nurses he brought with him picked him up off the table and his legs were delivered. They marked his time of birth as 7:18 p.m.
I was crying and panicked and I asked repeatedly, 'Why did this just happen? How did this just happen?' I stated through tears that I was scared.
The nurse asked why I was scared. I cried as I told her that I was all alone, and I didn't even know if my baby was okay. She reassured me the baby was fine, and they handed him to me.
I barely remember holding him. At that moment I didn't feel like a mom at all. I just felt shock and terror. So many things could have gone wrong delivering with no IV and no supervision, but somehow, we were both physically fine.
Recovering From Traumatic Child Birth
For the next 24 hours, I felt a continued sense of extreme shock, anger, and grief. I struggled to even look at Wesley as he was a reminder of the trauma I'd just experienced, which furthered my sense of guilt. I did my best to do the things I was supposed to, like take newborn pictures and share them. I chose the picture to share with this story because I thought I had done a good job of faking it that day.
It wasn't until I compared this picture with others that I could see the difference in actual joy on my face, and me trying my best to muster a smile. The truth was that the joy of childbirth, the excitement to share his arrival with friends and family, was clouded by my overwhelming sense of shock and sadness.
In my own experience, my husband was robbed of being in the room when his son was born. These are things I can never get back and I continue to grieve this loss.
For the last month, I have struggled with anxiety, depression, panic attacks, and continued feelings of grief and guilt. I replay that day over and over wondering what I could have done differently.
How could I have spoken up for myself better? I wish I could go back in time to redo that day. I've started EMDR therapy to try and help me process this. While this isn't what I pictured would be the focus of my maternity leave, I know that it is important.
Advocate For Your Health
I need to get better so I can be the best mom for my kids and meet my ultimate goal, of being able to celebrate Wesley's birthdays with joy and appreciation. I can't express enough the gratitude that I have for everyone who has checked on me, come by to make sure I was okay, stayed with me, brought me meals, or even just sent texts of encouragement. You all have kept me going and I am forever grateful.
It is so important for you to speak up for yourself when trying to get medical care. There might be people that won't believe you or take you seriously, but ultimately you are the expert on your body. If you aren't happy with the care you are getting, speak up and continue to advocate for yourself.
Having a baby comes with a ton of emotions and can be very hard. This can be even harder when recovering from a traumatic delivery. Being honest about your feelings and hardships is super important and if you need help, get it. It is okay to not be okay and as a therapist myself, I believe in seeking professional help when you need it.
Taking the time to recover mentally is just as important as recovering physically and it can take just as much time and effort. Part of being the best mom you can be means taking care of yourself and making sure you are the best version of yourself. If that means going to therapy, asking for help, or sharing your story, do it."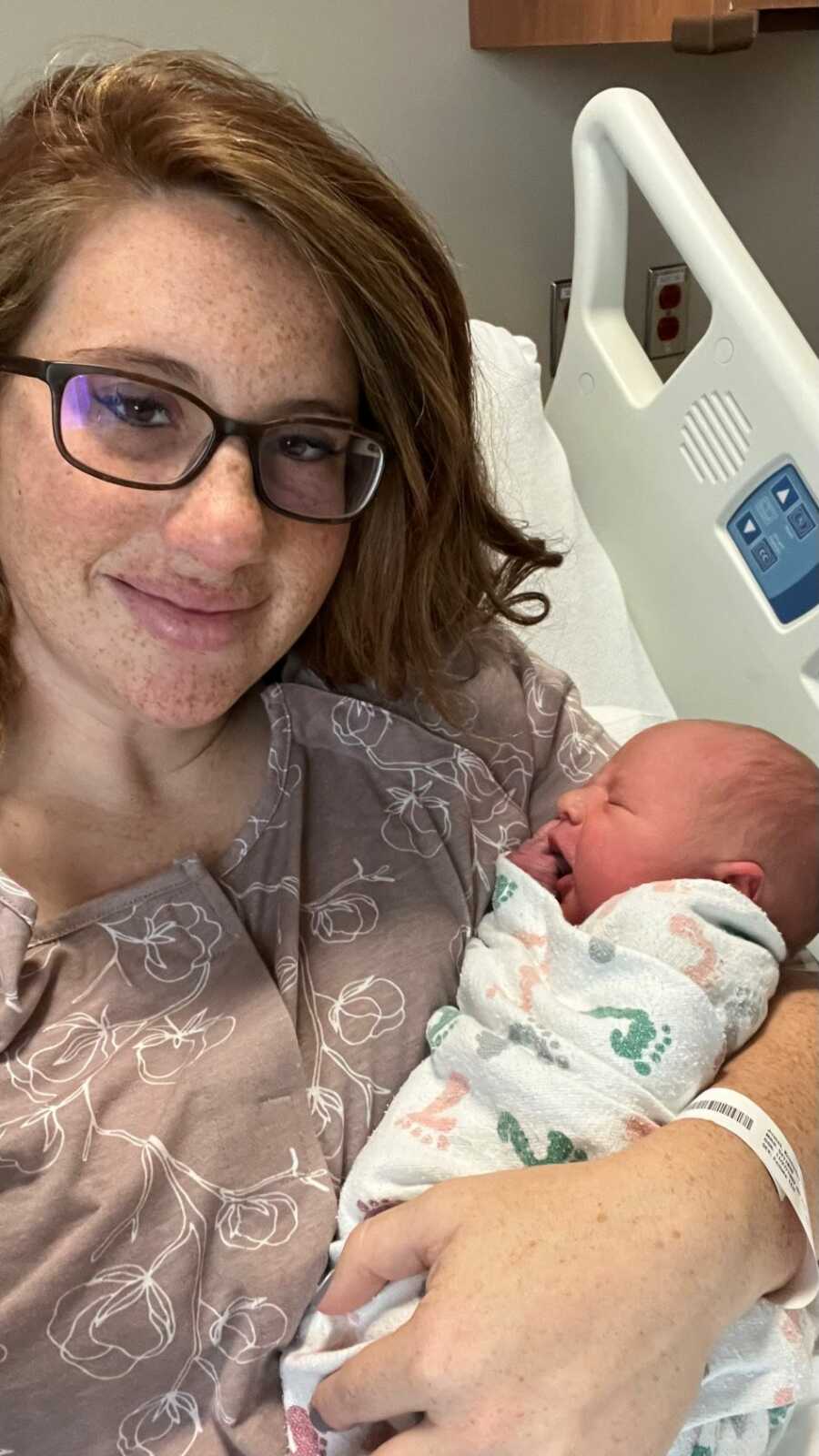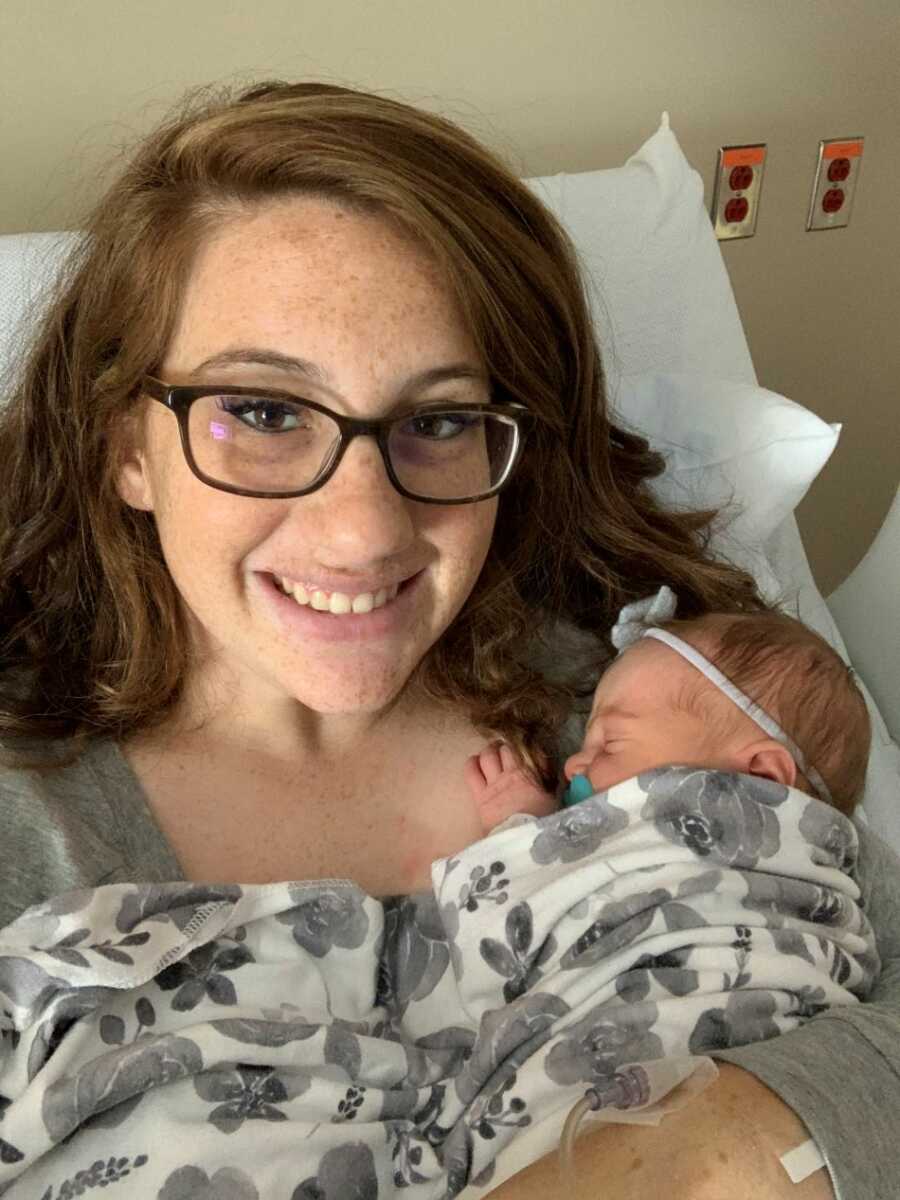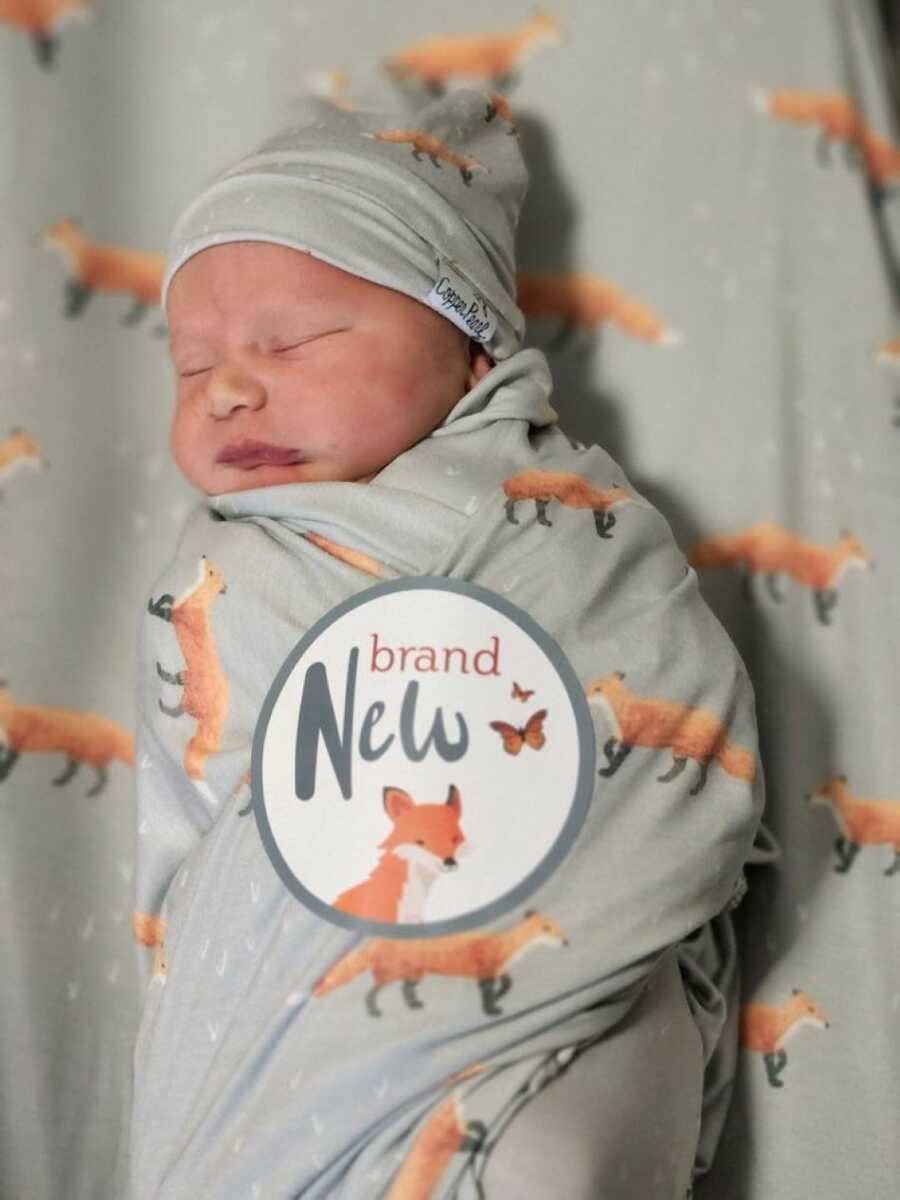 This article was submitted to Love What Matters by Kimberley Jirasek. Join the Love What Matters family and subscribe to our newsletter.
Read more stories like this:
'She and baby aren't doing well. The baby needs to come NOW.' I tried to frantically call him. He was completely unaware.'
'He may leave the hospital with a baby, but not his wife. He needed to prepare himself.': Woman survives traumatic birth after HELLP Syndrome diagnosis
Provide beauty and strength for others. SHARE this story on Facebook with your friends and family.