"'What if you marry a boy or girl? Then you will want to move out of mommy's house!' is something I say to my five-year-old son often. I always get comments, looks, and shocked eyes when I say that.
The fact that I give him a choice, instead of just assuming he is going to grow up and marry a woman, is shocking to many people. But it shouldn't be.
I spent many hours watching 'coming out' videos on YouTube and Facebook. You name it, I've probably watched it, a few years back. And I noticed something similar in most of the videos.
These teens/adults were terrified.
Terrified to tell their parents they were in love, with the same gender as them. All I could think watching these were, 'Wow, I really hope my children never feel fear telling me anything. Especially when it's about someone they love..'
So when my kids were around 4, I would say the usual, 'Mommy wants you to live with me forever.' And my children would always say, 'I'm never moving out I love you!' And to which I would say back to my son, 'What if you find an amazing girl to marry? Then I'm sure you won't be sad about moving out!'
I thought about what I had said for a minute.
Why had I assumed he would grow up to marry women?
Is this slowly making him believe he can only grow up to love a girl?
Am I slowly making him scared to tell me about the possibility that he will grow up to love a man?
So I changed the way I worded things.
It was small at first, but now I always give him options. Same with my daughter.
I started asking, 'What if you marry an amazing woman or man when you grow up?'
I started saying, 'I can't wait to see who you grow up to be, and what girl or boy you bring home to meet mommy.'
Like I said, I always get shocked looks when I say that, but I think it's a very important thing to bring up to them when my children are young. While they are learning. While they are slowly understanding what is 'right' and what is 'wrong.'
I want my children to know I will always love them, and that I will always support them, no matter who they love.
I know it's a small thing, but you never know what makes a big impact on your young children.
I will forever tell my son, 'I can't wait to meet the boy or girl, or whoever, you fall in love with.'
Because I will love my son no matter what, and I never want him to be scared to tell me anything.
Start young.
Start now.
Start normalizing that it's okay to love whoever you want."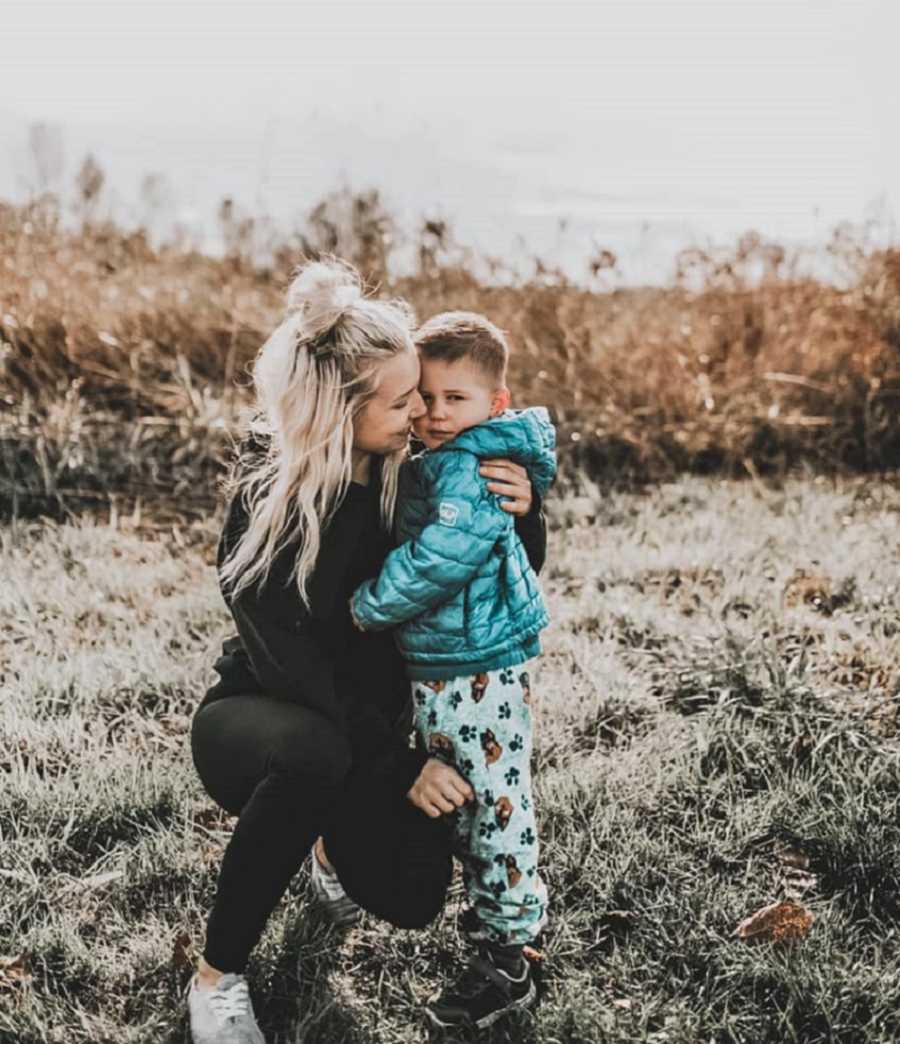 This story was submitted to Love What Matters by Caitlin Fladager, and originally appeared here. You can follow her journey on Facebook and Instagram. Submit your own story here, and be sure to subscribe to our free email newsletter for our best stories.
Read more from Caitlin:
'At 22, I had two kids and still couldn't drive. Every time a car got behind me, I had to pull over and cry.': Woman battling anxiety says 'don't let anyone make you feel less for not driving'
'I'm the backpack of the family. I carry all of your things. Put it all on me. Physically, and mentally.': Mom pens sweet letter to children, 'I love being your safe space'
'Yes, I have 2 kids. Yes, I smoke weed daily. Weed makes me a better mom.': Mom says marijuana has helped her anxiety, 'weed is my glass of wine'
Do you know someone who could benefit from reading this? SHARE this story on Facebook with family and friends.