Always Wanting To Adopt
"There is a huge problem in the world as there are millions of orphaned and vulnerable children. Sharing adoption stories gives encouragement, answers, and support. During my journey to motherhood, I learned so much from others so now it is my pleasure to share my own story. The more we share means more children all over the world will have a family. 
My name is Cheryl Nankoo, and I was born and raised in the UK by my Mauritian parents. I'm an NLP Trainer and Coach and I work in a strategic sales role for a global consultancy. NLP is a process of discovering the structure of the thinking and abilities we have in order to reproduce the results we want with consistency. My passion is simply to make a lasting difference in the world, and I do this by coaching others to discover their greatness, their ability to love and lead with compassion. 
I can clearly remember the first time I thought of adoption. I was watching Bob Geldof's Live Aid, a global charity concert organized to raise money to support the famine in Ethiopia and Sudan in 1985. After seeing so many children suffering, I thought one day I would want to adopt an African child. Little did I know way back then at the age of 9, I was manifesting what I have now.   
Like most Brits, I hated the wet and cold UK weather. I used to close my eyes, imagine the feeling of warmth on my skin and picture myself living in a warm country. In 2015, this dream came true, and I was offered a work opportunity in the UAE. When I arrived in Dubai, I decided it was time to act toward achieving more of my dreams. I bought a small notebook and wrote down 3 goals: buy another property, progress to an NLP Trainer, and adopt a child. There is something about writing down your goals that makes you more accountable and I started taking small steps toward each of them. 
I love traveling and experiencing new places. I believe in respecting different cultures as there is so much to learn from the diversity of people in our world. During my travels I fell in love with India's spirituality, its gorgeous sunsets, and tropical beauty, so I decided to complete my NLP Trainers Training there.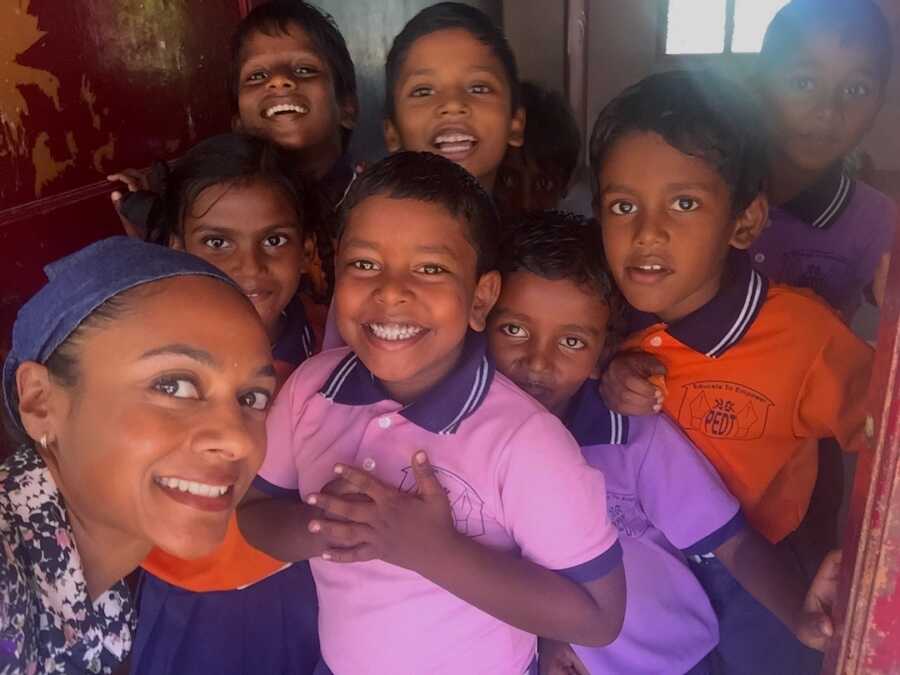 My India adventures lead me to a challenging volunteer project at a school and orphanage in a remote village with no running water or electricity. It was one of the most harrowing yet rewarding experiences of my life. One morning I screamed the place down when I woke up with a dead bat next to my head. And one evening, I had insects stick to my sweaty skin during a black out.
The moments that were tough on me made the children laugh, and it's their laughter that motivated me to stay. The experience taught me I really wanted to make a lasting difference, I wanted to stay involved with children, and I wanted to be a mother. I started exploring how to adopt as a single mom while being a resident in Dubai. I faced so many hurdles, but I refused to give up on my dream.
In February 2018, it was music to my ears when a guy I met on a dating site raised the topic of adoption during our first date. We shared the same values around parenthood being about love and not DNA. I fell in love with Simon, who was from Canada, and married later that year on a white sandy beach in the pouring rain in Seychelles. We now have two beautiful children, but the journey to parenthood has been a huge roller coaster of highs and lows.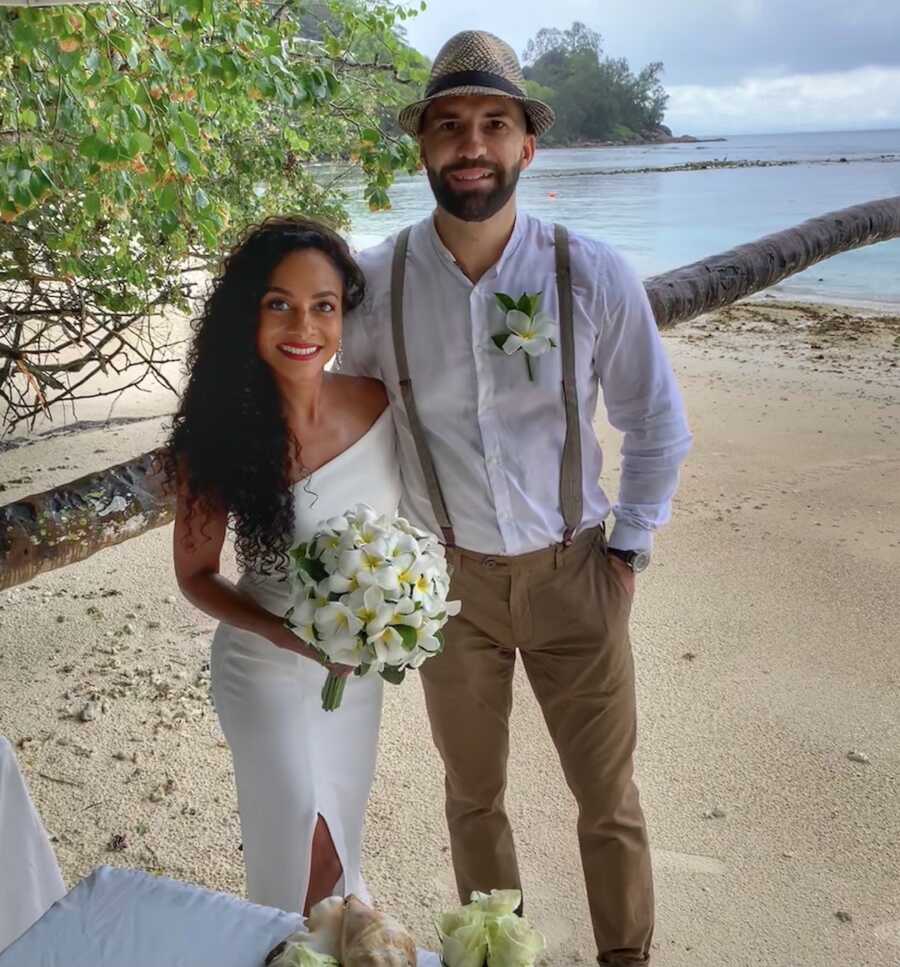 Adopting During The Pandemic
We invested a lot of time and energy into the adoption process which we started early in 2020, just as the pandemic hit. The first step was an assessment and some training with a clinical psychologist, followed by writing a home study report. The adoption training included topics such as trauma, interracial adoption, positive adoption language, bonding, and preparing for a child.
The Home Study asked a zillion questions about us including our intentions, our history, our aspirations, and our views on parenting. Everything needed to be backed up with legal documents, so unless you're super organized and know where to find your papers, it can be stressful.
We chose to adopt from Sierra Leone as we'd met someone living in Dubai who could walk us through the process. With over 153 million orphans in the world, the place of adoption wasn't important to us. All that mattered was giving a safe and loving home to a child and becoming parents. 
We were matched with a little boy named Alpha, aged 2.5 years old, who had been living in an orphanage since his birth. The law in Sierra Leone states a child needs to be fostered for a period of 6 months before adoption. We soon became foster parents to Alpha, but unfortunately, due to the pandemic, we were unable to be in Sierra Leone with him. We received regular photos and videos, but it seemed like the longest 6 months ever!
However, we were soon up against the clock as there was one important document we were struggling to get from Simon's side that was needed prior to adoption. As soon as flights opened, fully protected with visors, sanitizers, face masks, and gloves, we flew to Canada to try and find the document.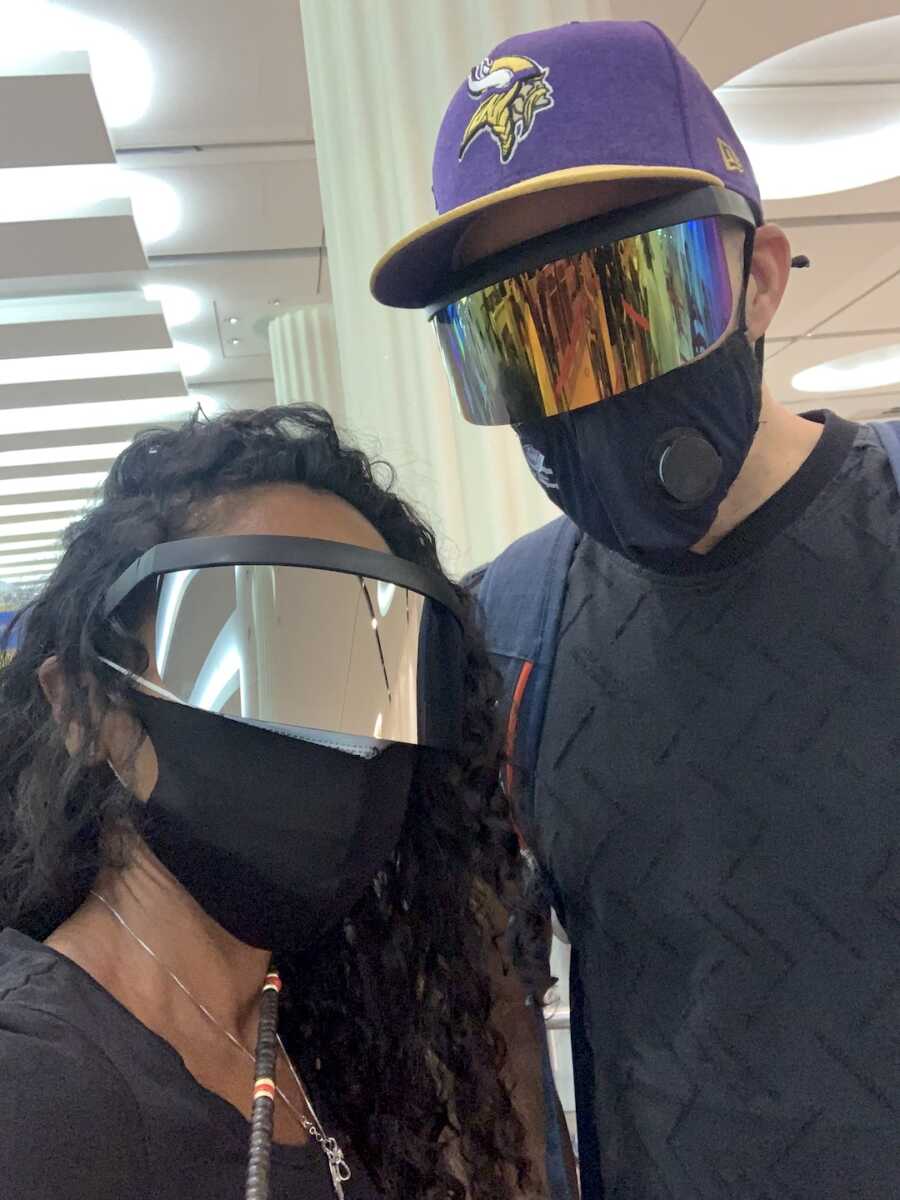 Finally, the wait was over, and we had a virtual court hearing to become parents. It was surreal to become parents to a little boy whom we had never met, yet throughout the whole process we had bonded and loved him very much. We had so much curiosity about meeting this little human that was our son and had lots of thoughts on how our relationship would be. We just couldn't wait to meet him and looked forward to getting to know him, understanding his character, discovering his likes and dislikes, and most importantly uncovering what he was going to teach us. 
Traveling To Meet Our Son
Preparing for our trip to Sierra Leone was both exciting and stressful. Wondering about the culture and making lists for everything so we were well prepared. Most of our luggage was gifts for the children, as well as maternity clothes and medication for a pregnant woman we came to know about who was staying at the orphanage.
Traveling to Sierra Leone during the pandemic wasn't easy. The journey took around 24 hours with 3 flights across 3 African countries and then a boat. Throughout the journey we kept imagining what it would be like meeting Alpha for the first time. We kept playing it over and over in our minds, but nothing could prepare us for how it really was. The first meeting was so overwhelming, there was so much excitement mixed with anxiety. Here is what I wrote about the day we met: 
September 28, 2020, the best day of my life so far – it was the day I met my son for the first time in Sierra Leone. I walked into the courtyard where all the children were, and I spotted Alpha right away. I crouched down low to be the same height as him and said hello to all the children. Alpha slowly walked toward me and gave me a kiss on the cheek and didn't leave me from that moment. He was a lot smaller than I'd imagined and so handsome. The nanny brought me a chair to sit on and he sat on my lap quietly looking at me, holding my hair and the chain around my neck. I felt like he knew we were going to be together forever; his energy was just so calm and warm. I thought I'd be the one putting him at ease but no, it was the other way around.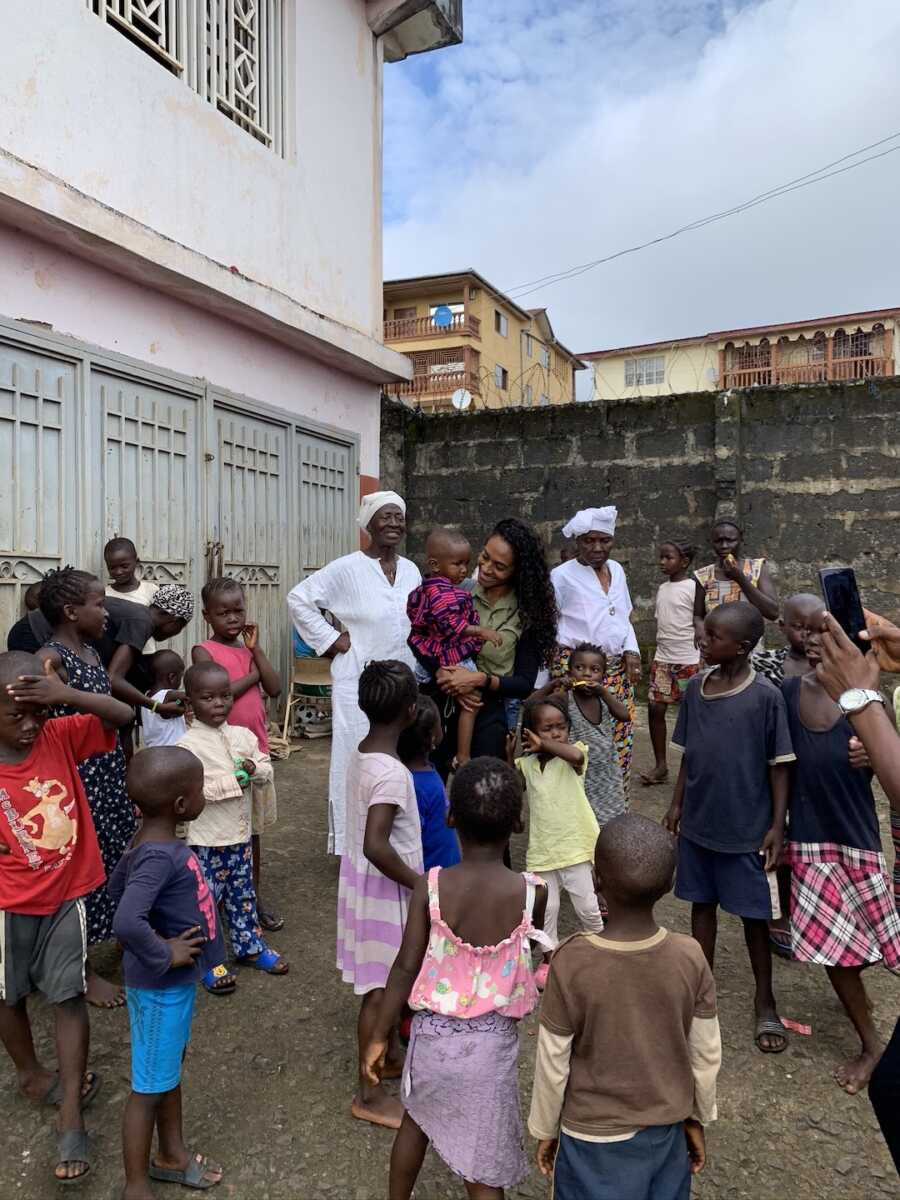 Due to the pandemic and our concern around flights being canceled, we didn't spend too much time in Sierra Leone. We decided we would come back after the pandemic as our international now included a 3rd homeland we wanted to get to know.
Adoption wasn't a part of our regional HR policy. As I was the first employee to have adopted in the region, I discussed this with our local and global HR teams; they then worked hard to get the policy changed to align with maternity leave in the Gulf. Just like with a biological child, it's critical for a child that's adopted to have a lot of attention and care from their mother upon arrival. The time spent with Alpha during this period was valuable for our bonding. 
Adopting A Baby Girl
On January 27, 2021, we were informed the pregnant woman we met at the orphanage had given birth to a baby girl. With so many children and few staff, the orphanage wasn't the ideal place for a newborn, so we supported her to be in a safe place with a nanny. Soon after, we learned the mother wanted to relinquish her baby, and we were asked if we wanted to adopt her.
We always knew we wanted to adopt more children, but we never imagined it would be this soon. Alpha was sure he wanted a baby sister, so it was difficult to say no to loving this baby girl. In our minds she wouldn't be home until at least September due to the lengthy process we were now familiar with, so we decided to move ahead.
Early March we became foster parents again and named the little girl Aliyah Madeleine. As we were still in the pandemic, we were exempt from having to be in the country, but as flights were open, we decided we would visit as much as we could over the 6-month period. Simon was the first to go; he left on the 27th of April with just a backpack, expecting to be back 5 days later. Little did we know that some of the most challenging days of our lives were ahead of us.
Fighting Through Health Issues
Shortly after Simon arrived in Sierra Leone, Aliyah became critically ill, and he refused to leave her side until she was out of danger. I can only describe the weeks that followed as feeling like I was living in a movie. Doctors said, 'It's normal, babies like Aliyah die,' but we refused to accept this.
I remember one night, I had just put Alpha to bed, closed his bedroom door, and broke down in tears. I felt so helpless, but I wanted to do all I possibly could to save our daughter. I called every single person I knew with connections in Sierra Leone and managed to find a pediatric who was willing to take on her case. Aliyah had a very stormy course and on the 4th of May, I traveled to Sierra Leone with Alpha, praying I would arrive on time to see our baby girl. 
Upon arrival, I left Alpha with his dad and went directly to the ICU. Aliyah looked so tiny on the huge hospital bed, wearing an oxygen mask with machines connected to her. I sat beside her and just sang, 'This little light of mine, I'm gonna let it shine,' the same song I used to sing to Alpha when we first met. I wanted her to hear me and to feel my love.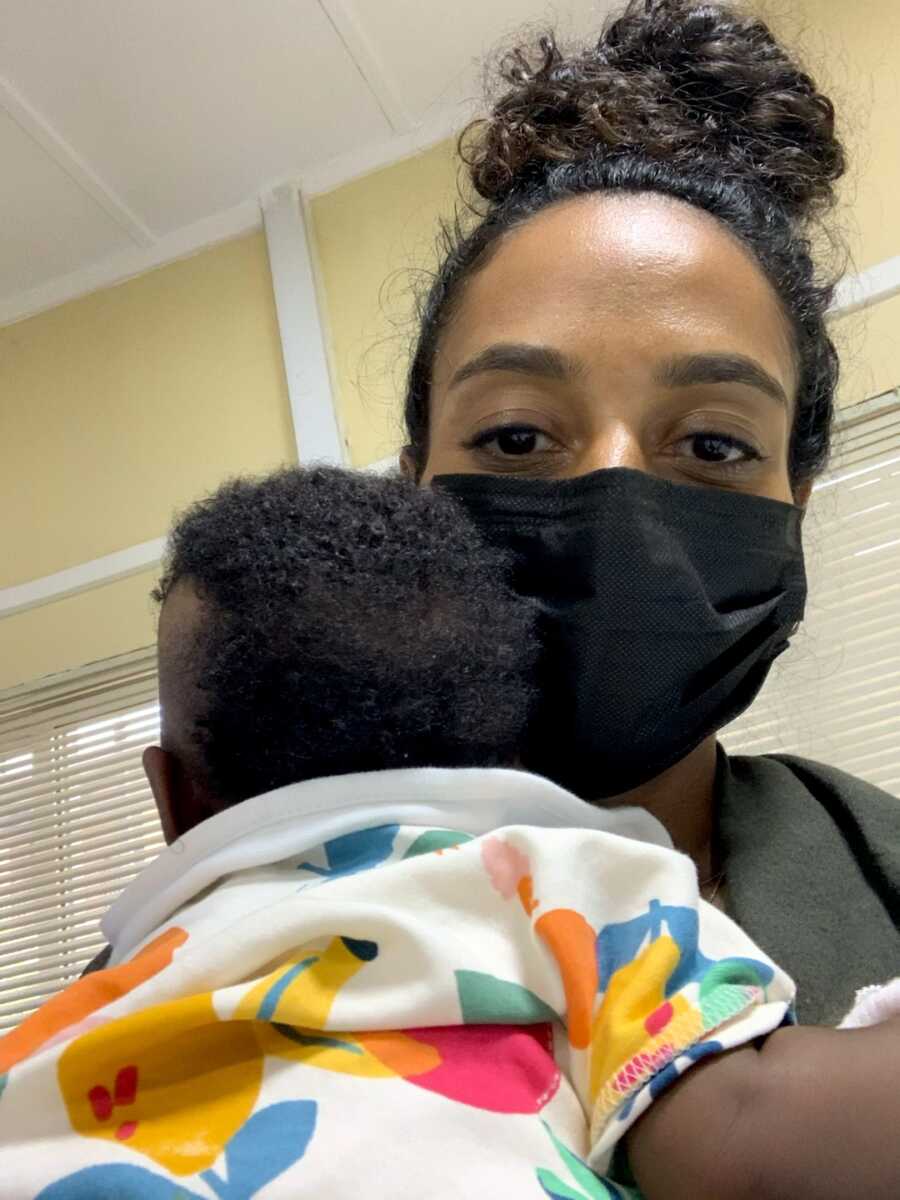 Every day there were just two 1-hour slots when we could see Aliyah and we would take it in turns to visit her as Alpha wasn't allowed in. Each day I'd just sing to her, talk to her, and pray she could feel our love. Day by day, small improvements came. I will never forget the day when I went into the ICU and the nurses said I could hold her. I was so scared because she was so fragile and tiny, but the moment was magical. I just loved her so much. 
It really was a miracle that Aliyah was discharged from the ICU 7 days after my arrival. It was only on this day that Alpha was able to meet his baby sister for the first time. He was so loving toward her, and it truly was a very memorable and precious moment.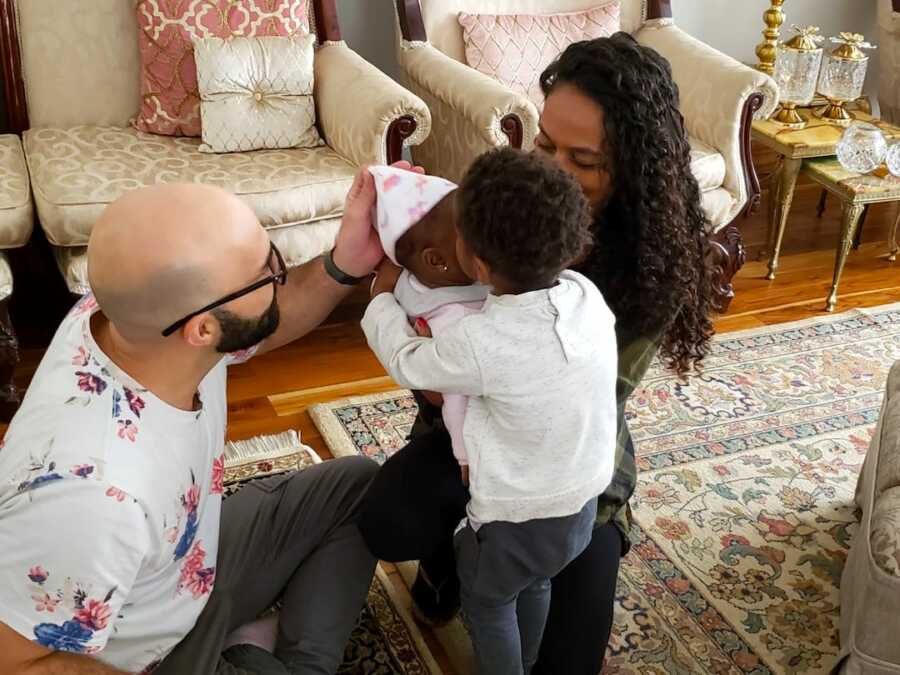 Finalizing Our Daughter's Adoption
The months that followed were a huge strain on our family as we were separated. I went back to work in Dubai with Alpha. Simon, who runs his own business and could work remotely, stayed living in a hotel with Aliyah until we could complete the adoption process.
The upside to the situation is that we got to spend a lot of time in our children's home country, which we believe to be so important. It gave us the opportunity to bond with our daughter's birth mother, make friends with some beautiful souls, understand the culture, discover some hidden gems, sample lots of the fragrant and spicy cuisine, and attend some soulful church services.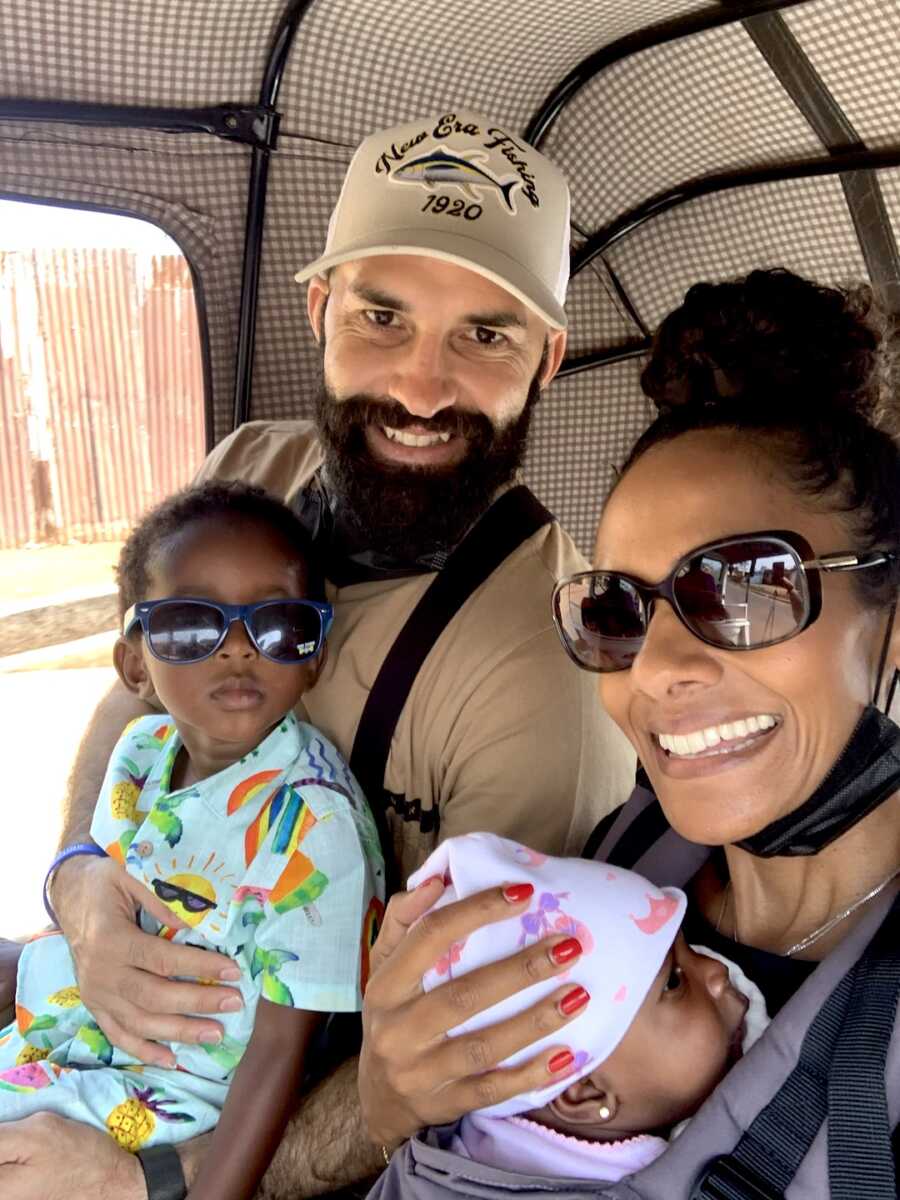 Almost 4 months had passed when Aliyah finally got her passport to travel, and you can imagine our disappointment when, on the same day, we heard that flights between Sierra Leone and the UAE had been restricted! Fortunately, we found a way that Simon and Aliyah could travel via Kenya, stay with our family friends for 2 weeks, and then travel to Dubai.
We couldn't wait to be reunited as a family, so without hesitation, I planned a surprise trip to Kenya with Alpha for us all to be reunited. The reunion moment was emotional. Watching Alpha hug his dad, kiss his sister, his smile and Simon's smile, melted my heart. There were tears and there was so much joy.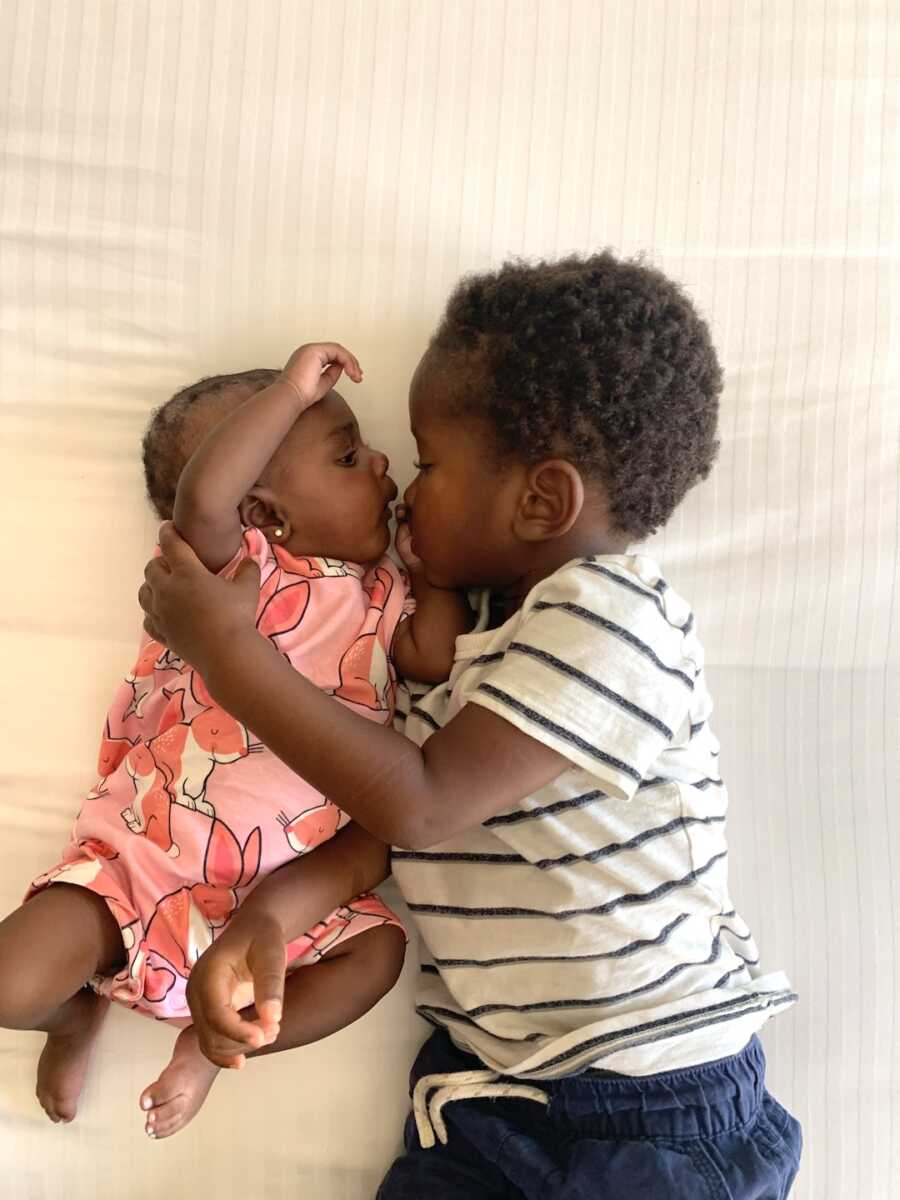 Life As An International Family
Once home safe as a family of 4 in Dubai, I had a feeling of contentment knowing we had been on the toughest journey of our lives, and it was all worth it! There were many challenges. It was through the power of faith and love that we got through it. 
Alpha is now 4.5 years old, Aliyah is 20 months, and they are the best siblings. Our home is full of laughter and nonstop giggles as the kids have so much joy. We love family adventures, reading books, dancing, and just hanging out together.
As an international family, we embrace all our cultures. You will see Sierra Leonean jollof rice, Canadian poutine, and Mauritian curries on our weekly menu. Afrobeats, Mauritian Sega, and mainstream music on our playlists. We all wear bright African clothes on special occasions, and I've also learned how to take care of afro hair.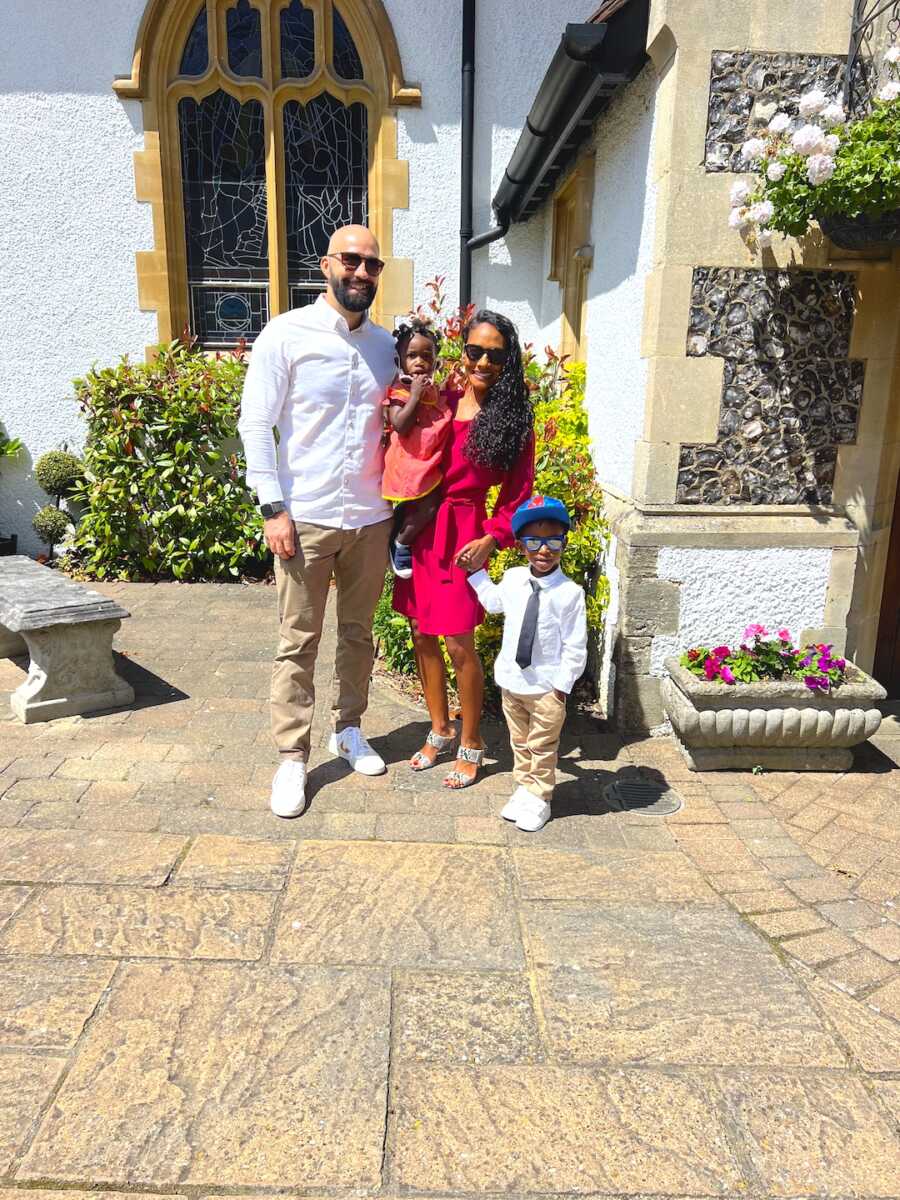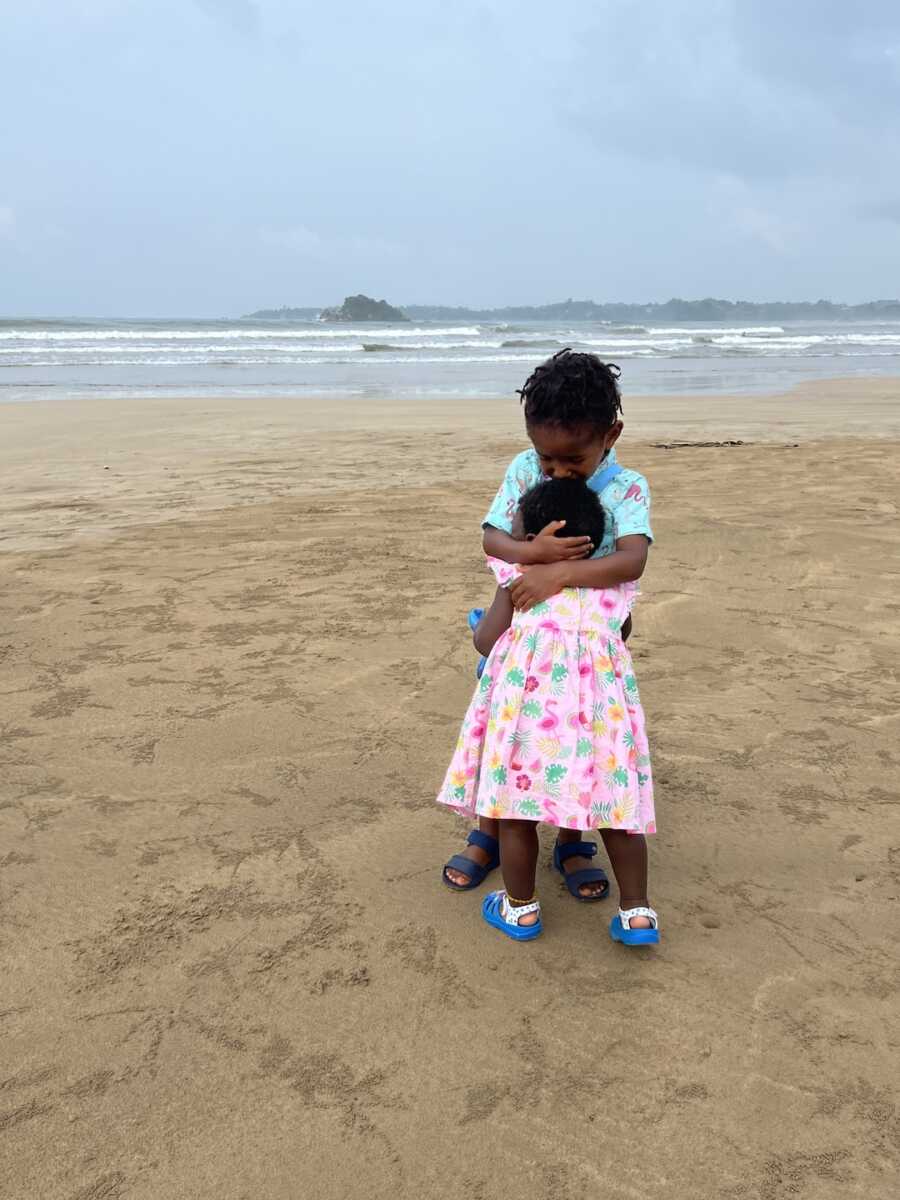 If you choose to adopt a child from another culture, learning about transracial adoption is so important. I have read many stories from transracial adoptees who felt robbed from their heritage, so we ensure our children stay connected to their roots. We are so fortunate to have an amazing community in Dubai of other families who have adopted children from Sierra Leone, which is another important factor for our children as they see families that are just like ours. 
Whilst our story may read beautifully, it doesn't end there. We need to remember adoption comes from brokenness. A child getting a safe family is one of the most powerful images we can imagine. But no matter how we view it, a child needing to be adopted means a family is broken. This brokenness may result in trauma for our children, and as parents we are committing to guiding our children on their journey of healing. This is so important to remember for anyone that's considering adoption as a route to parenthood."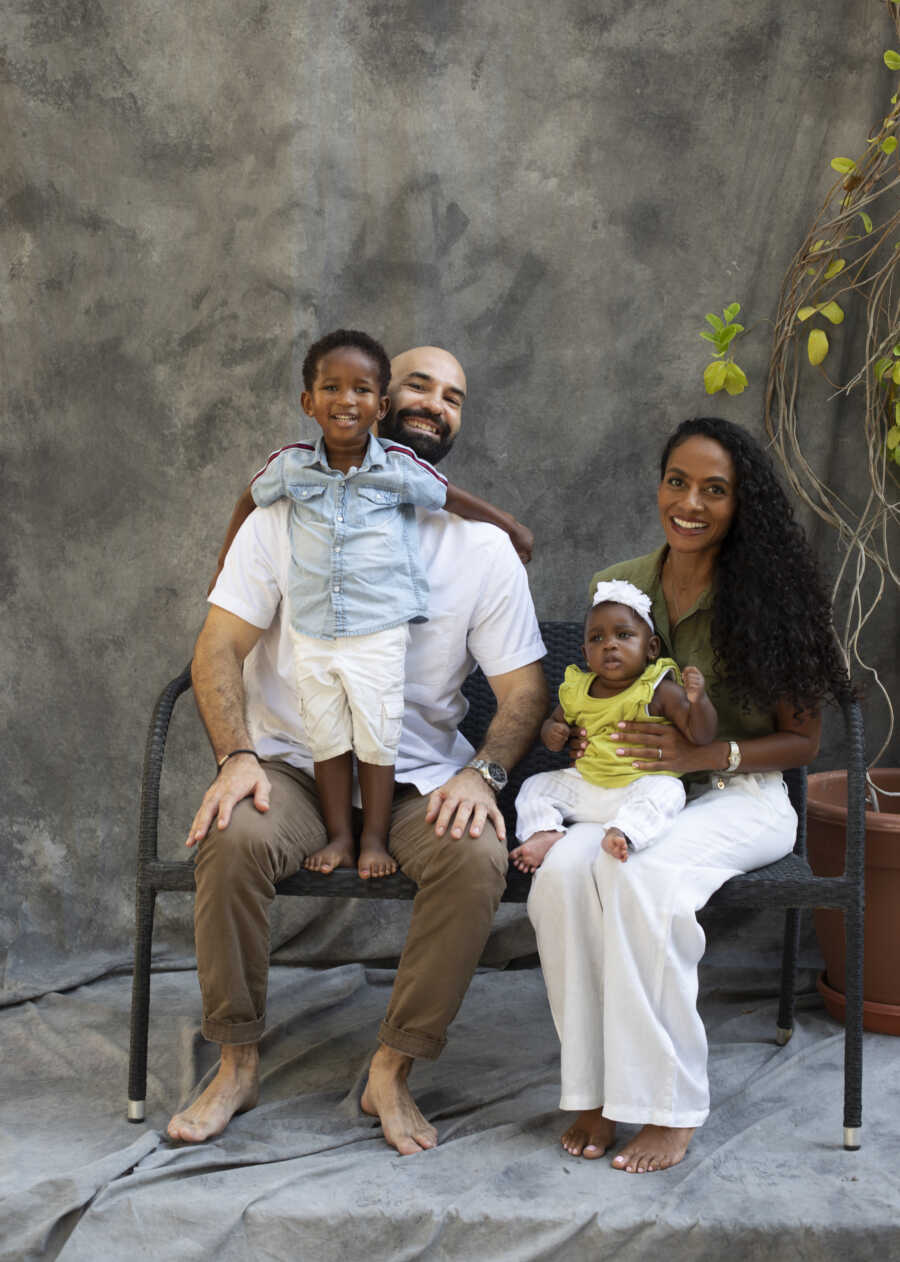 This article was submitted to Love What Matters by Cheryl Nankoo of Dubai, UAE. You can follow her on Instagram and her website. Join the Love What Matters family and subscribe to out newsletter.
Read more stories like this: 
'6 years old, she showed up at my house in the pouring rain and blurted out, 'They said they don't want me anymore. You can have me.': Mom of 6 shares emotional adoption journey
'We landed back in Nashville, Tennessee as a family of 6. Two adoptions, two very different faith-building experiences.': Mom shares growing family through international adoptions
SHARE this story on Facebook to support other adoptive families.