An elderly Australian gentleman, who is partially deaf and almost fully blind, was able to relive some of his favorite memories thanks to the kindness of a stranger, now a new friend!
Lauren Jans met the 91-year-old Jack Connell while getting a pedicure at the nail salon. His neighbors, also in their 90's, had brought him in to have his nails clipped. Gently guiding Jack to the chair next to Lauren, she happily offered to take care of him while they went off to do some shopping.
"Being his first time in a nail salon, he was understandably a little embarrassed," recalls Jans. But they got to talking and the discomfort quickly faded away. Lauren's husband is a trucker, as was Jack, and they connected over his love for the profession and the many memories he had in his big rig.
"He told me stories of his first truck, of carting cattle and hay, driving a tanker, and of his travels in the truck with his now departed wife," said Lauren. "His favorite memory was of them camping in the truck."
"I can't really explain what drew me to Jack," Lauren tells Love What Matters. "It was like I'd met an old friend. Like we had known each other for a long time and were just catching up. He is so easy going, so easy to talk to, so easy to share a laugh with."
As Lauren went to leave, she said her goodbyes and thanked Jack for the chat. At the counter, she decided to not only pay for her treatment, but his too. Planning to get away before he noticed, she was instead caught in her act of kindness, as the lady serving her ran right over to inform Jack of the thoughtful gesture.
"With tears in his eyes, he asked me to come back over," Lauren shares. "He tried reaching for his wallet. He told me I couldn't possibly pay for him, to which my response was, 'Yes I can, Jack. I already have!' All I asked from Jack was a hug. Which he gladly gave, with a kiss on the cheek."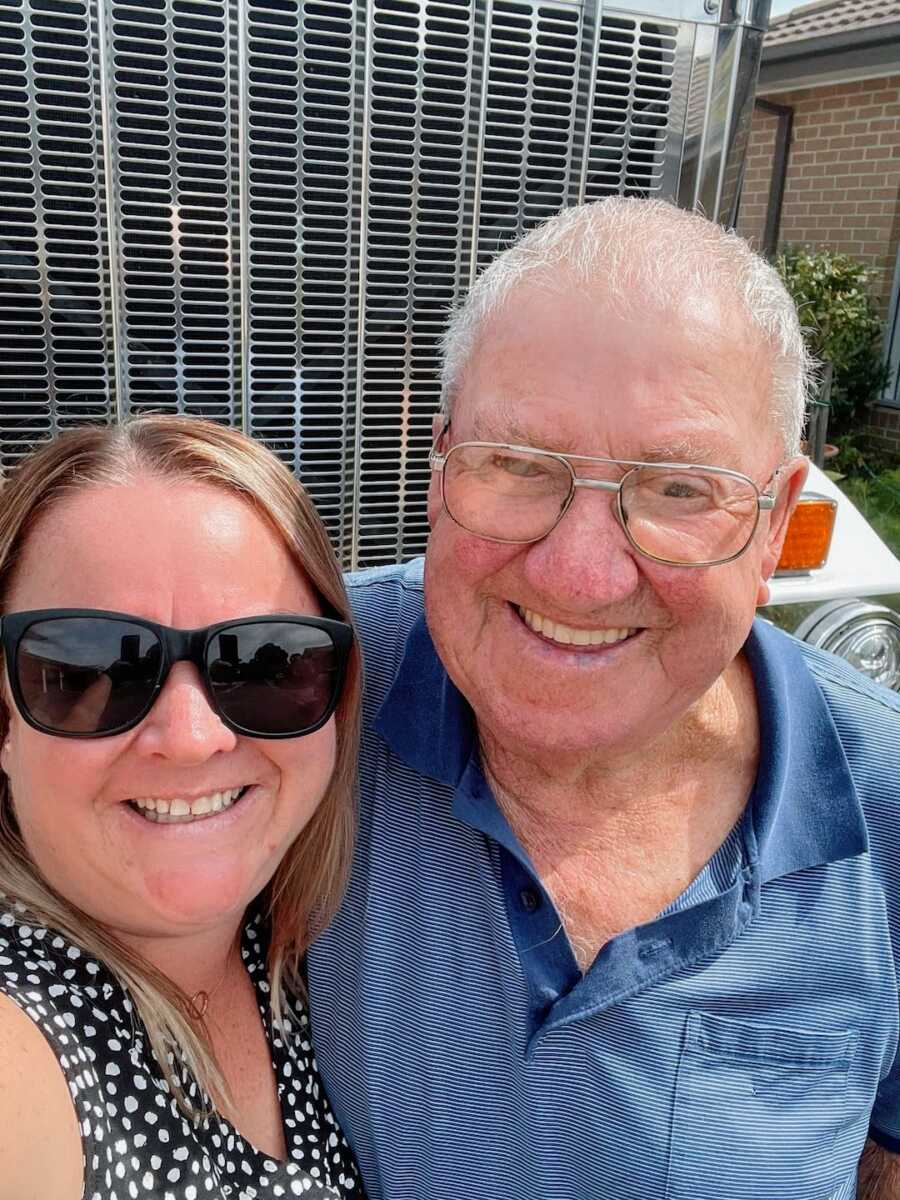 The serving lady, now with tears in her eyes, joined Jack in expressing their admiration for Lauren and her kindness. But Jans felt she was the one who had been blessed that day. "It was just someone showing a gentleman a little kindness, and his impact was greater on me than I'm sure mine was on him."
"Jack is an awesome person," Lauren tells Love What Matters. "People knowing about him and his impact on those around him can only be a good thing."
Lauren took to Facebook shortly after their visit to do just that. She shared that despite the conversation being less than 30 minutes, it had such an impact on the rest of her day. Jans was unable to stop thinking about her chat with the old trucker. She added that her grandfather passed away when she was 18, a little over 22 years ago, and his name was Jack. They had also named their son Jaxon, but call him Jack after his grandfather.
Whether the visit was especially meaningful because he reminded her of her grandfather, or it was just one of those beautiful moments of human connection, the power of the internet made sure the connection with Jack continued.
Through a kindness group on Facebook, where Lauren first posted about the interaction, she was contacted by Jack's daughter, two granddaughters, and a family friend. Jans was then able to call and arrange another visit with Jack, this time bringing her husband. Jack was thrilled to meet the fellow trucker.
"My husband, his father, his brother, and his uncle are all truck drivers," Lauren tells Love What Matters. "It's something you can't explain. It's like they have diesel in their veins. It never leaves them. I sensed that in Jack when we first discovered our mutual connection to the road."
Understanding this lifestyle and the joy it would bring Jack, Jans planned a special surprise for their visit. They arrived in her husband's big rig, and Jack could hardly contain his excitement. "Jack was like a kid in a candy store! He went straight for the driver's door, and with the agility of a 70-year-old, swung himself into the driver's seat."
"You can take the man out of the truck, but not the truck out of the man," added Jans.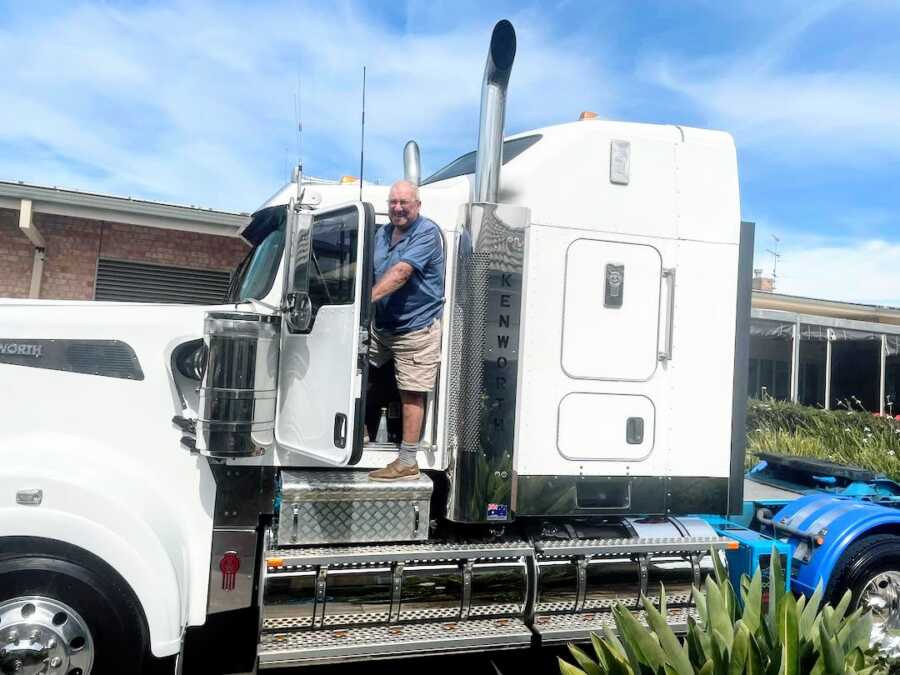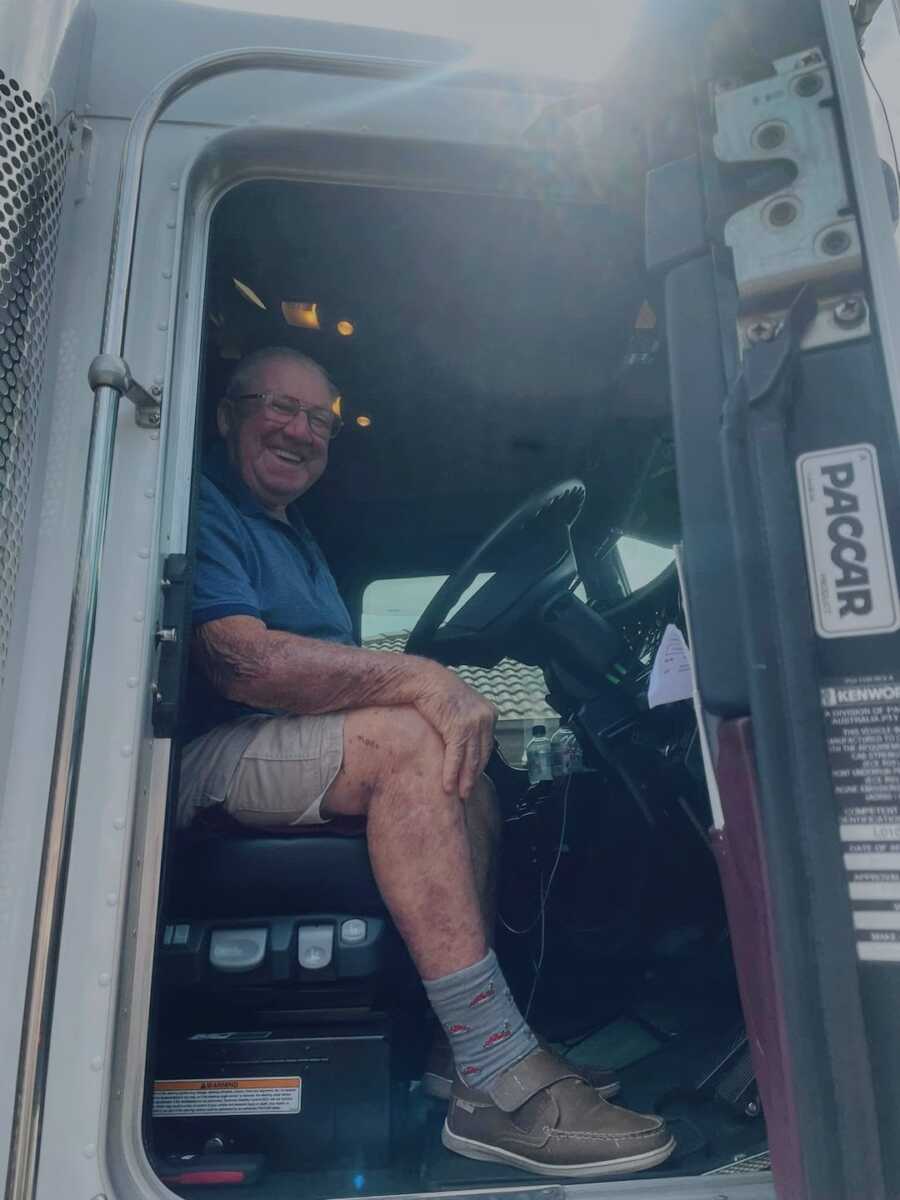 Of course, the old trucker wasn't able to drive the rig himself, given his failing eyesight and hearing. But after shuffling to the passenger side, the couple took him for a short joy ride in the large Kenworth.
"He wanted the air horns blared, in the middle of the retirement village," laughs Lauren, "and who were we to deny him?!"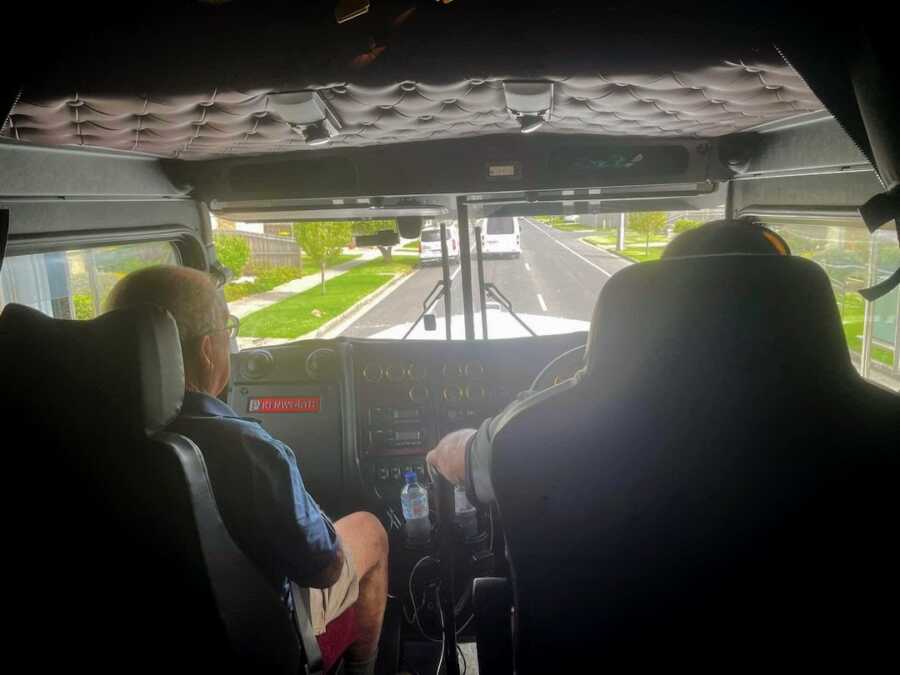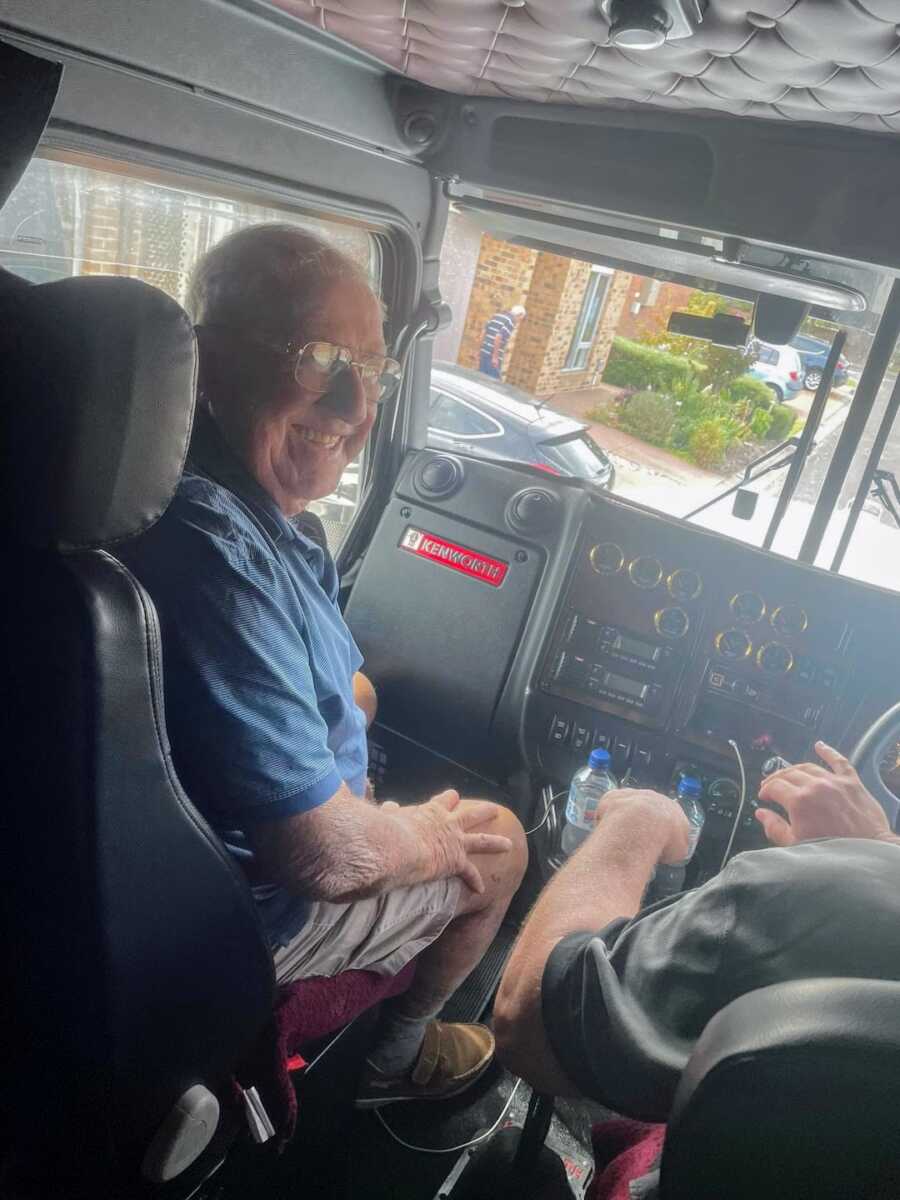 Upon returning from their drive, Jack was showing off the truck to all his neighbors and friends. The pure joy on his face was evident of a lifetime of good memories, brought back by thoughtful strangers allowing him a sweet trip down memory lane.
Lauren says the visit concluded with a tour of the village and another lovely chat with Jack. The fast new friends have plans to stay in touch, and their sweet story serves as a reminder to pause and connect with those around us. You never know the impact you might leave on others, and the impact they may have on you.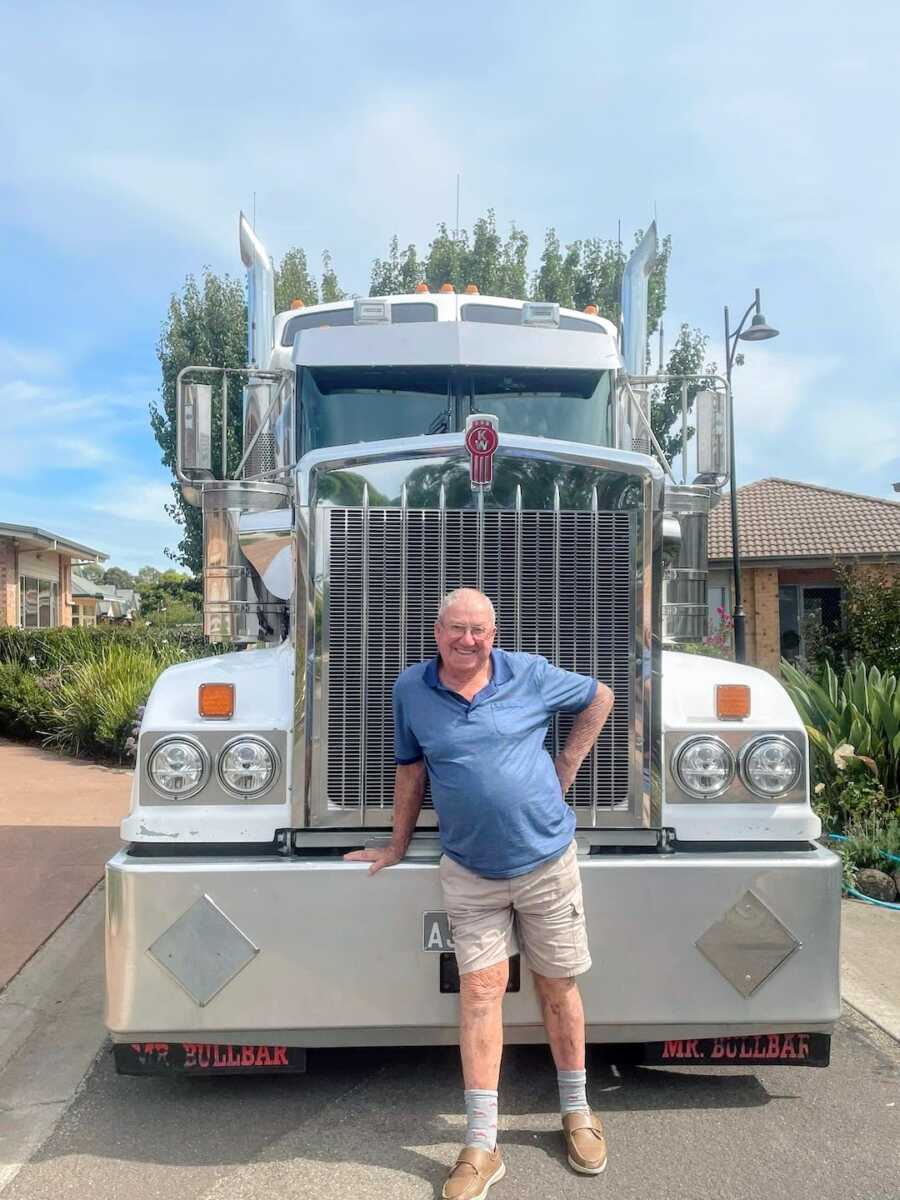 Submit your own story here and be sure to subscribe to our free email newsletter for our best stories, and YouTube for our best videos
Read more stories like this:
Elderly Man Makes Thousands Of Pocket-Sized Hearts To Give Away
'I should know your name. I can't believe I don't. But I'll never forget how kind you were to my daughter.': Special needs mom shares hairdresser's powerful act of kindness
'I saw an elderly man with his walker at the corner. 'I'm trying to get to the 99-cent store 1.5 miles away.' His wife needed some chocolate bars.': Man shares act of kindness for 93-year-old man
'We deliver everlasting hugs to anyone who may need it.': Grieving family send over 10k suicide prevention blankets after mom of 3 passes away
SHARE this story on Facebook to remind others compassion is contagious.