Disclaimer: This story contains mentions of suicide which may be triggering to some. 
Notes left on car windshields aren't usually the kind to warm your heart, but rather invoke feelings of anxiety and cause your eyes to brim with hot, heavy tears.
Brooke Lacey, a 22-year-old university student in New Zealand expected as much when she left her class lecture to discover a napkin tucked under her windshield wiper.
Assuming it was a nasty note about her parking or something of the sort, she hurriedly snatched it up and hopped in her car. However, upon reading the scribbled message, Lacey was instead overwhelmed with one of the sweetest, most rewarding notes a person can receive: She had saved someone's life.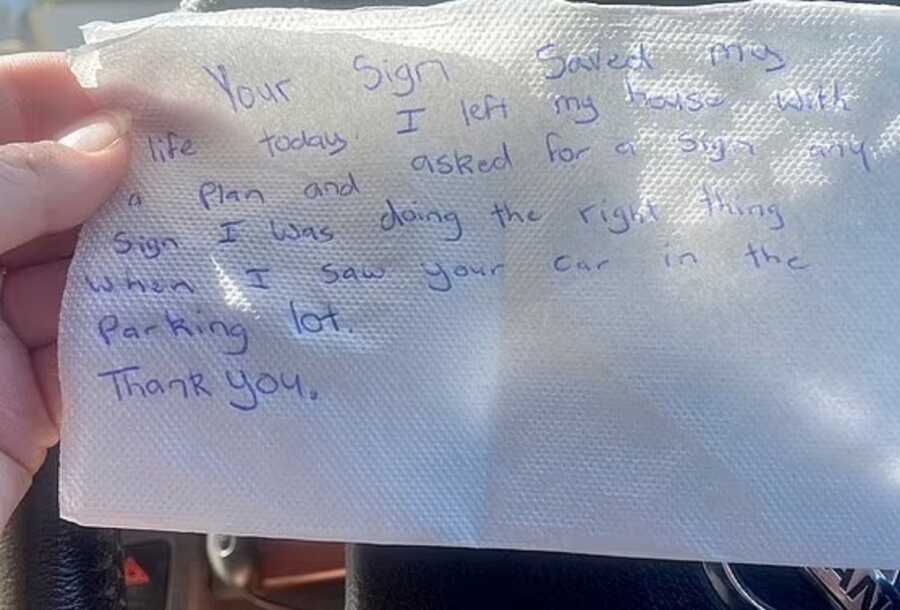 The note read, "I left my house with a plan and asked for a sign, any sign, I was doing the right thing when I saw your car in the parking lot. Thank you."
Puzzled at first, Lacey then remembered the small homemade bumper sticker this stranger must be referring to. A simple black and white design with a powerful, much-needed message: "Please don't take your life today. The world is so much better with you in it. More than you realize, stay."
Having battled her way through her own bout of depression, Brooke decided to make 600 of these stickers to place around Wellington, New Zealand toward the beginning of the pandemic, knowing people's mental health was sure to decline as a result of the global crisis. She posted the stickers in places she thought people might consider taking their lives — near train tracks and on bridges over large bodies of water. And she placed one as a bumper sticker on the back of her car.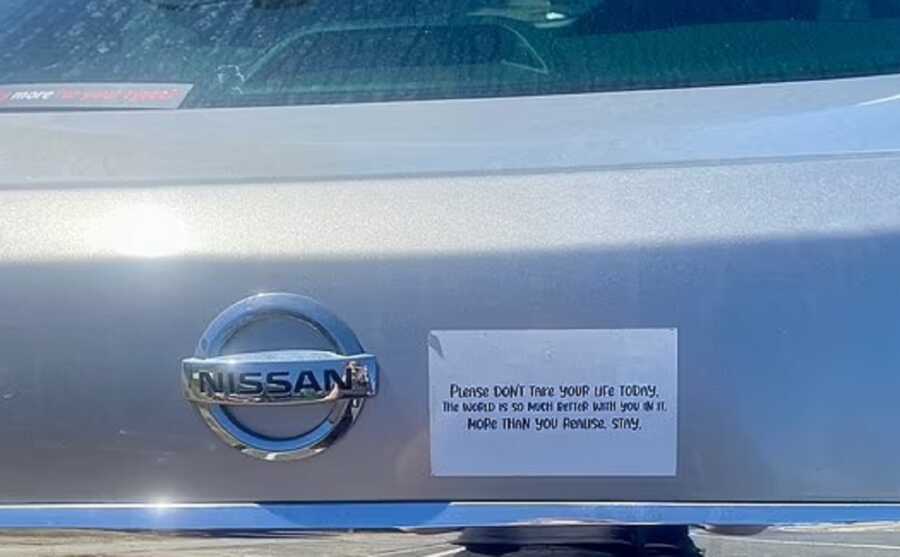 "I had these made so long ago," Lacey tweeted. "I put one on my car and forgot about them, until now. I am so glad whoever you are chose to stay today. You never know who needs this reminder."
Lovingly and directly speaking to someone considering suicide, this encouraging message had a profound impact and serves as a powerful reminder: a simple word or deed can change the world. No matter how small, no matter if it only reaches one person, you can save them and change their world.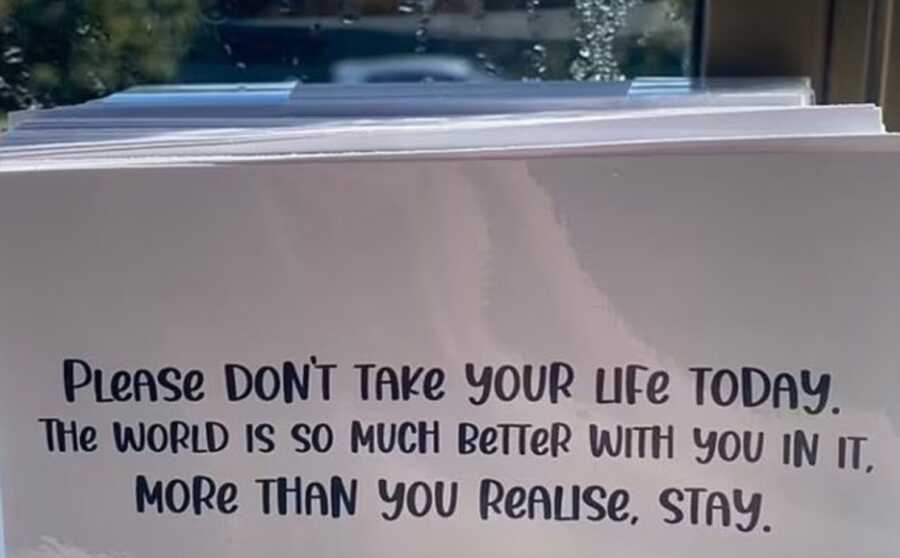 Submit your own story  to Love What Matters here, and be sure to subscribe to our free email newsletter for our best stories, and YouTube for our best videos.
Read about other powerful acts of kindness here:
'They'll never know how amazing that small gesture was.': Suicidal woman in tears after stranger's kindness gives her hope
'Can I help?' A complete stranger, she saw my exhaustion. She didn't wait for me to ask, she didn't wait to see me struggle.': Mom touched by stranger's act of kindness, 'She breathed life into me'
'I asked Audonte what he wanted for his birthday. 'Just some cupcakes.' Every day, he's at the park by himself.': Mom shares act of kindness for wandering boy at park, 'It takes a village'
'With three kids crying, I realized I left my purse at home in the McDonald's drive thru. 'I am so sorry, I have to cancel that order.': Woman in tears after employee's act of kindness
'She began sobbing. 'No one has ever done anything like this.' Pregnant and hungry, she was living off leftover cheese.': Man shares act of kindness for homeless couple
Compassion is contagious. Please SHARE this on Facebook to remind others a community of support is available.