Never underestimate the power of a simple act of kindness. Something as effortless as a smile or a "hello" can make someone's day, and you may never know what small, thoughtful gesture might touch someone's heart and even save their life.
Miss Faye, as she goes by on social media, was one such person who was greatly affected by the seemingly insignificant gift of a child. The video begins with her sitting on a park bench, just taking in her surroundings. She was doing a live for her followers when she captured this unexpected moment.
View this post on Instagram
As the caption explains, she went to the park because she was having a rough day. However, at the time, she was having more than a rough day. She was feeling suicidal and was hoping to receive a sign she was meant to exist. "I wanted someone to show me kindness so I could believe it existed," says Miss Faye.
A couple of young girls walking by stopped to offer Miss Faye some of the flowers they were carrying. Initially, Miss Faye declines, saying, "Awe, you keep it. It's too pretty for me to take." But the young girl insists, "You just as pretty!"
As the girls walk away, Miss Faye's eyes well with tears and she takes several deep breaths, realizing this was the sign she was looking for. "They'll probably never know how bad I was feeling and how amazing that small gesture really was."
In the video, she asks people to not forget to do kind things for strangers, a sentiment we emphatically echo. Miss Faye doesn't exempt herself either, adding, "Please remember you can be the kindness you long for. I tend to forget and I was praying for a sign when this happened."⁠
She ends her video with, "You never know the kind of day someone could be having and how you could impact their lives for the better with one small thing. Thank you for giving me a little kindness today."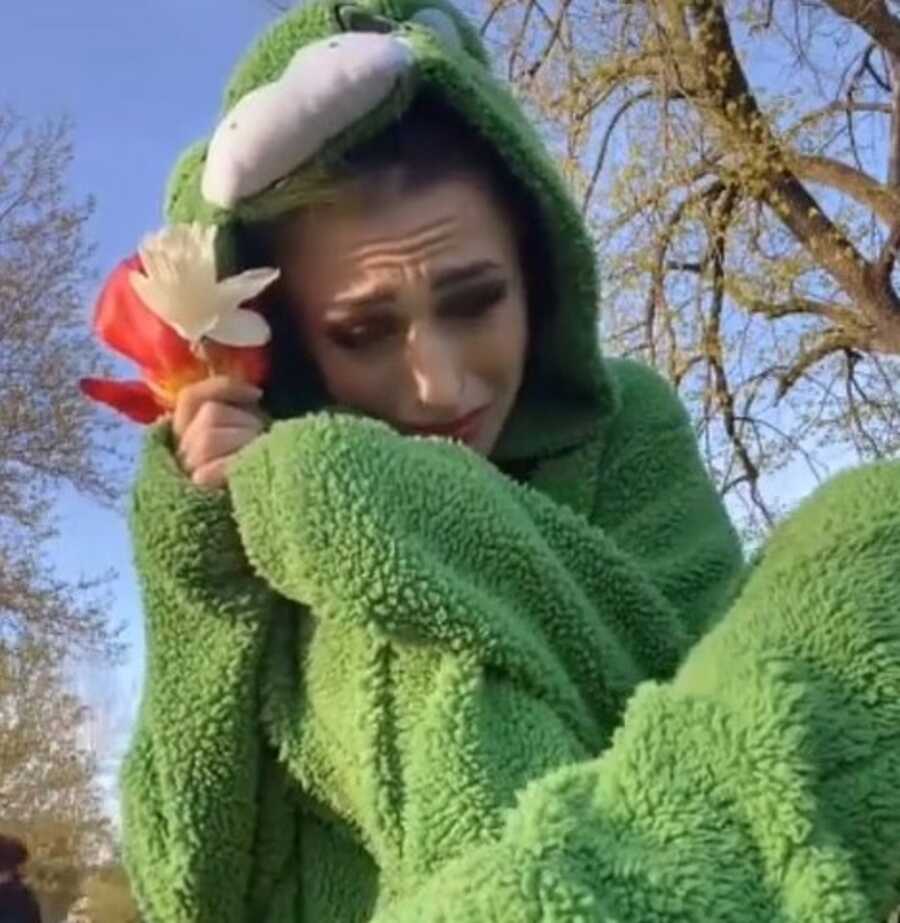 You can follow Miss Faye on Instagram and TikTok. Submit your own story  to Love What Matters here, and be sure to subscribe to our free email newsletter for our best stories, and YouTube for our best videos.
Read about other powerful acts of kindness here:
'Can I help?' A complete stranger, she saw my exhaustion. She didn't wait for me to ask, she didn't wait to see me struggle.': Mom touched by stranger's act of kindness, 'She breathed life into me'
'I asked Audonte what he wanted for his birthday. 'Just some cupcakes.' Every day, he's at the park by himself.': Mom shares act of kindness for wandering boy at park, 'It takes a village'
'With three kids crying, I realized I left my purse at home in the McDonald's drive thru. 'I am so sorry, I have to cancel that order.': Woman in tears after employee's act of kindness
'She began sobbing. 'No one has ever done anything like this.' Pregnant and hungry, she was living off leftover cheese.': Man shares act of kindness for homeless couple
Compassion is contagious. Please SHARE this on Facebook to remind others a community of support is available.