I have had my heart broken over the past few weeks because of the controversy surrounding abortion.
Allow me to share my story.
My husband and I tried for over 5 years to conceive.
It was a very long and heartbreaking road, but because of IVF, I fell pregnant with our Izabella.
She was wanted, loved, cherished, and our daughter.
I had an abortion.
Most who know our story are probably thinking, 'No you didn't! Your daughter died.'
Our daughter did die, but she died because I had an abortion.
That's the medical term listed on my hospital paperwork…. along with, 'elective termination.'
Abortion.
That's the medical terms for what happened to me, to us, to our family.
We fought for 2 weeks to save our little girl's life, but I developed an infection and we were told I could lose my life if we didn't go through with the induction… the abortion.
Our baby girl had a heartbeat.
When my doctor started the induction, Izabella was alive and healthy.
She suffocated during my 2-hour delivery.
My 2-hour abortion.
Our decision to save my life was the same decision that caused our daughter's death.
Do you know how hard it is to live with that?
To know that your child isn't here because you chose your life over theirs?
To know you chose to abort the child you so desperately wanted and loved?
Yet, here I am, crushed because of the words used by pro-lifers.
Words like:
-vile
-disgusting
-shameful
-disgraceful
-MURDERER
Me?
Women like me who have had to have an abortion because their life depended on it?
Women who chose abortion because their baby had lethal deformities/abnormalities?
We are being called MURDERERS?!
When you say you're pro-life and you want to take away a woman's right to choose…. remember my story.
Think of me.
Think of all the women who have had to make the most excruciating decision of their life; and then, do better, be better."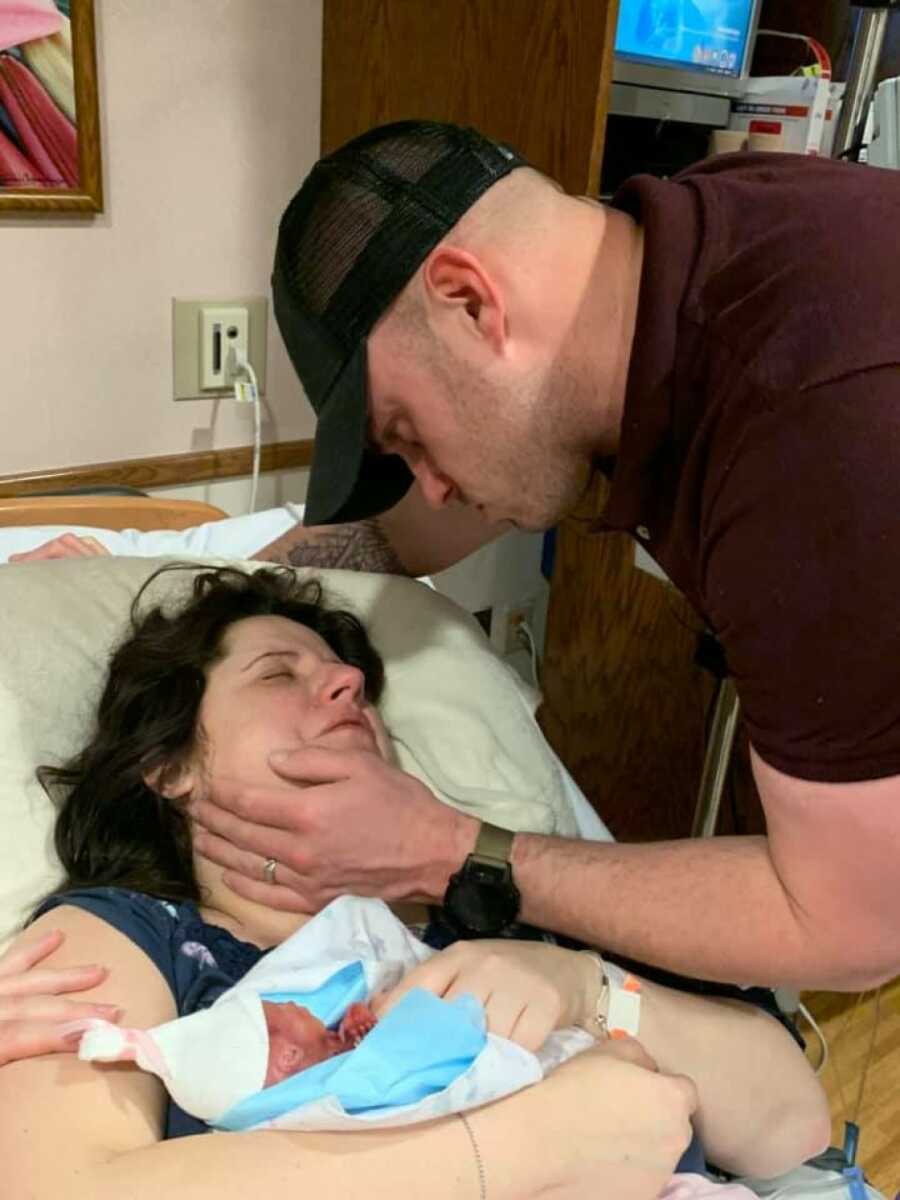 This story was submitted to Love What Matters by Jessica Marie Pritchett. Submit your own story here and be sure to subscribe to our free email newsletter for our best stories.
Read more stories like this here:
'This already broken system will collapse in on itself.': CPS worker explains importance of upholding Roe v. Wade
'Jennifer, I have bad news. Get your husband on the phone.' Today, I should be holding my newborn. Instead, I'm scattering his ashes.': Grieving mom pens PSA on late-term abortion, 'I didn't lose a baby, I lost a lifetime of hopes and dreams'
'You can terminate the pregnancy or wait for the baby's heart to be crushed.' I feared being judged by friends and family for deciding to save my life.': Woman births rainbow baby after painful decision to abort dying son, 'He was suffocating'
'It's okay, baby, you can go.' With tear-filled eyes, we held our little boy's body as his soul went peacefully to Heaven to join his big brother.': Parents lose newborn to Alveolar Capillary Dysplasia
Do you know someone who could benefit from reading this? SHARE this story on Facebook with family and friends.