"October of 2016, we found out we were pregnant with our very first baby. We went to our first ultrasound and saw a great heartbeat and baby kicking on the screen. We excitedly started telling friends and family about our little bundle of joy! At the 10 week appointment, we were scheduled for our second ultrasound. We walked in ecstatic to get a glimpse of our baby we affectionately named 'Little Bit.' The tech applied the jelly and her mood changed as she searched with the ultrasound wand. She broke the news to us, 'I am sorry but your baby does not have a heartbeat, I am so sorry.' That day, Katy's angel of a doctor told us, 'One day, you will be able to ask God why this happened. But when you're able to ask God why, it won't matter because you'll be with your baby.' Those words resonate in our hearts until this day. The genetic test revealed that our Little Bit had Triploidy and that he was a little boy. Soon after, we became pregnant with our rainbow baby, Poppy.
Penelope was born in February of 2018 and came in like a wrecking ball. We finally had a baby in our arms. She was welcomed into our hearts with arms wide open. We had a blast and she was such a breath of fresh air to our little family. When Poppy was almost 9 months old, when we found out we were pregnant with our next baby we named 'Cub.' We find it important to give our babies a nickname before we know their actual name.
'Tyler, I think I might be pregnant. My period is late, my milk supply is dwindling, and the dog is sleeping on my side of the bed.'
We have always wanted to name a child Barrett since we began dating over 11 years ago. So soon after we found out Katy was carrying a boy, we named him Barrett. Our dream came true and we were stoked to have the opposite sex of our firstborn. At the 20-week anatomy scan, we were told that Barrett had a two-vessel cord and that they would be monitoring blood pressure as well as baby's size development, but that this was nothing to be concerned about. We got a couple of extra ultrasounds and a stress test. The doctor determined it would be best to induce Katy at 37 weeks, as the pressure in the cords and Barrett's brain were too close, and he had become slightly growth restricted. 'No big deal,' we thought, we both would love to have a smaller baby.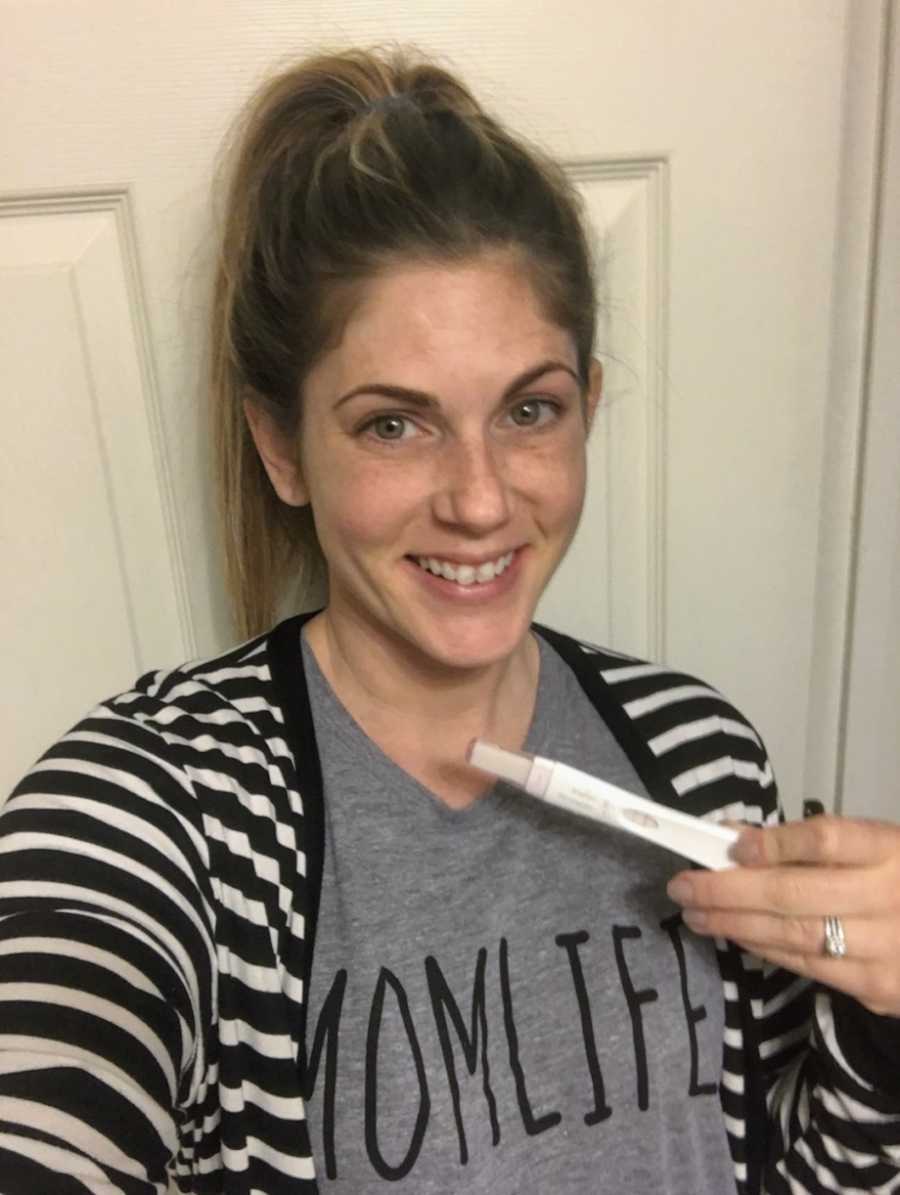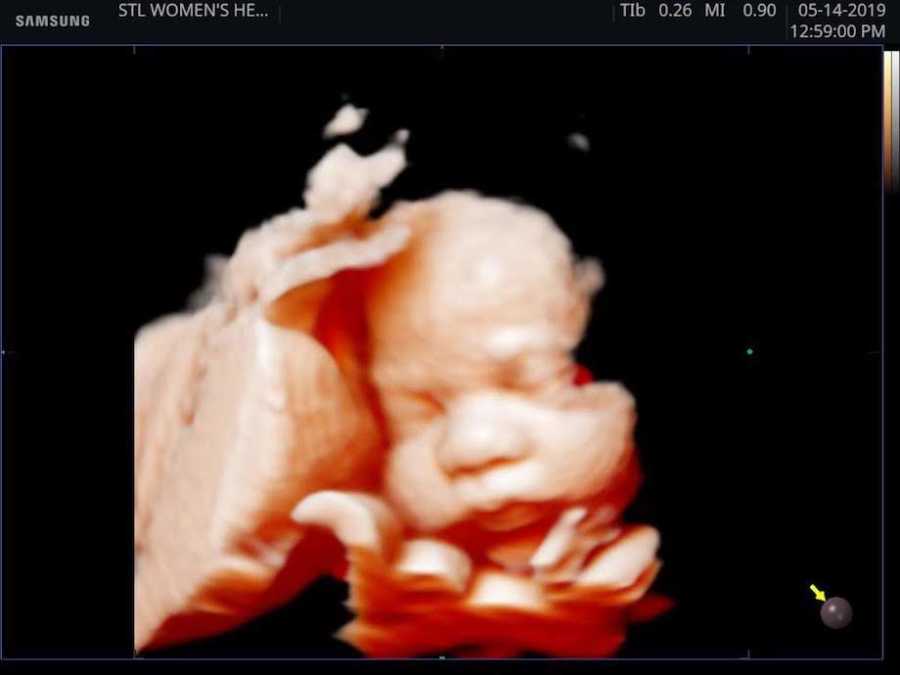 'Barrett's pregnancy was a complete joy and I loved every minute of it.' Katy felt Barrett kick around 17 weeks and at 18 weeks, he moved so much, Tyler could see her belly moving from across the room. 'I would wake up early just to sit there and feel him move. He would kick back when I would gently push on my stomach. Our bond was very special from the start.'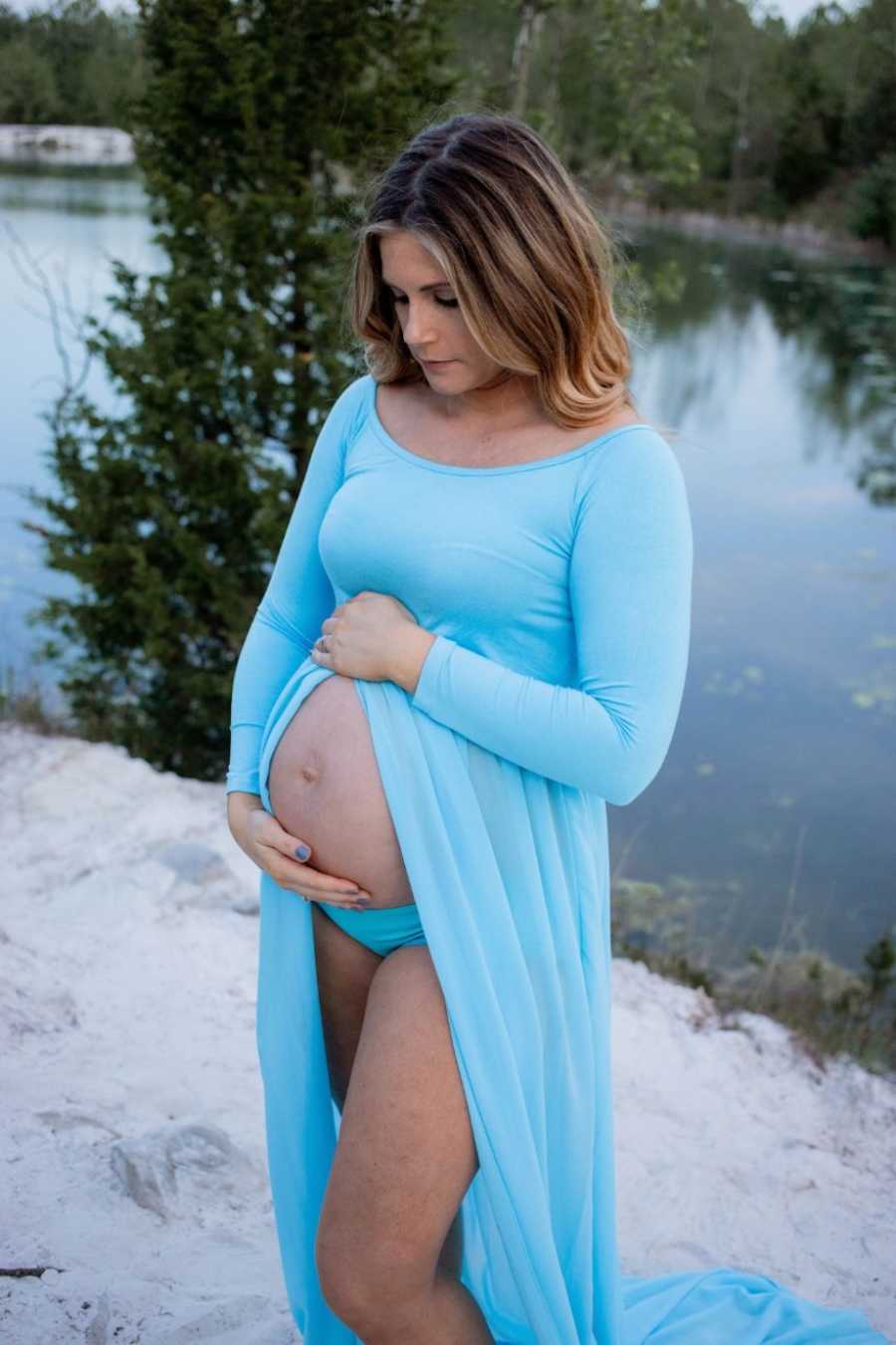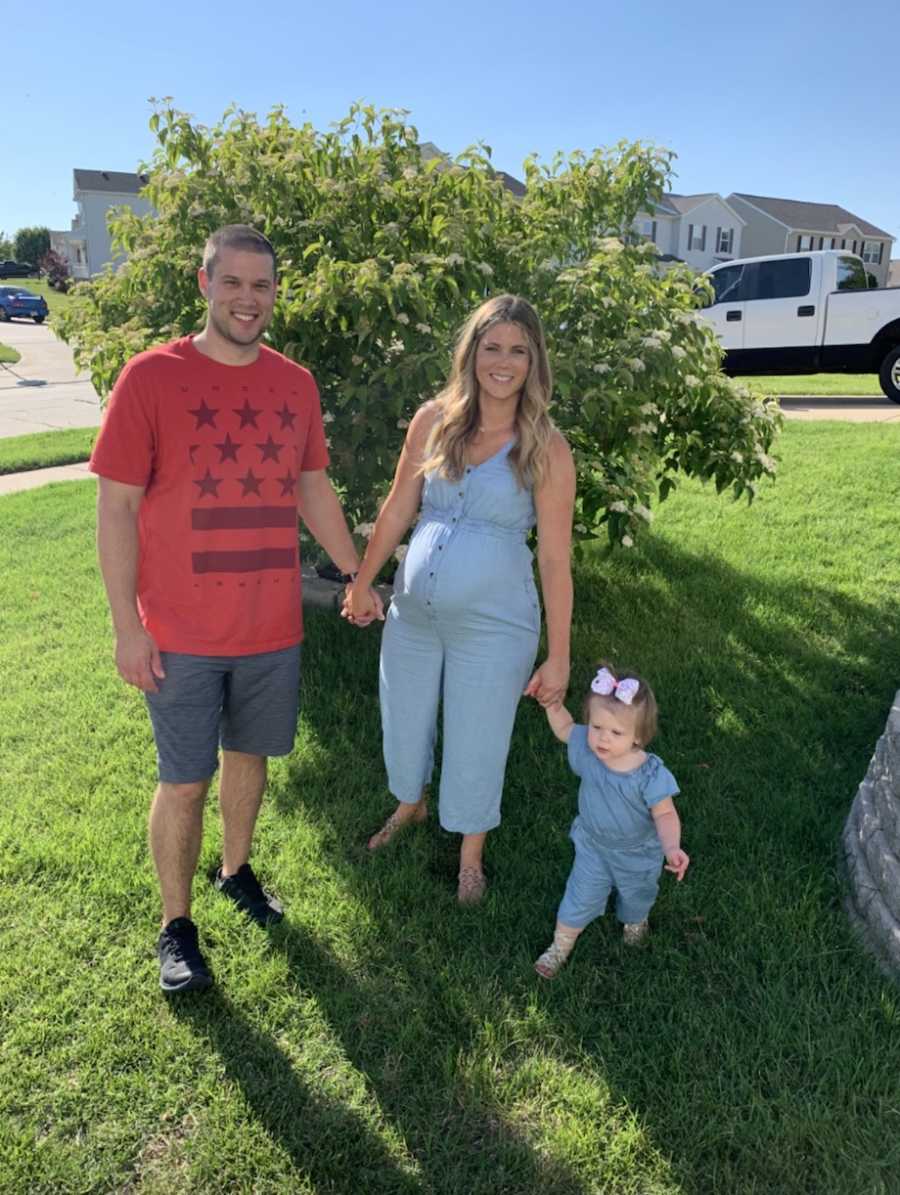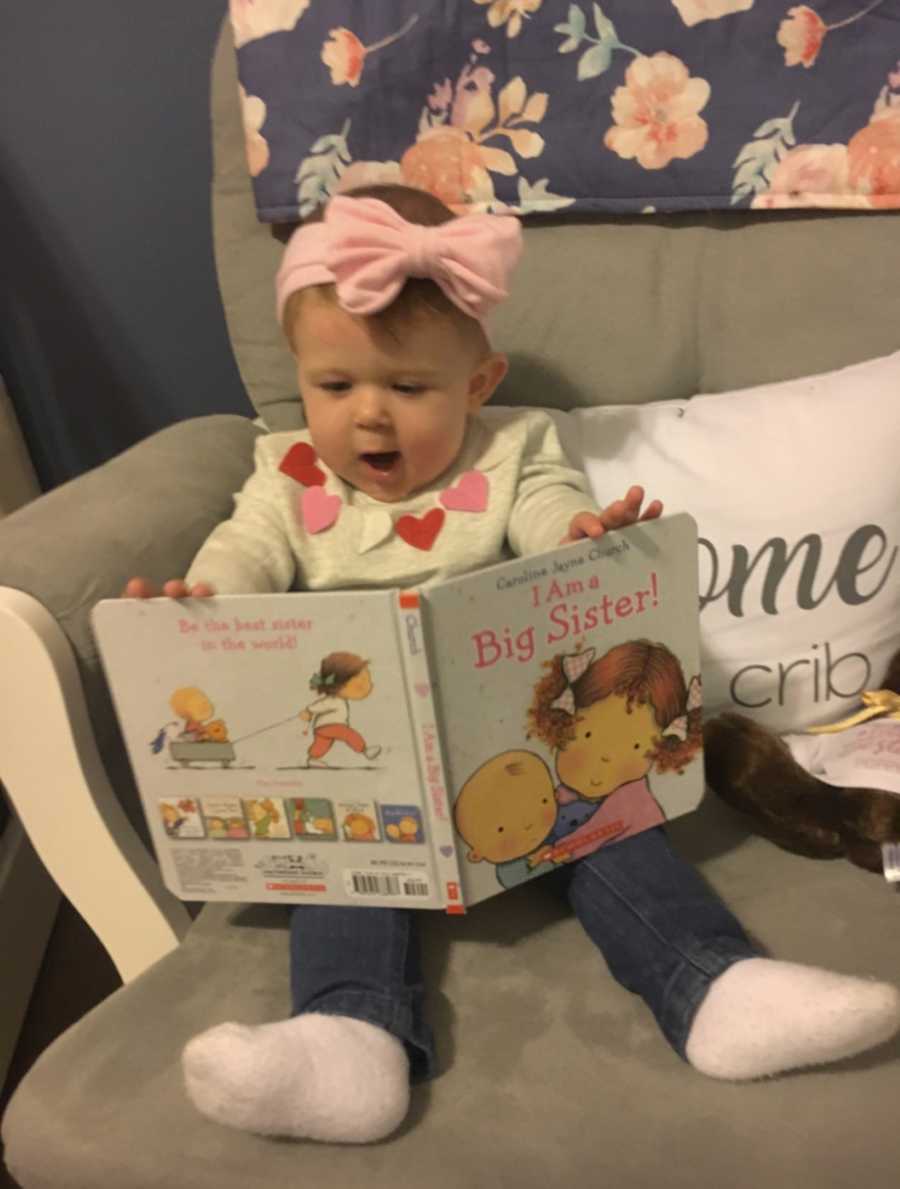 Katy was induced on a Thursday and had a 'normal' 28-hour delivery. Nothing exciting happened except at the last minute she progressed extremely fast. Tyler called our amazing photographer friend, Alex Mooney, and she rushed as fast as she could. Katy later told us that she was 'fake pushing' so Alex could get there in time to capture our first glimpses at Barrett. Once Alex made her swift arrival, Katy said, 'Okay, now I can push.' Both of our moms were in the room and giggled when Katy said that. Alex made it in the nick of time and caught some amazing snaps! Barrett entered this world with tons of cheers, smiles and happy tears as we saw our firstborn boy!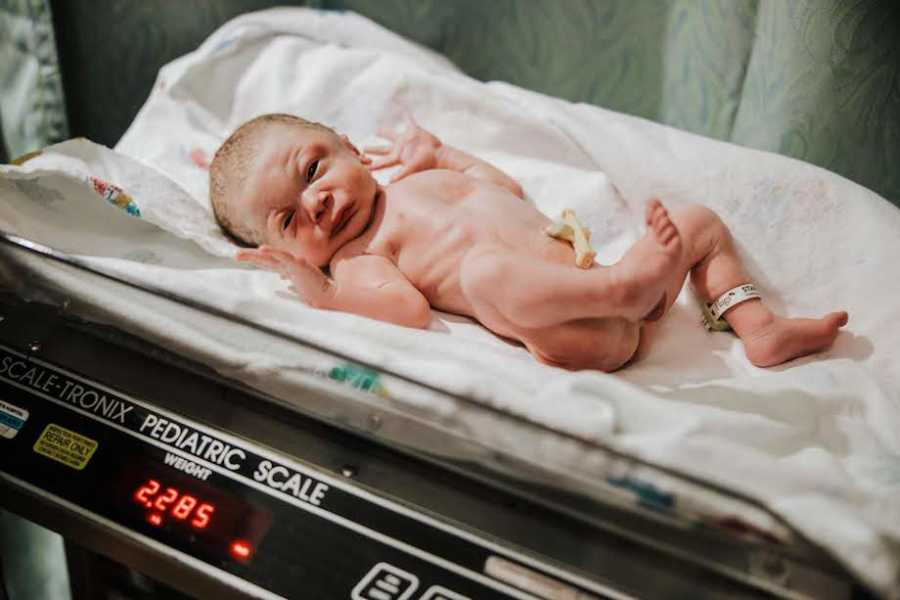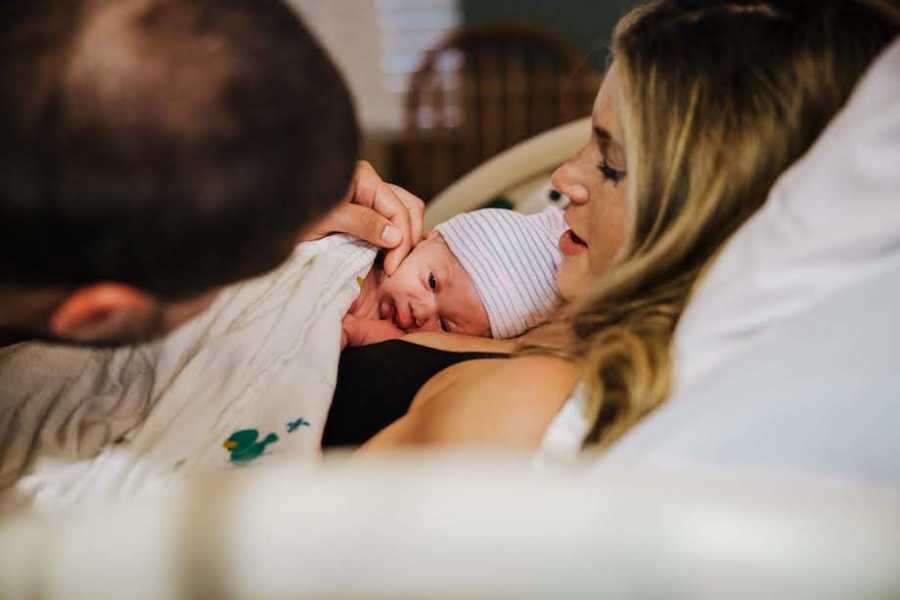 We noticed that his cry was not as strong as Penelope's was, but the nursing staff still allowed us to hold him. The only time we ever got to hear Barrett cry was when he was born and Katy's mom captured it on video. Katy was holding him and asked the nurse, 'Is it ok if I nurse him?' and she said, 'No, I am sorry, he's not breathing well enough.' 'At that point, I knew something was wrong if I wasn't able to nurse my baby.' Katy pushed Tyler to hold him and do skin to skin and Tyler was so glad she did, as this was the only time he held him while he was alive.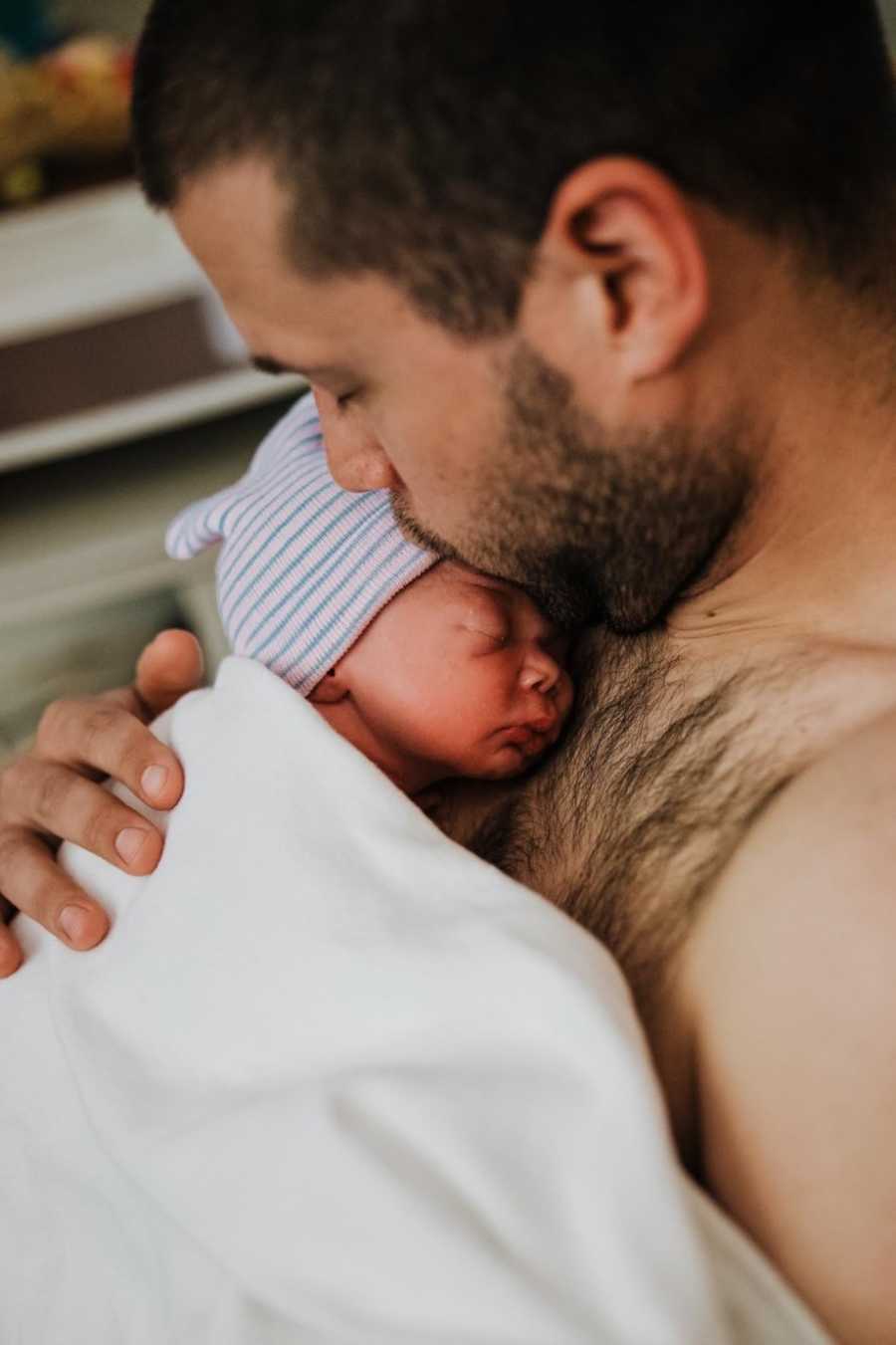 They took him out of Tyler's arms and off to the specialty care nursery. His oxygen saturation was a little low and his blood sugar was low. 'No big deal,' we thought, 'he will get some IV sugar and begin breathing better.' Exhausted, we went to sleep in the hospital room without our little boy, thinking everything was okay at the time. He continually bounced from better to worse and the doctors were not too concerned at this point. The next morning, a Saturday, the doctor informed us he would need to be transferred to one of two higher-level NICUs for a little more supportive care. We chose the closer hospital between the two options they gave us, as there was a parade that day close to the highest level NICU in the area and we were assured that the lower level, but still high acuity, NICU would be just fine. The transfer went off without a hitch and he was settled into his new NICU room. The staff there was amazing and reassured us that he would be home in 3 to 4 days. Well, he kept jumping the fence from better to worse and back again. Finally, it was decided he needed to be transferred to the higher level NICU for the most extreme life support available in the country. The story is very complicated as there are so many back and forths and unknowns for so long. All we can say is that it was and is still excruciating.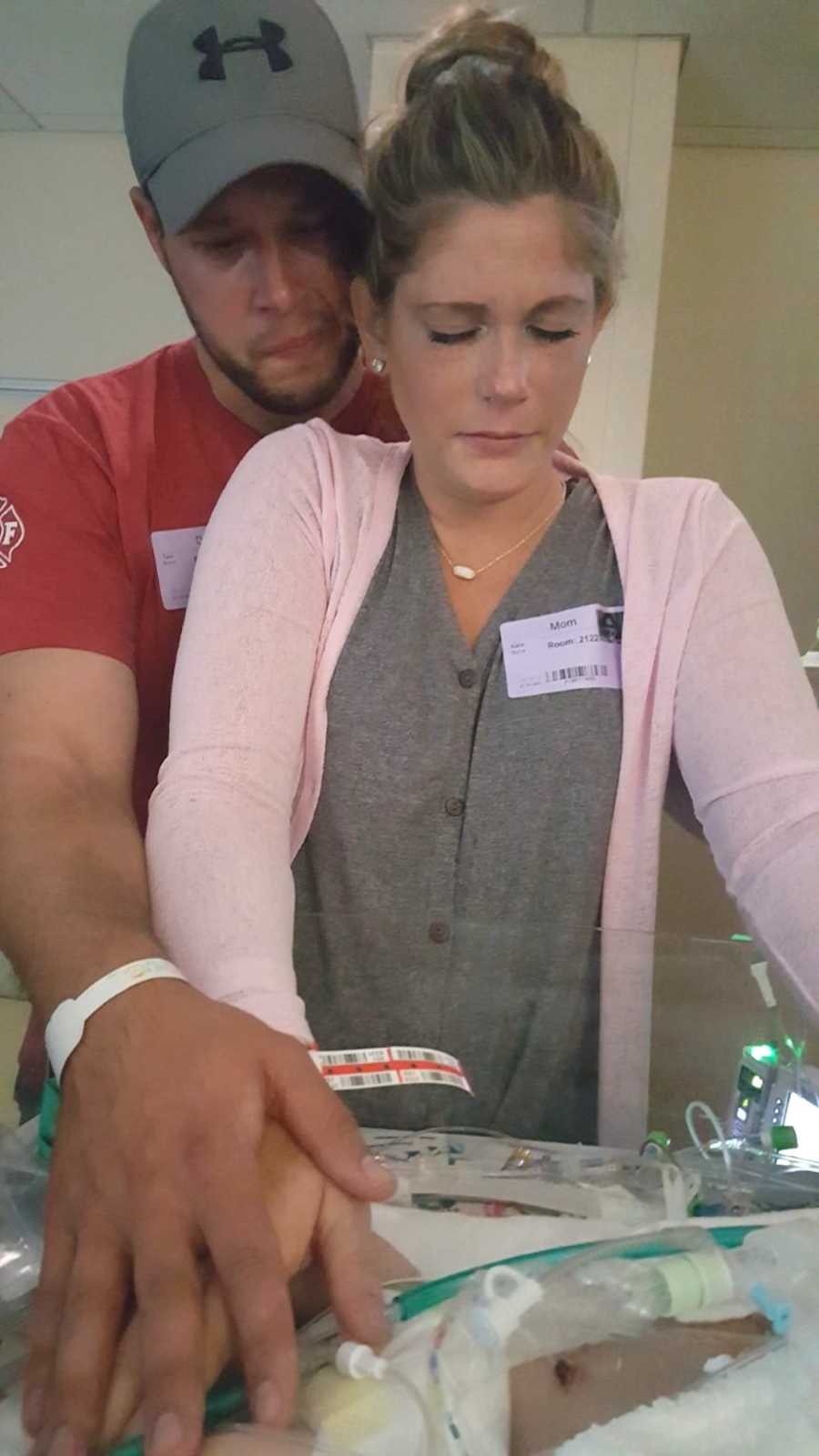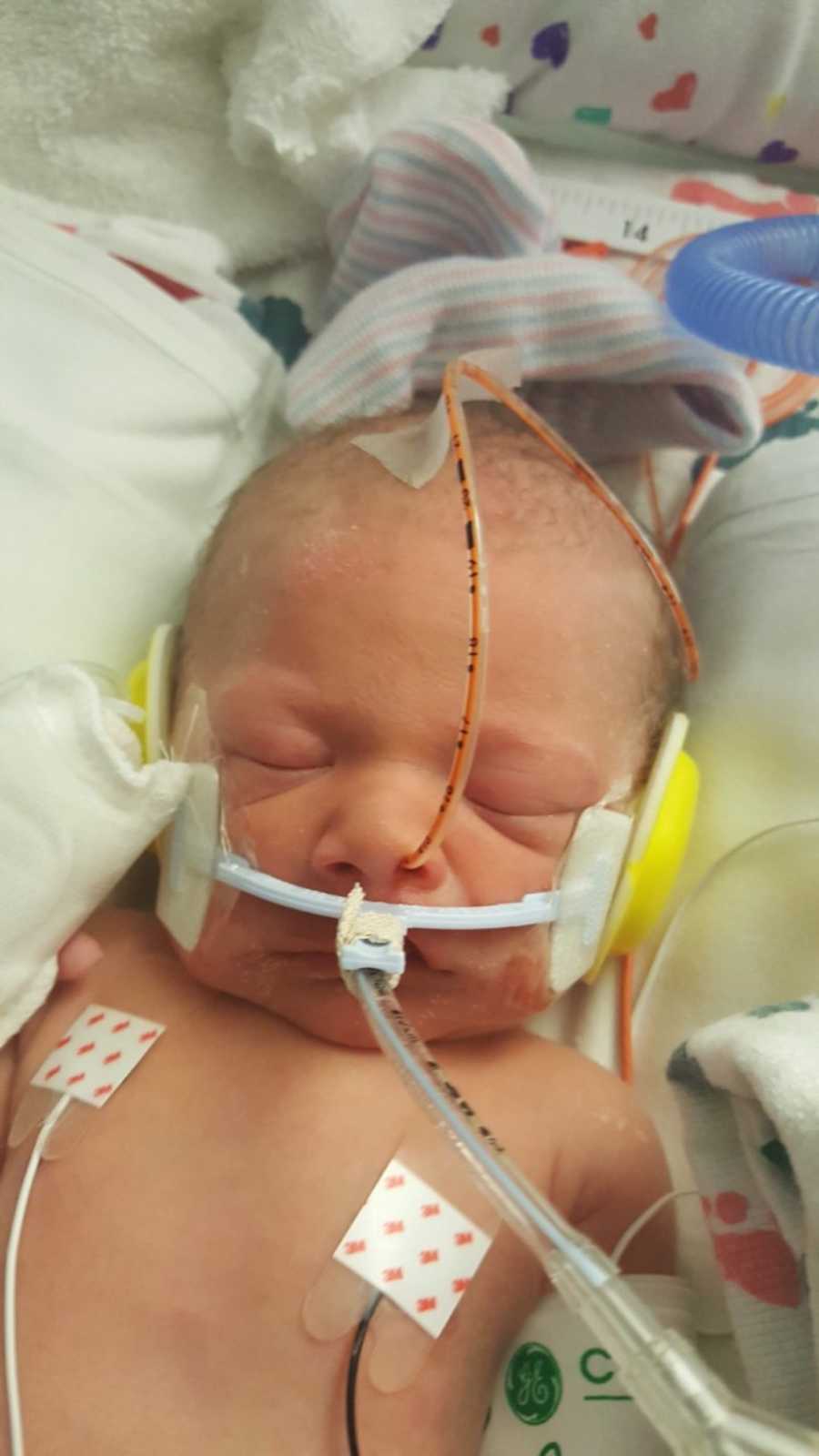 The transport team from the NICU made it to the room and began their assessment. They attempted to place Barrett on their transport ventilator, which he continually crashed on. We watched all this happen, thinking he would eventually settle on their equipment for the 15-minute transport. The doctor exited Barrett's room and told us something that made our stomach drop. 'We are stuck between a rock and a hard place. Barrett is extremely sick and weak. We can risk the transport, with Barrett being ventilated by hand, which he would likely die from, or we could stay in this hospital room and say goodbye to him as he passes away.' Katy, who was still recovering from childbirth, fell to her knees in shock. Just 24 hours earlier, we had what seemed to be a healthy baby boy. Tyler pulled the transport doctor aside and asked, 'What would you do if this was your son?' He said, 'I would risk the transport,' which is the way we were leaning anyway. We were crying uncontrollably and Tyler calmly told Katy that, 'We have to be strong for Barrett so we can be in the ambulance with him.' We endured the scariest 15-minute ambulance ride of our lives. Barrett's oxygen saturation was 57 percent by the time he got to the NICU.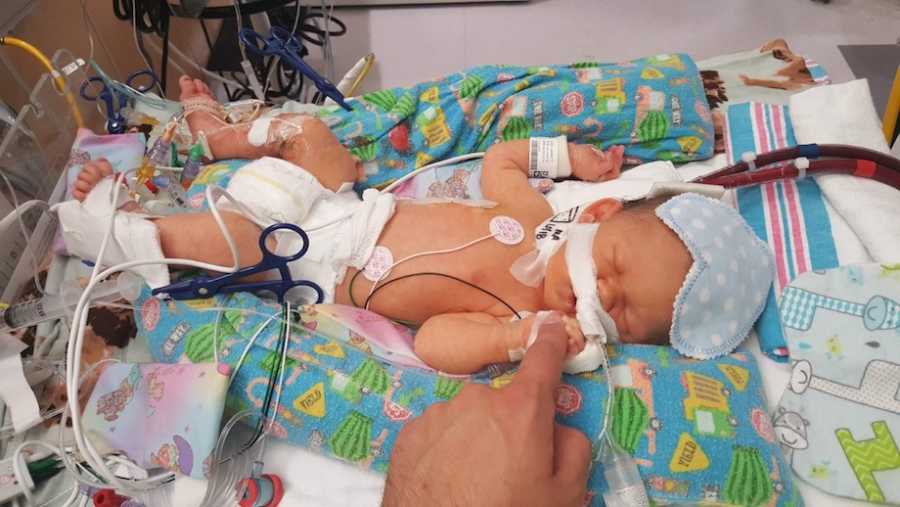 During the transfer, Tyler looked back to see how Barrett was and the medical team was so calm. He knew it was going to be okay if they were that calm. When we arrived at the ER, everything went so fast. All of the elevators were opened to get us to the NICU as fast as possible. 'That night is still a blur.' The halls were lined with what seemed like every staff in the NICU awaiting our son's arrival. The surgeon elected that ECMO was needed to save Barrett's life. ECMO stands for Extracorporeal Membrane Oxygenation, which is essentially a lung and heart bypass machine. The chief of surgery was called in and met with us quickly to go over the procedure and then said something like, 'Now I need to go save your son.' He was confident yet gentle and we were comfortable at that point and knew we were in the perfect place. In order to be placed on this life support, the child would have to be a minimum of 5 pounds. Barrett was exactly 5 pounds at birth. The nurses that were assisting the surgeon later described his work at putting Barrett on this machine as a 'work of art.'
When a child is on ECMO they have their own ECMO staff who are specialized to work the ECMO machine. They look over the machine very frequently to assess for any clots. The ECMO team was a vital part of his treatment as they kept a close eye on his machine, as it was keeping him alive. They did multiple circuit changes when the machine would get 'junky,' which means there were clots that they feared could cause harm. Once Barrett was on this extreme level of life support, we were told, 'Barrett is the sickest baby in the 200-bed NICU.'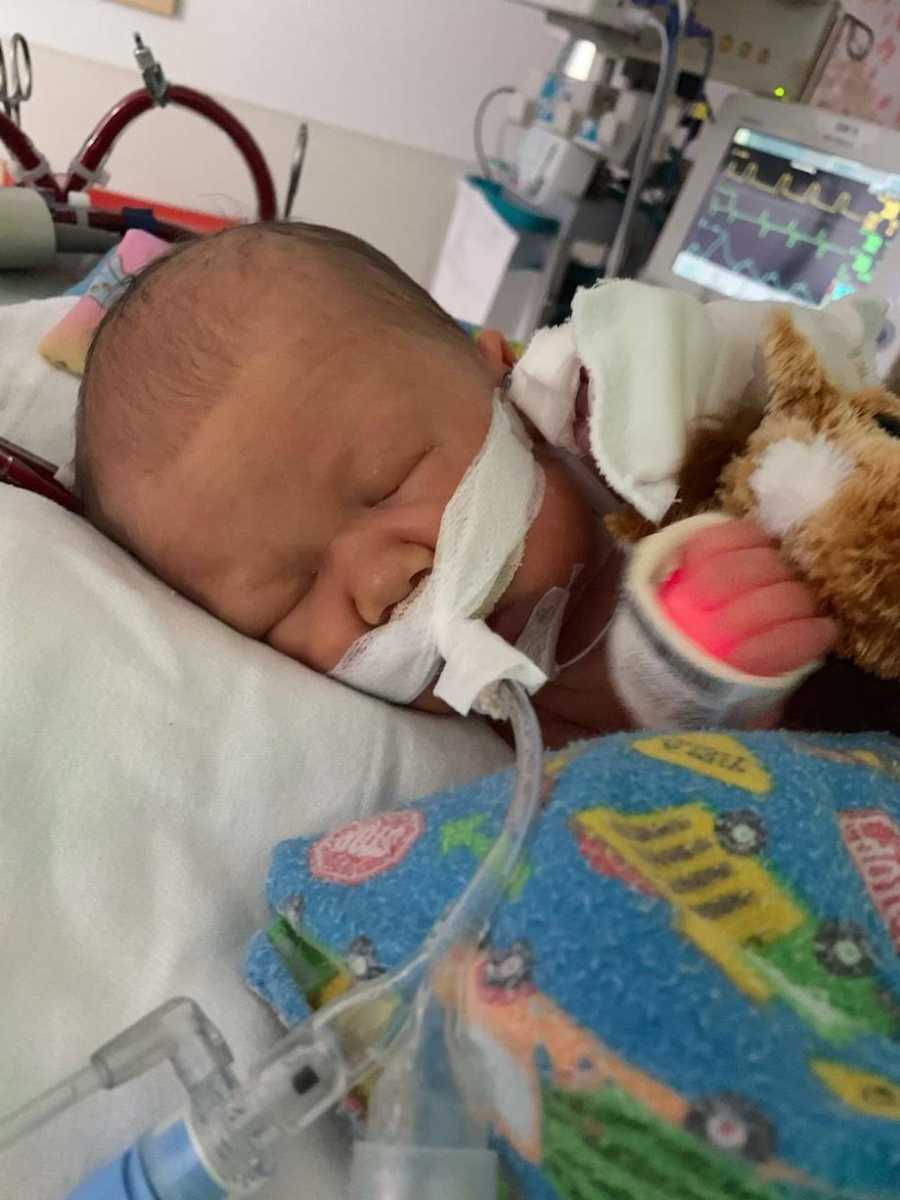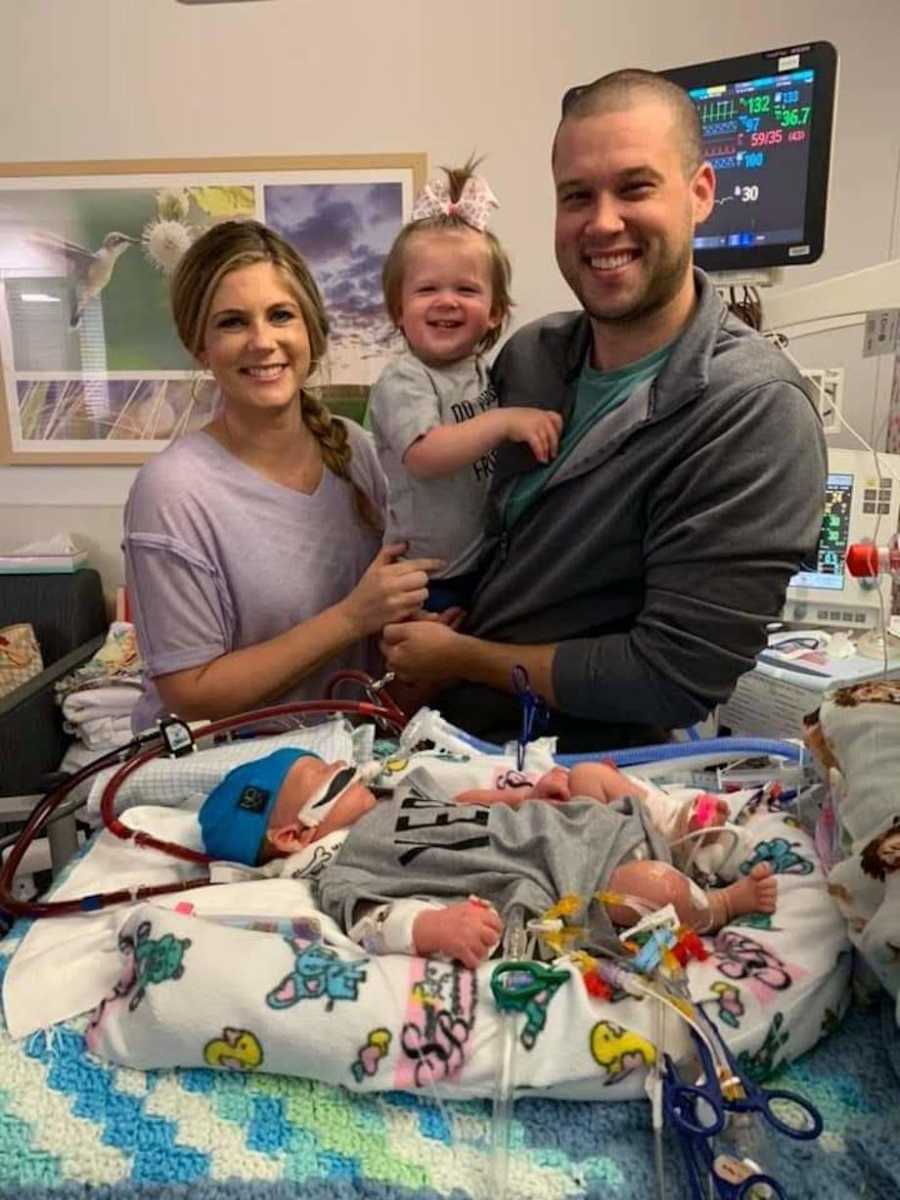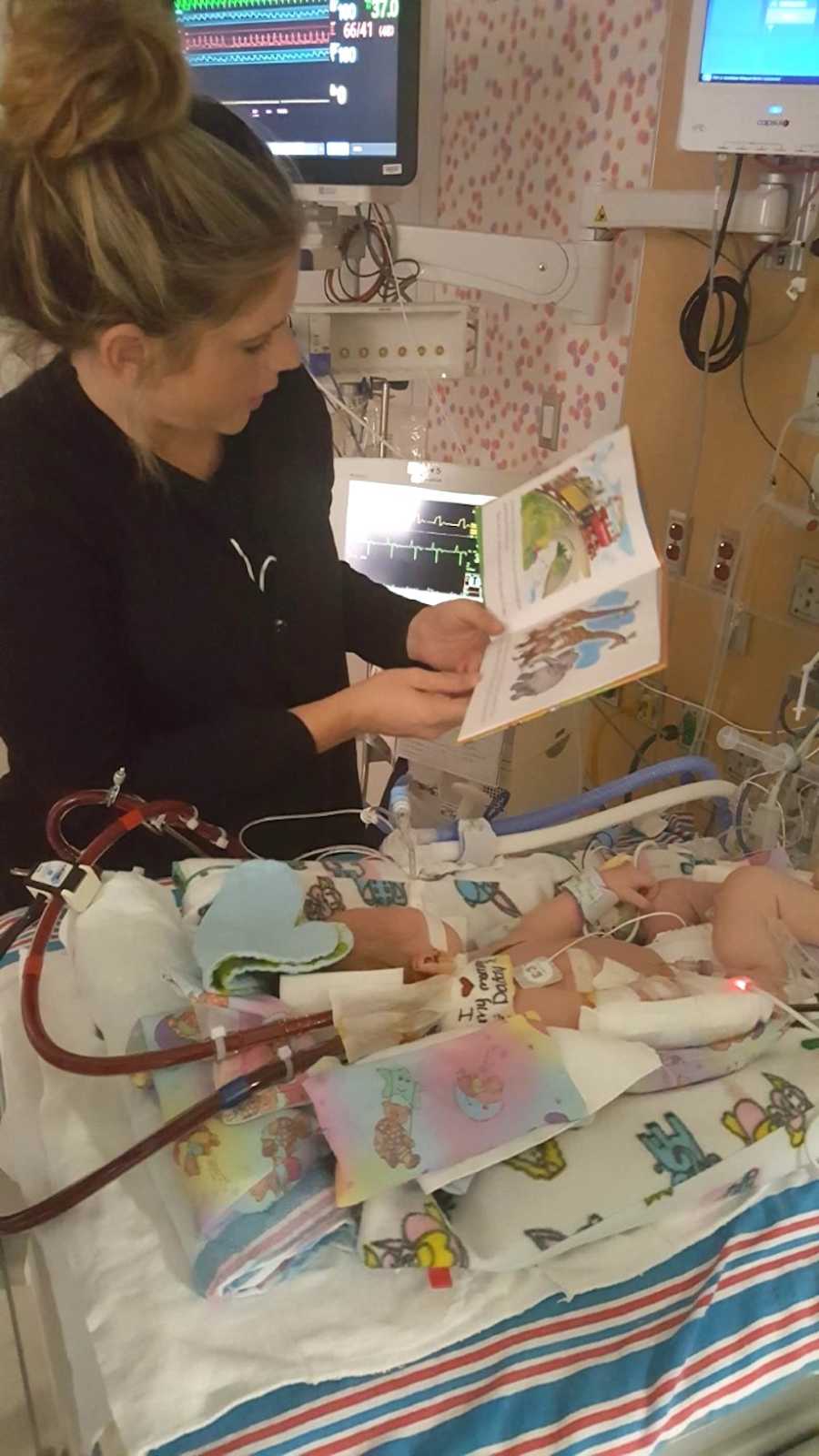 He made it through this first surgery and we were told he had pulmonary hypertension, which was somewhat common in smaller baby boys. They said, 'He might be on this machine a week or two as he continues to progress and rest.' Being on this life support, he had to be given blood thinners so that his tubing wouldn't form a clot. This gave us a chance of having a severe brain bleed or possibly throwing a clot from the machine and into his brain, which would end his life.
Every day was a gift but also very nerve-racking. Several times, the hospital staff attempted to wean him off of this life support to see if his lungs and heart were strong enough to work on their own and it never worked. We were told, 'It's rare for babies to need ECMO for very long. We treat the most common problems first and move onto more rare diagnoses, which are riskier to test for.' It took a grueling three weeks to finally get a dreaded diagnosis that we had already researched and knew the eventual outcome. The end diagnosis is beyond rare and was the last thing on their 'checklist.' The reason they check that last is because of the rarity of it and because a lung biopsy is the only way to officially diagnosis the condition. Doing a lung biopsy is very dangerous when someone is on ECMO and blood thinners.
Barrett was diagnosed with Alveolar Capillary Dysplasia, which in short was a death sentence, and the only 'cure' was a bilateral lung transplant. (You can find more information at acdassociation.org.) I was pumping breast milk for Barrett and one of Barrett's doctors came to the door, noticed I was pumping and said, 'Oh I will come back later,' with a really sad look on her face. I said, 'He has ACD doesn't he?' and she said 'Yes.' The organ donor list was extremely limited, as not many healthy newborn lungs are available. Our hearts sank as we heard this diagnosis, but we continued to trust in God. We also had a gigantic support system of friends and family taking care of every single little thing. One of our concerns was having a toddler not having her parents for an undetermined amount of time. We knew she was being cared for by the people who love her most besides her parents, but it was still excruciating knowing she was not with us as we tended to her sick brother. 'We were torn between two places but knew we had to be there for Barrett.'
After being given the fatal diagnosis, the nursing staff asked if there was anything they could do for us. Katy said, 'I want to hold him,' and they made it happen. Because Barrett was so fragile on his life support, it was almost impossible to hold him. It took a team of five nurses to assist Barrett into Mommy's arms and took about 2 hours to assemble the team and prepare Barrett to be held. She hadn't held him in three weeks, and didn't again until he passed away one week later.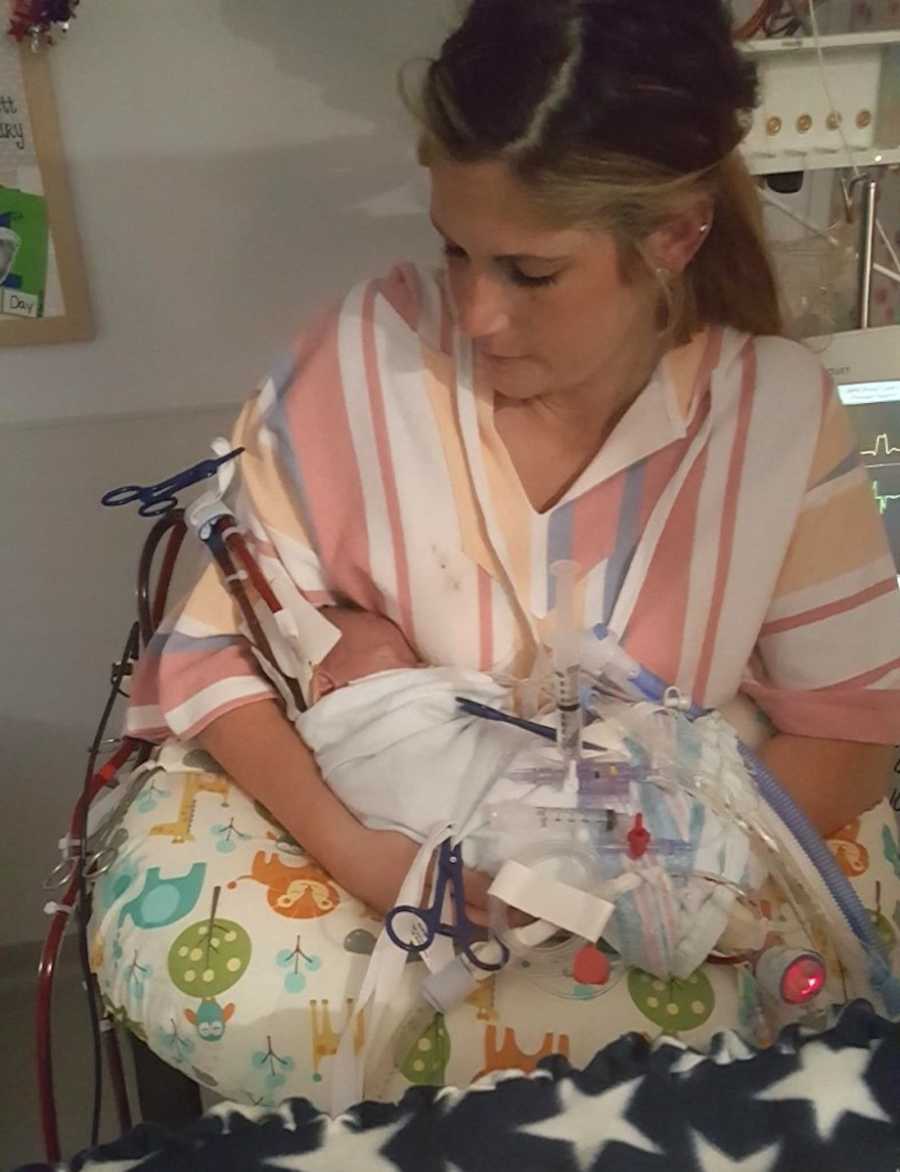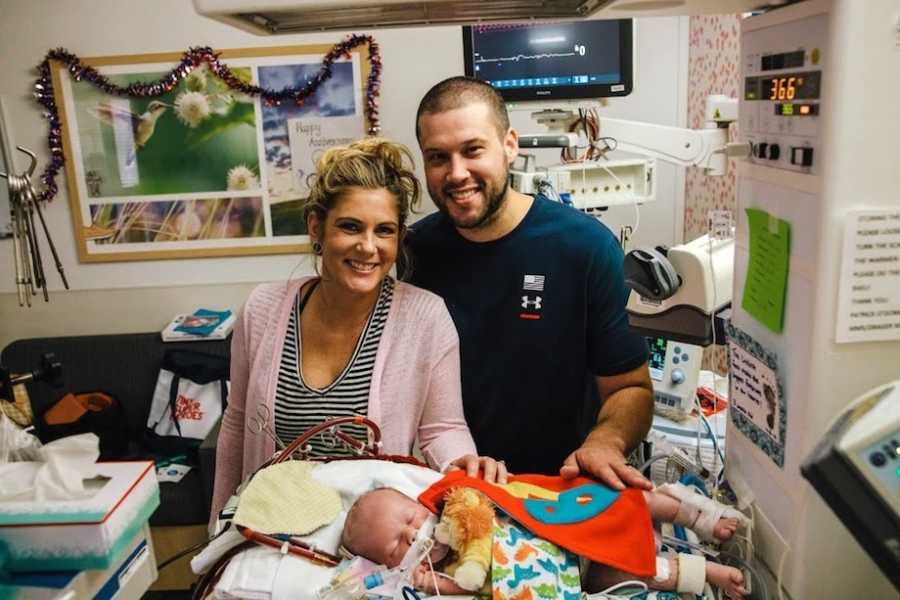 We prayed during the entire pregnancy for a healthy baby but of course, would love our baby no matter the outcome as that is true love. We didn't wait to hear bad news to hit our knees. We thought, 'God's got this. He will work a miracle in our favor and he will get glory from it.' Barrett had a long checklist of tests to get through to be placed on the transplant list. One of the things that would remove him from the transplant list was if he had any type of brain bleed, as well as a brain clot. Well, we were pulled into a conference room to be told he had a brain bleed AND a clot. So he would be pulled from the transplant list and we would have no other options but to take him off of life support. They wanted to do a repeat head ultrasound to verify the placement of the clot. We were sobbing in the room as they performed the ultrasound, as we knew Barrett's journey was already over, only to be told that they couldn't locate the clot and he was back on the transplant list. This emotional whiplash is only one example of the many back and forths we had during Barrett's short life.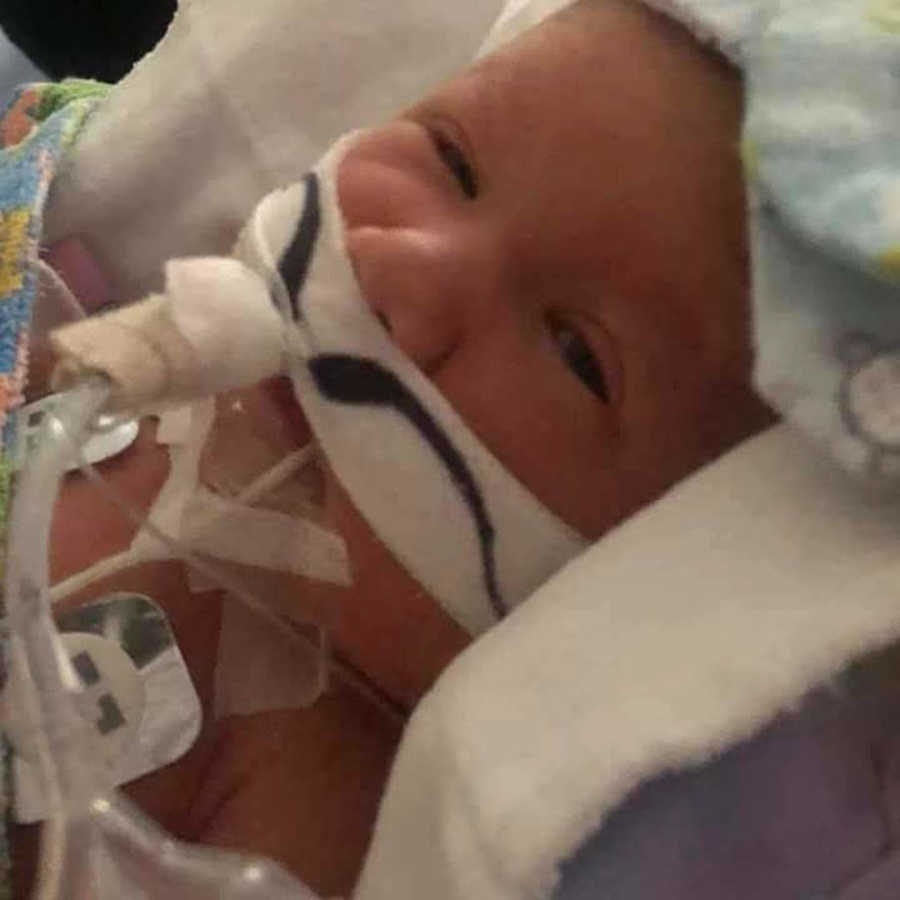 Barrett was doing well on the ECMO machine but they needed to move the cannulas from his neck veins and arteries to be placed directly into his heart in order to prove that his heart was strong enough for a lung transplant. This surgery went as well as it could and Barrett was moved from the NICU to the Cardiac Intensive Care Unit, as he was now a cardiac patient. Barrett's blood pressure continued to drop and his pulmonary arteries were still under extreme pressure due to his rare lung disease. Every option was played and we watched as they resuscitated our baby boy for an entire day. We were assured that Barrett was not in any pain and that Barrett would tell us when he had had enough. We were pulled into yet another conference room, which felt like the fifth or sixth time. This time was even more somber than the others. They told us they had one single option left to see if Barrett's little body could withstand this type of ECMO support or not. We, along with his amazing medical staff, decided to go for it, even though it was only the second time this procedure was performed in the country.
We sat anxiously in the waiting room surrounded by our entire family as Barrett went through his final surgery. The nurse finally came to retrieve us and walked us back to Barrett's room. She told us that Barrett was not handling the new support well and that they had done CPR twice to restart his heart. We entered the room and the surgeon informed us that they have done everything they could possibly do. As the doctor performed CPR, Katy said, 'It's okay, baby, you can go to heaven.' With tear-filled eyes, I asked the doctor to stop doing chest compressions so we could hold our little boy's body as his soul went peacefully to Heaven to join his big brother. We sobbed at the unbelief that Barrett's journey was over.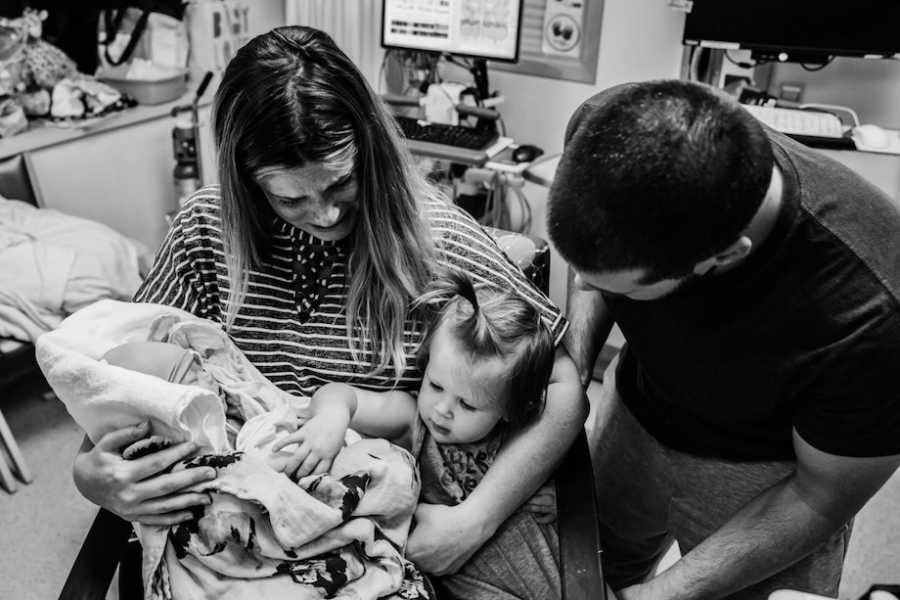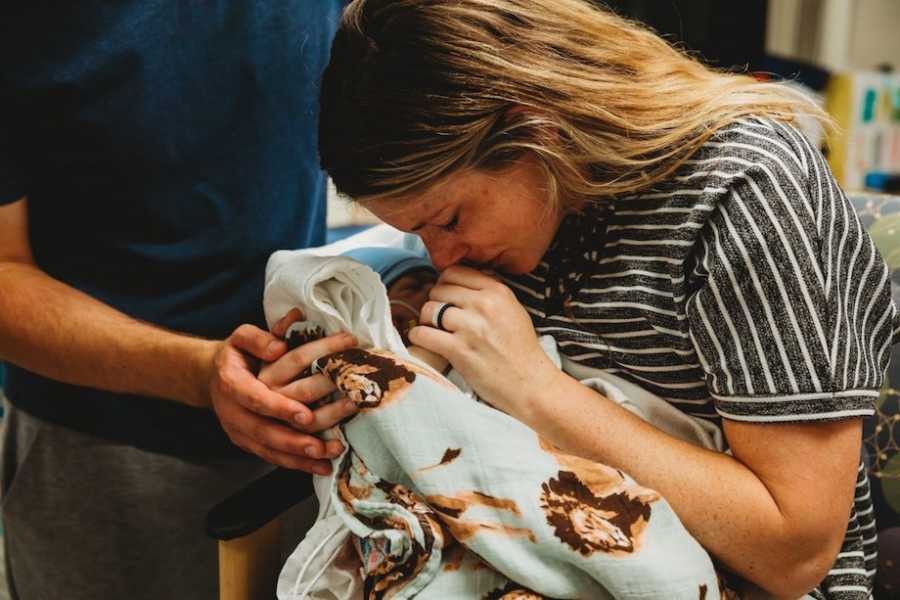 His grandparents held his body and sang 'Jesus Loves Me' as they loved on the little body that would never grow to be a child. It was the saddest day of any of our lives. Knowing we would not be able to watch him grow and play with his big sister broke us down and shook us to the core. We drove home from the hospital empty-handed and are empty-handed to this day. We had hoped to bring him home and give him a wonderful life.
Barrett's legacy is strong and he has made an impact on so many lives. Katy pumped during Barrett's time in the hospital to ensure he was able to get the milk he needed. 'I wanted his legacy to live on and help others so I decided to donate to a momma who needed breastmilk for her baby.' Barrett's initials are BZB and Katy's best friend early on said that sounded like 'busy bee' and that name was later mentioned by many others and it stuck. Bees are now a symbol for our sweet Barrett and it is something we as a community and cling on to in memory of Barrett. He brought a community together and we are all forever changed because of Barrett.
We are blessed to be able to spend 28 days with Barrett and make memories every day. We were able to change his diapers, give him sponge baths, file his nails, and put lotion on him. We also read him tons of books, gave him momma's breast milk by syringe, and held hands with him. We dressed him up for the Fourth of July and put bow ties on him and sang to him. He loved holding onto the little tiny stuffed animals that all of us got him. He laid on blanket crocheted by Katy's mom, specifically sized for a NICU bed, and made with full of love. 'I'll always remember Katy hand-delivering Barrett by pulling him out almost unassisted. The strongest woman I know gave birth to the strongest boy who ever lived.'
Our new hope is that we will eventually see him in heaven again. We are currently 16 weeks pregnant with his little brother, Archer. Nervous as ever but know he has two guardian angels watching over him every day. We love you Barrett and long for the day to hold you again."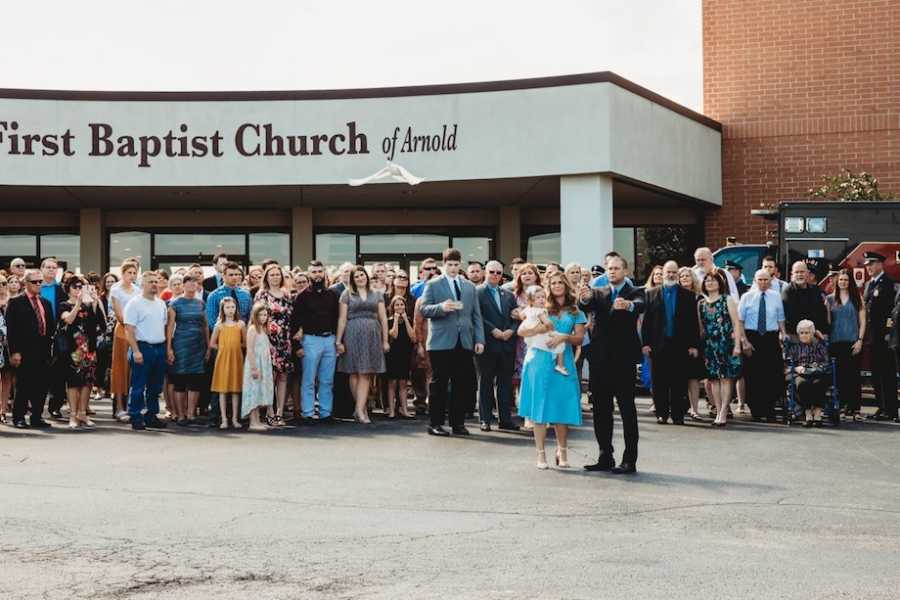 This story was submitted to Love What Matters by Katy Bone from Wentzville, MO. Do you have a similar experience? We'd like to hear your important journey. Submit your own story here. Be sure to subscribe to our free email newsletter for our best stories, and YouTube for our best videos.
Read more touching stories like this:
'You alright, mama? It's a beautiful day!' He was right. We were about to meet our angel baby.': Mom welcomes rainbow baby on exact same day she birthed stillborn year prior, 'the most special sign I've ever received'
'The OB dropped my newborn. 'It's OK, you're young. You'll have more.': Mom appalled by preemie's treatment in child birth, hopes other child loss parents 'never feel alone'
Do you know someone who could benefit from this story? Please SHARE on Facebook to let them know a community of support is available.