"I often hear, 'You must love your job! You get to hold babies all day long!'
As much as I would love for that to be true, because there's nothing better than the chance to snuggle a new baby, this perception is about as far from my reality as it could get.
And this picture, as much as I love moments like these, only represents probably 5 minutes of my entire 12 to 16-hour shift.
Maybe 10 if I'm lucky.
This is the reality…
A woman who's just delivered, and seemingly appears to be okay, suddenly starts to hemorrhage and you are doing everything you can to stabilize her.
Medicating, delegating, notify doctors, all while keeping her loved ones calm.
Working with your team to bring on the best outcome for your patient.
I've had that patient.
A baby who is suddenly choking, cyanotic, and not crying and the parents are desperately looking to you to help their child.
Whether the baby needs minor resuscitation, blow by, or stabilizing in the nursery until a transfer to NICU.
I've had that baby.
Caring for the couple whose full-term baby has unexpectedly passed away.
Recognizing and treating them still as parents, although the baby that they hold within their arms is no longer alive.
Being present to provide a gentle touch, a caring heart, and helping to provide them with guidance and a listening ear as they face the grief of losing a child.
I've taken care of that family.
Watching a new parent go from complete uncertainty to witnessing them blossom into a more confident parent after endless teaching moments in the three days you have cared of them.
I've been part of this.
Fundal checks, pumping, assessments, breastfeeding help, medications, blood administration, physician phone calls, newborn lab work, vaccines, blood sugars, vital signs, head to toe assessments, feeding help, respiratory and cardiac monitoring, NG placement, metabolic screenings and EDUCATION, EDUCATION, EDUCATION.
These are just some of the things my days consists of.
THIS Is An OB Nurse.
I have been in this specialty for over 15 years. Our profession is not easy.
We are the eyes, the ears, and often the voice for our patients.
We assess and have the ability to pick up the abnormals, while providing our patients with the utmost level of care.
I am a nurse and over my career, I have had the opportunity to work with an amazing group of people within this profession.
I am passionate about what I do and feel fortunate to do what I love. And grateful.
Grateful God has blessed me with the ability to be there for complete strangers, who count on me to hear them, assess them, and help guide them in the moments spent under my care.
So, to my fellow OB girls, you rock.
No matter what kind of day it is. I see what you do.
I know what it takes to do this job. Know that I appreciate you all. And to all my fellow nurses, remember…
Some days will be better than others.
Some days you will want to quit or wonder why you're doing this job at all.
Some days you may question your abilities, and some days, maybe even your sanity!
But know that what you do is important. You are valued.
What you do is not measured by a single moment, one shift, or one experience.
You will have good days and not so great ones. This profession is an ongoing journey.
We teach, we learn, and in the process, we get the chance to make a difference in the lives of those we care for.
We are all so much more than 'just a Nurse.'"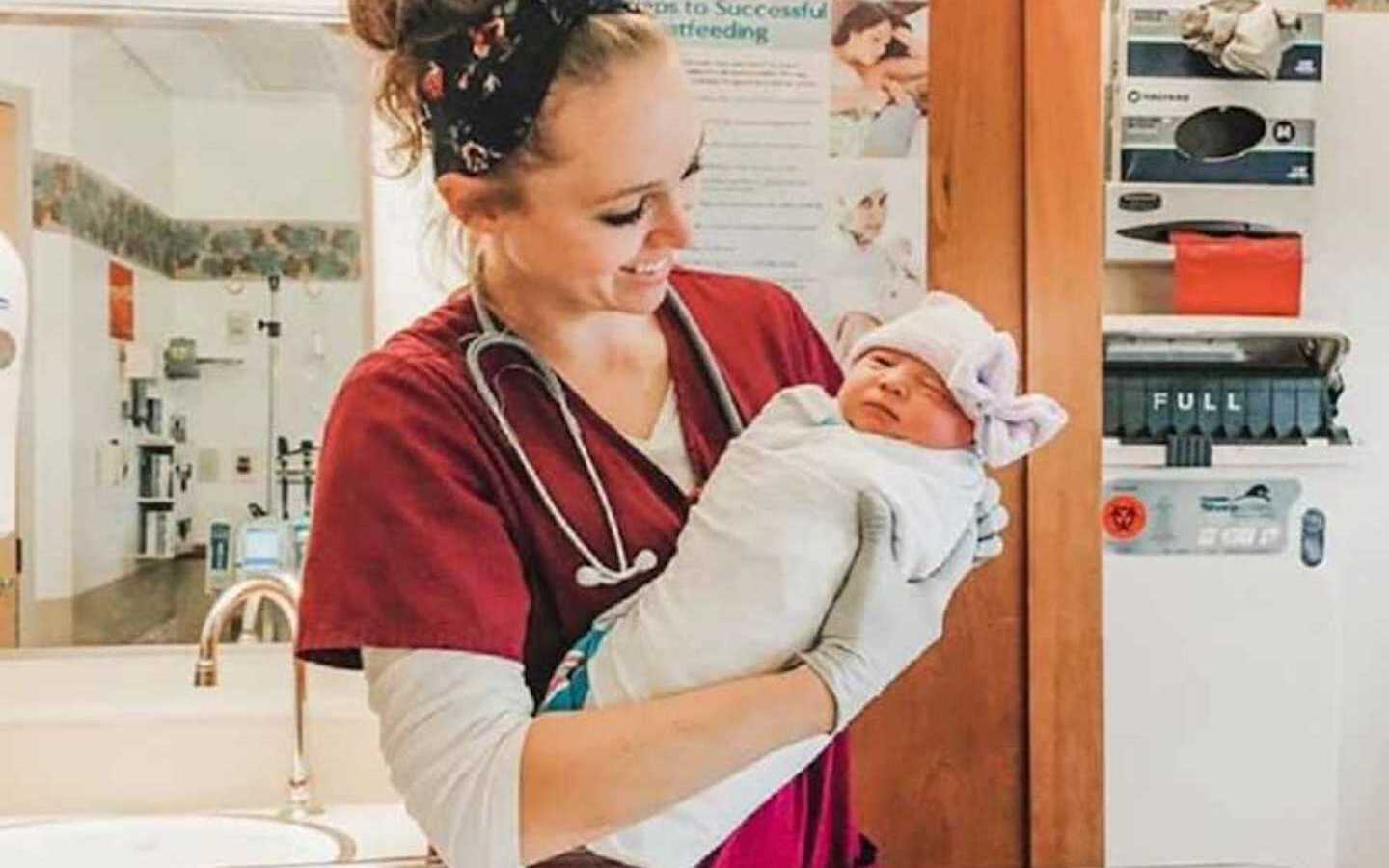 This story was submitted to Love What Matters by Amber L. and originally appeared on Facebook. Be sure to subscribe to our free email newsletter for our best stories.
Read more stories like this:
'We come home empty. We don't want to talk. The hardest work you'll ever do is love a nurse.': Nurse pens 'thank you' letter to those who 'love us and let us do this work'
'When you marry a nurse, you marry their job. She gives 100% day in and day out.': Man writes sweet tribute to nurse wife, 'this is her calling'
Show your appreciation for nurses. SHARE this story on Facebook with family and friends.