When Alyssa Johnson originally took her son, Grayson,  to the ER, she was sure he was only suffering from dehydration. After some tests, however, the family received a much scarier diagnosis: kidney cancer. 
"The diagnosis was scary. I kept feeling like they had the wrong chart, they had the wrong kid when they told us our 5-year-old little boy who just finished playing his first year of flag football and turned 5 years old had cancer," Alyssa tells Love What Matters.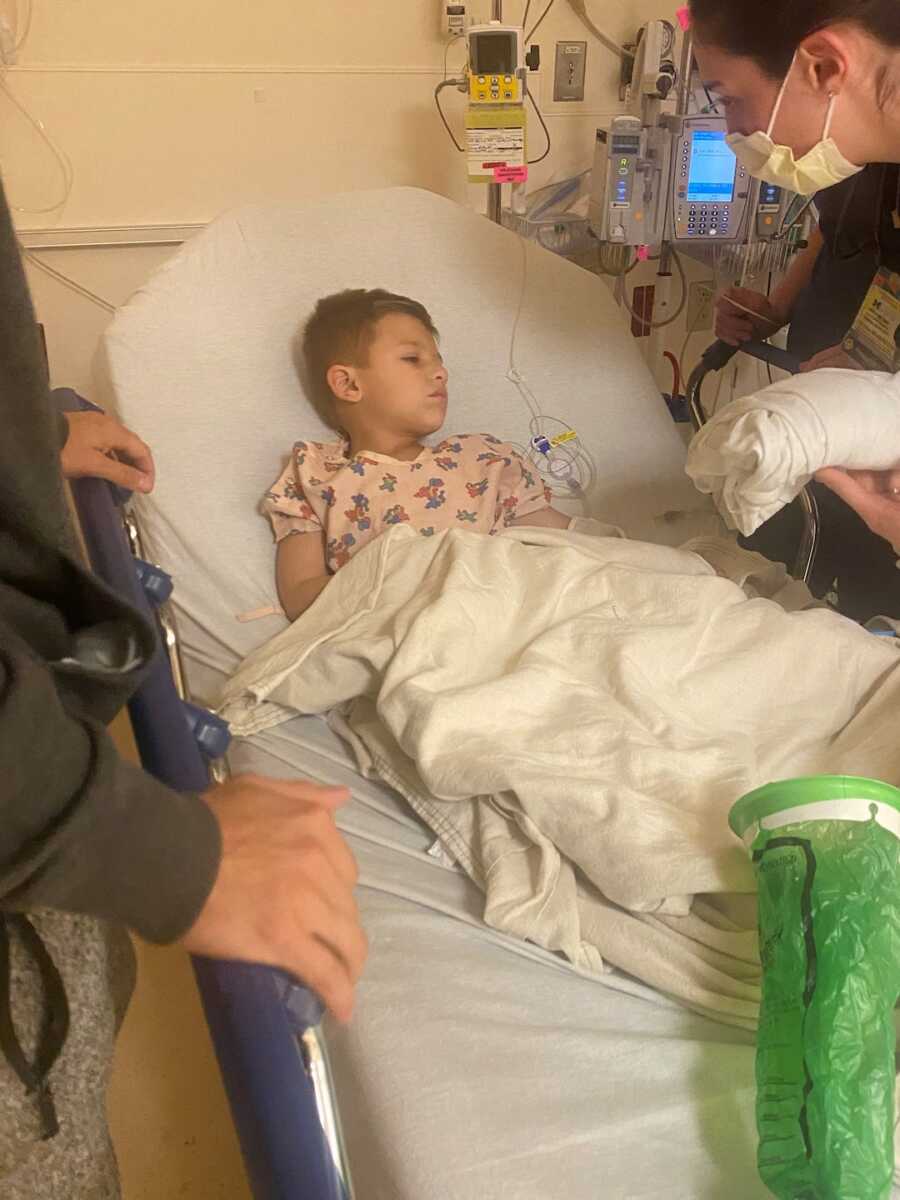 "They did more testing and told us that there was a tumor on his kidney, and they needed to do surgery immediately to remove the entire kidney," she continues. "They would then have to give him a port in his chest and start chemotherapy right away. It was one of the scariest days of our family's life, and my husband and I just sat and cried."
In an attempt to make the situation a little better, a friend of the family, Jamie Przybyla, made Grayson a Spider-Man costume for him to wear during treatments.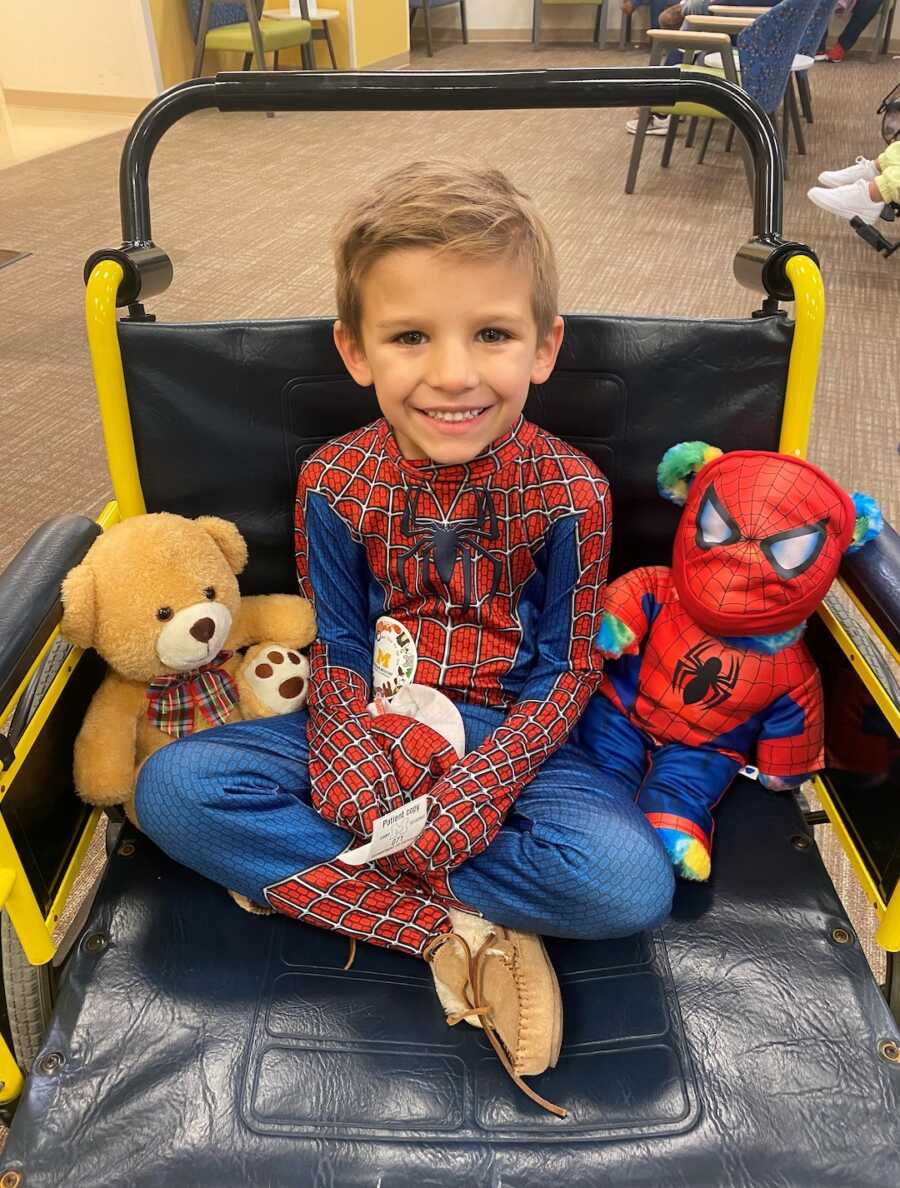 "The costumes have made Grayson feel brave and strong," Alyssa says. "I think the fears of the pokes and chemotherapy in general go away or at least subside because he feels like he can accomplish anything."
Beyond helping Grayson through the difficulties of chemo and his illness, the costume has brought joy to the other children and families around him.
"Parents have reached out to me saying they love what our son is doing, and this is the type of stuff the world needs more of," Alyssa says. "Our community backs and supports him so much by sharing his story or even buying him new costumes. I've had other cancer survivors or others currently battling cancer reach out to me saying that Grayson has given them strength."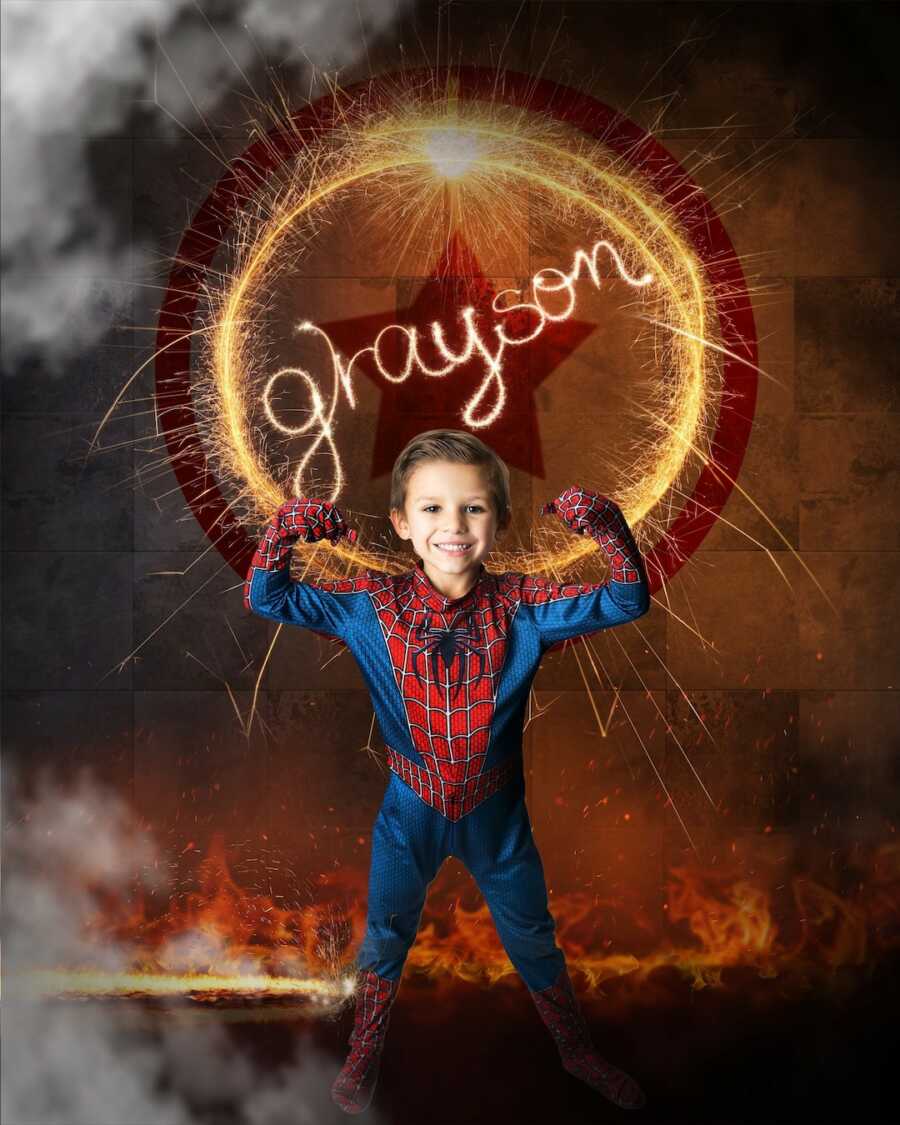 The costume, however, isn't the only thing that keeps the family going through this tough time. Even at just 5 years old, Grayson has inspired his family and given them all the strength to keep fighting.
"My 5-year-old makes me feel brave, makes me feel like this journey doesn't have to be scary and stressful all the time. You can either take a situation and sit in the scary parts of it or you can make it bigger than you could have ever imagined," she says. "That's what Grayson has done for me, and it makes me so proud to be his mom. We get excited with him; we smile with him and he's making a difference in this world."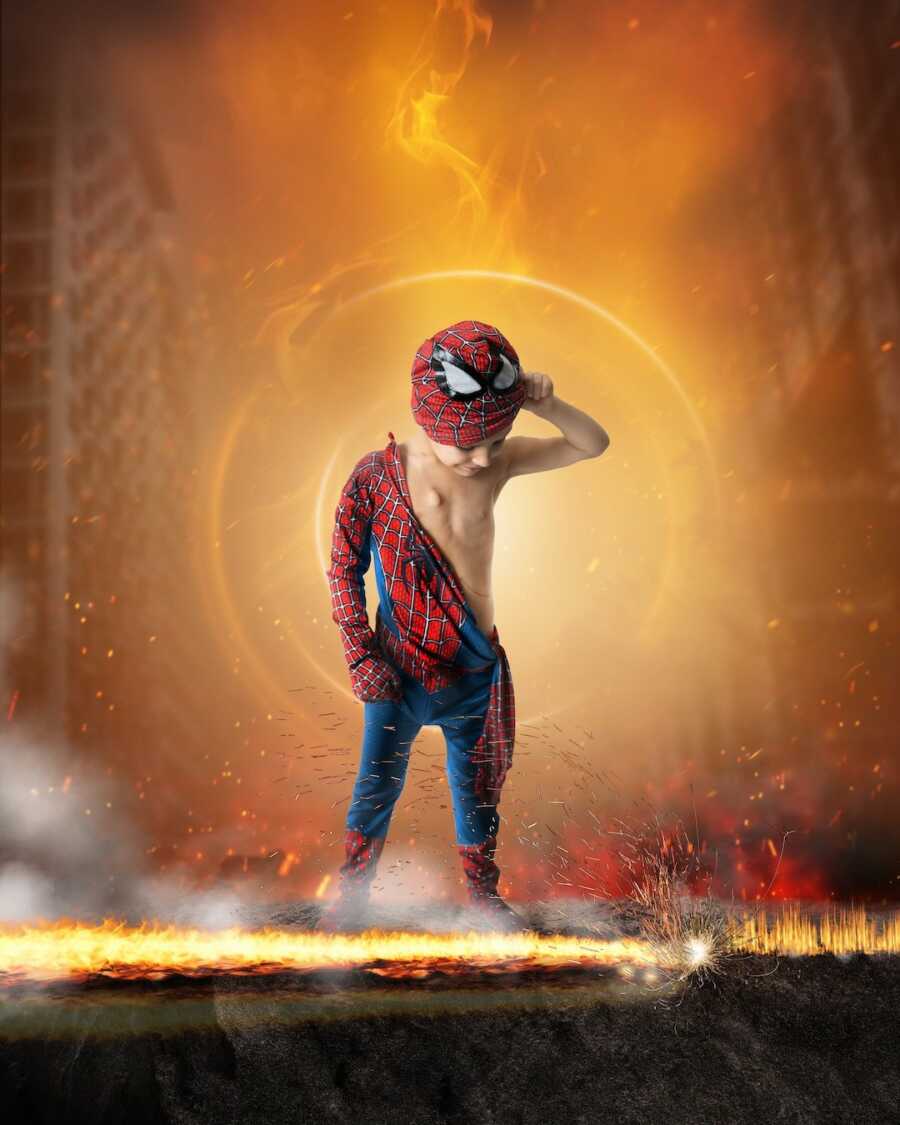 Grayson's light and impact on those around him has inspired the family to make change outside of their community and hospital. Once they are able, the Johnsons hope to start their own non-profit organization to send costumes to other children battling life-altering conditions.
"We hope to work with anything from auto-immune diseases to cleft lip and palates, because those conditions also require surgeries, testing, and big procedures that may seem scary," Alyssa says. "Costumes can bring a sense of bravery to everyone and that's our goal."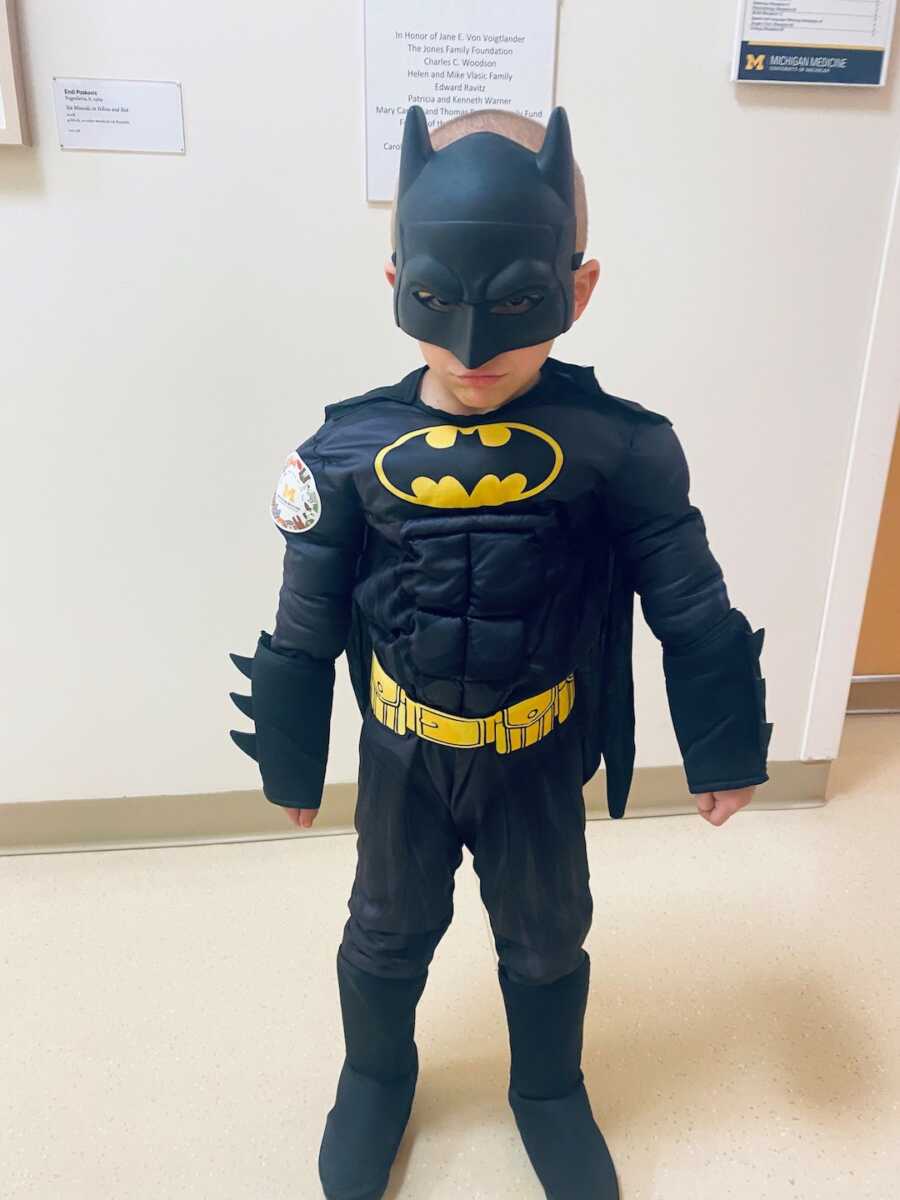 As Grayson continues to heal, the family is working with doctors and physicians to get genetic testing done and learn more about if he's likely to relapse, the cause of his cancer, and if changes in treatment are needed. To do this, they are raising money through GoFundMe and with community fundraisers.
"I think one thing that's not talked about enough when having a child with cancer is the amount of mental, emotional, and physical stress it takes on your body," Alyssa tells Love What Matters. "It's financially hard as well, taking time off work because your main priority is your child, and I don't think any family should have to worry about that."
Grayson and the Johnson family have been able to find strength and light through a hard time with something as simple as a costume. Their journey shows how important connection and joy are during the most difficult parts of life.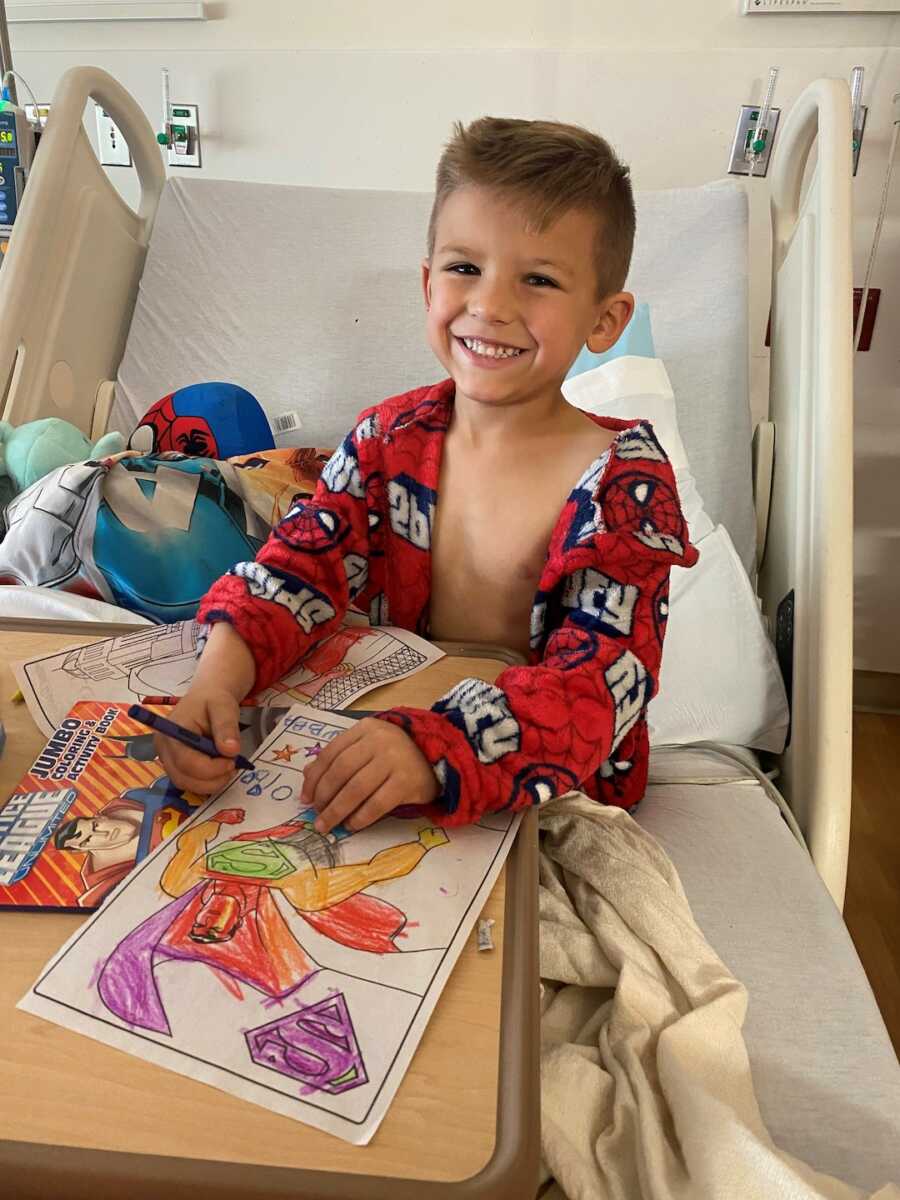 This article was written exclusively for Love What Matters by Anna Steingruber. You can support our contributor, Alyssa Johnson, through GoFundMe. Join the Love What Matters family and subscribe to our newsletter.
Read more like this:
'He held up his sign: 'Cancer is hard. Being black is hard… I want to survive both.' Just then, a police officer turned back around.': Police officers touched by childhood cancer fighter
'She knew something was wrong with her best friend. Her brother was now a quiet, sick little boy. He never wanted to play.': Sister dotes on her once 'lively, energetic' little brother now suffering from childhood cancer
Help us spread kindness. SHARE with friends and family.