The First Date
"We met in 2016 at work, and I immediately had a crush on him. A beautiful, handsome, bald, bearded man! I had done a lot of healing from my past abusive relationship and was ready to take the next step with a new partner. I definitely didn't think Brian would be the one, but it didn't hurt to try. I told myself what's the worst that can happen?
I went out of my comfort zone and asked Brian to meet for drinks after work. I knew I had a short time frame before picking up the kids from daycare, so I had to make it worthy of his time. He said yes to drinks, and the next thing I knew, I was sitting across from him staring into his blue eyes. I promised myself not to word vomit all over him with my trauma and life story, but I failed.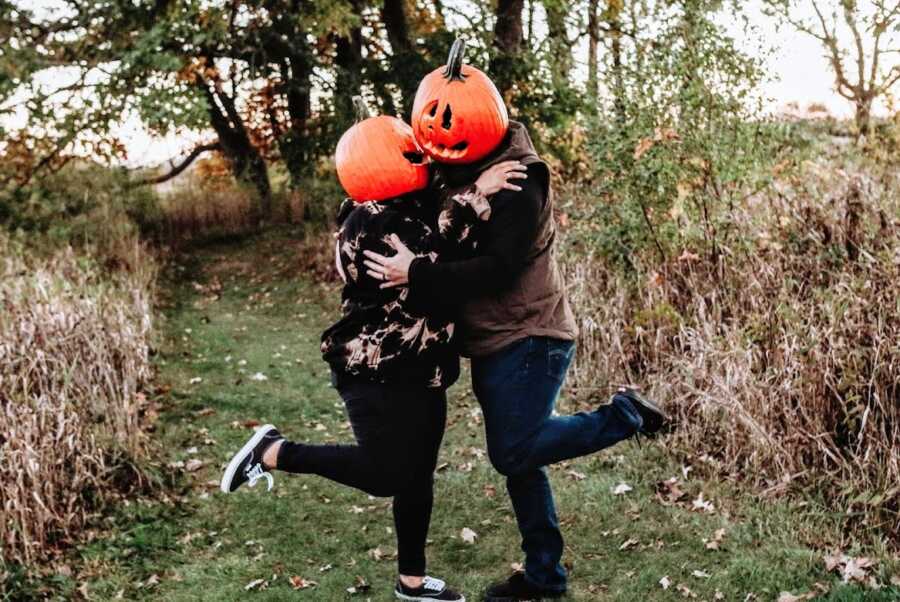 Next thing I knew, I was telling him about my three babies. Noah, my oldest, who was 4 at the time, and the twins, Sydney and Kaelyn, who were 2 years old. I felt so comfortable around him I couldn't stop there because I wanted him to know what he was getting into. I told him about my past relationship and how I was still healing from that trauma and coming to terms with being a domestic violence survivor. I explained how my time would be limited because I was the sole caregiver to the kids.
I had to wake up at 5:30 a.m. every morning to get the kids ready for daycare, and let me tell you, trying to get three toddlers all ready for the day, alone, was no easy task. I dropped them off at daycare then rushed to work, did my 8-hour shift, and picked them back up. We would get home, and I would make and feed them dinner, wash them up for bed, tuck them in, tell them how much I loved them, and nearly pass out right after them. I never thought someone would be interested in taking on all of my baggage.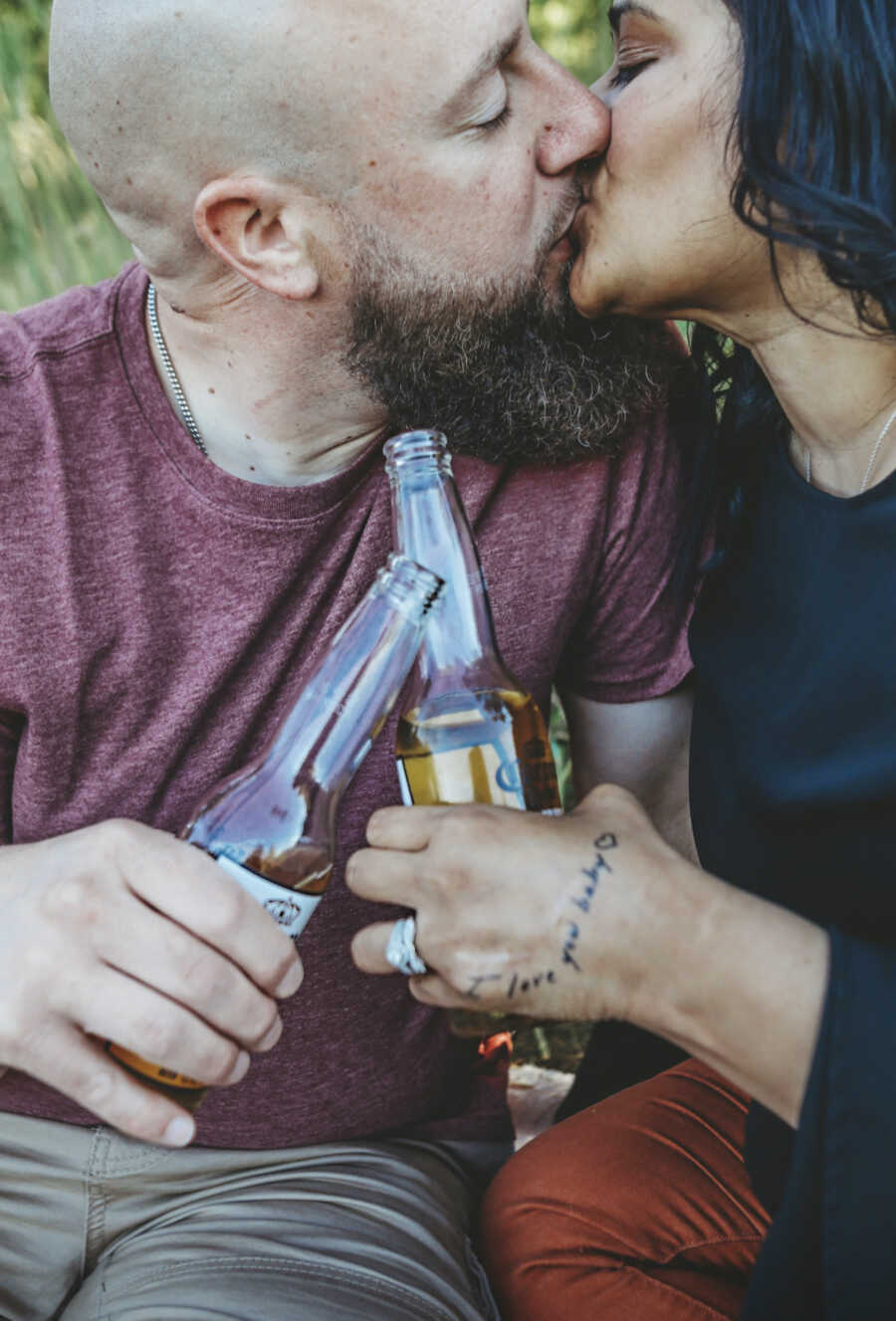 Brian listened to everything I said. Never made me feel judged, but I knew this was not a typical situation, especially for a single man with no children of his own. I knew deep down inside I would not get a call back after leaving that restaurant. Brian paid for drinks, and we said our goodbyes. Halfway to the kids' daycare, I got a text that read, 'I had such a good time, can't wait to spend more time with you outside of work.' I was elated and tried hard not to crash my car!
Taking Next Steps
I gave Brian strict instructions that moving forward, he could only come over when the kids were sleeping. I wasn't ready to introduce the kids to anyone unless I knew it was going to be serious. I was able to find sitters, and Brian and I got to know each other over good BBQ food and great conversation. Anytime Brian spoke, I was slowly falling in love with him. I knew I was crazy, but I felt it. I knew deep down he was my person.
We decided after 5 months it was time for him to meet my three heartbeats, Noah, Sydney, and Kaelyn. We took them to Chuck-E-Cheese, and they seemed to really enjoy his company. Everything felt so natural, I almost felt like it was too good to be true. We took them home, and we tucked them into bed together. When they woke up the next day, they asked when they would see Brian again. That made my heart explode. We slowly started introducing Brian by spending the night at our house during the weekend until it just became our normal.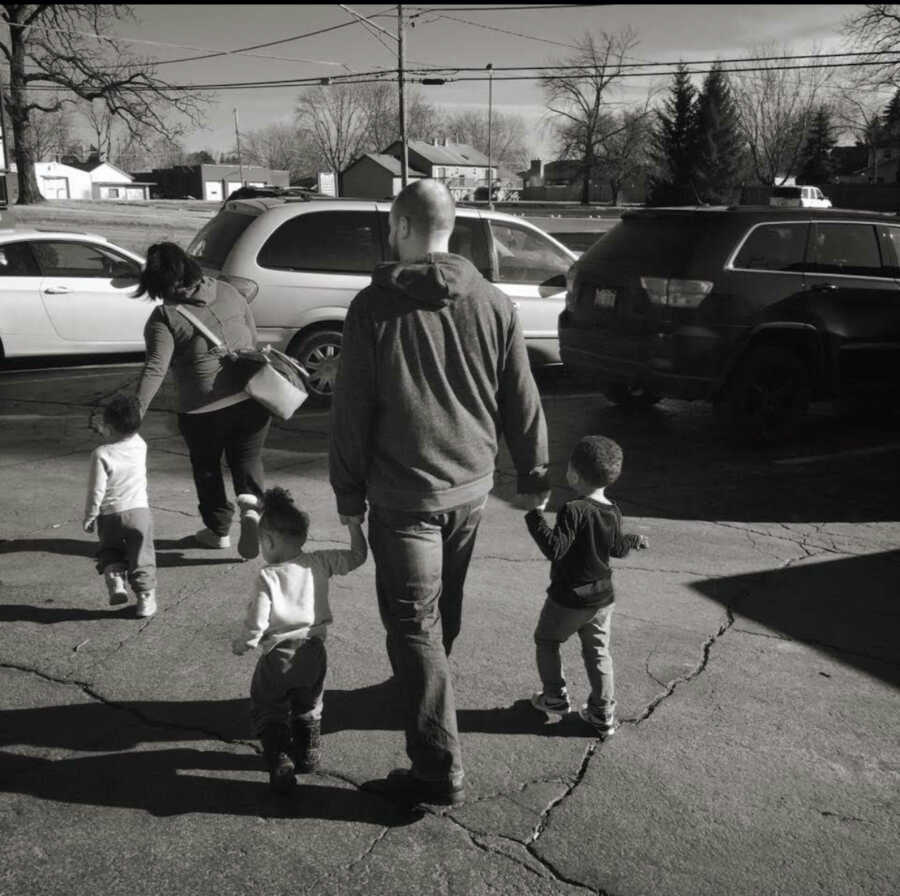 Brian and I started discussing moving in together and what that would look like. I knew it was a lot to take on because Brian also came with a 2-year-old puppy named Cooper. I never imagined someone loving me unconditionally, but there was something I was keeping from Brian that he needed to know before we moved any further. After I had the twins, I requested my tubes to be tied because I never thought I would get the courage to leave my abuser, but I knew I couldn't bring any more children into this toxic environment.
I sat Brian down, and I was so nervous I could have puked because this could make or break us. As Brian always does, he made me feel validated and still worthy of his love. After I told him his response was, 'Tiffany, this doesn't change anything. I know what I was getting myself into.' After that, I knew I was looking at my future husband.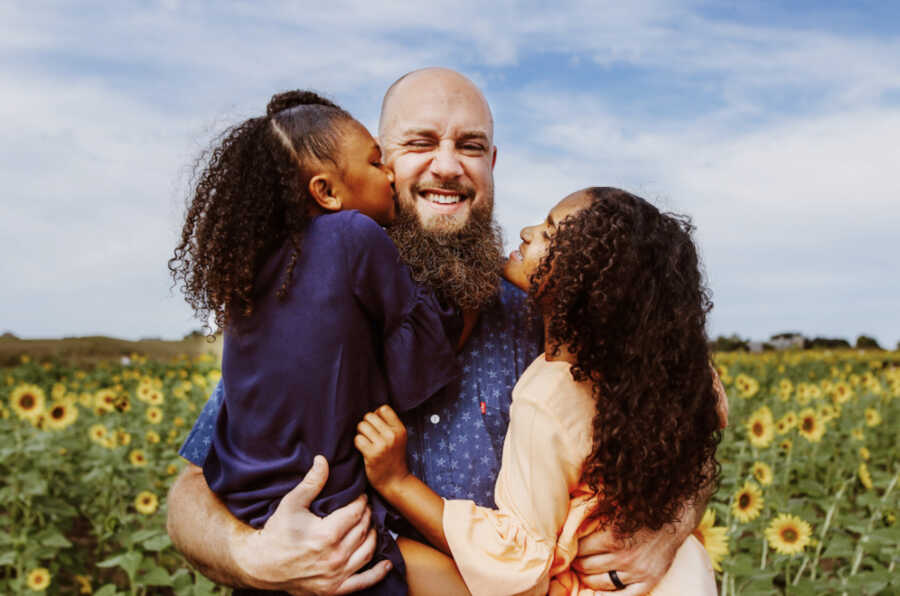 Marriage and Adoption
By the end of 2016, there was a ring on my finger, and we were full-blown wedding planning. Fast forward to 2018, we had the most beautiful wedding surrounded by all the people who loved us. We went on our honeymoon to Colorado, where we discussed the goals we wanted to reach during the first couple of years of marriage. While we were relaxing in the hot tub with snow falling around us, Brian looked at me with those blue eyes and told me he wanted to legally adopt the kids. He wanted to make sure that no matter what, they would be safe, even if I was not around. I nearly melted into the hot tub because although this was something I wanted, I never wanted him to feel pressured to do something he wasn't sure of. We got back from our honeymoon and hired an attorney.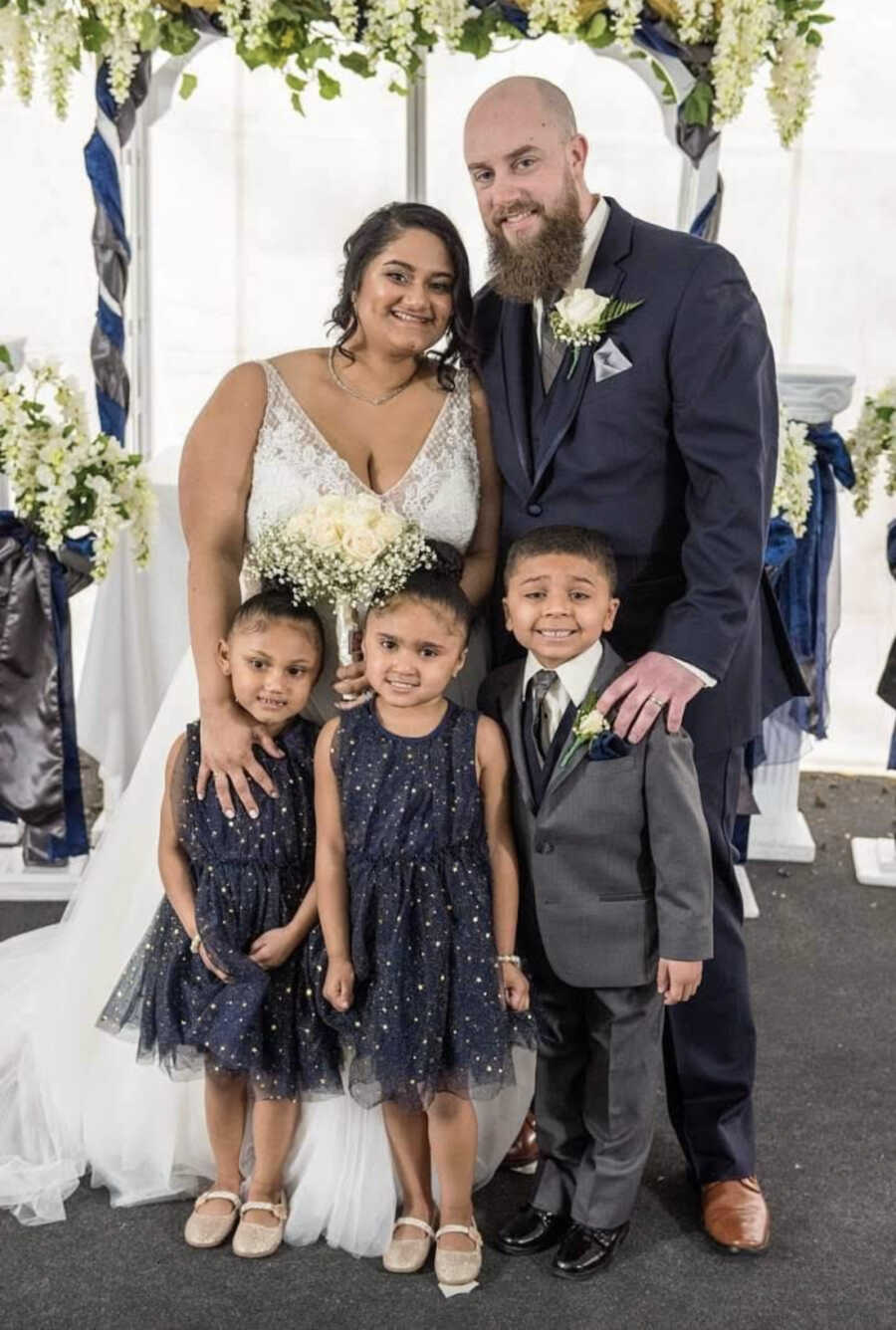 The process was long and grueling. We had to find their biological father, which was like playing Where's Waldo. We spent about a year, and a lot of money trying to get everything situated. We would get updates from our lawyer saying they found their biological father, and then they would set a court date up for him to come and sign over his rights, and he would never show. We went through this song and dance maybe 5 times until 12/21/2018, on Brian's birthday, we got the call that rights were signed over to Brian and the adoption would be finalized in court on 1/10/2019.
I will never forget that call; I was standing in our local grocery store, and I dialed Brians's number with the shakiest hands to tell him the good news. Brian told me this was the best birthday gift he could have gotten. We agreed that we would tell the kids together. We sat them down that night before cake, and they were so excited! Brian and I had to make sure we set up an appointment for the kids to meet their GAL (Guardian ad litem) so they could be interviewed to determine if this was the best decision for the kids. The GAL met with them and said we had a beautiful family, and the adoption was set for the 10th!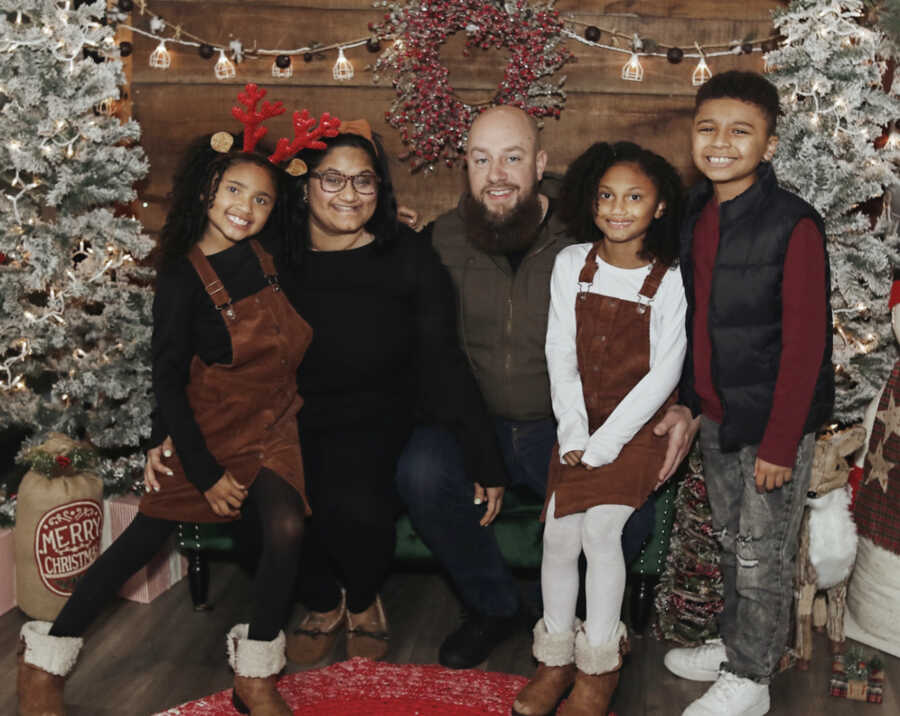 We made this day very special for the kids. We hired a videographer to document every single part of the process. We bought new outfits for the kids and did a countdown until adoption day! I remember all the excited butterflies the night before adoption day! It felt like the feeling you get as a little kid on Christmas Eve waiting for Santa. I lay in bed next to my husband, and I knew tomorrow would be a whirlwind of emotions. We woke up the next morning and couldn't contain our excitement.
We got the kids ready for their big day! We drove to the courthouse and listened to our favorite songs and let the kids tell us all about their excitement. We waited in the waiting room to be called in surrounded by our lawyer, our loved ones, their GAL, and our videographer. The clerk called us in and we took a seat at the table in front of the judge. The judge asked the kids all types of questions, and thanked Brian for giving these kids love and hope! I can remember getting very emotional as the whole thing was going on. I never thought I would be loved the way I was by Brian, but not only that, the kids were finally able to feel the love they deserve. We had an adoption party a few weeks after to celebrate their big day and new last names!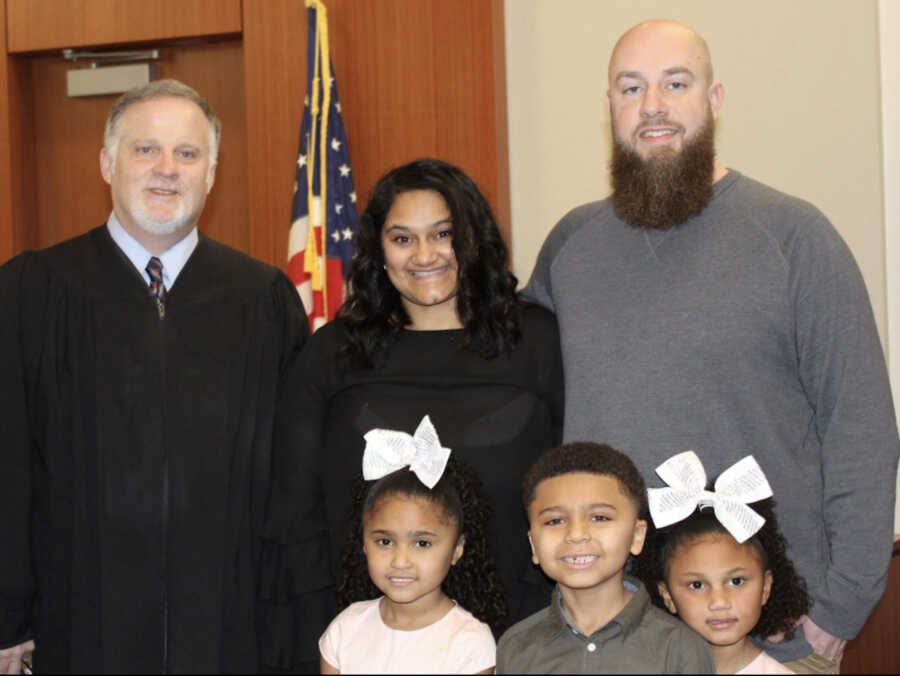 Every year on January 10, we celebrate their adoption day! We have always made sure that the kids are not ashamed of their journey. Their journey is something beautiful. I don't ever want them to be ashamed about their story because it led them to true unconditional love. Brian and I love our kids so much! We celebrate them as often as we can. We have their birthdays, which all three kids were born on 10/13, our wedding anniversary on 3/24, and then adoption day on 1/10! We are blessed and I thank god every day for all he has made possible!"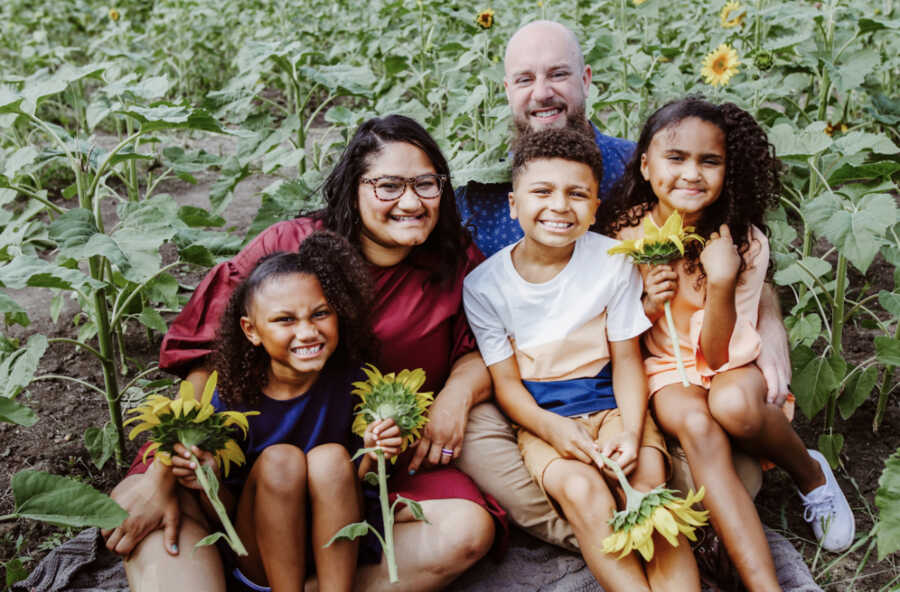 This story was submitted to Love What Matters by Tiffany Durlak of Antioch, IL. You can follow her journey on  Instagram, Facebook, and TikTok.  Be sure to subscribe to our free email newsletter for our best stories.
Read more stories like this:
'I like you around my mommy because you don't yell at her.' The judge thanked him for stepping up. I couldn't hold back my tears.': Woman marries 'fairy tale' man after abusive relationship, new husband adopts her 3 kids
'Can I please call you dad now?' I asked if he really wanted that. He said, 'More than anything in the world!': Stepdad adopts son into forever family
Provide beauty and strength for others.  SHARE this story on Facebook with friends and family.