"Cancer changes you. It's sometimes a cheesy cliché, but I can attest to you that the statement is every bit true. I've changed in several ways, physically and emotionally but I was most surprised to find that of all things, cancer helped me calm the fuck down.
It was during a physical exam with my gynecologist when I heard her say, 'I feel something.' I had switched doctors and finally felt like I was in the right hands. Clearly, I was, because up until this point, not a single OBGYN had ever touched me above the shoulders. Rarely, if ever had any of them touched me anywhere except the obvious pink parts. This exam was different. She started behind my ears doing a very thorough check of my lymph nodes, then headed down both sides of my neck. I felt her palpate the right side of neck, move to another spot, and return to the right side. She returned to that one spot three times before she made the announcement that she felt something.
A week later I had an ultrasound, two weeks after that I had a biopsy, two more weeks later received the news that I had Thyroid Cancer. Papillary Thyroid Carcinoma to be exact. I had surgery to remove the entire thyroid followed by in-patient radiation treatment. Now I am different.
Physically, I am different. I no longer own the organ that produces a necessary hormone that regulates my metabolism, heart function, body temperature, and more. I no longer can tolerate heat, my hair has changed, I have indigestion, my period is wildly irregular. I take a synthetic version of thyroid hormone, and while so far, so-so good, I'd be lying if I wasn't waiting for the rest of my organs to figure it out and stage a full-scale rebellion. (Fingers crossed.)
Mentally, I am different. I used to be sharp. I'd say I was pretty damn sharp. I could remember anything and everything down to the exact detail of an interaction including where we were and more likely than not, I could recall what everyone involved was wearing. Professionally I could site sources, references, and recall all of the necessary information to support my opinion. I remembered dates, places, and times. I always had an answer. I was always quick to answer. I rarely needed to think about thinking. I was always thinking.
If I saw you coming, I remembered our last encounter and quickly followed up. 'How's the whatever going?' 'Hey, what happened to the situation?' 'Did you ever find out about thus-and-such?' I remembered everything. I had a hyper sense of with-it-ness that didn't diminish even after 13 years of marriage and two children. I felt a keen sense of awareness that, unbeknownst to me at the time, was a total drag.
Now, I admit that I am knocking on the door of 44 years old, which could have something to do with the changes I have experienced. I've also had way more general anesthesia in the last year and a half than a human probably should. I would argue, though, that the physical changes I've gone through have had a direct impact on my brain because it simply no longer works the way it used to.
When I first noticed the changes, I panicked. I was out in the world, doing normal world things when I suddenly felt like I had to think about what I was actually doing; almost as though my auto pilot was malfunctioning. I noticed that I didn't immediately have an answer to one of my student's questions. I wasn't totally sure of what I wasn't sure of. I didn't immediately remember the last conversation I had with a friend at morning drop-off. Once we started talking, it all came rushing back, but it wasn't right there in my mind ready for the follow-up about it.
I felt anxious. Nervous. Cautious in all of my interactions. I would tread lightly in hopes of not getting caught not knowing. Suddenly I felt a constant need to be 'on guard' in an effort to keep myself prepped and ready for anything I might encounter. I was forcing my brain to work twice as hard in an effort to keep the world from seeing that I didn't have it all together. I was keeping a frantic pace that wasn't helping me in any way. All the work I was doing trying to make my outward appearance seem unfazed by what I had been through was wreaking havoc on my soul. It was exhausting.
Then summer happened.
For a host of reasons, it was the best summer on record for my family. I was forced to let go of things – like really, really let go – and it was a total game changer. I let go and the world did not stop. I let go and no one died in some tragic fashion. I let go and my life still carried on just with a lost less stress. I let go and let life happen. I let my new life happen and to my surprise, it was everything I needed.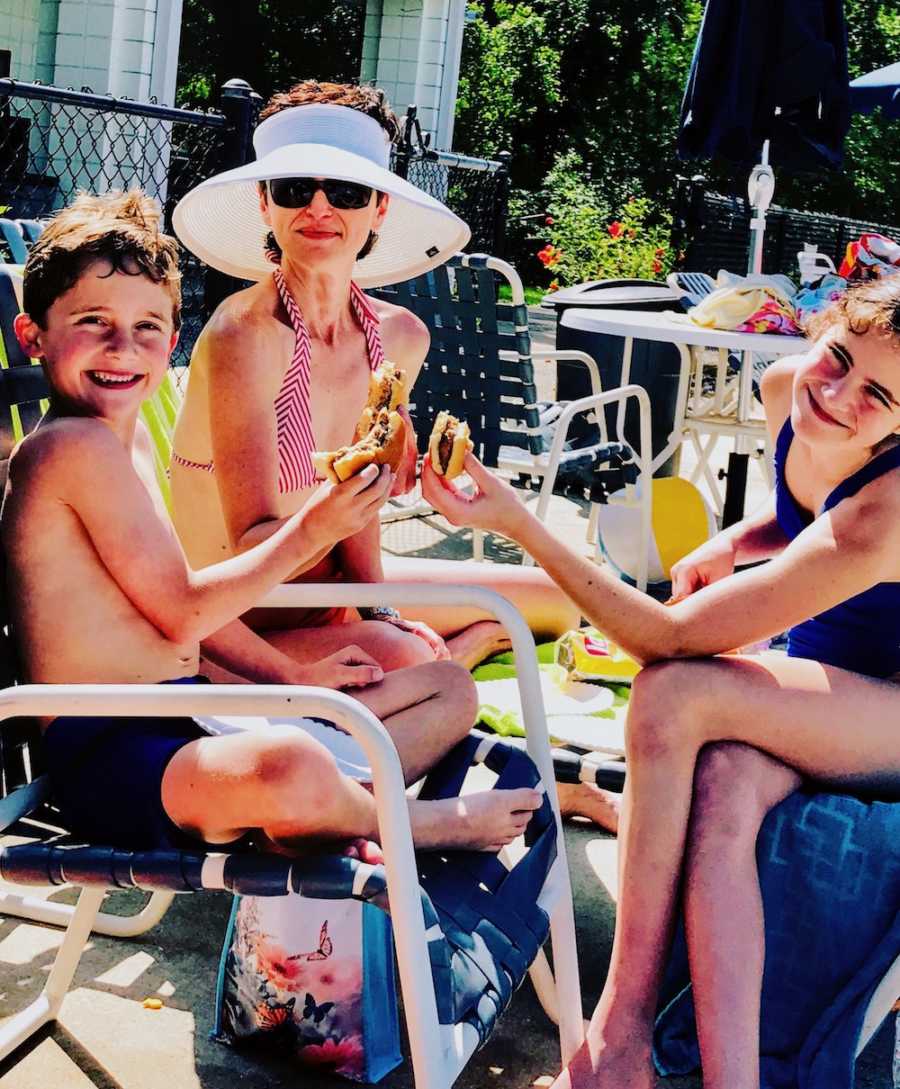 I remember less. It's a fact of my current life. Thankfully I haven't forgotten anything major like a child or something for work, but generally I remember less. I don't usually recall where we were the last time we talked, or exactly what topics we covered but if you are willing to catch me up, I'm totally on board. The surprise benefit to this is that my conversations are now more authentic and genuinely seeded in the moment; less a production tied to what happened before. I say what's on my mind now and how I feel at the moment; not necessarily what I think I should say.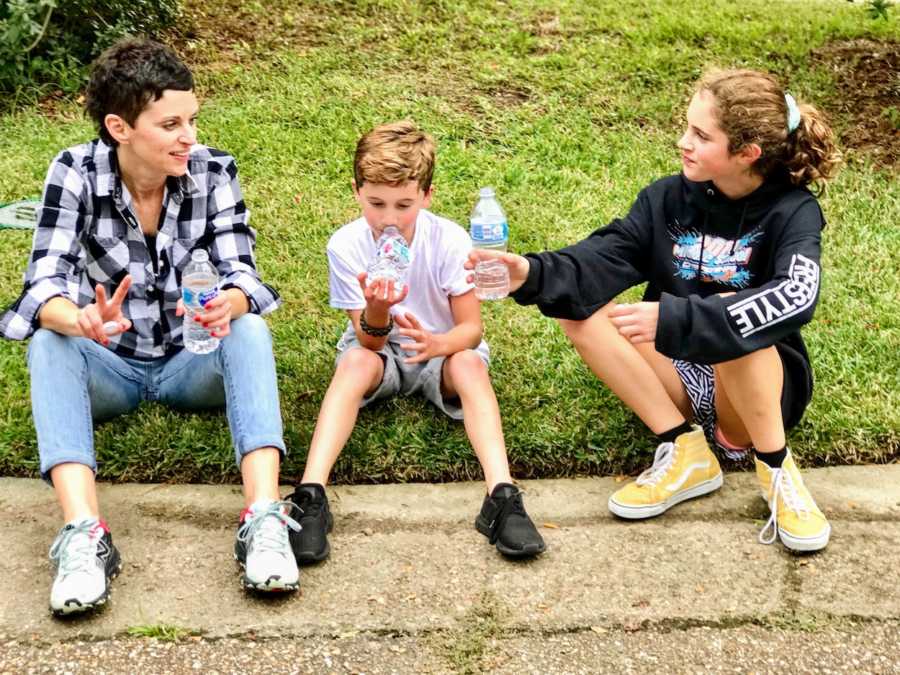 I feel less pressure to have the answers; which is a blessing because the truth is, I never had the answers to begin with. I have good hunches, firm beliefs and opinions, but not answers. Besides, having all of the answers is a fallacy we adults subscribe to in an effort to make us feel better. I feel less pressure to always know what to say. I feel more willing to give myself time to find what's possibly a better response.
I have more compassion for my kids who always seem to need more time. I'm less hurried. I feel free to take up whatever space and time that I need, and that feeling is fabulous. I confidently show the world the parts of me that are incomplete, uncertain, and sometimes need help. Whether it's an emotional change resulting from the fear of all that cancer is or if my brain is physically different, either way I am no longer the same person. As a result of the surgery and treatment, I know have the neck of an 85-year-old chicken, which is pretty humbling, too. But it took cancer to turn me into the hippie child-adult that I never realized how much I actually needed to be, so I'll take it."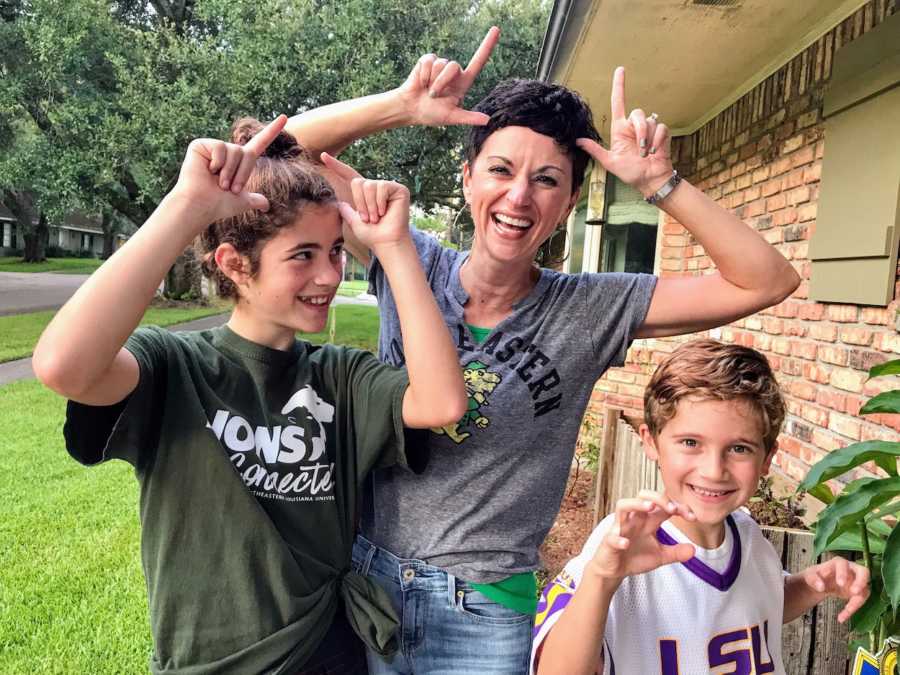 This story was submitted to Love What Matters by Melanie Forstall, 45, of Baton Rouge Louisiana. You can follow her journey on Instagram here and Facebook here. Do you have a similar experience? We'd like to hear your important journey. Submit your own story here. Be sure to subscribe to our free email newsletter for our best stories, and YouTube for our best videos.
Read more stories like this: 
'I was diagnosed with cancer, 6 months pregnant, married, with a 10-month-old daughter. I was under attack.': Mom refuses to abort child despite doctor's advice, 'It was up to me to make an impossible decision'
'Mommy, I've been scared to say this, but I have a big bump on my chest.' I lifted her shirt. Sheer horror!': 8-year-old girl diagnosed with breast cancer after both parents beat cancer, 'we are a family of fighters'
'I am only 31. They recommended a radical hysterectomy. They wanted to remove everything.': Through 'last chance' IVF procedure mom discovers uterine cancer, attributes fertility surgery to saving her life
Please SHARE this story on Facebook and Instagram to encourage others to cherish every moment and love what matters most.