"The events of late 2015 are forever burned into my mind. We're often witnesses to pain and suffering throughout our lives, however, as humans I believe we have a proclivity towards self-preservation or the 'that only happens to others' syndrome. This, of course, is brought on only by a deep sense of fear we all carry within…'What if?' What if something like that could happen to me, to someone I love? This thought can generate intense personal suffering as we begin to allow our thoughts to 'go there.' So, we hide behind the masks we wear and go about our days as if everything is fine. That is until certain events come about that shake us to our very core.
We have always been a very close family. My husband and I met when we were in our early 20's. We married after we had been dating for 2 years and had our oldest daughter, Brianna, after 5 years of marriage. We felt so blessed! She is such an angel! From early on in our marriage, we were no strangers to cancer. Six months after Brianna was born, I was diagnosed with a rare form of cervical cancer. I was very blessed to have been able to come through with surgery being the only course of treatment needed.
Seven years passed and I became pregnant again with our second child, another little girl. We were overjoyed and felt our family was finally complete. Life was good! Then, barely a year after our sweet Chrissy was born in August of 2008, my husband was diagnosed with Non-Hodgkin's Lymphoma. He had lost his father 4 years prior to Leukemia, so his diagnosis was truly frightening.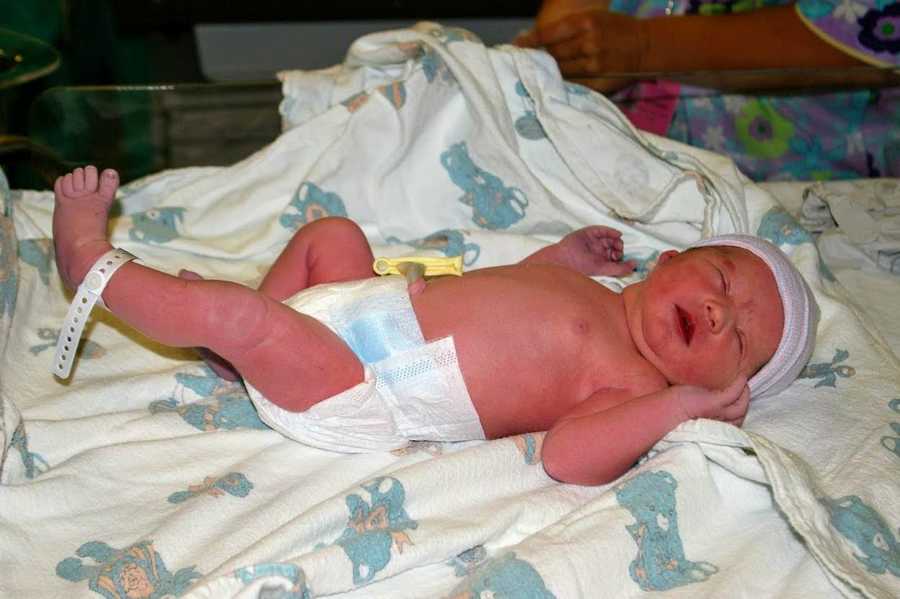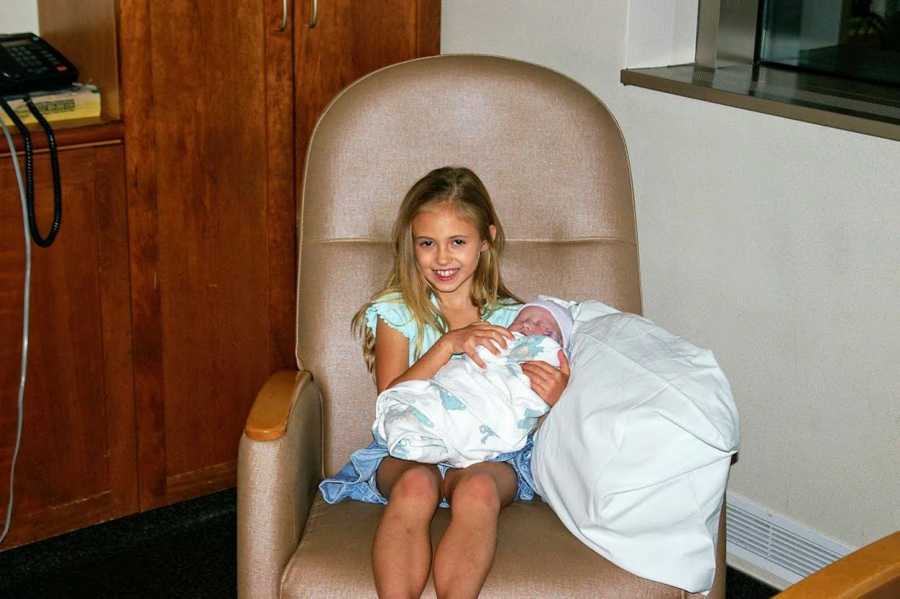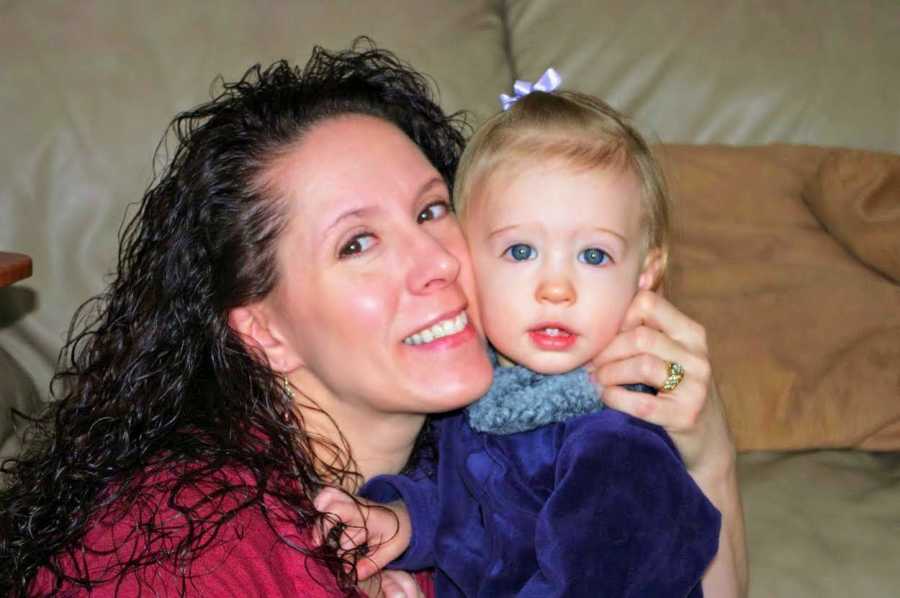 He endured 8 months of rigorous chemo and we were happy to learn that his cancer had gone into remission. Life continued on rather uneventful, although filled with countless warm memories. We were so blessed! That is until the absolute horror happened. Something that shook our very foundation. I can't even begin to express the myriad of emotions felt as a parent by the events that unfolded in October 2015.
'Mommy, I'm scared,' she said as she and I met in the hallway on the evening of Sunday, October 18, 2015. We were in the midst of our evening routine getting ready for bed since she had school the following morning. 'What's wrong, sweetie?' I asked her as I bent over to look at her face. 'Mommy, I've been scared to say anything but I have this big bump on my chest. I've had it for a while and I am really scared and needed to tell you.' I turned on the light in the hallway and asked her if I could take a look.
She lifted up her night shirt and there it was, as sure as she had said, a lump on her right side directly under her nipple. I stood, horrified, but tried my best to maintain my composure as I inspected the hard, immovable lump that lie there in my 8-year-old daughter's chest. I didn't tell her initially the fear I felt at that moment. I reassured her that I would call her doctor first thing the following morning to get her in to see her. I immediately called to my husband to join us in the hallway.
'Honey,' I called out. 'Yea, sweetie,' he answered. 'Can you please come here for a minute?' He came into the hallway and I told him what Chrissy had shared with me. He then asked her if he could look at the lump as well. After he looked at the lump, I could see the look of worry develop on his face as well. Not only was this a hard lump, but it was so dark we could see it through her skin, dark and immobile. We told her we loved her and that we would find out what it is and get it taken care of. 'Mommy will call the doctor first thing in the morning sweetie,' my husband said. He and I exchanged a look of fear. We tried not to panic and immediately began to hug and reassure her.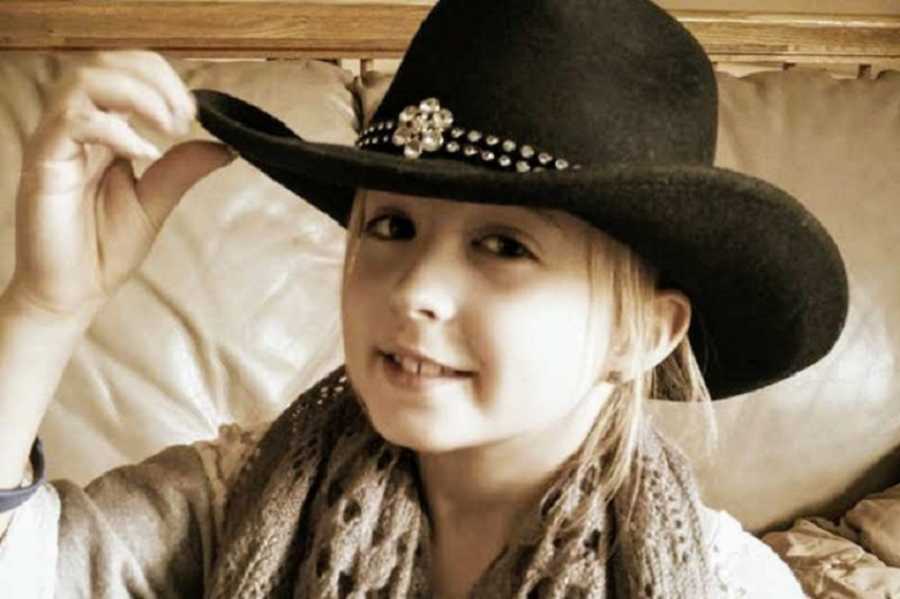 The following morning, we followed our normal school morning routine. I helped Chrissy get ready for school. I made her breakfast, packed her lunch, and drove her to school and waited with her in the truck until the first bell rang. I hugged her tightly, looked into her eyes, and told her I loved her more than anything in the world and we would get this lump handled. 'Have a good day at school baby girl! Try not to worry sweetie,' I exclaimed as she walked briskly towards the third-grade door where her schoolmates were waiting in line for their teacher to come and guide them in.
Deep inside, I felt unease. After I dropped her off at school and drove home, I picked up the phone to call her pediatrician's office to get her in to see her. Expressing a sense of urgency to the representative on the other end of the line, I was able to get her an appointment for later that afternoon at 4:00 p.m. I texted my husband and told him about the appointment so that we could both be with her.
That afternoon, I waited outside for her to get out of school. The bell rang and she came running out of the building. I gave her a big hug when I saw her and helped her into the truck. 'Is daddy coming to my appointment too?' she asked. 'Yes sweetie, daddy is waiting for us at home.' We drove home only to drop off her backpack and pick up her daddy. As we drove to the pediatrician's office, she expressed being nervous once again. Both my husband and I reassured her that whatever is it, we would all handle it together.
The typical routine ensued when we arrived. I checked her in at the front desk and, after a few moments, we all went into the exam room. When her pediatrician looked at it, she looked puzzled. The first thing she wanted to try was a round of antibiotics for 7 days to see if it would go away. My husband and I looked bewildered. This was a hard lump under her skin. There was no warmth or redness to be seen or felt. We expressed our concerns and told her doctor we wanted an ultrasound right away, but she insisted on the antibiotics. We took the prescription from her very hesitantly.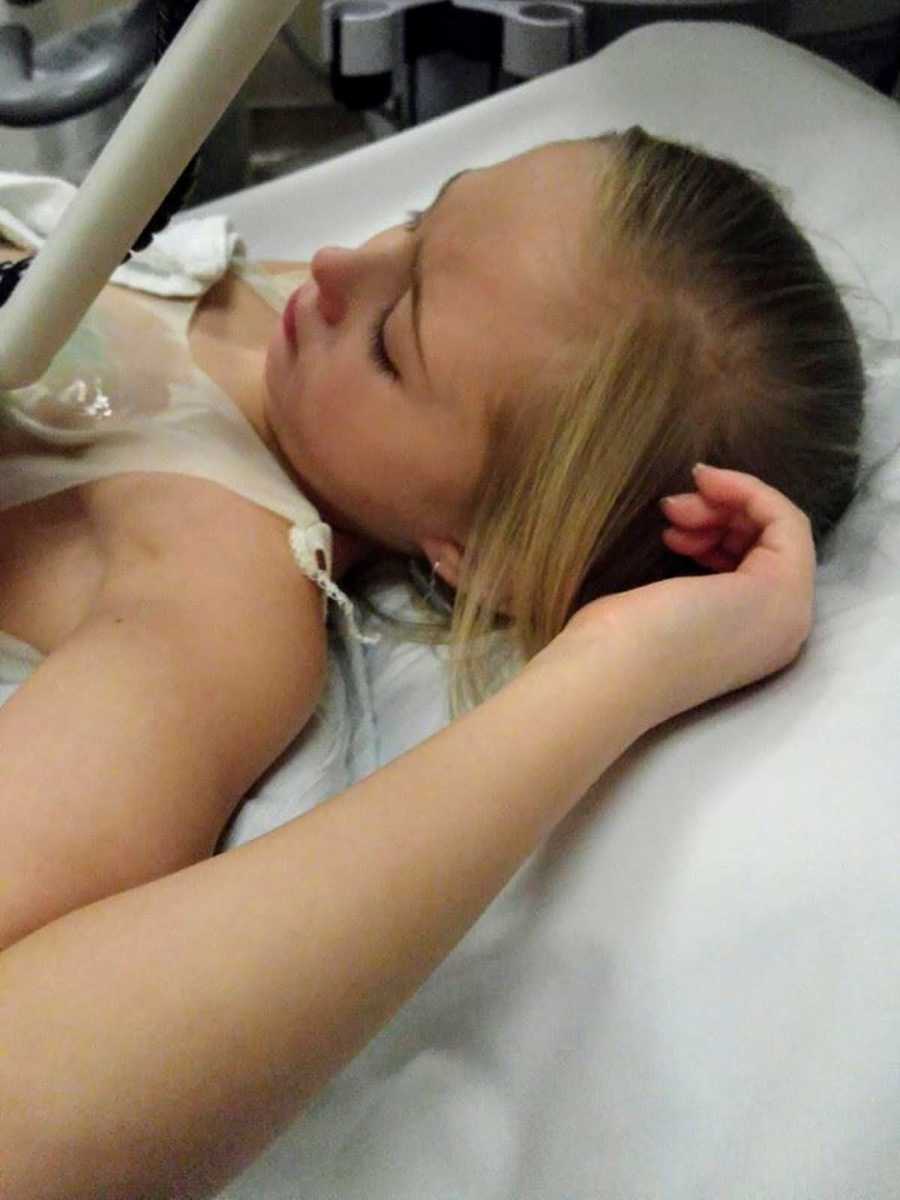 The next few days were nothing more than utter frustration! After we arrived home with a prescription that we felt was completely unnecessary, my husband and I started talking. 'I don't feel comfortable with this at all,' I said. 'Something just doesn't feel right.' 'That's ridiculous! It is an obvious hard, black lump. We can see it right through her skin,' my husband said. 'I know. I'm calling back first thing tomorrow morning and requesting to have an ultrasound scheduled,' I shared.
The next morning, I was back at it first thing! I called her pediatrician's office and told the representative on the phone we wanted to have an ultrasound done as soon as possible. She assured me that Chrissy's pediatrician always checks her messages at lunch time and we should receive a call back. Lunch came and went, no phone call. So, I called once again towards the end of the day, right before their phones were turned off for the day. 'I'm so sorry,' said the representative. 'I'm sure she'll call you after office hours today. Maybe she got busy.' I accepted her explanation and once again waited for a call. She didn't call.
I kept calling for several days and the same carried on until I finally called and instructed the nurse to send over an order to McKay Dee Hospital Imaging department because we weren't waiting any longer. I was able to get Chrissy in for her ultrasound finally that Friday evening at McKay Dee. They were absolutely wonderful with her and the doctor came right in to speak with us about what he saw. He verified that it was, indeed, a lump. His team immediately called in a referral to a General Surgeon at Primary Children's Hospital in Salt Lake.
The following Tuesday finally came and we arrived at Primary Children's Hospital and found our way to the general surgeon's office. He and his staff were very kind! He examined Chrissy's lump and said, 'It's probably just a benign tumor called a fibroadenoma.' My husband and I were still very concerned as it was hard and uncomfortable for Chrissy. 'Can we just have it removed,' I asked. He said he would rather not because it could damage surrounding breast tissue and that we should wait six months and see if it grew any more. We talked back and forth with the surgeon expressing our discomfort in leaving it in there but he insisted we wait.
The entire ride home we all felt uneasy. Something just wasn't right! Having both gone through different types of cancers, my husband and I didn't feel that leaving the tumor in our baby girl was the right answer. Call it cancer survivor or even just plain parent intuition, but we decided that night that it had to come out! Chrissy herself agreed she would feel better that it was not growing inside of her anymore. So, the following morning I called the surgeon's office back and told the nurse we want to schedule a lumpectomy. She had to check with the doctor and when she called me back, I can still remember what she said. 'He really wanted me to discourage you from having the surgery done because it can damage her breast tissue and she'll have a misshapen breast.' 'We just want it out of her.'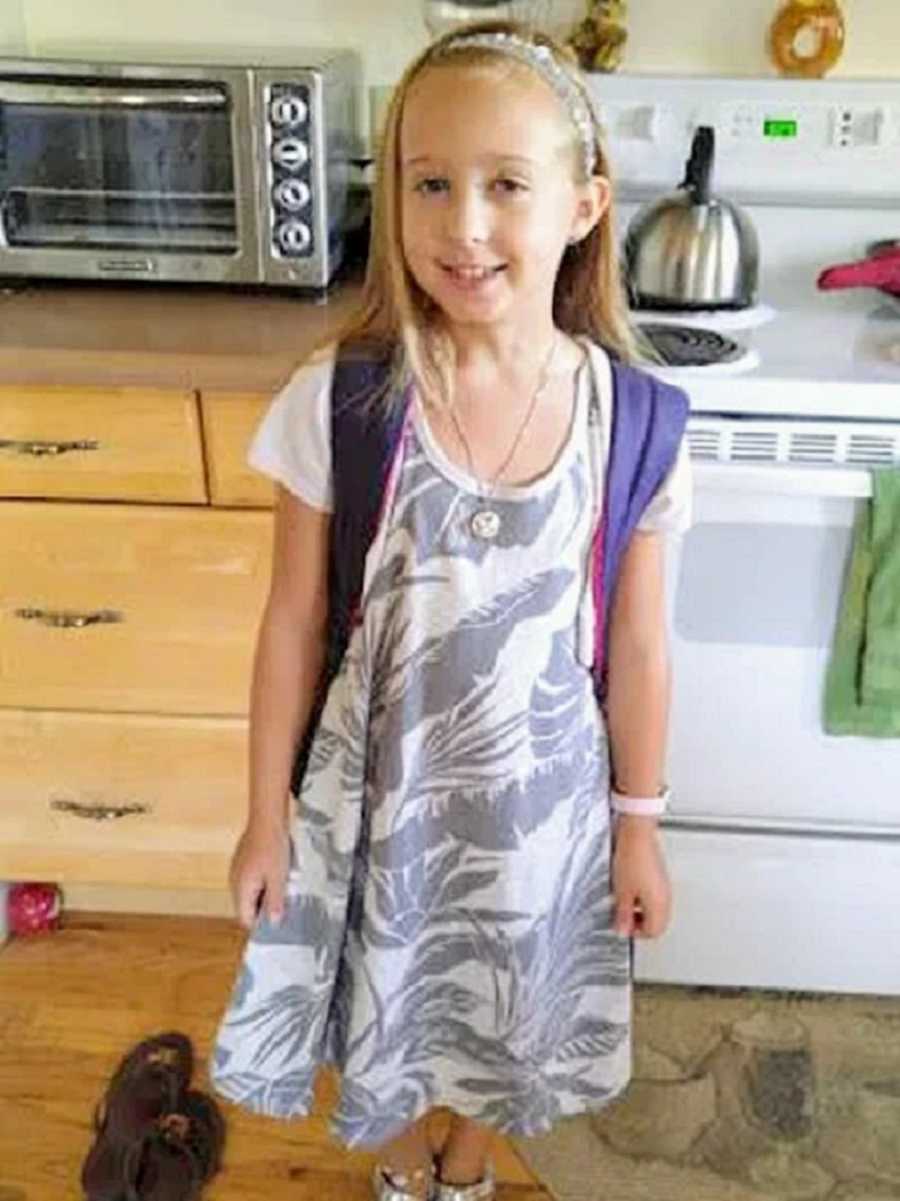 Her lumpectomy was scheduled in early November of 2015 and Primary Children's outpatient hospital in Riverton, UT. Chrissy was very scared, but we all assured her we would be there for her. Even her big sister! The surgery went well and the doctor came out and told us we would soon be able to take her home. We felt a huge sigh of relief as we heard this news! When Chrissy finally came around, I remember her saying, 'I just want to go home so we can just get back to normal.' We all laughed as we felt the very same way. But nothing could have prepared us for the horror that was yet to come!
My husband left for work in the early morning hour of Monday, November 16, 2015 as he had on every other day. Myself, Brianna, and Chrissy were busy with our early-morning school ritual getting ready for our school and work days. Chrissy and I dropped Brianna off in front of her high school. 'Bye sweetie! Have a great day! I love you,' I exclaimed as she walked towards the school. 'Bye, Brianna. I love you,' Chrissy shouted out the window from the back seat. After another little event with a parent crashing into the back of our truck as he pulled into drop his child off as well, we were finally on our way home again. Chrissy and I stopped at home for a few moments and then, once again, I drove her in the truck to her school. Lots of giggles and fun always happens whenever I drop Chrissy off at school. I kissed her and hugged her tight. 'I love you baby girl,' I told her as I always do whenever I drop her off anywhere. 'Have a great day baby!' 'Bye mommy, I love you!' Just another normal day. Or so we thought.
I went to work as I had two clients that morning. After my second client, I was getting ready to head back home and the call of all calls came to my cell phone. 'Hello, this is Annette.' 'Hi, Mrs. Turner. This is Chrissy's surgoen calling from Primary Children's Hospital.' 'Oh yes, hello doctor,' I said. 'Is this a good time to talk,' he asked. I said yes. Then the news hit!
'We received the pathology back from your daughter's tumor and I'm so sorry, it was found that she has an extremely rare form of breast cancer called secretory breast carcinoma. 1 in 1 million are diagnosed with this type of cancer but none as young as Chrissy.' 'I'm sorry, what?' I was in disbelief. 'She has cancer. I'm so sorry. I didn't want to believe it myself so I had two separate pathologists examine the tumor. My office contacted the Huntsman Cancer Institute and have set up an appointment for Chrissy with Dr. Cindy Matsen. She specialist in breast surgery. It is set for tomorrow at 11:00 am. Again, Mrs. Turner, I am so sorry.'
Shock set in! Tears began to stream down my face. What? How? Not our baby girl! With extreme haste, I gathered my things from work, headed out the door without saying so much as a word to my coworkers. My hands were shaking as I started dialing my cell phone while walking out of the door to call my husband to tell him. We were both sobbing. He said he would leave work immediately and head home.
I honestly don't even remember the drive home. Not one bit of it. I only remember coming into our house. I sat my things down on the table and collapsed in a mess of tears onto the kitchen floor. When my husband arrived home about 20 minutes afterward, he walked into the kitchen sobbing. We hugged each other and just bawled, both in shock! 'Not our baby girl,' we both kept saying. 'How are we going to tell her,' I asked. Troy shook his head in disbelief, 'I don't know.' Our world seemed to come to a screeching halt. We both agreed we needed to drive to the high school to tell Chrissy's big sister Brianna first.
Troy and I arrived at Brianna's school. Brianna's face flushed white when she saw Troy and I both sobbing. Tears filled her eyes. 'Mommy and daddy, what's wrong?' We told Brianna and she started to break down. Her friends were close by and walked over to ask what was wrong and offer comfort. When she shared the news with her friends, they all began to cry. The three of us left the high school and headed to Chrissy's school to check her out. My God, how do you tell your child she has cancer? What do you say? Chrissy came walking to the office with all of her things. We all tried not to cry but she could read our faces that something was wrong.
'Why are all three of you here? What's wrong?' Chrissy asked. 'Let's wait until we get home sweetie, okay,' I said. 'Mommy, I'm worried. What's wrong?' We only live less than 2 minutes away, but I must say that was the longest drive from her school we've ever taken. We all went into our house, took Chrissy's things gently from her and sat them on the kitchen table. We all walked her into our bedroom and motioned for her to sit on the cedar chest at the end of our bed. 'Sweetie… we don't know how to tell you this. The surgeon who removed your lump called today and baby girl, you have a very rare form breast cancer.'
Horror, sheer horror! I will never forget the look on our sweet Chrissy's face for as long as I live! Her eyes welled up with tears, 'What?' 'You have an appointment to see a breast specialist tomorrow morning up at the Huntsman Cancer Institute.' 'What, why?' she asked. My husband, oldest daughter, and I were trying as hard as we could to remain strong for Chrissy but nothing prepares a parent for something like this. That was literally the hardest thing we've ever had to do. Her reaction next was something that still sends chills down my spine. We watched as her sweet little face changed to a look of determination. 'I'll do whatever I have to do to get fight this.' Wow! She was eight years old and just received news that she had a very rare form of breast cancer. Her face was a mix of fear and sheer bravery. We were all astounded!
Of course, we all told her how much we love her and how incredibly strong she is. 'We are a family of fighters,' my husband said. 'You and I, and mommy are all going to be survivors! You're going to beat this and we will all be there to help you sweetie.' He made a fist and motioned to her to make one as well. 'HOOAH!' he said carrying the exclamation he bellowed in the Army National Guard for many years. He has always had a way of sewing strength into our girls! 'That's right baby girl,' I said! 'HOOAH!' Brianna called out!
The next morning, it was just Chrissy, and I, and her daddy that went to Chrissy's appointment at Huntsman. We wanted Brianna to have as normal of days as she possibly could. We assured her we would share everything with her when we were all home together later that day. The entire staff at the Huntsman Cancer Institute were beyond amazing! I can't begin to tell you how much love and care we felt when we walked in with Chrissy. One of the young nurses working for Dr. Matsen had made Chrissy a blanket the night before. She was the sweetest thing! Tears in her eyes as she handed the blanket to Chrissy. Gratitude flooded from all of us!! This would be the first of many people reaching out to offer Chrissy comfort and the first of countless to be inspired by her!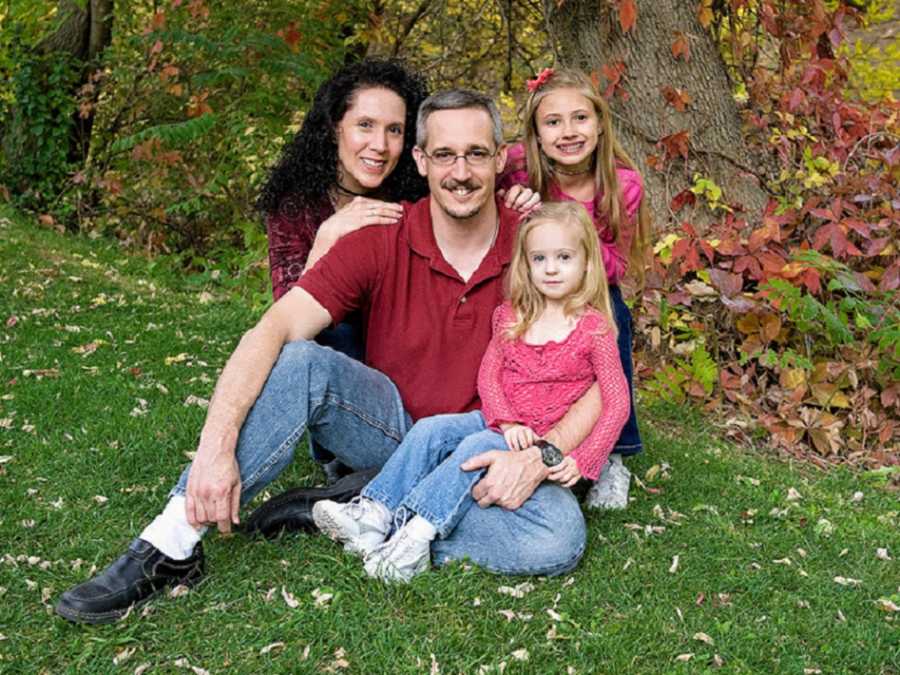 Dr. Matsen was truly incredible! She came into the exam room with her team. She had taken the time to create an entire PowerPoint presentation and had printed it out to share with Chrissy, my husband, and I. She was so sweet, patient, and just truly amazing with Chrissy. After going through everything with us all, Dr. Matsen shared that Chrissy's case had been taken before a rare tumor board and it was determined that a full mastectomy should be done as soon as possible which would include removing her entire nipple as well. Dr. Matsen shared that they were also going to remove 3 lymph nodes from her right axillary region at the time as her surgery. These lymph nodes would then be tested for any metastases using a freeze biopsy method in the operating room and that the general surgeon who conducted Chrissy's lumpectomy would be assisting Dr. Matsen with the surgery. We met countless other staff members at the Huntsman Cancer Institute that day. So many I can't even recall. Chrissy's big surgery day was scheduled for Monday, December 7th up at the Huntsman.
The remainder of the week we spent as much time together as a family as we possibly could, going any place Chrissy wanted to go. The pet store, out to dinners, whatever we could do to build memories, love on Chrissy and each other, and pass the time until her surgery. We even met an incredible foundation during this time that made Chrissy feel like she was the only little girl on the planet! The Mascot Miracles Foundation had reached out to us. We really built many beautiful memories that week!
The big day arrived! We were to arrive at the hospital around 7:00 am that morning. We were all nervous, although my husband, oldest daughter and I, tried to be strong for Chrissy who was scared. The staff had set up a special operating room for Chrissy since she was so tiny and they were used to adult patients. We were checked in and the nursing staff went to work prepping Chrissy for her surgery as they all offered introductions and shared their perspective roles in her care. She was given her own pre-op room where we could be together as a family. We spent as much time as we could with her before they finally came to take her into surgery. The surgical team finally came into the room. 'Are you ready, Chrissy?' one of the male technicians asked? 'No, but I want to get this thing out of me.' They wheeled her out of the room and we all stood in silence. Tears filled my eyes as I had been holding them back the entire morning. 'She is going to be changed forever when she comes out of surgery,' I said.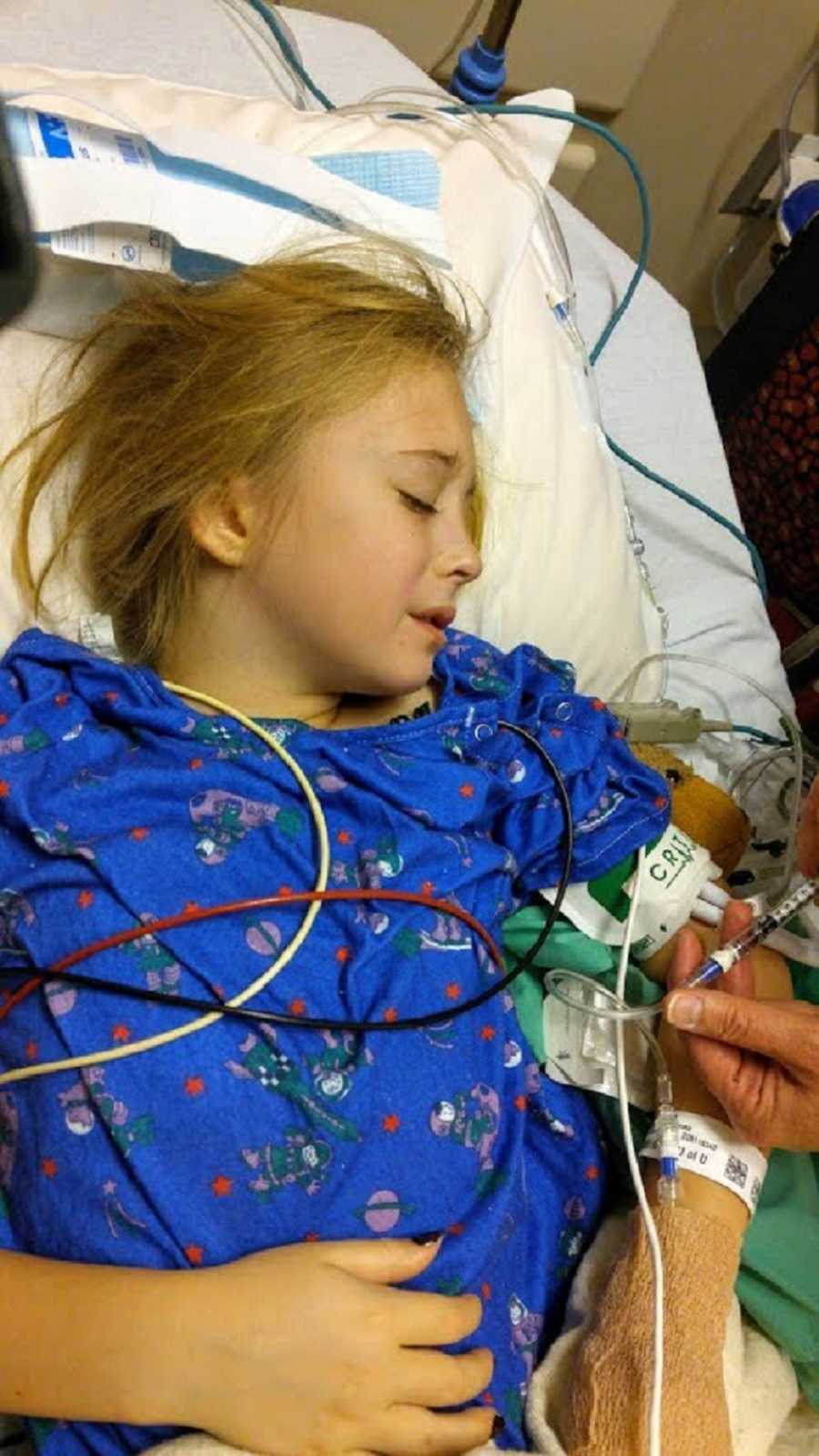 Several hours passed until Dr. Matsen finally came into the room and asked me to come with them as only one person could be back there with her. They took me to a very small draped area in the recovery room and asked me to wait a few minutes and they would bring Chrissy in. They pulled the drapes around me and there I sat, waiting, the tick of the wall clock and the sound of distant voices as my company. Waiting as patiently as I could to have my baby girl returned to me. Finally, I heard the sound of doors swinging open and my baby girl's cry echoing throughout the room. The first thing I wanted to do was swing open the curtain and run to her side but before I knew it, they were wheeling her bed into the open space where I had been waiting. She was crying and not quite conscious. It was so hard to watch her lie there in pain. The nurse said her surgery went very well and the doctor would be in to speak to me in a few minutes. She lifted up her gown to show me that they had cut her bandages into the shape of an angel and even her teddy bear, Andy, that she had taken in with her had his own bandage to match her. I started to cry and hugged the nurse. 'Thank you!' I said.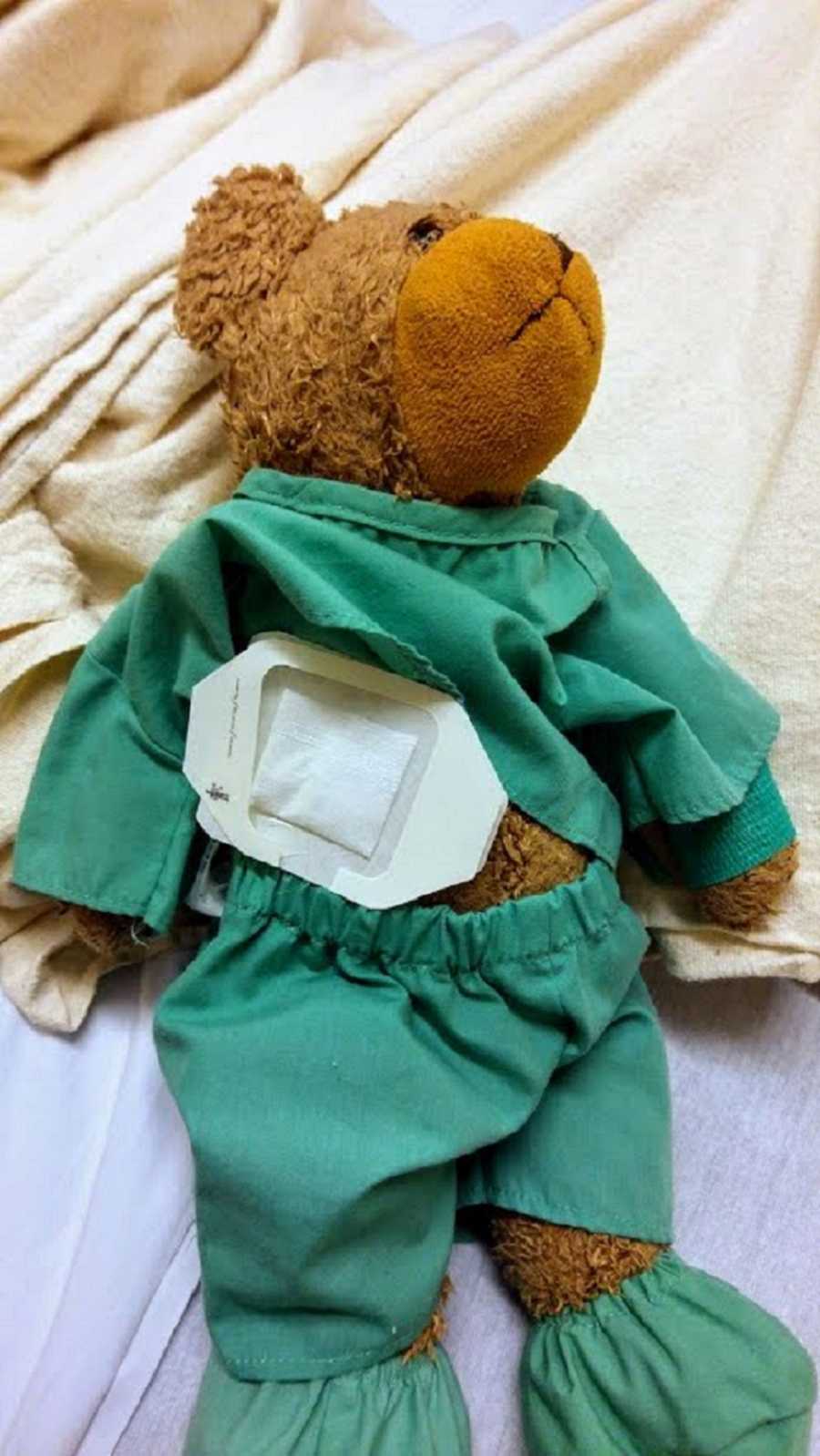 After meeting with Dr. Matsen briefly and waiting with Chrissy as they helped with her pain and ensured she was stable, they wheeled Chrissy to a private tunnel to have her taken over to Primary Children's Hospital as she was to stay the night. We met up with the rest of our family. Stepping back in observation, I watched as Chrissy's face lit up, her light more vibrant than I've ever seen it. She was laughing, joking, and loving. The days following in the hospital were filled with countless faces being uplifted by Chrissy's zest for life!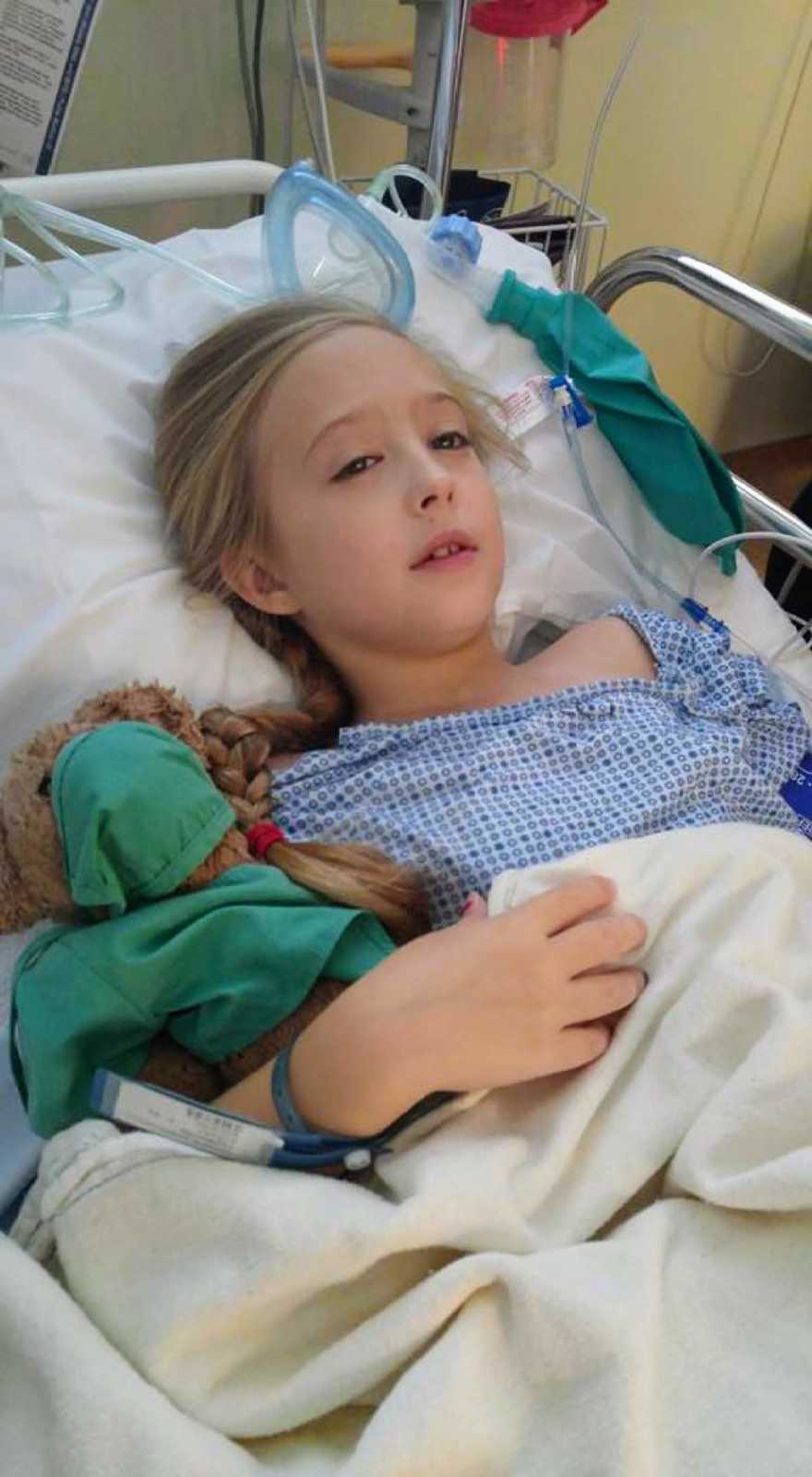 It's been almost four years since Chrissy's diagnoses and surgery. We have all grown even closer together as a family. During these cherished years, Chrissy has been invited to several speaking events across the country, we've been interviewed by many reporters, stories have been written by countless others. She was even invited to the Grand Ole Opry by Kelsea Ballerini in 2017 for the Opry goes pink night. Chrissy is also an honorary member of the University of Utah women's volleyball team to this day. Chrissy loves to help others and has an incredible heart! She has inspired millions with her bravery, zest for life, and her deep caring spirit! Today, Chrissy continues to grow, learn, and experience life with a new set of eyes. She is forever changed. Her family, forever changed. Chrissy's future is yet before her but one thing is for certain, she will continue to love deeply, live fully, and light up the world with her incredible heart!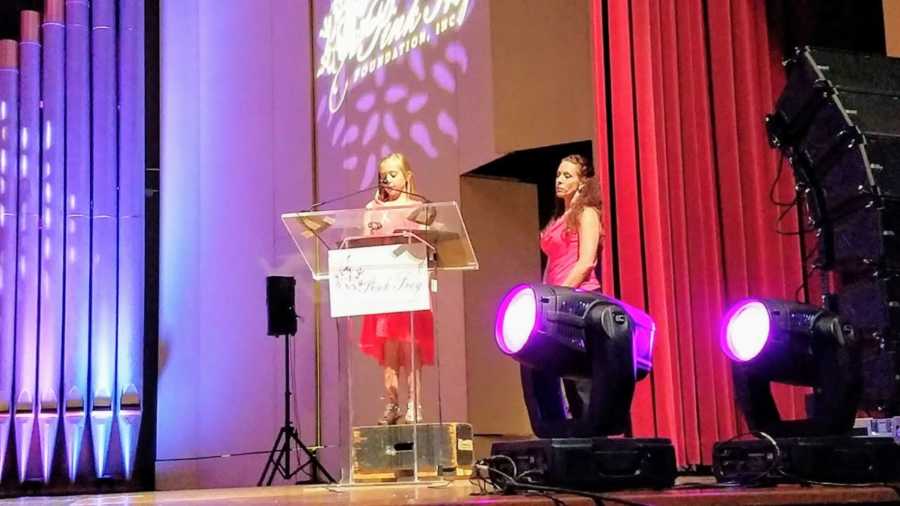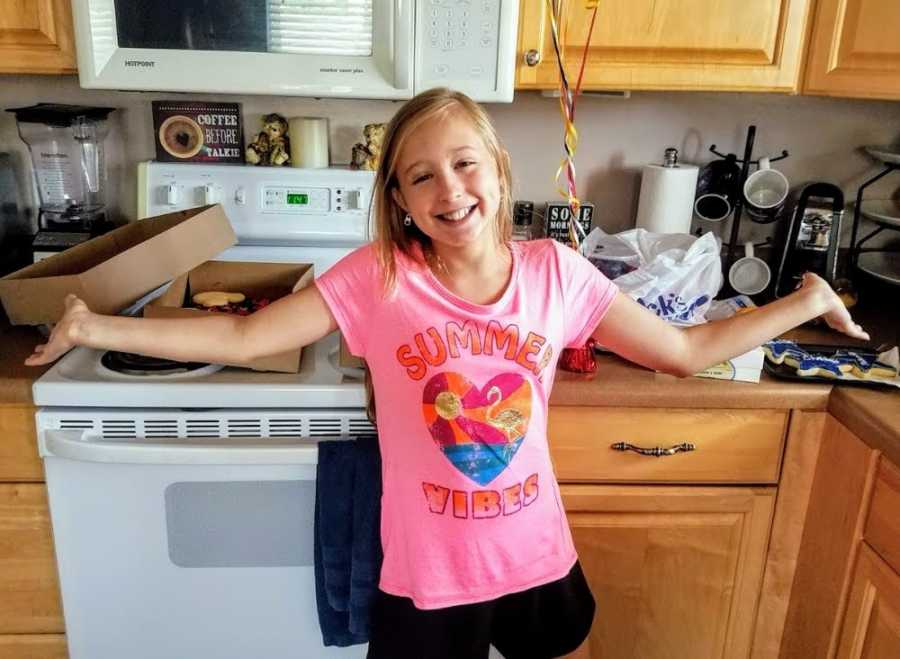 Cancer doesn't discriminate. It can affect anyone of any age and breast cancer is no different. The experiences we have gone through as a family have brought into clarity what truly matters. Life is such a gift! What matters isn't what you do for a living, the house that you live in, the cars that you drive. It is about the loved ones you have beside you, the experiences you learn and grow from, and how you reach out and help others. These are the threads that bind us all together."
From podcasts to video shows, parenting resources to happy tears – join the Love What Matters community and subscribe on YouTube.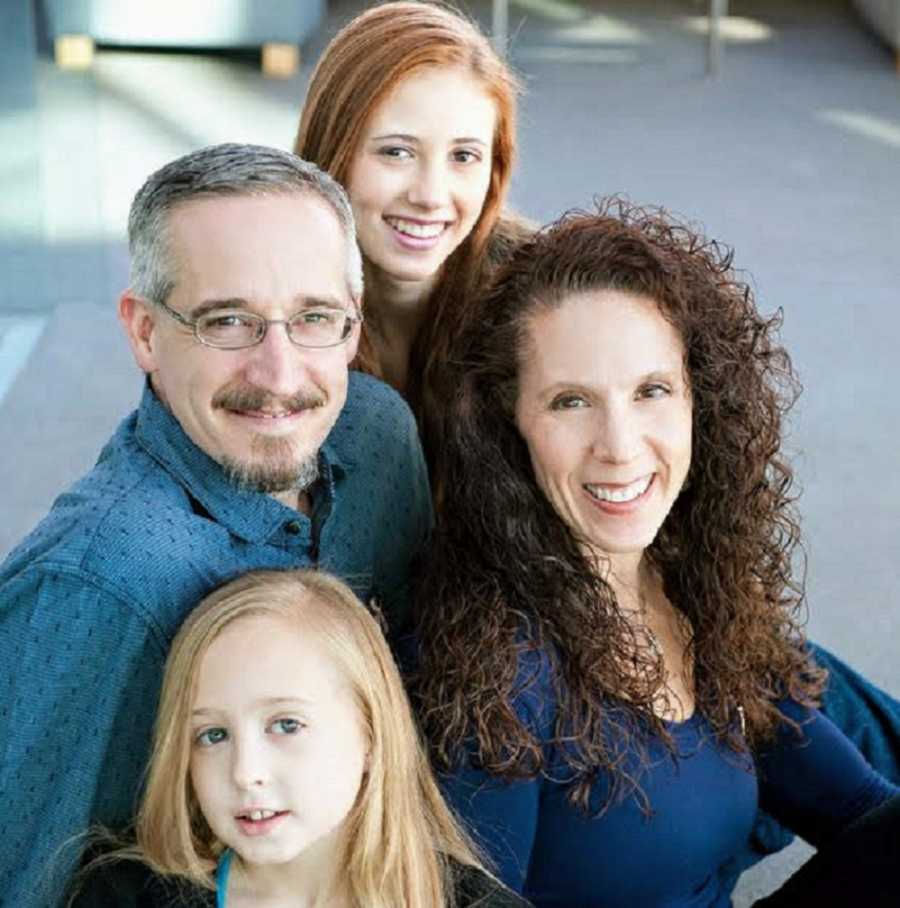 This story was submitted to Love What Matters by Annette Turner of Centerville, Utah. You can follow her journey on Facebook and Instagram. Submit your own story here and be sure to subscribe to our free email newsletter for our best stories.
Read more stories like this:
'In tears, my husband handed me a small paper. 'Please don't take my baby!' My stomach twisted into a giant knot. Our world totally flipped upside down.'
'Mom, why wasn't Ryan in school today?' He kept looking for him, but Ryan was getting ready for his angel wings.': 10-year-old boy loses best friend to Ewing's sacroma, starts foundation in his honor to teach cancer patients to fish
Provide hope for someone struggling. SHARE this story on Facebook with family and friends.