Being Friends First
"Amanda and I met in 2014. I had just begun a new job at a pub, and after my shift finished I was having a beer with some of the other staff. One of the girls from the café section of the venue walked out to join us with a new girl who had begun working there that day. She introduced herself as Amanda.
We all sat and chatted. I was engaged to my ex-partner at the time, so I was just making friends with my new colleagues. I didn't think much about Amanda when we met. As time went on, Amanda and I worked on the same days quite often, but I was in the bar and she worked in the café, which was on the other side of the building.
For the first 12 months, we didn't talk much at all. In 2015, when some of the girls from work went for coffee, I started to get to know Amanda more. We got along great and became friends. Amanda went on a 3-month trip to America in the middle of 2015. After she returned home, we started hanging out every day. We soon became best friends.
In 2016, my relationship ended. My ex-partner and I had grown apart and we were no longer happy together. Amanda was there for me during the separation and was a huge support. She would come to see me anytime I felt down, cheer me up, and play with my kids. It was a few months after my separation when Amanda decided 3 a.m. was a great time to drunk text me and declare her love for me.
Admitting My Feelings For Her
I remember reading the message and feeling like the room was spinning. I was so shocked and confused. I had absolutely no idea Amanda had feelings for me. She always talked about the people she was chatting to or going on dates with. I was the one offering her advice and telling her what she should wear, where she could take them, etc.
I was scared. I loved our friendship, and I was so afraid of losing her if I didn't return her feelings. I knew I cared about her so much, but I had never dated a woman before, and I wasn't sure if I would be into it. I sat on my bed and cried.
After a few days, I let her come over and talk about it. But I still had no idea what I was going to do or say. We agreed to continue our friendship and just see what happens. It was on a night out when we ended up kissing, and I knew right then I definitely had feelings for Amanda beyond friendship.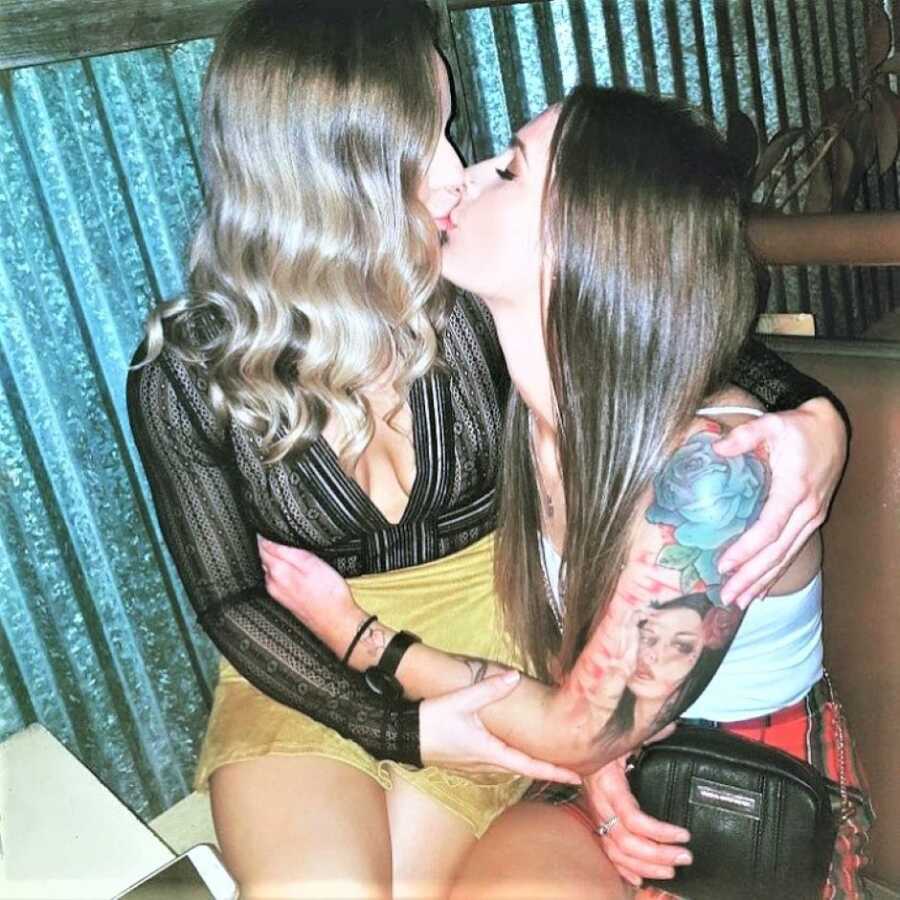 Facing Negative Comments
Everything happened pretty fast after our kiss. We were inseparable. I didn't want to spend a night without her. Before we knew it, we were head over heels in love with each other. Living in a fairly small town, there were so many opinions. Lots of positive and excited friends and family who supported us 100%, but there were also lots of negative people who said nasty things and spread rumors. I was told it wouldn't last. It was just a rebound, infatuation, or curiosity. Some people said it was unfair on my kids and confusing. Some even said I was disgusting for seeing another woman.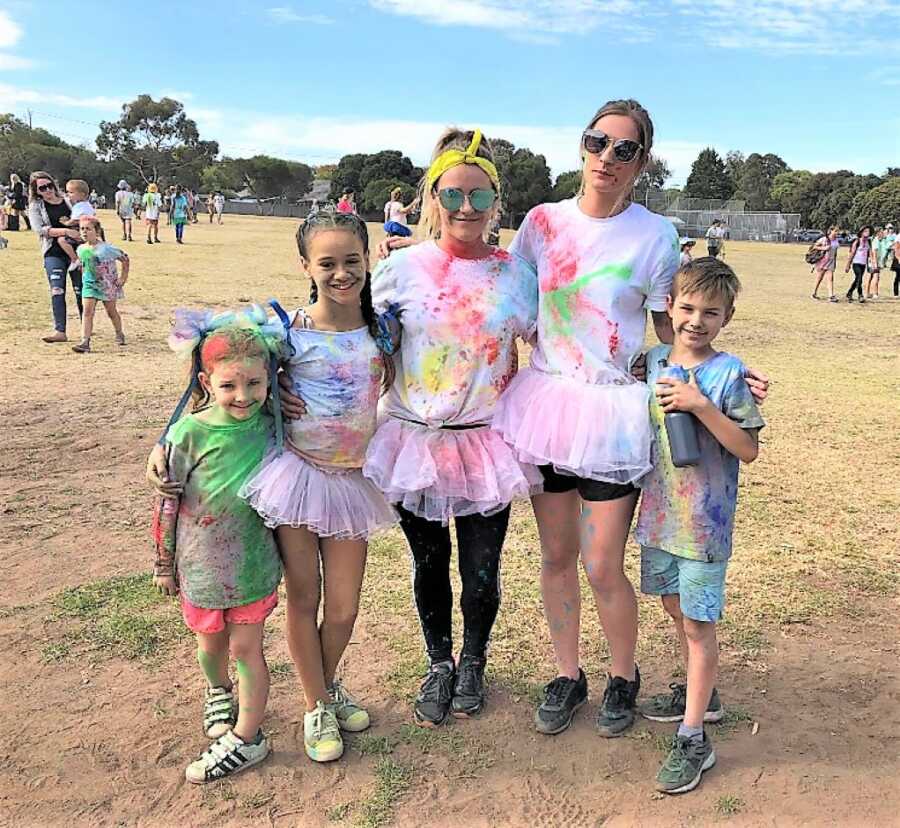 We never let any of it affect our relationship. We just kept getting closer and stronger. My children were 4, 6, and 8 when we began dating. I remember my friend had taken my 8-year-old daughter to dance class one day when she called me and asked, 'Is Amanda your girlfriend now?'
I said, 'Yes. Who told you that?' And she said it was my daughter. At this stage, we hadn't been romantic in front of my children, and as far as they knew, we were friends. Or so I thought. When my daughter got home, I asked her why she thought Amanda was my girlfriend. She said, 'Because you are always together, and you look like you love her.'
Telling My Children About My Girlfriend
We then had a conversation with the kids and explained that our friendship had grown and we had fallen in love. I asked them how they felt, and they all said, 'We love Amanda! We want her to be your girlfriend.' So that was it. We were official and my kids adored her.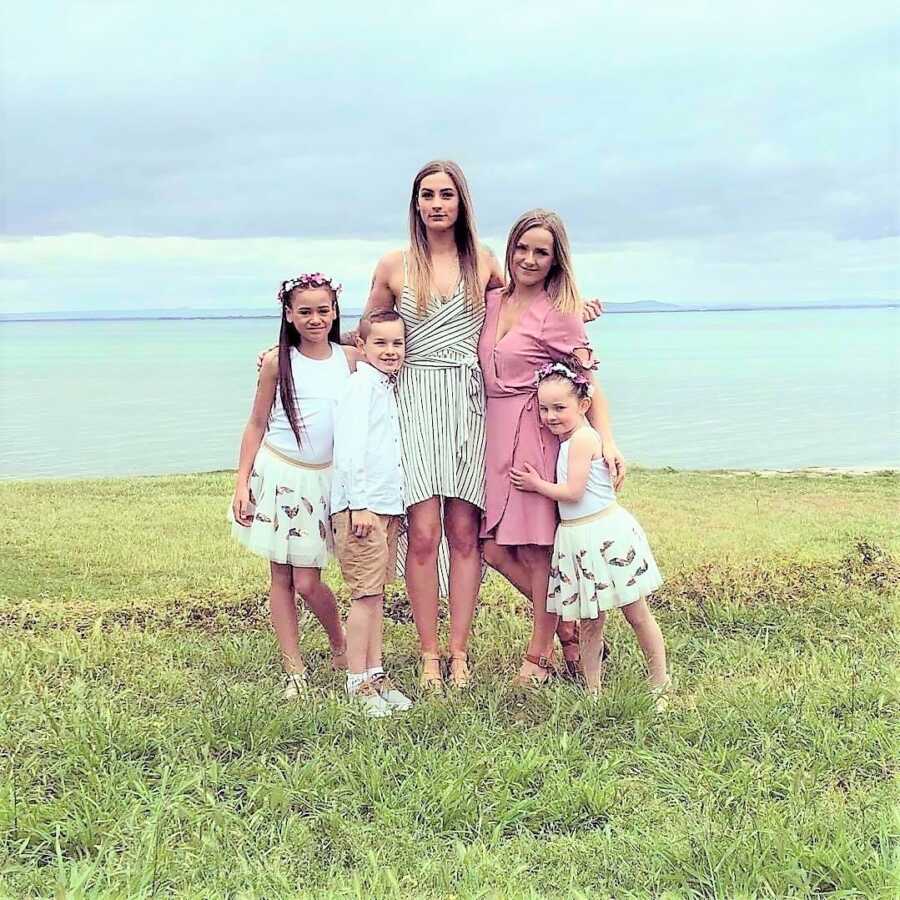 She slowly began to move in from that point. Every day I would tell her to go get what she needed for work and come back, until eventually all of her things were at my house. When her PlayStation appeared in my bedroom, I knew it had become 'our' bedroom.
Same-Sex Marriage Legalization
In December of 2017, same-sex marriage become legal in Australia. Amanda and I were invited to be the brides in a beautiful mock wedding shoot to celebrate this. We had such an amazing time working with the talented businesses who collaborated on the shoot. The photos were so beautiful and we loved being able to share our love for such a momentous occasion in our country.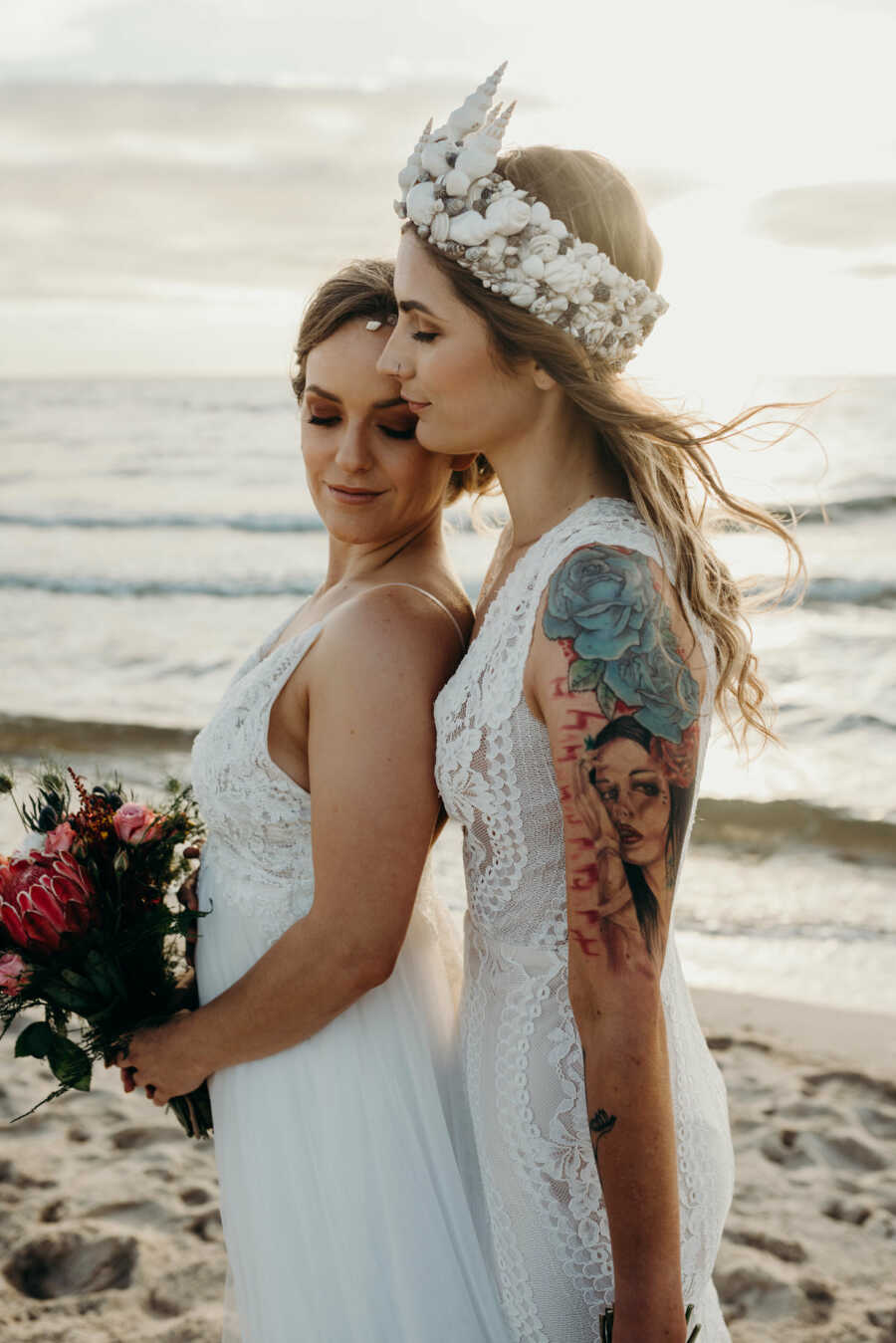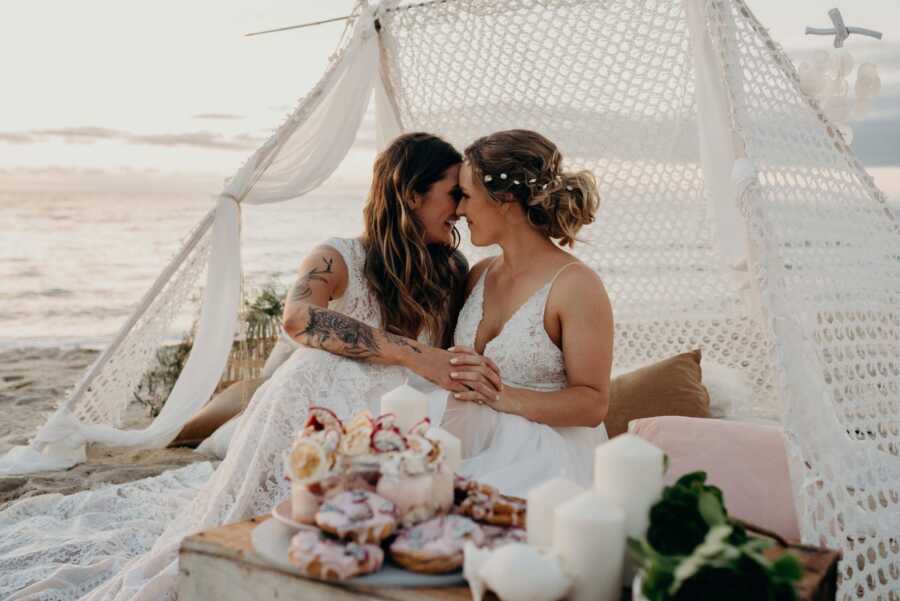 61.6% of our population voted YES for marriage equality. We found it sad to know that almost 40% of our country's population still didn't believe everyone should have equal rights to be married. We really hope as our kids grow up, they will be the generation to change those numbers.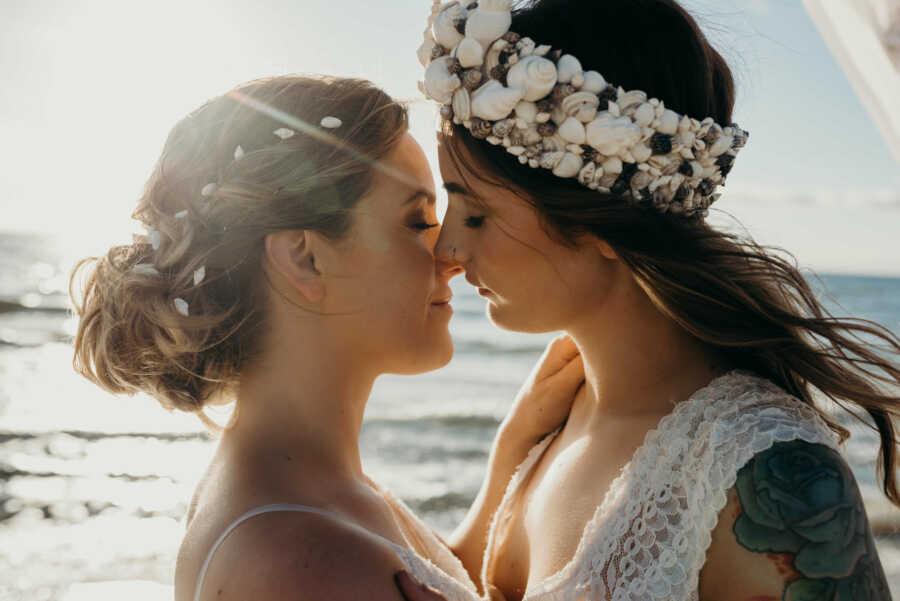 Marriage Proposal
In 2018, on Amanda's 25th Birthday, I asked her to marry me. The kids and I gave her all her birthday presents, and we dropped them off at school. When we returned home, I told her I had forgotten one of her gifts. I walked into the living room with a large rectangular gift.
Little did Amanda know I had set my phone up to record on the bench, and she was about to open my proposal. I had made a photo collage of us with the words 'MARRY ME?' in gold letters in the center. As she ripped the paper off the middle, I got down on one knee and held out the ring.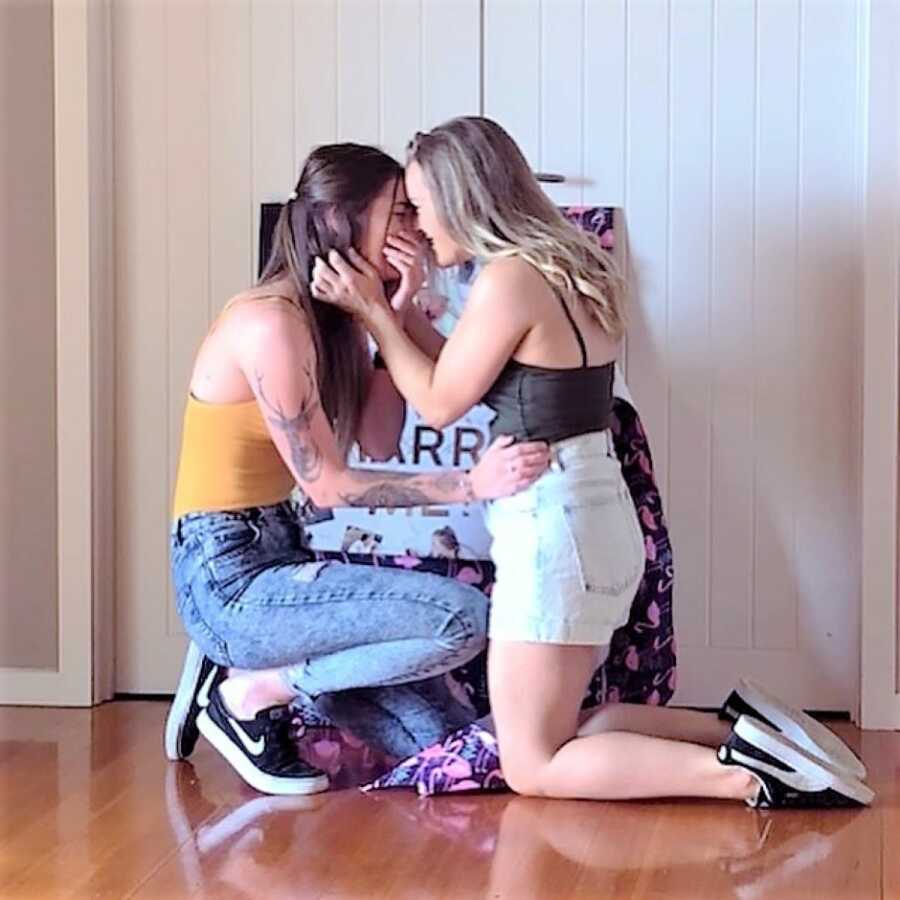 Amanda burst into tears and was so surprised. She of course said yes, and we couldn't wait to tell our families. We are still yet to get married, as our state had some of the most intense lockdowns in the world during 2020 and 2021. We originally planned to have our wedding in October of 2020. We are now starting to think about choosing a date again.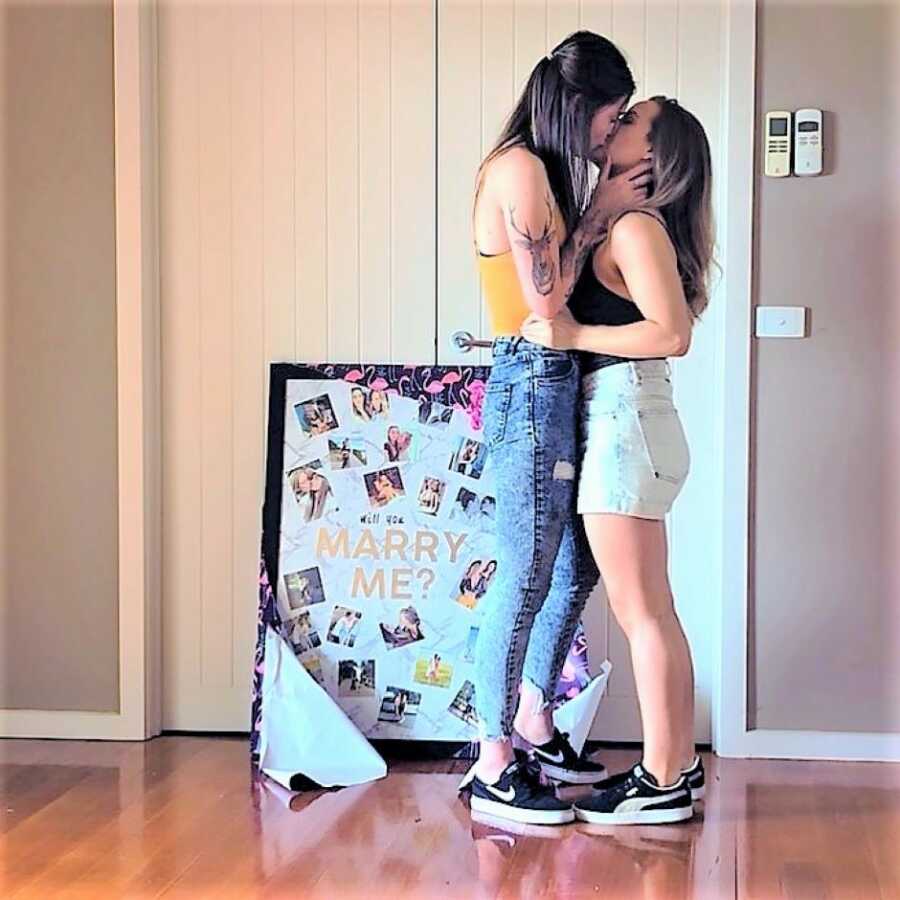 Our Life Together
Our kids are now 10, 13, and 15. They love having two moms at home. We go camping every summer holiday and spend most of our days at the beach (where they have grown up). We love watching football and attending games together, having movie nights, and going to as many fun places as we can find.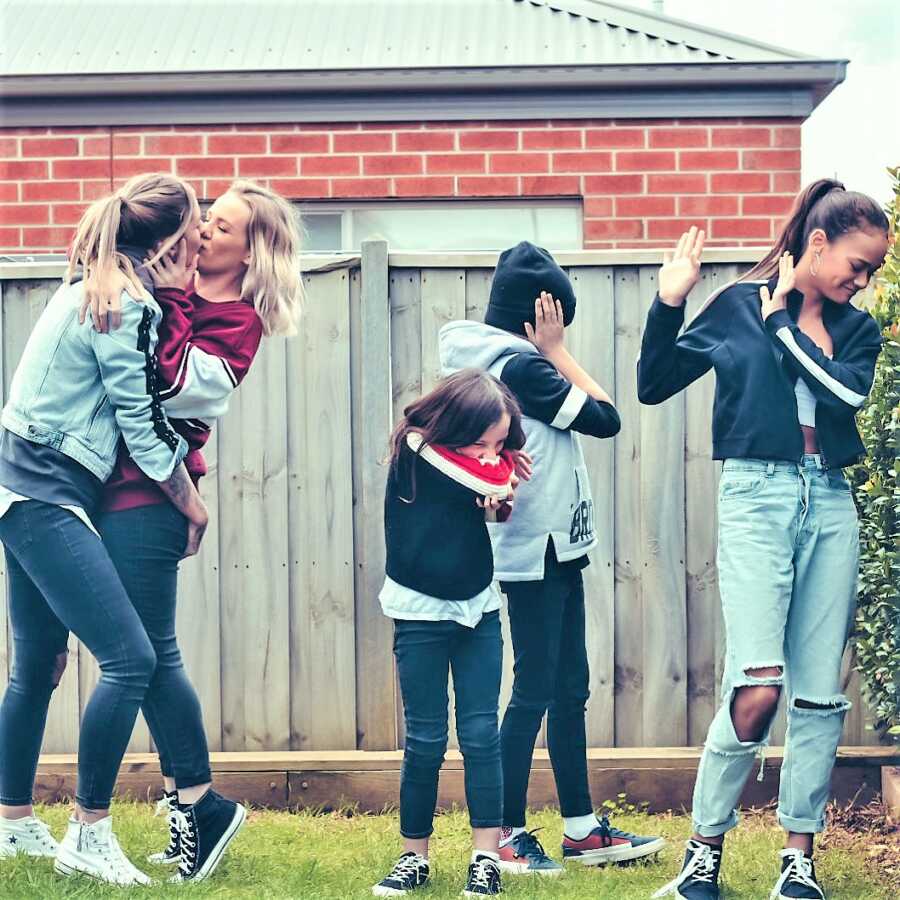 Everyone who thought we wouldn't last says they can't imagine us not together now. I have never felt happiness or love like this before. Amanda is genuinely my perfect person. We are still best friends. We have so much fun together all of the time. Our life together is everything I could have ever dreamed of in a relationship.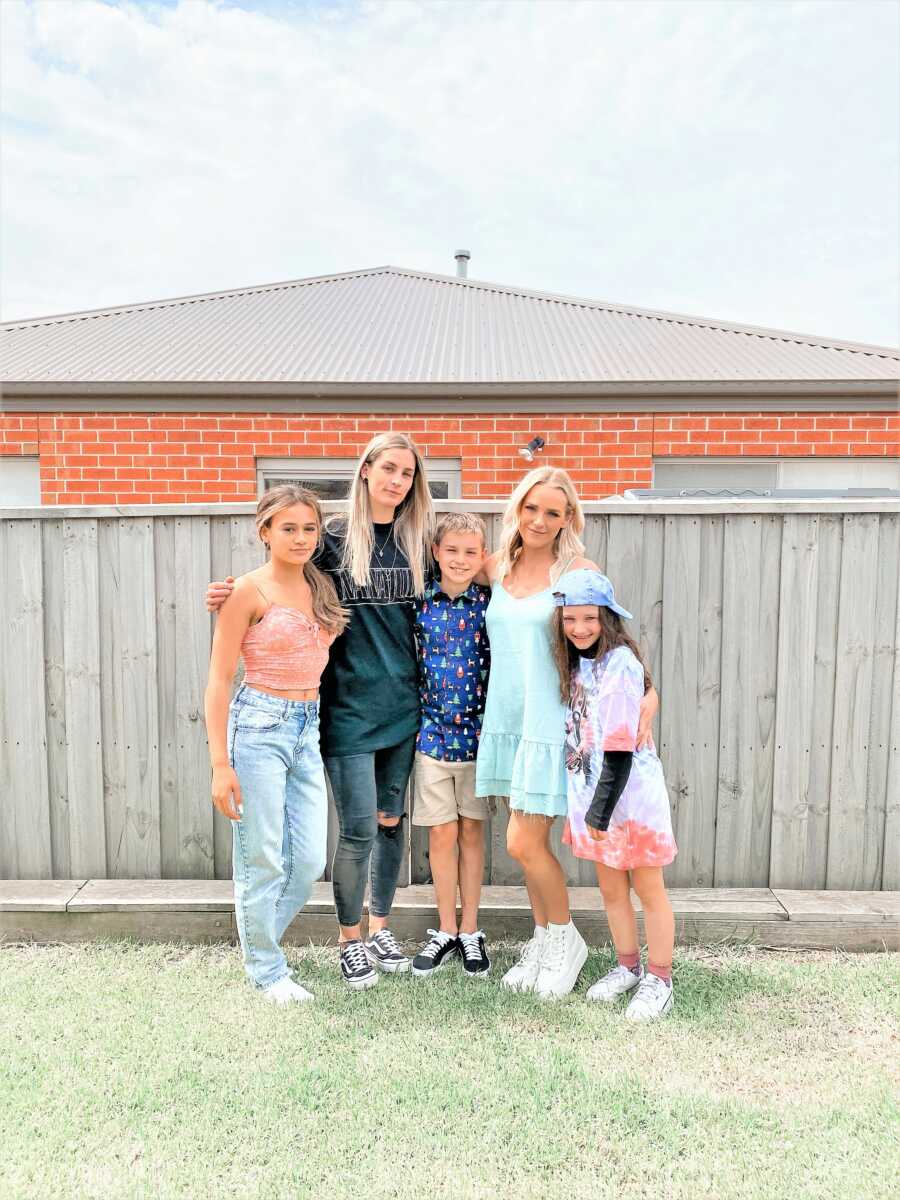 We often look back to the first day we met, and it's so strange that each of us has quite vivid memories of the meeting. It seemed insignificant at the time, but somehow we both remember strange little details. I remember what eyeshadow Amanda was wearing, and what she was talking about. I don't remember details about what anyone else was wearing or what they looked like.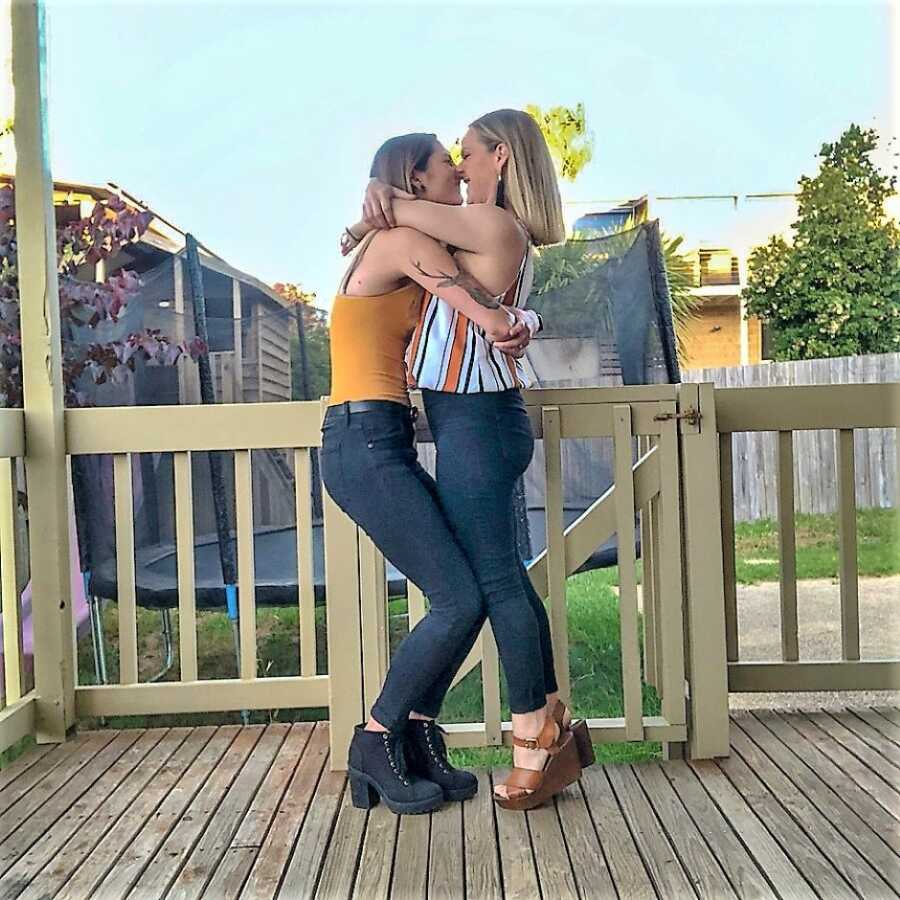 Maybe it was some kind of love at first sight that we took 2 years to recognize. I have no idea, but I know we were definitely meant to find each other. Thank you for inviting us to share our story. We hope we can inspire other people to confess their love to their best friend. I'm so glad Amanda sent me that drunk text, or we would probably still be hanging out pretending not to be in love with each other."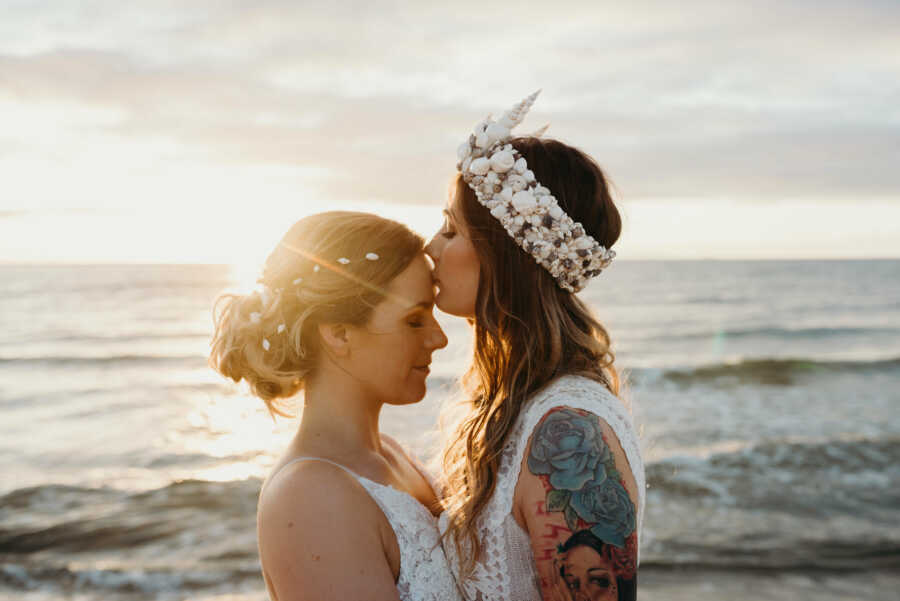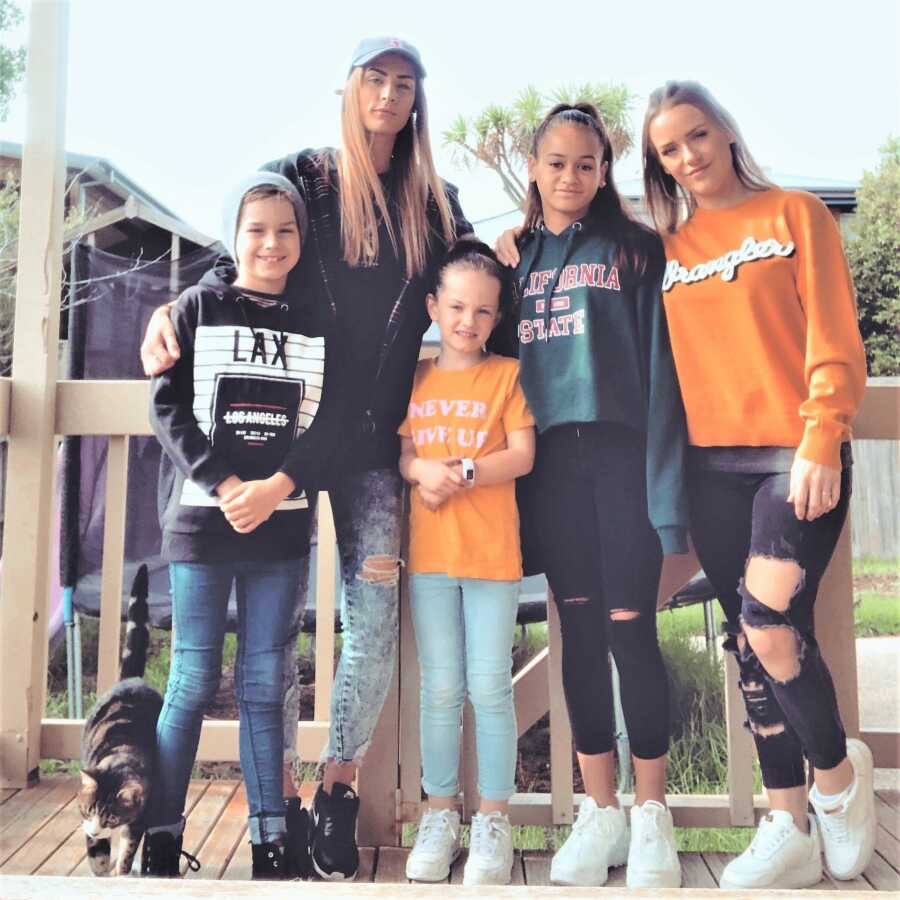 This story was submitted to Love What Matters by Carol Duffy. You can follow this family's journey on Instagram. Do you have a similar experience? We'd like to hear your important journey. Submit your own story here. Be sure to subscribe to our free email newsletter for our best stories, and YouTube  for our best videos.
Read more stories like this:
'Is this about YOU having a baby or US having a baby?' I lost faith.': LGBTQ couple has daughter after infertility, 'She's the bridge to our heart'
'With a huge grin, my mom said, 'Your daughter is an honor student? Well, mine's a lesbian!' She was so proud.': LGBTQ mom shares what Pride means to her
'You're a girl, right?' My 8-year-old son asked her if she was homeless. Our kids are not the problem.': LGBTQ mom shares love story, urges acceptance for same-sex parents
'Help me!' The color drained from my face. I awoke to cramping and blood dripping on the bathroom floor.': LGBT couple navigate homophobia, reciprocal IVF journey, 'our girls will be filled with lots of love'
Spread beauty and hope for others. SHARE this story on Facebook with family and friends.