"Sometimes I look back and wonder what life would have been like if I could have foreseen into my future. I would see my childhood dreams of marrying a guy would be a lie. I would see the confusing time I spent trying to figure out if I was gay. I would see me meeting my future wife. Our excitement of wanting to start a family. Our ups and downs on the path to parenthood. Our scary encounters with each of our children. I would see us now, even after everything we have been through, wanting to try for another child. If I would have been shown all these things when I was a teenager, would I have been more prepared for my future?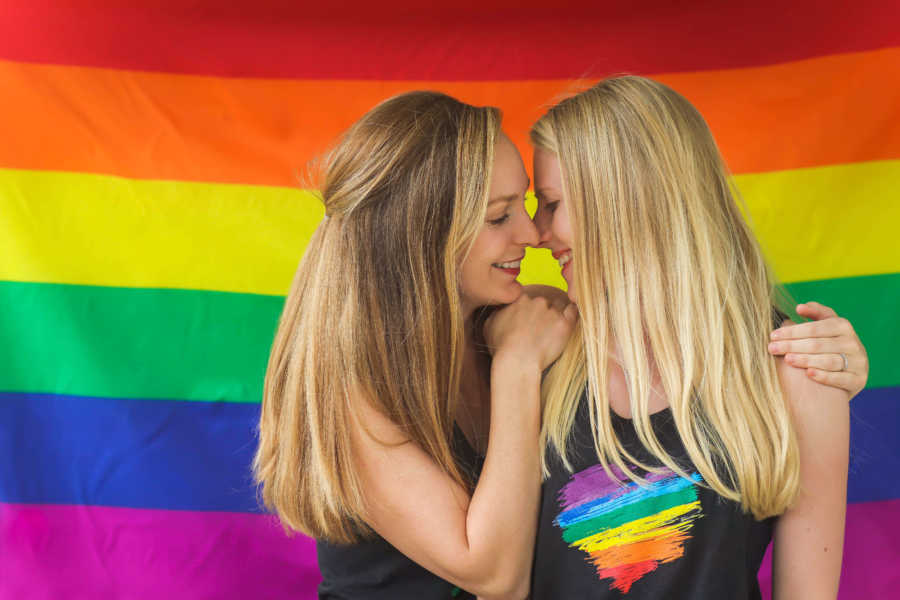 Before I start my story, I just want to say I know what I have been through is nothing compared to others. But I also know if I were to sit here and compare myself to someone else with a harder journey than mine, it would be never-ending. There is always going to be someone, somewhere, with a harder, sadder, more difficult story than mine. I also know my story has helped many. All I want to do is help others, be a helping hand, and hopefully inspire others.
It is okay your life isn't perfect. It's okay your life has flaws. Creating a family isn't always this beautiful, perfect, story everyone thinks it is. Creating a family can be messy, full of chaos, tears, loss, but in the end, leave you with something beautiful. So here it goes…
My wife and I met and things moved rather quickly for us. I guess you could say we hit all those stereotypes about lesbians. We got a civil union in less than a year. This, at the time, was our marriage since marriage for same-sex couples wasn't quite legal. We moved in together right away. We started to explore the many paths we could to have kids. All of these paths involved science and money.  We felt prepared. We had saved. We didn't have a big wedding. We knew kids were going to cost us.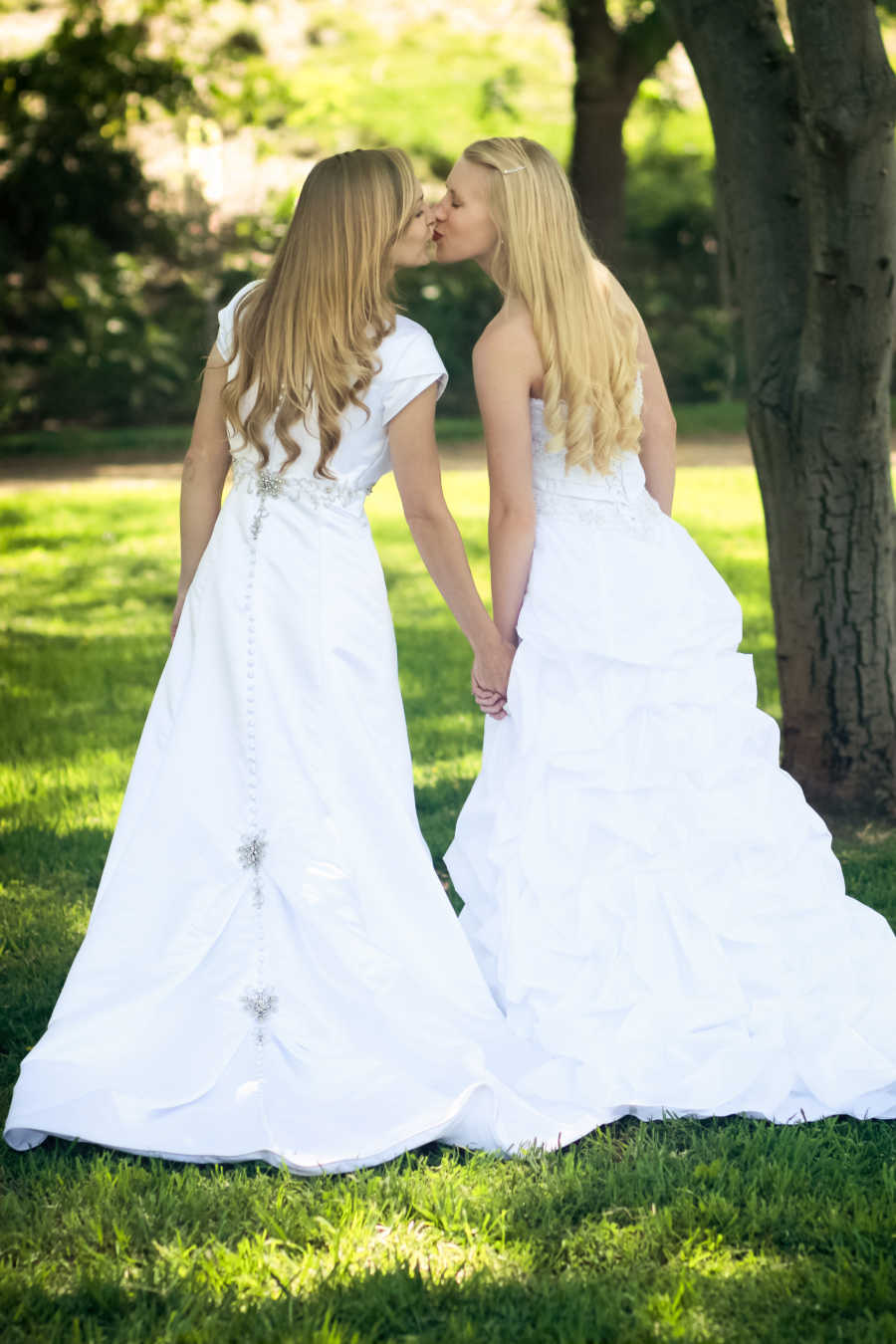 After figuring out what we wanted, we knew we wanted to do Reciprocal IVF. Our clinic hadn't even heard of this method before but was ready to try it. Reciprocal IVF means we would use my eggs, fertilized by donor sperm, and then our embryos would be transferred to my wife. She would carry and grow our baby. We would both physically be part of the process, which is what we wanted. We were both in our early twenties and the doctors, as well as us, thought nothing could go wrong. Oh, were we wrong.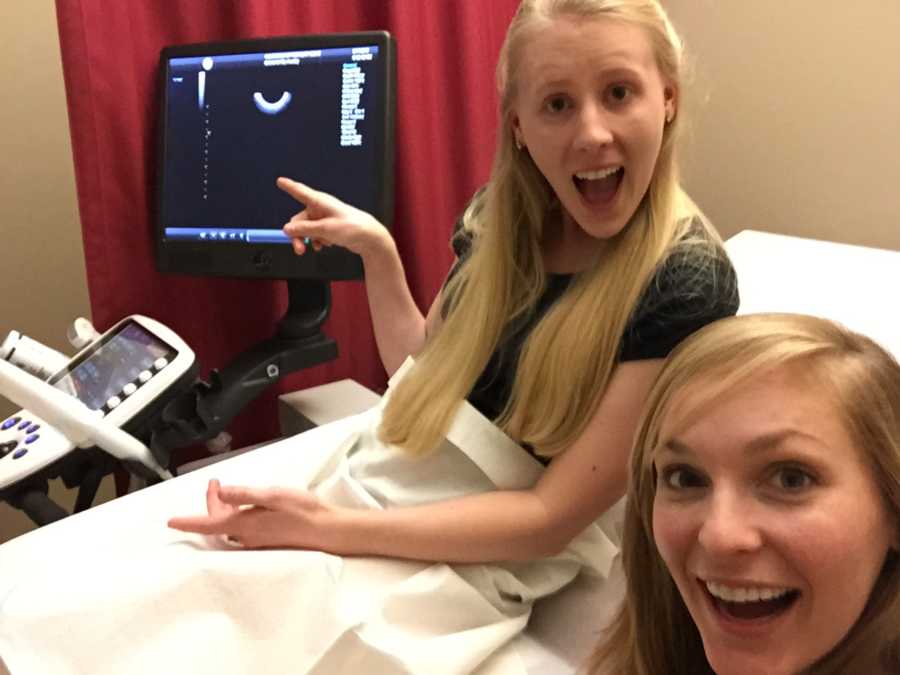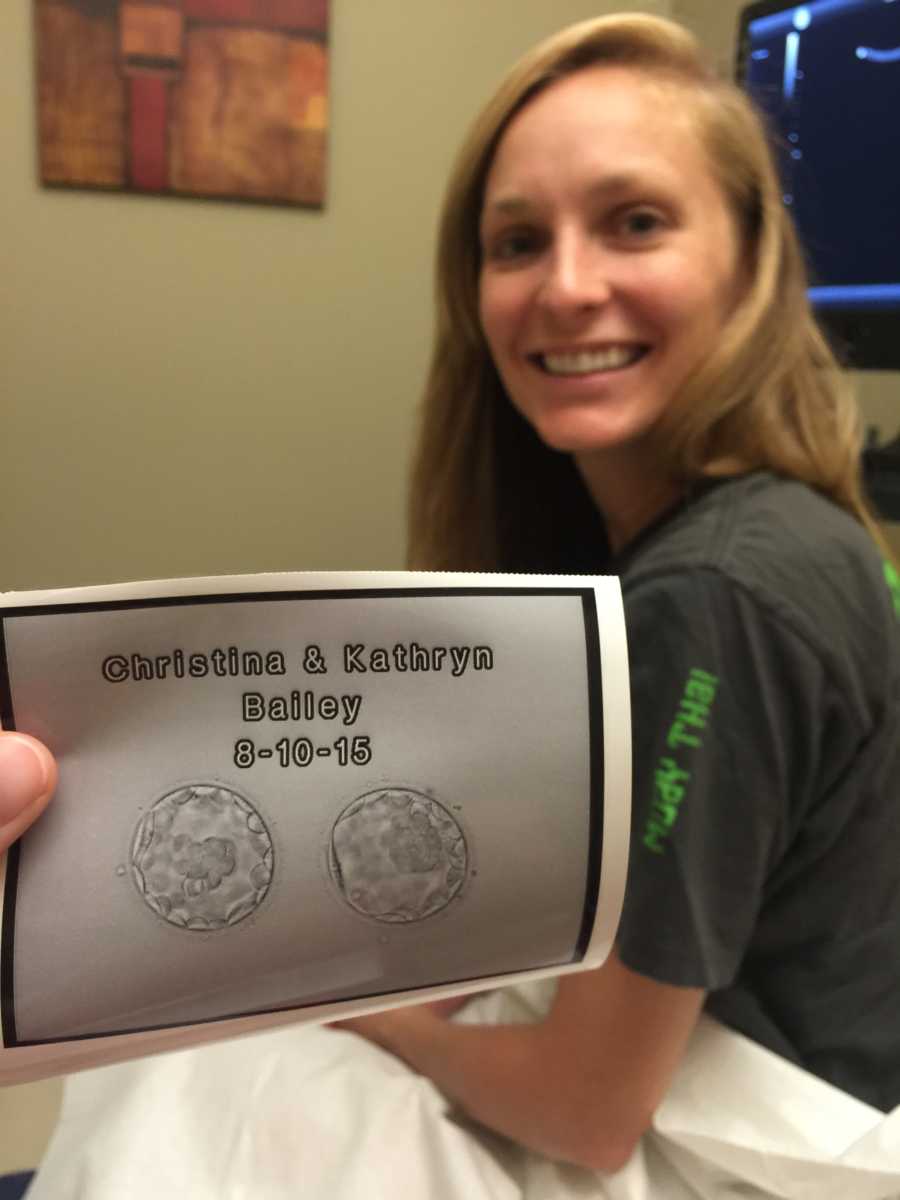 After one failed round of IVF, exploring other options, almost undergoing embryo adoption, and another round of IVF, we were pregnant. As all this was happening, we were a mess. We were emotionally, financially, and physically drained trying to start our family. We encountered problems with non-supportive family members who said awful things about the process we were doing including, 'Katie is just a surrogate for Christina (that's me).' We tried to put all this behind because we were pregnant!
We were pregnant with a high-risk pregnancy after my wife miscarried one of our embryos, leaving the other embryo barely hanging on. We prepared ourselves for another loss in the future. However, our little one beat the odds. As we entered the third trimester, we were told we were no longer a high-risk pregnancy. It was hard to believe until we heard our baby take her first breath into this world and start crying. I will never forget the feeling of seeing our baby we had once seen a picture of in a little dish. Science had helped us create our family.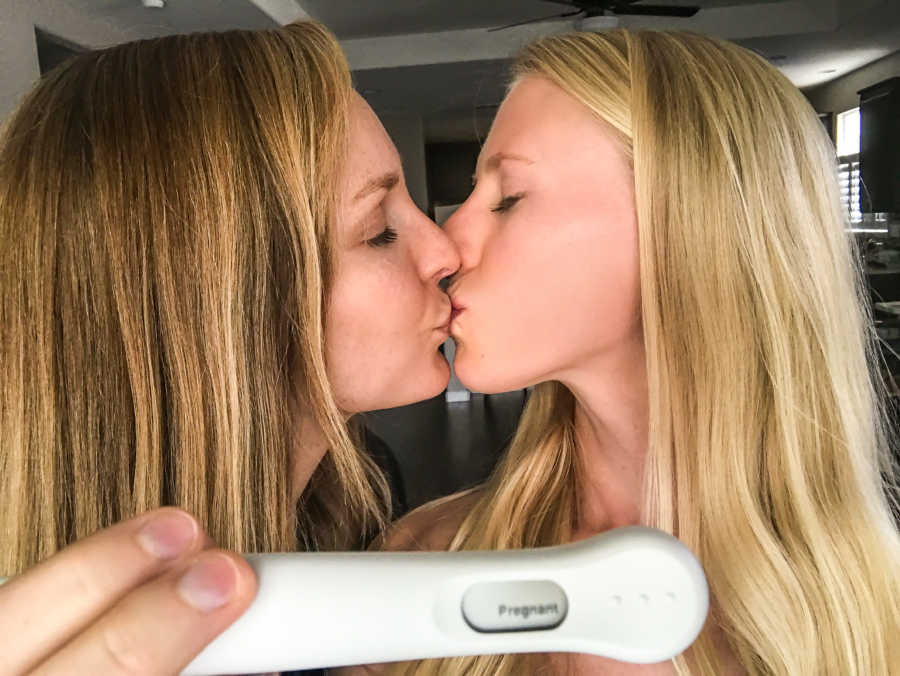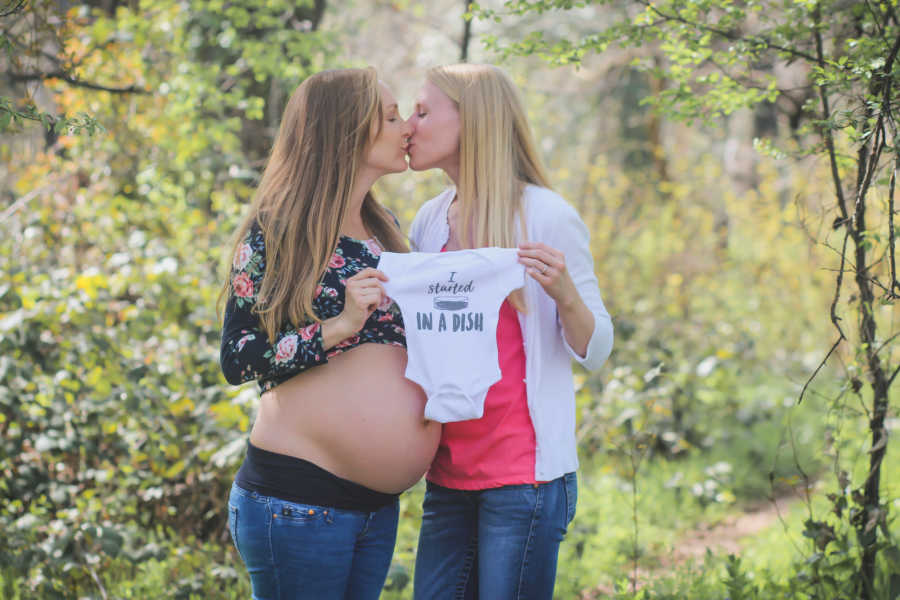 Our first daughter, Kennedy, was born with a port-wine stain type of birthmark that led us to see several specialists. She had blood bubbles on the birthmark and it kept getting worse. It was always dry, starting to crack. Keeping it moisturized was something always on our minds. As she got older, her scratching got worse. She would scratch it until it bled and when it bled, it bled like crazy. She didn't understand what she was doing so we had to keep it covered all the time. We tried so many different things to keep it covered. We answered everyone's questions about what was on her ankle. We started using an arm compression sleeve on her ankle so she could go swimming with her friends.
I would have never thought a birthmark would take over our lives, but it did. It was always on our minds. We were so occupied with her birthmark we didn't realize she couldn't hear.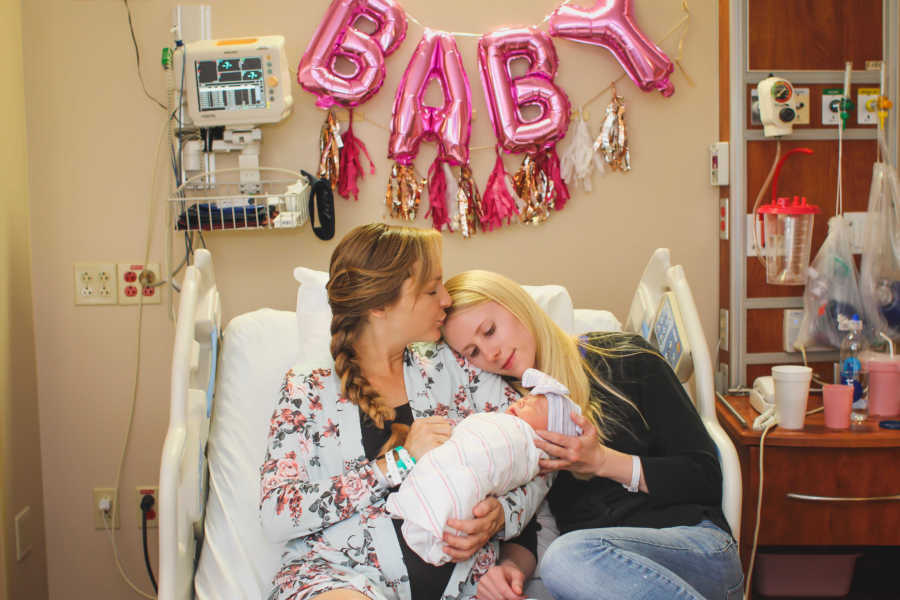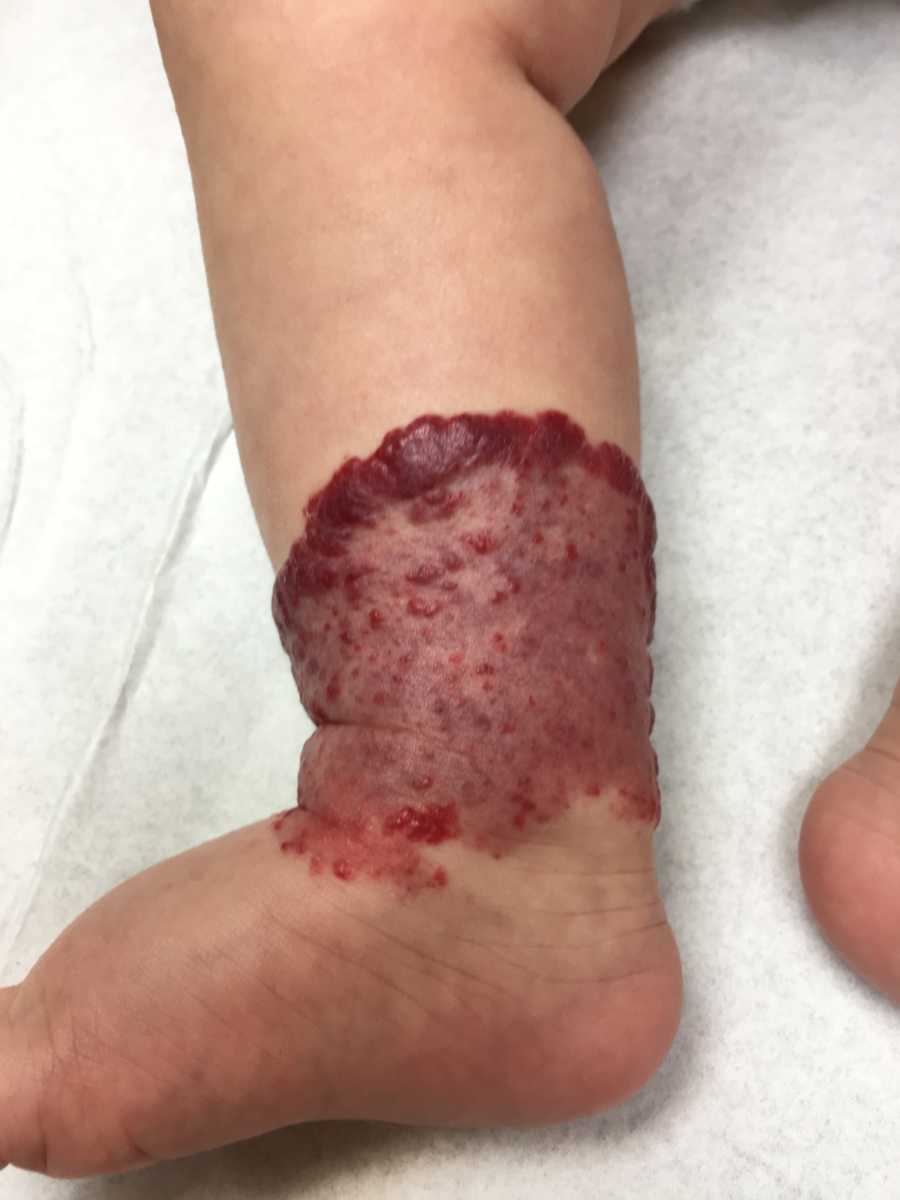 As Kennedy's second birthday approached and Katie was pregnant with our second daughter, we realized Kennedy wasn't talking much for her age. It turned out she couldn't hear because she had very thick liquid in her ears. She had been to the pediatrician so many times for ear infections but never had any follow-up appointments. Her ear infections were one continuous infection that never went away. We felt like terrible parents. We didn't even realize she couldn't hear. She was getting in trouble at daycare daily for bad behavior. It turned out she was frustrated. She couldn't understand anyone. She needed ear tubes. When I walked her back to sign all the paperwork to have her tubes put in, I was terrified. The procedure itself took maybe fifteen minutes, but the time leading it up to it seemed to take forever. We were told the liquid in her ears was so thick, she most likely could only hear as much as if someone were talking to her underwater.
Now our daughter could hear but she was very behind in her speech. She enrolled in speech classes she is still in trying to catch up with. She is now almost four years old. We found out not too long ago, she does have a tongue tie along with three other ties in her mouth. These will be cut when she is six years old. After trying to cut them without the use of sedation, we failed and were told to come back again when she is older and they can use the sedation to cut them. Until then, we will try to improve her speech, even with the ties.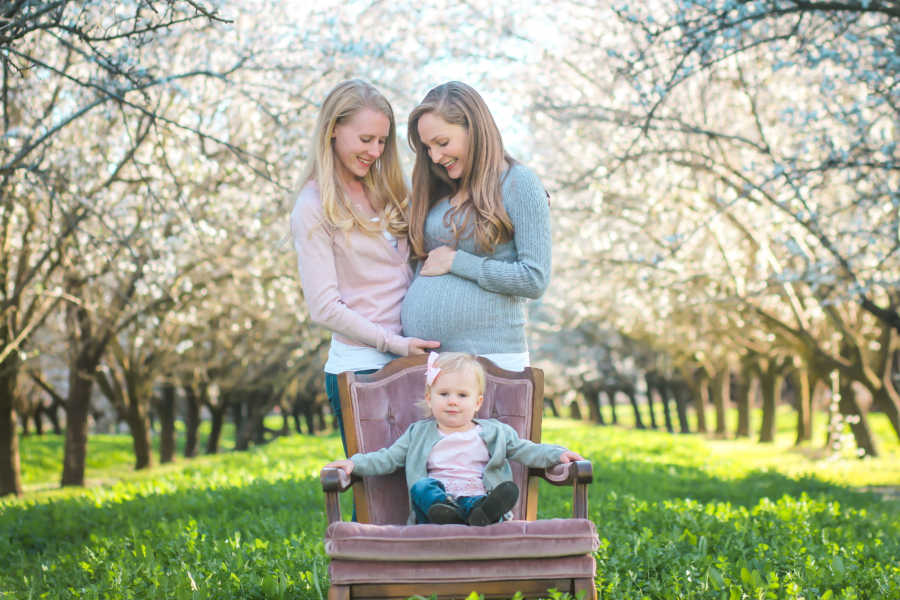 Kennedy also has trouble breathing at times. We were given an inhaler. We went back to the ENT to see if she needed her adenoids or tonsils out but we were told they were fine. She might end up needing more tubes in her ears after her first ones fell out around age three. We were told to take her to an allergist. She was tested for many allergies but they didn't find much. She has an air purifier in her room to help her breathe.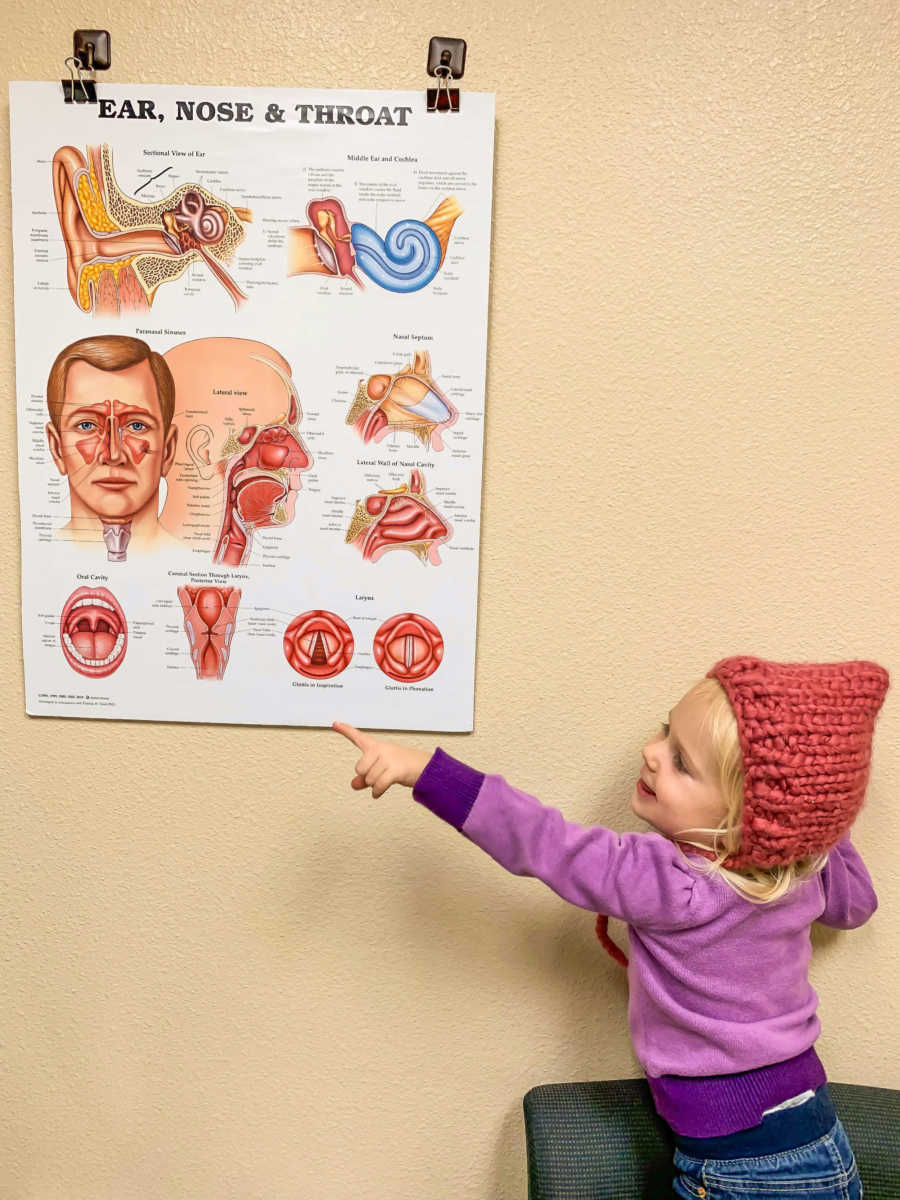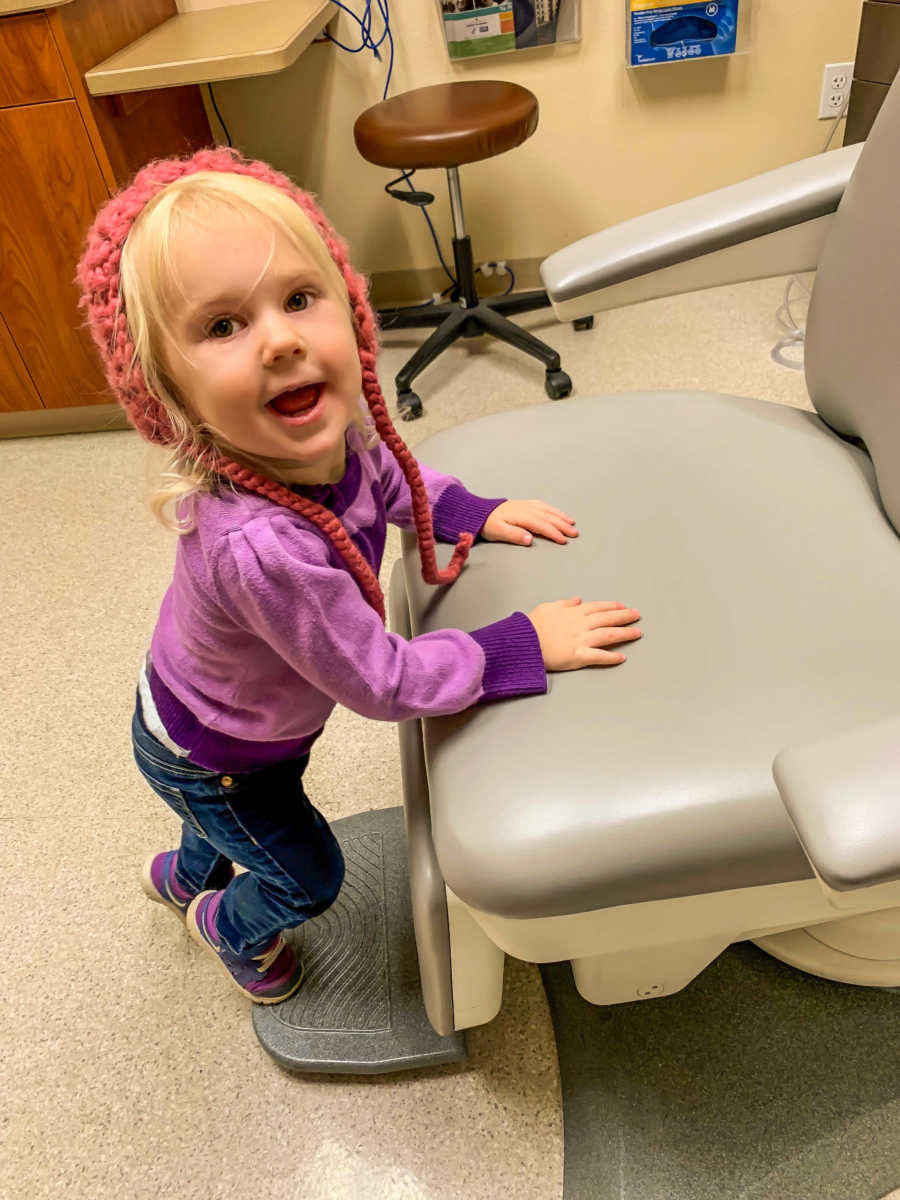 Our second daughter, Charlotte, was born right before Kennedy turned two. My wife was close to her due date when Kennedy was having her ear tubes put in. The path to having Charlotte was rough. We did a frozen embryo transfer. My wife carried her. It still amazes me that she and Kennedy were created at the same time, but transferred to my wife at different times. Science is amazing. After our embryo transfer, we were told weeks later we were pregnant. We celebrated, told Kennedy she was going to be a big sister, and embraced our dreams of a family of four coming true. We were told a few days later, the following routine blood test results were showing signs my wife would miscarry or have an ectopic pregnancy. The news was hard. We cried for days, waiting for either one of these to happen to my wife. The day came where we thought she miscarried, and we surprised everyone when we went in for an ultrasound to confirm and saw a little heart beating. Charlotte was born a healthy little girl, months later.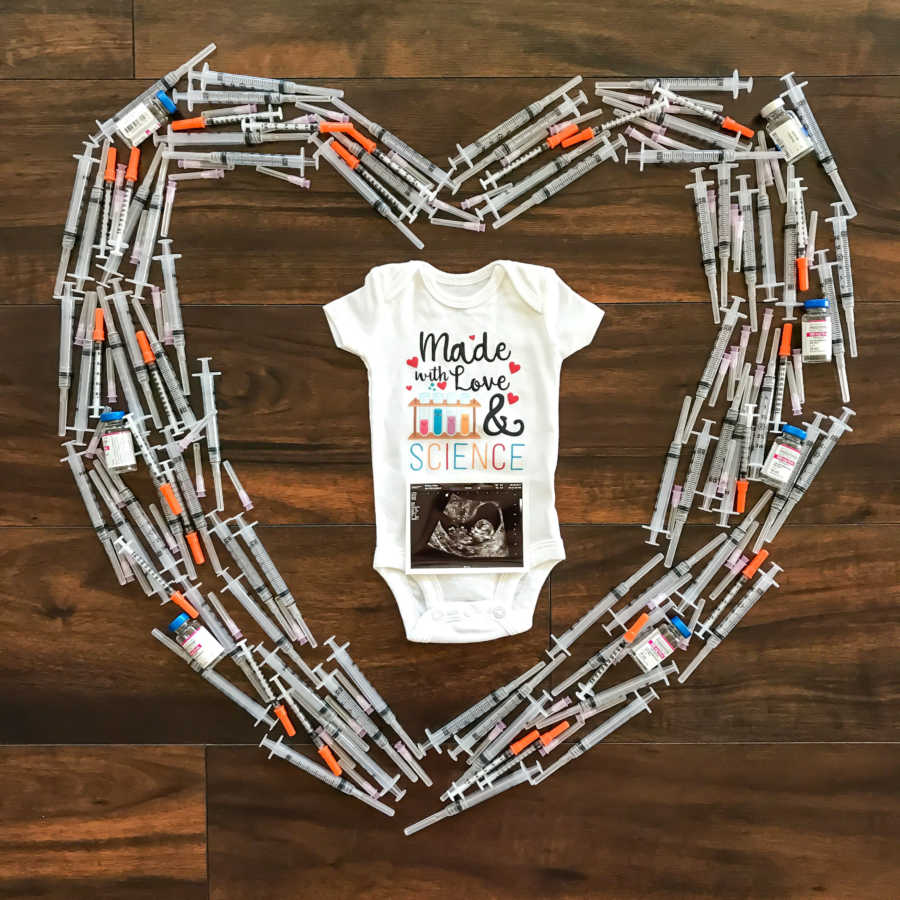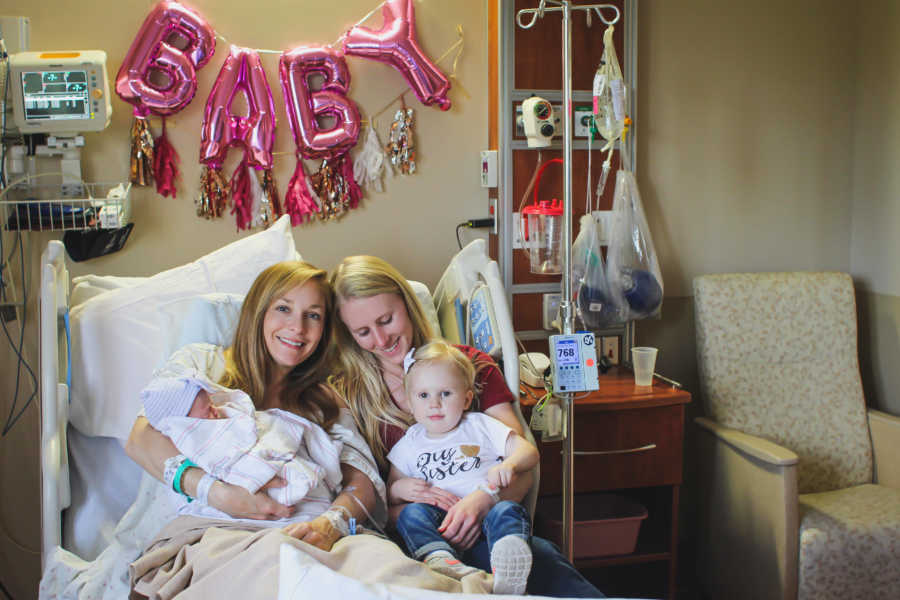 Charlotte was a happy little baby. We felt like we learned so much with Kennedy, we knew all the warning signs now. We didn't hesitate to ask for tubes to be put in her ears after many ear infections. We didn't panic at the myringotomy procedure. We were slightly worried when we realized her teeth were coming in a little odd. After going to a specialist, it turned out she had several ties in her mouth, including a tongue tie that was cut in the hospital but had grown back. Luckily, we had caught all these early because she would have had speech issues if we hadn't had them cut when we did. We thought for once, we had a good grasp on parenthood. Then something happened we would have never expected.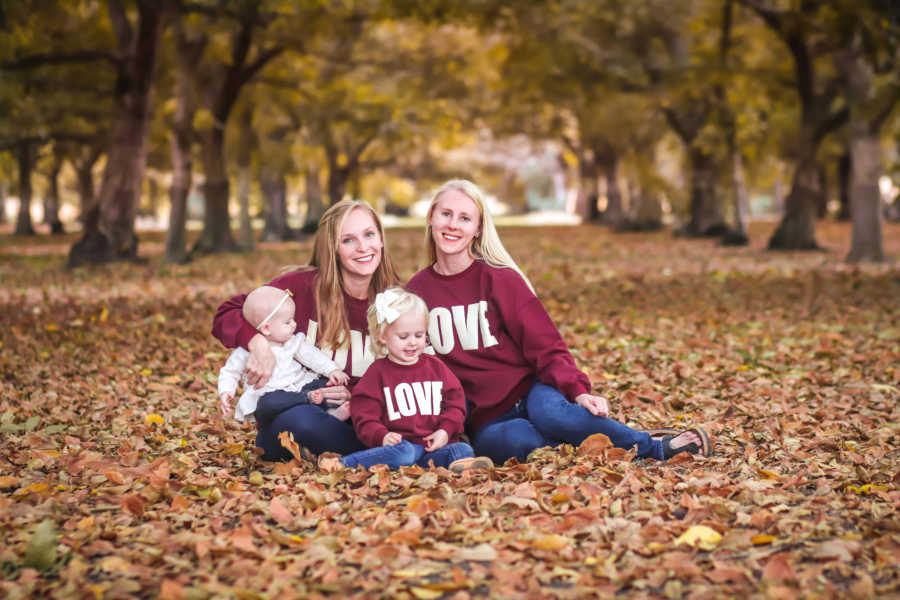 This one is still very fresh in mind, as it happened about a month ago. Charlotte is almost two now, an active little toddler, and after a night of looking at Christmas lights, we realized something was off with her as we were putting her to bed. We thought Charlotte was cold since it appeared she was shivering. We debated on just dressing her warmer, giving her Motrin, and putting her down in her crib to go to sleep. We thought, 'Oh, she must just be coming down with something.' I am so thankful this is not what we did.
What appeared to be shivering soon turned to her struggling to breathe. Her condition was worsening as time went on. She started shaking uncontrollably. She was making no eye contact with us and it was like the little girl we had always known was no longer there. We called 911 and I watched all these doctors shove tubes down her throat getting her breathing to stabilize. We were told she was having a seizure. After forty-five minutes, they finally got the seizure to stop. They said they weren't sure why her seizure lasted almost an hour and she needed to go to a children's hospital for more testing. I hopped on a plane around 3 a.m. that took Charlotte and I to another hospital. I felt like I wasn't even present this whole time. I took in everything the doctors were saying. I tried to process it all, but I couldn't stop staring at my little girl.  She was lying there with so many tubes. There were so many machines monitoring her little body. She had no idea what was going on, but all I wanted was for her to wake up so I could hear her little voice and hug her.
After three ambulances, one airplane, two hospitals, many tests, and several doctors later, we still don't know exactly what happened to Charlotte that night. We were told it might have been a Febrile seizure. We were told it might happen again. We were given and trained on how to give her emergency medication to help the seizure not last as long if she has another one. After five days in the hospital, we went home and we were terrified. We went from being laid back second-time parents to those helicopter parents on high alert. We carry Motrin and her emergency medicine everywhere we go. Charlotte wears a monitor at night to alert us if her heart rate or oxygen levels are abnormal. We had to move her to a new daycare because she now has a medical plan that must be followed. I am still watching her adjust as she misses her old teachers so much, she cries daily. We watched our healthy little girl go through something I would have never imagined.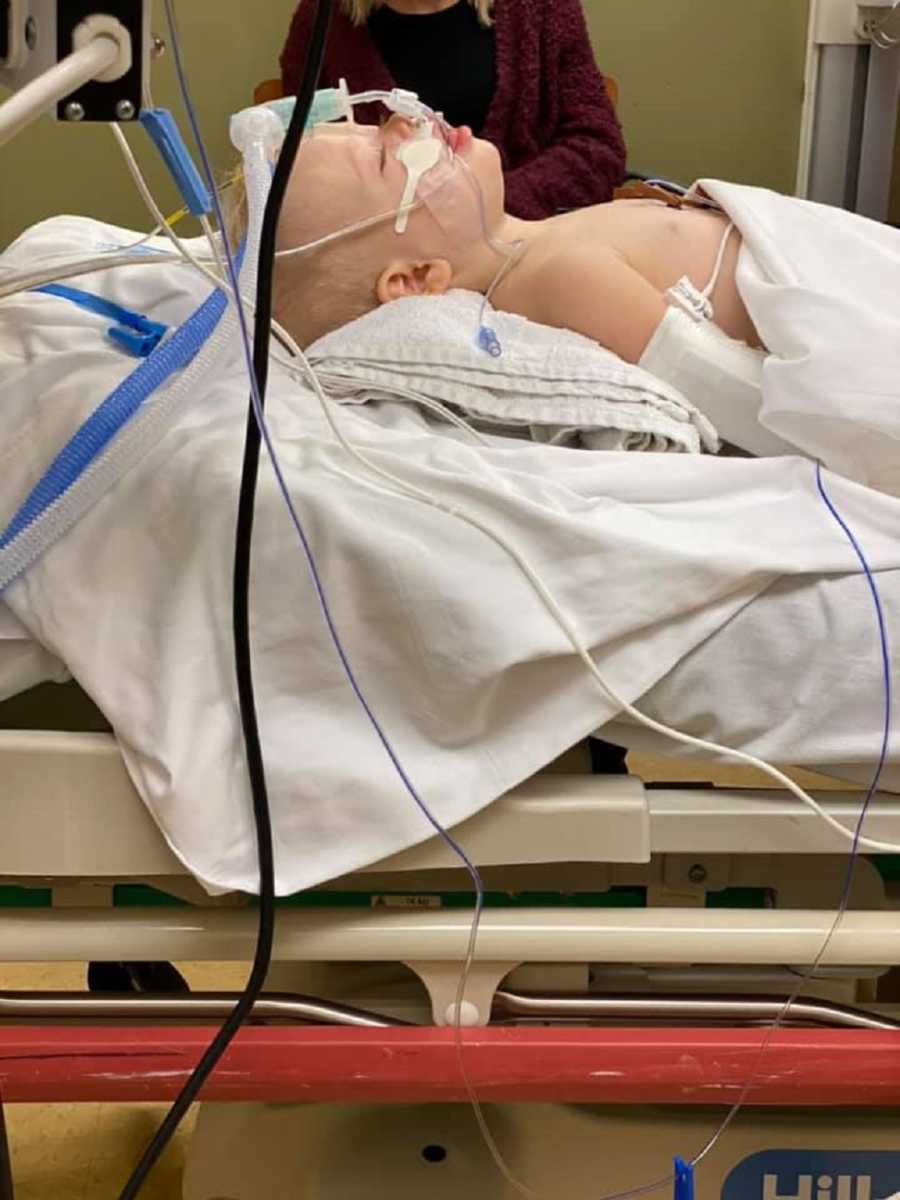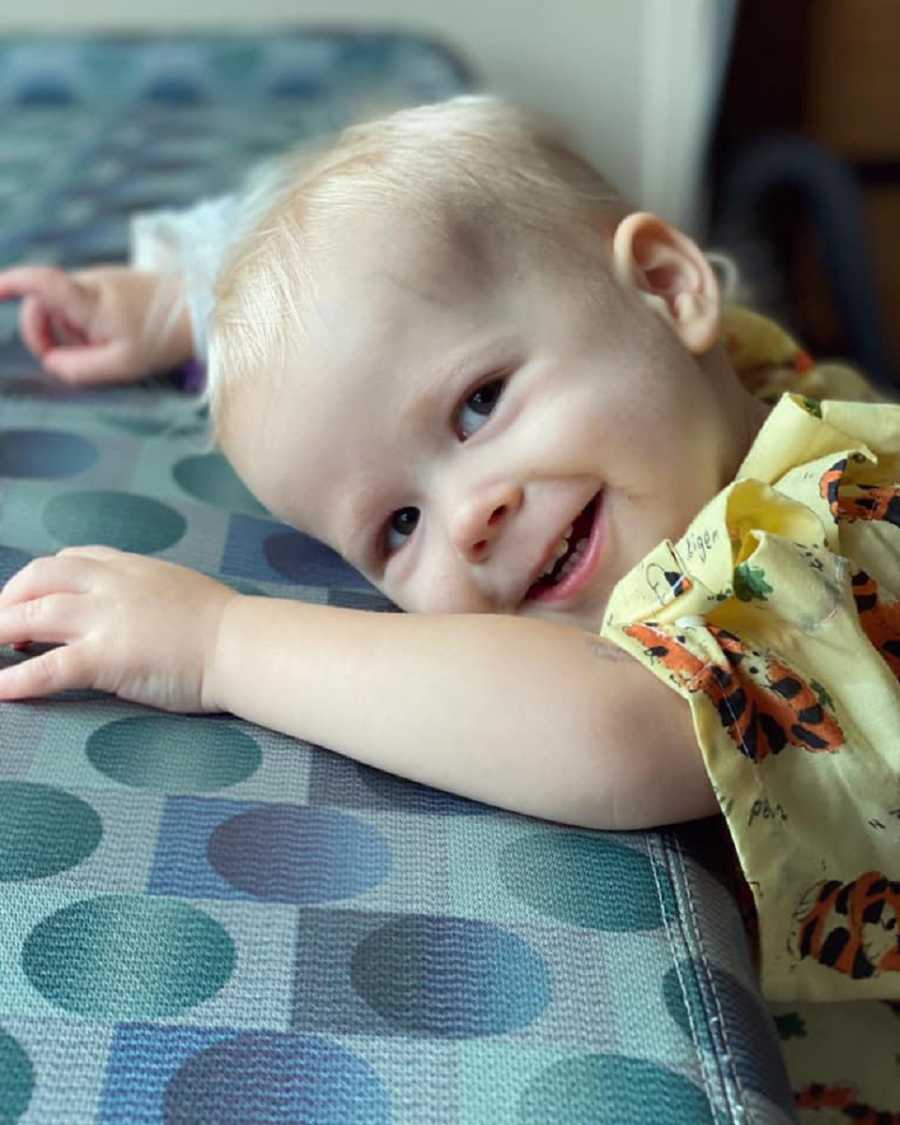 We will always remain cautious anything can happen to our family. I still don't even want to imagine what would have happened if we had made the decision to put Charlotte down that night without watching her more. We have seen many things in creating our family I didn't think we would. Our daughters both had a rough start just trying to come into this world and have each encountered their share of problems after entering it. If this is all they encounter as they get older, I will be very thankful.
No matter how big or how small your problems are, just remember if you have kids, you are a superhero. No joke, parents really can get through anything. It may take time, lots of crying, and many struggles, but we can take on a lot more than we ever thought we could. We have to get through things because we would do anything for our kids. I love our kids so much.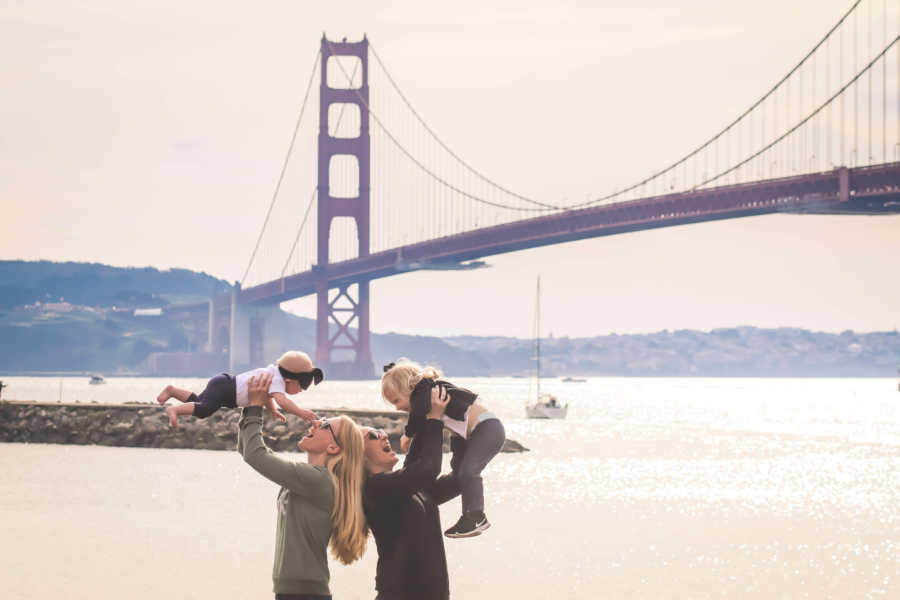 I don't think my wife and I will ever be done paying off medical bills. Before we had kids, I don't even remember paying doctor bills. I now have one every week. I am even on a payment plan. I am taking everything one day at a time. I feel like my kids are always sick with something, but they are happy kids. They don't even realize they are little superheroes for going through what they have been at such a young age.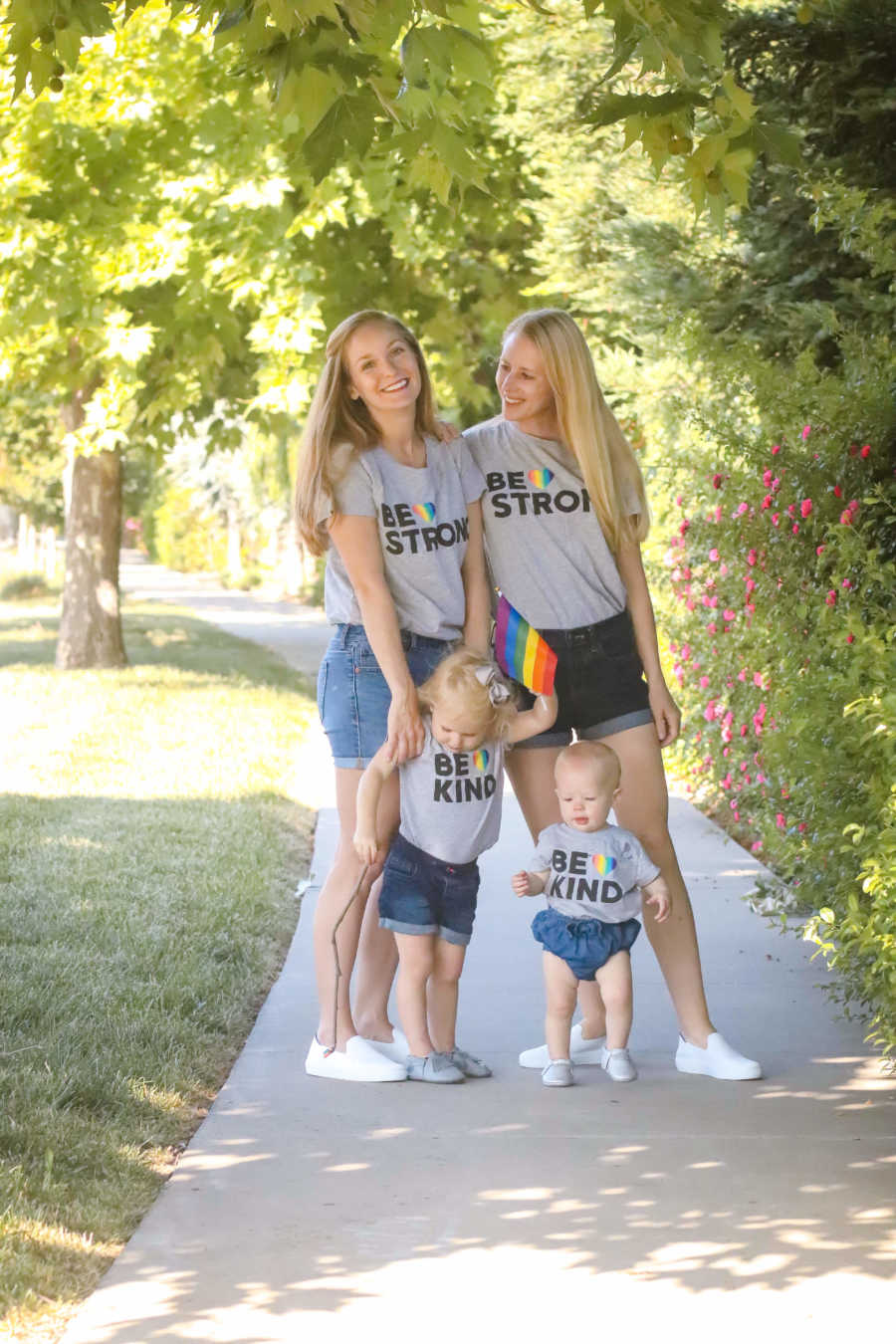 Our family has also encountered problems just from being a two-mom family too, but those problems seem so little when I throw in our medical issues. We have to explain our family almost daily, whether it's going to the doctors, the grocery store, vacations, etc. We get asked about who is the 'man' in our relationship or who is the 'father' of our kids. We are both women, in love with each other, and our donor is someone who will always be thankful for but he isn't a 'father' to our daughters. We get asked about why my wife has carried our kids, not me, and 'Why did you waste so much money making a family when you could just get pregnant 'the regular way' for free?' We get told our family is a sin and our kids are having all these problems because we shouldn't be together, and we should each be with a man.  I could go on and on about all the questions we get asked or the insults we receive about our family. However, none of it matters because we are helping other people in the LGBTQ community realize that you can make a family. It might not be easy but it is possible.
I hope our girls know they are strong and can take on anything, whether it be with their health or with people's comments about our family. My wife and I are now starting our journey to baby number 3 and while we could sit here and worry another child could mean more scares, we just can't live life that way. We just have to take it one day at a day and remember love is what matters."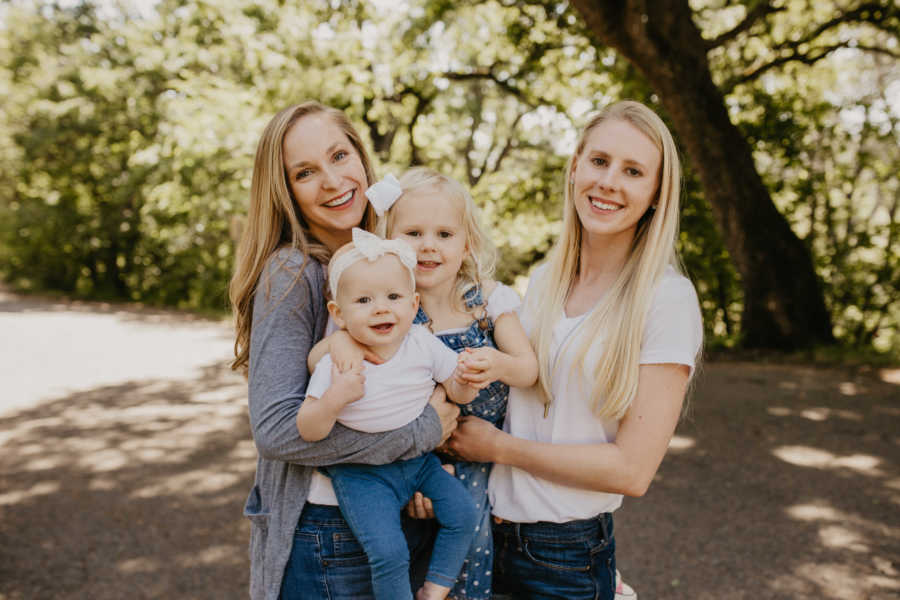 This story was submitted to Love What Matters by Christina Bailey of California. You can follow this family's journey on Instagram. Do you have a similar experience? We'd like to hear your important journey. Submit your own story here. Be sure to subscribe to our free email newsletter for our best stories, and YouTube for our best videos.
Read more from Christina here:
'Help me!' The color drained from my face. I awoke to cramping and blood dripping on the bathroom floor.': LGBT couple navigate homophobia, reciprocal IVF journey, 'our girls will be filled with lots of love'
'This little baby was created in a tiny dish. She was a perfect product of us.': After same-sex couple's harrowing Reciprocal IVF journey, their advice is to 'stay strong'
SHARE this story on Facebook and Instagram to help celebrate unique and beautiful differences!