"In May 2018, I was newly Queen of Newcastle, at the Georgia Renaissance Festival.
Black Panther had come out just three months before, and it was on everyone's mind.
I was still learning how to Queen, as the shoes before me were large, and pavilion time was always a time when I felt particularly inadequate.
It was one of my insecure days when I had a young black girl and her dad come and visit the Royal Court.
I introduced myself as Queen of England and the girl said, 'I'm a princess!!' And then she got shy.
I wanted her to keep talking, so I said, 'Oh! Are you a Princess of England?'
She shook her head. 'Are you a Princess of France?' Another head shake.
I don't know why, I'd never done it before, but I thought I'd take a chance.
'Are you a Princess of Wakanda?'
Her eyes grew so big.
Her father jumped with excitement.
And she nodded regally.
I crossed my arms over my chest. 'Wakanda Forever, my princess. We are so honored to have you in our Kingdom!'
Now she stood a hundred feet tall, and her dad nearly trembled behind her.
I touched my colleague Joshua Miller's shoulder, who'd been carrying on a very different conversation as King Henry, and said, 'My dear Henry, we have a visiting guest from Wakanda!'
Without missing a beat, his arms crossed over his chest. 'Wakanda forever, dear princess!! And welcome to England!!'
That shy girl walked out of pavilion with her head held high like an empress.
And I remember her dad just dancing next to her, whispering, 'Wakanda, baby!! They know you're from Wakanda!! You're royalty too!!'
Mr. Boseman, I've worked Renaissance festivals for almost twenty years now.
Since that point, I have seen dozens of black boys and girls accept themselves as royalty in a way that I'm not sure they would have before.
The doors you opened echo throughout time like Arthur pulling the sword from the stone.
Thank you.
Wakanda Forever."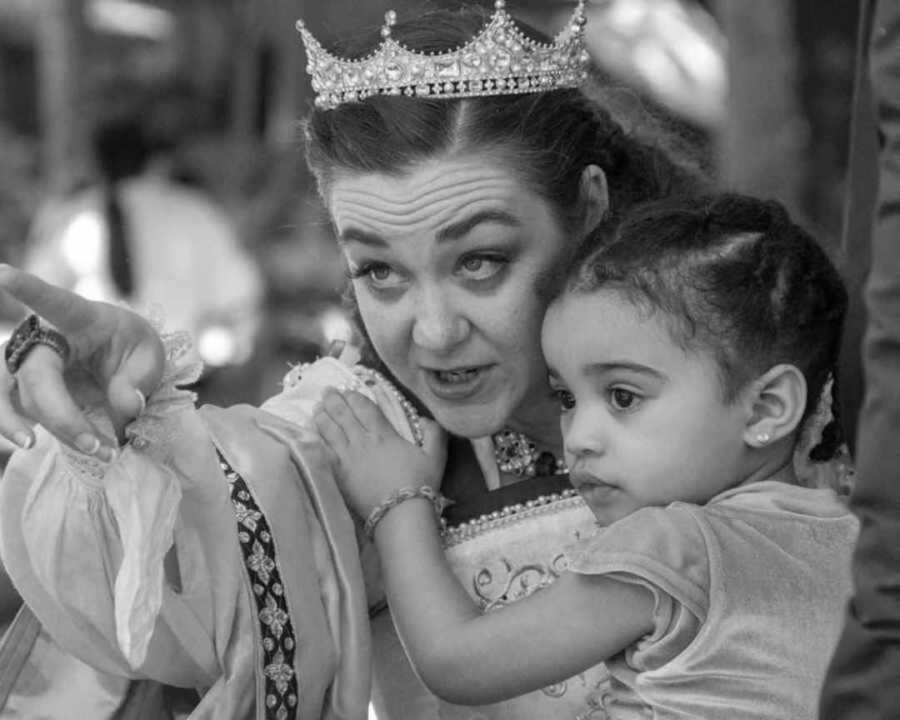 This story was submitted to Love What Matters by Erin Poulson. You can follow her journey on Facebook. Be sure to subscribe to our free email newsletter for our best stories.
Read more stories like this:
'She looked up at me and said, 'Can I help him?' Shopping carts were scattered everywhere throughout the parking lot. She was irritated.': Little girl shares act of kindness for Walmart employee
'How much longer before my 8-year-old son grows from cute to a threat?': Mom urges 'please raise your children not to fear mine'
Bring smiles to others. SHARE this story on Facebook with family and friends.