Disclaimer: This story contains details pertaining to child loss that may be upsetting to some.
Experiencing Stillbirth
"HEY LOSS MAMA.
These three little words strung together have changed my life. When I first wrote them in my journal, after my child Hayden Jae died in July 2021, I had no idea how much they would mean to me, and the impact it would have. But it was not always like this. If you would have asked me a year ago if this is where I thought I would be, I would have not believed one ounce of it.
I gave birth to death.
Let's backtrack just a little bit to July 13th, 2021. The day that changed the entire trajectory of my life. This was the day I found out that Hayden Jae's heart had stopped beating. My first baby and my sweet little girl would be born still. After four agonizing days of waiting and processing my new reality, I brought Hayden Jae earthside and out of my womb on July 17, 2021. Her labor was a long and brutal 24 hours in the hospital, after which she entered this world, still and lifeless, at 8:32 a.m.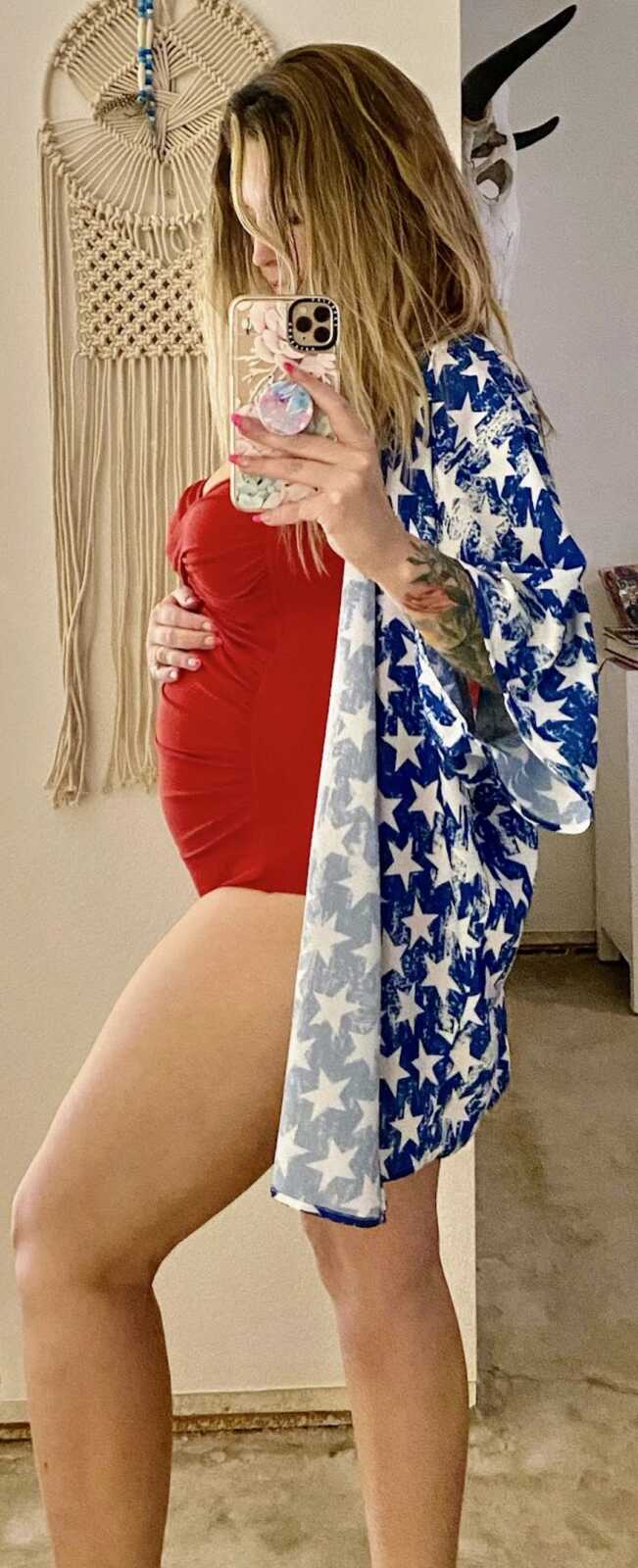 The cycle of life is birth, breath, and death. But that was not the case for Hayden. I gave birth to death. She was never able to take a breath outside of my womb. But there she was, wrapped in the smallest swaddle, with the tiniest beanie. There will never be enough words, or the right words, to describe what it is like to give birth to your child and hold them in your arms, knowing your time is limited. We held her. We kissed her. We drank in all her beauty. You truly never know love until you hold your baby in your arms, but this was not the moment we planned for. This was not the way it was meant to play out. The silence in the room was deafening in the following hours we got to spend with Hayden. I will forever cherish the time we spent sharing my body and bringing her into the world. She is my daughter, now and forever.
Stillbirth Grief
This is hell.
Living earthside while your daughter dances in the stars is truly the most harrowing pain I have ever felt. They say when you have children, you wear your heart outside of your body, on your sleeve, and all the cutesy things you can find on signs at HomeGoods. But where do I fit into that narrative? Can my heart reach to the stars? How is my heart beating, but her's stopped? It became apparent to me very early on this was not something you can move on from. Hayden was my daughter. My daughter was dead. How was this my life?
I had never felt so isolated and alone in my 31 years. I felt misunderstood, unacknowledged, invisible, and like I had been shoved into a corner. Our society is incredibly grief illiterate, and we gloss over trauma, pain, grief, and death because of how genuinely uncomfortable we are with our emotions. I very much believe most people around Loss Families do the best they can to support them, but there will always be times where intention versus impact must come into play. With the ever-evolving emotional toolbox available at our fingertips, each of us has an opportunity to improve and adapt on how we hold space for those deep in grief. When it comes to Baby Loss, I have come to learn that, unless this is a path you walk, your ability to understand how shattered my heart is on a daily basis has limits.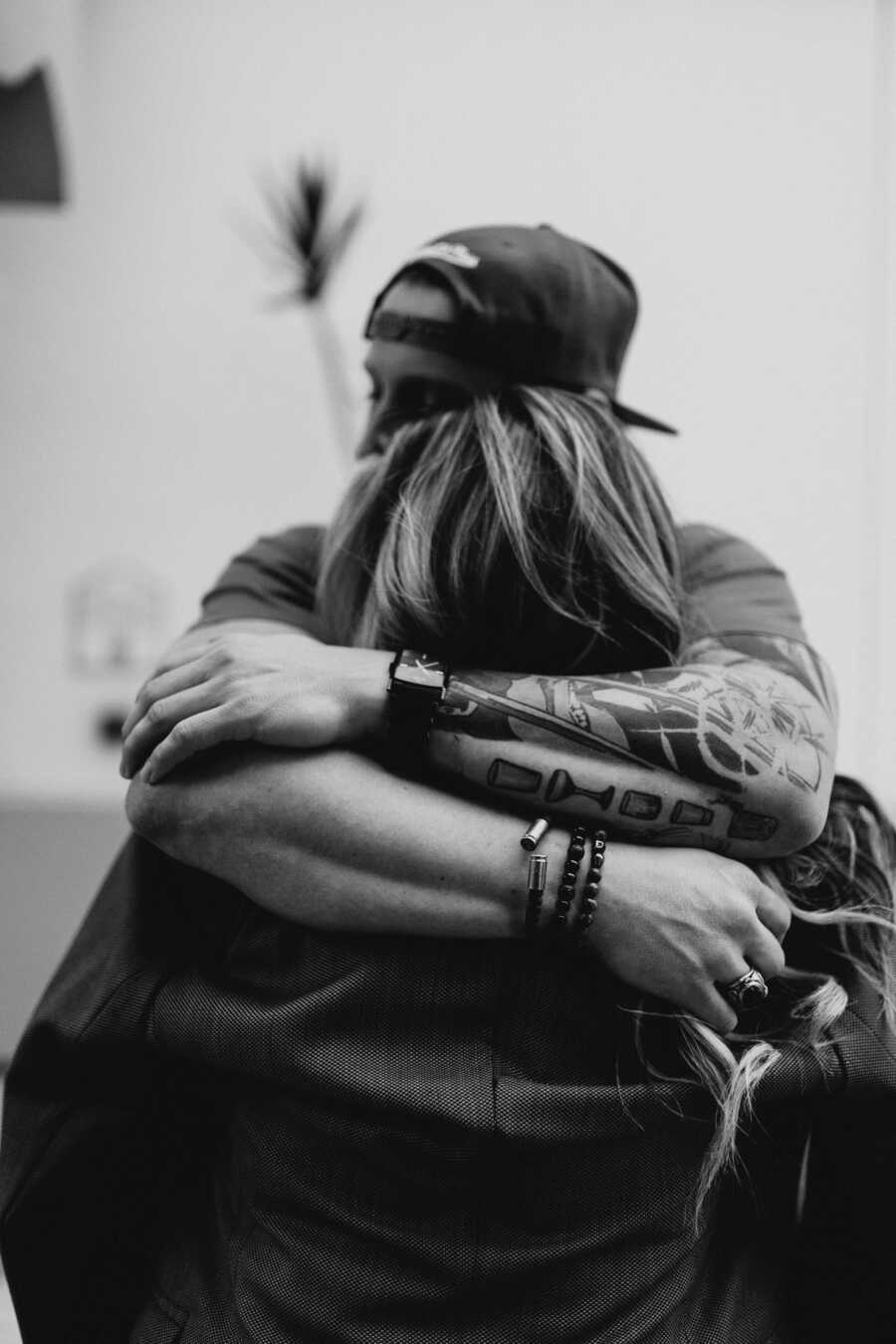 Grief has a way of enveloping you into the depths of its darkness. We view grief with a blurry lens in our society. Grief is not a disorder; it cannot be 'managed' or 'fixed.' There is no timeline, and grief does not get smaller, nor does it end; it simply gets different. I knew I had to make a decision. Do I follow the 'rules' of grief the way society has so neatly outlined and put into a box? Or do I take the time to sit in my grief, acknowledge her, and let her consume me until I am no longer afraid of the shadowy parts of my soul? I chose the second option. I chose to dance with my grief; to befriend her, to adapt and grow with her; to feel her. I chose to acknowledge I will carry the weight of my daughter's death on my heart for the rest of my life. There was no escape from this; it was a part of me the way Hayden is and always will be.
Hey Loss… Mama?
2022 brought a new year, and even though I was nowhere near feeling 'normal' (which is an absolute myth), my life looked incredibly different. I had closed out 2021 with what would have been Hayden's due date, quit my tenured corporate job, and all my relationships looked wildly different. I was still drowning in the depths of my grief, but for the first time since Hayden died, I was craving connection.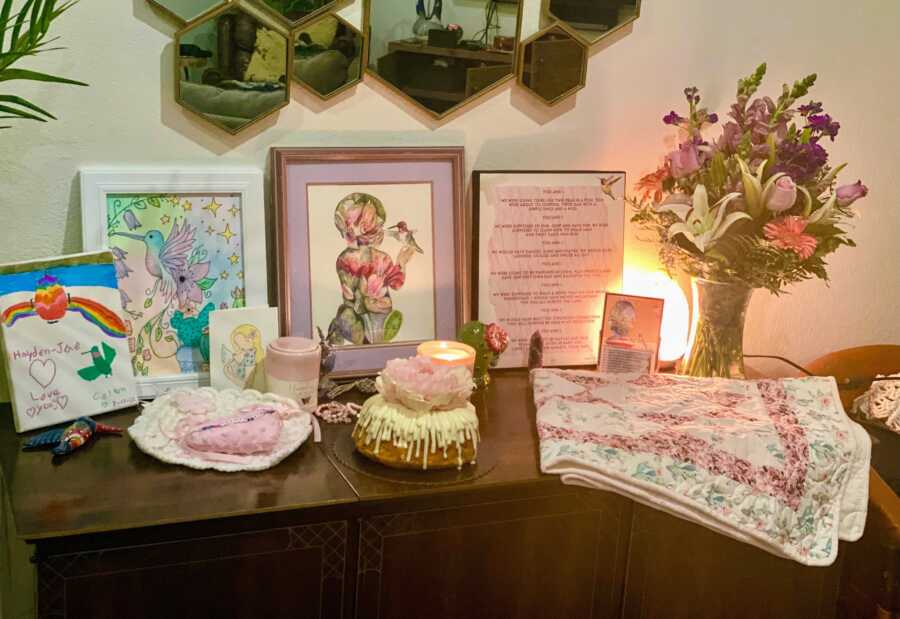 I started writing letters to no one. I always began each letter with 'Hey Loss Mama.' It is how I felt then, and still do now. It is truly how I identify. I am a Mama, but my daughter is dead. Her life and mine both vanished in the unnatural order of her death. I am a Loss Mama, and I am going to talk about Hayden and about my experience. There are so many deep facets of loss that had yet to be truly unpacked, and it was becoming apparent that the world was so consumed with their own discomfort around death that they would rather silence the Baby Loss Community than acknowledge our tormented lives. But this was my entire life. I felt called to share not only to bring comfort to other Loss Families, but to also educate others on how they can do better for us in the future. Grief requires companioning, witnessing, and the ability to sit in a Loss Family's hell without looking to judge or fix the situation, as it is unfixable. Far too often, the well-intended platitudes, which are meant to be helpful create more pain and trauma. I want to be able to bring awareness around this fact to help salvage relationships with those who are supporting Loss Families.
At the end of March 2022, I finally harnessed my courage up to make my first post on a brand-new Instagram account called @_healingwithhails. All of the branding was pure Hayden. Hummingbirds and Prickly Pears galore, her sign for us. I launched my website, and my first words on both of those platforms were 'Hey Loss Mama, I'm Hails.'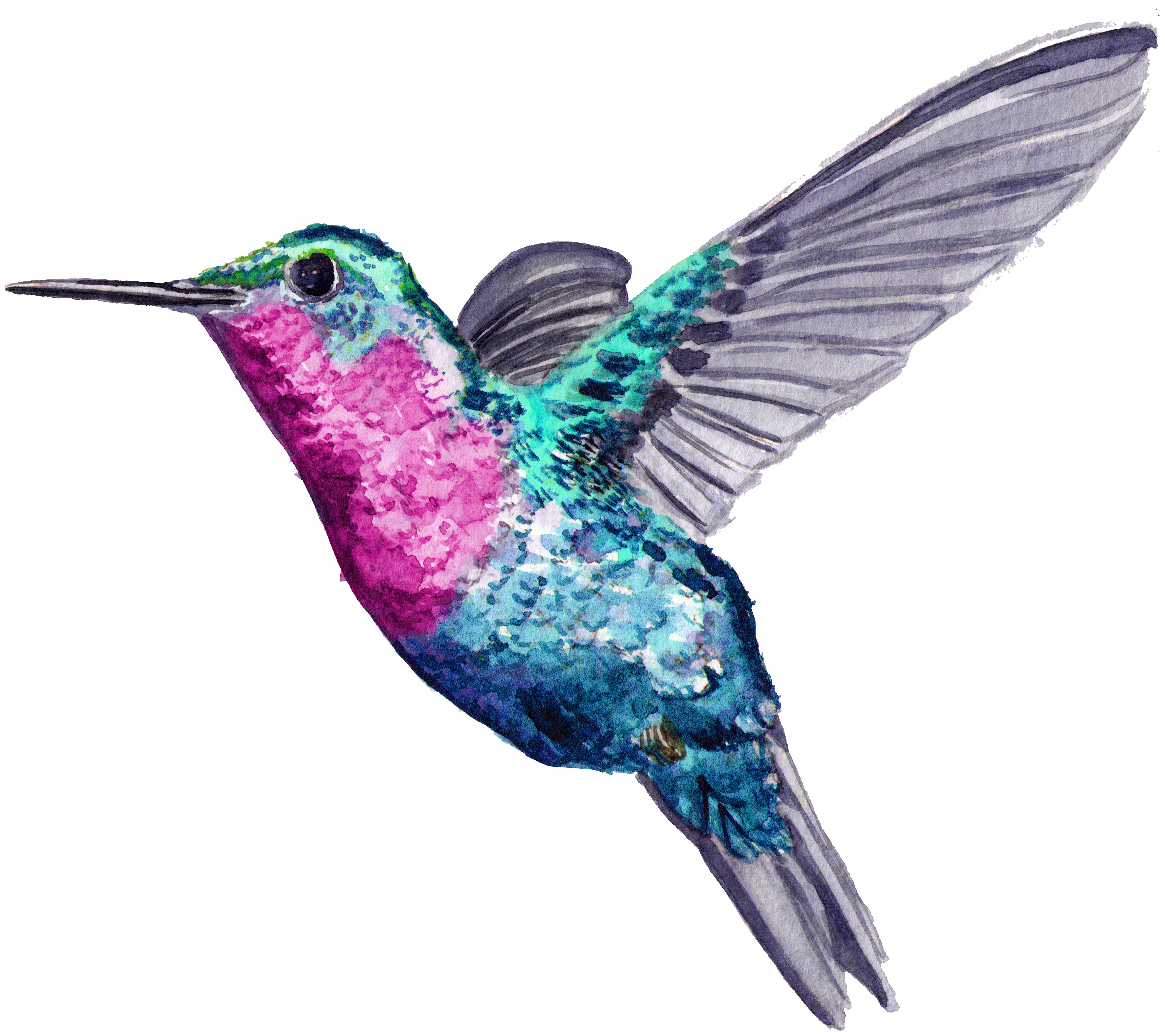 Grief Social Media Movement
The Hey Loss Mama Movement was a movement before I realized it. It is the phrase that gave me the fortitude to begin openly discussing my experience, Hayden's life, and how I felt about it all. It is the first thing I wanted people to see. It is the way I choose to greet every new Loss Mama I have the opportunity of connecting with. My page has grown very organically which is incredibly humbling, and I take the time to get to know every single Loss Mama (or Dad) that connects with me, whether it be through messages, comments, or follows. I created my page for community and connection, and in the last five months it has surpassed my wildest dreams of what it could and would become. In more ways than one, it rescued me.
There are so many phenomenal Loss Mamas out there changing the narrative, sharing their stories, and making us all feel less alone. I had no idea any of it existed before I created this space. Every single day, I am in awe of the women, men, and people I interact with. I have real life 'fan girl' moments when some of them comment on my posts. When tragedy and trauma occur in your life, you are not required to do anything with it. Not everyone will feel called to speak out and share, and that is OKAY! For the women that do, and speaking from the perspective of one who does, it can be very therapeutic.
On the flipside, in the darkest of moments, it can also be very triggering to immerse yourself in the twilight zone that is Baby Loss and Infertility. This is the reality we all live with, this strange dichotomy of being grateful to have each other while equally devastated by our tragic shared circumstances. I wish I never met of any of these women and men, but my heart is so full because I have. Hayden's life and death have provided me with a depth in my heart, a compassion and an empathy I did not have before. Sharing those gifts from Hayden are the heart of the HeyLossMama community.
HeyLossMama is an open journal for me. I share things on my page that I have never shared with people outside of this community. I knew if I was going to do this, it would have to be as authentic, raw, genuine and real as possible. No holds barred. Just my heart, open to the world, where I would share so much of myself and so much of Hayden. My precious girl is the reason I have found purpose to continue living every day. Honoring her is my purpose and I know that she is proud of me. I feel that to my absolute core.
I am a firm believer that my daughter Hayden guides me in everything that I do. Her soul is so strong, and I know she finds Loss Mamas and their sweet babies and brings them into the love and support of the HeyLossMama community. Without her, I would not be here. When she died, the old Hails died too. That Hails is never coming back. There are moments where I struggle with that, but without Hayden, I would not be a Mama and I would not be helping create this community. I credit her for everything I do.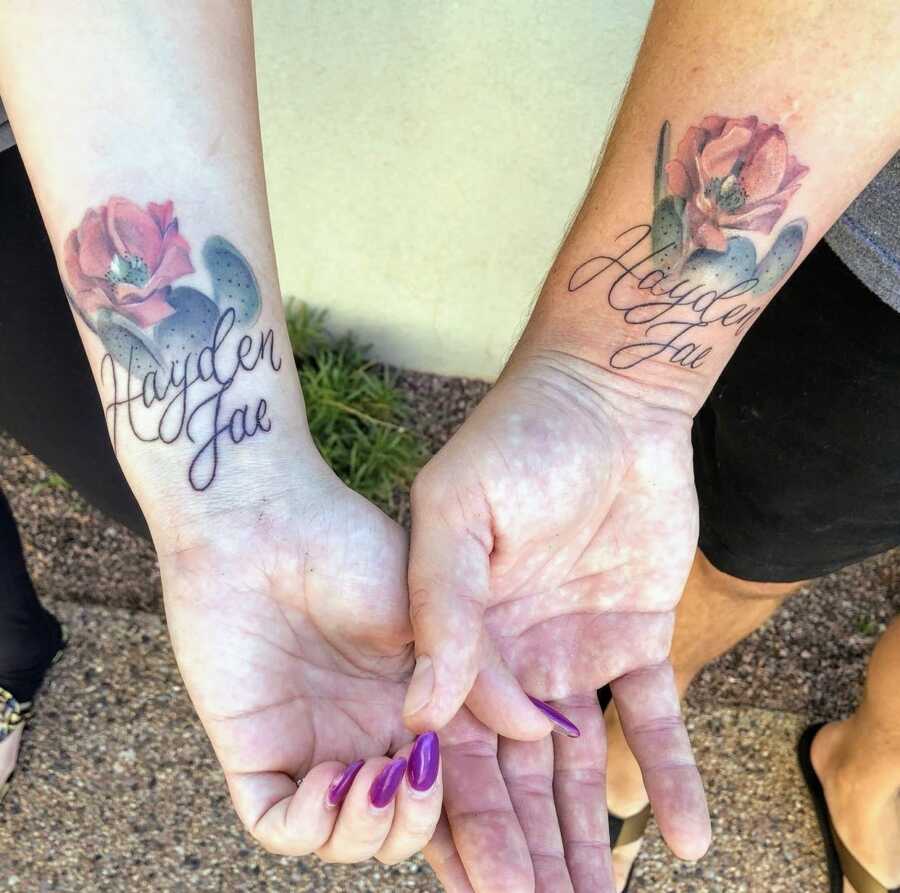 It was not until the end of June 2022 that I woke up, violently I might add, at 3:33 a.m. and decided I needed to make this into more than just posts and my words. Hayden always comes to me in dreams, and if I am open to receiving her insight, I always wake up at 3:33 a.m. and write down her ideas that she sends to me. It was like she was screaming at me 'MAKE A HASHTAG!' and I listened. I logged onto Instagram and noticed no one had ever posted under the hashtag '#HeyLossMama.' From there, the formality of HeyLossMama was born.
As I write this, my whole entire life seems to revolve around those three words, 'Hey Loss Mama.' I have since changed my Instagram handle from @_healingwithhails to @heylossmama. I know it is purely Hayden's magic the handle was available, as if she were saving it for me all along. It was too serendipitous to be fate, that was all HayJae.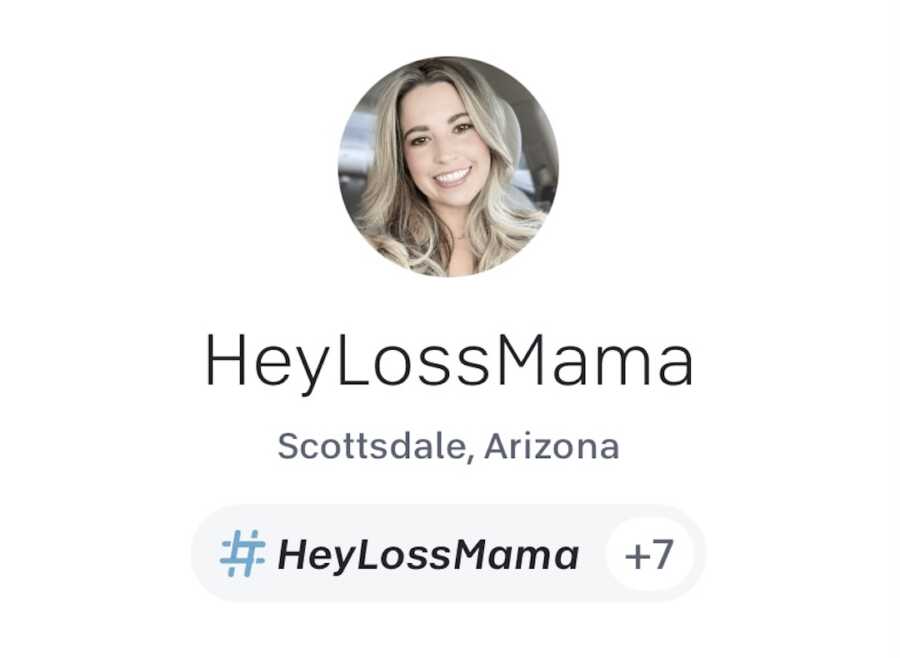 Creating a community, a safe and sacred space for Loss Mamas, has truly become what I believe is my soul's work. While all Loss Mama experiences are different, I approach the #HeyLossMama community from a place that our connection begins at the moment our lives take a trajectory none of us were prepared for. Our stories will always look different leading up to the breaking point when our babies die. I am not here to quantify or compare those stories; this is not the Trauma Olympics. I am here to hold space, invite connections, and to acknowledge, at the end of the day, we all wake up living the same nightmare: life earth-side without our precious children. This is the entire foundation of @HeyLossMama. We come together with that commonality, as horrendous and tragic as it is, and within this community, we find a sisterhood in extreme loss.
This is one of those clubs you never wanted to join, but since we are all stuck with a lifetime membership, I feel strongly about cultivating a place to feel seen, heard, and safe. We all must walk our own grief journey, but when you feel like you have a tribe and community around you who can see your heart in a way others cannot, it can make the entire experience a tiny bit lighter. I approach this community with the goal that if I can make one Loss Mama feel a little less alone, I am making a difference in the life of another woman who has felt so many of the emotions I feel. I want to be able to lift women up, lift their babies up, say their names, and honor their lives. There is room for all of us in this community, and I will never tire of raising up the people I meet. Our voices deserve to be heard, and I am done being silenced.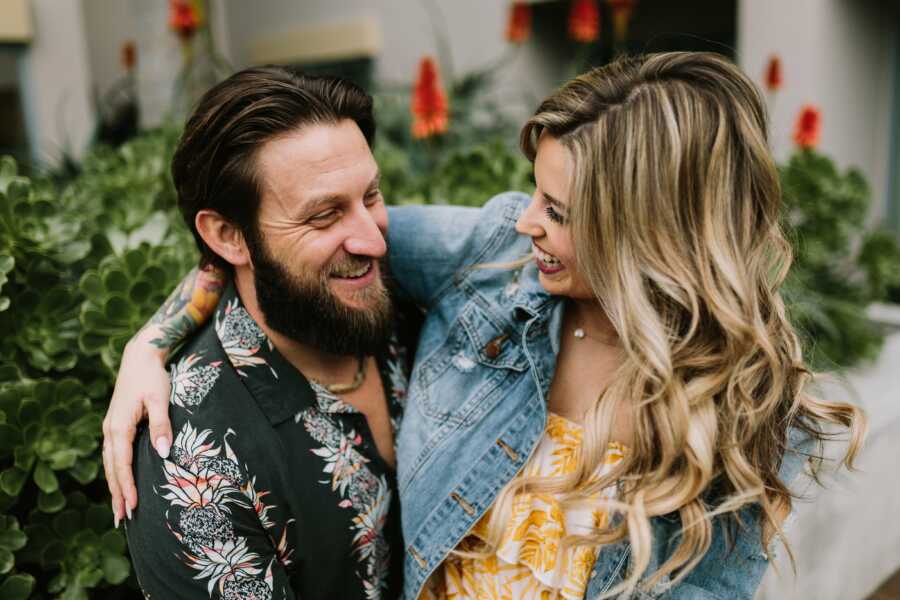 HeyLossMama has a lot of exciting endeavors yet to be announced which I believe will help raise the voices of this community. Hayden's soul works through me, and I am going to reach to the stars as far as I can to make even the smallest impact in this space. I am working on a major rebrand for HeyLossMama, in order to streamline all my pipe dream projects, and I will stop at nothing to achieve my goals. I am currently waiting for approval for 501(3)c status for the nonprofit my husband and I have started to honor Hayden and all the babies taken from Loss Parents too soon. I am working on #HeyLossMama Happy Hours that I hope to kick off in October, during Pregnancy and Infant Loss Awareness Month. Connection and community are the pillars of HeyLossMama; it is why I am here and why I will continue to speak out. The HeyLossMama community has saved me in ways I will never be able to fully verbalize, and for that, I am honored to have a platform to share my heart, and my darling girl.
Nothing will ever bring our babies back, and that is a challenging fact I do not know if I will ever be able to accept. But I know I can create change if I lead with love, allow my daughter to guide me, and keep my heart open to the beauty that does still exist in the world. We can change the narrative around Baby Loss. We can break the silence around Baby Loss. We are Loss Mamas. This community is amazing, we are amazing, our babies are amazing. Join the movement with me. Let's make our babies, our stories, our lives, our experiences, and our love impossible to ignore. I see you. I hear you. I validate you. I acknowledge you. I love you. I am you."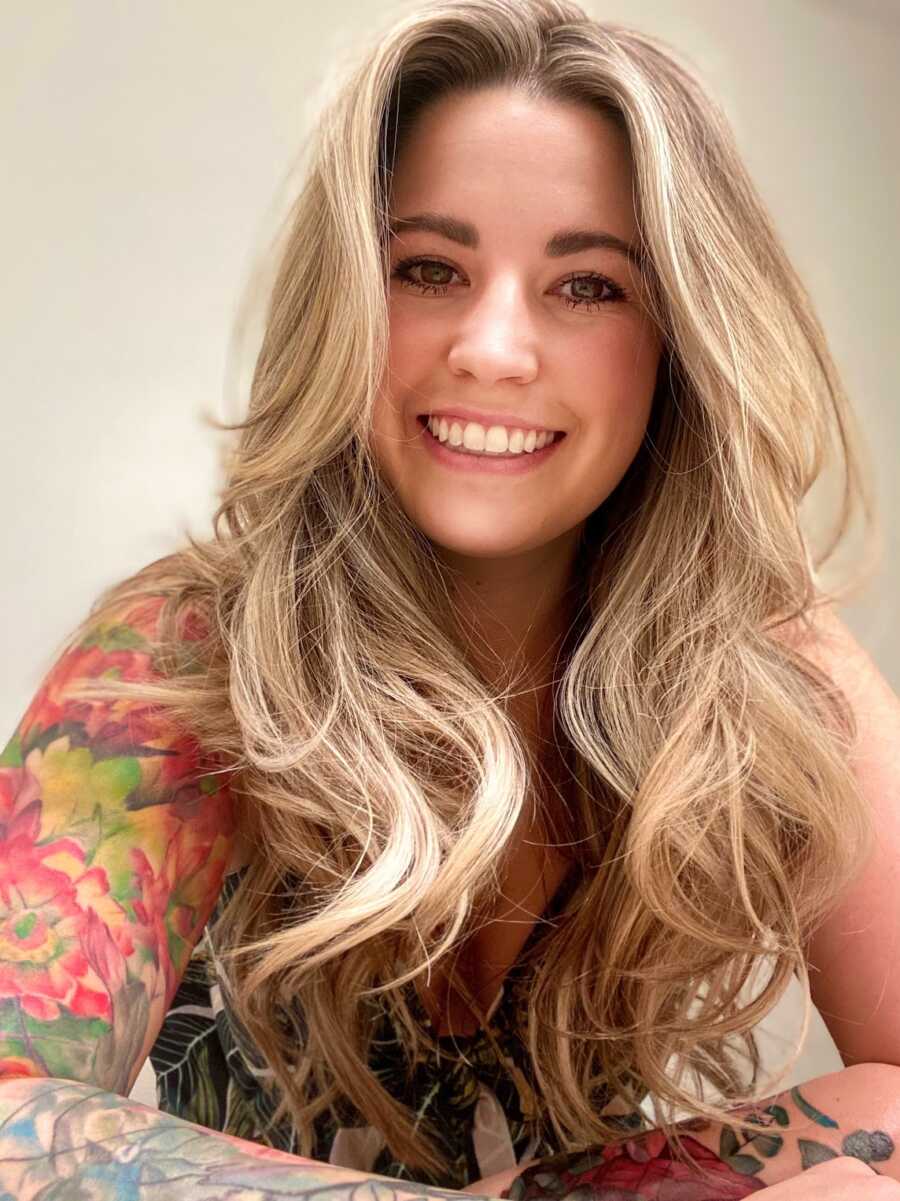 This story was submitted to Love What Matters by Hailey Brissette-Mathias from Arizona. You can follow her journey on Facebook, Instagram, and Twitter. Be sure to subscribe to our free email newsletter for our best stories.
Read more stories like this:
'They tried to find the heartbeat. Silence. At that moment, I knew.': Mom shares story of stillborn daughter
'When are you going to try again?' I was still unable to wipe after going to the bathroom. My baby was being reduced to nothing but a 'try.': Couple births second daughter one year after first is stillborn, 'I already WAS a mother'
Do you know someone who could benefit from this story? SHARE this story on Facebook to let others know a community of support is available.