A New Friendship
"When my little girl was in kindergarten, there was another little boy named DJ in her class. They weren't close but knew of each other. Throughout that year, me and my little girl's mom met a lot of parents and at one point met DJ's Mom and Dad – Dan and Debra. Debra was very nice, and Dan seemed congenial but quiet.
The next year, in first grade, there were a lot of school functions where we had to be there in the mornings and one morning my little girl's mom couldn't make it, so it was just me. I had taken the morning off work so there was no hurry for me to get back. Since I was in no hurry, after the ceremony I decided to get a newspaper and stop at Denny's for breakfast before going to work. I never noticed Dan and Debra were in the booth next to me as I sat and read the paper. Dan looked over at me and reached out and said, 'Hey, you're Tiffy's Dad.' He had noticed all the Chicago Cubs and Bears stickers on my truck and then struck up a conversation about how his family was from Chicago and he was a huge fan of both the Bears and Cubs. From that point on, I knew he would be a friend.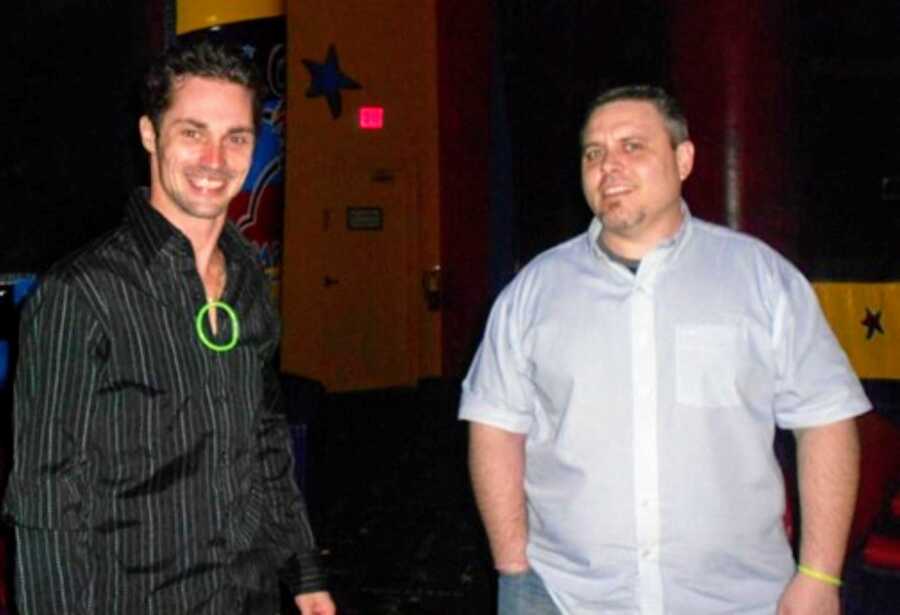 That same school year, Dan contacted me to ask if I wanted to join his fantasy baseball league and I was all in. It was $40 to join, so I gave him the money up front and he emailed me about the league. I missed the draft, so he emailed me my team and even gave me some heads up about some up and coming Cubs players. I really enjoyed it, but towards the end of the year I never heard from him or anything about the league. I knew something was wrong. I didn't worry about the $40 or the fact that I was in the lead at the time (Okay, maybe a bit worried that I was in first dammit! Lol), I was more worried about what happened. I was confused, but I never followed up on anything.
Reconnecting
A couple years later, Dan and Debra moved from the school district and DJ was no longer in my little girl's class. I thought I wouldn't hear from them again, and then out of nowhere Dan messaged me on Facebook to ask for my number. I didn't think much of it at the time, but when he called it was because he was going through hard times and needed someone to talk to. That initial call, we spoke for quite a while and I told him how jealous I was of his beautiful wife and family. Personally, I had one child and my relationship wasn't doing well.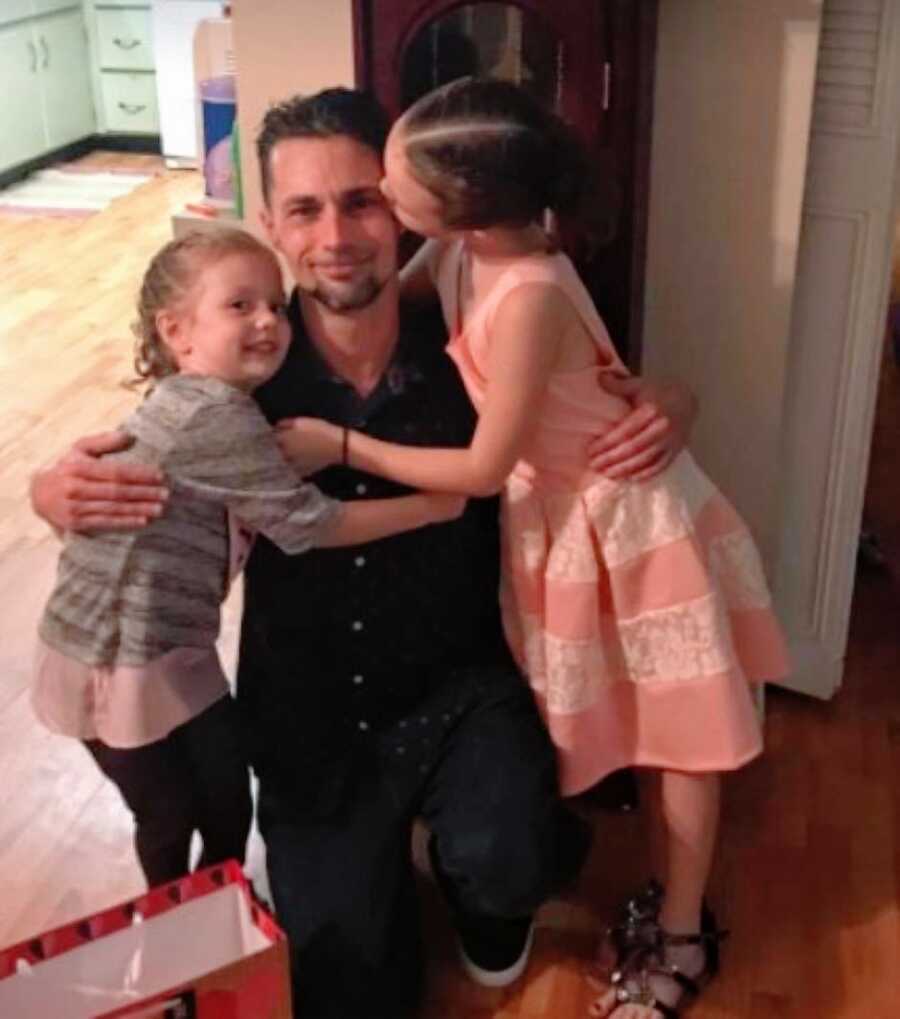 I kept in touch with Dan on and off for a few years and he seemed to be getting better. At one point, he told me about a new home for his family and it looked like all was going well. This was really the last of our close conversations and at this point both my daughter and his son were hitting middle school years. I hadn't seen his son since he was in first grade.
During those elementary school years, I had also seen Dan at the Daddy/Daughter dances at the school. It was our time to catch up on things and he was always so proud of his girls and was always there for them. The Daddy/Daughter dances end at the elementary school level, but the local Park District offers an all ages Daddy/Daughter dance. My little girl loves to go to them, so when she was in seventh grade we went and wound up seeing Dan again with his 2 little girls. He was so happy all the time and we saw them for the next 2 years.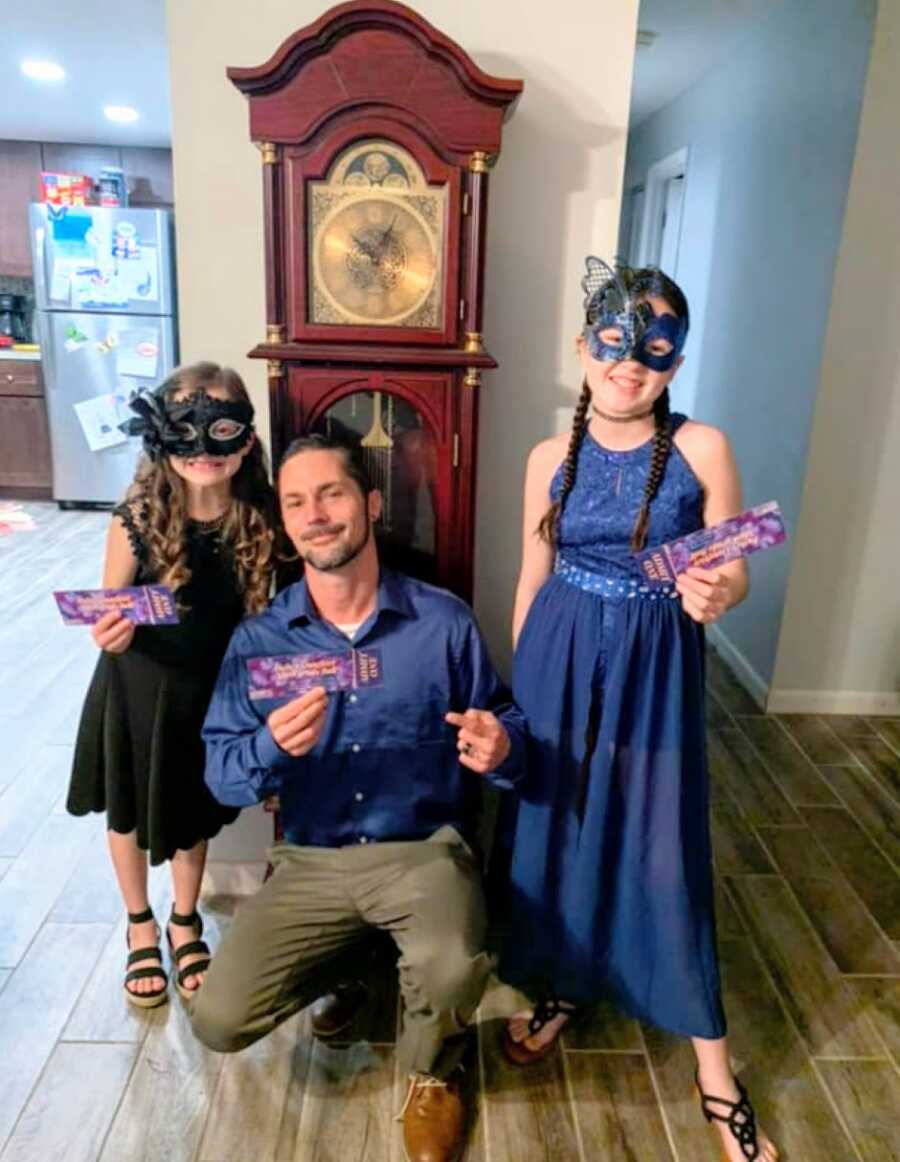 Stepping Up For Family
The dances were cancelled for the next year in 2020, but right after the Covid lockdowns were lifted, the Park District opened the dances again so me and my daughter were there. As soon as we got in, I saw Dan and was so excited to tell him about the new Chicago Bears tattoo on my leg. He was just as excited to show me the new Chicago Cubs tattoo on his leg in the same place. That night was so much fun, and I remember watching him dancing with his girls and seeing him so happy just being a Dad. Then, about one month later his wife posted on Facebook that he passed away. I was sincerely hurt and didn't want to ask her the circumstances of his death. He was a very young man.
Then this past February (2022), my daughter and I were in line to get into the Daddy/Daughter dance and I commented to her how sad I was that we weren't going to see Dan and his daughters. However, as we were at the dance, I noticed a tall teenaged boy there and thought it was strange to see a young man considering he looked too young to be a dad and the dance was for daughters. I shrugged it off and we enjoyed our night. It wasn't until I got home and saw his wife's Facebook post that her oldest son stepped in and brought his sisters to the dance because their Dad had passed away.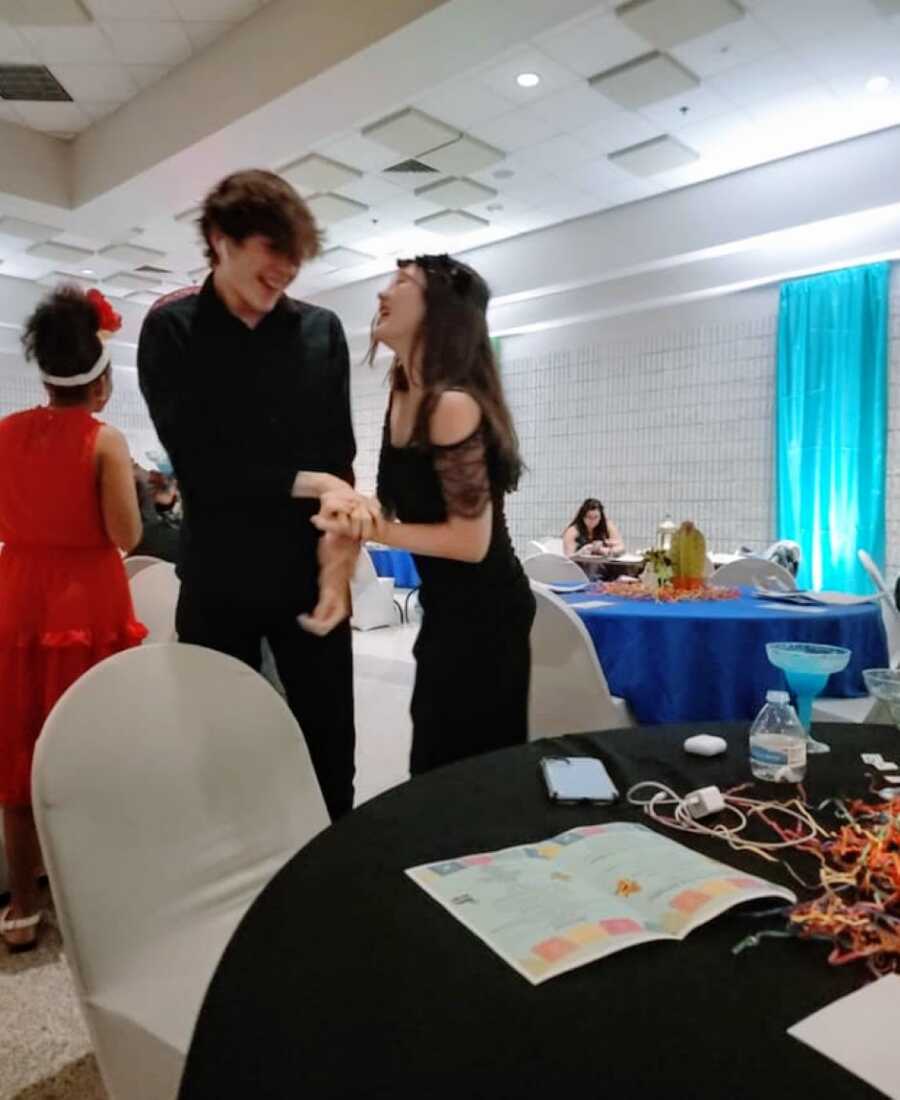 That's when it hit me – the teenage boy that was there was the same DJ I knew in my daughter's kindergarten class! I had no idea who he was because he was now 15 and grown! It absolutely amazed me what he did, it truly made me cry. I never spoke to his son, but I would have loved to have told him what went through my mind at the time, Dan would be so proud! When I realized what I saw that night and everything he did, my heart was broken and proud at the same time. Dan raised a very good man and I can't imagine how good of a father his son will be in the future. I know Dan was working through some problems, but the actions of his son show he was an amazing father with a big heart. I can only strive and work harder to be the kind of Dad he was."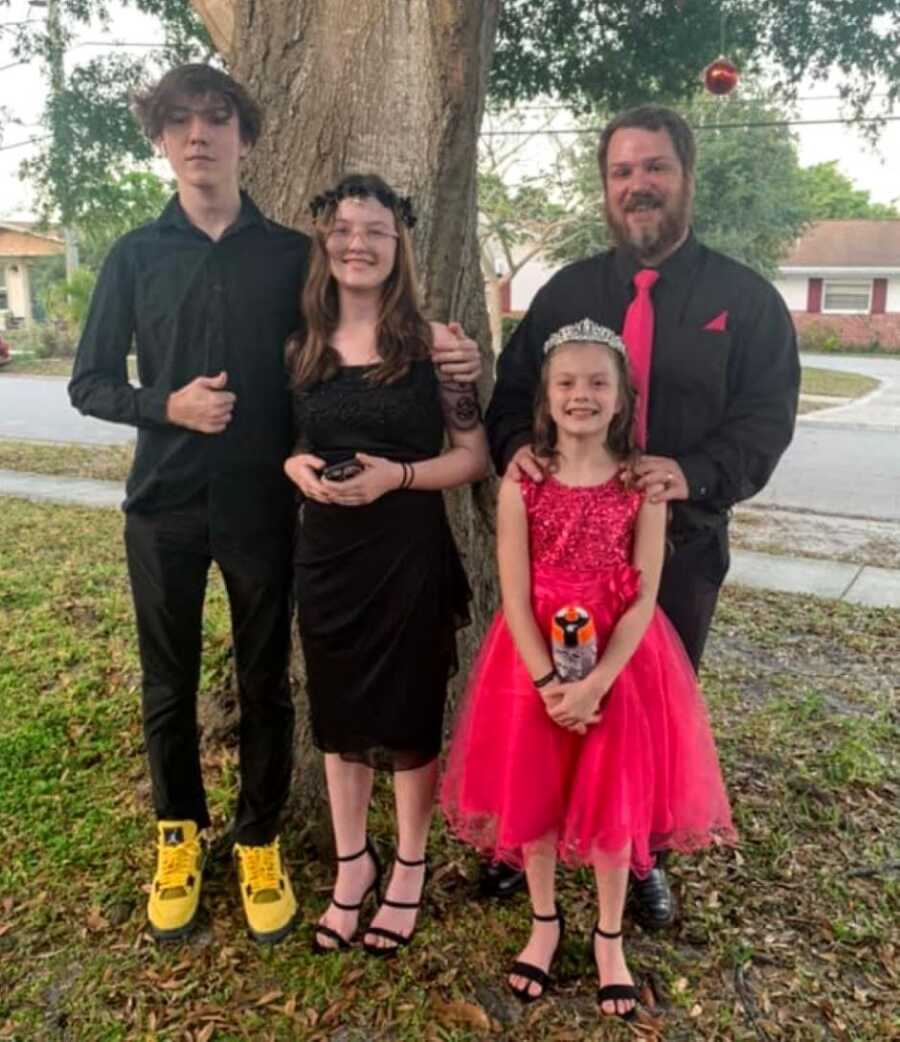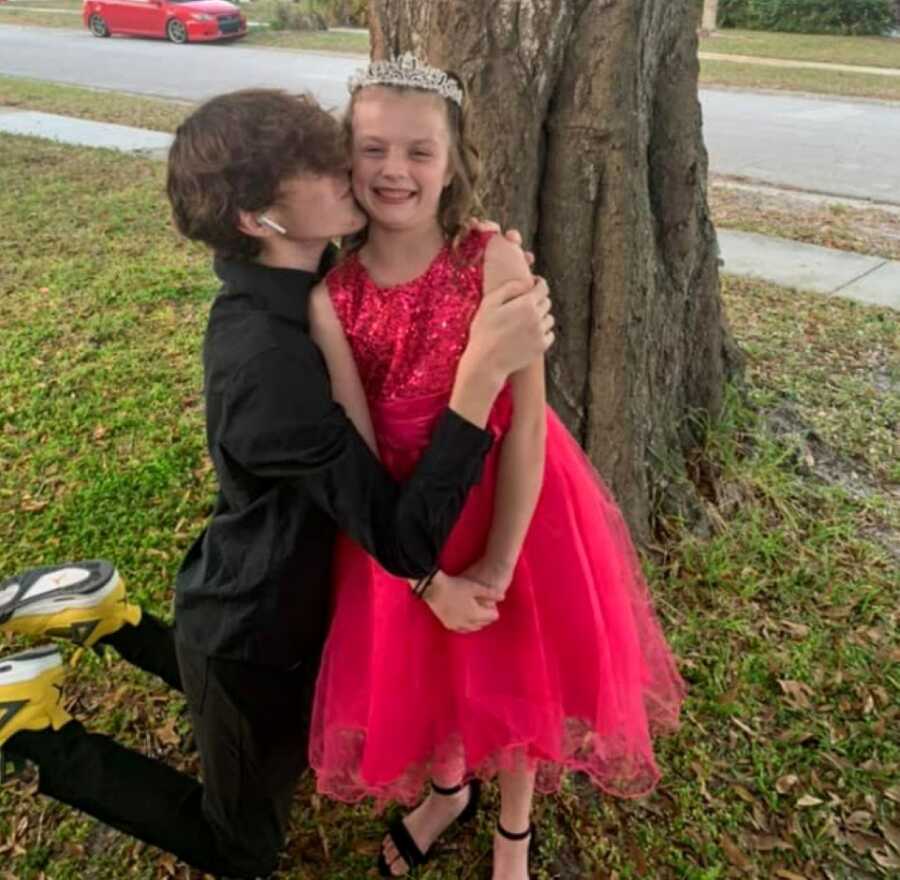 This story was submitted to Love What Matters by Shane Santana of Cocoa, FL. Submit your own story here and be sure to subscribe to our free email newsletter for our best stories, and YouTube for our best videos.
Read more stories like this here:
Big Brother Lovingly Escorts Sister To Daddy-Daughter Dance After Stood Up By Father
Bride And Father Pull Stepdad Out Of His Chair So They Can Both Walk Daughter Down Aisle
'His cancer is back and it's not good.' Our time was ending, but I wanted my daddy to walk me down the aisle, husband or not.': Daughter stages tearful 'fake wedding' for father dying of cancer
'I received a note stating, 'A rose for every year.' On my right wrist says, 'Love Dad.': Daughter gets tattoo in honor of late father, 'It's a little reminder he's always in my heart'
Help us show that compassion is contagious. SHARE this story on Facebook with family and friends.