"I always had a wonderful, close relationship with my dad. The best memories I have are always going on rides with him to visit or even to help wash his truck.
When my parents separated, I was to live with him and continue high school. I felt I had to step up and do the cooking and laundry. He always did great on cleaning… maybe a little too much, probably from being in the Army. It annoyed me then to always be tidy and organized, but now I appreciate that part of me (my husband and children, not so much).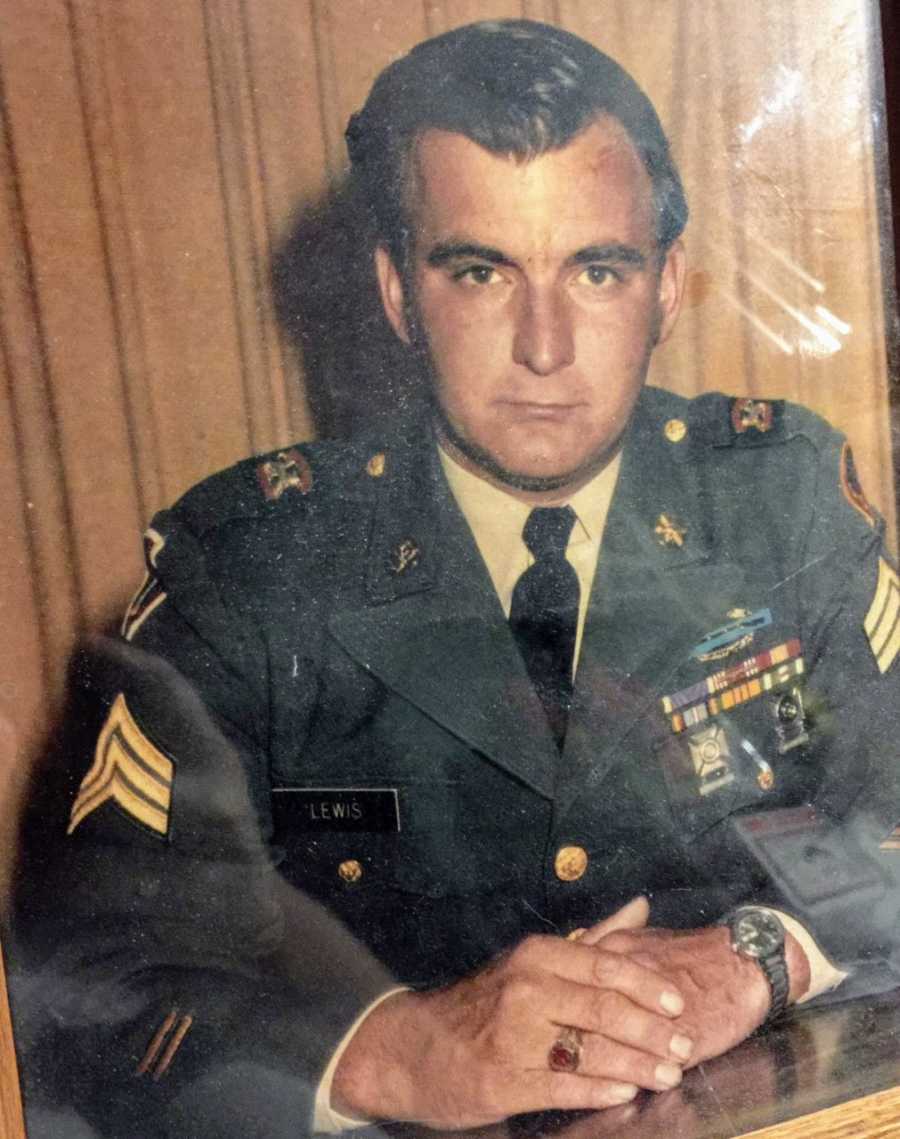 I never ever went without, he always made sure I had what I needed — prom dresses, cell phones, even my first car.
Dad was always pretty healthy growing up… he battled COPD, which started getting worse as I got close to my senior year in high school. I always knew to give him time to catch his breath, this was just the norm.
Last day of senior year, I received a note that there was something in the office for me. Waiting for me was a dozen red roses with a note stating, 'A rose for every year…' truly it was all of those little things he always did for me.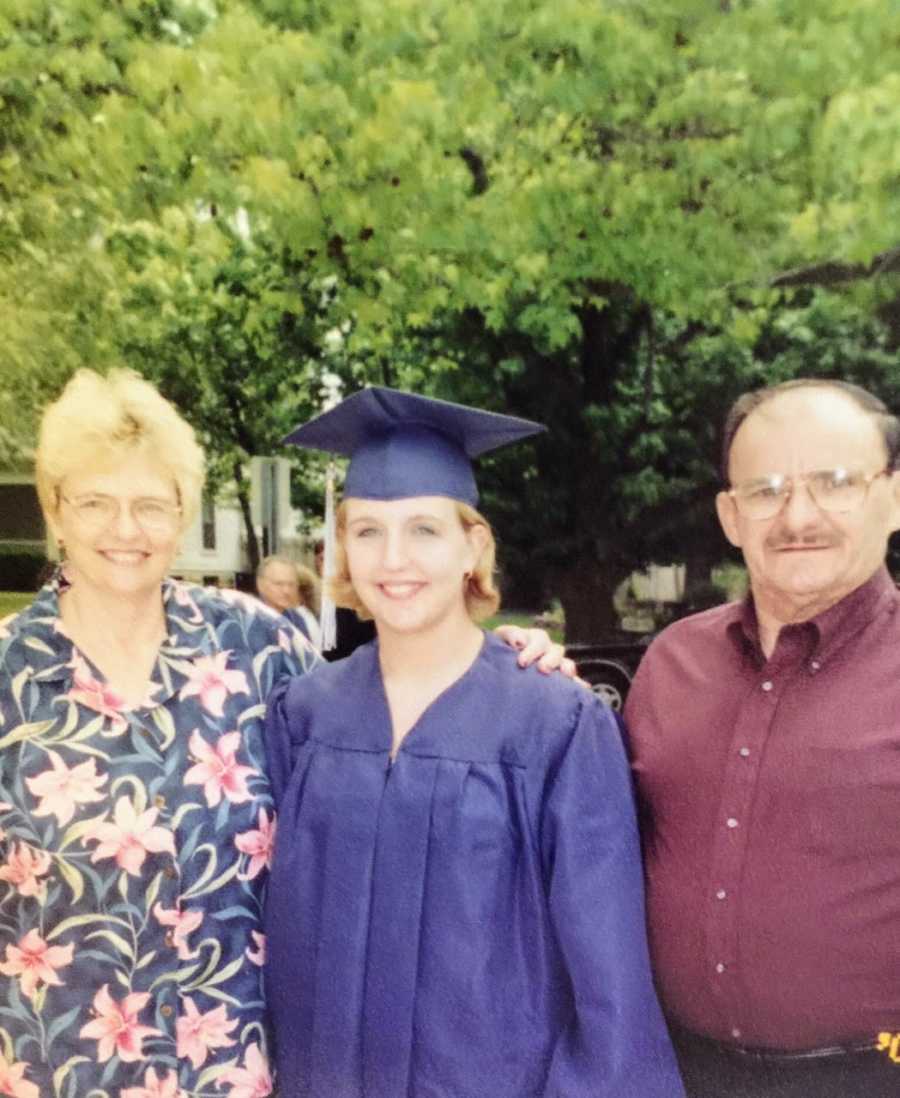 Even out on my own, I always talked to dad every day. He would even surprise me by coming to my work and taking my car for the day to clean and wash it. He always made sure I was taken care of… slipping me money for gas or whatever else I needed.
His breathing then declined fast. He would lose his breath just walking to the kitchen. We then got a referral to a specialist who then got us an appointment with Barnes Transplant Unit. He was a great candidate and was accepted and put on the list. Just the month waiting for a call, his health declined even more. He lost weight, he would struggle to breathe, even to eat. We all accepted the horrible reality — he may not make it.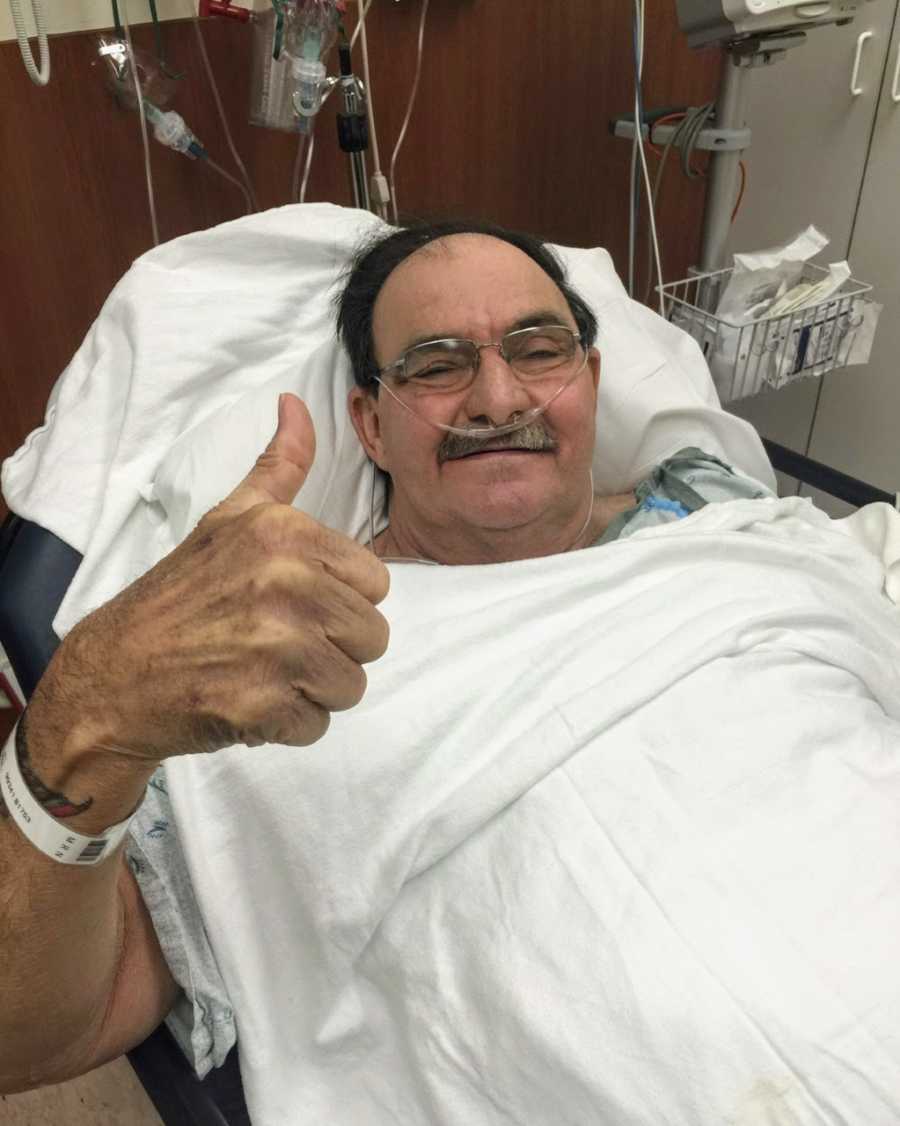 I will never forget that night in February 2011. I got a call from dad — he has new lungs!!!!! The drive to Barnes was a blur, the whole time I was thanking God and praying. The next morning he was set and ready to receive his new lungs. My sister and I paced the waiting room, waiting, and more waiting…. nurse calls, 'The first lung is in and working!' Praise the Lord! More waiting… second call, 'Both lungs are in and working!'
Oh, the feeling and tears of relief… I will get to keep my dad!!! Long recovery after, He healed amazingly and quickly was ready to come home. We then took turns driving him every day to Rehab at Barnes Hospital. My sister Danielle, my mom, and I were there for him around the clock, making sure he was there and ready.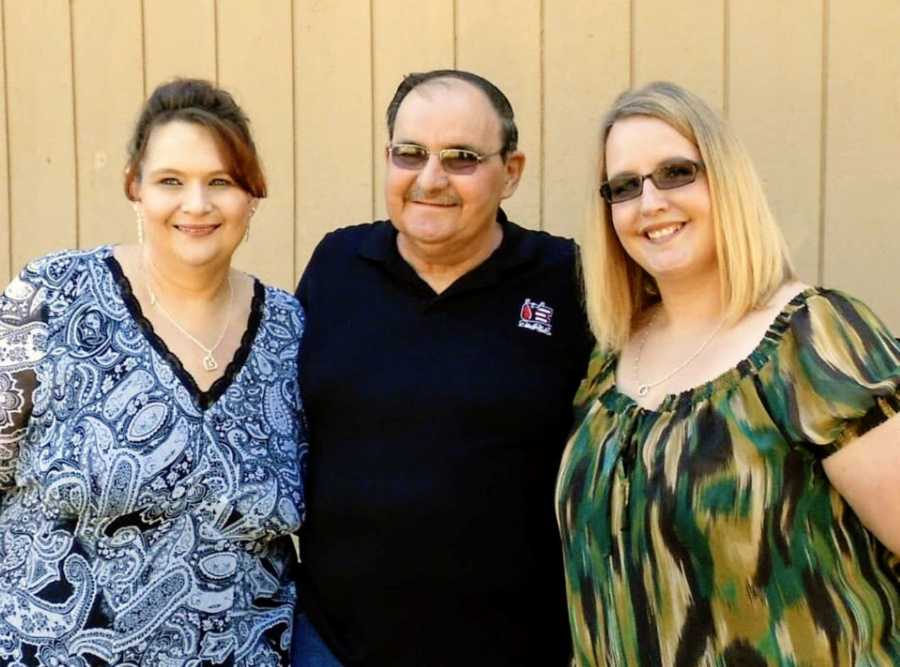 I was so grateful for the time my dad had with my daughter, his first granddaughter. They were very close and he just adored her. Every birthday and Father's Day we celebrated! We knew if he did not receive those lungs from that wonderful donor, we wouldn't of had dad there.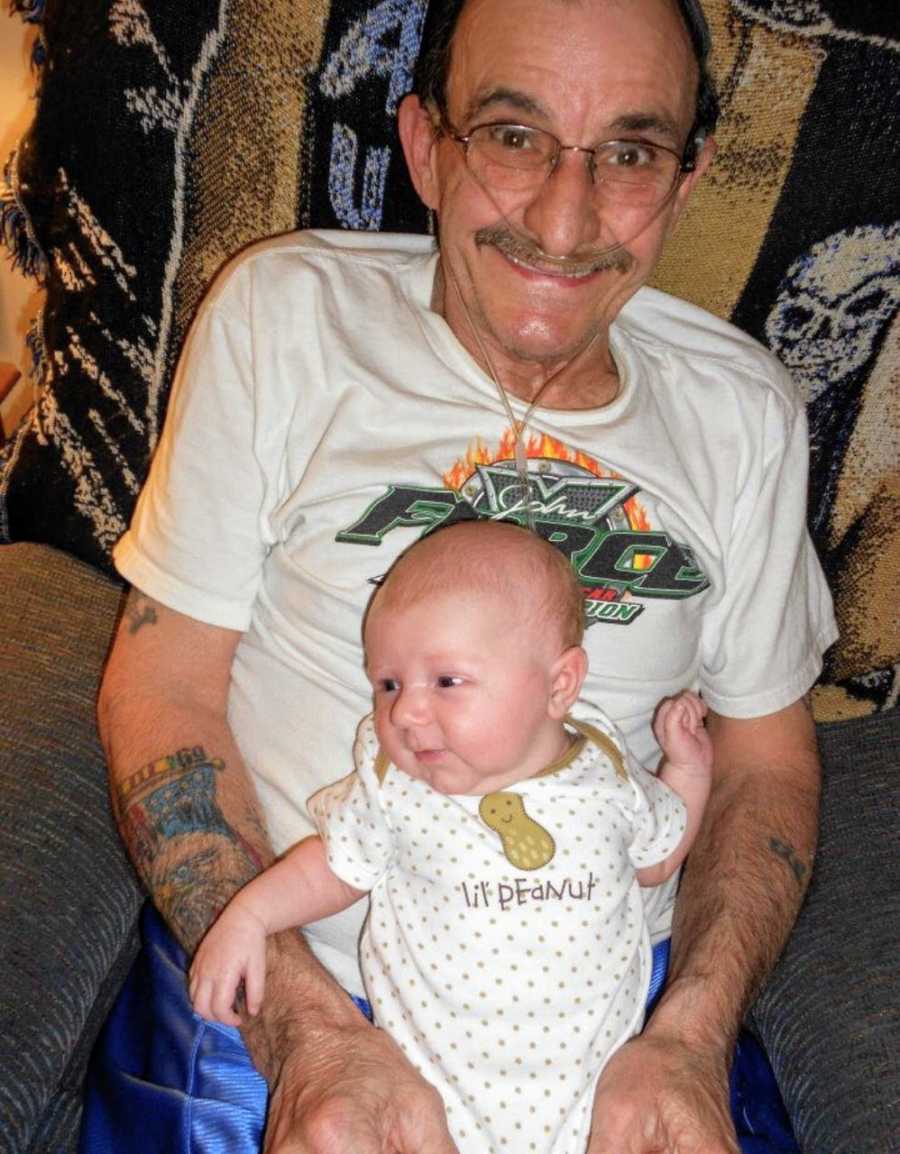 He was super healthy in the beginning, doing the old things he couldn't do. All the medication he was on after the transplant had it's effects on his mood, but for the most part he was the same ole' dad.
Seems like it was over night he started to get sick, then would get better but then get sick again and be back at Barnes. Then the dreaded talk came from one of his doctors, dad was in active rejection. We started many trials and medication with no improvement. The hospital stays started to get closer together and his breathing was horrible again.
The day the nurse came from Hospice was the day it all sank in…. I was losing my dad… reality can really sneak up on you. He began to be forgetful and be in total confusion. We all prepared it would be very soon. I would just sit with him on the couch and hold his hand.
The next day was my daughter's birthday, she would be 4. We got a call saying, 'Come right over, it's not good.' Seeing dad labored to breathe, not knowing what was going on and fighting the EMT's, was devastating. The next few hours were a blur – from being sedated in the ER to the Pastoral Care coming to pray over him…  I never thought I would be leaning over my dad telling him, 'It's okay to let go and go home.'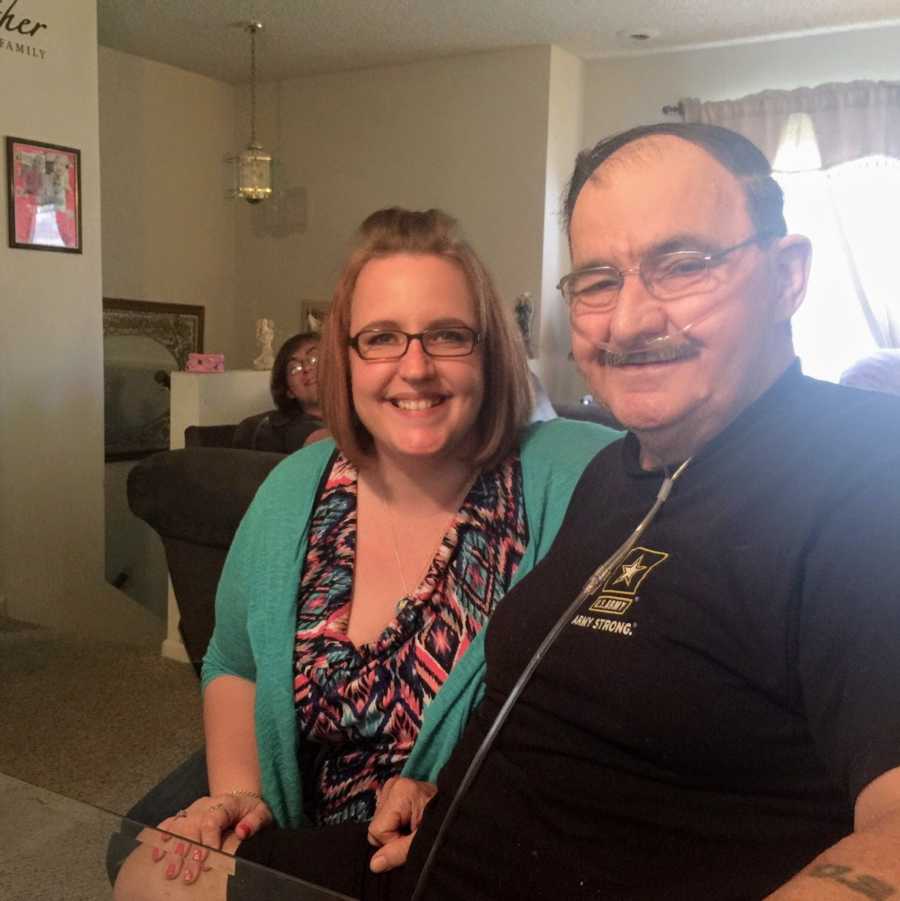 He was always there for me, holding my hand when I fell and scraped my knees or crying from a mean girl in the neighborhood. He was always there telling me how beautiful I look every morning before school, or the constant conversations on how to do things the right way.
And there I was, the strong one holding his frail and lifeless hands as he took his last breath. The feeling when he was gone was gut-wrenching, but also a peace came over the room. I knew he was home, he was with our Lord, and most of all he was at peace and could breathe again.
That day went on as normal… we celebrated our daughter's 4th birthday. We keep his memory alive and talk about him all the time. In a weird way, I am glad he passed on her birthday. It makes the day not so sad – and we can celebrate her and my dad's wonderful life together.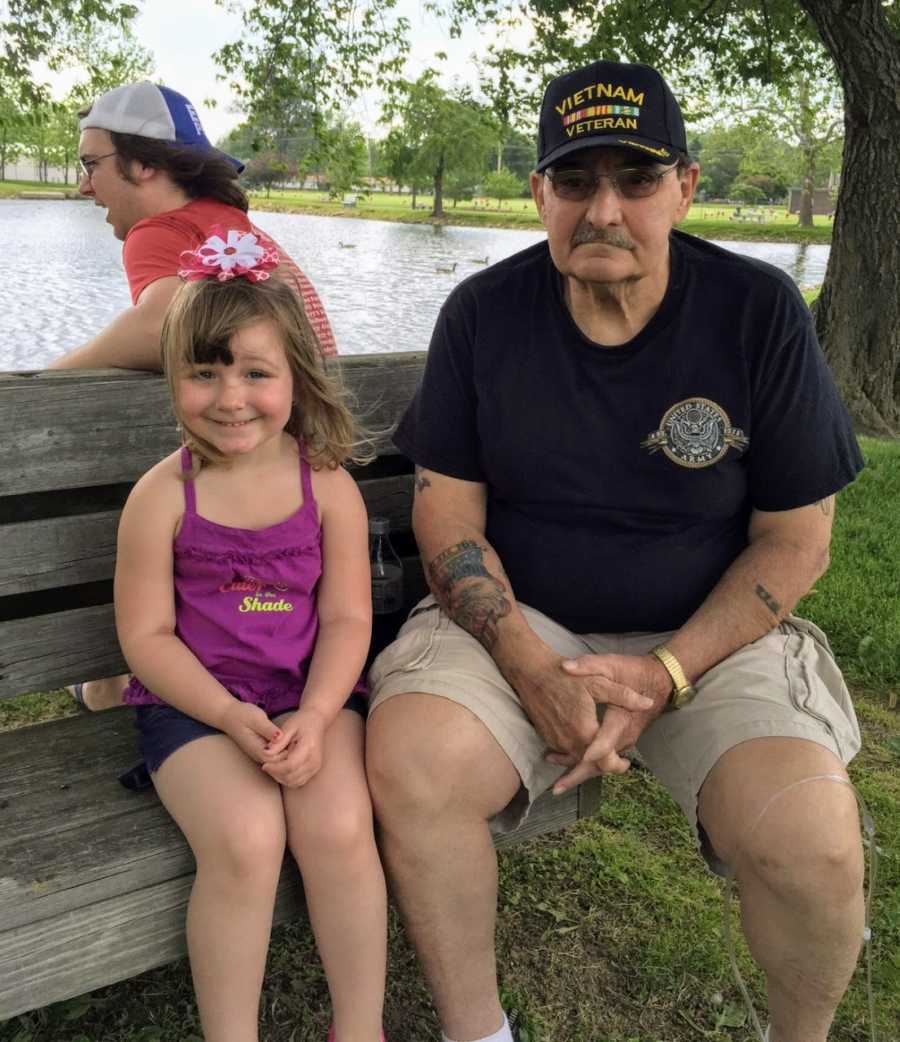 I kept all the cards he used to write me… I loved looking back at all of them. To honor him, a couple of months after he passed away, I decided to get a tattoo of his handwriting from the last birthday card he wrote to me.
On my right wrist says, 'Love Dad.' Every day I can look at it and it's a little reminder that even though he isn't here for me, he is always in my heart.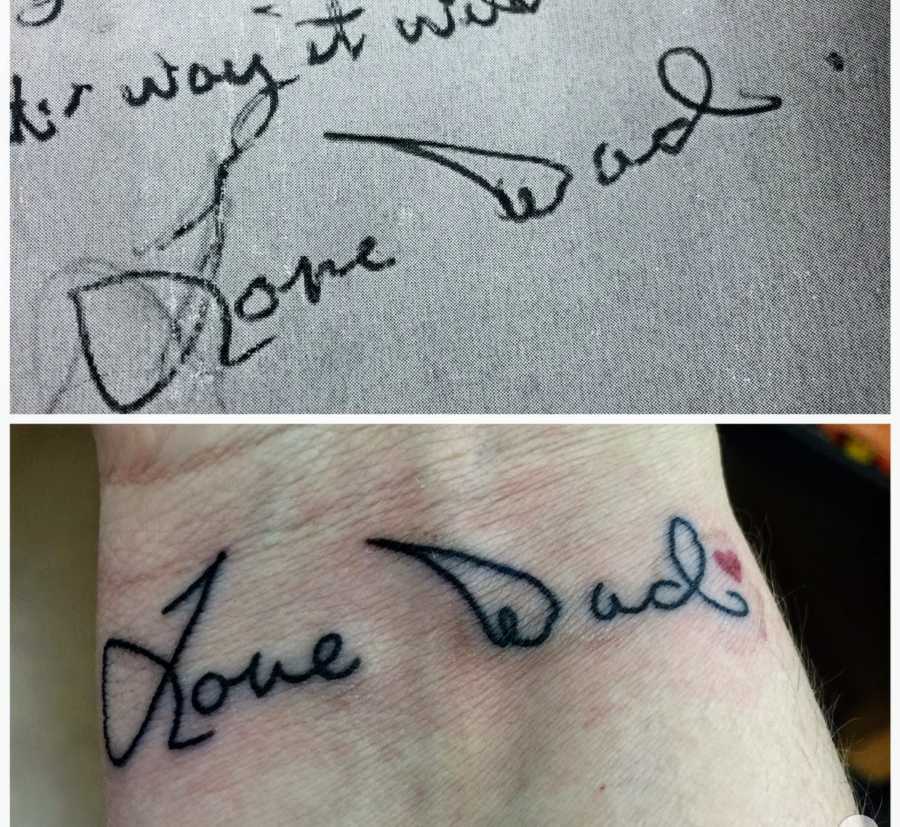 This year we celebrated him being gone for 5 years. The grieving process is so crazy to me. I can be totally fine and doing great and BAM, I see a woman my age with her dad and I can't help but to get mad I can't have that anymore.
My faith in God has really helped me get through the hard times. There are always times when I cry for him… other times I can laugh and say, 'That's you, dad!' I always talk about Grandpa Dan to both my children now, they know he is in heaven and that he was one amazing Grandpa!"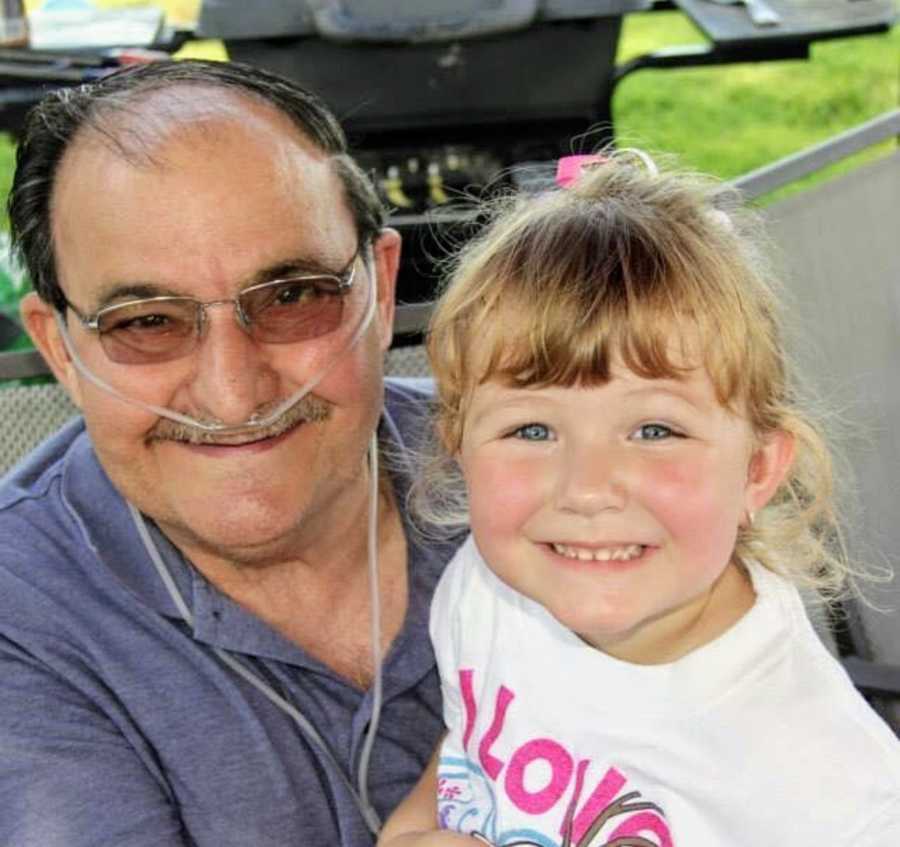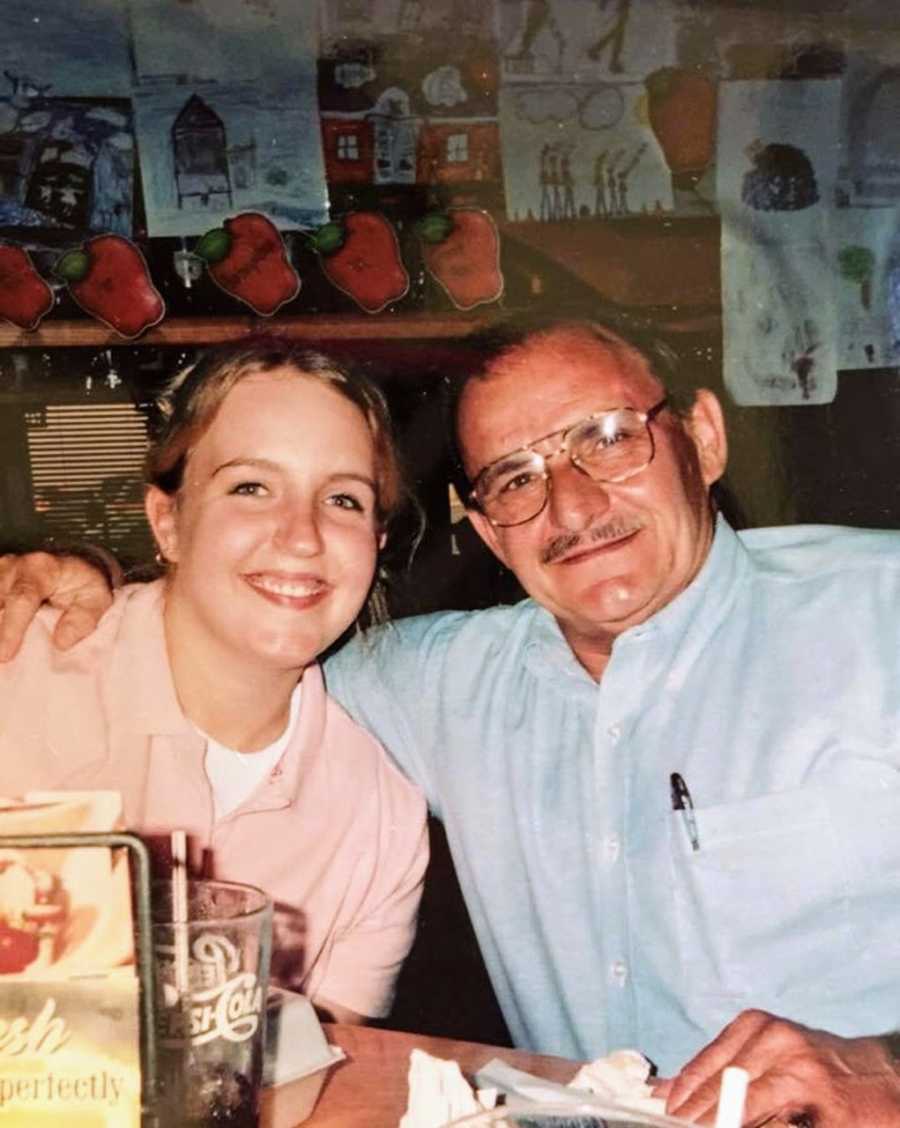 This story was submitted to Love What Matters by Melissa Antoine Lewis of Godfrey, IL. Submit your own story here, and be sure to subscribe to our free email newsletter for our best stories, and YouTube for our best videos.
Read more stories like this:
'I didn't realize how much I would miss my dad's handwriting. I didn't know handwriting could be part of the grieving process. Mourning handwriting? But I did. I still do.': Daughter gets tattoo of dad's handwriting before he passes of pancreatic cancer
'What's wrong?' My tattoo artist emerged from the back, visibly shaking, crying. 'I just HAD to take in this moment.': Mom loses twins, 'uncommon' first names combine to match name of tattoo artist's late grandmother
'He was missing life. Strong Papa, who saved the day. My daughter wanted a tattoo like his.': 15-year-old Granddaughter gets tribute tattoo for Papa after he passes from cancer
Do you know someone who could benefit from reading this? SHARE this story on Facebook with family and friends.