Becoming Foster Parents
"'Mom, I think I am going to get licensed to be a foster parent.' Those were the words my single twenty-six-year-old daughter told me nearly six years ago.
When she told me this, all of the memories from mine and my husband's own foster parenting journey came flooding back. We had become foster parents a couple of years after we got married. We were licensed to take in a specific tween who needed a home.
We were young, had no experience parenting, and this young man had already experienced a lot of trauma in his life, as so many foster children do. His sister had been placed in a home of friends of ours, and when we learned she had a younger brother who was in a group home, we immediately wanted to step up and help.
We were told he'd been in a couple of foster homes, but neither worked out. We thought ours would be different.
We were rushed through the process with very little training so we could take him in and so he could be close to his sister. He had an immediate bond with my husband. They got along beautifully, but he seemed to have resentment towards me.
He had a single mom, and I think he felt like I was trying to take her place; all I was doing was trying to give him a loving home and a safe place to live. He ended up getting into some trouble while in our care, and DCS stepped in and took him to a detention center. It broke our hearts.
My husband and I both felt like we had failed him. That we could have done more to help.
Preparing Our Daughter To Foster
Our daughter was an elementary school teacher in a Title I school which meant she had many children in her classroom who could not afford a school lunch, so one was provided for them.
In fact, nearly every child attending this school qualified for the free breakfast and lunch program. My daughter could see that some of the children in her class could potentially end up in foster care, and this grieved her. They were just children who needed a home.
Being placed into foster care is no fault of the child. They are victims of a terribly sad situation. She felt a strong need to step up for these kids. I loved her heart, but I feared she would be hurt in the process as I had been so many years before.
I saw her passion, and eventually, my heart warmed up to the idea. Her passion became my passion. My husband and I both wanted to support her through this journey.
While my daughter was going through the licensing process, she and I went to work getting her home ready. She lived in a cute little 950 square foot 3 bedroom 1 bath cottage.
We turned one of the two extra bedrooms into a nursery and the other into a room with a twin bed, not knowing the ages or gender of the children who would be placed in her home, she wanted to be prepared.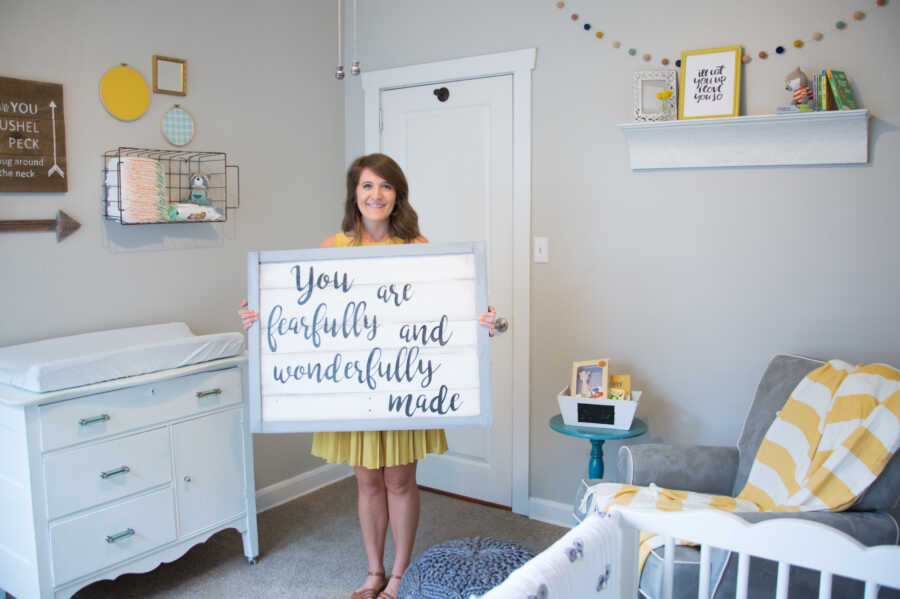 It was so fun imagining the sweet children who could potentially reside in those rooms. We prayed over each child God might bring into her home as we worked.
My daughter became licensed at the end of June 2016 and got a call on the morning of July 4 of that year for a little 14-month-old baby boy. She was working out at the gym when she got the call and immediately called me to tell me she had said yes to her first placement.
We knew nothing about him except he was 14 months old and wasn't walking yet. We naively thought we would have the day to go to the store and get food and clothing for him, but he was placed in her home within the hour of the call.
First Foster Placement
It was hard to not be there with her when DCS dropped him off, but she wanted it to be just her so it wouldn't be too overwhelming for him. She wasn't sure how he would react to being dropped off and placed with a stranger, but he was all smiles and seemed to attach himself to her immediately. He was home.
My husband and I went over shortly after and got to meet this sweet, happy boy. Just like that, we were a family.
Because he was placed so quickly, my daughter needed some supplies. We laugh now at that first visit to the store. We took him to Target to get some things. Diapers, clothes, formula, FOOD!
He seemed to have some magical arms that stretched beyond the normal length, reaching everything on the shelves. We learned quickly that it needed to be a very fast trip to get the basics. I could go back later and get more things if she needed me to. She just needed to get through that first day.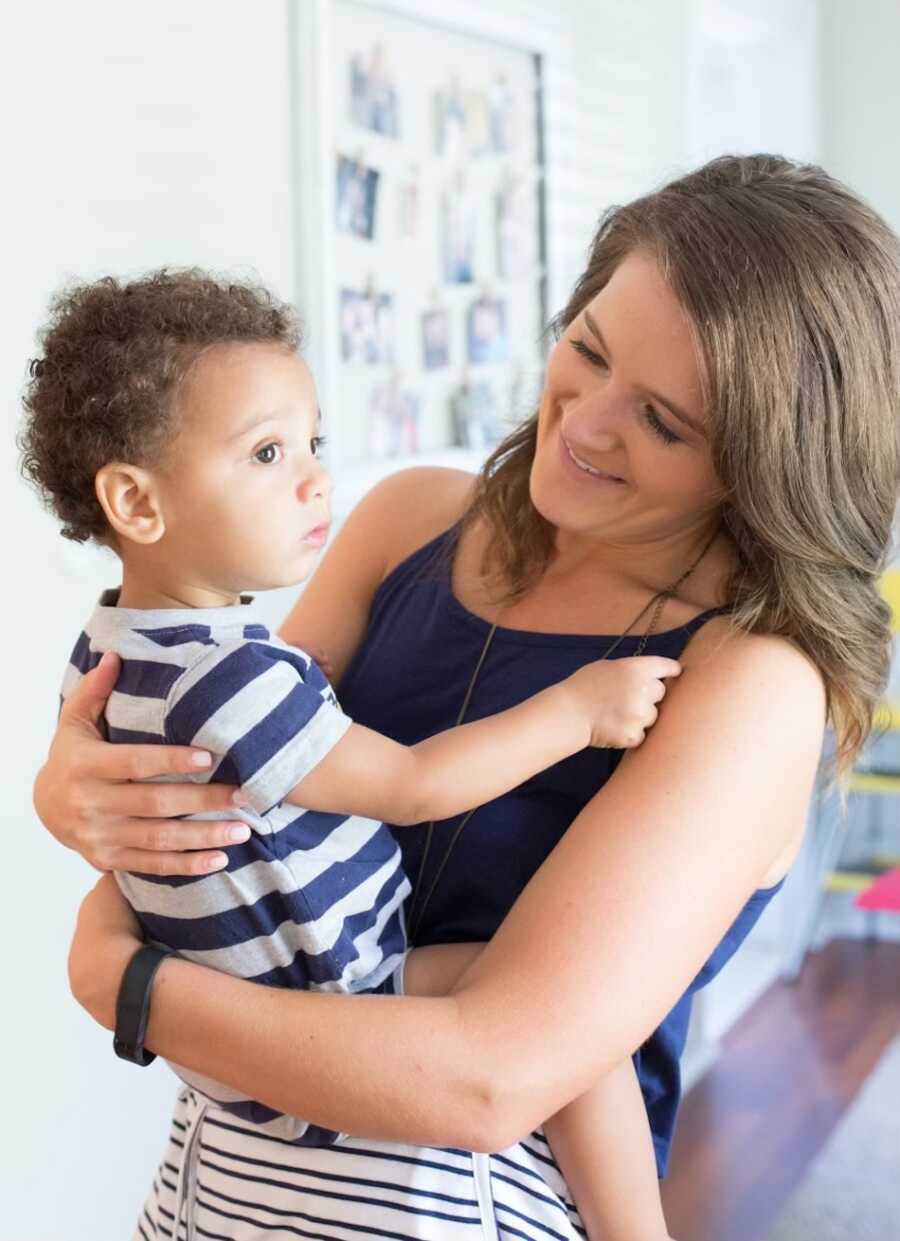 Those first few weeks after Franklin came were eye-opening, to his needs and to the system. Court dates, heart-breaking details of his past. Franklin clearly had experienced trauma. He would bang his head on the floor when he was upset. He had multiple extreme meltdowns in a day.
It was troubling and exhausting. My daughter knew he had needs that exceeded just food and a bed. He was delayed in walking and talking. She found programs to help him, even as a toddler.
Adoption Journey
Franklin was adopted into my daughter's home a little over a year later, on August 10, 2017. He has such a sweet bond with my husband. He takes his role as the male role model for my daughter's placements very seriously.
His grandpa's name was Granddad. We have two other grandchildren and they refer to him as Granddad. But Franklin couldn't say Granddad so he turned it into Dad Dad. He's now Dad Dad to all of my daughter's placements.
My daughter had another temporary placement during Franklin's first year in my daughter's home: a little 3-year-old boy. It was almost like she had twins. Even though they were a year apart, this little guy was small for his age.
After 3.5 months, he was able to be reunited with his family. It was hard to see him go, but we knew it was best for him to be with his family. That was our first goodbye.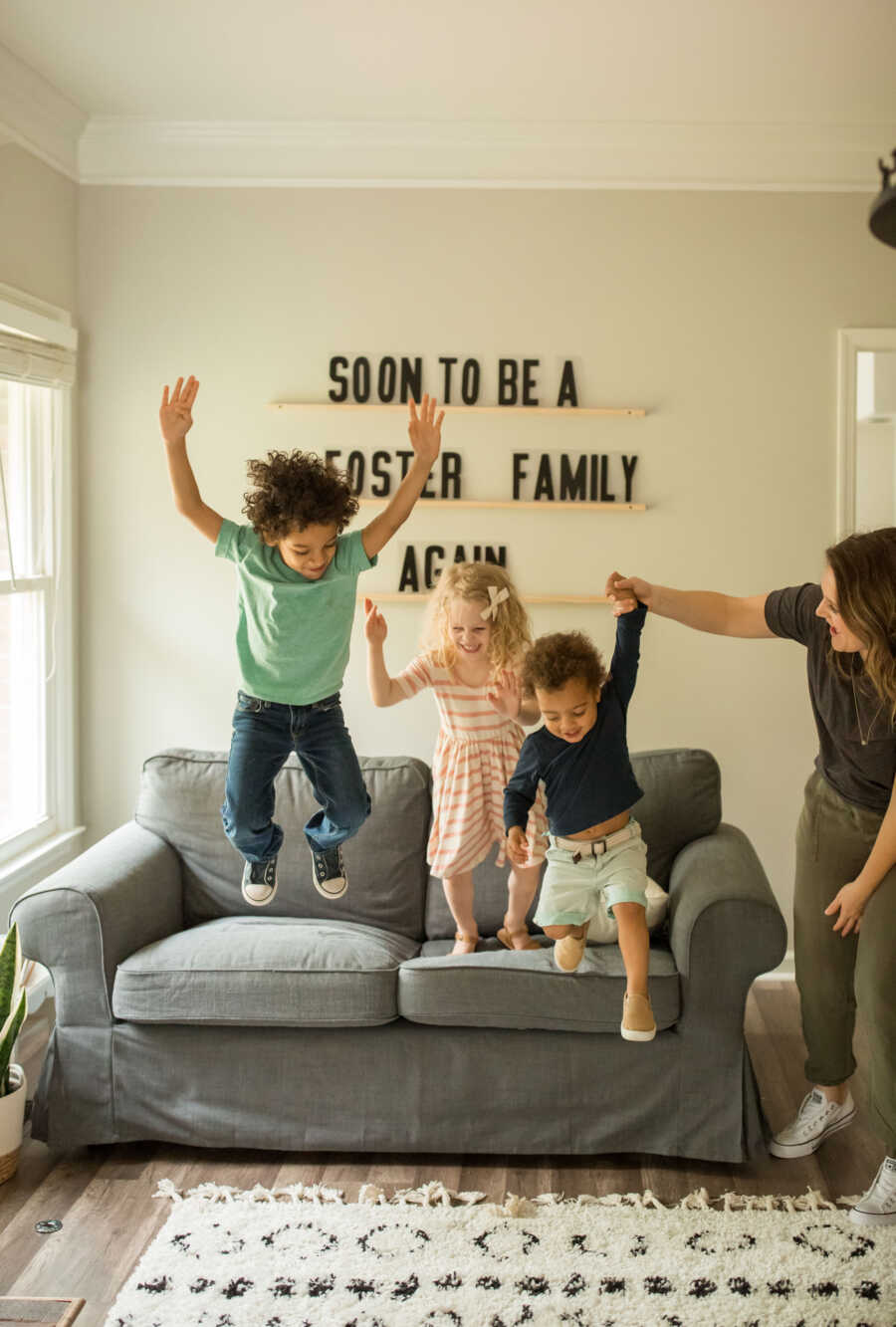 A few months later, my daughter got a call to take in an adorable 18-month-old baby girl. She was told it should be a pretty fast case, and she'd only have her a few months. Kit wiggled her way into our hearts pretty quickly.
She and Franklin were just a little over a year apart and immediately best friends. I continue to be amazed at Franklin's open heart when children come into their homes. He welcomes each of them so easily. Kit's case ended up not going as smoothly as they had thought.
Things started to point towards permanency in my daughter's home in the summer of 2018. After a long wait, she was finally adopted on October 29, 2019.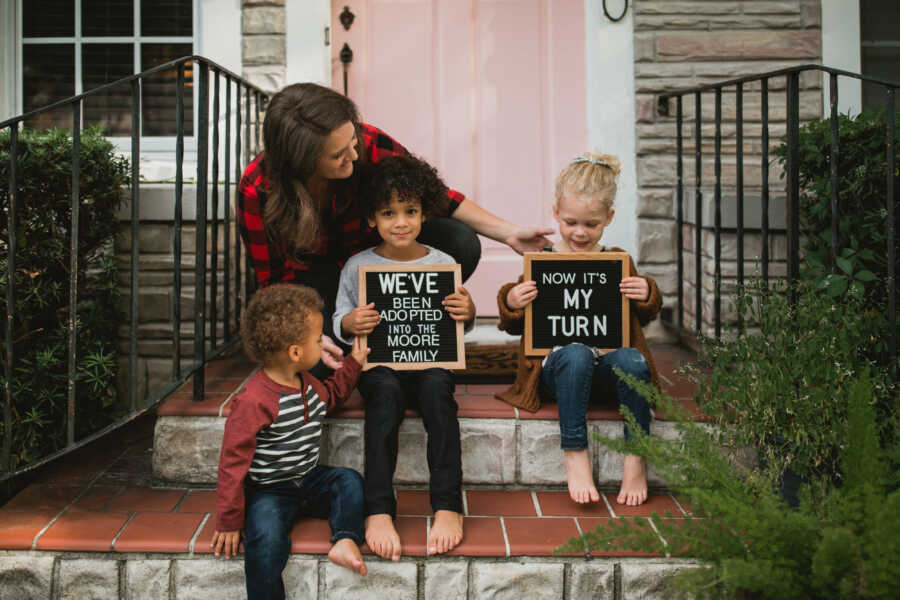 While we were waiting for Kit's story to unfold, my daughter found out Franklin had a biological baby brother who was being placed into care. A family member stepped up to care for him, but when it looked like adoption would happen in his case, they knew they couldn't care for him permanently.
They found out about my daughter Bethany and that she had already adopted this child's brother, so they met with Bethany and asked if she was willing to take Theo. She immediately said yes.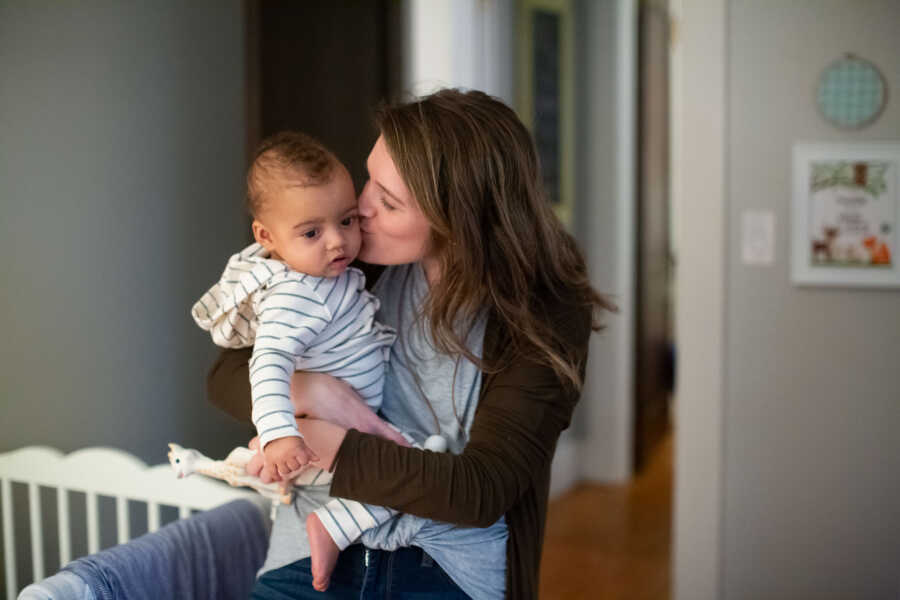 A few weeks later, Theo was placed in my daughter's home on a chilly November afternoon. He was 9 months old at the time. It was so sweet to see that bond these brothers immediately shared.
Just a few months later, on May 9th of 2019, Theo was adopted into my daughter's home. She has continued to have a beautiful relationship with his aunt and uncle who took him in for those first 9 months of his life.
In fact, my daughter changed Theo's middle name to be named after his Uncle Charles. Theo will still say his name is 'Theodore Uncle Charles Moore.'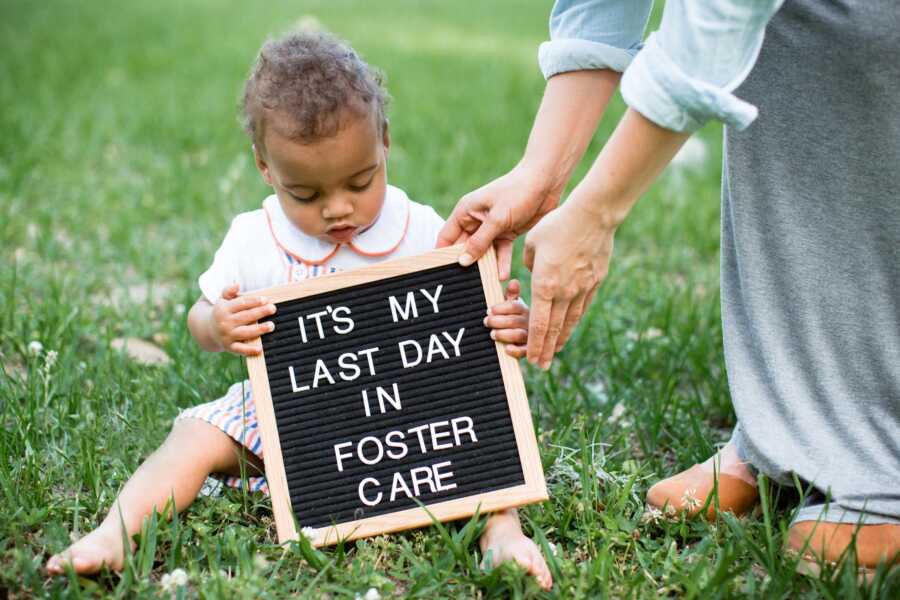 Keeping Our Home Open
Since Theo and Kit's adoptions, my daughter has had the opportunity to foster several other children. Some stays were very short while others were longer. Each case is different.
Last year my daughter had a sibling group that was an especially difficult case. The older sibling had such a strong attachment to her mother that she suffered terribly from having to be separated.
It was so traumatic for her, but thankfully the children were finally reunited with their mama after being in my daughter's home for many months. It was a happy day for all. My daughter has had several newborn babies in her home, fresh from the hospital.
She is currently fostering a little baby she's had for six months who came to her home after he was released from the hospital. All three of her forever children love on him and care for him.
I see my role in all of these cases as a grandma figure and to be available to help when my daughter needs me. Whether that is to keep a sick little one, clean her house, or have a meal ready for her when they get home from work and school.
Seeing the children's faces light up when they see me brings me great joy. I count myself as honored to have a role in their lives, whether that is temporary or permanent.
So, if you have an adult child who is thinking of fostering, whether single or married, don't be afraid to encourage them in this journey. For me, it's been one of the most gratifying and rewarding things I could do.
I may have set out to be a blessing to these children and to my daughter, but I think the blessing is all mine."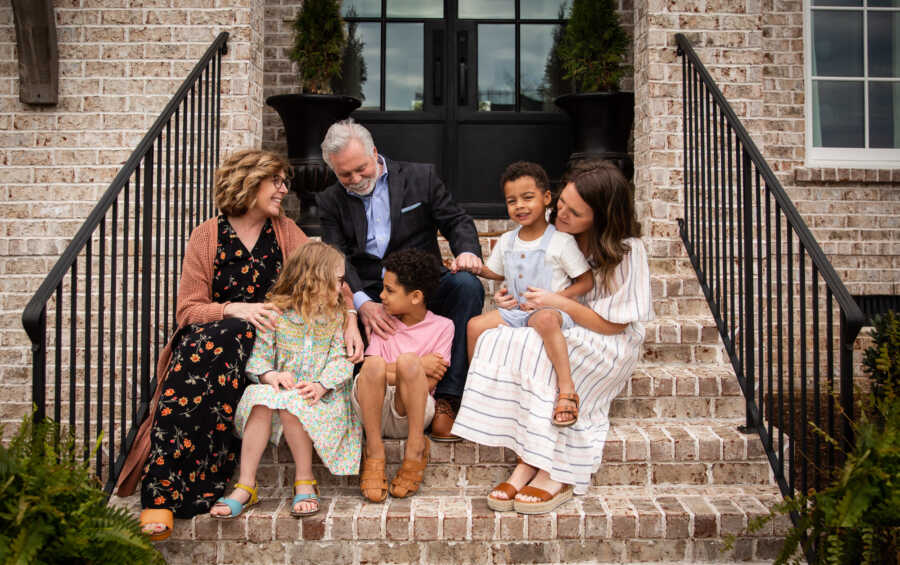 This article was submitted to Love What Matters by Robyn Moore of Brentwood, TN. You can follow her on Instagram. Join the Love What Matters family and subscribe to our newsletter.
Read more stories like this:
'They chose us. They're coming in two hours!': Couple shares unexpected sibling adoption from foster care
'Mr. Peter, can I call you my Dad?' I began to cry uncontrollably.': Single dad adopts 11-year-old boy from foster care after biological, adoptive family abandon him
Do you know someone who could benefit from reading this? SHARE this story on Facebook with family and friends.