"I'm really tired of being somebody's widow.
I mumbled those words to myself last night in a moment of reflection and pity, honestly. I was at an event enjoying myself, but I quickly realized that I was one of the only women there not coupled up, at least not by choice. It didn't take me long to have this realization, probably because it's such a familiar feeling.
I recognize it in me, I just don't vocalize it very often. But last night I did. Ten minutes into that summer soirée. Then again when I watched a woman bat at her husband after he complained about the heat.
Then, when a group of couples got up and danced and then again when I watched another woman throw her head back and laugh when her husband made some stupid joke.
God, I miss the complaining and stupid jokes.
Yes, I sighed to myself. I'm really tired of being somebody's widow.
I was Chad's wife for 15 years, and I've been his widow for 6. The more I think about it, the more odd it seems. And what's really weird about the whole thing is that I was 43 when he died. I'm 49 now.
I didn't lose him at an older age. So, it's very possible I will be alive in ten years from now, which means I will eventually be his widow longer than I was his wife.
That's just dumb. It wasn't the way it was supposed to be. He was 45 when he died. I remember when I turned 46 and was officially 'older' than him. That was dumb too. He was always supposed to be older than me. And now, he's suspended forever in his youth. I'm not.
With God's grace, I will continue to age and be with my children in their adulthood and have grandchildren and hobbies, but he will not. He didn't get that part of life and selflessly, I wanted to spend that time, and do all those things with him.
But, cancer robbed us all of that. Because cancer is an ugly thief. And cancer made me a widow. And I'm really tired of being somebody's widow.
I'm tired of missing all the things we did together. I'm tired of not having a Costco shopping partner. I'm tired of not having a go to person. I'm tired of not having the kind of support you usually only get from a spouse. I'm tired of not having somebody in my corner no matter what.
I'm tired of not having a sounding board or somebody who knows me so well that they know every story. I'm tired of not having somebody to share coffee with on brisk fall mornings while my hair is still tousled from a night of restless sleep. I'm tired of raising my kids alone.
I'm tired of being the only one who tells them how great they're doing or reminding them to give water to the dogs. I'm tired of being tired. I'm tired of wishing he didn't die. I'm tired of wondering why he did. I'm tired of going to events alone, and I'm tired of not having anybody to dance with me.
Not that Chad would've danced, but I'm tired of not having somebody to bug about slow dancing with me to some country ballad on a hot summer night.
I'm just really tired of being somebody's widow.
And then, when I was really feeling sorry for myself and digging through the grittiness of my grief, I realized something. As tired as I am, I would rather be the right man's widow, than the wrong man's wife.
I've known so many people who are in unhappy relationships just because they are tired of being alone. I've known so many people who stay with the wrong person because they are tired of doing things by themselves.
I've known so many people who are tired of crying themselves to sleep because the person they're with has wronged them in some way. I've known so many people who overcompensate on social media about how in love they are because they are so tired of not feeling loved at all.
And my feeling of tiredness suddenly became less tiring.
Because, even though it wasn't long enough, even though it was cut short, even though we didn't get to do the things we wanted and have the life we planned, the time we had together was good. It was really good.
It was full of everything life was supposed to be; good times, bad times, love, laughing, trials, successes, ups, downs, and everything in between.
So yes. I wish I wasn't his widow. And yes, I'm tired of being a widow. But man, how lucky I was to be his wife.
So, the next time I see couples coupling, husbands dancing with their wives, and women uncomfortably laughing at their boyfriend's jokes, I'm going to remember that. And then I'm going to remind myself over and over and over again.
It's an honor to be his widow. It's a privilege to be able to say we fulfilled our vows. It's a big deal that we were able to have a successful relationship for the time we did.
And while I'm sure I'll get tired again of being his widow, I'm never going to be tired of being grateful that I got to be his wife.
I'm so lucky my love story keeps teaching me the things I need to know as I grow older, even though he's gone. I'm pretty sure I'll never get tired of that."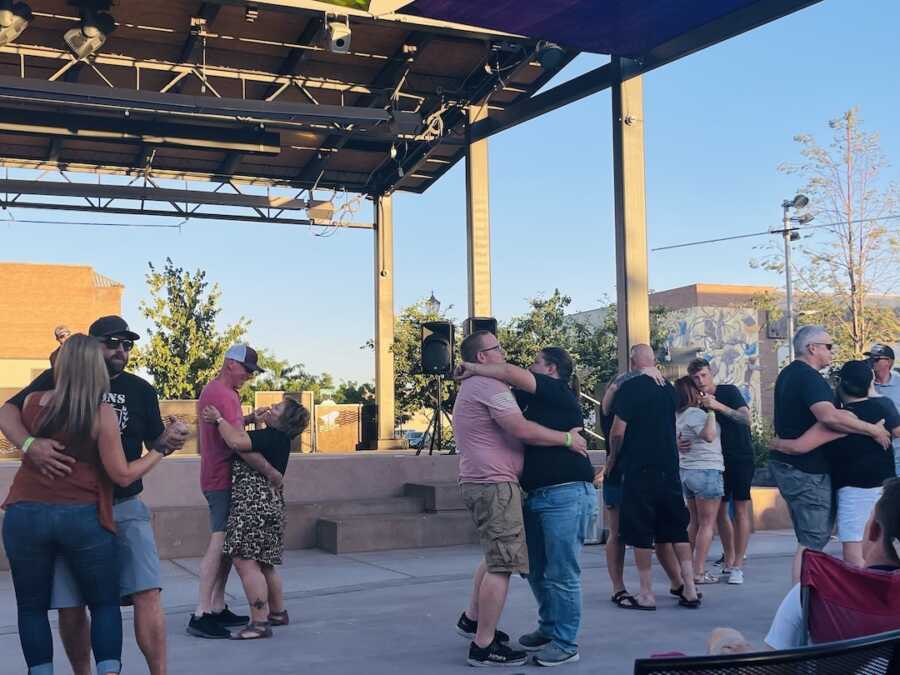 This story was submitted to Love What Matters by Diana Register of Idaho. Her books "Grief Life" and "Grief & Glitter" are available in print and on kindle. You can find more of her books here, and her podcast here. Connect with Diana on her author Facebook page, and Instagram.
Read more from Diana here:
Yes, Grief Can Make Other Trauma Hurt More
'They didn't know each other. They never even shook hands. Still, he remembered.': Widow shares touching moment stranger honors late husband 6 years later
'Mom, what political party are we?' I told her how I lean, to which she responded, 'Therefore, I am too.' Oh, my love, no.': Mom tells daughter 'I will love and respect whoever you become'
'My 15-year-old asked, 'Mom, can I get a tattoo?' I let her and no, I don't care what anybody has to say about it.': Mom says daughter 'earned' tattoo, 'She showed me what surviving looks like'
Do you know someone who could benefit from this story? SHARE this story on Facebook.