The holidays are my absolute favorite time of year, but it's hard to enjoy the holidays as a widow exactly like I used to with my late partner Tyler not here physically anymore. I've had to adjust to this new norm as an unmarried widow during times that are supposed to be full of laughter, memories, and gratitude.
I know I am not the only widow (young or old) that has a difficult time adjusting to this new life, which is why I talking about grieving over the holidays is perfect because we can all use some advice and guidance navigating this new and unfamiliar journey forward. 
With this list, I hope to give you ideas to find little things that bring you joy during the holidays! Here is a list of 12 small things I find joy in as we enter the holiday season.
What Is An Unmarried Widow?
The term unmarried widow is not one people hear often, or know exactly what it means. An unmarried widow is someone who had joint things and a relationship along with all the things that came with it except for the piece of paper from the court.
Unmarried widows still grieve the loss of their partners just as intensely and feel all the things a traditional widow might. Being labeled as an unmarried widow can be validating for those going through this grief that do not fall under the widow category. 
How To Find Holiday Joy While Grieving
1. Decorating 
Literally any holiday is a reason to decorate but especially, without a doubt, Christmas! Of course I get festive for the fall, but Christmas is where it's at. I keep my decorations up well over a month because just the sight of Christmas brings me joy!
2. Christmas Stocking Shopping
Once again, any holiday is a reason for me to shop for gifts! Birthdays, Mother's and Father's Day, but especially Christmas shopping! I take pride in my gift giving skills, I put so much thought into gifts and the presentation of those gifts.
My Christmas stocking game on the other hand is fire and I never ever disappoint on a stocking Christmas morning!! Putting together gifts not only puts a smile on the recipients face, but also mine. 
3. Snow
Even though we don't get much snow here in Texas, when it does, I always have to go outside to see it! It makes me feel like I'm still a little kid going out into the snow. Last year I got some pretty good pictures. I'll share them below if you're in a snowy area and need some snow day photo inspiration.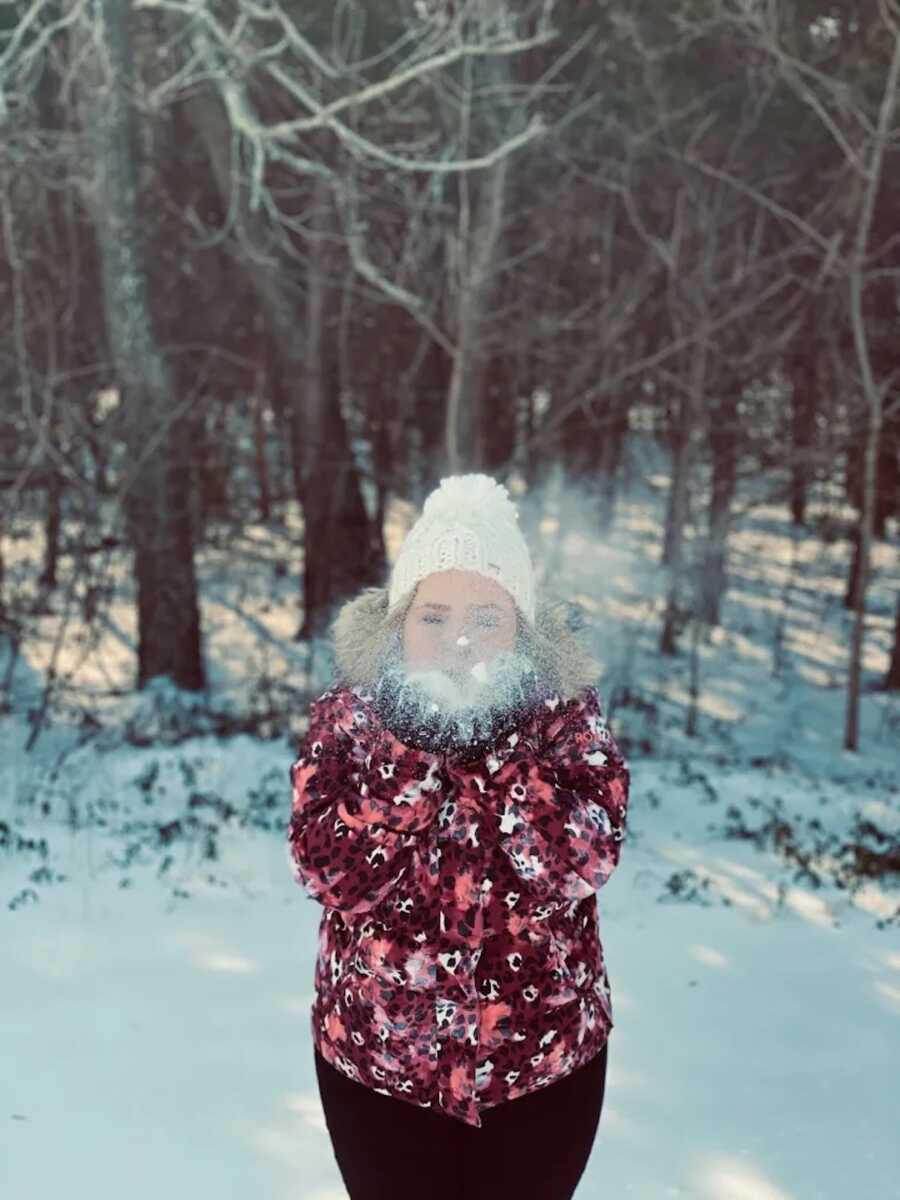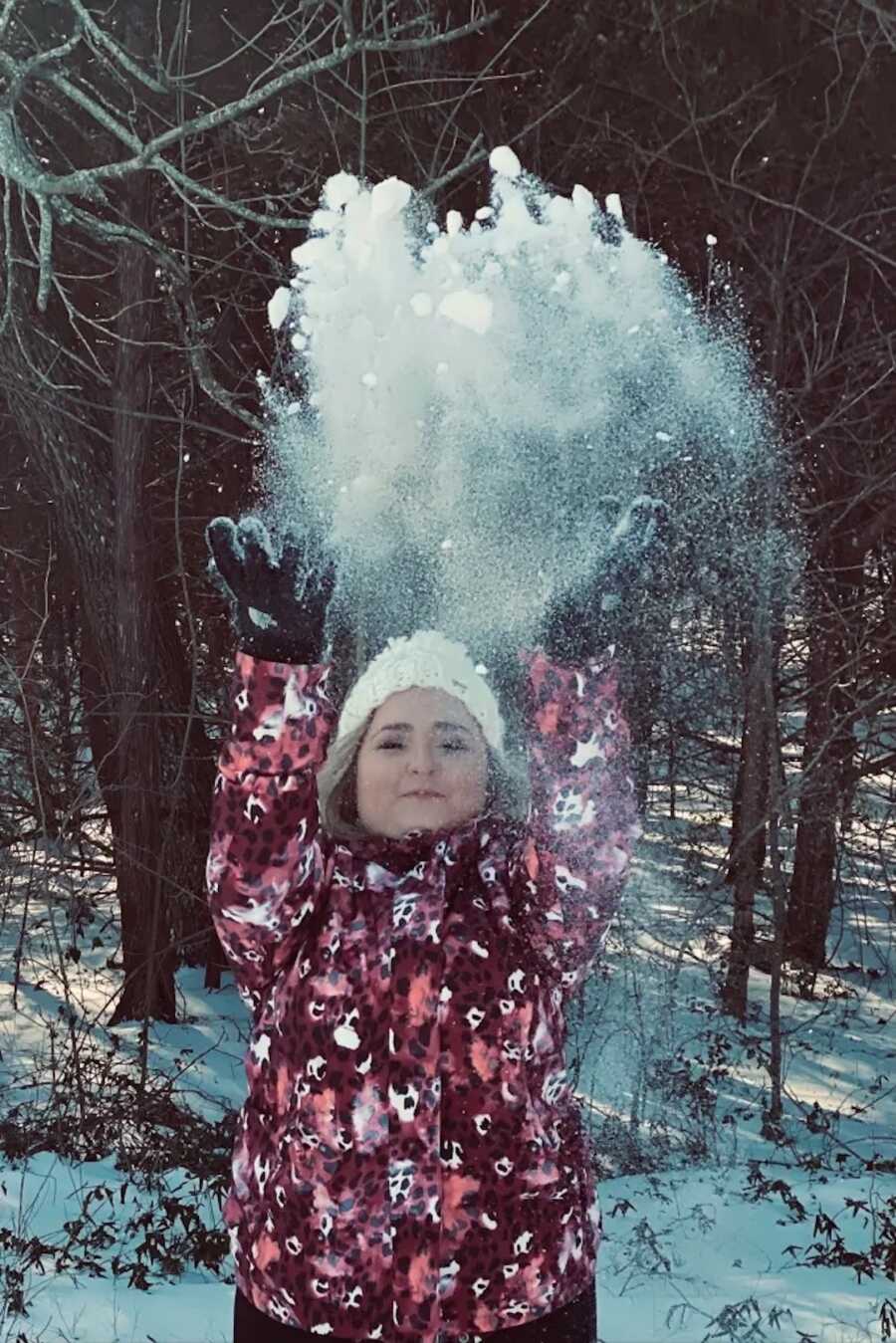 4. Custom Christmas Music Playlist
I love my custom Christmas music playlist I've made in my Apple Music and have it on repeat for months (no shame)! Many music streaming services have tons of curated holiday playlists you can choose from to get into the holiday spirit. 
5. Lots Of Hot Chocolate
Sweater weather calls for all the hot chocolate and that sweater weather just arrived. That means it's hot chocolate season which makes my heart all warm and happy. I enjoy those big mugs of hot cocoa for as long as I possibly can!
6. Decorate A Gingerbread House
I've started to decorate a gingerbread house every Christmas for the last few years which I think is fun, for any age. It's something I'll keep doing and make it into one of my Christmas traditions. You can also do this activity with other family members.
My only focus is making sure my niece has the best Christmas possible every single year as she grows up, and who doesn't love decorating a gingerbread house?! I just get the pre-made one at Target that they have every year and then I get a ton of decorating options.
You know the topping station at a yogurt shop? Like that! There is an abundance of candy and icing options.
7. Christmas Lights Hunt
Every year we take a drive going through all the big neighborhoods around town to look at Christmas lights. It's one of my favorite things of the season and something to look forward to every year.
8. Toffee
Ever since I was young, my mom would make toffee around the holidays. She would put together tins for all of my teachers every year. We still make it around the holidays and put together little baggies for some neighborhood friends and family close by, or we make it if we are going to see family for the holidays.
If you have any family holiday recipes, pull them off the shelf and get into the kitchen. It's a fun activity to do with friends and family, you can even do a recipe swap night.
9. Christmas Movies
Who doesn't love Christmas movies?! I always watch Elf every year and the Home Alone movies are some of my favorites. I found out last year that our YouTube TV has a Hallmark channel. They play Christmas movies all day long this time of year and even have Christmas in July where they play Christmas movies all day long then.
10. Elf On The Shelf
A few years ago I happened to find a teeny tiny Elf on the Shelf at Paper Source and I seriously love moving him around my room every year. I usually move him around all of my Christmas villages and currently he's sitting on top of my Bistro!
11. Christmas PJs
I could never have too many Christmas pajamas! Currently I'm all cozied up in my Snoopy Christmas jammies, they are butter soft and who cares that it's only November! If it makes you happy, that's all that matters.I think getting festive pajamas is a great and easy way to get into the spirit to bring joy to your life.  
12. Neighborhood Wine Club Ornament Exchange
For many many years, my parents have always done an ornament exchange at their Christmas wine club. I started participating in the ornament exchange for the first time last year and I wish I had sooner! I think it was a sign, participating for the first time last year after losing Tyler in March, to give me something else to find joy and laughter in over the holidays. If you know of any local wine clubs see if you can join, or look into starting your own with friends!
I hope my list of the little things I find joy in over the holidays as an unmarried widow can help you all find some joy in the holidays too! This new life is hard, especially alone but I want you to know that you are not alone, I am here for you and will do whatever I can to help others in similar situations!
This article was submitted to Love What Matters by Lauren Pierce of Garland, Texas. You can follow her on Instagram and her blog. Join the Love What Matters family and subscribe to our newsletter.
Read more stories like this:
'Last Christmas, I didn't put up a single decoration. I didn't wrap a single gift.': Widower celebrates holiday early after last Christmas stolen by grief
'There were 2 missing from our Thanksgiving celebration this year – our brother, who lost his battle to cancer, and our mom, who is still with us, but lost within herself.': Woman navigates grief during the holidays
Do you know someone who could benefit from reading this? SHARE this story on Facebook with family and friends.