"Last Christmas I didn't put up any decorations, not a single decoration. You could have walked into my house on Christmas Eve and thought it was the middle of June. I didn't wrap a single gift. I bought the kids Christmas gifts, but I just gave them everything on Christmas day unwrapped. I was not in the Christmas spirit. How could I? How could anyone in my mind celebrate anything? I had just lost my wife 8 months ago; she was my whole world. So, no I wasn't going to celebrate or decorate anything. I was in survival mode for all of 2020. Well, I called it survive mode. But let's be honest and call it what it really is. Depression.
Even typing that word makes my skin crawl. I have never been a depressed person, but when I lost my person, I became depressed. I hid it well. I would post things on Facebook so people would think I was in a good place, but I wouldn't answer the phone if you called, I wouldn't text you back if you reached out. If you invited me to do something last year, I was going to give you a reason I was busy. I was in single dad mode and I made sure my children were taken care of, but I was depressed.
So no, I wasn't going to decorate for Christmas. That was mine and Shelby's FAVORITE holiday. We would watch Santa Claus and Elf together. She would lose her mind over how cute some cotton balls on the Christmas tree were. We would giggle and laugh together as we hung lights and sent each other Christmas gift ideas. But my absolute favorite part of Christmas with Shelby was when we would go to Hobby Lobby and pick out new ornaments every year.
She would shake her head and smile at me when I would be excited about finding some dumb ornament like Santa fishing. She'd listen to me ramble about how if the kids stop believing in Santa, I'll take the ball out of the sleigh bell ornament so they can't hear it (like in Polar Express). There was just no way I was going to open our Christmas box and have a mental breakdown when I saw those ornaments for the first time again.
Grieving as a believer in Christ is hard. You know without a shadow of a doubt that they wouldn't want to come back, as they are literally supposed to be worshiping at the feet of Jesus. We spend our whole earthly lives trying to get to heaven and get as many people to heaven as possible. And she's there. I'm sure she doesn't want to come back, but I want her here. I don't want to live without her. I don't think it's fair that I became a widow before I turned 30.
And then you have those thoughts of, 'Why am I being selfish? I shouldn't want her to be here instead of heaven.' So, I'd push it down. I would avoid things that would make me think of her. Then, without even realizing it, I started pushing everything down that used to make you happy. That's the part of grieving people don't talk about. You stop wanting to be happy. You avoid happiness at all costs. If something made you happy or brought you joy, you don't even go near it anymore.
Then I went back to church and started worshiping. I was happy. It felt pretty good. But I was not going to go out of my way to actively seek happiness. I was sure it wouldn't last, anyway. Then one day I got a phone call from my wife's sister Taylor and she told me her and her partner Drake were pregnant, expecting a baby.
And let me tell you what, I danced in the middle of the Academy's fishing isle cheesing from cheek to cheek. I was so happy, I ran home and started buying her things, little shoes that would make her think of me. I CAN'T WAIT to put her in some Tom's like her aunt Shelby would have. I wasn't seeking happiness yet, but I quickly realized it was a feeling I missed.
So what did I do? Out of the blue I texted my buddy Whit. 'Hey man, do you want to come over to watch the UFC fights and eat some wings?' He jumped on it. We watched some guys get knocked out, ate some wings, laughed, and had a great time. The whole time, I couldn't help but think, 'WHOA. Did I just seek and create a fun time?' That was a pretty huge step for me. Next I went to a 'Bama game, then Drake and I went to a Braves game and watched Freddie Freeman hit the greatest home run in my life off The Milwaukee Brewers' Josh Hader. In what seemed like no time at all, Drake and Taylor brought baby Georgia Nicole into the world. And let me tell you, I shouted, jumped, and danced more than any time in my life when I saw the first picture of her.
The next day, while the kids had their Halloween costumes on, we put up the Christmas tree. I ran out to the shed to get the ornaments so happy to get ready to relive all mine and Shelby's memories that were trapped in the box all year last year. And would you look at that, the first one I see? The one on top is her very own starfish ornament. So, I held the kids up one by one as I let them decorate it. The next day I put lights up inside, and I and the children went to Hobby Lobby.
I laughed as one of the kids lost their mind over an ice cream ornament, like me and Shelby had switched places. So yes, it's the first week of November and my house already looks like an elf threw up in it. But unlike last year, I'm happy and I'm in the best place I've been mentally since March of 2020. So, don't try to tell me anything if you come over and I'm baking sugar cookies and Hudson is dancing with his Santa Elmo already. We are celebrating and making up for last year. I couldn't hear you over Mariah Carey anyways."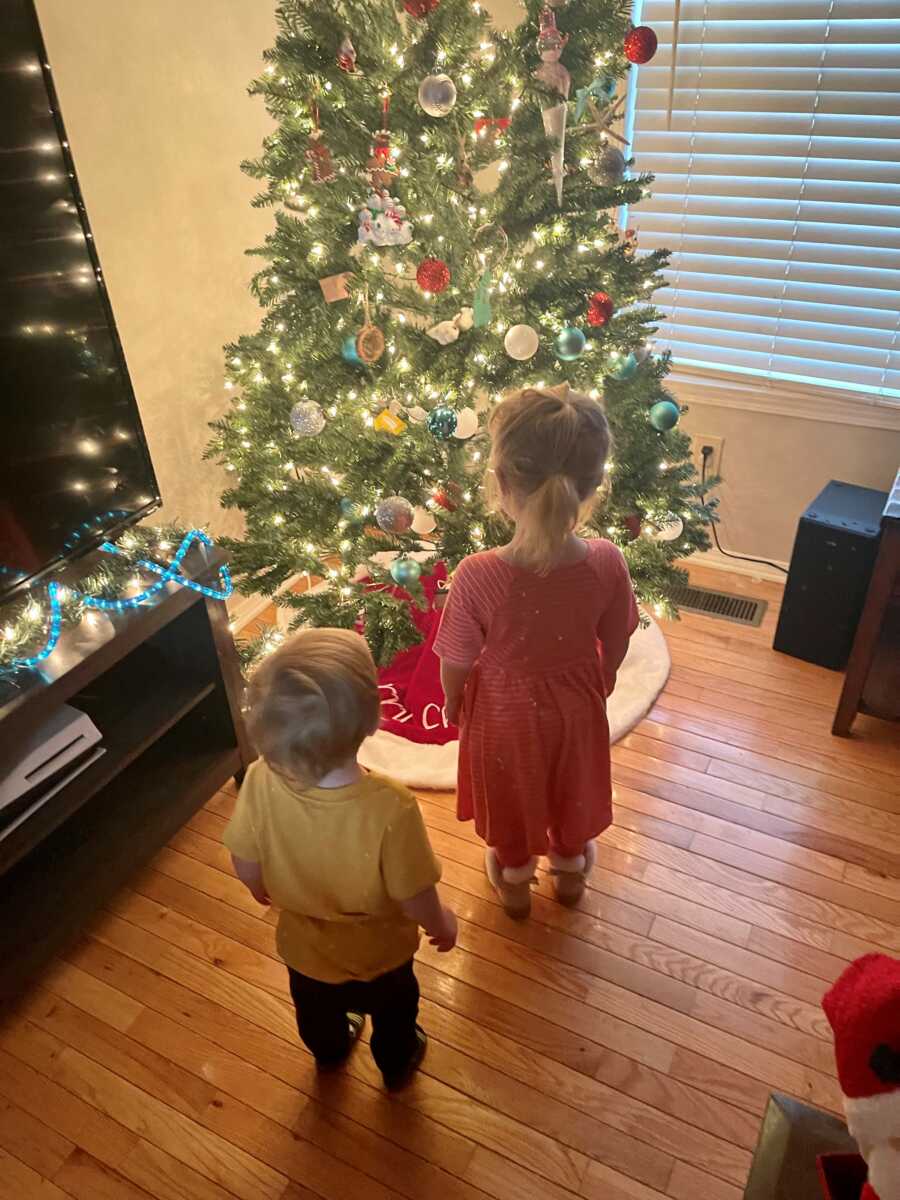 This story was submitted to Love What Matters by Matt Whisenant.  Submit your own story here, and be sure to subscribe to our free email newsletter for our best stories.
Read more stories like this here:
'The Mr. in my Mr. and Mrs. wasn't there at the wedding. And today it hit me hard. Six stupid years later.': Widow shares brave moment of grief
'Her last breath was taken doing what she loved—helping people in Afghanistan. Then there was an explosion. And just like that, she's gone.': Marine navigates grief after losing veteran best friend
'Just 10 months after our divorce was finalized, AJ took his own life.': Divorced widow navigates grief with rare identity
'Have fun,' I whispered as he leaned in to kiss me. 'I will.' He quietly slipped out for a hike, and never came home.': Widow shares words of wisdom after late husband's hiking accident
Please SHARE this story on Facebook to encourage others to cherish every moment and love what matters most.