Disclaimer: This story contains details of grief that may be upsetting to some.
"Life is a funny thing. I don't mean funny in a comedy way; I mean it more in a 'WTF' type of way.
Before I lost my husband, I was a huge kid at heart, and I know he loved that about me. Jonathan carried so much heaviness his entire life and when we got together, I refused to let him feel it anymore. I loved making inappropriate jokes that would always make him cringe, I loved scaring him (he was the easiest person to scare) even though he would get so mad at me. I loved getting excited about the smallest things, whether it be going to dinner, a movie, a day trip – basically anything. If we had something planned, I would constantly be counting down the days, texting him just to heighten his excitement as well. I was a huge Christmas, Halloween and Disney fan and I know my love for that brought joy to Jonathan's life. I know this because he would verbally say it, but also his demeanor and smiles would tell me everything.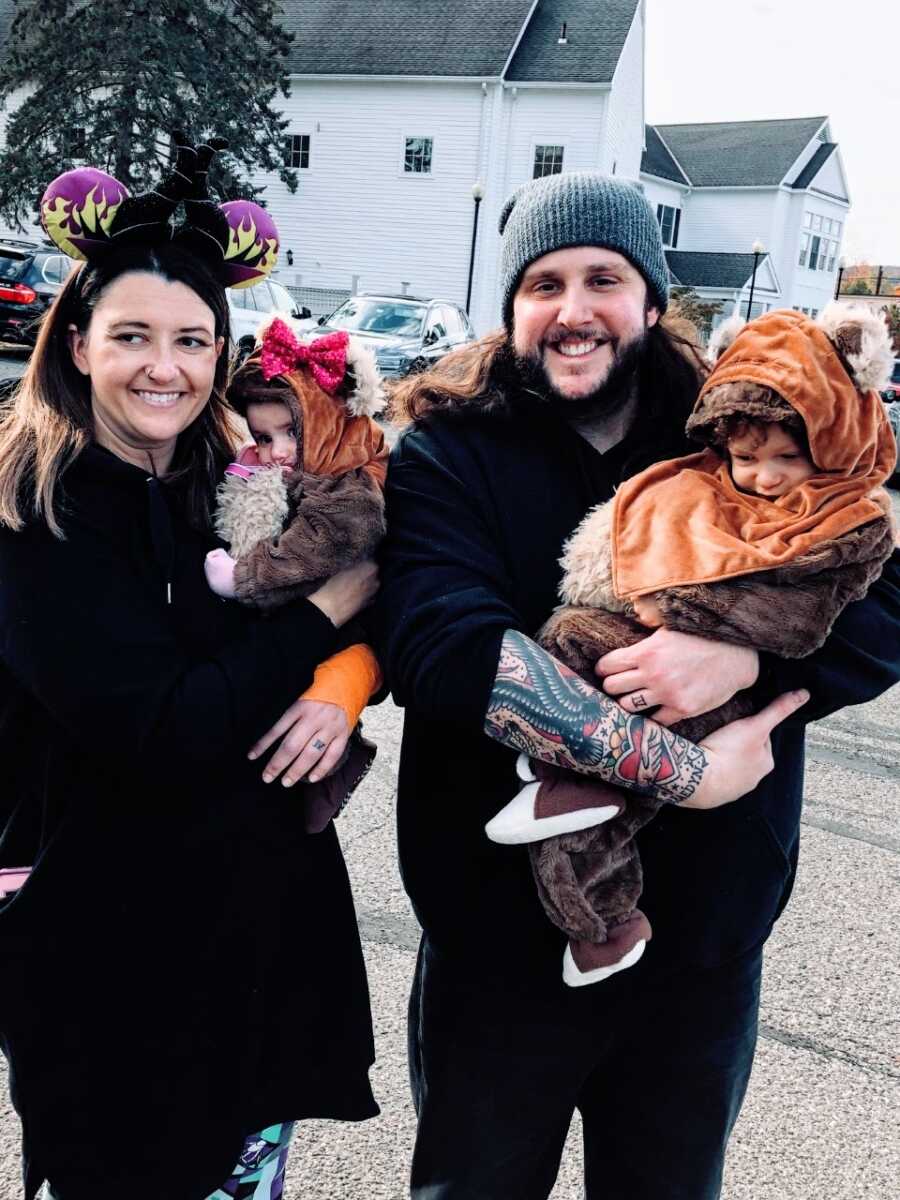 Days before my husband would find out he contracted Covid, I was excited to have him home with us for an extended period. I never thought the virus would get to us; we were too safe, too smart, so I thought we would have 30 days of strictly family time which we all so desperately needed. I begged Jonathan to let me buy us board games, or even just Uno cards. (He refused, he said he was too competitive for board games.) We were researching an at-home tattoo kit to practice on each other, and we had started Binge watching Love Is Blind. I remember saying out loud to him how excited I was for everything to shut down; I couldn't wait to have him to ourselves. How naïve was I? He'd be sick less than a week later and gone a month after that.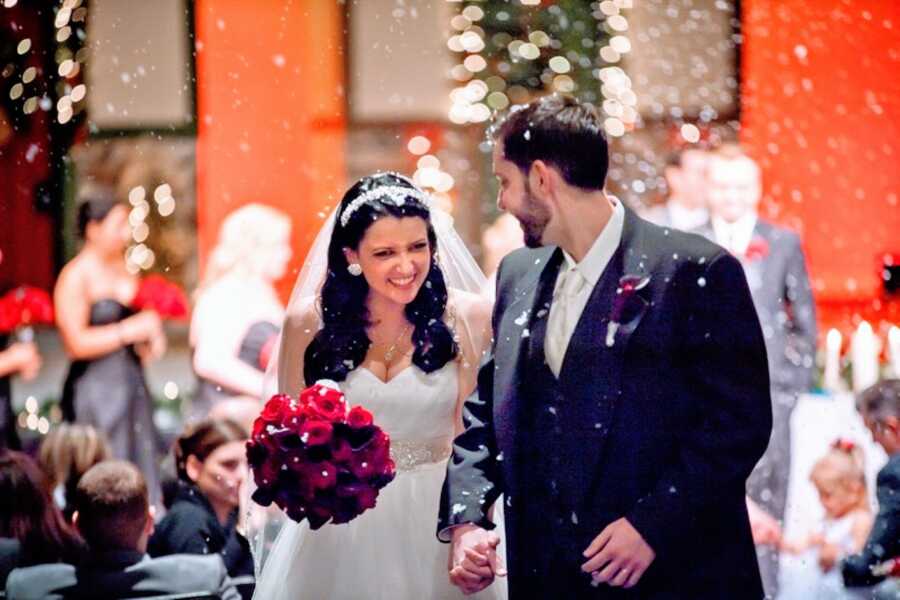 Grief, meaning that deep, life-altering heartbreak grief, destroys some people. I look at it like a Dementor from Harry Potter: this soulless figure who sucks everything out of you, leaving you alive but empty from all emotions. My mind, body, and heart are so eternally broken, I can't remember what happiness felt like before Covid destroyed my family. I see it in pictures and videos we took, but I can't feel it. My life before Jonathan's death seems as if it never existed, and in turn I never existed. The only thing that feels real to me now is this woman in front of me, who feels as if breathing hurts, who has cried every day for 16 months, who's body looks ravaged by sadness and emptiness. A woman whose husband would look at her today and just cry because of the damage his loss has caused me.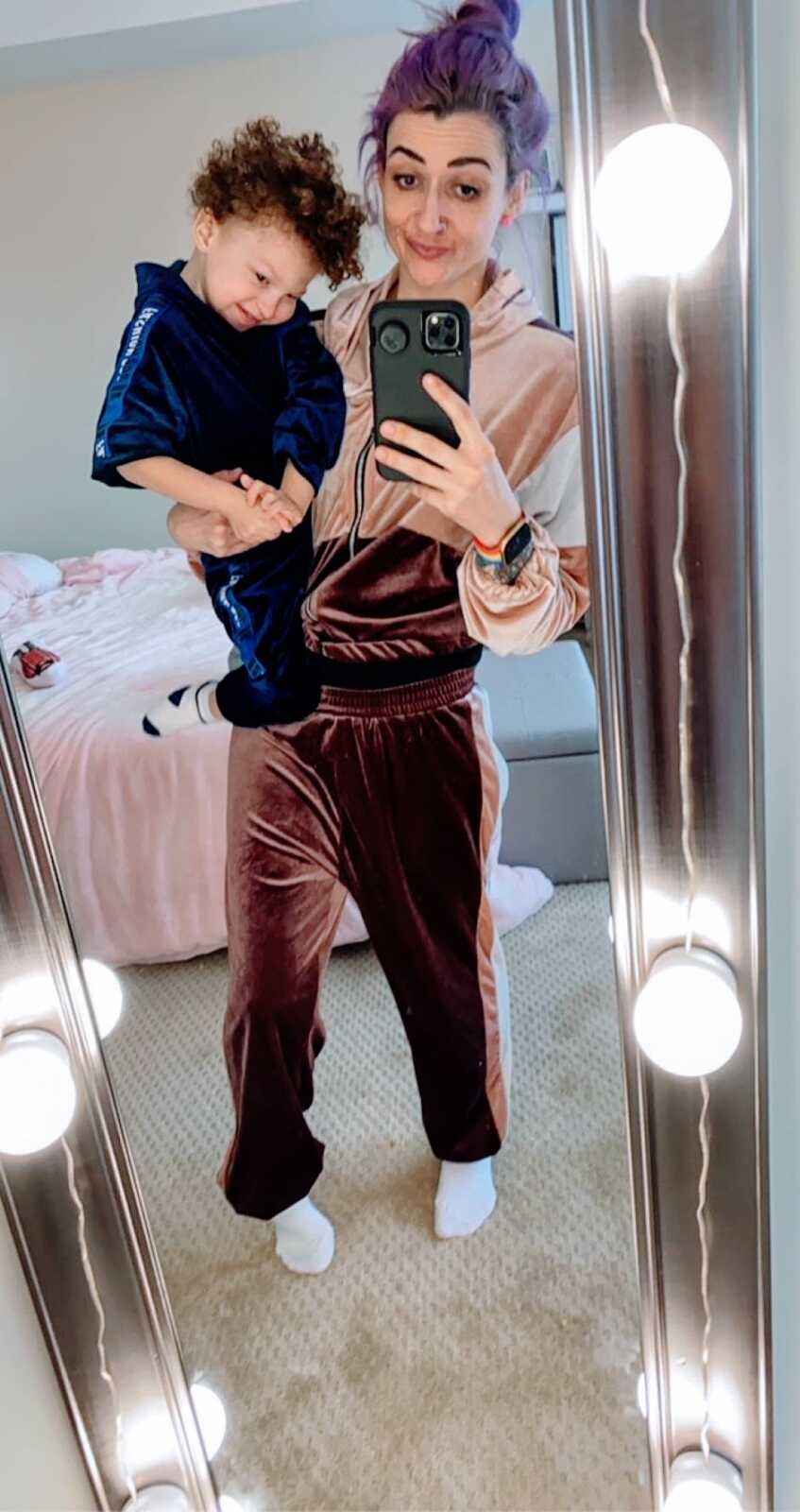 It's been over a year since I last spoke to my husband, since I last saw him alive, but in my mind it doesn't register that this isn't a dream. It's weird; I know he's not coming home, but I can so clearly in my mind picture him walking through our door. I can physically feel my knees become weak at the idea, what it would feel like to run towards him and hold him. You'd think after a year I'd start to process this whole situation better, but the truth is I have regressed more than progressed.
I am having panic attacks almost daily; my depression has worsened to an unbearable level, but yet my ability to function has gotten better. I feel more independent as a parent, like for the first time I am taking the reins back on our life. So how can I be emotionally a train wreck, but functionally better? That's the question I keep asking myself. My depression tells me every second of everyday what a failure I am, how everyone looks at me as weak and unable to manage the day-to-day tasks. But then I also see how I am doing more and more independently and wanting to distance myself from everyone. I can be so disgustingly weak but also strong in the same sense.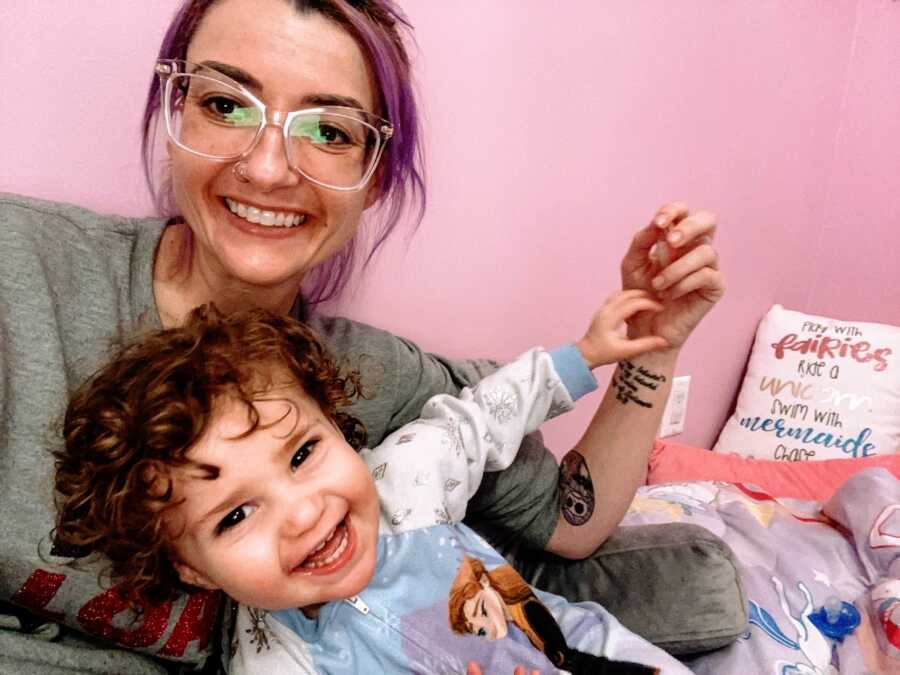 I look back on the last 16 months and much of it is a blur. I really have no memories and no feelings about it. The memories I do have aren't necessarily pleasant ones and I look forward to one day speaking about them freely (but for now it has to wait). I feel as if I missed SO much time with our kids. I look at videos and pictures of them and can't remember them like that. My memory really doesn't start phasing in until after this past holiday season, before that barely anything remains. I am angry about it because for the last 16 months what took me away from my children were things I should never had to deal with, more than I have been able to share with anyone.
I have been trying for 16 months to find my place in this world; I have spread myself SO thin. It's only been a year, but I am still trying to put a band aid on something I know a band aid won't fix. For so long I saw myself as this advocate for Covid victims, as fighting to make my husband more than just a number, but the truth is he is just a number. Not to me of course, to me he is everything, he is the embodiment of what a human being should be. but to the rest of the world he's just one of 612,000 people who have died from Covid. They don't mourn the way I do, their lives aren't forever destroyed by his loss, he's just a heartwarming/wrenching story of a life taken too soon. But then they move on, leaving the kids and I in the aftermath of his loss. I can't fight anymore; I have nothing left in me. I can't fight to keep Jonathan's name relevant, to make people understand the seriousness of Covid. I can't fight to have our government protect our loved ones more, I can't fight for people to see my family as more than a statistic – there's just nothing left in me to.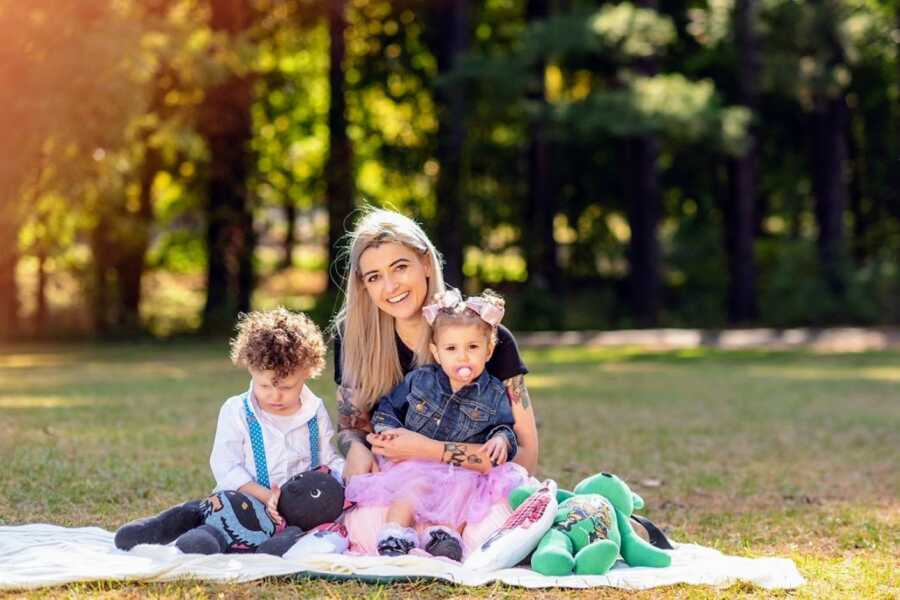 What I've learned most about grief is none of it makes sense, and none of it ever will again. I can feel independent, yet overwhelmed at the same time. I can be so depressed over the loss of my husband, but still have a dance party in the kitchen with our kids. None of those things go together, none of them go hand in hand, but in grief they do. Grief strips you down to your bare bones of a human being and then just watches for how you respond. Some people can start re-growing their skin more quickly than others, or if you're like me it's a second-by-second process with no real growth in the immediate future. But I've learned that's okay; knowing you're in your grief rather than running from it is much harder than pretending you're okay. Saying, 'I am not okay' and owning it doesn't bring this sense of peace, it makes you more vulnerable (if possible). But I've learned even after 16 months of being the dreaded 'W' word (widow), everyday comes with another fresh cut, another reminder he's gone. But it will also be another day of discovering who I am, what I stand for and what makes me, me again."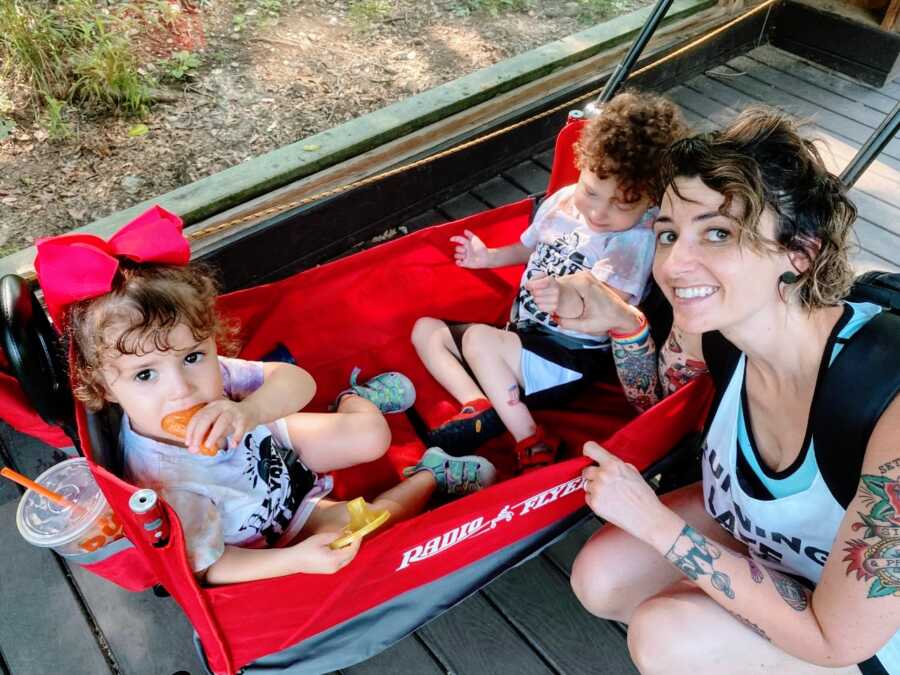 This story was submitted to Love What Matters by Katie Coelho of Southbury, CT. You can follow her journey on Facebook, Instagram, her blog, and her podcast. Do you have a similar experience? We'd like to hear your important journey. Submit your own story here. Be sure to subscribe to our free email newsletter for our best stories, and YouTube for our best videos.
Read more from Katie here:
'I'm going to dance at your wedding!' Something about him struck me. I tried to play it cool. We never saw what was to come.': Woman loses husband to Covid-19, advocates for other victims after viral post
Read more stories like this here:
'Dropping off my 5-month-old for a nap, a car came flying through the intersection. We spun 360 degrees. 25 years later, I still smell the burning airbags.': Bereaved mom details grief journey
'On my birthday, I drank whatever was in arm's reach. The day after marked six months since we lost Adelaide.': Mom shares grief journey through the pandemic
'He was in tears. 'Baby, it's bad news.' It was our last conversation. He was unable to talk the very next day.': Widowed mother 'piecing life back together' after tragic loss of husband
Provide strength for others grieving. SHARE this story on Facebook with friends and family.