A Miracle Story
"I am Noah's third mommy over the course of his 14 years of life. That feels very sobering at times. I am not the mother who carried him inside her for 10 months or the mother who birthed him. I am not the mother who nursed him or watched him take his first steps. I wasn't there for a lot of his firsts actually.
When he asks me to tell him about his story the way I do for my biological children, we imagine together with bits and pieces of what he can remember and try to piece together the details.
How he slept in the same bed as his birth mom and two other siblings in Ethiopia. The dirt floor he remembers in their one-room hut. The orphanage he was brought to when he was three where his 'tummy mommy' had to leave him because she wanted him to be safe and have enough food to eat.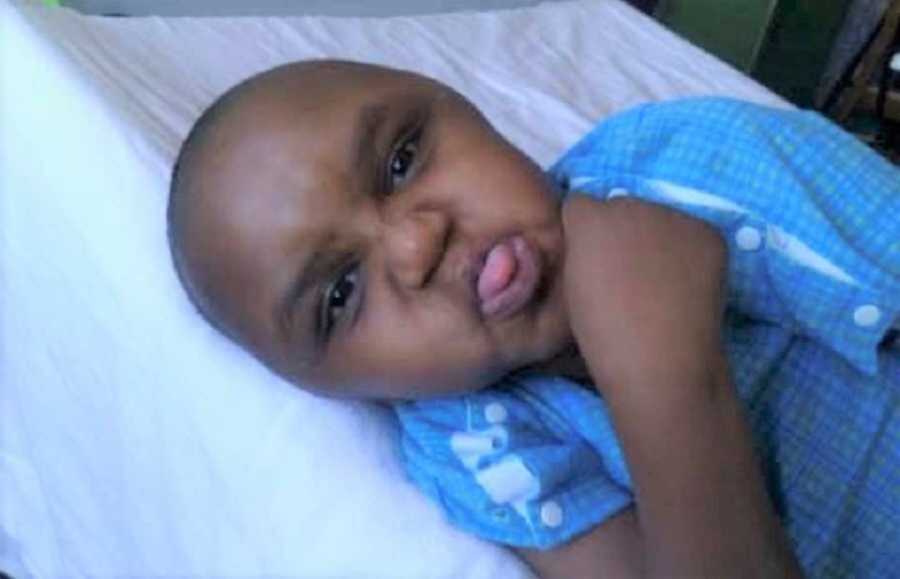 Even now, I think about him there all alone, confused, and scared and tears fill my eyes. I imagine the pain of the woman who had to leave her sweet little boy and all the ways she rationalized it, even though her heart was breaking. That is a kind of love I can only imagine and the depth of pain I hope to never have to bear.
I don't know all the details of Noah's story in the beginning, but I have the beautiful privilege of carrying his story now. I am Noah's forever mommy and his life is nothing short of a miracle in every way.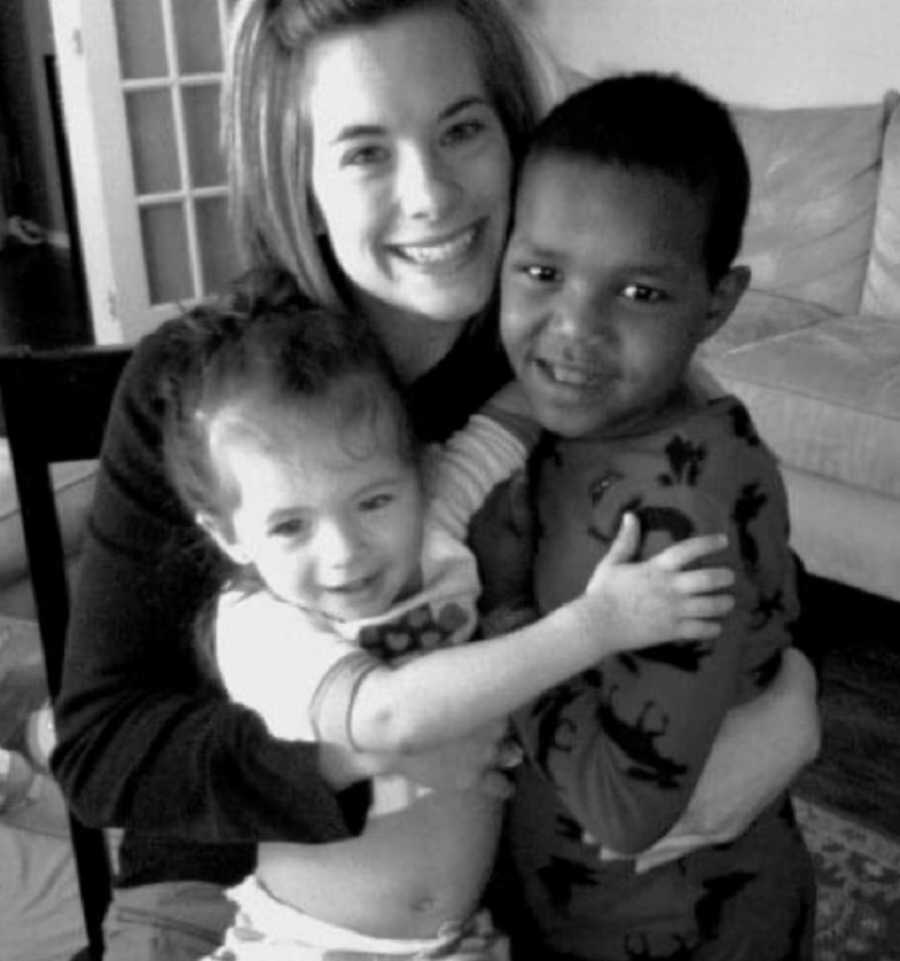 Our Journey To Adoption
I am one of 14 children in my family of origin. I have three biological siblings and 10 adopted. My parents traveled to Ethiopia when I was 24 years old to bring back a sibling group of two girls. They returned with three!
My husband and I had just celebrated four years of marriage and nine years of being together when my parents were in Africa and we had just found out we were pregnant with our first child! I couldn't wait for my parents to get home so I could tell them the amazing news.
I had known very early in my life I was destined to be a mother. I wanted to be just like my mom and have a dozen children. Our firstborn came into the world and she was nothing short of magic! I knew right then my desire for more had only intensified and I asked my husband if he would be willing to take foster and adopt classes 'just in case.'
We had talked about adoption and knew it would always be in our plans but we were still so young and we were raising our first and also helping my parents with their children who were still at home so we weren't in any rush.  
We started taking the foster and adoption classes when our daughter was 7 months old. My parents also had several respite foster kids over the years, and since my husband and I were always their go-to for support, it only made sense to start there.  
Our daughter turned one and we had decided once we were licensed, we would only do occasional respite situations and we would not be taking any children older than her or boys. We were trying to really hedge ourselves in and only take on what we felt was appropriate for where we were at.
We were licensed by the middle of summer and the calls started coming in. I wanted to say yes to every single one. My husband finally pulled me aside one day and said 'Liesl, I love your heart, but we can't take them all just because it seems like a good idea. We will be the perfect home for a child someday, but it also needs to be the right child for us. I believe when the time comes, we will know, and God will help us.' 
Shortly after this conversation, my mother called to tell me about a little three-year-old boy who had recently been adopted from Ethiopia. Her friend who is an attachment specialist was asked to meet with him because the adoptive family he was with was having a difficult time adjusting.
She told my mom Noah was a sweet and energetic little boy and while he was 'all boy,' but the adoptive family was the one struggling. She asked my mom if she would be willing to give Noah's adoptive mother some insight on bonding with older children and the attachment process. My mom said she would love to meet with her and little Noah, and as a bonus, maybe meeting my three Ethiopian sisters would also help ease the transition.
The meeting was set, and she asked me if I would come. She said, 'I am almost 60 years old. I don't even remember what to do with little boys.' 
The Terrifying Call
It was the beginning of July and the sun was scorching. I was at the pool with our daughter, Frances, when my mom called me crying. Through her rather hysterical sobs I hear her say, 'Liesl, I think he is going to die.' I knew instantly who she meant and gathered up Frances to take her home.
I got into our car and before driving off, I called my caseworker and told her the scattered details I had about little Noah. I told her about how he was recently adopted from Ethiopia and from what I knew he was taken to the hospital in critical condition and was not expected to live the night.
I told her I didn't think he had any real family as he had only lived in the US for less than six months and how I wanted to be able to go be with him if possible. I knew it was a long shot, but I had to try. I then called the Children's hospital he had been transferred to and attempted to appeal to the medical side of things.
As an emergency room Nurse Practitioner, I knew they would not be allowed to give me any details about his stay, but they would at least know I was serious and capable and wanted to be a real resource for Noah if possible. The only response I would get is 'Noah is still alive.'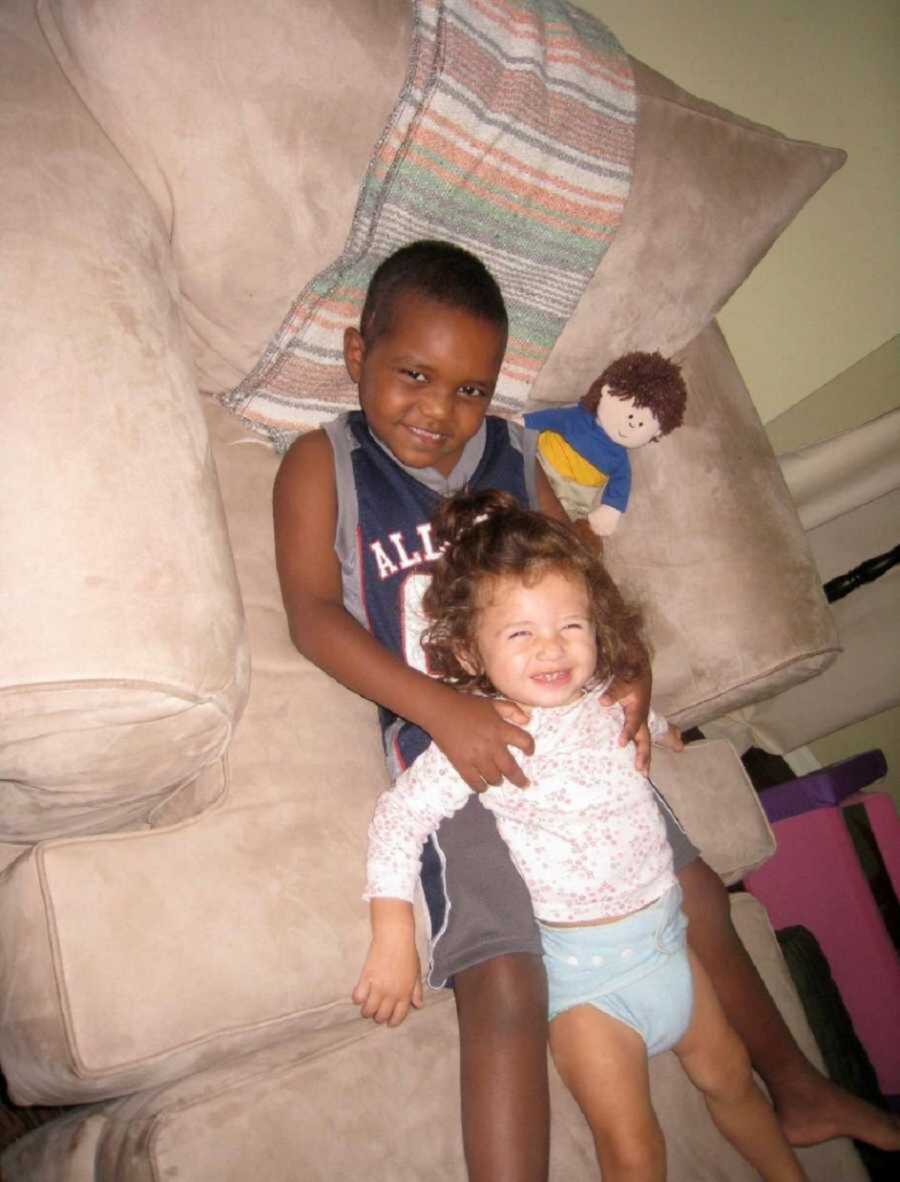 Meeting Noah
I called the hospital every single week for almost six weeks. Finally, one Sunday afternoon our family was having dinner at my parents' house when the hospital called. 'Do you want to meet Noah?'  It took me a second to gather my thoughts. 'What does this mean?' I said. 'Is he okay?'  'He is likely going to make a full recovery, but he isn't out of the woods yet. Would you like to come tomorrow and see him?' 'YES!!!' I said. 'We will be there.'
The next day my husband and I drove downtown to the local teaching hospital where he had been life-flighted six weeks before. There was no neurosurgeon available at the children's hospital who could handle his case, so he had to be transferred. When we got there, we went right to the gift shop and picked out a small stuffed giraffe. 
We went up to the fourth floor and checked ourselves into the pediatric critical care unit. We walked into his room just as the nurse was flushing his PICC line with a dose of pain medication. As she looks up from her task, she smiles and proclaims loudly, 'Noah, your new mommy and daddy are here!'
We both smile as big as we can at the little boy sitting in the hospital bed with a swollen head and adorable chubby cheeks. We are completely speechless. Our heads were spinning. New mommy and daddy?! What does this mean? We didn't care, we were so grateful to finally get to meet Noah and let him know he wasn't alone and we cared.  
It was a complete blur after that. The next day we brought our daughter Frances to meet him. He pushed her up and down the halls in her stroller laughing and giggling because nothing seemed better than her stroller and its wheels. Noah was crazy about all things with wheels and all things cars.
We didn't know this at the time, but he was so enamored with cars that everything he came home from the hospital with was Disney Cars themed even though he had actually never seen the movie. He just really loved cars.  
Challenges We Faced Coming Home
We met Noah on a Monday night and we brought him home a week later. We had no idea what we had just signed up for, but we knew it was right. We were terrified and so happy all at the same time.
Noah came to live with us two weeks after his fourth birthday. He had ten inches worth of stitches across his head from a traumatic brain injury he suffered after being abused by his first adoptive mother. Discovering the details of that event was horrifying and so incredibly sad.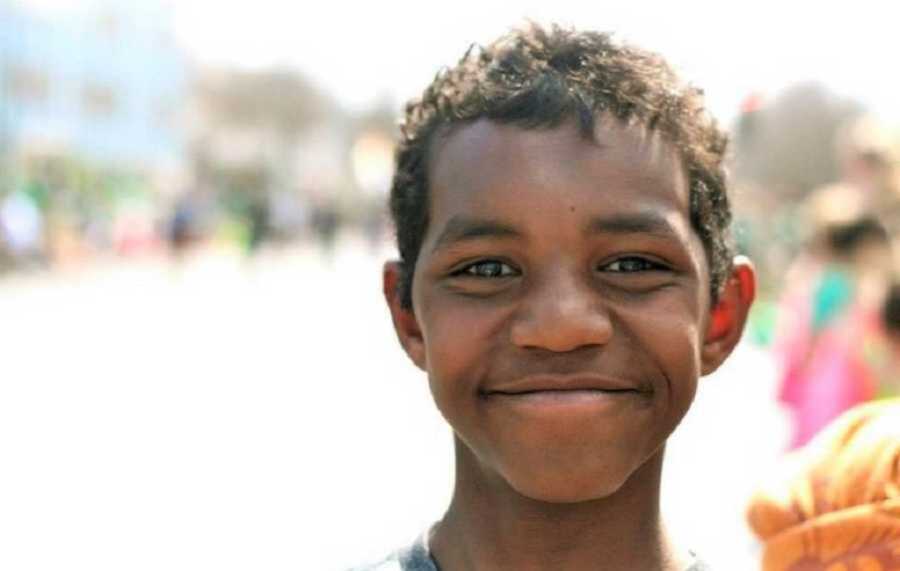 He couldn't walk up or down the stairs by himself. He couldn't climb into his bed alone. He had to eat special food so he wouldn't aspirate and choke. He had physical, occupational, and speech therapy for hours three days a week.  
He had a play therapist see him every week for two years until he was finally and legally adopted in June of 2012. Shortly after his adoption was official, Noah started having seizures as a result of his brain injury. Thankfully the medication worked wonders and he has been seizure-free for almost 8 years!
The beginning wasn't easy, but it was beyond worth every long day or doctor's visit. It was worth every social worker meeting and court hearing. It was all worth it.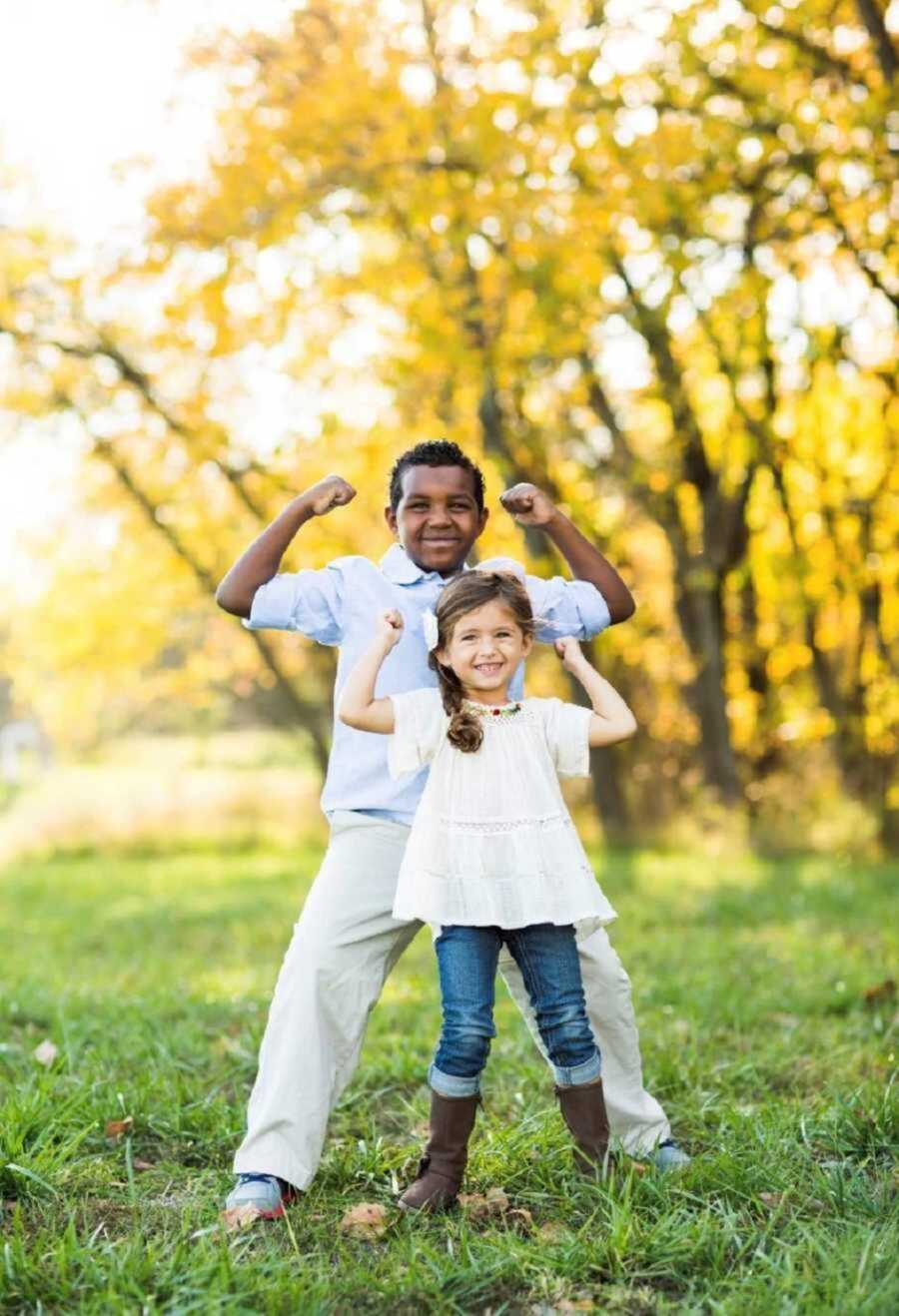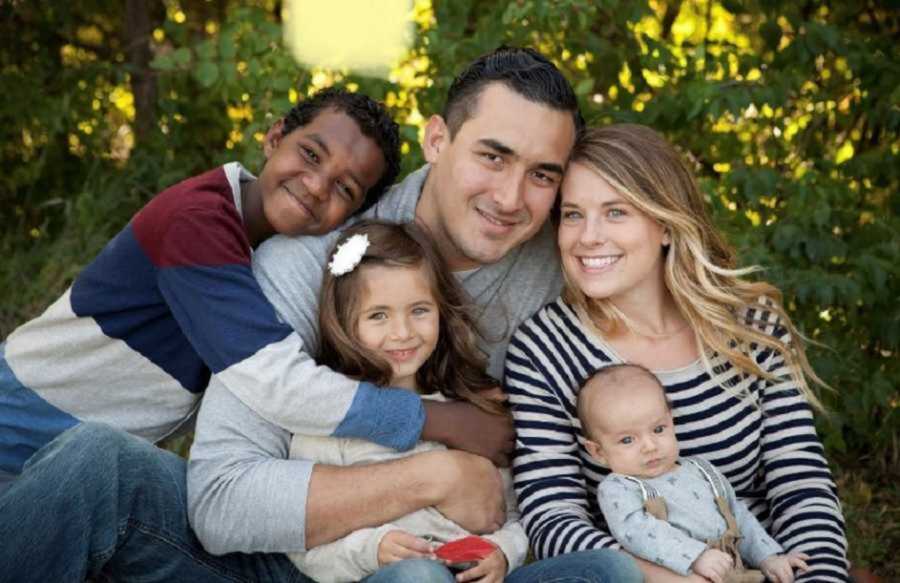 Fitting Right In
Noah is our oldest child. He is one of the kindest, most empathetic humans I have ever met. He has always been big for his age and has been taller than me since the second grade.
I took him out for a Valentine's date once and they asked him if I was his girlfriend. He laughed, smiled, and said, 'No, that's silly. She is my mom!!'   
I can't hold Noah on my lap anymore so finally one day he looked at me and said, 'Well, what if I hold you on mine!' So now I sit on his lap if he wants to talk. Everywhere I go, people come up to me and ask if Noah is 'my boy.' And I proudly smile and say, 'Yes, he is.'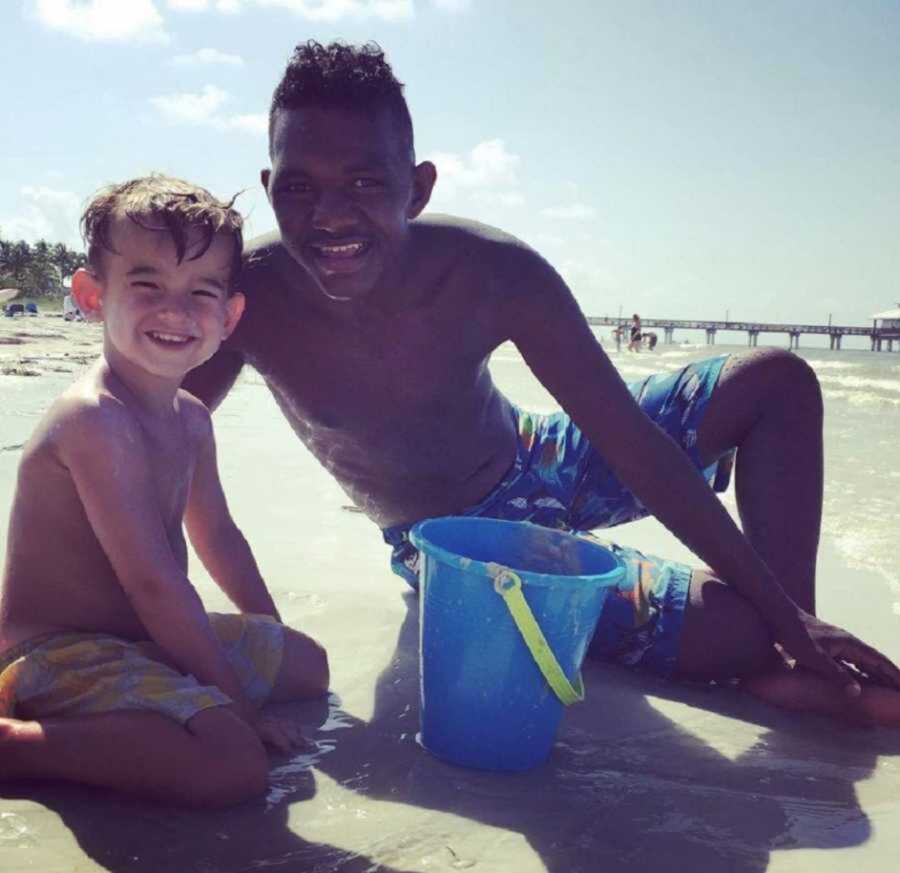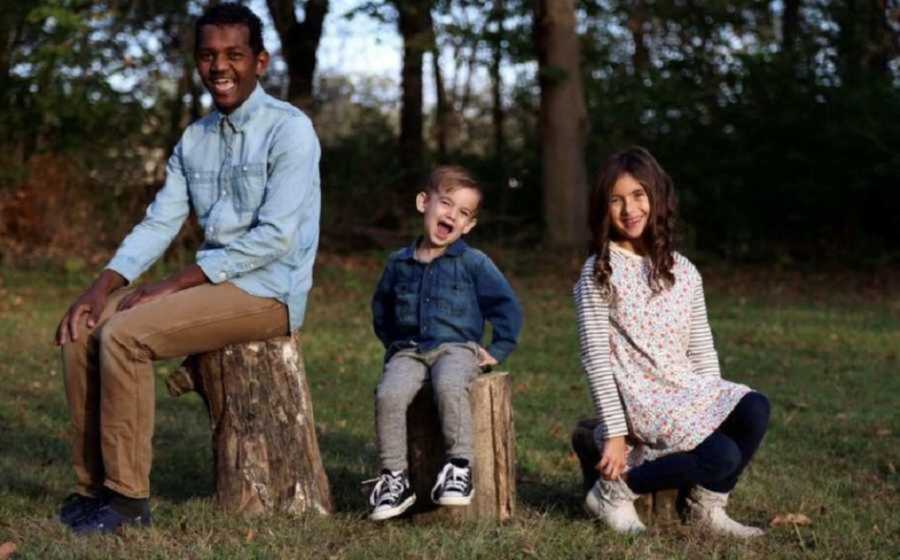 He is fourteen years old now. He has worked so very hard to be where he is at in life. He works hard, he loves well, and he has never once met a stranger.
Despite all his reasons for bitterness and hurt he has carried his heart with love and compassion. He is the perfect addition to our family and the best gift we never knew we needed. He is our boy in a million ways, and we can't even begin to imagine what our lives would be like without him.
He is a treasure to all who meet him, and we feel so honored that we get to be the keepers of his story from here on out. He runs track, plays soccer with his friends, loves to ride his bike, and in stereotypical teenage boy fashion, is crazy about his Xbox. He loves life and we love him.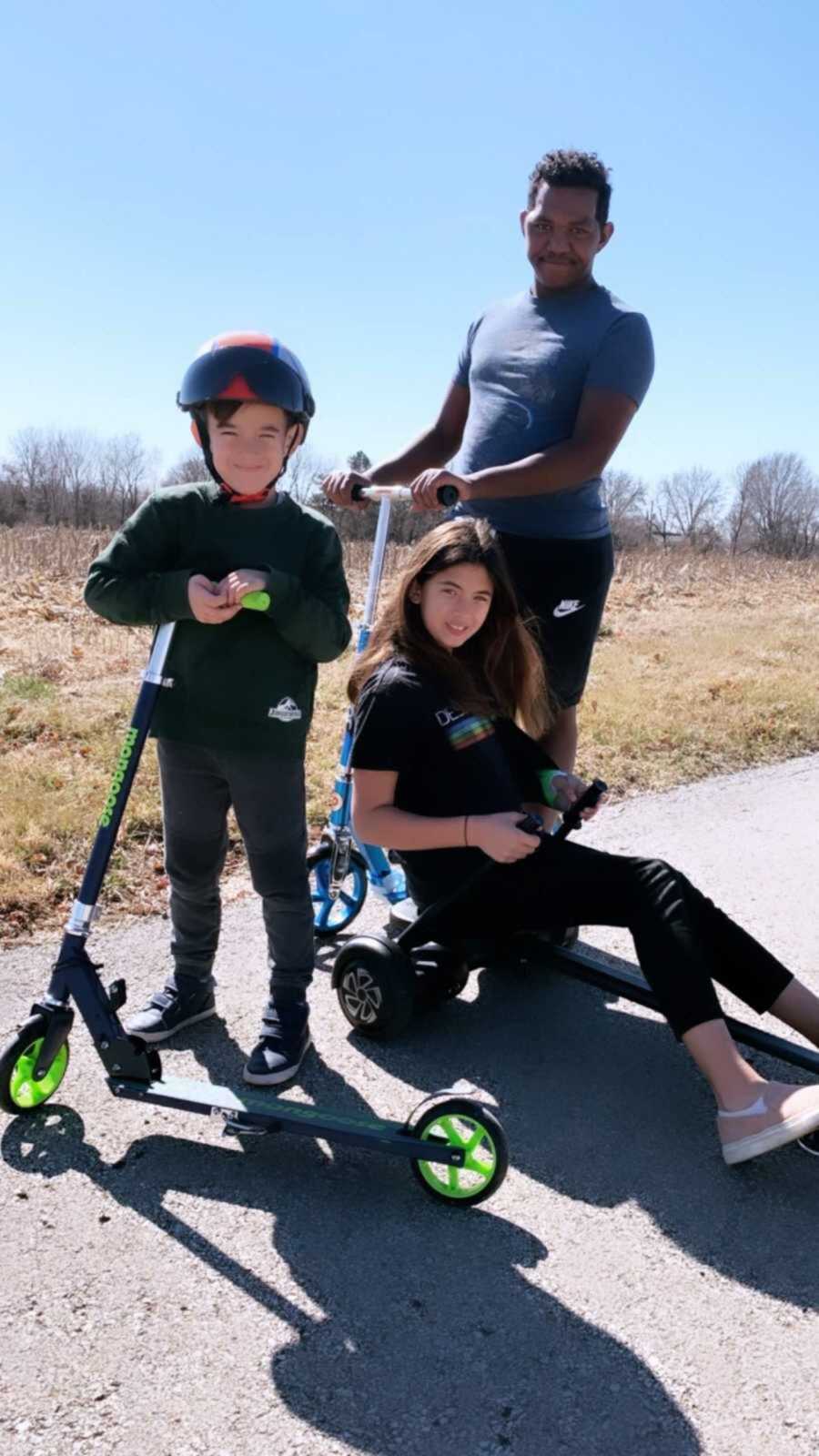 Adoption stories are actually a lot like pregnancy. They are beautifully terrifying. They are unknown and yet somehow once the journey is embarked upon the path seems certain. They are both uncomfortable and stretching. There is growth and labor, albeit in a very different sense. There is bonding and attachment even though the means taken might be unconventional at times.
It may seem strange to see a grown woman sitting on a young boy's lap but in the end, it is part of Noah's story.
I can't tell him about his birth mother's process or even his first adoptive mother's reasoning for the pain she caused. I can, however, tell this part of his story and remind him every day of the gift he is to us and the world around him.
His journey into our family is a little unconventional but here is the thing…at the end of the day, the important parts are all the same."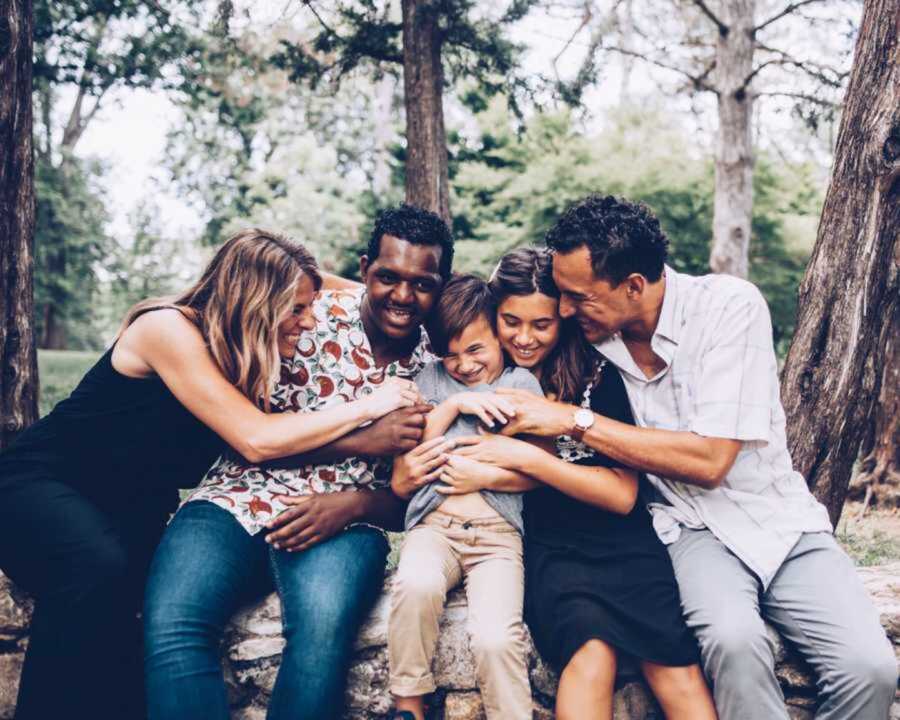 This story was submitted to Love What Matters by Liesl Arteaga of Kansas City, Missouri. You can follow her journey on Facebook and Instagram. Join the Love What Matters family and subscribe to our newsletter.
Read more stories like this:
'We have a 3-year-old boy. His mother is homeless. No one will take him.' Our jaws fell open. 'We'll be at your house in 30 minutes!': Couple adopt 4 children from foster care, co-parent with birth mom
'At 11, his adoptive parents abandoned him at a hospital, never to return. 'Mr. Peter, can I call you my Dad?' I began to cry uncontrollably.': Single dad adopts 11-year-old boy from foster care after biological, adoptive family abandon him
Do you know someone who could benefit from reading this? SHARE this story on Facebook with family and friends.