Fatal Car Accident
"April 16, 2019, was a day that flipped our whole world upside down. Around 10:30 – 11 p.m. my husband, Ronnie, started having really bad anxiety, which is very uncommon for him. He kept asking if this kind of anxiety was normal and I had to keep assuring him he was fine.
About 12 a.m. we were all asleep and a family friend was calling, I ignored the call and went back to sleep.
Minutes later, my mother-in-law called. She was crying and said, 'Aaron got into an accident. He is dead.'
I hung up the phone without saying a word and threw it. I didn't know how to process that, and was so scared to tell my husband. How do you tell someone their brother has unexpectedly died?
I stared at him for a moment and said, 'It's Aaron.' I'll never forget seeing him in so much pain, but at the same time, we were in denial. I called his mom back, apologizing for hanging up on her, and she explained that he was heading home, wrecked into a tree and it caught on fire, and he was dead on scene.
We called my grandma to watch our kids while we rushed over to my husband's grandparent's house to be with the family. Everyone was such a mess. No one knew what to do, how to act, if it was real. We were in shock, and our hearts were broken.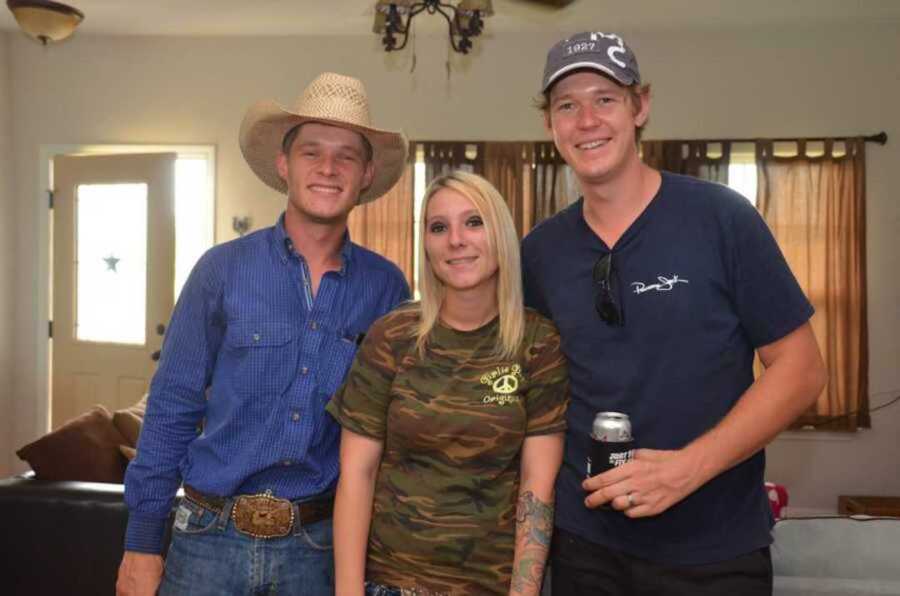 My husband laid in the yard crying for hours. It was a day I will never forget. Ronnie introduced me to Aaron 8 years ago and we quickly became friends. Over the years he became one of my best friends.
Anytime something would happen, he would tell me, 'issokay,' in his little country accent. That boy was a dancing fool! He would 2-step to any kind of music that was playing. He'd always say, 'Get up let's dance,' and you better believe if Aaron asked you to dance, you were dancing whether you liked it or not.
Grieving My Brother-In-Law
We also went on lots of camping trips. He and Ronnie were huge outdoorsmen, and always had to be on the water somewhere! Ronnie and Aaron have been inseparable since they were born.
Aaron looked up to Ronnie and loved him so much. They didn't go a day without talking to each other, or go a few days without seeing each other.
If there is something more than being brothers and best friends, they are that. Soulmates.
Ronnie losing his brother was like a mother losing her child. Ronnie felt that same pain. Something no one should ever have to go through.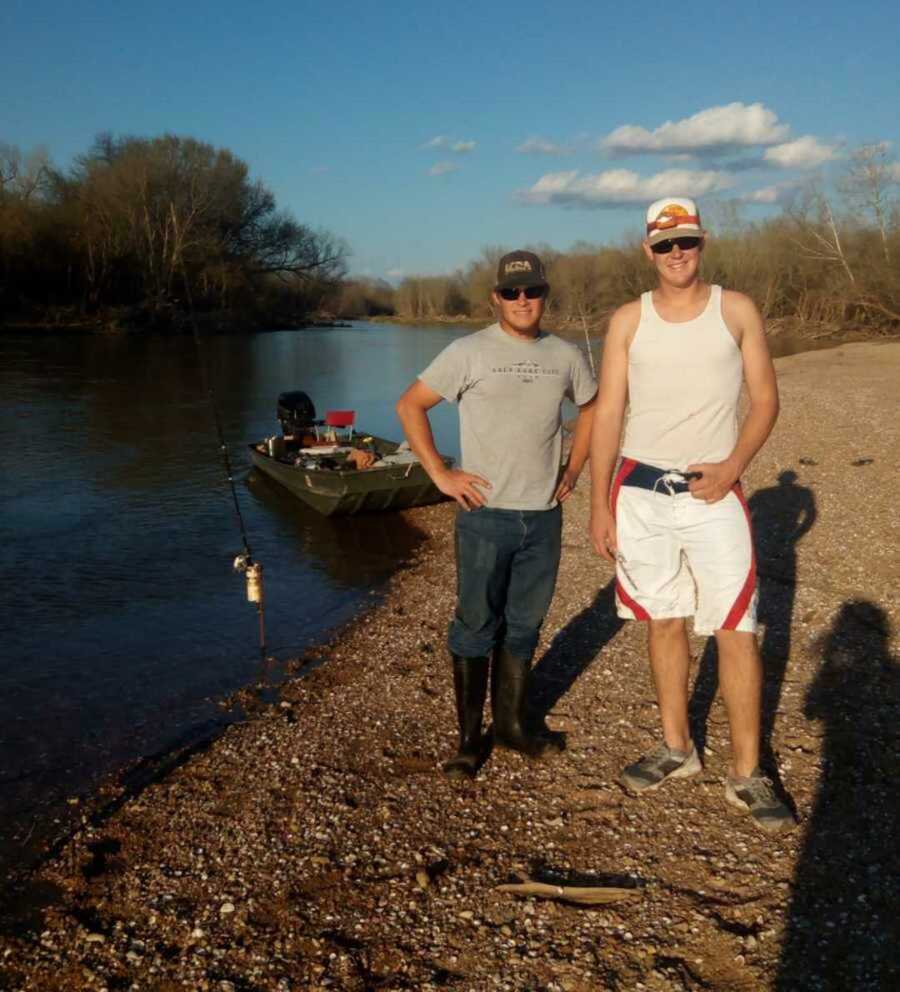 The day after the accident, Aaron's baby girl would arrive to our grandparents' house where we rushed to, along with our children. My husband took each child aside separately and told them only what was necessary.
Once it was Kaci's turn (Aarons daughter), he told her, 'You know I love you so much, right? You know your daddy loves you a bunch? Do you know why the whole family is here? Well sometimes accidents happen, and people go away. Your daddy was in an accident and went to Heaven.'
We told her she can still talk to her daddy, and that he can see her and watch over her. Kaci looked so confused. She is only 4 years old, so that's a little hard for her to process and understand, but hearing her daddy was gone brought her to tears.
Celebration Of Life
We stayed at his grandparent's house for a week or more. We couldn't bring ourselves to just go home. Nothing felt right anymore, and we just wanted to be surrounded by family.
A few days later we had a celebration of life for Aaron where so many of his friends and family came together to honor him, and share their stories about him. Kaci had a balloon that she signed and let go for her daddy.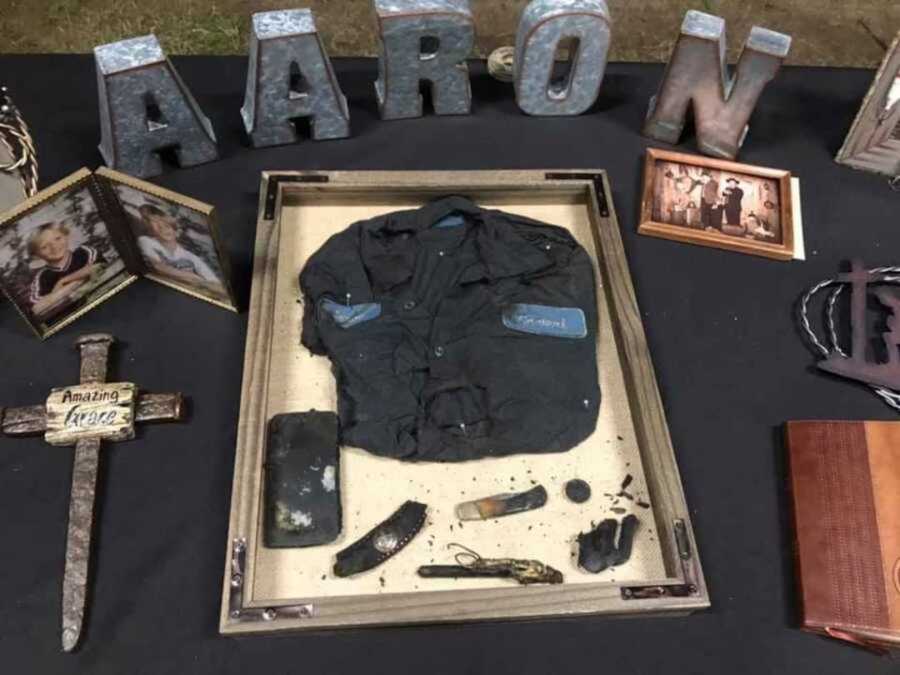 Aaron had so many people who loved him so much, but there were certain people closest to him that suffered so much worse. His baby girl, who says she misses her daddy every single day, his brother who was literally his other half, his sister who loved him so much, and his mother who lost her baby way too soon.
Those 4 people will never be the same. The more time passes, the more they miss him, and the harder it gets. I pray every single day and night they will find peace, and that their hearts will heal from this.
His baby girl loves her daddy more than anything in this world. He was her everything. Every time he would pick her up after work, her face would light up!
Aaron raised Kaci as a single father, but had help from all of his family. He was her world, and now her world is upside down.
She talks about him every single day. I made her a little photo album full of pictures of him that she carries around and looks at every day. We also bought her a necklace that has his ashes in it that says, 'I'll keep a part of you with me.' We will always keep his memory alive for her!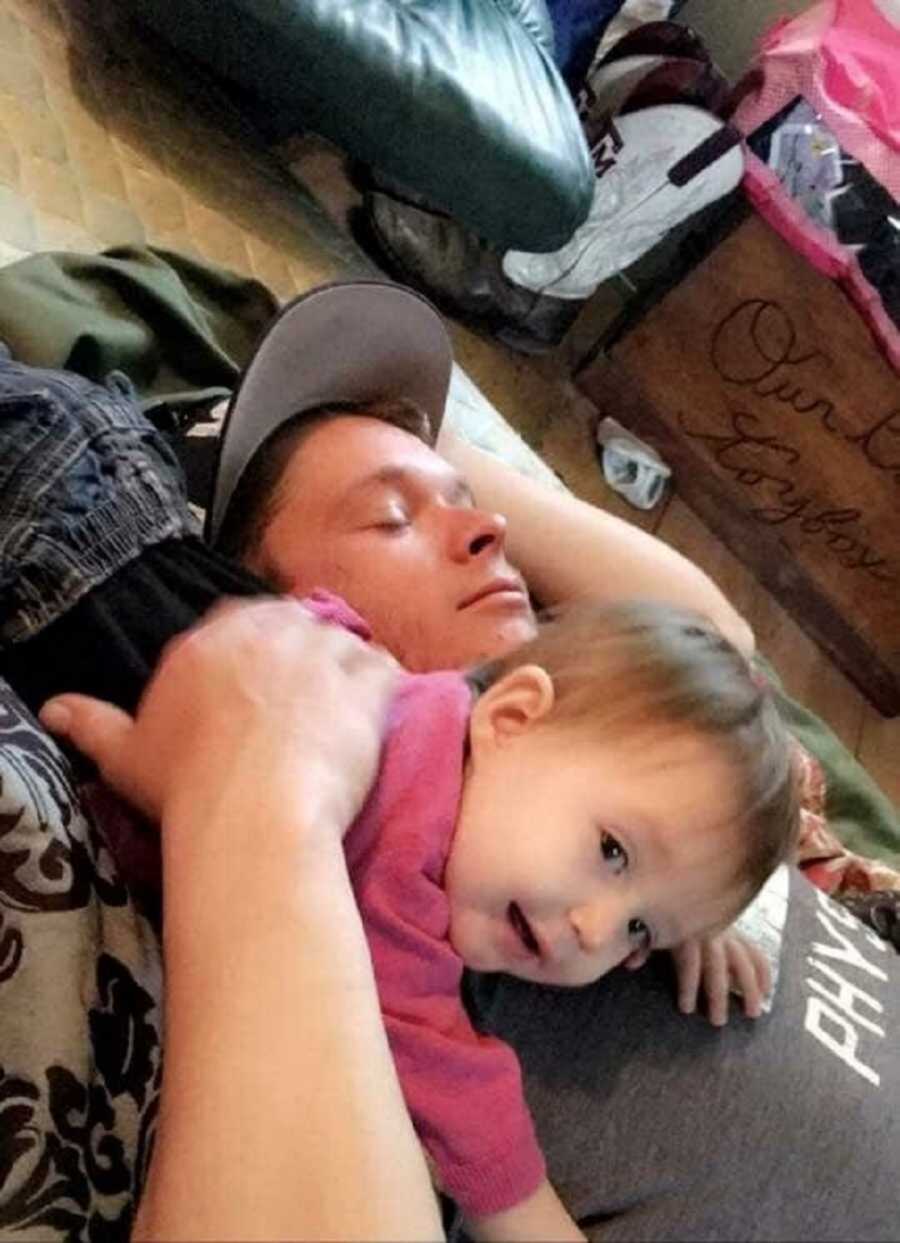 Raising A Daughter
She lives with us now, and we are so blessed to have that piece of Aaron with us. I truly think it not only helps her, but it helps us get through our days as well. See, my husband and Aaron were best friends. Aaron came to our house several times a week for dinner, they were fishing buddies, drinkin' buddies, they were literally each other's other half.
We spent so much time with Aaron and Kaci. It just doesn't feel right going all of this time without him.
It has been over 5 months since the accident. Sometimes it feels like yesterday, but sometimes it feels like forever ago.
Thankfully I have SO many videos of him that I have shared with all of the family. Some days the videos will put a smile on our faces, and sometimes they will make us break down. Every day is different.
Remembering Her Dad
I am a photographer, so naturally I wanted to photograph Kaci in some way honoring her daddy. I grabbed a photo of him, his hat, some roses, and went with it. Kaci got dressed just for her daddy that special day.
She put on his cowboy hat, held his picture tight, and said 'I love you, daddy' a dozen times. She'd close her eyes and think of her daddy. You can see that is EXACTLY what she was doing. The look on her face has so much heartbreak, and peace at the same time.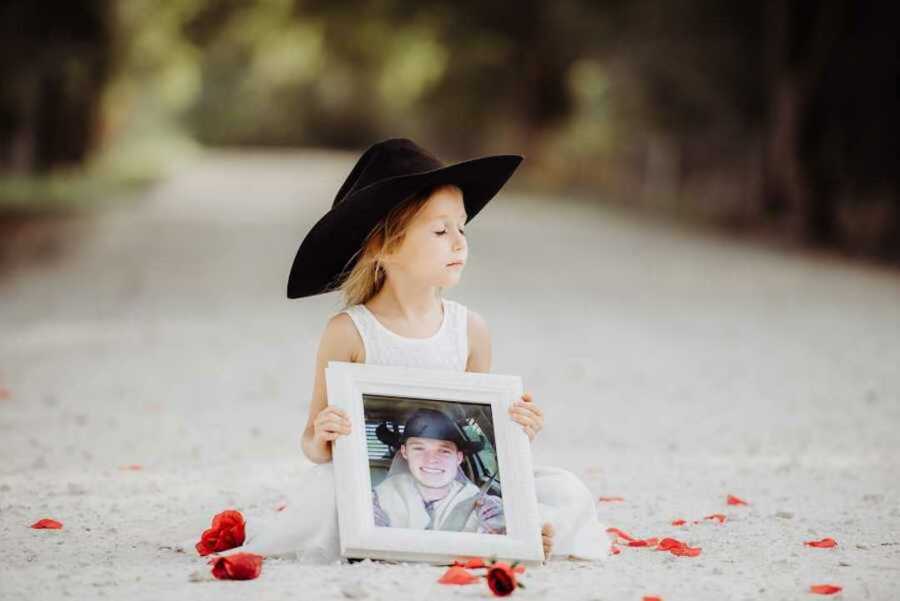 Aaron had the best smile. If you ask anyone around, they would tell you they never saw him without a huge smile on his face. He always looked on the positive side of life and didn't have a worry in the world. If there is one thing I have learned from all of this, it's that I want to be more like that.
They say when you see a cardinal it's a loved one visiting you from heaven. Well we are now firm believers of that. Right after the accident, we had a cardinal lay 3 eggs on our back porch.
Eventually, 2 of the eggs hatched and flew away, but the 3rd didn't make it. It's just crazy how little things like that happen. We see cardinals every day, and are so thankful for our visitors.
I want to end this by saying, we recently got the autopsy and toxicology reports back. Aaron suffered severe thermal injuries along with injuries from the collision. Aaron was drinking and driving.
This is one thing my husband ALWAYS worried about.
Please NEVER let your loved ones drive after drinking. Please, PLEASE, do not drink and drive. Call family, a friend, an Uber, SOMETHING. Just don't drink and drive.
Not only are you putting yourself at risk, but everyone else who is on the road.
Sit and think for a second. Is it worth it? What could I lose? Who could I hurt?
Look at this sweet girl's face. This is what you could lose. It's not worth it, trust me."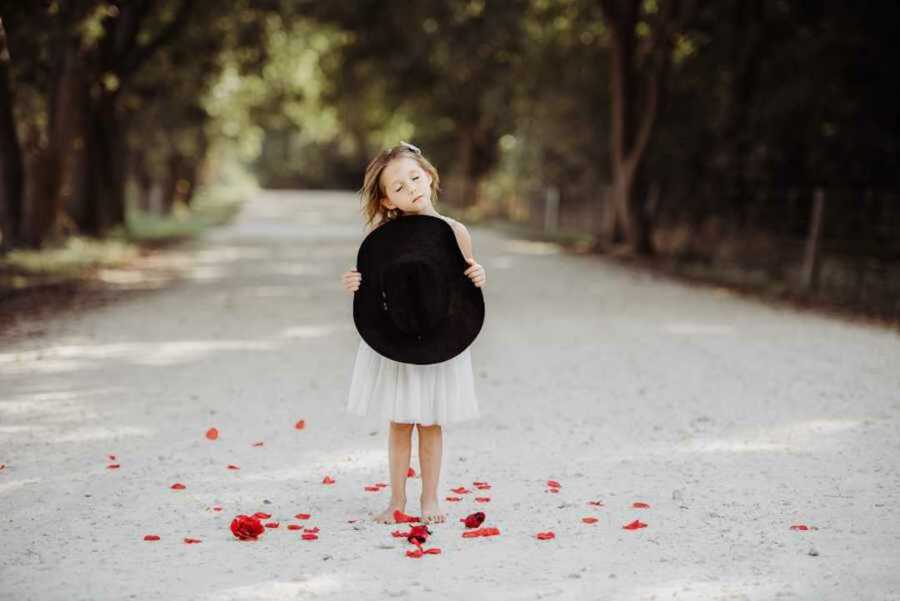 This story was submitted to Love What Matters by Ashley McCullough of Mayfield Photography in Bastrop, Texas. Be sure to subscribe to our free email newsletter for our best stories.
Read more powerful stories like this:
'Call me ASAP. It's important.' I had this overwhelming sensation to turn my phone over. That's when I saw it. 37 missed calls.': Woman loses father to suicide, pledges to 'live life to the fullest' for his 'moments lost'
'The last thing he said to me was in a text hours before he passed. 'Goodnight sweet princess.': Daughter shares grief journey after sudden loss of father
SHARE this story on Facebook to encourage others to cherish every moment, and love what matters most.