"I had no clue this would be the last photo and holiday we would spend together. You loved me like your own when I needed a father the most.
I was the typical stepchild who fought with her stepfather. In middle school my stepdad Charlie entered my life. I tried everything to get you to leave, now I'd do anything to get you back.
After years of maturity and growth, we became very close. In high school, I was at odds with my biological dad and after cutting ties with him, you stepped up to fulfill the fatherly duties. I'll never forget you fastening my prom shoes, or yelling when I crossed the high school graduation stage. At times, I felt like you were the only parent I had, the only one who took an interest in me. You became my best friend. I called you and talked to you almost every day.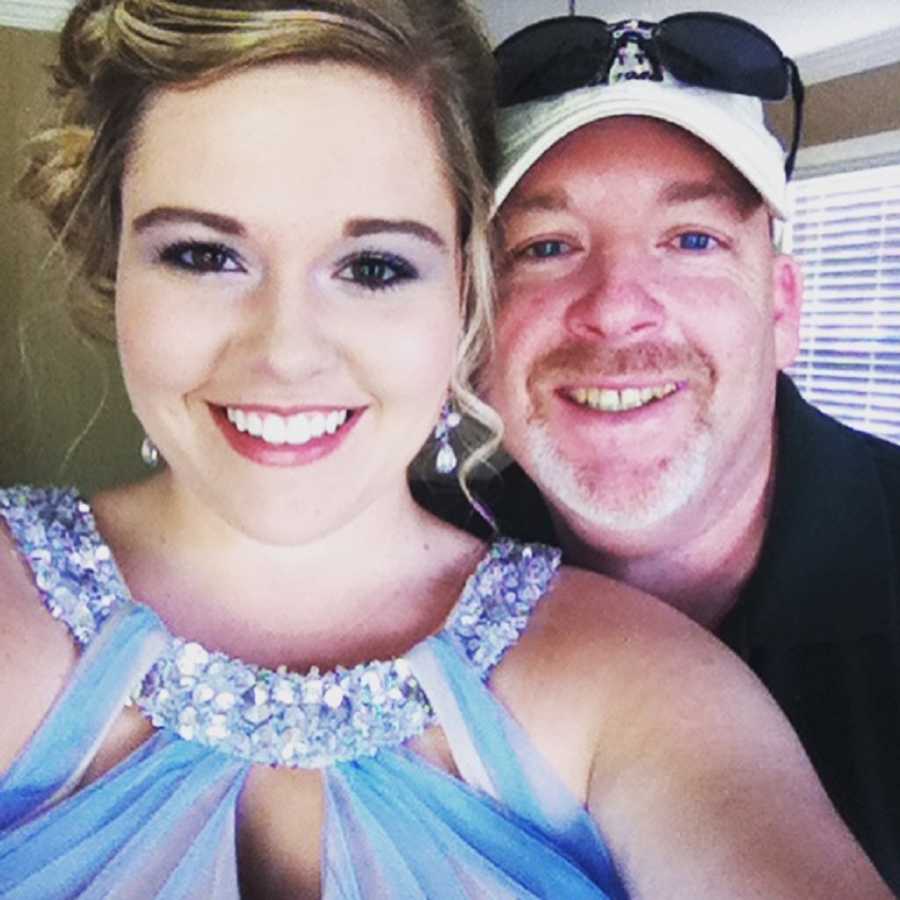 I took a leap of faith and attended my dream college, even knowing my family thought I was crazy. You stepped up to take me to meetings and move me into my freshman dorm. When I talked outside with you after moving me in, you cried. You told me to go show them how great of a nurse I'd be. As you drove off, I cried. I knew that you believed in me and I was finding the courage to believe in myself.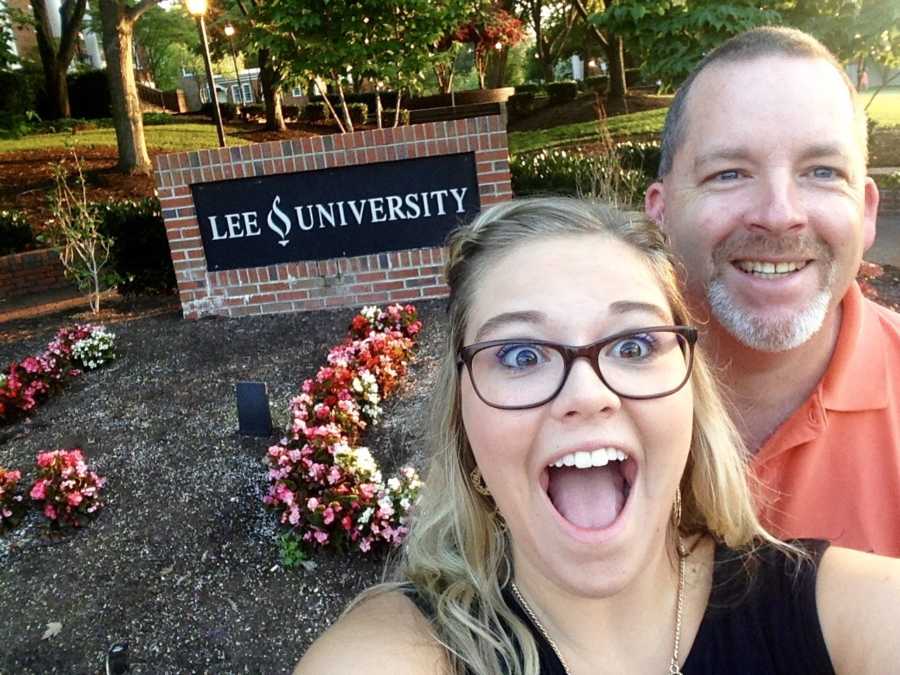 Freshman year was a dream – late nights, early mornings, crazy memories. Easter break I came home to see you, I told you I was going to church and if you wanted to hang out with me to come as well. You and mom both looked so nice, I remember you opening her door. It's the little things. You always had a knack for the little things. Like the time I was passing through and we grabbed Zaxby's. I couldn't decide if I wanted fries or cheese bites, so you simply ordered both. You said life was to be enjoyed. Or when I would come home and you would ask about the things I had previously told you about. You even learned my new friend's names. Daddy, you made people feel loved, you made them feel like they mattered. I would have never imagined that this was the last time I would see you. I'm so glad I took that photo with you. We were all hungry after church and ready to change, but I am so glad you agreed to take the photo. I even took one of you by yourself. It became your obituary photo.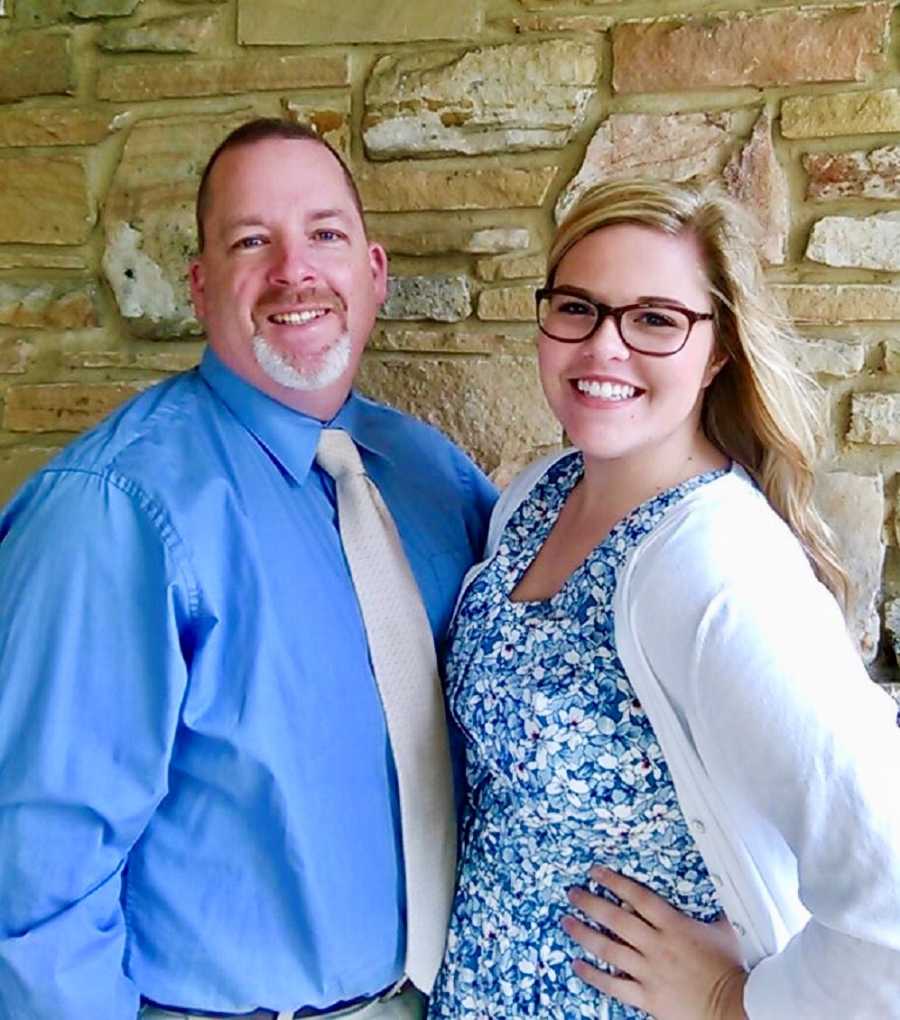 April 23rd you called me to ask about a project, and prior to the call, you texted as well. You promised to come to see me Monday and help me move out of the dorm. We were going to have a 'daddy-daughter date,' but 40 minutes later, I got the call I never expected.
I had made several comments about coming home to see you. You had been away in Florida taking care of your parents, I was missing you. But, my boyfriend at the time explained that there was no sense in going home because we started exams next week and then could be out for the summer. Instead, I met up with one of my friend, Sarah Beth. We were going to get ice cream and stay at her house. I had just bought my ice cream, it was $7.67. It's funny how your mind will remember details like this. Sarah Beth and I had started talking and in order to stay in tune with the conversation, I always turn my phone screen down when meeting with someone. About five minutes into this conversation, I had this overwhelming sensation to turn my phone over. That's when I saw 37 missed calls and dozens of text messages from family members and friends. Daddy, you never crossed my mind. Actually, my first thought was something had happened to one of my grandparents.
I called my best friend back, because her message said, 'Call me ASAP it's important.' When I did she said, 'Your family has called me and something is wrong, they need to talk to you.' I asked her what had happened and she said, 'I don't know. They wouldn't tell me.' I told Sarah Beth I needed to take a phone call, and explained something was wrong. By this point, I was still calm but knew something wasn't right.
I called the first number that was in my recent calls. It was my grandmother. When she answered, she was hysterical. She said, 'Katie, Charlie has shot himself, baby, he is gone.' I could hear my brother in the background crying. They say that when you hear news like this, the world stops. I can confirm that it does, and for a moment your body dies. I told my grandmother, 'Okay, I am on my way home.' I got up from the table, grabbed my ice cream and threw it in the trash can. As I was walking out of the store, I simply said, 'My dad has died, I need to get home.' Sarah Beth offered to drive me to campus and I told her no, I just needed to get home. It's funny how God puts the best people in your life for moments like those. Sarah Beth walked with me in those first few moments of grief. She got into my car, and as I drove back to campus she spoke words of life to me as she prayed over me.
I called my best friend and another guy friend and told them what happened – to meet me at my dorm. When I stepped out at the dorm, I lost my mind. I couldn't hold myself together anymore. I lost my best friend and father. Christian, who was like a second daughter to you and my best friend, drove me home. I didn't want to see anything at the house, so I went to granny's. That night, I woke up and went to the living room, I couldn't breathe I was crying so hard. I was physically hurting. I couldn't imagine you hurting so bad and I didn't know. Conversations played back in my mind. On Easter break, you made a comment that you were having dreams about heaven, and they were so real that you didn't want to wake up. I missed the sign, Daddy. I am sorry.
I drove back to campus the next day. I didn't know what to do. All I knew was that campus was somewhere special to both of us. It was somewhere that only you and I had experienced. I will forever be thankful for the way Lee University loved me and carried me through that time.
The funeral was held on exam week and as I walked into the funeral home, I saw professors, deans, and presidents from school. I was surrounded by a friend group that carried me when I couldn't walk. When I asked the hard questions, they held me. When I asked who would walk me down the aisle one day, they held me. When I asked 'why?,' they held me.
We buried you in that blue shirt, the same one you wore on Easter.
I never got that 'daddy-daughter date' with you on Monday. Instead, I met with my biological father. Why? I realized that life is short and forgiveness matters. I knew when you passed away that there was nothing between us that I regretted, but I couldn't say the same for my biological father. We made things right and now have a healthy relationship. I know you always wanted that for me. God knew what he was doing when he gave me two fathers. In certain moments I can still feel you, I know that in some way you're still here with me. I have decided that I am going to spend my life to the fullest for the moments you lost.
You've been gone for three years and I miss you every day. I've graduated from my dream school and I felt you as I walked across that stage. I'm headed to China for a year and I know you'd be proud. I can still hear you say, 'I love you kiddo,' and I love you too!"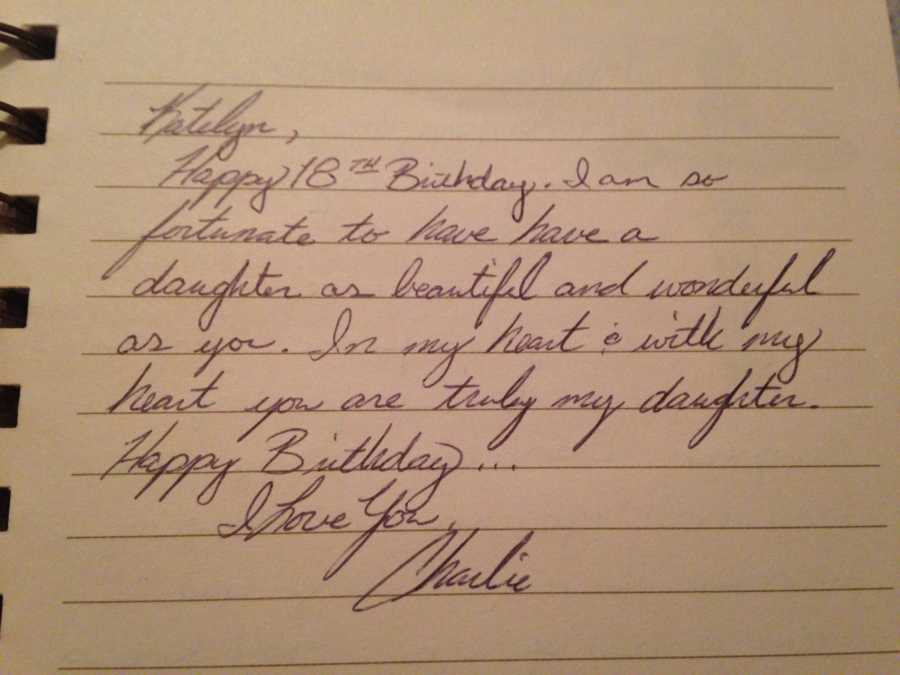 [If you're thinking about hurting yourself, please call the National Suicide Prevention Lifeline at 1-800-273-8255 or visit suicidepreventionhotline.org to live chat with someone. Help is out there. You are not alone.]
This story was submitted to Love What Matters by Katelyn Clark. Do you have a similar experience? We'd like to hear your important journey. Submit your own story here, and be sure to subscribe to our free email newsletter for our best stories.
Read more stories of families grappling with grief and loss:
'I begged for you to stay the night, but you said you had to go. I gave you a big hug, not knowing it would be the last. You told me you would see me soon. I believed you.'
SHARE this story on Facebook to encourage others to cherish every moment, and love what matters most.