Warning: This story contains mentions of eating disorders which maybe disturbing to some. 
"This is the story of my journey. One born from an intense hatred of my body that has now transformed into a mission which involves helping people discover peace in their body through finding the fun in their fitness.
During my childhood, I was always the one who was bullied for my weight. Forever the big kid in class, I spent a lot of days playing in the backyard by myself because I did not have many friends. I can clearly remember getting made fun of by kids in my school and even the friends of my siblings. I did not have anyone to turn to for comfort, but there was always one thing that helped me feel better about the situation I was in.
That thing was food. It was my escape. It was a way for me to feel good when the world would continuously remind me just how unlovable I am. When I became a senior in high school, I saw a fitness magazine in the bookstore promoting a weight loss challenge in which the winner would win 50,000 dollars. This was the day I finally decided to sign up for a gym and start my weight loss journey. I wanted to lose weight because I was tired of being bullied. I was tired of not feeling good enough. In the back of my mind, I felt like all my problems would be solved once I lost weight and became skinny. Little did I know my world was about to be taken through one crazy ride in the fitness industry.
Working with my first personal trainer, I learned what a cheat day was. It seemed like such a great idea at the time. Eat strictly clean for 6 days and on the 7th day, you can have whatever you want in whatever amount you desire. I still remember buying my first big block of fudge (something I never bought before in my life) and eating it throughout my shift at work. Since being introduced to the infamous cheat day, my relationship with food became even more disordered and this was the catalyst for me developing an eating disorder, which we will talk about later.
While my initial reasons for going to the gym were not very positive, I really began to enjoy exercise and fitness. So much so I decided to start my own career as a fitness instructor by getting certified to teach spin classes. I loved teaching spin, and every class I taught was always filled with fun and sweat. This was the beginning of my life in the fitness industry. From this point on, I went deeper down the rabbit hole and have been all over the map. From teaching group fitness classes at different gyms to training kids at wellness camps all over the country, and eventually owning a gym of my own for seven years, I can honestly say I have done it all in the fitness world.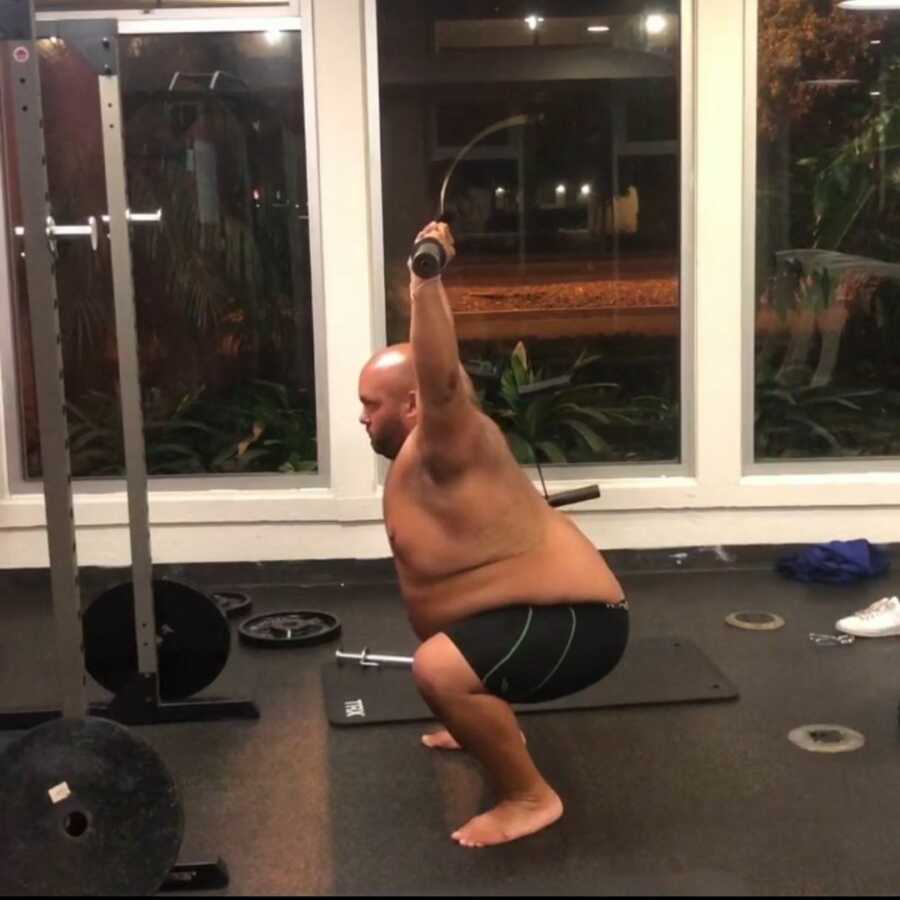 While I was focused on a career in fitness, I still had a lot of insecurities about myself. Throughout this whole adventure, my mind still was focused on being smaller to finally have the perfect body because I did not feel worthy of love or connection unless I was skinny. And in the past 20 years since being on this ride, my body has been through a rollercoaster of changes. From weighing as much as 405 to as light as 219, I lived in this all-or-nothing mindset with my health and fitness. Either it was doing all the fitness and eating strictly, or binge eating and not working out at all. This cultivated my food relationship from disordered eating, to full-blown binge eating disorder.
It was so wild because up until college, I never knew what it was like to lose weight, gain it all back, and wanting to be back to the weight I was at in high school. But after going through this experience, I felt like I was chasing this feeling of euphoria from when I was skinny. When I was skinny, people acknowledged me, I got more attention from the opposite sex, and I felt good about myself. But whenever life got in my way and I went through feelings of rejection by someone or something, I immediately retreated back to food, this time in greater quantities than before.
Now when I eat food, it has gotten out of control. I remember buying so much food that when I would rush to eat it, my belly would hurt, thus forcing me to go to the toilet and purge. The food was there to numb me, but the repercussions I would go through for binging never felt as good as it did when I took that first bite.
While I still was struggling with my own body image and food, I was also running a gym. What started off from humble beginnings in my garage became so busy we eventually moved into a big warehouse space. At the time, we were a Crossfit affiliate and called ourselves 'Crossfit House of Pain.' Back then, my thought process was: If you know pain, you'll know gains. However, within 6 months of moving into the new space, something unfortunate happened. Long story short, I had a falling out with my friend who I also hired as a coach at my gym, and with that, a whole bunch of people left. I was going through a very difficult time after what I called 'the exodus,' where I once again was numbing myself with food while trying to keep the gym afloat. One day I sat with my thoughts and asked, 'What do I really want with this gym?'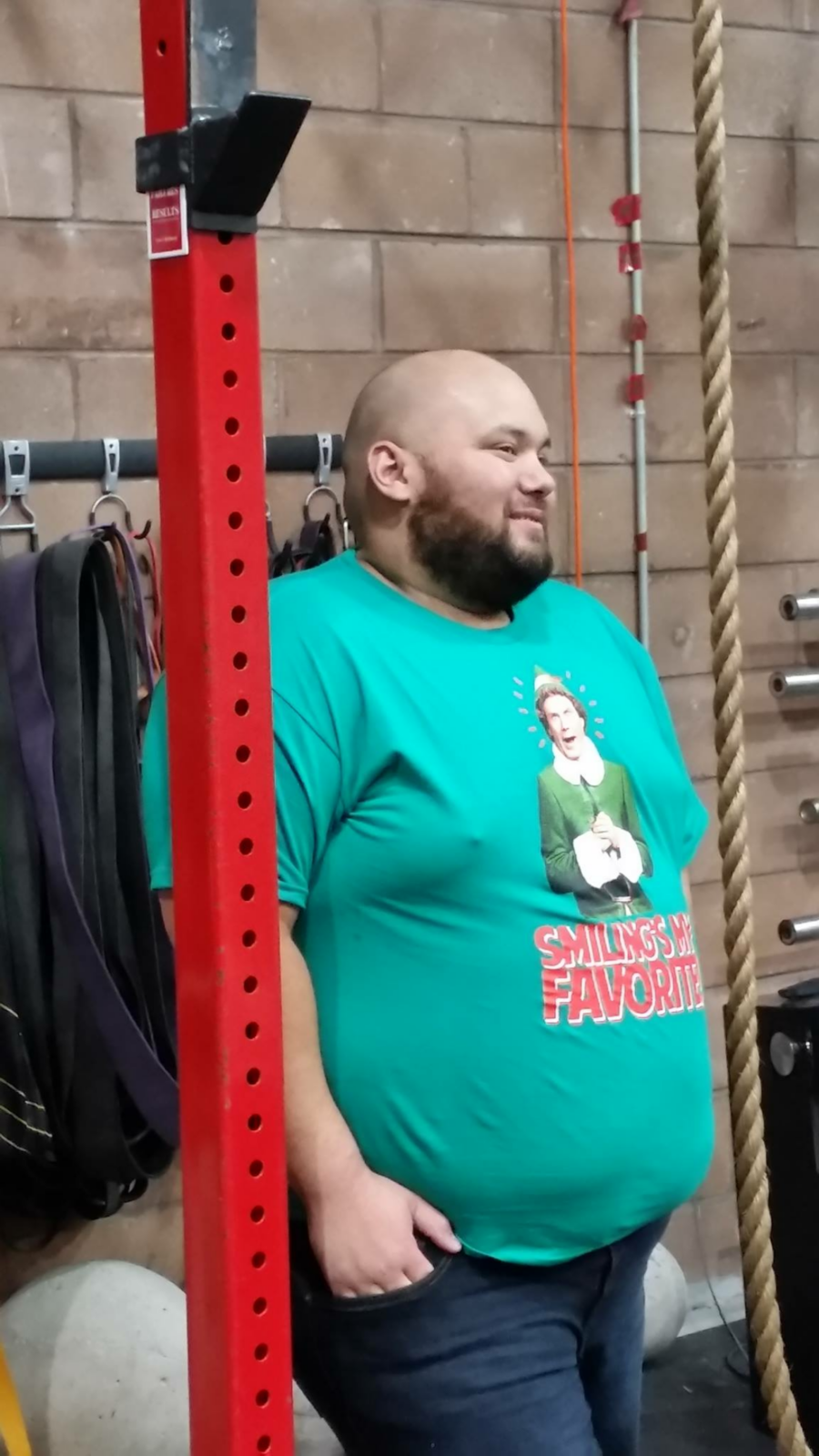 Did I really want to continue running a Crossfit gym focusing on pain? Not really. At the end of the day, I realized what I really wanted which was to make people happy. So I got rid of my Crossfit affiliation and rebranded the gym as The Happiest Gym On Earth. And for the remainder of my time there, we really embodied the name of the gym. I was still going through my own personal stuff, and I was still focused on a weight loss approach to helping others, but I was on the right path towards how I wanted folks to feel.
I closed down my gym in 2018 because being a one-man operation was very difficult. While the gym was doing great, it was hard to do everything by myself, especially with the business side of the gym. This further fueled my binge eating tendencies. I couldn't even begin to tell how much running a gym by myself took a toll on my emotional health. So I closed up the gym and decided to focus on myself for the first time in a long while. It was tough letting go of something I truly loved, but I knew I needed to work on myself first because I was still struggling with my own eating disorder and body image.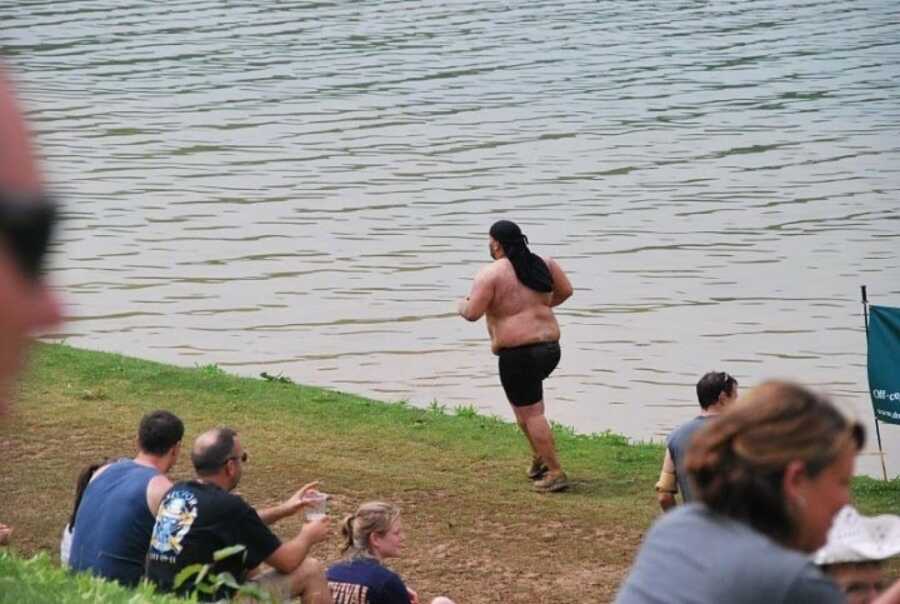 So, I worked at other gyms and even ups for a while. Still in mourning after closing down the happiest gym on earth. There was a point in December 2018 when I felt at my absolute lowest after being let go at a gym for no reason. But then, that's when I realized something: I have a lot of college credits and am not far away from getting an associate's degree.
So I decided, after not being in school for 6 years, to go back to community college and finish what I started. I achieved something I never thought possible: earning an associate's degree in exercise science. From this, it led to something even bigger: Attending the dream college I've always wanted to go-to since high school. And now that I'm here, I'm pursuing my bachelor's in Physical education to one day become a PE teacher. It's funny how the one subject I was afraid of the most growing up is turning out to be the profession I am choosing to go into. I know why: I want to create a culture in school where everyone feels included. And where everyone can enjoy fitness, no matter the body they are in.
For the past 4 years, I have done a lot of work on my own mental health. Because even during my time running the gym, I still suffered from body image issues and my own eating disorder. That's how I created the Team Wagon Instagram page. I initially used it as a weight loss journal for myself so I could connect with other people going through the same thing. But a few months into using Instagram, I started going back into toxic habits. But, thankfully for social media, I was able to discover the body positive movement and learn more about how to love myself at whatever size I'm at. So my Instagram page slowly transformed from a weight-loss tool to an outlet for discovering self-love. By connecting with other people in this world, I've been able to learn a ton about myself and let go of some of that body hatred that I have for myself.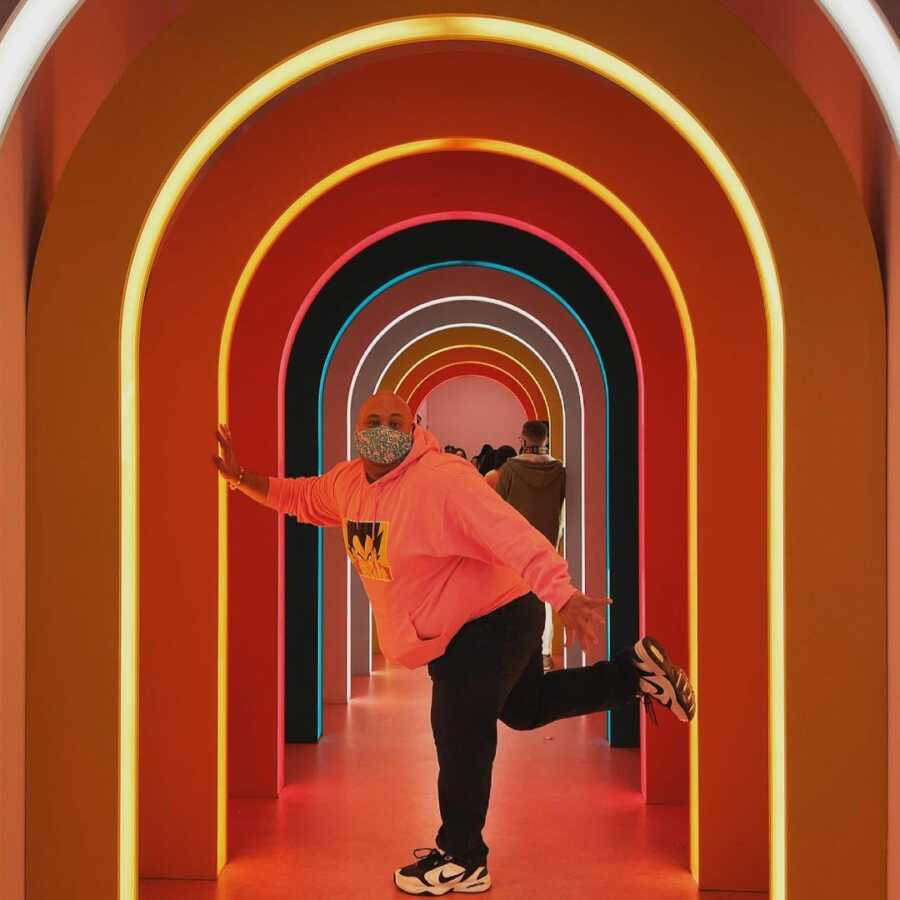 And while I was improving my relationship with food and myself, I found my way back to training kids at wellness camps. That's when everything began to click for me. By working with all these wonderful campers, I discovered what truly matters to me: Finding the fun in my fitness and the joy in my life. Working at wellness camps is what sparked my love for group fitness and working with kids. I know what it is like growing up not feeling good enough. And I want to be able to help kids find their own strength and develop a healthy relationship with their own bodies and fitness.
As I look back on my life, I'm pretty amazed at how far I have come in my own journey of self-love. I used to be someone who absolutely hated myself for being fat. I thought my life was worthless unless I was a certain size. So I just let life pass me by. But now, I realize being in the body I am in is what makes me amazing. I don't need to fit into anyone's standard of how I should look. Because I am pretty amazing as I am right now.
I also learned exercise does not have to be something I suffer through. I don't need to treat my fitness like an endless training montage that oozes blood sweat and respect. I can work out because it brings joy and happiness into my life. I can also use fitness as a way to connect with folks from all over the world. This is why I try to meet as many people from Instagram in the real world for fitness parties. It brings us closer together and we can connect through movement. As they say, 'motion creates emotion.'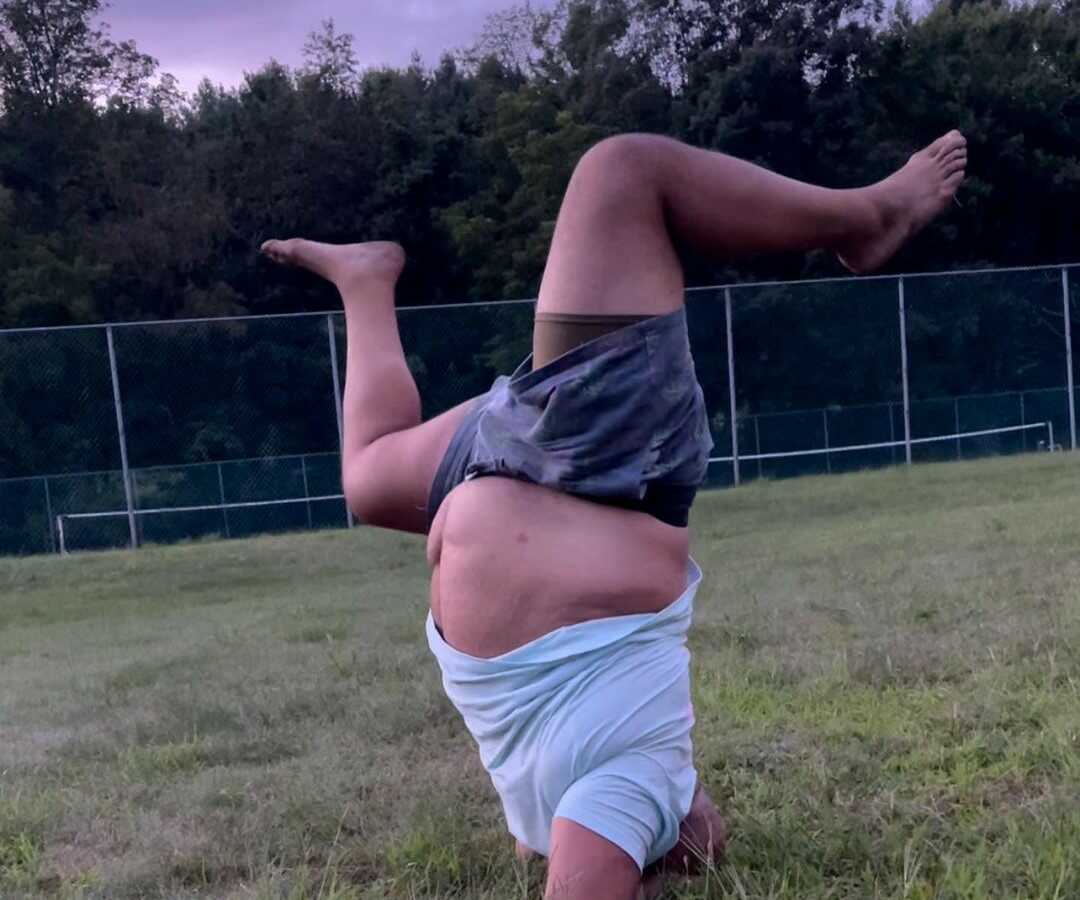 I'm so glad for everything that has happened in my life. From the bullying to the unfortunate closing of the happiest gym on earth. I now feel blessed I get to share the gift of exercise wherever I go. I consider myself the Mary Poppins of fitness, where I get to travel around the country and spread the wagon magic. Because more people need to have more fun in their fitness. I'm here to facilitate that feeling in their lives.
You may wonder why I call myself coach Wagon. Well, let me tell you one final story. I was training for this event called the go ruck with my friends. Long story short, it's a 12-HOUR EVENT where you wear a 40-pound rucksack and play army with your team. We would do physical training in the sand, carry telephone poles – basically, we were being put through the wringer in order to test our mental toughness. I was the biggest one in my group, and no matter how hard it got, I continued moving without any complaints. All of a sudden, my friend started calling me wagon throughout the GORUCK, and I didn't fully understand why until reflecting on the experience afterward. I realized the reason why is because I was carrying super heavy loads. And while I was moving slowly, I continued moving forward, much like a wagon.
That has stuck with me ever since. And it's a testament to who I truly am. No matter what we go through in life, no matter how heavy our burdens maybe, we can continue to move forward towards who we really are. Nothing can stop us from living our dreams. And in my case, I am the closest I have ever been to where I want to go in life. With this being said, I know the happiest gym on earth will come back someday. I can feel it in my gut. I know I have people I have yet to meet on my journey who can help bring this glorious gym back. Because the world needs happiness in their fitness, now more than ever."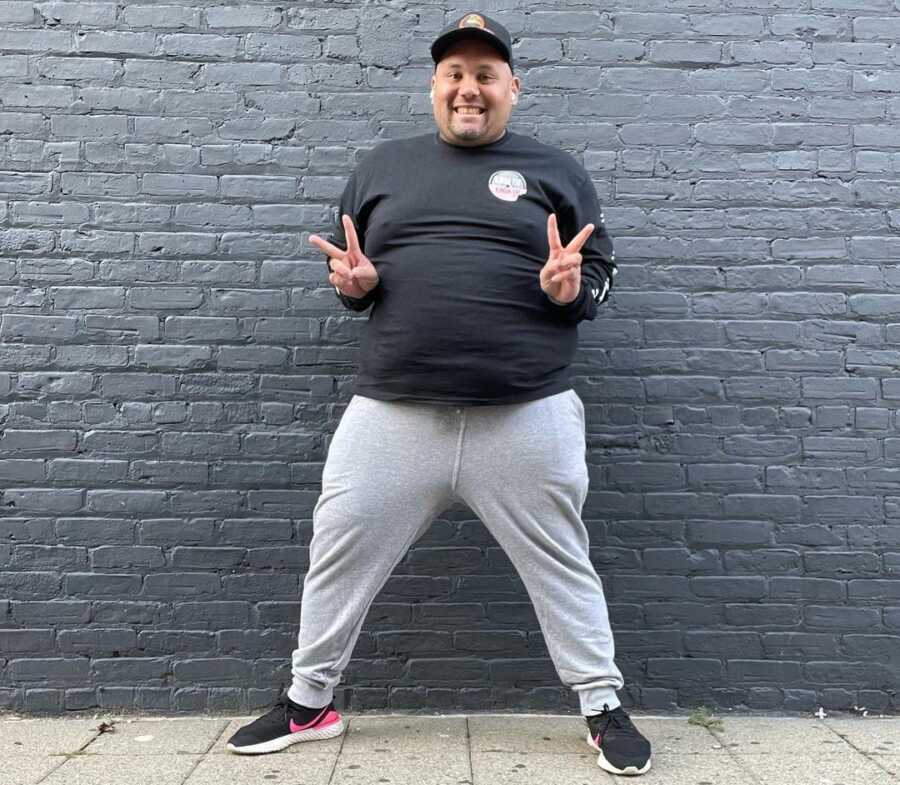 This story was submitted to Love What Matters by Charles Abouzied from Belleville, New Jersey. Follow his journey on Instagram. Submit your own story here and be sure to subscribe to our free email newsletter for our best stories, and YouTube for our best videos.
Read more stories like this here: 
'I began ripping my clothes off. I stayed home. I could have been at the party I'd looked forward to for weeks, but instead, I chose my couch.': Woman finds self-acceptance after 'years of hating my body'
'I looked and felt like Wonder Woman. Then, I had two children.': Former Olympian recounts journey with postpartum depression, body positivity
'YUK.' You had some rolls on your back showing and your double chin was showing. That's problematic.': Woman reminds us, 'Beauty has nothing to do with what's on the outside'
We Aren't 'Celebrating Obesity' — The Truth Behind Body Positivity
Give other women strength and courage to love themselves. SHARE this story on Facebook.