"This sweet baby did not know love, could not conceive of it.
He was deemed 'unadoptable' and sentenced to death at a kill shelter in Texas. Was about to be euthanized. A rescue group came in and saved him along with his two pups.
We agreed to adopt him before even meeting him.
We tried to prepare, but we were still shocked when we met for the first time.
I have never seen a more skittish, petrified dog.
He wouldn't let us near him. Wouldn't make eye contact. His tail was firmly glued under his body.
We found out he had never walked on leash before. Never climbed stairs. Never slept by a human.
So many nevers.
We made it official, but on the long drive home, we doubted our ability to rehabilitate this dog. We wondered if we had bit off more than we could chew.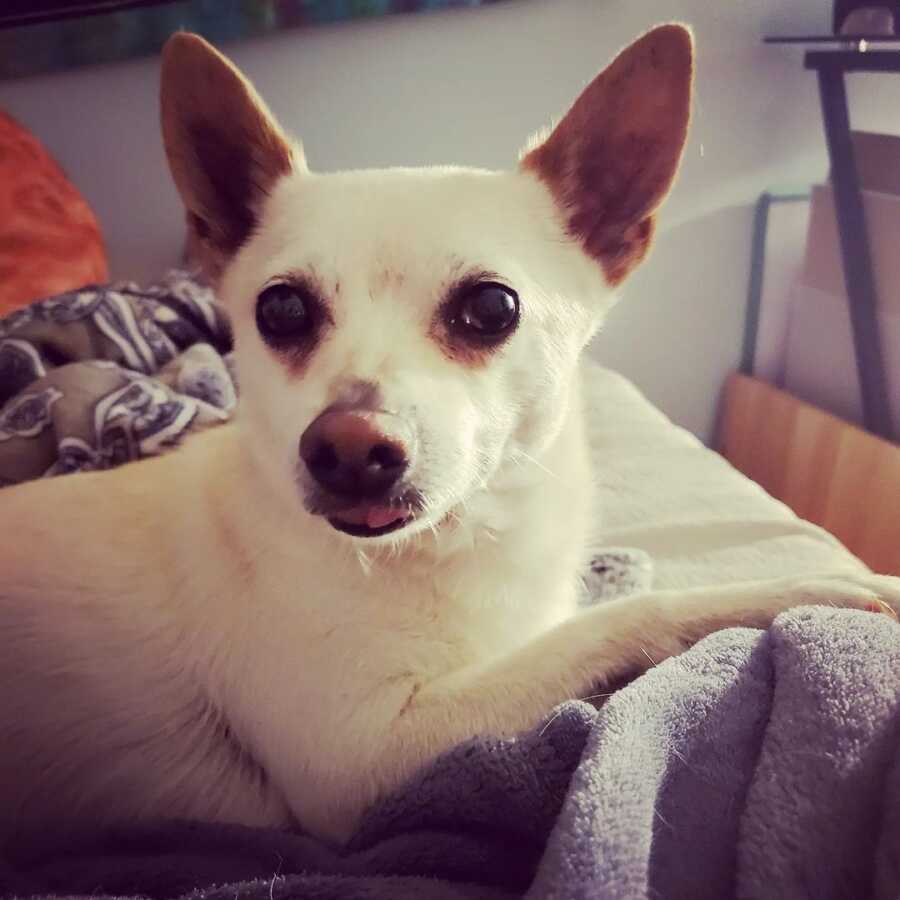 The first day home was heartbreaking. He was so scared he wouldn't go to the bathroom. He jumped our retaining wall, and there was ten terrifying minutes we couldn't find him. He reluctantly let our 16-year-old daughter pick him up, but acted like he might bite the rest of us if we got too close. In the house, he hid in corners and his kennel. He refused to eat or drink.
Many tearful text messages were sent back and forth to the rescue organization. We were at a loss.
This dog was SO different than our other two rescues.
Two days later, we introduced him to our dogs, somewhat confident it would go okay since they had acclimated to each other's smells in the house.
It was beautiful.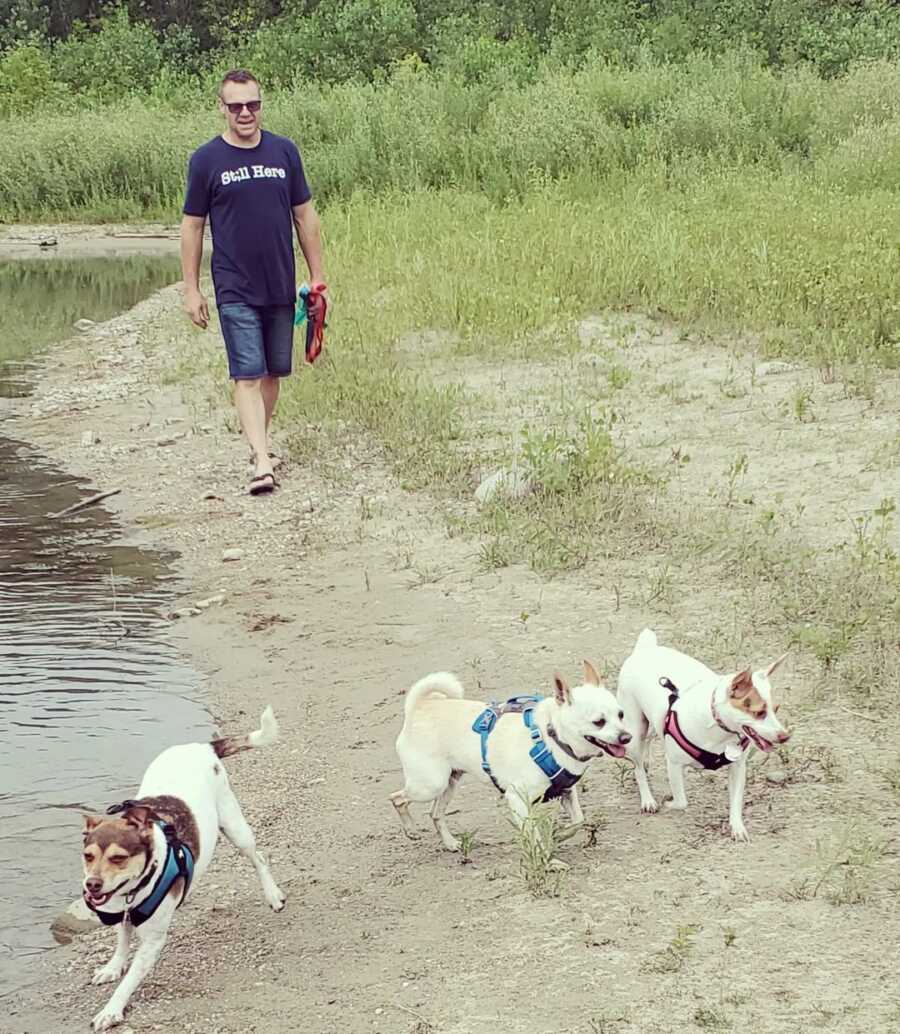 I am firmly convinced the best way to rehabilitate a dog is to use another dog. They are incredible teachers.
Soon he was playing a bit, making a little eye contact with us, allowing his head to be scratched, and behaving more like a dog.
My daughter, who was his first and best friend, his dog mama, his comfort, named him 'Kai,' which means 'rejoice.'
Quite a fitting name for such a dramatic and miraculous redemption story.
One week in, he is finding his way in our pack, sleeps in bed with my daughter, loves naps and treats and being outside.
He is ours. He is loved.
Kai is home."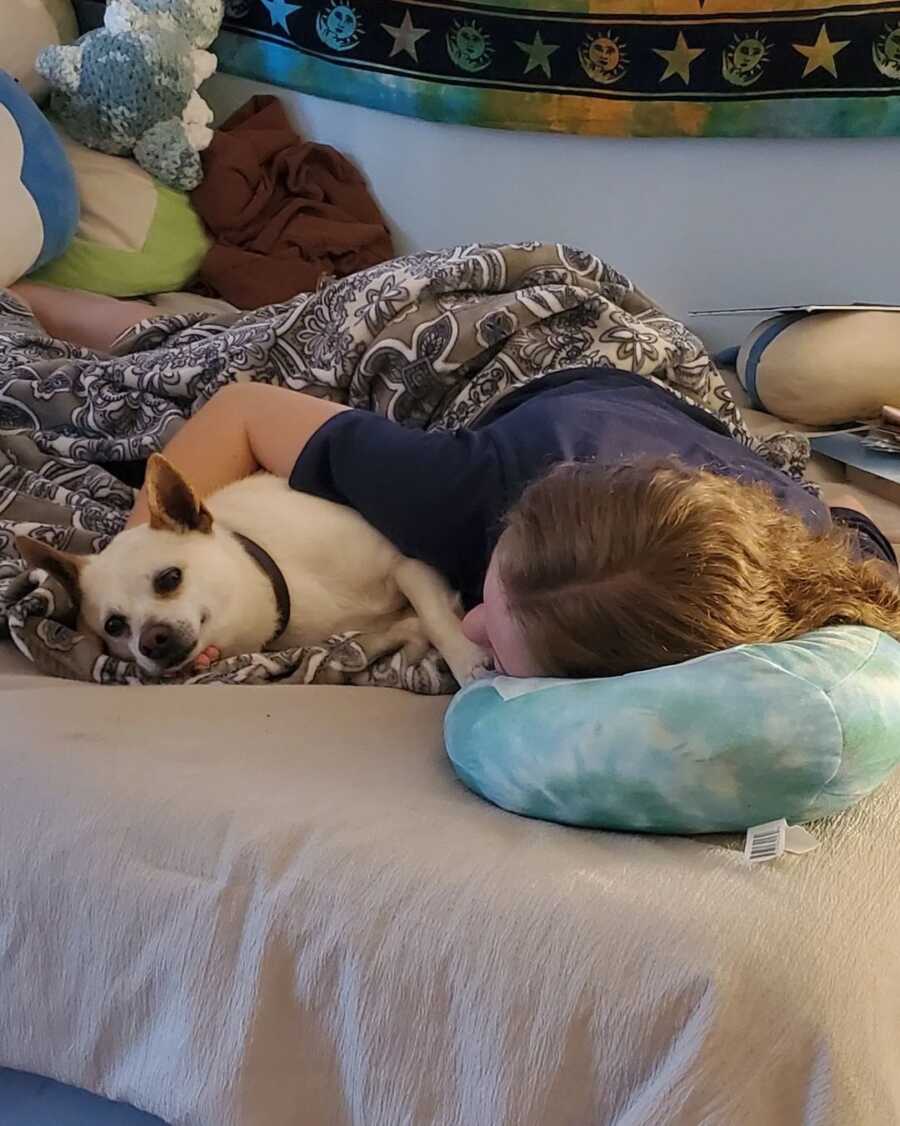 This story was submitted to Love What Matters by Melissa Neeb from Never Empty Nest and Faith In The Mess. You can follow her journey on Instagram and Facebook. Be sure to subscribe to our free email newsletter for our best stories.
Read more heartwarming animal stories:
Marine Turned Adoption Coordinator's Videos Of Shelter Animals Being Adopted Will Melt Your Heart
Firefighters Go Above And Beyond To Rescue Deaf Dog Trapped In Storm Drain
Help us show compassion is contagious. SHARE this beautiful story on Facebook with friends and family.