Diagnosis Journey
"All too often the reality of the chronically ill is convincing doctors and everyone around you that you are in fact sick. That was my reality for (what felt like) ages! However, in order to reach the end of said 'ages,' we need to rewind a bit.
My diagnosis story begins in the year 2016. The first symptom that really sticks out was on an airplane ride to Ecuador. I was flying to Ecuador because my dad was really sick and I was told I might never see him again. So, as soon as I was properly vaccinated, my husband and I jumped on the earliest flight possible. Well, it was on that flight that I couldn't bend my knee or keep it straight without horrible arthritic type pain. Eventually we landed and the pain subsided once I was up and walking around.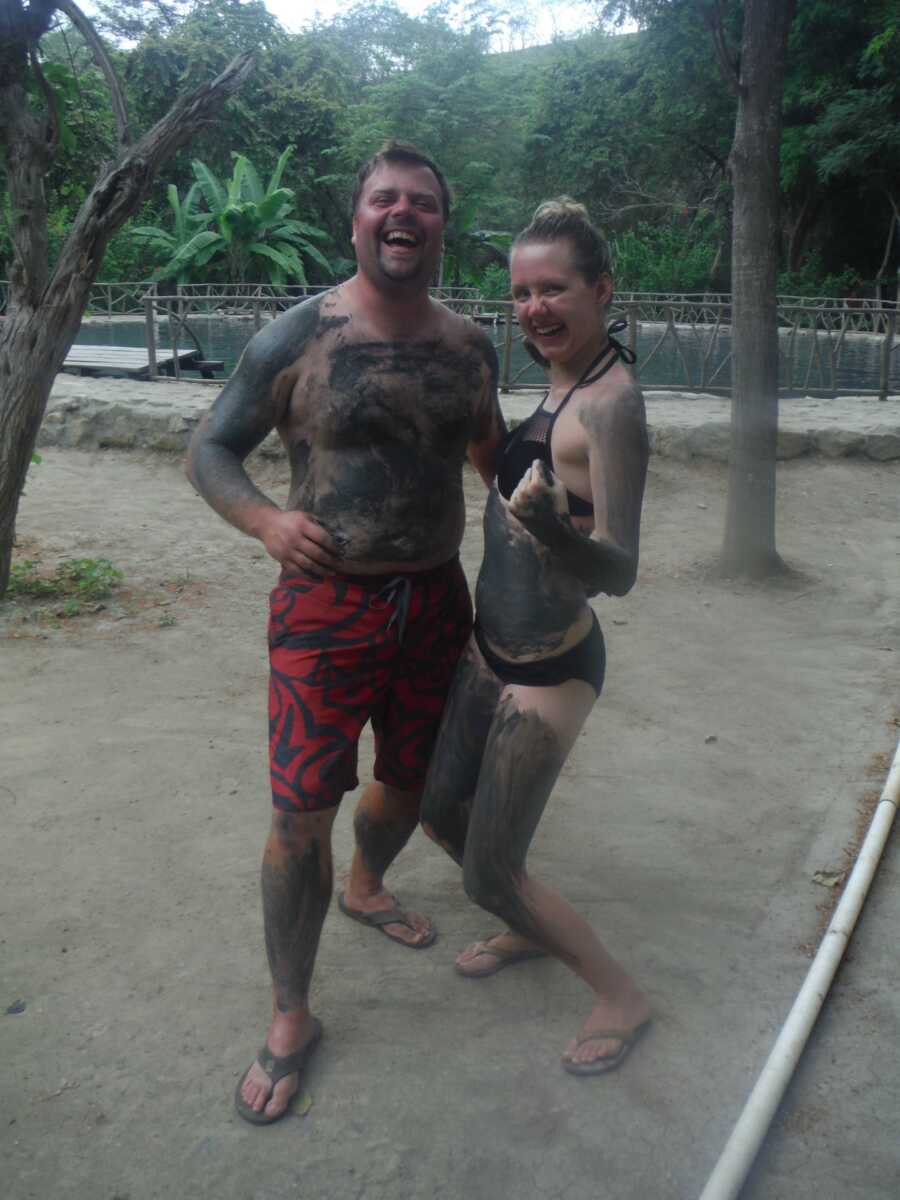 Once we had settled in at my dad and stepmom's place, of course, we wanted to go out and sightsee! Well, that too presented itself as a problem. We decided we were going to take a short hike downhill to this fresh fruit stand called The Mercado and explore the fishing village. If you've never been to Ecuador before, it's close to the equator (hence the name) and it is hot! If you know anything about MS, one symptom is heat intolerance. I remember feeling so nauseous on our hike that I was pale and dizzy. It was horrible and I had no idea what was going on. Despite my issues with the heat, we were able to have a great trip! We went snorkeling and boated out to Isla de la Plata — an island that is notorious for blue-footed boobies (a cool tropical bird). Sadly, I wasn't well enough to make the mile hike to see the birds, but my husband stayed with me onshore and we explored the local shore wildlife; crabs and fish. Not as cool, but still fun.
Once we got back to the States that's when the real fun began! Countless doctors, and new symptoms — don't worry, we're gonna get to all of that. The first thing I did when I got back was talk to my (then) primary care doctor. I explained my symptoms, which by that point had increased. I had tingling, numbness, lightheadedness, nausea, and countless others. Once all my tests came back as 'normal' he asked me, 'Does bipolar run in your family?' and sent me on my merry way with antidepressants. (Now, when I say 'tests' that's just a short way of saying: endoscopy, colonoscopy, blood tests, scans, you name it.)
Psoriatic Arthritis
I was so defeated and felt I needed to swear off doctors altogether. Sadly, swearing off doctors doesn't make symptoms go away. Eventually, I found a new primary care doctor who I felt listened to me. She referred me to a rheumatologist because she suspected lupus — well, it wasn't that. My rheumatologist ordered x-rays and found inflammation and arthritis; finally, something! He diagnosed me with psoriatic arthritis. I don't have psoriasis, but hey, it was an answer, and I was excited to start feeling better with my new diagnosis and prescription.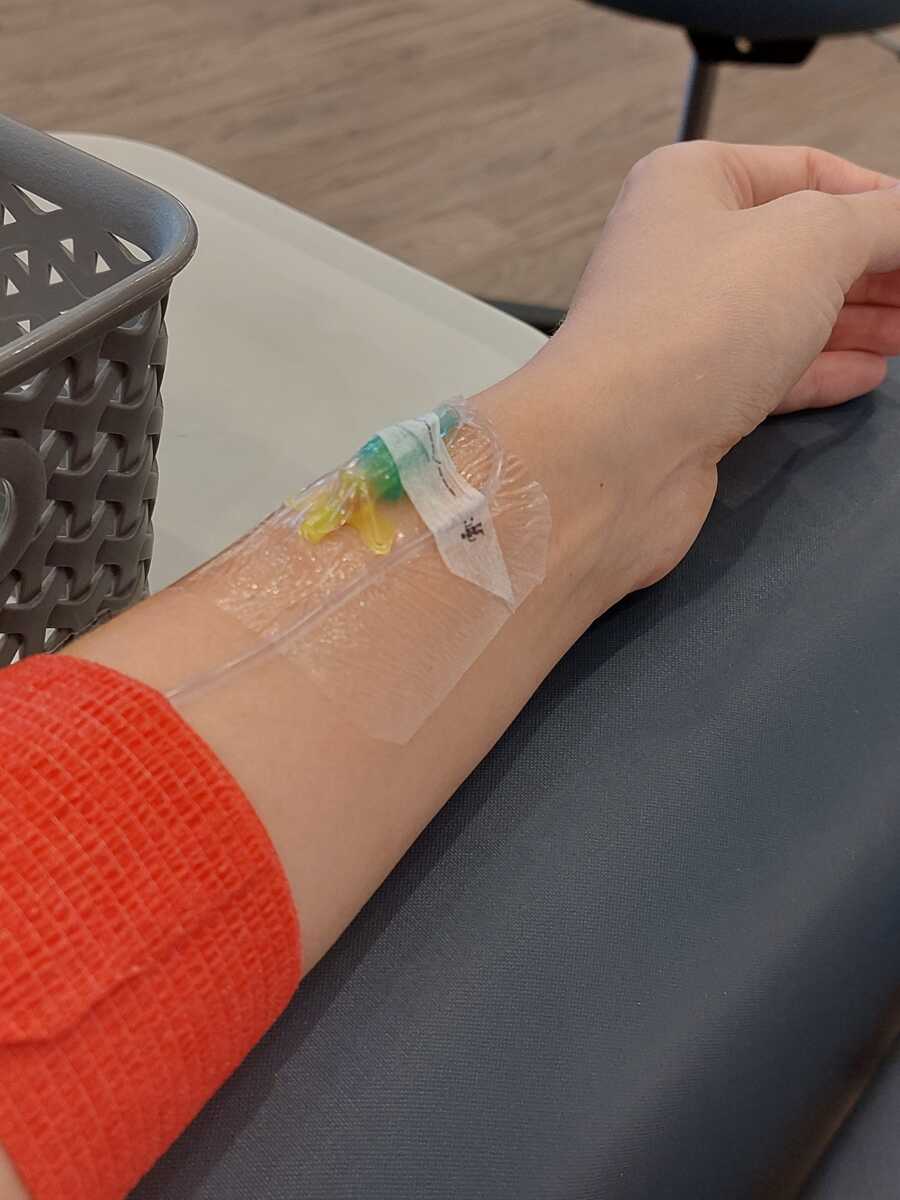 Well, the medicine didn't work, so we decided on a more aggressive form of medication. He put me on Enbrel, a self-injectable biologic. I was on that for quite a few months when I started having a new symptom; my leg was dragging and it was just getting worse. I remember one of my last visits to see my rheumatologist I had to drag my leg through the parking lot, and the heat made me feel like a snowman in July. I had no idea what was going on. All I could do when I was in his office was cry and beg for a hip replacement. I thought for sure that would do the trick!
He heard my new complaint and referred me to have a nerve conduction study. Oh boy, was I sick of specialists! Well, you guessed it, my NCS was normal and I was referred to a pain management doctor for the pain in my hip (more arthritis). This doctor was my saving grace! I'm guessing at this point we've reached the year 2018. This doctor took one look at me, checked some reflexes, and said, 'I'm not concerned about your hip. I'm way more concerned about what is going on with your spine!' He ordered an MRI and set me up with a neurologist.
MS Diagnosis
I again felt like I was back at square one; new specialists, new tests — I was so frustrated!  So, I saw my neurologist and he said he thought I had MS, but we had to await my MRI results. Once he saw my MRI results, he called me (I remember exactly where I was when he called). I had just dropped my daughter off at school and was headed back home. He called me and said, 'I wanted to let you know, I saw your MRI report and you have MS. I'm so sorry.'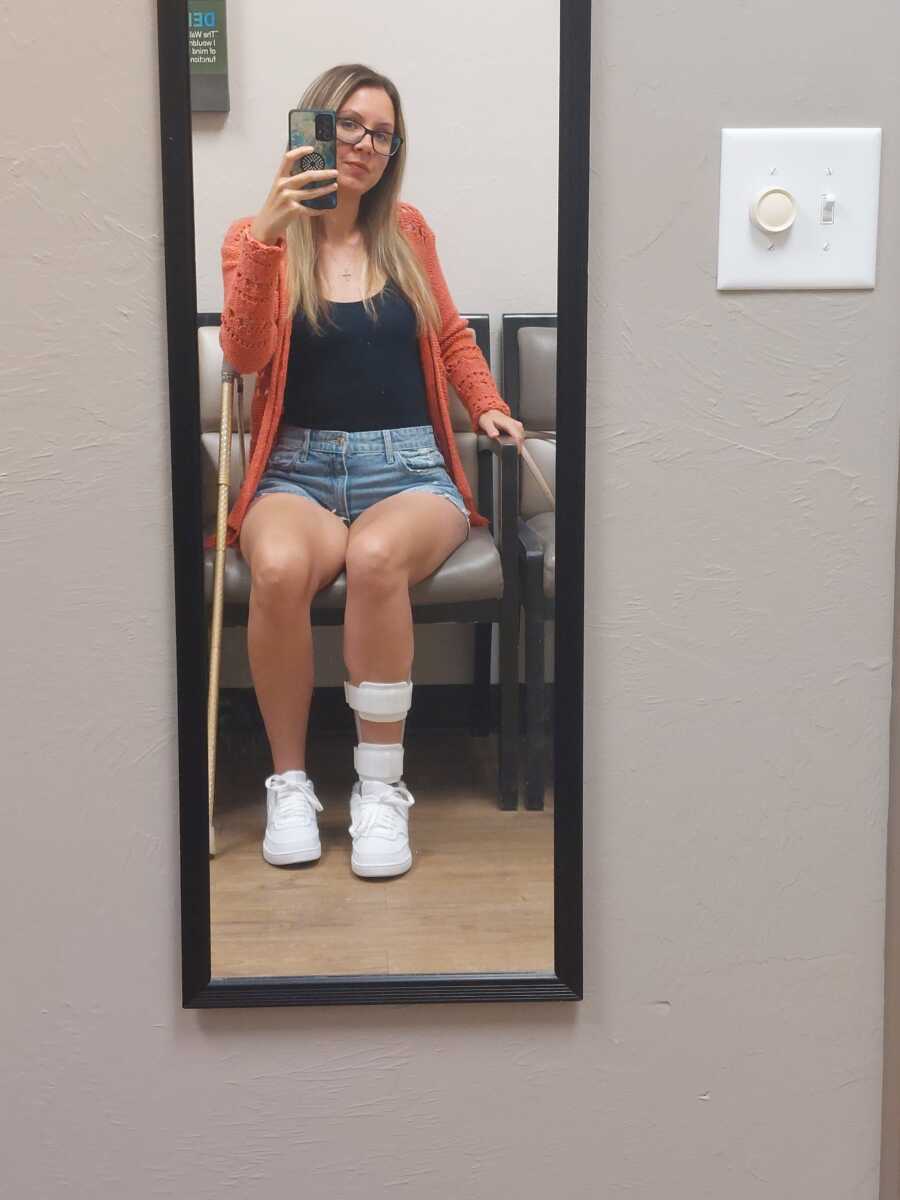 I was completely numb to that conversation. I felt relief to finally have a diagnosis that was confirmed by tests — I hadn't had that kind of clarity before. Well, good news travels fast, because shortly after talking with my neuro, my rheumy contacted me as well. He said, 'I just saw your MRI. Holy crap, you need to stop Enbrel immediately!'
It turns out Enbrel woke up the MS in my body that was lying dormant. My rheumatologist told me, 'I would have eventually gotten MS, but that particular biologic, 'Woke it up!"
Now, this is 2019. I was officially diagnosed with Primary Progressive Multiple Sclerosis in August of 2019. I was immediately put on Ocrevus. I was told it is the only drug out there for my particular form of MS. Of course, I was afraid to start yet another aggressive medication given my experience with the last one.
Life With MS
This story isn't all doom and gloom! I am now on the right course of medication. I've been on Ocrevus since 2019. Even though my baseline now requires me to walk with a cane (or a wheelchair for longer distances) and I drag my foot every time I walk, I feel better! It's impossible to hold a full-time job with my symptoms changing from day to day, so I'm fighting to get disability. But I feel better with an answer, a proper treatment plan, and learning and accepting my new limitations.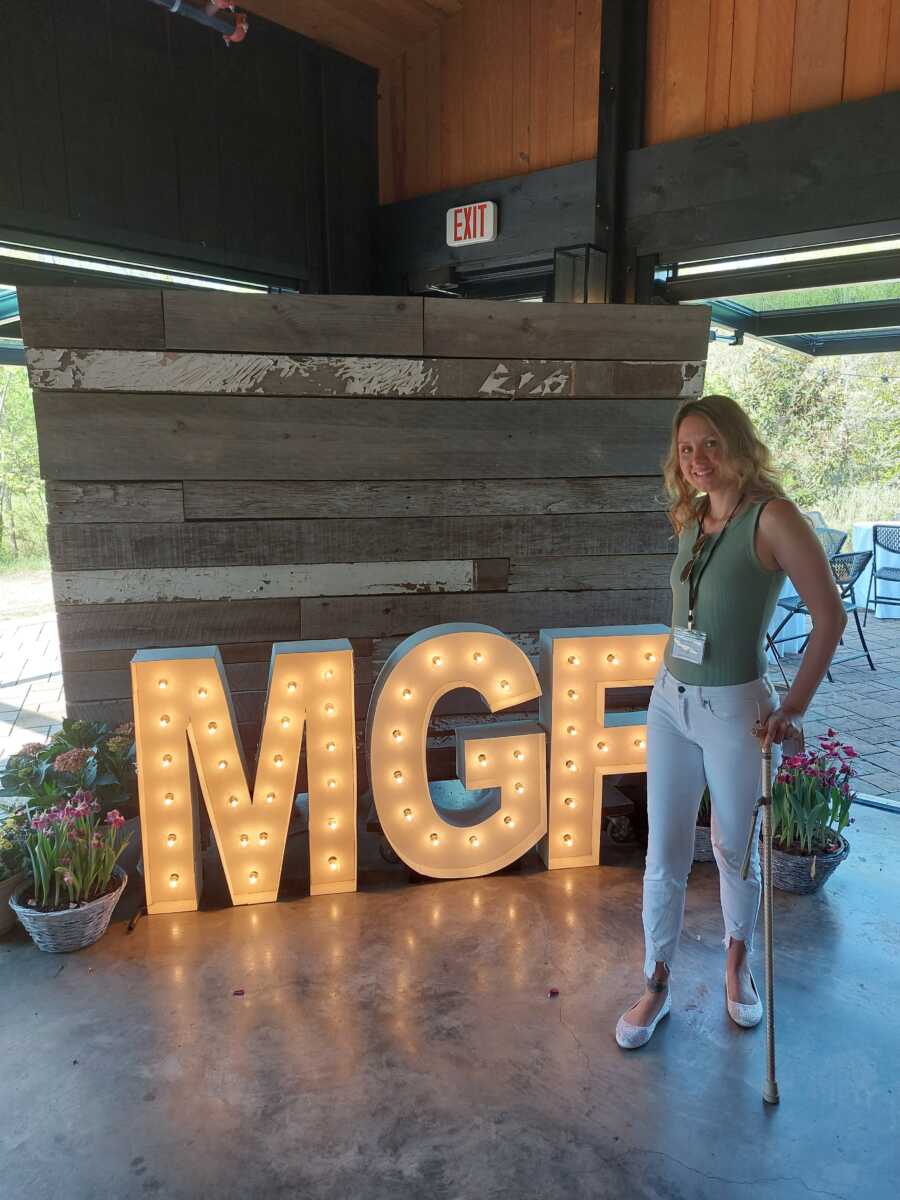 It has taken a long time to get there but, I know to ask for help when I need it, listen to my body when it says to rest, and call ahead and make sure places are handicap friendly (and just because somewhere has an elevator doesn't mean it's handicap friendly!). I was in a Memphis hotel on the 12th floor and the power went out. My husband ended up having to piggyback me down 12 flights of stairs so we could grab dinner. Poor guy, he really is one of the good ones! Another piece of advice: allow yourself time to grieve. A chronic illness diagnosis is absolutely life-changing. I've had plenty of crying in the shower episodes, but when I'm done being sad, I dust myself off and keep moving forward.
From the beginning of my diagnosis story to now, I never thought I'd reach a point where other chronic illness warriors look up to me or reach out to me, but that's where I am. I get messages from others asking for advice or, how I stay so positive. To be honest, I don't have just one answer, but I do know I wouldn't have gotten through any of this without the unconditional love and support from my husband, the rest of my family, and God. They all help me daily and pick me up when I'm feeling down.
If you take away anything from my story, my hope is that you learn to advocate for yourself! If you are seeing a doctor and they don't feel like the right fit for you, please find another one! You don't have a lifetime contract because you stepped into their office. Lastly, you are not alone, even if it feels hopeless. I can assure you, you are not alone; I have been there and you will get through this.
God Bless and stay strong!"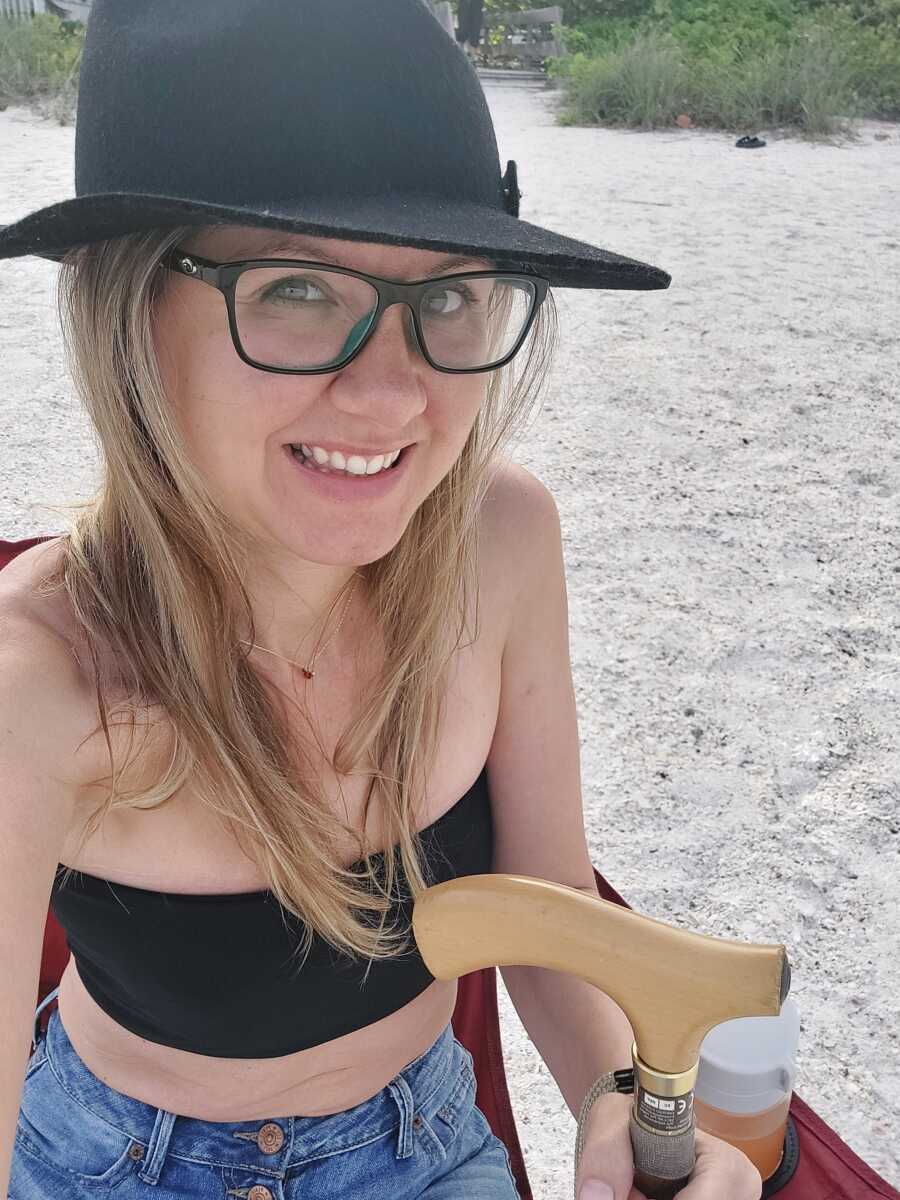 This story was submitted to Love What Matters by Natasha Johnson. You can follow her journey on Instagram. Submit your own story here, and be sure to subscribe to our free email newsletter for our best stories, and YouTube for our best videos.
Read more stories like this:
'Where there is will, there is always a way.': Husband builds rickshaw for wife with multiple sclerosis who lost ability to walk
'I noticed my right arm going numb. After a month, it spread to my whole body.': Multiple Sclerosis warrior wins 2nd place at World's Strongest Disabled Man
'I woke up one day with a burning sensation in my arm. 'You brought this on yourself with stress.' I wasn't convinced.': Woman with Multiple Sclerosis urges 'keep pushing for answers'