In 2018 Nicole Walsh was in a car accident that left her paralyzed from the chest down. As a personal trainer, the change in her body's ability and function was difficult at first. A year after her accident, she decided she couldn't let her passion for fitness die and began working again as a wheelchair user.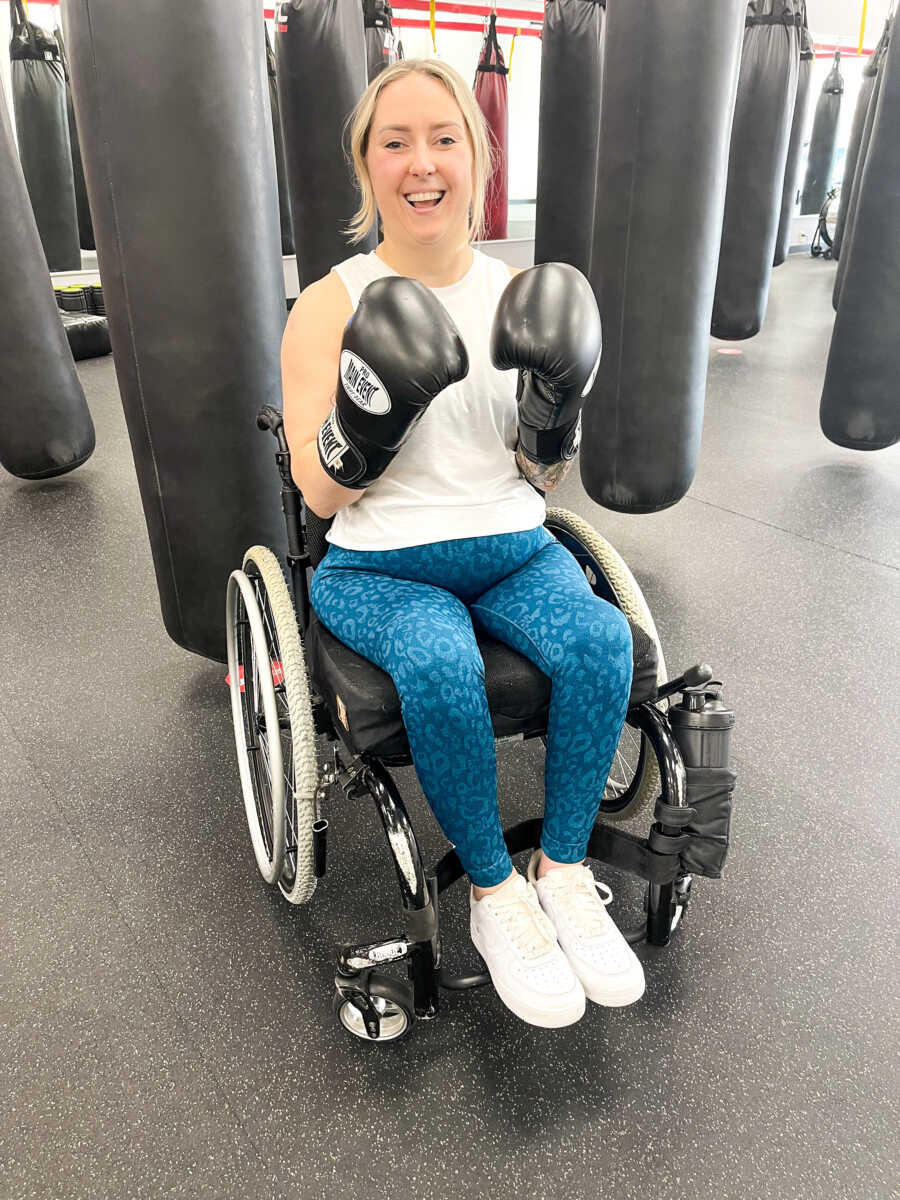 "I have always had a passion for helping people achieve their goals through fitness and nutrition. I saw a huge gap for this in the disability and wheelchair user community, and knew I needed to follow my passion here," Nicole tells Love What Matters. "I got re-certified through NASM, took my previous knowledge as an able-body trainer, and started to learn how to exercise for my new body, and how to adapt workouts for wheelchair users of all levels."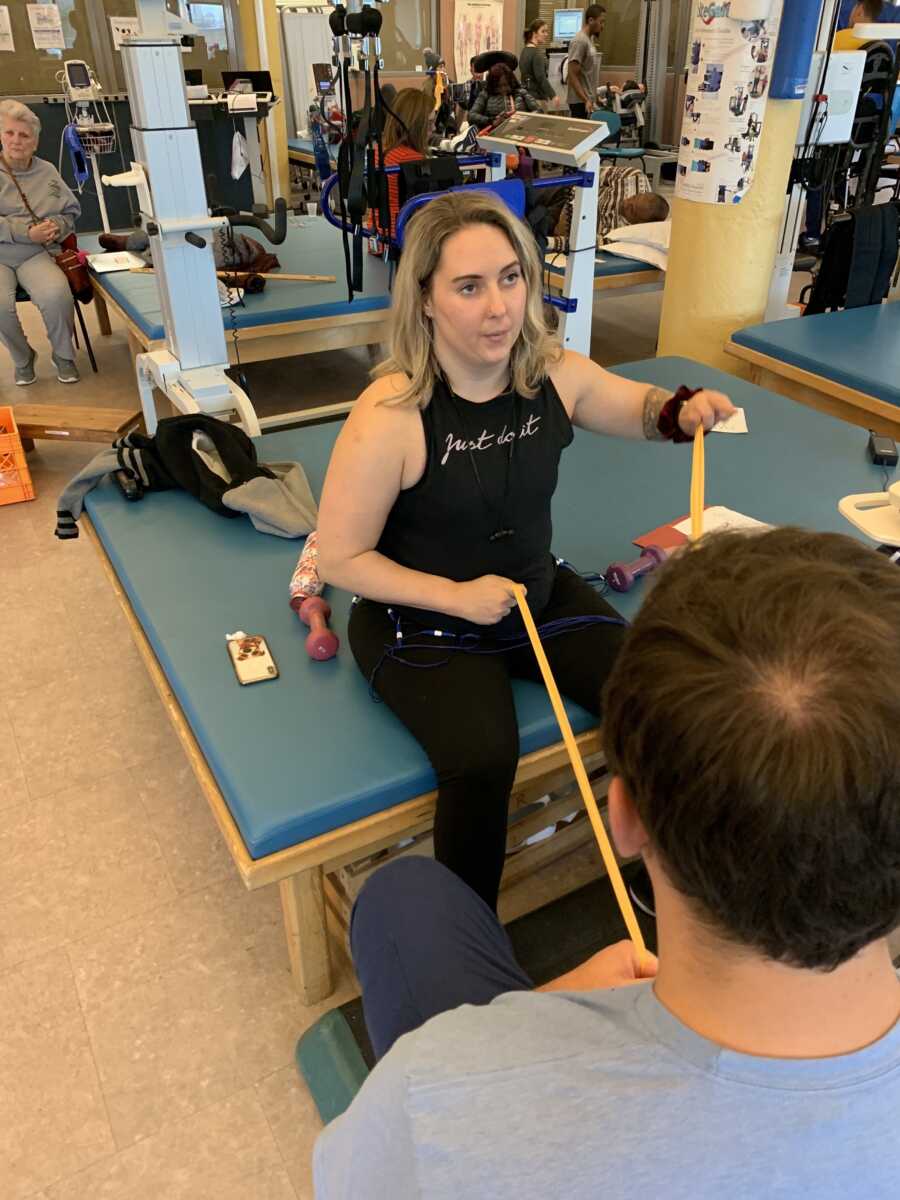 Working in fitness as a wheelchair user puts Nicole in a unique position to help as she understands first hand the experiences of her clients. Her own personal struggle to accept her new body allowed her to break free from the constraints she had put on herself after the accident.
"I did not want to accept that I was a wheelchair user; I hated looking at my wheelchair. This anger motivated me to push through and work towards walking again. I worked very hard in therapy to gain back as much as I could. I wanted to be as strong as possible, so that when my legs started to move, I would have the strength to stand up so that I could walk," Nicole tells Love What Matters.  "In that time, my legs weren't moving, and a switch clicked.  I decided that I needed to start living my life in my body that I was in right now, or else I would stay stuck in this waiting process. I will never say that walking will never be a goal for me, I always pray and hope for leg movement, but I have also accepted my disability, this is my life, and I am going to live it to the best of my ability!"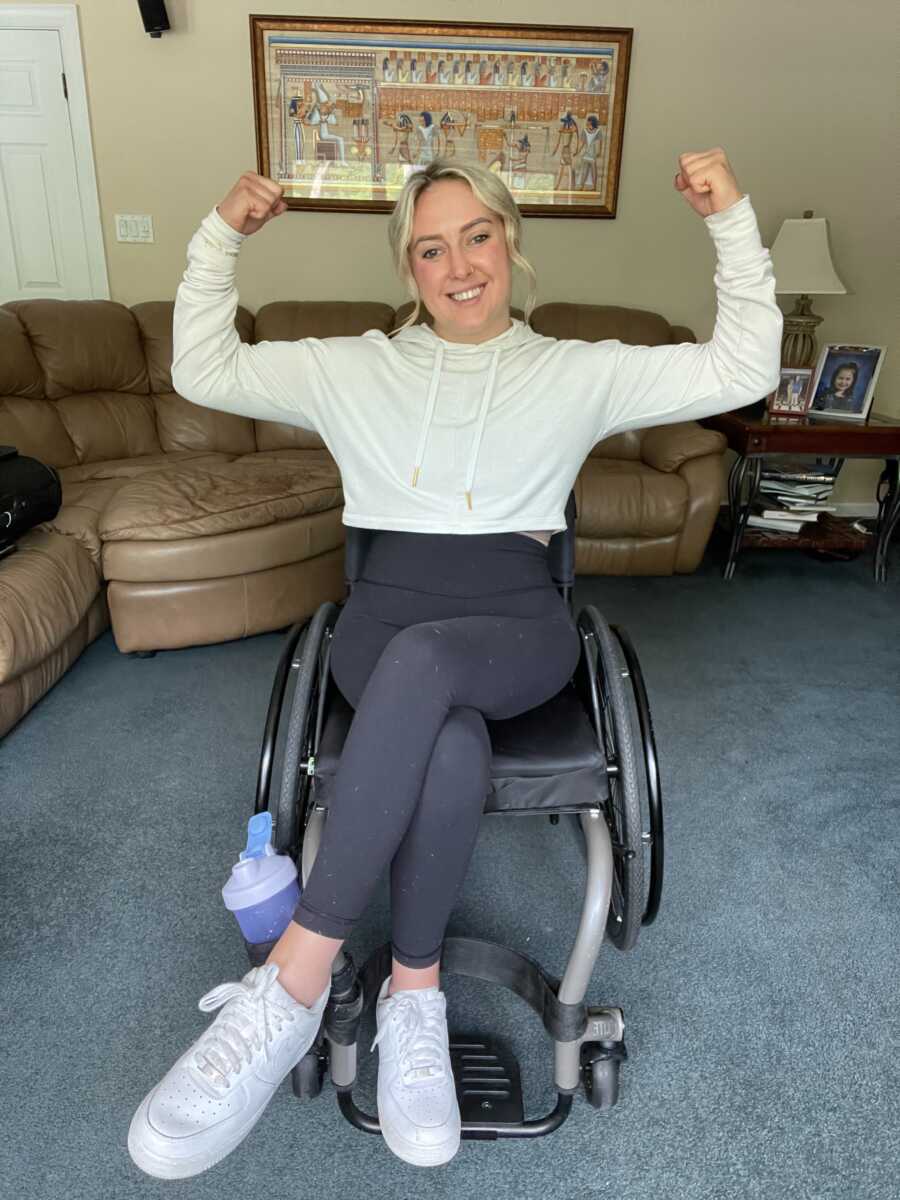 Understanding her own body and story helps her relate to her clients, but she still feels challenged in her work and career. The people she works with each have unique abilities and experiences, so each workout takes a degree of creativity to modify exercises.
"There is no workout textbook that tells you which exercises to do to strengthen your body as a wheelchair user," Nicole says. "I have had to create or adapt different movements, especially for the core or trunk. Many wheelchair users cannot get out of their chairs, transfer to workout benches, or the floor so finding and creating seated exercises to work those muscle groups can be a challenge."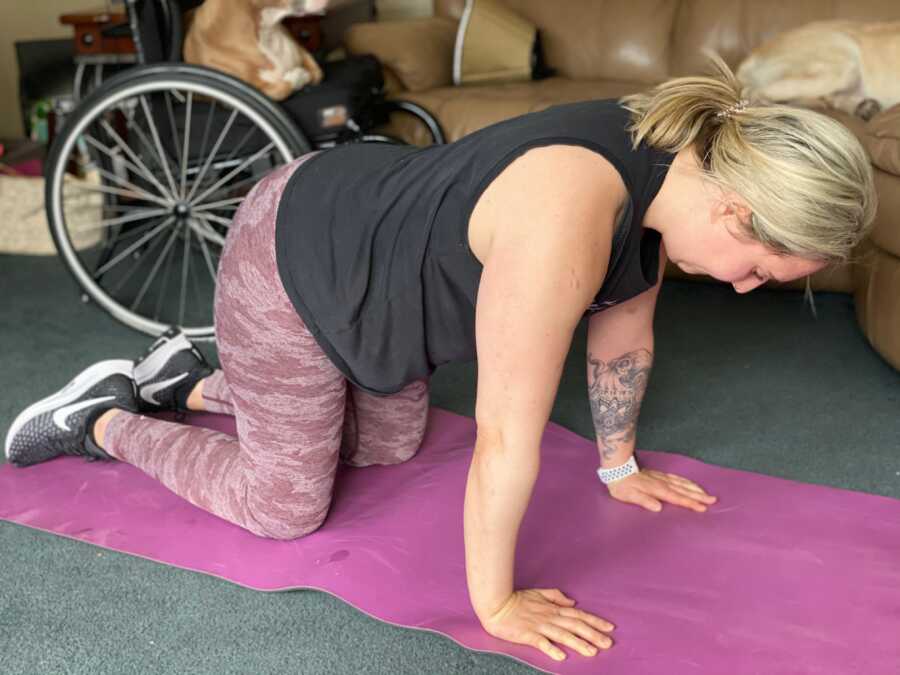 In hope to expand her reach beyond her clients, Nicole has created an online presence to inspire other wheelchair users to stay active and healthy. She has an Instagram account and website where she is working to create a space for the disabled community in fitness.
"I want to continue to create a space for the disability community to come to and find workouts and motivation to better themselves," Nicole says. "I am also currently working on a virtual workout library on my website. Monthly memberships will be available, and there will be different programs and workouts that you can do either at home or at the gym. This way wheelchair users can pick through different workouts and follow a program to help them towards their goals."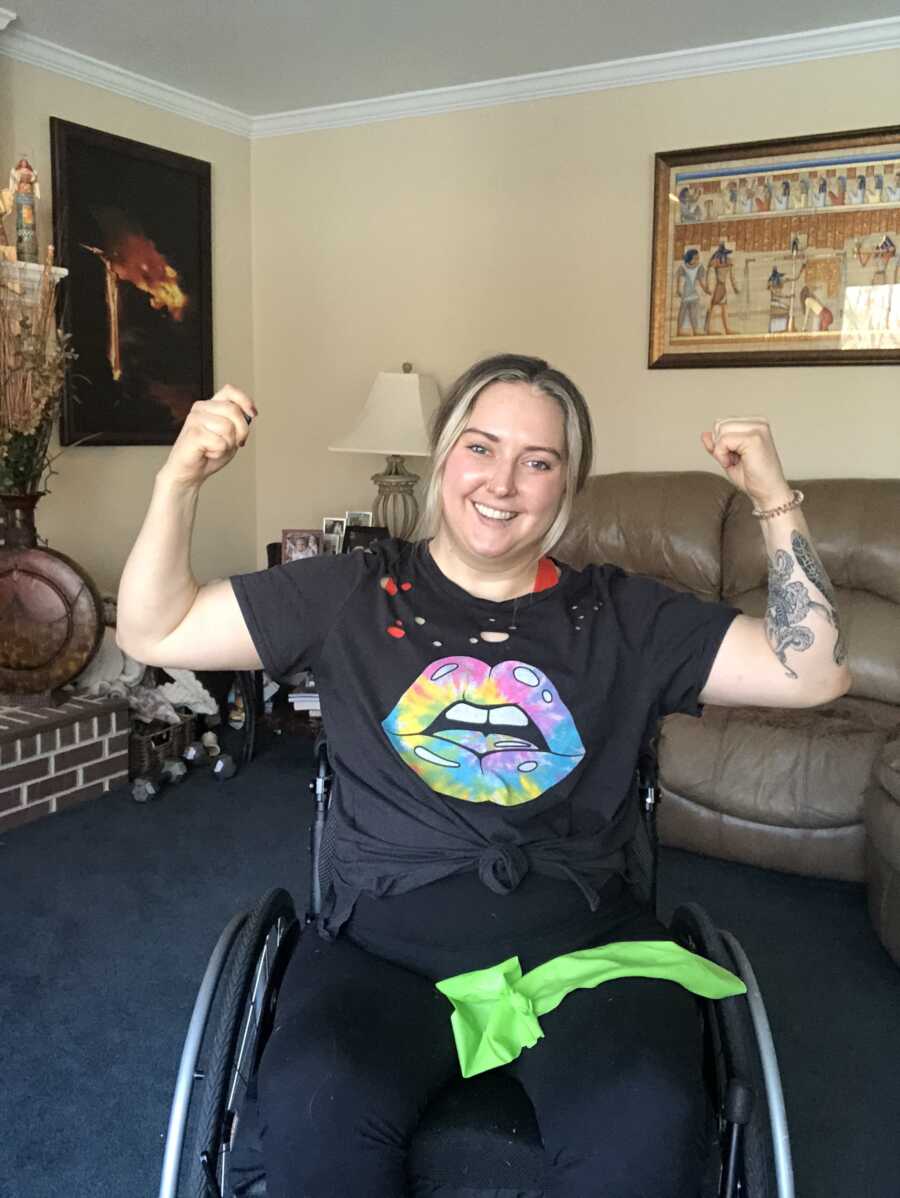 Nicole's experiences showed her the lack of accessibility in a space she loved, and she has worked to fill it in by proving that all people can workout. Her platform and story show that there is space for you in fitness, no matter what you look like.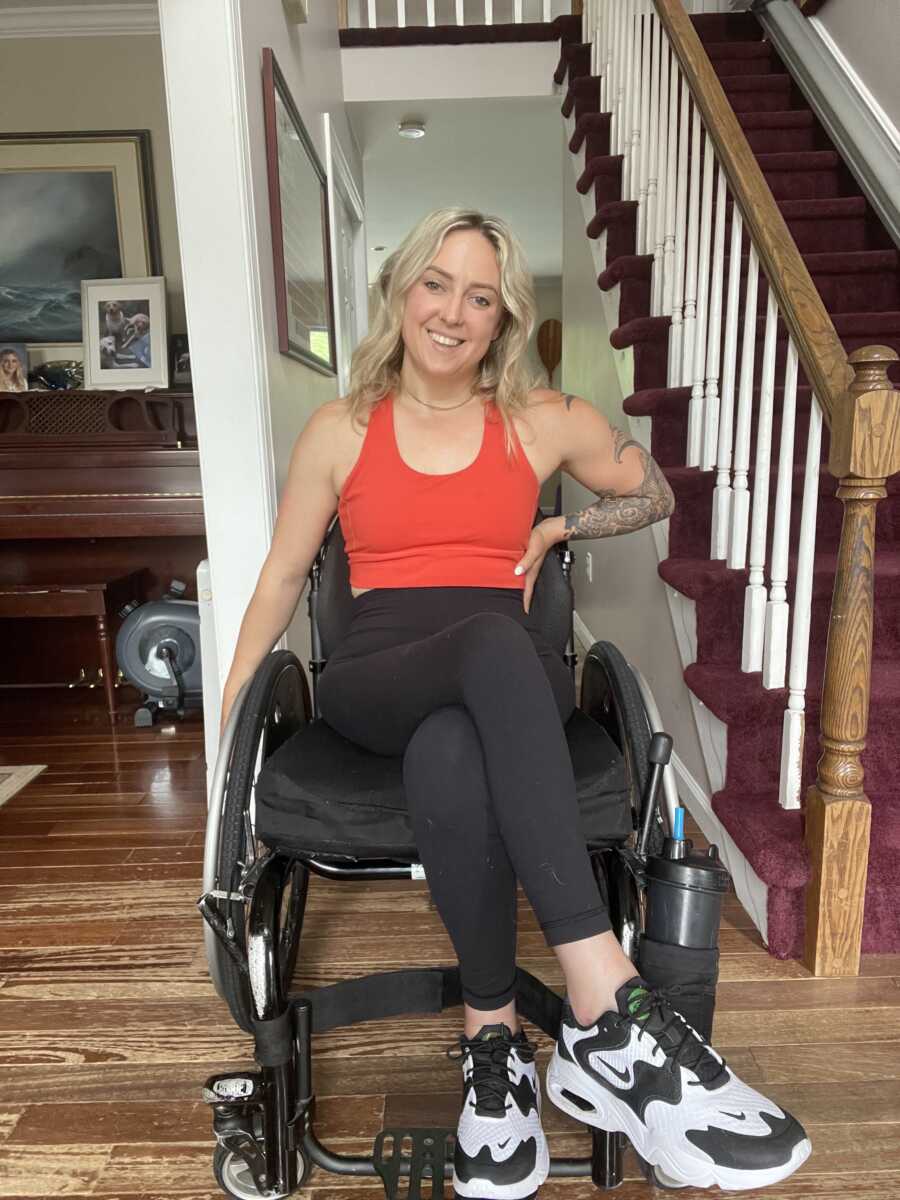 This article was written exclusively for Love What Matters by Anna Steingruber. You can follow Nicole Walsh of Pennsylvania on Instagram or on her website. Submit your own story here and be sure to subscribe to our free email newsletter for our best stories, and YouTube for our best videos. 
Read More Like This
'Please don't leave me! I don't want to die! I thought about my parents and wondered if this was how my life would end.': College football player paralyzed by distracted driver
'I woke up hanging from my seat belt. 'Can you move your legs?' They hung like dead meat.': Woman paralyzed from car accident, 'My mind, soul, and spirit remained untouched'
'I can't walk, yet I've traveled to 23 countries, 80 cities. My husband carries me. Up stairs, up mountains, across the world.': Woman paralyzed in scooter accident, husband's love reminds her 'anything is possible'
'She will be in a wheelchair her entire life.': 6-year-old walks for first time after widowed dad raises 100k for life-changing surgery
Help us show kindness is everywhere. SHARE this story on Facebook with family and friends.