International vs. Domestic Adoption
What is international adoption?
International adoption, also referred to as intercountry adoption, is the process through which a couple or individual legally becomes the parent(s) of a child from another nation and brings them back to their country where they will permanently reside.
International children awaiting adoption are often in foster care, orphanages, or group homes and were commonly abandoned or orphaned. Most countries will have first tried to adopt them locally before opening their file for international adoption.
While most international adoptions are transracial, meaning the child is of a different race or ethnic group than the adopting parents, not all transracial adoptions are international. Many transracial adoptions occur domestically as well.
What is domestic adoption?
Domestic adoption is the process through which a couple or individual legally becomes the parent(s) of a child within their own country. This is most often through expectant mother's choosing to create an adoption plan, foster care adoption, or kinship adoption.
There are two types of adoption: open adoption and closed adoption. In a closed adoption, the records of the biological family are kept sealed, the adopting family usually knows little about them, and there is no direct contact maintained between them. In an open adoption, which is becoming increasingly common in the United States, the biological parents are more directly involved with placing their child and keeping in contact afterward.
Pros of International Adoption
1. Not having to wait to be chosen
In domestic infant adoptions, prospective parents create a profile which is then shared with expecting mothers who can choose who they want to adopt their baby. Foster care can also result in adoption, but not every child in foster care will be available for adoption, as the goal is always reunification with their biological family if possible. In both instances, you're either waiting for an expecting mother to choose you or waiting for a foster child who is placed with adoption in mind.
With international adoption, prospective parents are presented with the files of the children. Some parents specifically choose to pursue international adoption because they think their chances of being chosen by a birth mother are lower; for example, Sarah Poorian.
"I adopted as a single mom. When I first met with the agency and discussed my options, my case worker thought I would be waiting a long time for someone to choose me. With international adoption I got to choose the baby," shares Sarah.
Read about Sarah's international adoption here.
2. Not having to worry about "failed adoptions" or custody battles
Birth mothers are given a set amount of time to change their mind about their adoption plan and choose to parent their baby themselves. This decision should always be celebrated and birth parents should be encouraged and supported in caring for their baby, if they so desire. While adoptive parents should be understanding of this decision, it can still be devastating to start loving a baby and imagining forever, only to have that come to an end.
When domestically adopting from foster care, biological parental rights have been terminated as the parents have been deemed incapable of consistently providing safe, adequate care. But that doesn't always mean the parents don't want to parent or recognize this decision. Custody battles to finalize foster care adoptions can also be emotionally taxing and drawn out if the biological family chooses to fight for their parental rights.
With international adoption, the children have generally been orphaned or abandoned, so you don't have to worry about biological parents changing their mind or fighting for custody. "I knew I would have emotional limits as a single parent," says adoptive mom, Amy Maze. "With a limited support system, it seemed international adoption was a better choice for me. I didn't feel like I could handle many of the concerns I may face when entering the foster care system or domestic adoption, like biological parents changing their mind."
3. Broadening your cultural perspective
For many families adopting internationally, it is exciting to embrace another country's culture and find ways to honor their child's heritage in their home.
"We love to learn about the culture and holidays celebrated in the countries where our children were born. It's now a tradition to celebrate the Chinese Lunar New Year in our home," writes adoptive mom, Lauren Elizabeth Miller.
"International adoption leads to incredible growth and discovery," says Jamie Walker, another mom of international adoption. "Learning a new culture and merging that with our entire family has been an incredible experience."
Read about the Walker's international adoption here.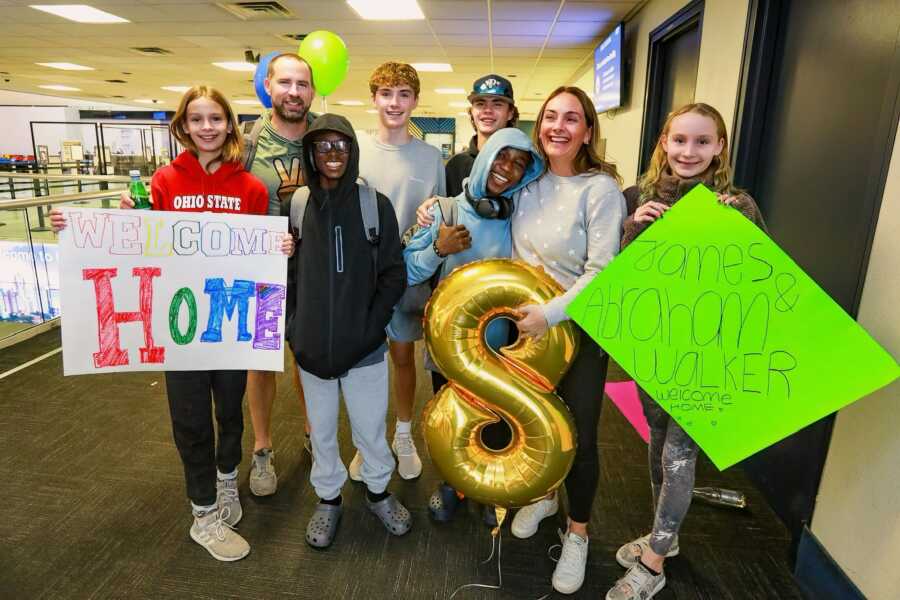 Cons of International Adoption
1. Stricter requirements
Depending on the country, international adoption can have stricter requirements than domestic adoption, including age minimums and maximums for prospective parents, age differential parameters between adopting parents and child(ren), limits as to how many children are already in your home, etc. The biggest restrictions for couples are often marital status (if they're domestic partners only or if they have history of divorce) and recognition of their marriage. Some countries still don't legitimize homosexual marriages and don't allow LGBTQ adoptions.
2. Incomplete or inaccurate medical history
Many of the children available for international adoption have been orphaned or abandoned and therefore little is known about their biological family's medical history. Depending on the country, the resources and medical care available to assess a child's medical issues may not be adequate.
3. Politics and government instability
Many sending countries have stable adoption programs, but some do not and government instability and political issues can disrupt adoption plans. Even the most stable programs can be upended with world crisis, as we saw many international adoptions halted during the COVID-19 pandemic.
4. Extended travel time and costs
While most domestic adoptions require travel to the birth mother's location, that travel will be less costly and time consuming than the travel required in international adoption. Different nations have varying requirements on how many trips you must make, how long you must stay, and whether or not both parents must travel each time.
This can be difficult for families with children as they either must leave them for extended periods or bring them along, greatly increasing travel costs. It can also prove challenging for individuals with limited maternity leave, as Sarah Poorian notes.
This is one reason she and Amy Maze, both school teachers, chose to adopt from China. Amy adds that leaving your child after meeting them and waiting in-between trips could be extremely emotional, which is another reason China's adoption plan was appealing to her. "Once I met my daughter in person, I never had to leave her!" Amy says.
Read about Amy's experience meeting her daughter and bringing her home here.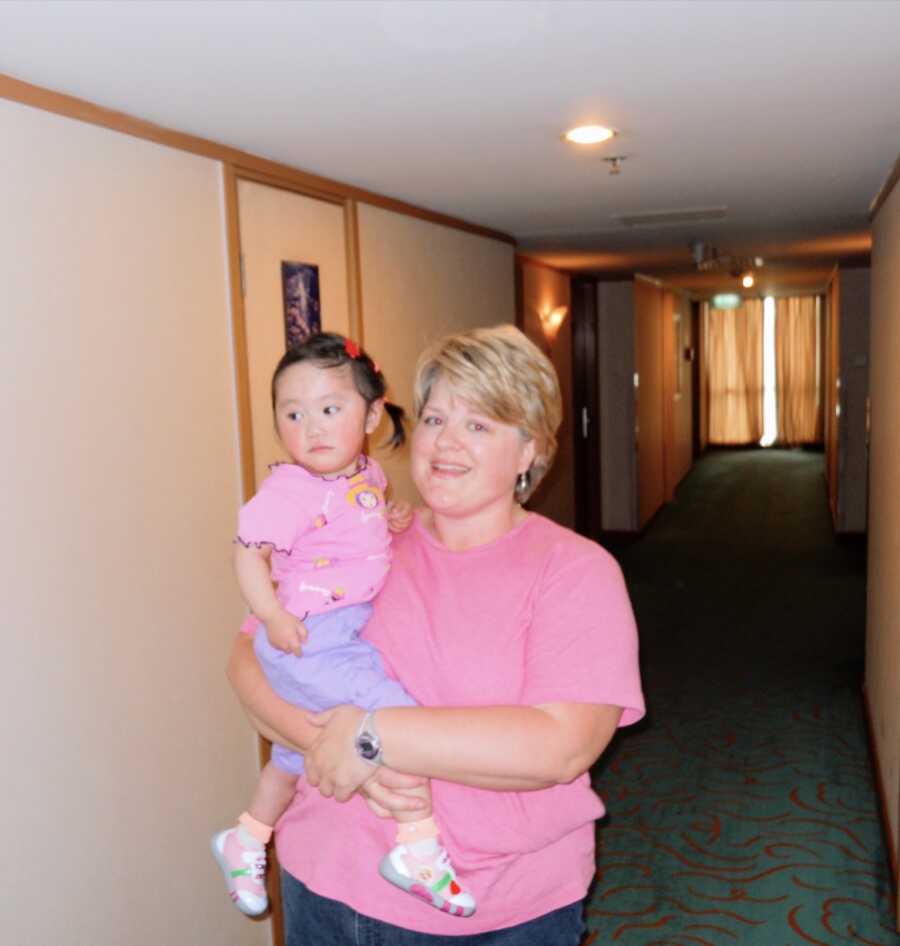 5. Lost relationships and connections
Though these children have likely been abandoned or orphaned, many of them, especially older adoptees, have developed relationships with caregivers and friendships with other children housed there. These connections can be challenging to maintain, and are sure to create a sense of loss.
"Our kids have lost contact with orphanage caregivers and their foster families. Whether it's adoption agency policy or language barrier, these relationships can be difficult to keep. We send photos and updates through our agency, but it never feels very personal. I wish our children had access to the people who loved them so well before us," admits Lauren Elizabeth Miller.
6. Struggles with cultural and racial identity
It can also be challenging to parent an internationally adopted child who is bound to struggle with cultural and racial identity issues, and know how to help them when you haven't experienced something similar. Often international adoptees express feelings of not quite fitting in to their new country and culture or their country of origin. They may feel like an outsider in both cases and not "enough" of either group to truly belong.
7. Language barriers
Depending on the country you are interested in adopting from, your child may or may not speak the same language as you. This isn't necessarily a big deal, as you would have to teach any baby, from your home country or not, language skills. But it can be a more unique situation if you are adopting an older child who knows how to communicate, just not with you. It will take some time and patience to overcome language barriers.
8. Additional paperwork and legal processes
Adopting internationally comes with more paperwork. "There is double the amount of paperwork involved in international adoption," Lauren Elizabeth Miller writes. "We had to meet state and federal requirements in the United States on top of the country requirements for where our children were born." In addition to adoption paperwork, you must also obtain passports, visas, and complete immigration paperwork.
Read about the Miller's international adoption journey here.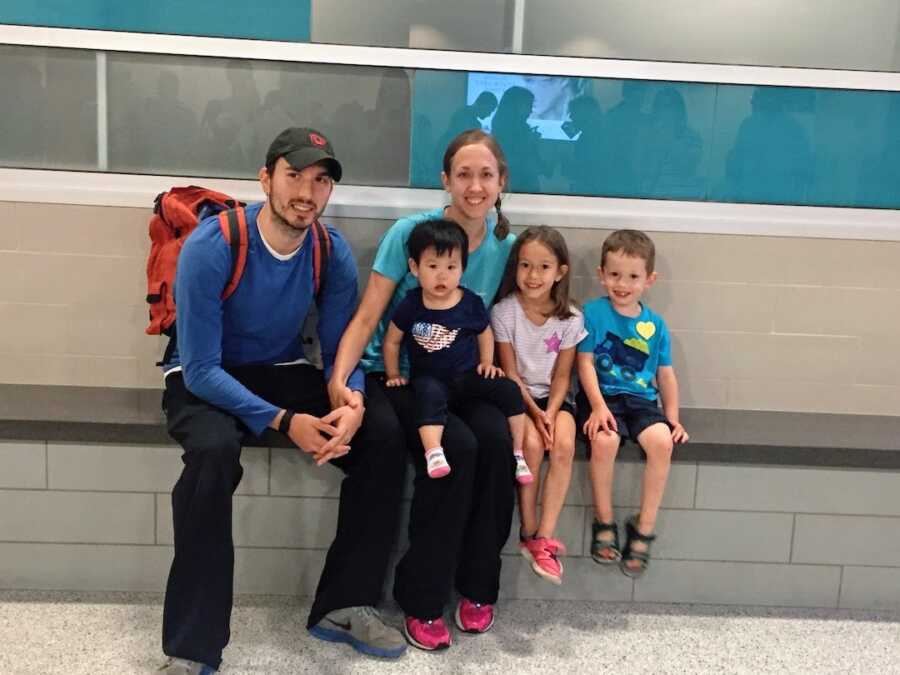 Conclusion
It may seem like there are way too many cons to international adoption for you to want to pursue it, and it's alright if you don't feel like it's for you. But the truth is, any kind of adoption has its difficulties because it's rooted in loss. They all have different "pros and cons" and unique sets of challenges. While not easy, international adoption can be incredibly rewarding and 100% worth the work and the wait.
The best thing you can do is be as aware as possible of the challenges it presents so you can know what to expect and be better prepared to handle them. Jamie noted, "Having trusted partners on the ground was key for us." So do your research and find an agency you trust and know will help you every step of the way!
This article was written exclusively for Love What Matters by Elizabeth Grow. Join the Love What Matters family and subscribe to our newsletter.
Read more international adoption stories:
'6 years old, she showed up at my house in the pouring rain and blurted out, 'They said they don't want me anymore. You can have me.': Mom of 6 shares emotional adoption journey
'I love you,' June said to Ivy before anything else. All our struggles were worth it.': Mom shares beautiful international adoption story
Do you know someone who could benefit from this article? Please SHARE on Facebook to let them know a community of support is available.